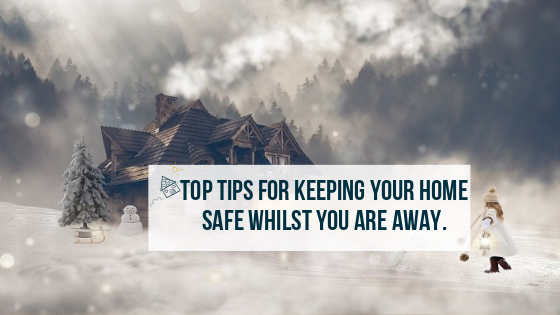 Top Ten Tips For Keeping Your Home Safe whilst you are away.
Whether you are planning a winter holiday or you are going to spend the festive season with your loved ones, it is vital that you ensure your home is safe whilst you are away, here are some handy tips to keep your house safe.
Top 10 Tips For Keeping Your Home Safe whilst you are away.
Cancel any newspaper or magazine subscriptions, especially if your paperboy is prone to leaving them hanging out of the letterbox like mine for the time that you are away from home.
Ask a neighbour or a family member that lives close by just to stop by and collect the mail from the mat and check that everything is OK, my dad always stops by to take care of the chickens, and he also leaves the bins out so that I don't have a backlog of rubbish when I get back!
If you are planning on leaving early in the morning, have all the bags packed and ready at the door, it might take a little longer in the morning, but it won't alert anyone that you plan to go away.
If you are going away for longer, it might be worth investing in Royal Mails keepsafe scheme, they can keep your mail until you return home, and costs vary from £13.50 for 17 days up to £44 for 66 days.
Invest in a monitoring system such as Smart Homes by Panasonic, giving you peace of mind and enabling you to keep an eye on your property whilst you are away, it can also be used to switch appliances on and off whilst you are at work during the week.
Don't leave your lights on whilst you are away, not only will it waste electricity but it may alert someone that you are not home, better to ensure you have a security light enabled.
Curtains – to open or close ? It looks more likely that no-one is home if the curtains are shut all day, if you have someone keeping an eye, maybe get them to open and close them when they visit.
Ensure all valuable items such as TVs and laptops are away and not visible from any windows.
Unplug all appliances to save money and to stop any power surges causing electrical fires whilst you are away.
Don't forget about outside, ensure all sheds and greenhouses are locked and that any tools are away, including ladders.
And Most Of All, enjoy your holiday, you deserve it!
This is a collaborative post