Now that the weather is starting to get a little warmer and the snow has disappeared, the snowdrop walks now combine with the beautiful bluebell woods.
Bluebells (known as the English bluebell or the common bluebell) are native to western Europe, particularly in the UK, they are usually found in ancient woodlands and really are a stunning sight when they're in full bloom, over half of the world's population of bluebells can be found in the UK bluebell woods.
If you are looking for a pleasant activity for the entire family to enjoy, consider a Bluebell Woods adventure.
Wondering how to take the perfect photograph in the Bluebell Woods, check out National Trust Top Tips For Phtographing Bluebells
Bluebell Woods Bedfordshire
Chicksands Woods
Location: Chicksands Woods Bedfordshire MK45 3QQ
Chicksands woods in central Bedfordshire have some good walking trails to try. In the peaceful woods you will find lots of flora and fauna with pretty bluebells in the spring and a variety of woodland birds.
Location: Flitwick Wood, Bedford MK45 5WF
An ancient semi-natural woodland, with a variety of quiet circular walks and adjoining bridal paths. The wood has a diversity of plants, from wood spurge and bluebells to the magnificent mature oak and ash trees.
Location: Woburn Street, Ampthill MK45 2HX
160 acres, designed by Capability Brown, Great Ampthill Park has Woodland, open space with views for miles over North Bedfordshire and a local reservoir. The bluebells are not as many here but they are still worth hunting down.
Location: Between Whipsnade and Dunstable
Complementing the flower-rich grassland of Whipsnade Heath, Landpark Wood offers a tranquil spot to enjoy the sights and sounds of the English countryside. Veteran large, multi-stemmed beech trees can be found on the boundary of the wood.
Hornbeam, oak and ash flourish on the clay soils found locally, allowing bluebells to carpet the woodland floor in spring
Location: Potton Rd, Sandy SG19 2DL
The Lodge Nature Reserve and Gardens offers an exceptionally rich combination of wildlife and heritage experiences. The woodland, heath and acid grassland here cover an area of some 220 hectares, and now form the largest stretch of heathland in Bedfordshire.
Location: Station Road, Marston Moretaine, Bedford MK43 0PR.
The Forest of Marston Vale consists of 10 community woods that come together to covers 61 square miles. There have been many reports of Bluebells spotted in Cranfield and Kempston woodlands during bluebell season. There is so much to see in the forest that you'd need a while day, or two to cover it all, why not explore them all and see which ones have a Bluebell Woodland Walk to return to next year.
Location: Maulden Wood, Central Bedfordshire MK45 3QT
Set on the Greensands Ridge, Maulden Wood is a beautiful varied woodland located near Clophill. The woodland contains one of the largest and most important remnants of ancient woodland in Bedfordshire.
Location: Park Road, Moggerhanger, Bedford, MK44 3RW
The Garden Wood has lots of wildlife and beautiful flowers (snowdrops, bluebells etc). Still today you can enjoy the snowdrops (in February), originally planted by Humphry Repton in Garden Wood. The walk is a circular route taking you through the wood, into the Orchard area where the Garden Room Cafe is and either back down the Walled Garden path or onto the Lawn at the rear of the house, ending back at the car park
Location: Putnoe Wood, Bedford
A large 25 acre wood attached to the rear of Mowsbury Park. It has two play areas, a bubbling stream and is the perfect place to see the beautiful Bluebells in late spring.Parking is available for free with nearby toilet facilities.
Steppingley Bluebell Wood
Location: Between Steppingley and Tingrith Villages
These woods are less used and untouched in many places so you can be sure of a plentiful blanket of bluebells waiting to greet you.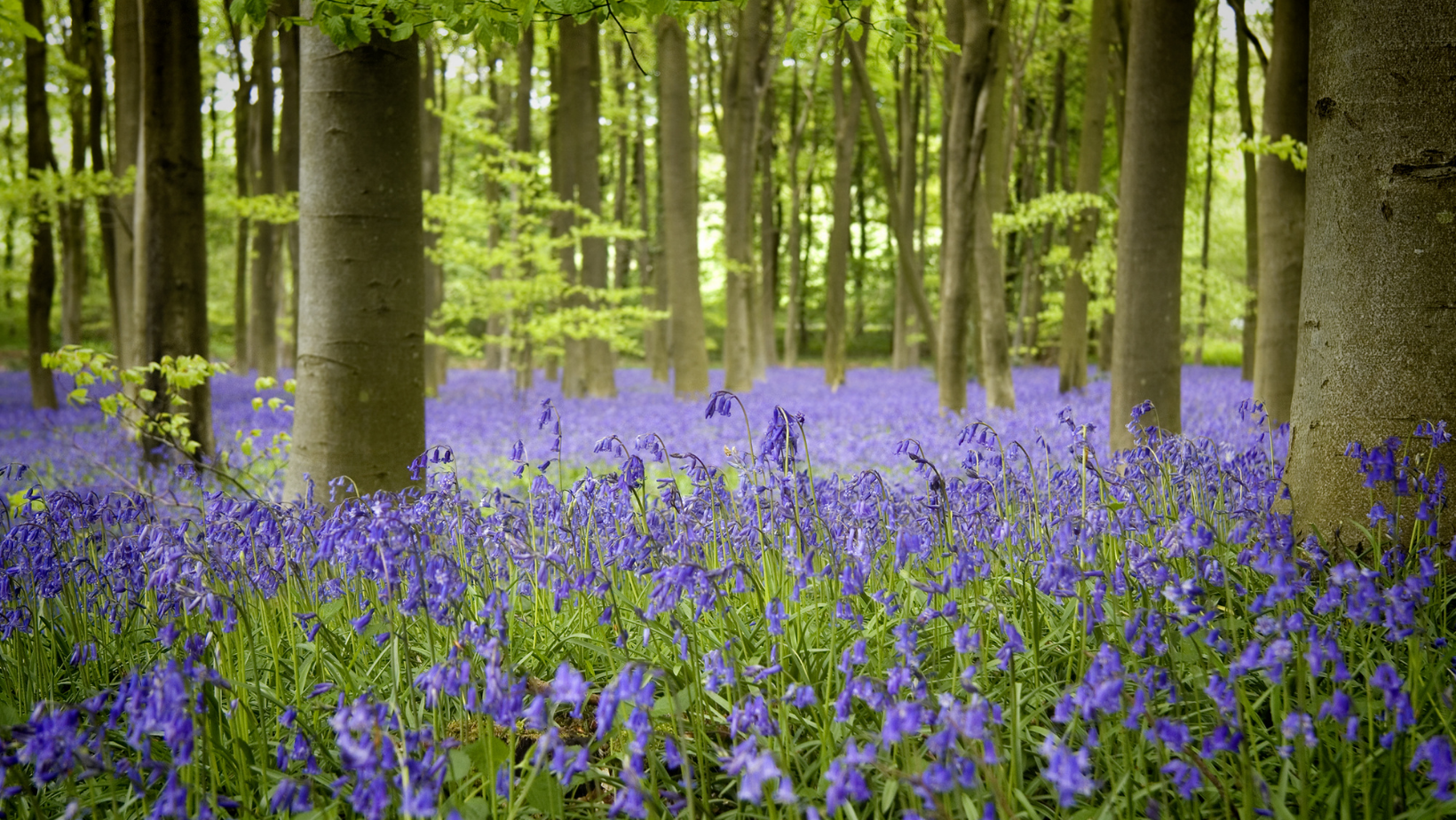 Bluebell Woods Berkshire
Location: Tippings Lane, Woodley, RG5 4RY
The Nature reserve is named after the alder tress that populate in this ancient woodland, during springtime, the woodland floor is full with wild flowers including bluebells, marsh marigolds and primroses.
Location: Off the A321 Wokingham Rd, Sandhurst, GU47 8JB
Ambarrow Court is a 21 acre local nature reserve located in Little Sandhurst between the A321 and the Reading to Guildford railway line. It was once part of a Victorian country estate, but the original house built in 1855 has since been demolished. You can see the bluebells when walking through the woodland.
Location: Lower Basildon, Reading, Berkshire, RG8 9NR
There are a number of marked trails throughout the woodland. The green trail is a brilliant family walk through the woodlands and open fields,It's 1.5 miles and takes approx 40 minutes. If you go at the end of April/beginning of May, you will be able to see all the beautiful bluebells. There is also a shorter red walk that's 0.5 miles and takes about 20 mins, both walks are pushchair friendly.
Location: Downshire Way, Bracknell RG12 7DL
Bill Hill in Bracknell is a public open space with a naturally wooded hillock and a bronze age burial mound.
The prime habitat is the semi-natural broad-leaved woodland covering the hillside. This is dominated by mature beech, with oak, and a diverse range of other native trees and shrubs in the understorey including silver birch and rowan.
Ground flora includes some patches of bluebell which provide a colourful display in the spring and other typical woodland herbs. Dead and decaying wood provide a valuable habitat for woodpeckers and stag beetles.
Location: Park Wood, Maidenhead
Bisham Woods is a colourful, ancient woodland site, with abundant and rare flora, a wide variety of tree species and some fascinating wildlife. Said to be the inspiration behind the iconic book The Wind in the Willows, a perfect place to view the Bluebells that appear April/May.
Location: 2 1/2 miles south-east of Newbury, Berkshire, RG19 8DA
This magical dense ancient woodland gives views across the Kennet Valley. A clearing through the wood creates sunny areas where butterflies bask. Look out for the spectacular bluebells. The 1 mile Wildlife Walk takes in some damp clay areas on the lower slopes and steep climbs up to higher, drier ground.
Location: Cliveden Road, Taplow, Maidenhead, SL1 8NS
From the middle of April to the beginning of May, step into the magnificent ancient woodlands at Cliveden to see a glorious bluebell bounty within. Download your trail sheet and follow the self-guided walk which will take you away from the formal gardens and into the woods to see cowslips, snowy wood anemones and dog violets.
Location: Davis St, Hurst, Wokingham, RG10 0TH
Dinton Pastures country park has a large lake in the centre of the park, Bluebells can be spotted in clusters around the parks wooded areas.
Location: Hawthorn Hill, Warfield, Bracknell, Berkshire RG42 6HN
Fernygrove Farm usually opens their ancient bluebell woods to the public from mid-April (10am-3pm). Drift around the sea of blue in your own time approximately 45 minutes, please not it is uneven in places and may not be suitable for pushchairs or wheelchairs.
It has not been confirmed if the Bluebell Walk will take place this year, so please check out their website for further details.
Location: A340, Reading RG8 8HE
Located at Tidmarsh, between Pangbourne and Theale Moor Copse Nature Reserve is a stunning walking area. During April / May the woodland area will be transformed into a bluebell wonderland.You can also take a stroll through the meadow or alongside the River Pang, the stroll is approx 2 miles, the paths can get muddy in places, so ensure you have suitable footwear.
Location: Bracknell, Wokingham RG40 3DG
Peacock meadows is composed of 36 hectares of grassland, meadows and woodland all linked through green corridors and public footpaths. This area which was once arable farmland and then a turf farm is now managed as a public open space that offers a beautiful and tranquil environment to relax and enjoy, the ground flora in West Garden Copse includes Bluebells, and several ancient woodland indicator species such as Dog's Mercury, Wood Anemone and Wood Sorrel.
Location: Winter Hill Rd, Maidenhead SL6 6NJ
This common land has great dog walking with lots of paths through the woods. One large pond as well. There is an undulating area popular with kids on bikes. Plenty of hawthorn, sycamore and oak. Part of a big local area owned by the National Trust.
Location: St Mark's Rd, Binfield, Bracknell RG42 4BA
Once part of the grounds of Pope's Manor, this small 13.7-acre Green Flag awarded parkland located in Binfield is a valuable countryside resource for quiet informal recreation for the local community and provides a haven for wildlife. It was officially opened to the public in 1985 for recreation. Choose from The Three Copses (Temple Copse, Tinker's Copse and Jock's Copse ) – hazel coppice woodlands full of bluebells with a handy circular walk through them.
Location: Scratchface lane, Bradfield, Berks, RG7 6DL
Every year Rushall Farm opens up its woodland for beautiful bluebell walks in aid of Reading MS Society. The spring strolls start from the impressive Rushall Manor and take you on a variety of walks on 'permitted paths' that vary in length from a dedicated 5 miles down to a short, 'wheelchair friendly' circuit. Please check their website for confirmation of 2021 event.
Location: Top Common, Warfield, Bracknell RG42 3SH
Whitegrove Copse is located to the north of Bracknell, in the parish of Warfield. During the 1990s large areas of the land surrounding Whitegrove were developed for housing, and the copse was retained as a public open space and managed by the Parks and Countryside service from 1996. The site contains important wildlife relating to the diverse ancient woodland habitats including spring flowers such as bluebells, dead wood and old trees.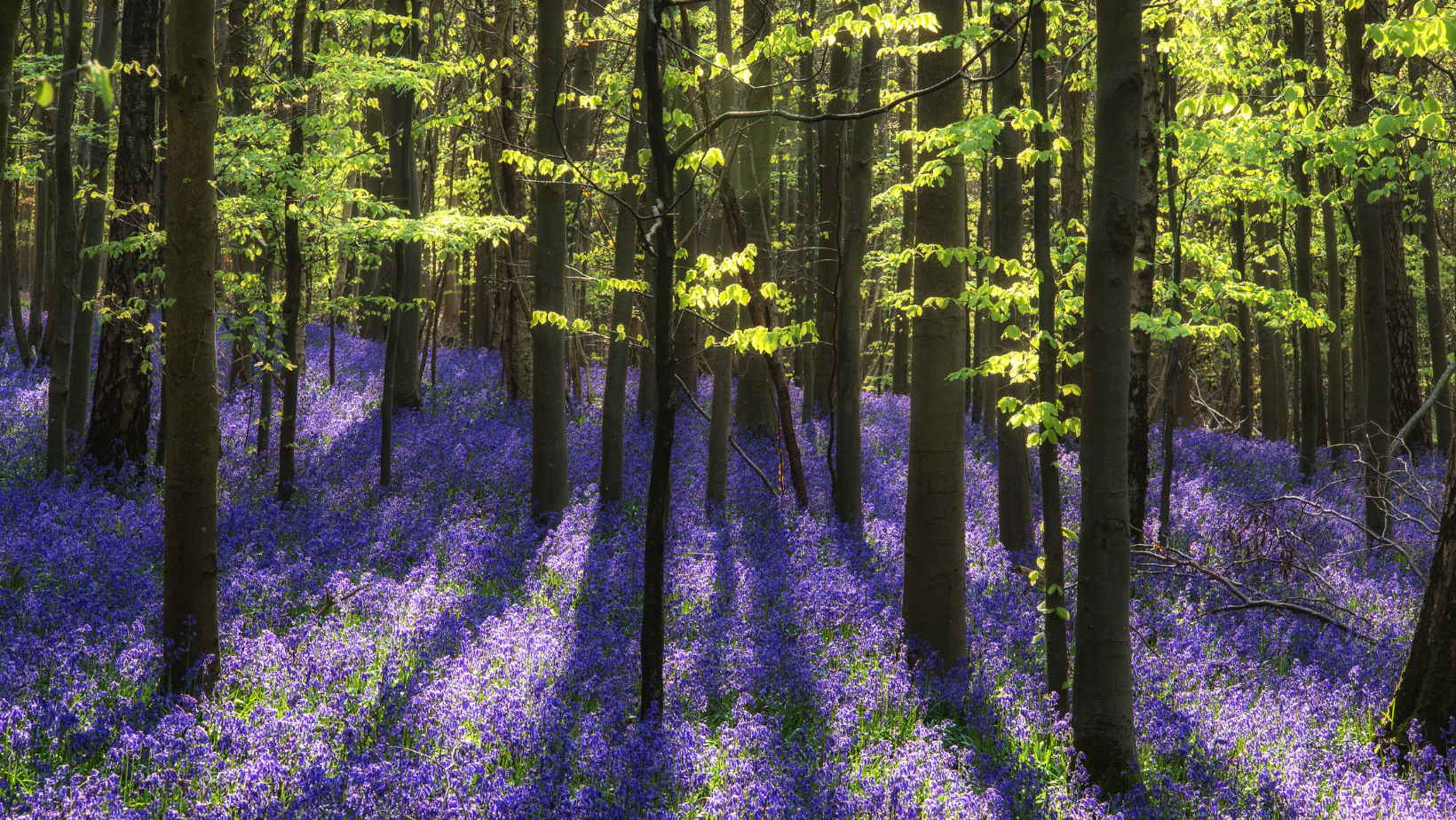 Bluebell Woods Bristol
Location: Bath Rd, Arno's Vale, Bristol BS4 3EW
The Woodland Trust named Arnos Vale it as one of the more unusual places to spot bluebells and it is, being a Victorian garden cemetery within the heart of Bristol. There are 45 acres to explore and entry is free, it is a unique heritage site in the heart of Bristol.
Ashton Court
Location: Long Ashton, Bristol BS41 9JN
Rownham Plantation within Ashton Court is the place to see bluebells in a quiet and peaceful atmosphere. Being part of Ashton Court there are plenty of other coppices and gardens to look at once you have seen the bluebells within this specific wood.It is also a great place to see the park's famous red deer.
Location: Kings Weston Road, Lawrence Weston, Bristol, BS10 7QS
A 650 acre Grade II registered parkland including children's play area, museum and castle. There are 5 walks in the area, ranging in difficulty and length
Location: Fishponds Rd, Eastville, Bristol BS5 6XA
Eastville Park is a large Victorian park with a range of facilities 2 miles north-east of Bristol city centre. A great place to relax surrounded by a spacious and diverse landscape. There is a large ornamental lake, tennis courts, bowling green, children's play area, woodlands and wildflower meadows. It connects via the lovely Frome Valley Walkway, to Snuff Mills and Oldbury Court Estate.
Location: Bishop Sutton, Bristol BS39 5RN,
This Avon Wildlife Trust woodland is set within an 18th century farm and is home to a rare array of bluebells, as well as being host to wildflower meadows later in the season. Access for all trails allow access for wheelchairs and pushchairs. There are a variety of walking options available within grassland and woodland. Some paths are on hill sides so can be slippery and muddy, Folly Farm offers spectacular views over Chew Valley Lake and the Mendips.
Location: Plunder St, Bristol, BS49 4PQ
Goblin Combe is a nature reserve with spectacular views over the Mendips and is home to a diversity of wildlife and plant species as well as the nation's favourite bluebell. It is a ten minute walk from the village of Cleeve.
Location: High Littleton, Bristol, BS39 6YE
Located close to Midsomer Norton, Greyfield Wood is a quieter spot to admire some bluebells at. It is a mix of ancient woodland and newer planting and was once part of the Earl of Warwick's hunting estate.
Location: Abbots Leigh, Bristol BS8 3QE
A wilderness of tranquility filled with bluebells set against the backdrop of Brunel's famous Clifton suspension bridge
Half of Leigh woods is owned by the National Trust and the other by Forestry England, the boundary border is the stone wall which can be found in the middle of the woodland.
Location: Prior Woods Path, Bristol, BS20 7UF
Prior's wood is well known for its stunning display of bluebells from late April, the woods have accessible footpaths and are great for families with young children. There is available parking and dogs are allowed if kept on a lead. The public footpaths run though the site in a circuit, allowing access throughout the woodland and down to the pools.
Location: Bristol BS16 1UH
A Lovely wooded valley with easy riverside walks. A popular woodland with dog walkers and families, and the perfect place to find a carpet of bluebells.
Location: Portishead, Bristol BS20 8PW, UK
Weston big wood is an area of geological and historical interest as well as being a great area for viewing spring flowers, the woods provide ample opportunity to see bluebells.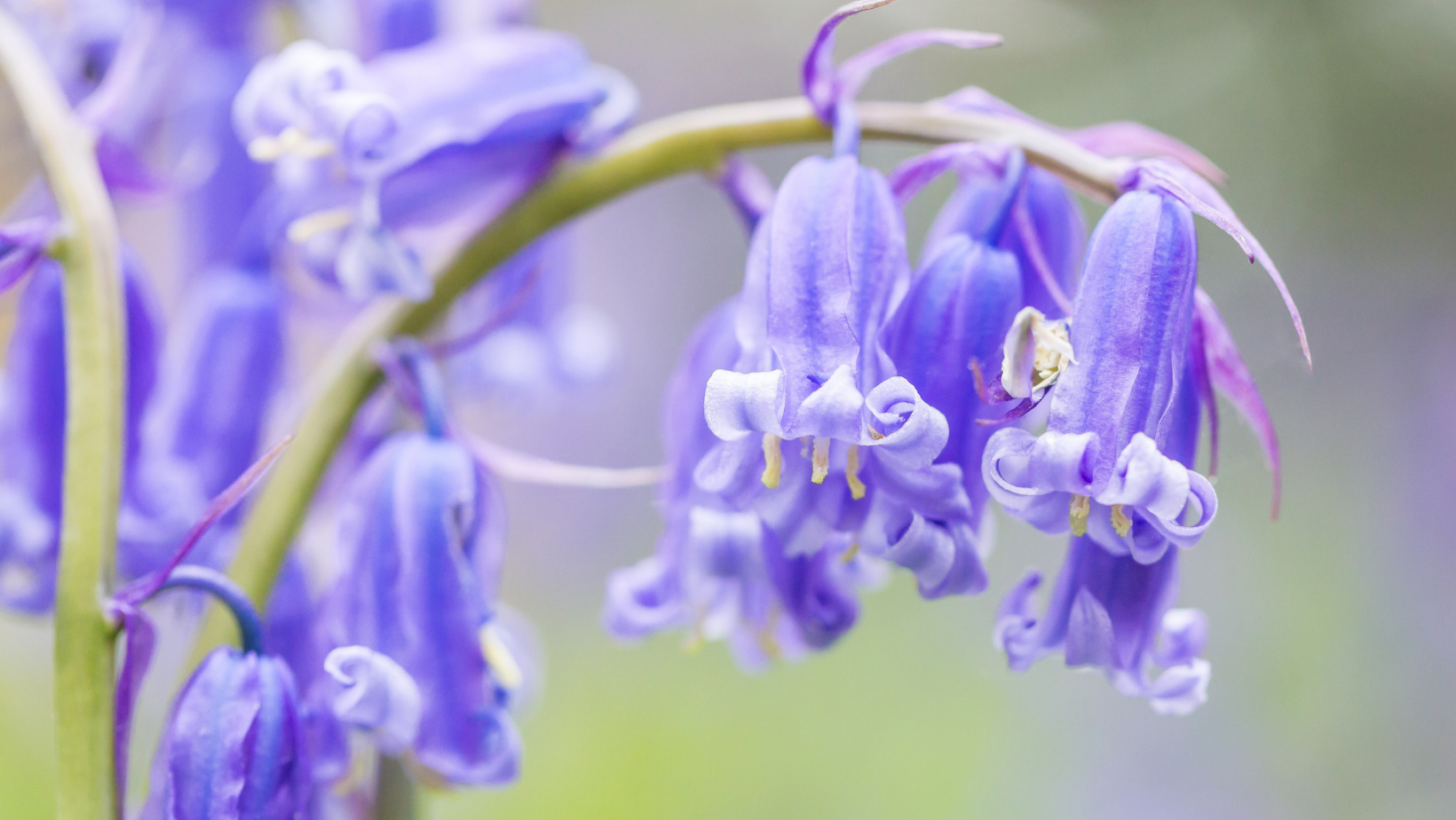 Bluebell Woods Buckinghamshire
Location: Adam's Wood, Henley-on-Thames
Adams wood, is an ancient and semi natural woodland site, situated at Frieth, Buckinghamshire. It extends to 12.1 hectares in size and has a south-easterly aspect. It lies on the edge of a dry valley, with good views over the Chilterns. It adjoins other Ancient and semi natural woodland. It has pasture to the south and north with the field to the north completely surrounded by woodland. It is owned by the Woodland Trust. An Ancient woodland with beautiful displays of bluebells between late April and mid May
Location: Great Missenden HP16 0PX
This wood is great for bluebells in spring and has various trails through it. Roald Dahl, the famous children's author, used to walk in Angling Spring Wood. From his home, Gipsy House, he would walk past the Witches' Tree which is said to have inspired the story Fantastic Mr Fox. Unfortunately, the tree blew down in a storm in 2003 but it continues to lie where it fell, half way up the hill. It was probably Angling Spring Woods which also inspired the woods featured in Danny the Champion of the World. You can also take part in a talking tree trail, great for families, it takes about 2 hours to complete
Location: Old Dashwood Hill Near Stokenchurch
A varied nature reserve near Stokenchurch, this ancient semi-natural woodland is owned by the Chiltern Society. Since receiving the wood in 1984 it has been managed as a nature reserve and demonstration wood. It has bluebells and various other woodland flowers and you may get a glimpse of a red kite.
The woodland's extensive history means a number of archaeological features can be observed, including numerous sawpits and a giant holloway which was used to access an old well during droughts in the 1920s.
Location: Start at the National Trust car park in Bradenham village near the cricket pavilion, Grid. Ref. SU827969
This is a 4.9 miles (7.9 kilometres) walk taking you from the pretty Chiltern village of Bradenham into the Bradenham Estate, which consists of woodland and farmland. The landscape is a classical Chiltern blend of hills topped with beech woodlands, and gently rolling valleys with a mixture of grazed and ploughed fields divided by hedgerows. The walk offers a verity of glimpses into the deep and varied history of this part of the Chilterns, ranging from ancient earthworks to war-time bunkers and ballrooms.
Location: Cliveden Road, Taplow, Maidenhead, Buckinghamshire, SL1 8NS
The Cliveden woods provide a beautiful backdrop to the stunning bluebell display. Park up in the Woodland Car Park and follow the path through the woods, up to the house. It's about a mile if you walk the full way back to the house. Once you're there you can enjoy the great family facilities including a maze, children's play area, pond with bridges and stepping stones and cafes. This is also where you'll find the bathrooms and changing facilities.
Location: 5 miles south-east of Aylesbury, Buckinghamshire, HP23 6LB
In spring, there are carpets of bluebells in the woodlands. At the clearings and woodland edges, primroses and cowslips flourish. You can also find wood vetch here, the only place in Buckinghamshire where it grows. In spring and summer, these sheltered sites encourage a range of butterflies such as dingy and grizzled skippers, chalkhill blue, silver-washed fritillary, marbled white and meadow brown.
Location: Finemere Wood, Quainton, Aylesbury
8 miles north west of Aylesbury lies Finemere Woods. Home to birds, bats and butterflies this is a great place to head out for a family walk, especially in late April to early May when the woodland becomes carpeted with beautiful bluebells.
Location: Hervines Road, Amersham, Buckinghamshire, HP6 5HU
Hervines Park is located at the bottom of Hervines Road in Amersham on the Hill. The Park has a large recreation ground which can accommodate various sports, as well as a stunning bluebell woods.
Location: Hollington Wood is on the private road to Wood Farm/Ekeney House – off the A509 just after the Filgrave/Tyringham turning if you are coming from Emberton. The postcode is MK46 5JH.
This ancient woodland is 8 miles north of Milton Keynes. It's privately owned so you need to stay on the paths and you'll need to pre-book parking on site. The owners hold an annual bluebell open day on the May Bank Holiday, check out the website for news on events.
Location: High Wycombe, Buckinghamshire, HP14 4LA
Bluebells line the drive and nestle amongst the woodland and parkland at Hughenden Manor, the wooded slopes offer the perfect setting for these spring flowers. In line with government guidance, only outdoor spaces at Hughenden are open for local visitors to access for walks. Places are limited for safety so you will need to book your visit in advance.
Location: Ipsden Heath, Wallingford OX10 6QR
Many people visit Ipsden Heath during the spring to take photographs of the colourful flora. These include an abundance of beautiful bluebells displays between late April and mid May
Location: Milton Keynes, Buckinghamshire, MK16 8LU
Located 4.5 miles north of Milton Keynes, you'll discover Little Linford Wood. Part of the Berks, Bucks and Oxon Wildlife Trust, it's a haven for wildlife and little ones will love spotting all the birds, insects and maybe even a Dormouse. In Spring this is a great place to come and check out the beautiful bluebells in the woodland.
Location: Coombe Hill, near Butlers Cross, Aylesbury, Buckinghamshire
The walk is way-marked with orange arrows mounted on wooden posts at all major changes in direction. the walk is classed as Easy and will take approx 45 minutes, and you can go on your own bluebell hunt, let us know what you find!
Location: Penn Street, Amersham
Penn Wood lies in the heart of the Chilterns Area of Outstanding Natural Beauty (AONB). It has a long history and was once part of a very large common called Wycombe Heath. A herd of cows is still used to manage part of the site today as wood pasture, and this continues the traditional management carried out in the past.
The wood contains impressive bluebell sections in the spring and red kites and buzzards are commonly seen overhead. Look out for dragonflies near the ponds and butterflies in the patchwork of habitats at Penn.
Location: Philipshill Wood, Chiltern, HP8 4SG
Philipshill is an ancient woodland, with a great diversity of species. These include white helleborine and birds-nest orchids as well as tawny owls. The tree species today are mostly beech, oak and various conifer species. There is a beautiful display of bluebells from late April to mid May.
Location: Buckinghamshire HP18 0RU
9 miles south east of Bicester in Buckinghamshire is Rushbeds Wood. In Spring you'll find a lovely display of bluebells, great for a weekend stroll with the kids. As well as a wealth of wildflowers, Rushbeds is also home to a fantastic selection of butterflies.
Location: Buckingham, Buckinghamshire, MK18 5EQ
With 250 acres to explore and the chance to get some fresh air, Stowe is the perfect place to enjoy spring as it emerges around you. Stowe is open everyday this spring, and the gardens close at 5pm.
Visiting Stowe this spring with the children, why not download the Spring Seekers Guide
Location: Upper Icknield Way, Aston Clinton, Aylesbury, HP22 5NQ
Wendover Woods is a great place to take the children in Spring to see the bluebells. It's very family friendly with lovely woodland trails, a café, adventure playground and fitness trail. In April / May the bluebells come out in force and provide a stunning backdrop to your family stroll. Young and old can enjoy the new all ability play trail, which runs in an approximately 1 mile loop from the Visitor Hub and includes play features along the way.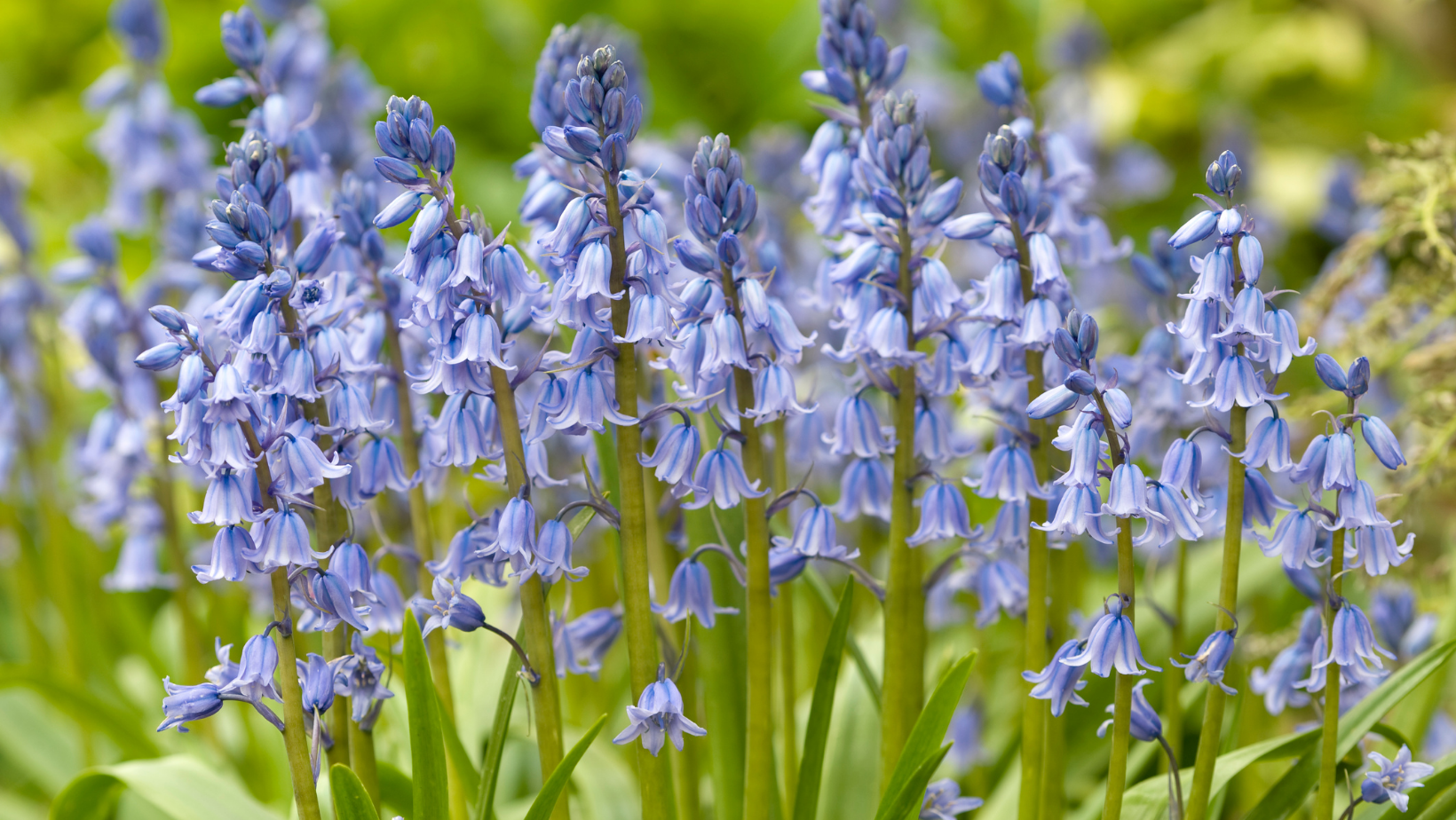 Bluebell Woods Cambridgeshire
Location: Great Shelford, Cambridge CB22 3FB
Named as one of the best spots in the county to see wildlife, Beechwoods is a small yet impressive wood. Originally planted in the 1840s the woods are rife with plant life and more. The nature reserve is run by The Wildlife Trust for Bedfordshire, Cambridgeshire and Northamptonshire and is part of the Cambridgeshire Chalk Living Landscape.
Location: Brampton Rd, Brampton, Saint Neots PE28 0DB
Brampton Woods is a beautiful area of natural beauty, and over 900 years old, it's the second largest woods in Cambridgeshire, You can always guarantee to find carpets of Bluebells at Brampton, alongside wildlife, trees and unusual species and there are loads of different walking routes along footpaths. The trees include aspen, oak, ash, field maple and birch, you may also want to look out for primrose, water purslane, wood spurge, common spotted orchid and devil's-bit scabious.
Location: Waterbeach, Cambridge
This wood was planted by local people in 2000 to commemorate the turn of the Millennium. Trees include: Willow, ash, alder, birch, field maple and oak. Even though it is a relatively young woodland there is still plenty to explore all year around. It is also a significant wildlife habitat to many woodland creatures in the area.
Location: Gamlingay, Sandy SG19 3DH
Bluebells have been springing up 'round these parts for over 1000 years along with loads of other flora including pretty primroses and foxgloves. There are several different pathways and walking trails through the woods . A diversity of wildlife lives in Gamlingay wood including speckled and purple hairstreak butterflies, bats, hawks and woodpeckers. But be warned it can get very wet and muddy when it rains – so sensible shoes are advised.
Location: Huntingdon PE28 5YX
Gamsey Wood is a 10 acre patch of ancient woodland, five miles south west of Ramsey, it is nestled in a working farm and managed by the the Wildlife Trust for Cambs and Beds so there's lovely unspoilt bluebell patches as well as an abundance of butterflies.
Location: Grafham Water Visitor Centre, Marlow Park, Grafham, Huntingdon, Cambs, PE28 0BH
Grafham Water has been designated as a Site of Special Scientific Interest for over 30 years. The western end features a 280 acre nature reserve and is home to ancient woodlands, Perry West Wood being one of them. If you are specifically looking for bluebell woods, focus on the west side of Grafham Water and head to the ancient woodlands for a blanket of blue flowers.
Location: 5 miles west of Cambridge
Hardwick wood has 15.5 hectares of medieval woodland for visitors to enjoy. It is an area of special scientific interest owing to its secret paths, hidden glades and singing birds. The wood is managed to allow for safe nesting for songbirds such as willow warblers and marsh tits, and is famed for its flowers and insects.
Location: Little Gransden, Cambridge CB23 2UR
There's more than just bluebells in Hayley Woods, the ancient woodland is an ancient treasure trove of spring flowers and old trees. Hayley Wood is where one of Britain's best known historical ecologists – Oliver Rackham – developed the concept of ancient woodland, its a great place to explore and covers 52 acres, so plenty of room to keep your distance!
Location: 3 miles south west of Ramsey, Cambridgeshire
An ancient woodland filled with beautiful plants, insects and birds, currently closed due to waterlogging, but they hope to open shortly before the stunning display of bluebells appears.
Location: Cambridge Road, Milton, Cambs, CB24 6AZ
On the outskirts of Cambridge this is the perfect little getaway from the hustle and bustle of city life. Brilliant for walking your dog, or taking the kids for a bit of fresh air, there is plenty to get up to in Milton, and plenty of bluebells to spot.
Location: Holywell Way, Peterborough, Cambridgeshire
This well maintained ancient woodland is just outside Peterborough city centre and has so many bluebells that a section of woodland and a trail is named after them. It's a great place for a family walk with the dog.
Location: Wandlebury Ring, Gog Magog Hills, Cambridge CB22 3AE
Just south of Cambridge, this beautiful countryside estate offers miles of wonderful walks through woodland and wildflower meadows grazed by Highland Cattle. A fantastic setting for a picnic or a BBQ, to watch wildlife, run around and build a den, a gentle stroll or a strenuous hike. On the remains of a circular Iron Age Hillfort, steeped in myth and legend, and an 18th century house, stables and gardens. Wandlebury is a beautiful place to go and get lost for a few hours.
Location: Waresley Road Waresley Cambridgeshire SG19 3RH
Fine ancient woodland, carpeted with oxlips, bluebells and violets in the spring. Waresley and Gransden Woods are adjoining ancient oak-ash woods, a woodland type that is restricted to lowland England. The site is designated as a Site of Special Scientific Interest due to its diverse flora, which is enriched by the underlying geology of the wood, a combination of Lower Greensand and Boulder Clay.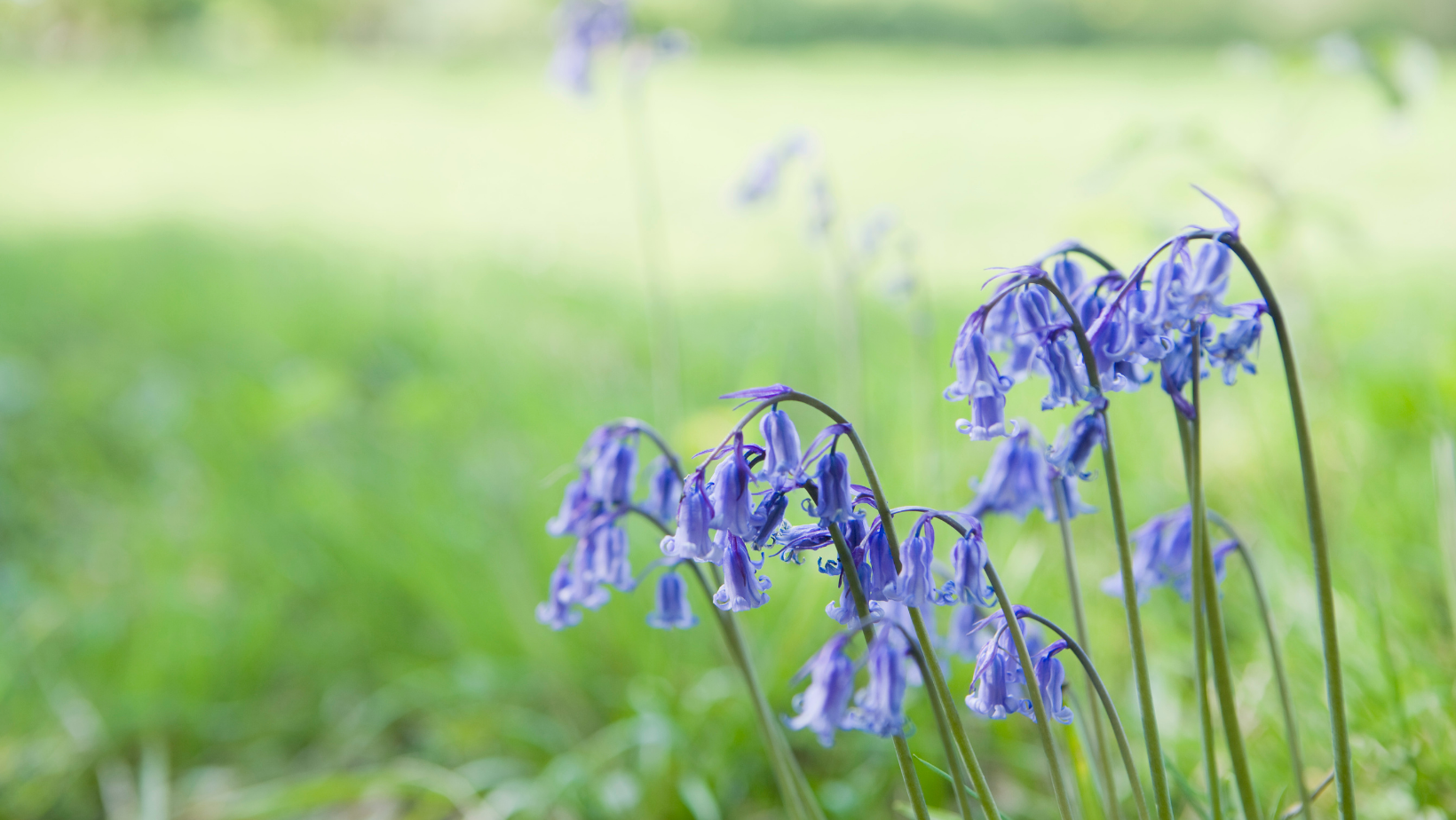 Bluebell Woods Cheshire
Location: Northwich, Cheshire, CW9 6NA
The gardens, grove, woodland walk and children's playzone at Arley Hall will remain open daily from 10am – 5pm (last entry 4.30pm). The Hall, Chapel and Garden Vinery must regrettably close until further restrictions are lifted. The guidelines confirm that people can exercise in a public outdoor place once per day, within the local area, and on their own or with a household/childhood/support bubble or alone with one other person from another household. The definition of public outdoor places includes "the grounds of a heritage site"
Please bring a mask with you when visiting Arley as entry is via the gift shop and masks must be worn.
Location: Bluebell Cottage, Lodge Lane, Dutton, Cheshire WA4 4HP
The nursery and gardens are closed to visitors at present. They are expected to re-open the gardens and nursery on Wednesday 31st March, subject to guidelines. Entry to the gardens will be via a pre-purchased online ticket only. They will launch pre-booking shortly. From 31st March they will be open Wed-Sat 10-5. Please note they will be closed Sun/Mon/Tue throughout 2021.
Location: Malpas, Cheshire SY14 8AH
The castle built in the early 19th century by the 1st Marquess, nestled within historic parkland, this 70acres of beautiful gardens offer magnificent displays through the seasons and are filled with colour and botanical delights.
Discover the romantic Temple and Folly Water Gardens, Rose Garden, Glade, Arboretum, and the ornamental woodland upon Tower Hill. The newly created Lavinia Walk is a 100m long double herbaceous border and is dedicated to Lady Lavinia Cholmondeley and continues her legacy within the heart of the garden.
Location: Marbury Country Park, Comberbach, Northwich, CW9 6AT
A reedbed with boardwalk trail and woodlands, part of Budworth Mere at Marbury Country Park
Location: Kingsmead, Northwich, Cheshire, CW9 8WB
Poors Wood is a semi-natural broadleaved woodland on the steep banks of the River Weaver. The canopy is dominated by ash and sycamore, with frequent beech and English oak. Springs and seepages emerge from within the wood and create damp regions. Hawthorn and holly are present at the shrub layer, and bluebells carpet the woodland floor in spring.
Location: Weaverham, Cheshire, CW8 3LA
An ancient woodland with an abundance of bluebells in the spring. Owley wood is an ancient, semi-natural woodland on the steep banks of the River Weaver. The canopy is dense and dominated by ash, English oak and sycamore, with occasional sweet chestnut and birch.
Location: Near Barnton, Northwich in Vale Royal, Cheshire, CW8 4NY
A mixed deciduous woodland with a canopy of oak and a carpet of bluebells in the springtime
Location: Styal, Wilmslow, Cheshire, SK9 4LA
Explore the woods which surround the estate and the village that Quarry Bank's mill workers called home. The gardens are bursting with seasonal blooms and as you wander through the woodland you'll be treated to a sea of blue. Don't forget to pack your camera.
Location: Scholar Green Cheshire ST7 3QP
Experience one of the finest Bluebell Walks in the North West at Rode Hall & Gardens in Cheshire. A magical stroll for all the family, it is one of the finest times to visit Rode's Grade II listed park and gardens, designed by Humphry Repton, and soak up the incredible colours of bluebells and spring flowers at their best. Walk through the shimmering bluebell carpets covering the ground of the Old Wood, experience the stunning wildflowers in the Wild Garden and the blaze of colours from rare early Rhododendrons, Azaleas and Chilean Fire Bushes. Enjoy the tranquil views over Rode Pool and unrivalled vistas of the beautiful Cheshire and Staffordshire Countryside.
Location: Swettenham, Holmes Chapel, Cheshire, CW12 2LF
This site, situated in the heart of the Swettenham Valley near Holmes Chapel, really is one of Cheshire's hidden gems. It comprises a mosaic of habitats including ancient woodland, a network of wildlife rich ponds, scrub and series of species rich meadows intersected by numerous wet springs and flushes adding to the diversity of the area.
Location: Kingsley, Cheshire, WA6 8HR
An ancient semi-natural clough woodland with a small tributary of the River Weaver. Warburton's Wood blooms with over 50 species including wood anemone, bluebell, primrose, yellow archangel, giant bellflower, common violet and pale wood violet.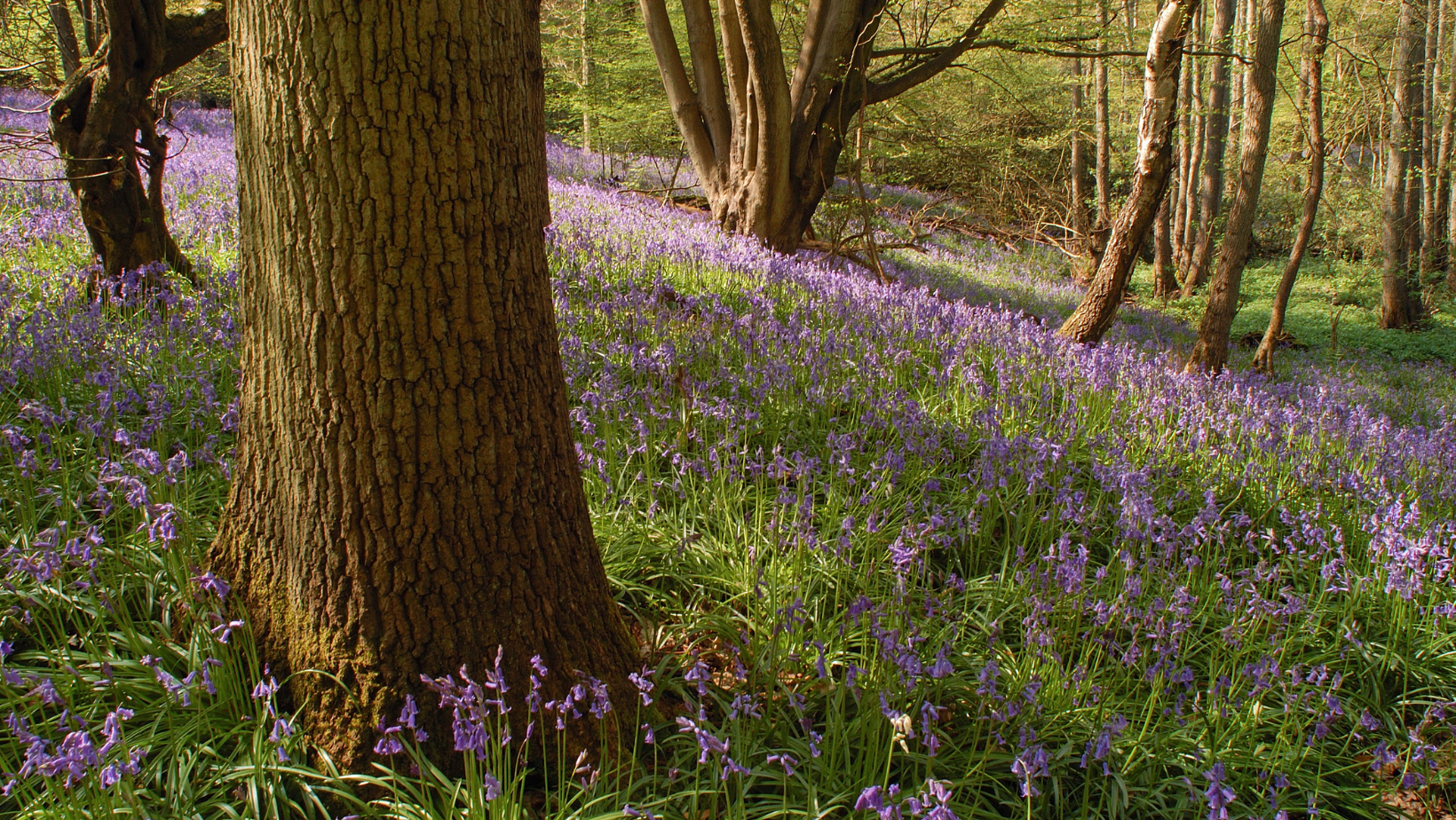 Bluebell Woods Cornwall
Location: Ferry Lane, Torpoint, Cornwall, PL11 2QA
This garden can be found next to Antony House at Torpoint (where Tim Burton's Alice in Wonderland was filmed).. This amazing woodland garden contains 300 varieties of camellias, magnolias, rhododendrons, azaleas plus both indigenous and exotic trees. The garden is also home to a National Collection of Camellia Japonica and divided into three sections: The Wilderness, West Down and the Woodland Walk. From the Wilderness the path leads along the river and into a shaded area of trees, known as the Cathedral, where bluebells and wild garlic dominate the woodland floor in late Spring.
Location: Cardinham Woods, Bodmin, PL30 4AL
This beautiful woodland near Bodmin is a great place to walk or cycle and is carpeted with bluebells during April and May, a great place to explore as a family.
Location: Enys Gardens, St Gluvias, Penryn, TR10 9LB
The historic Enys Gardens are famous for their incredible display of bluebells, within the 30 acre gardens lie the open meadow known as Parc Lye, where the spring show of bluebells is breath-taking. Dogs on leads welcome.
Location: Mawnan Smith, near Falmouth, Cornwall, TR11 5JZ
This stunning tropical garden is fantastic for families, full of natural beauty, amazing plants and lots of fun. Wander through the garden down to the beautiful hamlet of Durgan on the Helford River and walk beside the carpets of bluebells amongst fragrant rhododendrons.
Location: Godolphin Cross, Helston, Cornwall, TR13 9RE
Managed by the National Trust, Godolphin is a large, old estate, with a rich mining heritage and acres of glorious gardens and countryside to explore. For bluebells, check out the peaceful woodland, which will be a swaying sea of blue from April to May.
Location: Idless Woods, Idless, Truro, TR4 9QT
Just outside Truro is the pretty little village of Idless, with its watermill and ancient woodland. Idless was chosen by the Forestry Commission as one of the ten best places in the UK to see bluebells growing wild.
Location: Bodmin, Cornwall, PL30 4AB
Lanhydrock is the perfect place to find bluebells, with nearly every inch of woodland floor turning blue, from the entrance to the estate right down to the Fowey River at Respryn Bridge.
Location: Pentewen, Saint Austell, Cornwall, PL26 6EN
Thirty years ago, Heligan's historic gardens were unknown and unseen; lost to the brambles of time since the outbreak of WW1. It was only the chance discovery of a door in the ruins that led to the restoration of this once great estate. Today, The Lost Gardens have been put back where they belong: in pride of place among the finest gardens in England.
Location: Cremyll, Torpoint PL10 1HZ
With wide ranging parkland, formal gardens and ever changing coastal views. The Mt Edgcumbe Country Park covers over 860 acres, stretching from Millbrook Lake around the Rame Head and Whitsand Bay, and taking in the villages of Cawsand and Kingsand. The woodland around Mount Edgcumbe estate is full of great walking trails and carpeted with bluebells in late spring. Dogs welcome. The country park is open all year round, daily from 8am to dusk and is free to the public.
Location: Bodmin PL30 3AG
Pencarrow House and Gardens can be found at the foot of a sweeping valley between Bodmin and Wadebridge. The Georgian mansion has been open to the public since the 1970s. Bluebells and Wild Garlic carpet the woods in May/June. Free parking and dogs welcome off leads in the woods.
Location: Penrose, Helston, Cornwall, TR13 0RD
Penrose Estate is a mixture of rich farmland and woodland around Loe Pool, the largest freshwater lake in Cornwall and cut off from the sea by a broad shingle bar heaped up by heavy Atlantic seas. There are many paths to explore around the estate and it's a great place for bluebells in early May.
Tehidy Country Park, Camborne
Location: Camborne TR14 0TS
Tehidy has 9 miles of paths and 250 acres of peaceful woods and lakes to explore and a café and a picnic area. Tehidy is a beautiful place to visit especially in April and May when the Cornish bluebells appear, making an even more stunning woodland walk. Visitors may stroll around the lake, explore leafy glades or wilder areas of woodland or be immersed in the rich flora and fauna.
Location: Grampound Road, Near Truro, Cornwall, TR2 4DD
Trewithen has nearly 30 acres of woodland gardens and about 200 acres of surrounding parkland. It is a fascinating place to visit in Cornwall – full of hidden-away areas, magnificent flora and fauna and stunning countryside views. Be prepared to go off the beaten track to discover all sorts of fascinating trees and shrubs – many of them the result of often dangerous plant hunting expeditions to far-flung places.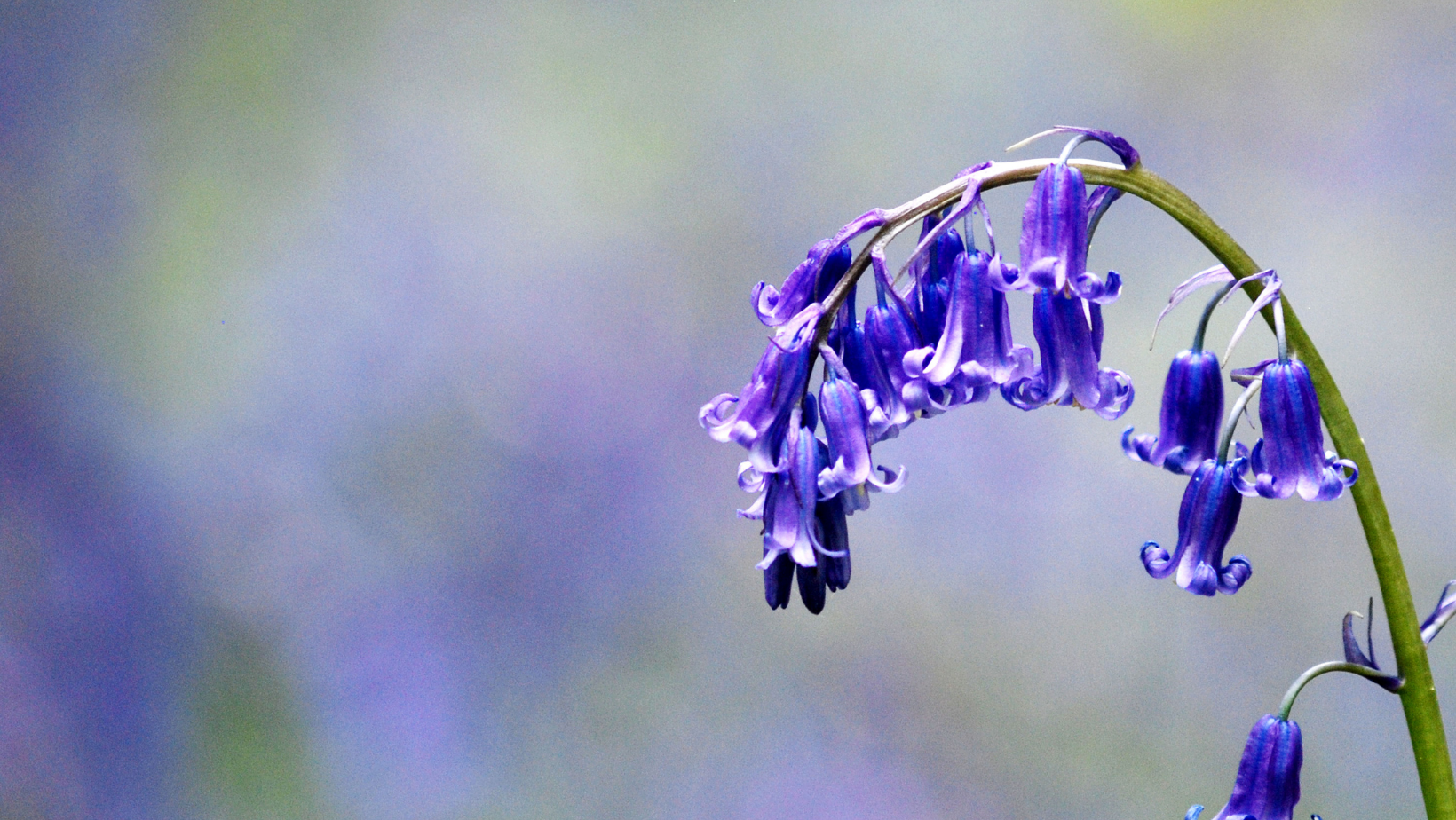 Bluebell Woods County Durham
Location: Baal Hill nature reserve, Wolsingham, DL13 3HE
An ancient woodland with an impresive 400 year old oak tree. This beautiful semi-natural woodland is perhaps best seen in spring, with bluebells and wild garlic in flower. Bird life is varied with wood warblers, redstarts and pied flycatchers, as well as woodcock and buzzard. Roe deer are frequently seen throughout the woodland. Baal Hill Wood is a Site of Special Scientific Interest, recognised as nationally important for wildlife.
Houghall Woods
Location: directly opposite the Botanical Gardens in the heart of Durham
Great High Wood A beautiful wood with semi ancient oak and beech woodland. A must for the bluebells and wide variety of birds.
Location: South Rd, Durham DH1 3TX
Low Burnhall is a patchwork of habitats. Gnarled, veteran, sweet chestnut trees in a block of ancient woodland contrast with areas of recent planting; wet woodland houses native amphibians; and the wildflower meadows attract clouds of butterflies in the summer.
This captivating woodland is a tranquil haven for people and wildlife, within easy reach of Durham city, and plays an important part in local history.
Location: Rag Path Wood, Durham
Ragpath Wood is joined to the village of Esh Winning by the Dearness Valley walk. This mixed woodland boasts a gorgeously scented carpet of bluebells in spring, with ramsons, wood anemones and wood sorrel spreading from the banks of the river.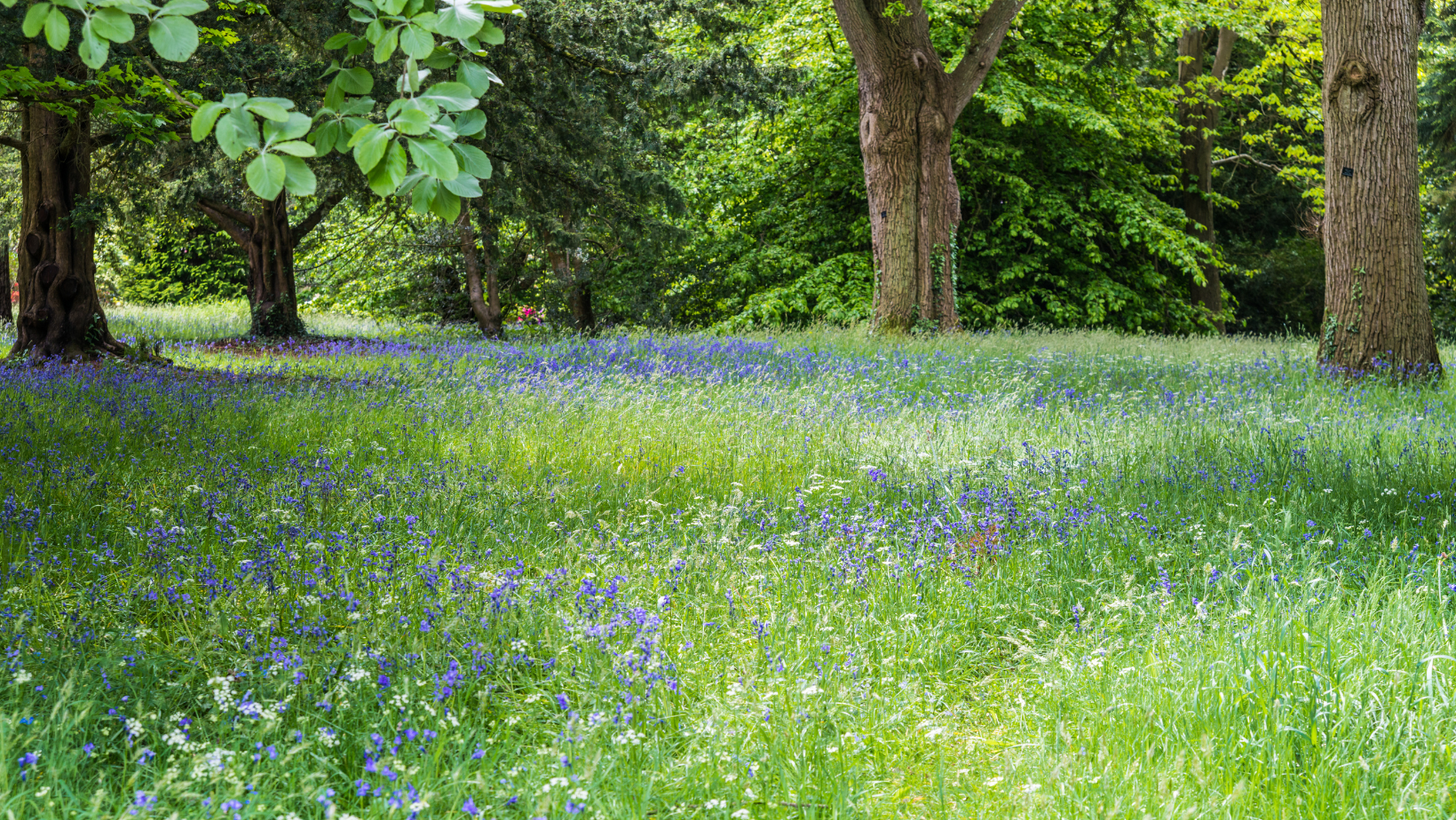 Bluebell Woods Cumbria
Location: Near Brough, Cumbria, CA17 4EX
An undisturbed wild place, Argill Woods Nature Reserve is a tranquil steep sided wooded valley with waterfalls and pools where dippers and pied flycatchers can be seen.
Spring flowers carpet the woodland floor whilst species rich meadows provide a habitat for orchids and melancholy thistle.
Location: Near Crosthwaite, Cumbria, LA23 3PA
Rough fell, grassland, wetland and wooded areas provide a diverse habitat where dragonflies, damselflies and the rare high brown fritillary butterfly abound. Spot scrubland birds such as whitethroat, tree pipit and yellowhammer. See bluebells and other flowers carpeting the woodland floor and hear birds such as chiff chaff and blackcap.
Location: Hawes End Jetty, nr Portinscale, Keswick. Nearest Postcode CA12 5UB. No parking at start.
Combining ancient woodland with the lakeshore, this idyllic section of land is home to thousands of bluebells in the spring. The Cumbria way passes through here, and the Keswick Launch steamer service stops at the jetties at Low Brandelhow and High Brandelhow, giving you the opportunity to reach the area by boat.
The pushchair friendly walk, Brandelhow Bay takes you through the woodland where you will find copious amounts of bluebells, before heading along the shore of Derwent Water. It's a great walk for kids, with the option to skim stones in the water or build dens in the wood. Do pack a picnic if you go!
Location: Buttermere, nr Cockermouth, CA13 9UZ
Best place to see bluebells in Cumbria is Rannerdale. The bluebells here draw visitors from around the world, and local legend has it that they grew in the place where native Briton's fought their last stand against Norman invaders. The bluebells at Rannerdale grow in open fields, with most of the valley turning blue when they are in bloom, this 3 mile walk will give you the perfect opportunity to spot the bluebells and stunning views over three lakes and many high peaks.
Location: Moorsholm
A small private woodland with a public footpath running through and a wealth of Bluebells in springtime. A bit off the beaten track with few visitors except local dog walkers the woods are peaceful and quiet with small mossy, rock outcrops and fallen logs with fungi.
Location: Staveley, Kendal, Cumbria, LA8 9QT
This upland oak woodland is rich in mosses, ferns and liverworts. Bluebells and wild garlic carpet the wood in the spring and both pied and spotted flycatchers and redstarts are seen. Being off the beaten track, this bluebell wood is a little more secluded. This woodland is managed by Cumbria Wildlife Trust.
Location: Forestry Commission Visitor Centre, Grizedale Forest, Hawkshead
Perfect bluebell territory and also home to lots of trails and mountain bike routes. A brilliant day out
Location: Near Grange over Sands, Grange over Sands, Cumbria, LA11 7LY
Humphrey Head is a low rocky promontory extending for about one mile into Morecambe Bay and affords excellent views out to sea. A walk here combines the contrast of a sandy beach and limestone cliffs with under an open sky to the shady seclusion of a beautifully bluebell carpeted woodland.
Location: follow the signs for Nether Wasdale from Gosforth (on the A595). Drive through Nether Wasdale, which will then bring you to the lake. Approximately two miles from Nether Wasdale there is a layby on the right (Grid Ref NY 149 051) with parking for 4-5 cars. The layby is overlooked by a stone hiker's shelter which makes it easy to identify.
Wild and rugged, the Wasdale Valley is a remote corner of Cumbria that offers outstanding views and wonderful opportunities for walking, with the most famous walk being that up Scafell Pike from Wasdale Head. At the opposite end to Wasdale Head, where the River Irt meets Wastwater, you will find Low Wood. Here you will find what is widely regarded as the best woodland display of bluebells in Cumbria, creating a mythical and enchanting atmosphere that is enhanced by the quiet nature of the Wasdale Valley
The dog friendly walk, Wastwater and Low Wood, is suitable for some types of pushchairs and brilliant for children. The walk takes you through the woodland, and along the shore of Wastwater.
Location: Ravenglass, Cumbria, CA18 1RD
Up in the north Lakes, Muncaster is a beautiful spot, where you'll find the woodland above the castle swathed with the bluebells. Ruskin said that Muncaster was the 'gateway to paradise' and with its views across to the coast, and gorgeous gardens its easy to see why.
Location: Sea Wood, Ulverston
Visit both a wood and the seaside! Sea Wood stands against the northwest shore of Morecambe Bay and is edged by the shingle beach of Ulverston Sands. At one time large oak timbers from the site were floated at high tide to ship builders in Ulverston. Sea Wood is one of the top bluebell woods.
Location: Waterhead Car Park, Borrans Road, south of Ambleside town centre, near the Windermere Cruise launch site; Postcode for satnav is LA22 0ES
Skelghyll Woods is one of the easiest places to see bluebells. This ancient woodland is home to some of Britain's tallest trees, including the tallest Grand Fir in England, and the tallest Douglas Fir in Cumbria. The National Trust has created a Champion Tree trail here, with way markers and plaques giving you the opportunity to explore these giants. Bluebells abound here, and there are plenty of spots for a picnic.
The dog friendly walk takes you through the woodland and up to Jenkin Crag, where you will be rewarded with a delightful view of Windermere. The walk also recommends you take a stroll through Stagshaw Gardens, where you can currently see various trees in blossom.
Location: Ambleside LA22 9SE
The two small lakes of Grasmere and Rydal Water are separated by a woodland through which the River Rothay babbles merrily. These woods are carpeted with bluebells in Spring, and the whole area is popular with visiting tourists, thanks in part to the accessible pathways that have been created by the Lake District National Park Authority.
The family friendly walk, White Moss & Rydal Caves takes you through the woodland, before heading up to Rydal Caves, another Lake District spectacular, and then back through the woodlands again.
Location: Warriner's Wood, Kendal LA8 8BH
Warriners Wood was acquired by the Woodland Trust in 1995. This is mostly upland ash woodland on limestone with naturalised sycamore and hazel understorey in places, and filled with Spring Flowers.
Location: Carlisle, Cumbria, CA4 0BT
Wonderfully diverse woodland reserve along the banks of the river Petteril. In spring, bluebells carpet the floor and dippers, grey wagtails, kingfishers and sometimes otters can be seen.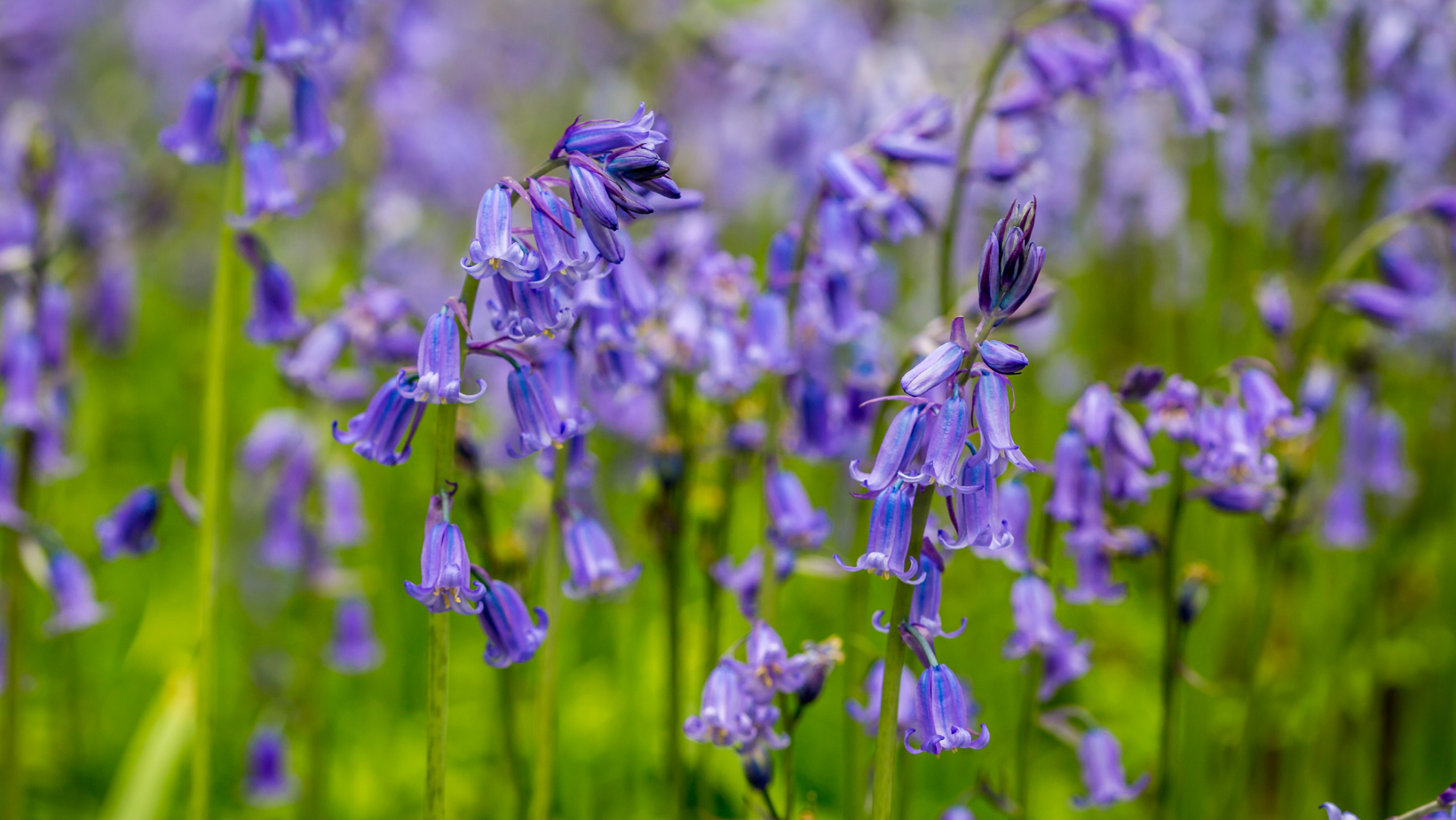 Bluebell Woods Derbyshire
Whilst you are exploring the stunning Derbyshire Bluebell woods why not check out 60 Dog friendly Places to eat in Derbyshire
Location: Holly Lane, Ambergate, Belper DE56 2HG
The Birches is part of a network of woods that includes the larger Shining Cliff ancient woodland and overlooks the Derwent Valley. There are a numerous paths to take through the wood, plus a public footpath on the western boundary.
Location: Hayfield, High Peak
Bluebell Wood is a small patch of woodland found just off the Sett Valley Way. A nice and wild piece of woodland, there are good wide paths suitable for wheelchairs (although the ground is varying levels and not surfaced in most places). There is a picnic bench allowing good views over to Lantern Pike. Fungi can be spotted in autumn and winter, and visit in spring for the bluebells. There is a nearby pay and display car park at Hayfield.
Location: Unthank Lane, Dronfield S18
Situated on the edge of the Peak District National Park, this woodland is dominated by mighty oak trees – with some specimens probably well over 200 years old – as well as an abundance of wild flowers.
Location: Ticknall, Derby, Derbyshire, DE73 7JF
Calke Park and its National Nature Reserve has a varied landscape – from rolling grassland to ancient oaks – with trees that are among the oldest in Europe. Venture towards the park's Serpentine Wood to see the bluebells in all their glory.
Location: Kedleston Hall, near Quarndon DE22 5JH
Keldeston Hall famous for appearing in the Hollywood film 'The Duchess', starring Keira Knightley. Discover bluebells and white wood anemone in Kedleston Park. Wildlife is protected in the designated Site of Special Scientific Interest that makes up a large area of the park – look out for the different animals, insects and fungi as you wander.
Location: Cromford, Matlock, Derbyshire, DE4 5AE
At the end of June 2012 Derbyshire Wildlife Trust was gifted Lea Wood by the local community Lea Wood Trust.
A beautiful semi-natural ancient woodland in the Lower Derwent Valley near Cromford. The woodland has a rich history. The woodland floor is carpeted with bluebells and wild daffodils in spring and home to northern wood ants and 96 species of fungi. Combine with a walk along Cromford Canal keep the adventure going looking for dragonflies and grass snakes.
Location: East of Mapperley Reservoir, on the southern edge of Shipley Country Park, Ilkeston, Derbyshire, DE7 6BR
The narrow belt of woodland and acid grassland glade is a glorious carpet of bluebells in spring and as summer approaches it bursts with birdsong.
Location: The Ford, Ridgeway S12 3YD
The Moss Brook meanders through this ancient woodland. The ground is carpeted in bluebells, sweet woodruff and wood anemone in spring and early summer. Walk under towering beech trees in Long Wood, and explore Dowey Lumb – a small meadow rich in wildflowers and butterflies, you might even spy a roe deer.
Location: On the eastern side of Staunton Harold Reservoir, Melbourne, Derbyshire, LE65 1RN
This woodland reserve is a beautiful sight in May, when bluebells carpet much of the woodland floor.
As well as a mixture of trees including birch, oak, ash and alder, the streams that run through the reserve create a different habitat, where golden opposite-leaved saxifrage grows in spring.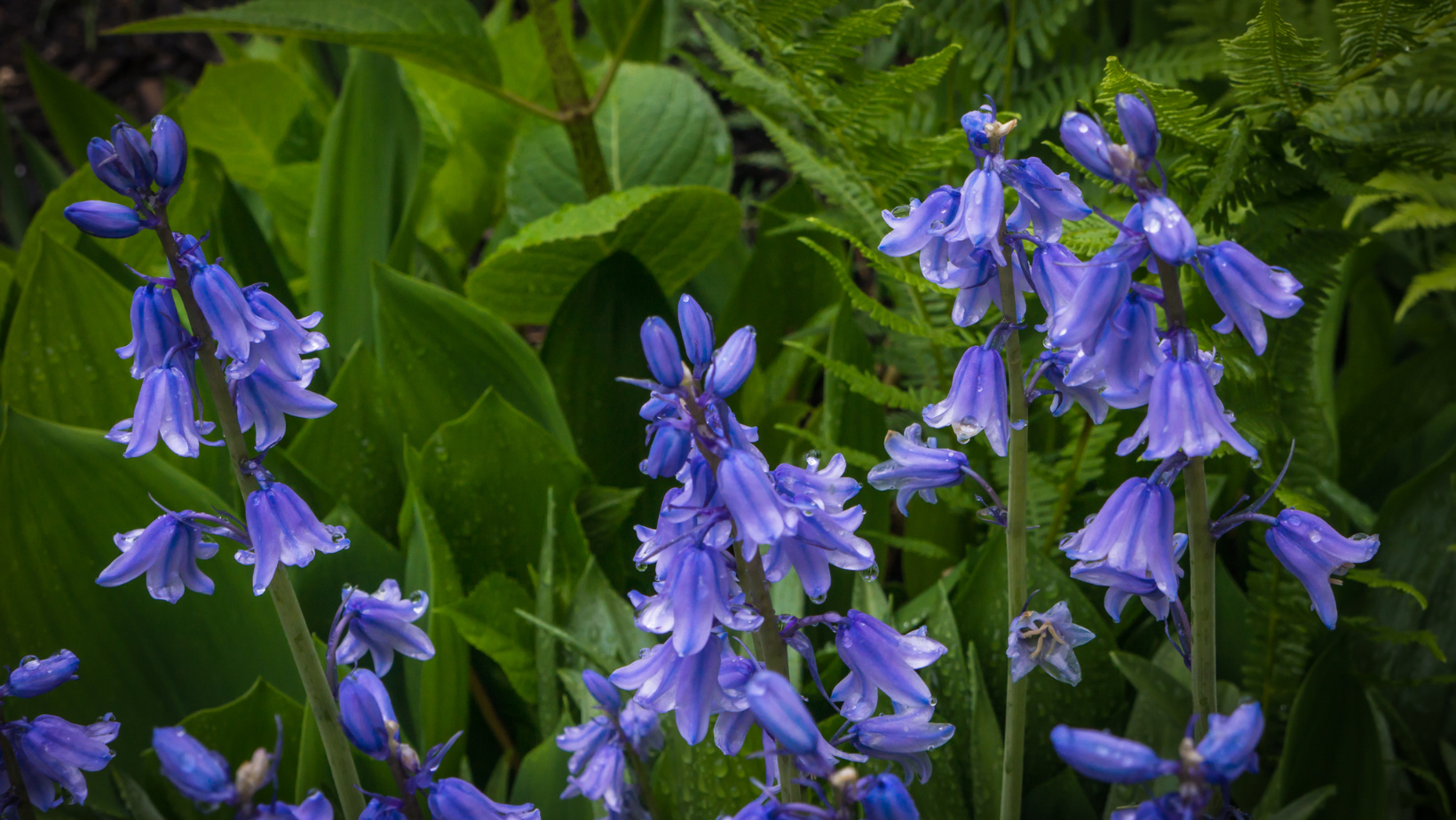 Bluebell Woods Devon
Location: Summer Lane, Exmouth, Devon, EX8 5BD
You won't see great carpets of blue here, but there are patches of bluebells among the other spring flowers in the garden of this quirky 18th-century, 16-sided house.
Location: Nr Kingsbridge, Devon, TQ7 4EA
A beautiful patchwork of woodland and meadows in the heart of the wonderful South Hams countryside.
Location: Southleigh, Colyton, Devon, EX24 6JE
Visit during late spring to see the fantastic carpet of bluebells and bring a picnic to make the most of this picturesque spot – also a great base for local walks, perfect for toddlers, suitable for buggy's and a great piicnic spot.
Brownsham Wood, Bideford
Location: Brownsham, Hartland nr Bideford, Devon, EX39 6AN
Brownsham is a National Trust owned property and it offers the best of both worlds with spectacular open woods masked in bluebells in the spring months – not to mention a rich diversity of wildlife, all whilst connecting to the South West coastal path for breathtaking coastal scenery. Brownsham is located in Hartland, near Bideford, or maybe take part in the 2 mile Beckland Woods Bluebell Walk
Location: Yelverton, Devon, PL20 6EY
Buckland Abbey is a National Trust garden and estate, showcasing stunning walks through meadows, orchards and woodlands. Their way-marked trails provide an accessible journey through a world of bluebells, all whilst taking in views of the Tavy Valley. You'll find Buckland Abbey just ¼ mile out of Yelverton. This picturesque spot makes a lovely spring outing.
Location: near Honiton, Devon, EX14.
The woods are small and there is a one mile circular walk around the perimeter, the perfect length for a stroll for all ages. This woodland is just to the north of Honiton, and a perfect spot for bluebell spotting.
Location: East Dartmoor, near Dunsford village, Nr Exeter, EX6 7EG
Stunning riverside walks through a wooded valley on the edge of Dartmoor. Beautiful at any time of year, Dunsford is famous for its wild daffodils in early spring.
Location: The reserve is off the B3387 on the road from Bovey Tracey to Widecombe-in-the-Moor past Haytor. Near Widecombe-in-the-Moor, TQ13 7TT
Emsworthy Mire, a Devon Wildlife Trust area, is a 98-hectare site with a small stream (Becka Brook) running along the bottom of the wet valley mire. During the springtime the field in front of the barn is saturated with bluebells; a perfect spot for admiring nature's beauty.
Location:Sidmouth EX10 0LR
Fire Beacon Hill above Sidbury has a bluebell wood and moorland with views along the Sid Valley to the coast. There are a couple of car parks along the ridge at the top of the hill.
Location: Nr Great Torrington, Devon, EX19 8ND
Halsdon consists of a mixture of ancient woodland, floodplain meadows and a magnificent length of the River Torridge immortalised by the tale of Tarka the Otter. The woodland has a rich ground flora including primroses, wild garlic and broad-leaved helleborine. Marshy fields alongside the river support such plants as devil's bit scabious and march cinquefoil. Kingfishers and dippers can be seen, and all three species of woodpecker breed in the reserve.
Holwell Lawn Circular Bluebell Walk
Location: Newton Abbot TQ13 9XG
Holwell Lawn is the most popular place to experience bluebells in Dartmoor National Park. On a sunny day, when the flowers are at their most vibrant and their intoxicatng smell pervades the moor, Holwell Lawn can get crowded. This circular walk takes you through the most popular area in addition to large patches of bluebells away from the crowd
Location: Blackdown House, Border Road, Heathpark Industrial Estate, Honiton, EX14 1EJ
One of the oldest woodlands in England, this nature reserve is managed by the East Devon Countryside team and Holyford Woodland Trust with their band of volunteers. This woodland is beautiful for a walk at anytime of year. It's not the most accessible place to access or walk around (access is via a fairly steep hill from Tower Garage), but it makes it all the more special.
Location: Broadclyst, Exeter, Devon, EX5 3LE
You'll find bluebells In the shade of the conifers in the main garden, along the pathways in the grounds of the Chapel, or further out at Columbjohn Woods or at The Clump.
Location: South Brent, Devon, TQ10 9JE
Lady's Wood, owned by the Devon Wildlife Trust, is a woodland canopy overshadowed by oak and ash. The woods are renowned for being overrun by unmissable bluebells in the spring months. Lady's Wood can be found just south of Dartmoor, near South Brent.
Location: Plymouth PL7 5BA
New England Wood covers 21 hectares (53 acres) of broadleaf woodland at Lee Mill, half a mile from the A38 and seven miles to the east of Plymouth. This new nature reserve also has the River Yealm passing beneath its trees.
Location: Salcombe Hill , Sidmouth, Devon, EX10 0NY
Plenty of bluebells to be seen on the route of the walk through National Trust land along the South West Coast Path, which also offers beautiful views across Sidmouth Bay. Parking available at National Trust car park.
Location: 1 mile south west of Doddiscombsleigh, Nr Exeter, Devon, EX6 7PW
Scanniclift Copse, a Devon Wildlife Trust area, is mainly a derelict oak copse that joins onto the oak woodland at Woodah farm. During May, the woodland is sprinkled with wild garlic and bluebells, resulting in an aesthetically pleasing destination to admire these springtime flowers.
Location: Wembury village, Devon
Wembury Woods is a National Trust destination, hosting a hilly track through woodlands littered with bluebells. Here, you'll also find stunning views of the Yealm River just a stone's throw from Wembury Village.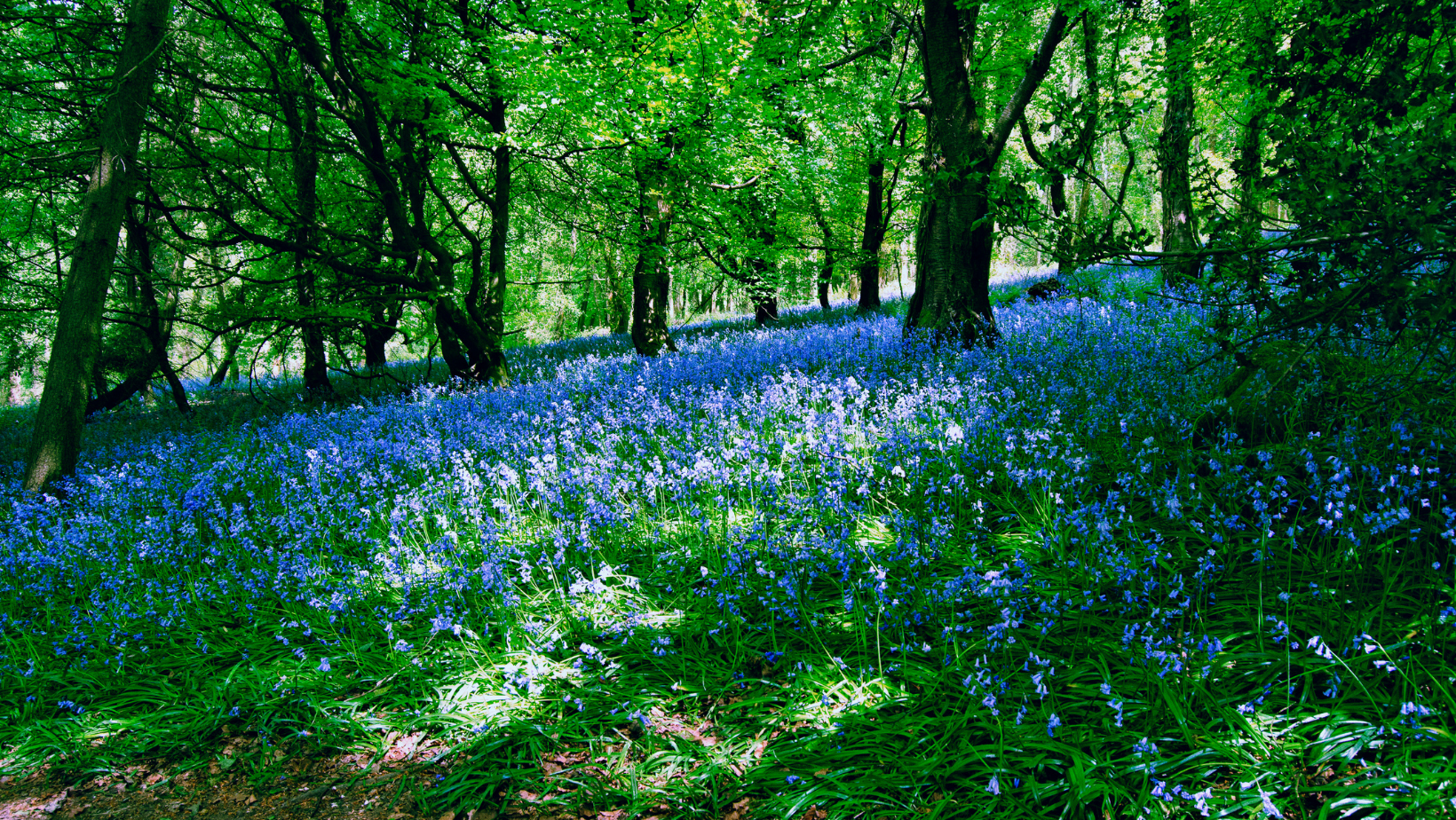 Bluebell Woods Dorset
Location: Wimborne Road, Blandford Forum, Dorset, DT11 9JJ
Imagine standing in the centre of a wood, ancient ash and hazel surround you and there is a carpet of wood anemones and bluebells at your feet. Woodland birds sing all around you. This is Ashley Wood at its spring time finery.
Location : Northwest of the village of Corscombe, Yeovil, BA22 9QX
One of west Dorset's lesser known jewels, featuring ancient woodland, meadows, hedgerows, pasture and a fast-flowing stream. This reserve is home to some of Dorset's rarest and most iconic species.
Bulbarrow Hill
Location: Woolland, nr Blandford Forum
Walk to the top of this chalk hill – one of the highest points in Dorset – for the bluebells and fab views across the Blackmore Vale and beyond to Somerset Wilts and Devon.
Champernhayes Woods
Location:Champernhayes Ln, Bridport DT6 6DF
Also known as Charmouth Forest and Wootton Hill, the bluebells grow in amongst the beech trees in the lower section of the woods. Take the circular walk and you'll be rewarded with views of the sea. The woods also extend North and West, this larger part is Forestry Commission
Colmers Hill
Location: Symondsbury Estate, Mill Ln, Symondsbury, Bridport DT6 6HG
This iconic tree topped hill near Bridport is not a place you would expect to see bluebells. However surprisingly the hillside is covered in them. It makes a change from the leafy woodland walks and beech trees that we usually associate with bluebells. Even better of course are the stunning views from the top.
Location: Nr Marshwood, Bridport, Dorset
Set 1/2 mile from Lambert's Castle, this ancient hill fort is awash with bluebells in the spring and is lovely for a short walk. Make the circuit around the edge of the fort and enjoy the peace and quiet of the centre where you could stop for a picnic. Cross the road and you can enjoy the stunning views across the Marshwood Vale.
Location: Stour Row, nr Shaftesbury
Just three miles outside Shaftesbury, this huge Woodland Trust wood and (Site of Nature Conservation Interest) is famed for the bluebells on its steep slopes. The ancient wood appears in the Domesday Book, was once owned by Eton College and is said to have inspired Thomas Hardy's The Woodlanders.
Location: Fifehead Magdalen
This attractive 20 hectare mixed broadleaf site is a popular walking spot for local villagers. The Wood is a Site of Nature Conservation Importance due to its good woodland structure and associated woodland species such as bluebell and wood anemone. The surrounding landscape is characterised by farmland. The wood is home to a wide variety of wildlife including butterflies bats and birds such as buzzards and woodpeckers.
Location: Halstock, Yeovil, BA22 9SW
Hibbitt Woods is tucked away in a peaceful part of west Dorset, the perfect place to relax and get 'back to nature.' The reserve combines two attractive areas of ancient woodland together with a small flower-rich meadow, next to the small hamlet of Adam's Green.
Flower interest in the woods includes early purple and bird's-nest orchids, the Goldilocks buttercup, wild daffodil and bluebell (a special spring treat), while out on the meadow, common spotted orchid, cowslips and the rare adder's tongue fern.
Location: Wimborne Minster, Dorset, BH21 4EA
The Kingston Lacy estate is one of most popular areas in the county to see bluebells, with thousands of people coming to see the spectacular carpets of flowers.
Location: Maiden Newton, Dorset, DT2 0EJ
Hidden away in the west Dorset countryside, this gem of a nature reserve supports an impressive list of rare and protected species amongst the intricate mosaic of unimproved wet and dry grassland, scrub, woodland and small copses.
A visit to Powerstock Common is rewarding at any time of year. In early spring the woodlands are alive with birdsong and sprinkled with a carpet of bluebell, wild daffodil, herb-Paris and early purple orchid.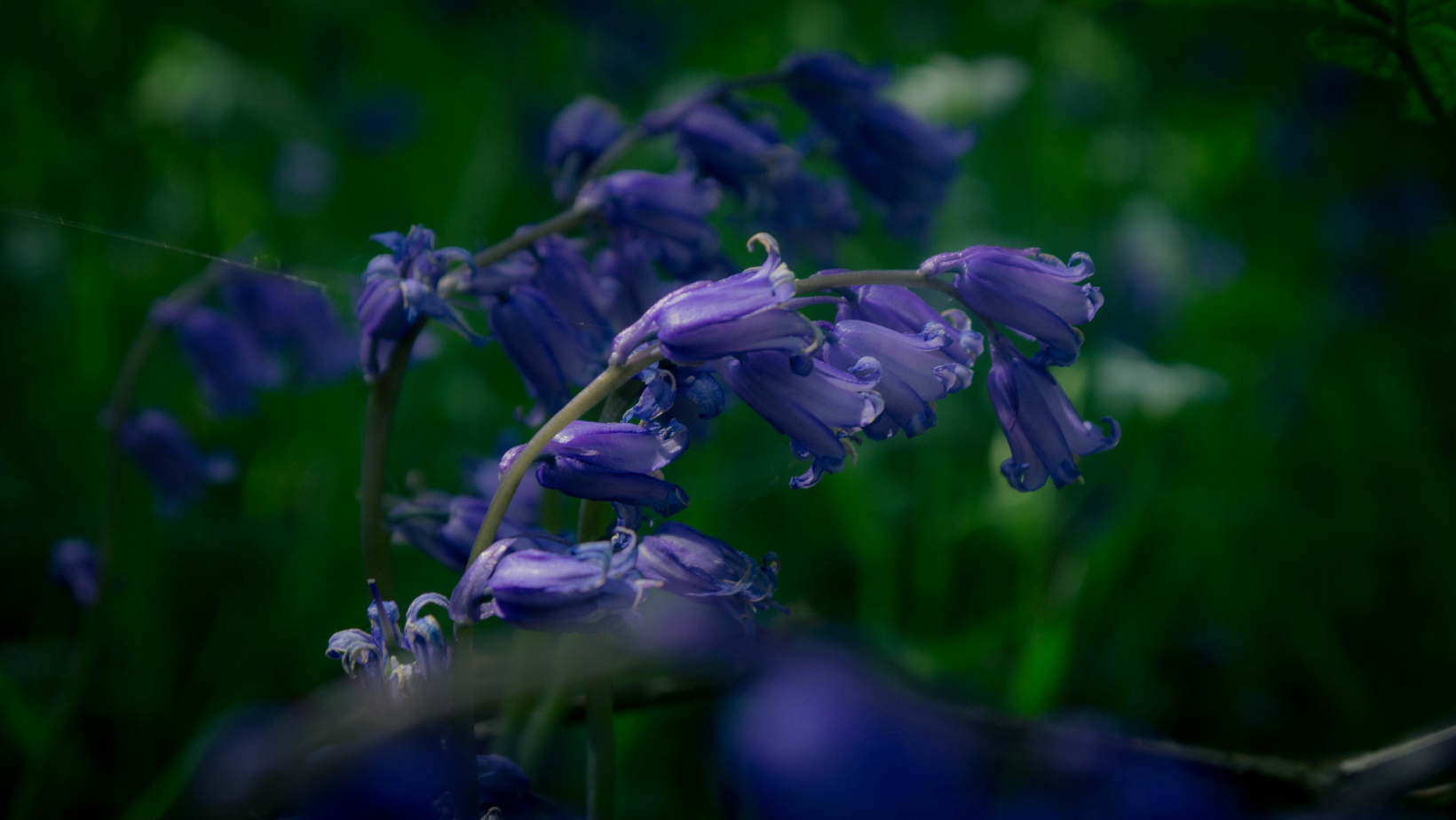 Bluebell Woods Essex
Location: Broxhill Road, Havering-atte-Bower, Essex, RM4 1QH
This Local Nature Reserve has lots to see and do. The huge woodland and meadow areas are the perfect places for nature watching or enjoying a family stroll on the weekend; it's even home to herd of red deer!
Location: Danbury Common, The Armoury, Penny Royal Road, Danbury, Essex, CM3 4ED
The reserve, owned by the National Trust, is positively bursting with colour in April/May as bluebells cloak the ground beneath the shelter of the trees. Blake's Wood is an ancient woodland of almost 100 acres that's home to a mixture of mature oak, chestnut and coppiced hornbeam as well as a diverse species of birds such as nightingales and hawfinches.
Location : Hawkswood Road, Downham, Billericay, CM11 1WT
Owned by Essex & Suffolk Water and run by the Essex Wildlife Trust, the reservoir is the 11th largest in England with a huge population of diverse wildlife. It's open to visitors for fishing, walking, nature watching and even a family picnic if the sun is shining. Some of the best bluebell views can be found from the Visitor Centre set within its stunning ancient woodland setting.
Location : 174 Turner Rd, Colchester CO4 5JR
High Woods Country Park is one of Colchester's beauty spots. The park provides habitats for thousands of different birds and mammals, including woodland, a lake, wildflower meadows, marshes, hayfields, scrubland, and open spaces (ideal for picnics).
Location : Hillhouse Wood, Colchester
Just outside Colchester lies Hillhouse Wood, a patchwork of diverse woodland perfect for a weekend stroll. Home to two ponds, as well as streams running through the wood, there is a huge selection of wildlife to be seen. During the spring the bloom of bluebells in the area are simply breathtaking. The wood is run by the Woodland Trust.
Location: Outwood Common Rd, Billericay CM11 1HA
Norsey Wood has been designated as a Site of Special Scientific Interest (SSSI). It is well known throughout the county as being a hotbed for wildlife with a huge variety of wonderful plants and animals. With a nature trail, woodland craft activities, a picnic area and lots of walking routes it's a perfect destination for a family day out. During April and May bluebells flood the area, carpeting the woodland floor in a sea of blue.
Location :St Michael's Rd, Thundersley, Benfleet, Essex, SS7 2UW
Acquired by the Essex Wildlife Trust in 1993, Pound Wood is one of the largest remaining areas of ancient woodland in the area, at nearly 55 acres. The wood is an excellent site for wildlife with an abundance of flowers, particularly in spring when the bluebells are flourishing. There are plenty of wonderful walking paths but visitors are advised to keep to the marked trails to avoid disturbing the wildlife in the area.
Location: Ashdon, Saffron Walden CB10 2NB
This ancient woodland in Saffron Walden is roughly 17.5 acres in size and is renowned for its fantastic oxlip blooms. The wood is managed in a way that encourages the numerous other flowering plants to flourish and as result, come spring, walkers will see excellent displays of wood violets, wood anemones, purple orchids and of course, bluebells.
Location : Off of Tiptree Road, Great Totham, Essex, CM8 3ED
One of the best bluebell displays in the area, as soon as spring arrives, bluebells literally carpet the floor of Shut Heath Wood. It's not just the carpet of bluebells that fill these woods with colour, but in spring and summer look out for the displays of other beautiful flowers such as Bugle, Cuckooflower, Wood Anemone and Dog VioletAt around 50 acres in size, roughly half of the wood is made up of arable farmland with the other half comprising of ancient oaks, chestnuts, silver birch and hornbeams. A perfect location for a dog walk – provided the dogs are well behaved, there is plenty of space for them to run and explore.
Location : Church Lane, Weeley, Essex, CO16 9AT
Weeleyhall Wood has one of the most exceptional displays of bluebells in Essex. During spring when the flowers come into bloom, they carpet almost half of the area and with 78 acres of land, that's pretty impressive. It's an ideal spot for nature watchers being a habitat for a diverse variety of woodland birds and butterflies. It's also dog friendly, although owners are encouraged to keep their dogs to certain areas and on a lead when using the track down to the wood.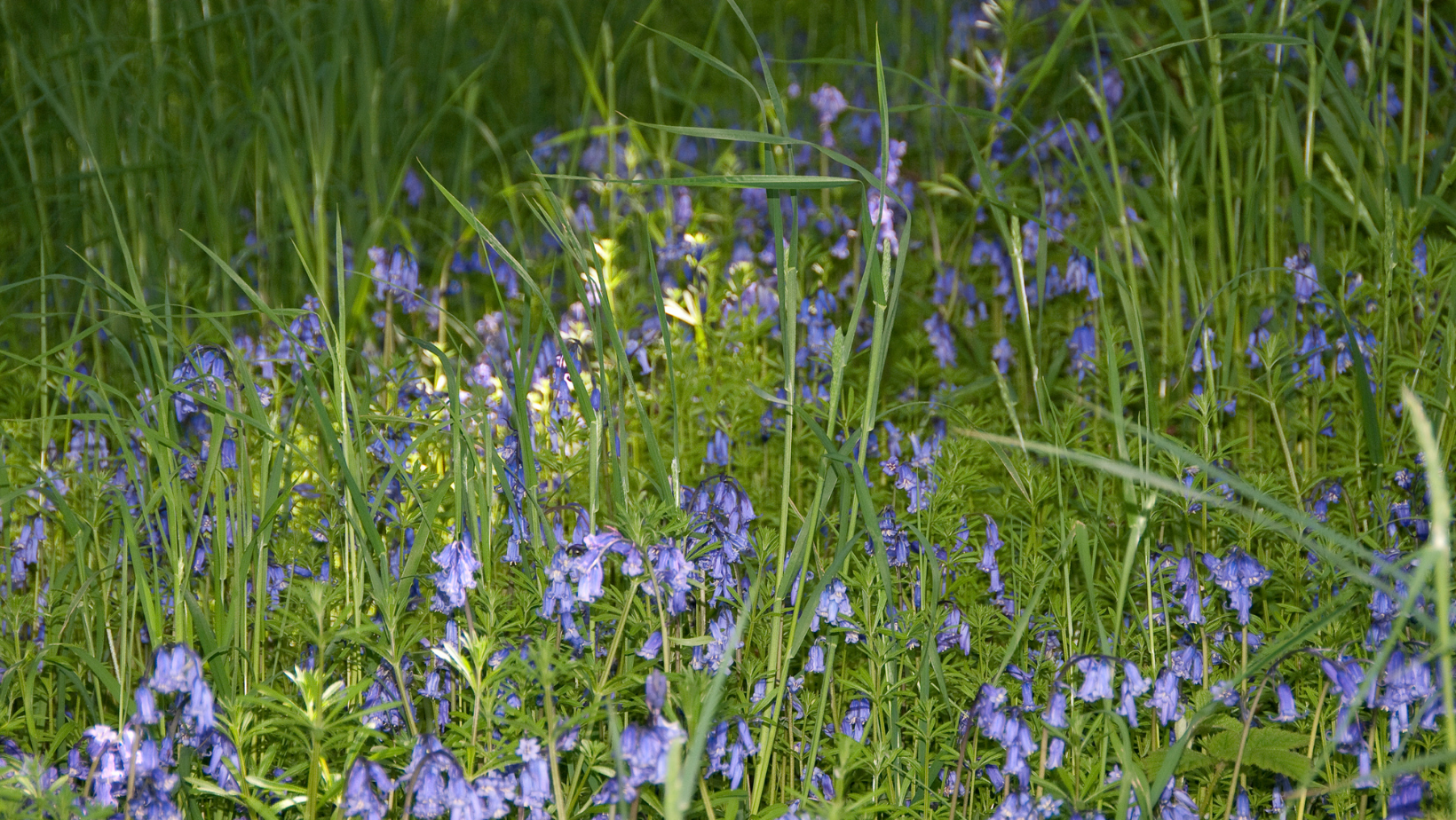 Bluebell Woods Gloucestershire
Location : Batsford, Moreton-in-Marsh GL56 9AT
As well as bluebells growing in its shady glades, other spring plants at dog-friendly Batsford Arboretum include wild garlic and grape hyacinths. The children will enjoy the trail and play area.
Location : Camp Mill, Soudley, Forest of Dean GL14 2UB
Have a fun family day out in the Forest of Dean, home to some of the country's most spectacular bluebell displays, at the Dean Heritage Centre in Soudley. From the centre, take the approximately one-hour bluebell-lined walk through the Soudley Woodland to the Wenchford Picnic Site to see the flowers in full bloom.
Location : Chipping Campden, Gloucestershire
Bluebells grow in the woods at the foot of popular walking destination Dover's Hill, which marks the start, or finish, of the Cotswold Way.
While you are there, take a walk up the hill to the viewpoint, which stands at 230 metres above sea level, for views of picture-perfect Cotswold countryside.
Location : Three miles north east of Stroud on the B4070 near Bull's Cross close to Slad. Stroud
With the smell of wild garlic in the air, take one of a number of routes at Frith Wood and enjoy the sight of swathes of bluebells. Perfect for a spring walk, the 24 hectares of ancient beech woodland lie on a ridge that overlooks Painswick Valley and Slad Valley.
Please be aware that Frith Wood Nature Reserve is very close to people's homes and visitors are asked to be quiet while walking through this beautiful woodland. Please park at Bull's Cross Car Park rather than on local lanes as these are used by residents. Parking at Bull's Cross is free.
Location : Nr Whiteshill Village, Stroud, Gloucestershire, GL6 6PP
A superb Cotswold landscape of mixed woodland and open grassland with extensive views. A stunning display and a stunning view once you get to the top of the hill. Head out of Stroud on the Stonehouse Road and follow the signs to find a shaded but stunning show of flowers.
Location : Mickleton, Chipping Campden GL55 6LN
Although famed for its roses, Kiftsgate Court Gardens is also home to the spectacular Bluebell Wood located to the side of its drive.
Blooming its flowers for over 100 years, the stunning gardens are a creation of three generations of female gardeners, making this spring the time to visit.
Location : Lassington Wood, Highnam, Gloucester
With woodland paths lined with thousands of bluebells to your left and right, Lassington Woods near Highnam is a stunning sight to behold from mid-April. The undisturbed woodland is the perfect place to enjoy a quiet moment, and lose yourself in the beauty of the surrounding countryside.
Location : Between Wickwar and Hawkesbury Upton off Inglestone Common, Wickwar, GL9 1BX
A certain sign that summer is nearing is the sight of beautiful bluebells dotting the ground; and the vast landscape of Lower Woods harbours plenty from late April. One of the largest ancient woodlands in the south-west of England, and the largest managed by the Gloucestershire Wildlife Trust, Lower Woods covers three square kilometres with woods and coppices as well as grassy areas and woodland flora.
Location : Just off the A46, near Lower and Upper Kilcott, Wotton-under-Edge
With the arrival of spring, Midger Wood becomes awash with colour when gorgeous bluebells, bright primroses and wild garlic line the ground. The nature reserve is located just off the A46, near Lower and Upper Kilcott but couldn't feel further from a busy main road. For a reflective walk, and the chance to enjoy a moment of peace and quiet, Midger Wood is ideal.
Location : Painswick, Gloucestershire, GL6 6TH
Famous for its snowdrops, the 18th century garden, the only complete surviving rococo garden in the country, has been gradually planting bluebell bulbs each year in its woodland. Visitors and their dogs can admire the bluebells on a stroll through the garden, explore the unusual buildings and enjoy a warming drink in the café. Currently you have to book to visit, co check out the website for opening times and dates.
Robinswood Hill Country Park
Location : Reservoir Rd, Gloucester GL4 6SX
Take a picnic and head out on the two-hour woodland trail around the country park to see its offering of bluebells, keeping an eye out for wildlife including green woodpeckers, speckled wood butterflies and whitethroats. Head up the hill for spectacular views of the Severn Bridge, the Malvern Hills and the Black Mountains.
Location : Between Sapperton and Oakridge Chalford
Located between the Cotswold villages of Sapperton and Oakridge, Siccaridge Wood is home to carpets of bluebells that sit under 26 acres of beautiful silver birch, beech and ash trees. The wood is managed by the Gloucestershire Wildlife Trust, and is home to many protected species including the common dormouse and fallow and roe deer.
Location : Westonbirt, The National Arboretum, Tetbury, GL8 8QS
Home to over 2,500 species of trees, Westonbirt Arboretum, near Tetbury, is a prime spot for bluebell growth and visitors can follow the dog-friendly Silk Wood trail to see them in all their glory. As well as the native British bluebells, visitors can discover over 2,500 different plant species from across the world and take to the treetop walkway 13metres up in the canopy.
Location: Nympsfield, near Stonehouse, Gloucestershire, GL10 3TS
From the car park, history and flower lovers can take the almost four-mile Boathouse walk around the secluded wooded valley at Woodchester Park. As well as bluebells, keep an eye out for the estate's 19th century boathouse and unfinished gothic mansion.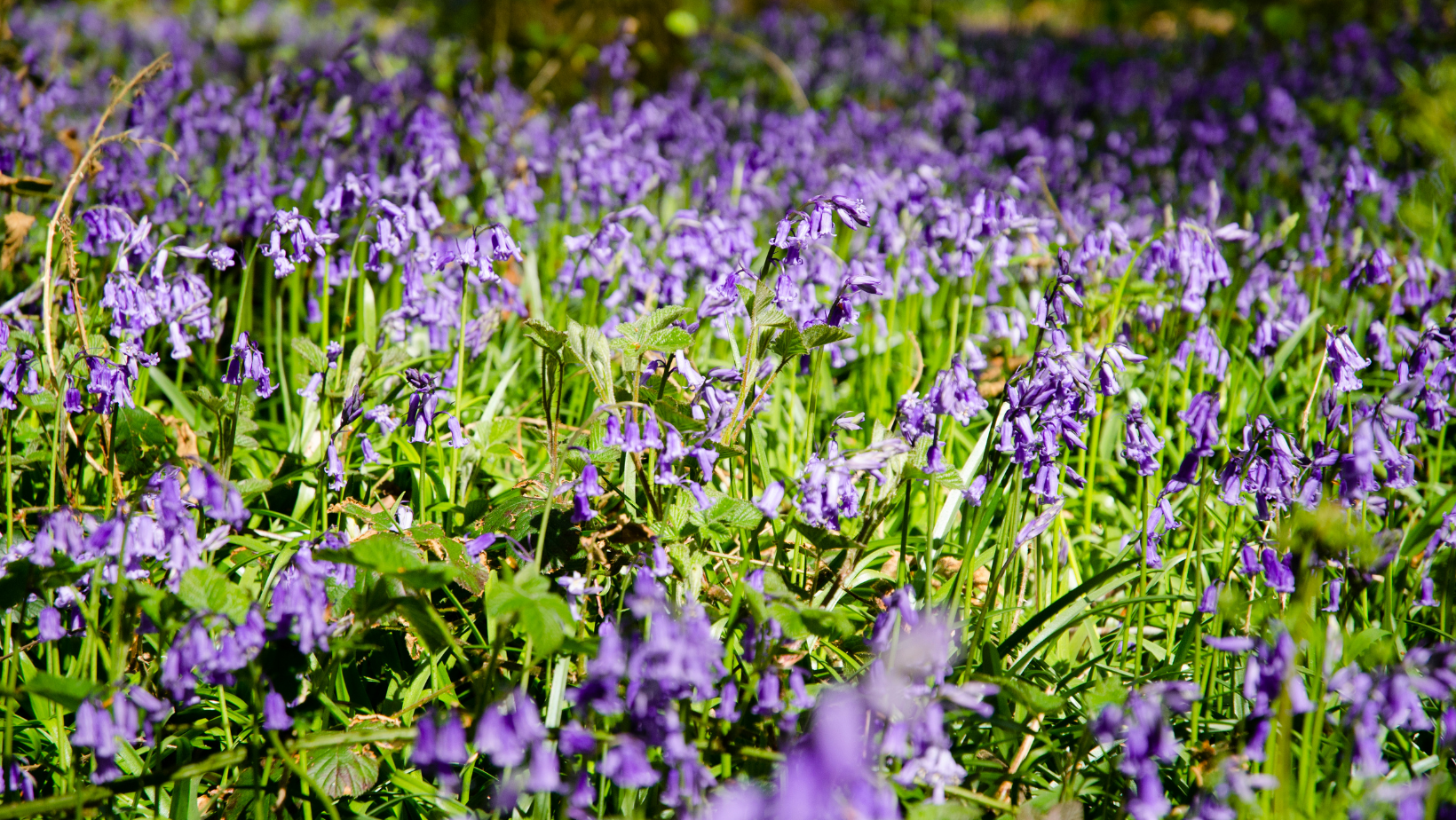 Bluebell Woods Hampshire
Location : Botley
With a Grade II listed watermill and millhouse, Durley Mill is just 7 miles away from Southampton and offers a real snapshot into how life 'used to be'. With their beautiful bluebells in bloom through April and May, and heritage buildings to explore it's a great spot that's not too far from civilisation.
Location : Exbury, Southampton, Hampshire, SO45 1AZ
Turning to a sea of colour each spring, Exbury Gardens is a great place for a day out this April/May to see bluebells, azaleas, camellias and rhododendrons. This country park is a whopping 200 acres of family fun and natural beauty to poke about in. There's even a mini train if you don't fancy plodding around too much.
Location : Hinton Ampner, near Alresford, Hampshire, SO24 0LA
A National Trust-owned site, home to a beautiful country house, which turns in to a sea of blue each spring. To make the most of their stunning carpet of 'bells, you can pick up a map from the site and stroll for about 30 minutes to find these hidden beauties.
Itchen Valley Country Park
Location : Allington Ln, Southampton SO30 3HQ
Itchen Valley Country Park is set in 440 acres of beautiful water meadows, woodland and meadows situated beside the River Itchen. As well as going seraching for bluebells, there are two outdoor fun play areas for children, one perfect for under nine year olds and an adventure style play area for ages 14 years and under located on High Hill Field. The Forest Trail connects the two play areas and adjoins the Play Trail, which is a short circuit with a series of play pieces, including a giant squirrel, climbing frame and a snail slide. Both these trails are pushchair-friendly.
Location : Chillandham Lane, Micheldever, Hampshire, SO24 9UB
Just 5 miles from Winchester, this wild woodland has a car park at the entrance of the wood as well as a picnic site, it's the perfect spot to check out that big blue carpet. As well as the bluebell show each spring, the wood contains a number of archaeological features.
Location : Pylands Lane Bursledon SO31 1BH
Expect to to see bluebells on show in the Dock Copse area, just south of Manor Farm.
Location : Brockenhurst, Hampshire, SO42 7UF
As you stroll around Roydon woods, you may be able to see evidence of ancient settlers dotted around. Located just less than 2 miles outside of Brockenhurst, it has a range of walks available. Only downside is there's no car park, however there's some roadside parking if you hunt around.
Location : Vyne Road, Sherborne St John, Basingstoke, Hampshire, RG24 9HL
The Vyne is a great spot to hit the bluebells and some charming historic architecture as well. The bluebell walk 1.3 miles and the grounds also offer up daffodils and cherry blossom for a bit of extra colour.
Location : Danvers Dr, Church Crookham, Fleet GU52 0YZ
Zebon Copse in the ancient settlement of Church Crookham offers some fab displays of bluebells. You can also take a trek down the nearby Basingstoke Canal and enjoy all the sights and sounds of Hampshire in the Spring.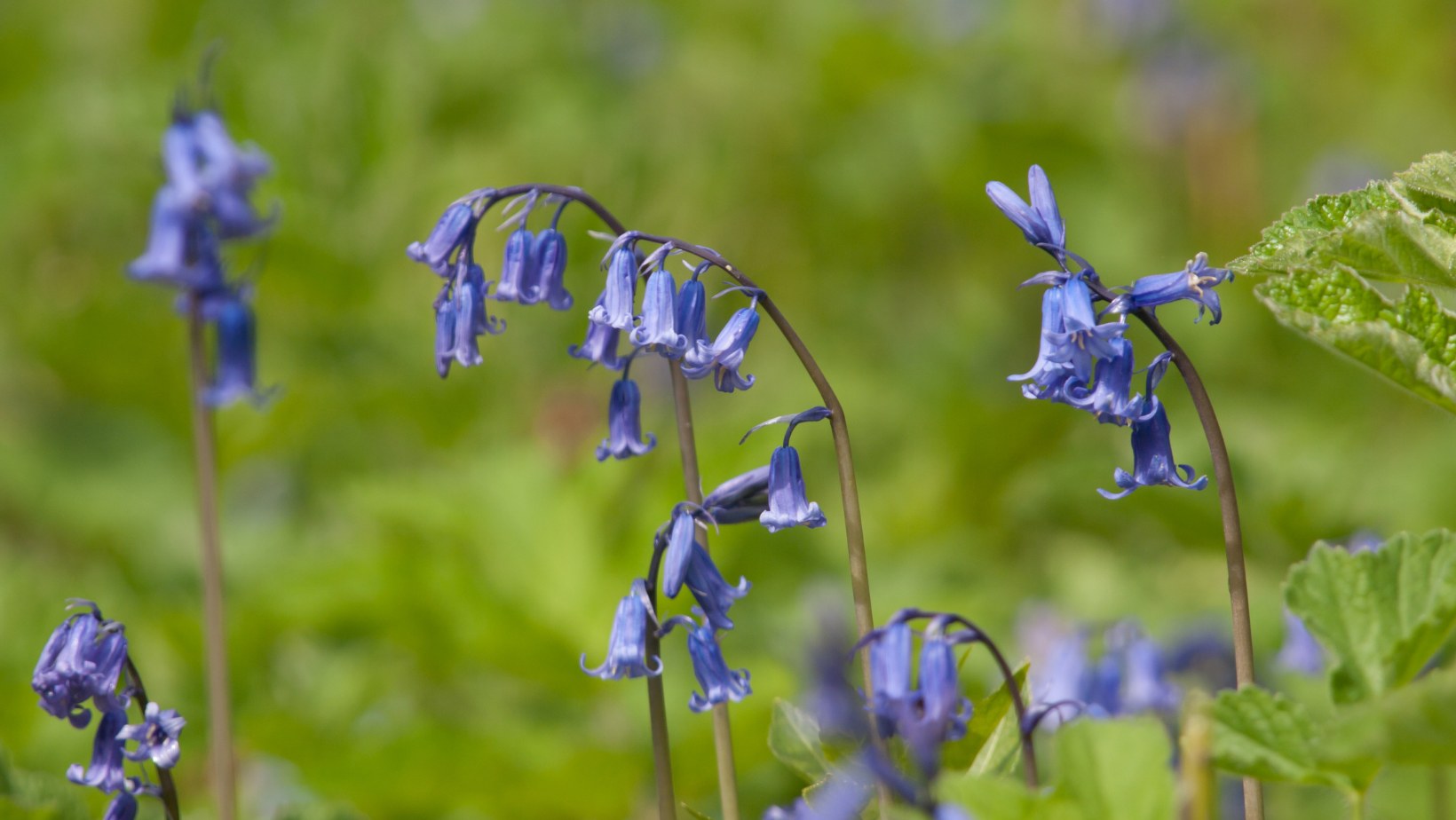 Bluebell Woods Herefordshire
Location : Credenhill, Hereford HR4 7DH
With a past as a Roman army depot, medieval deer park and the site of an Iron Age tribal centre, Credenhill Park Wood is steeped in history. Add to that a range paths to explore, terrific views of the Black Mountains, stunning woodland flowers and a variety of wildlife, and this is simply too good a wood to miss.
Location : Yarpole, near Leominster, Herefordshire, HR6 9PW
Croft's parkland is transformed by carpets of bluebells in April and May. As you arrive at Croft this spring, you will notice smatterings of bluebells in and around the trees along the entrance drive. But if you really want to surround yourself by bursts of colour and blankets of blue, head to the wood pasture. There are thousands underneath the Candelabra Oak, which is the perfect spot to get lost in your thoughts and listen to the birds.
Location : Lea and Paget's Wood, Fownhope, Herefordshire
Situated on the slopes of the Woolhope Dome Landscape, Lea & Pagets Wood is arguably one of the finest ancient, semi-natural, broad-leaved woodlands in this area.
Large and spectacular drifts of bluebells make a fine show in springtime, mixed in with wood anemone, ramsons and early purple orchids. You can also spot herb paris, wild daffodil, sanicle, wild liquorice and greater butterfly orchid.
Location : Just north of Fownhope, Woolhope Roa, Fownhope, Herefordshire
Ancient woodland with typical ground flora including an abundance of bluebells in spring.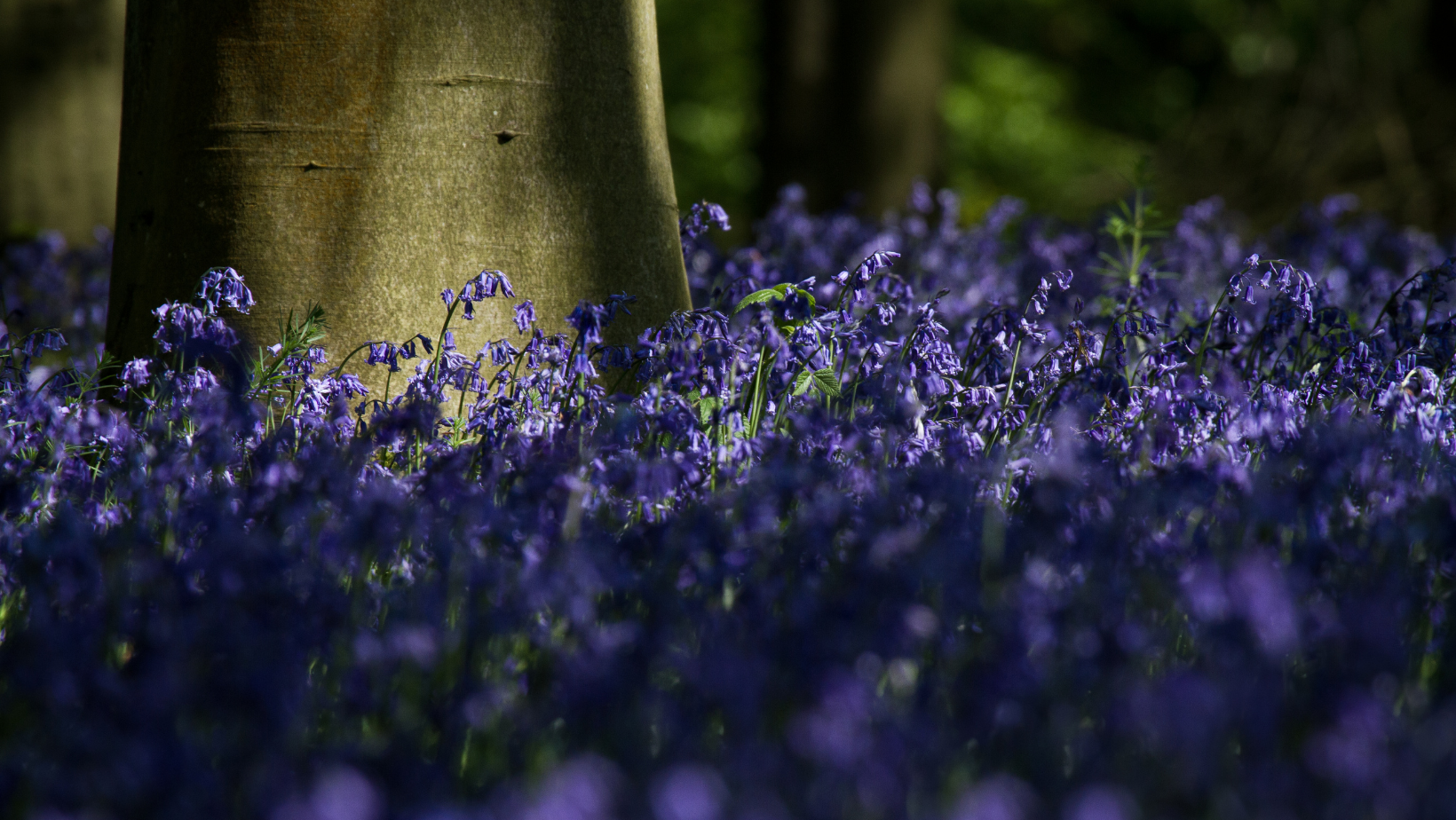 Bluebell Woods Hertfordshire
Location : Moneybury Hill, Ringshall, Near Berkhamsted, Hertfordshire, HP4 1LT
The rolling estate of Ashridge is owned by National Trust and has a variety of terrains to explore including woodland, meadows and chalk downs, forming part of an area of outstanding natural beauty. The estate is open from dawn to dusk and will be bursting with bluebells between the trees. Visit the website for a dog-friendly circular walk which can be 1.5 to 4.5 miles in total. Don't forget to snap your bluebell pictures for Instagram!
Location : Off Mymms Drive, Brookmans Park, Potters Bar, Hertfordshire, AL9 7AF
Gobions Wood is known for its bluebells and anemones which burst into life in the springtime. There is also a rare 18th century pleasure garden, which were common attractions during the Victorian times. Fungi are also a draw for visitors with over 550 types to spot during the autumn months. You won't want to miss a square inch of this splendid wood. Dogs are welcome too.
Location: Sandridge, St Albans AL4 9DQ
The new Heartwood Forest near St Albans, being less than ten years old, is still in its youth but is nonetheless a wonderful place to see fragrant bluebells and other wildflowers. Cared for by the Woodland Trust, the wood has waymarked walking paths meaning you can focus on spotting the pretty flora and fauna on offer. Visitors are raving about the woodland online for its dog friendliness and tranquillity.
Location : Toms Lane, Kings Langley, Hertfordshire, WD4 8NX
Among other spring flowers, Longspring Wood in Kings Langley is home to swathes of bluebells that emerge as the days warm up. Oak, ash and hazel trees make up the mass of the woodland, a tranquil place to welcome in the springtime.
Pryor's Wood
Location : Stevenage SG1 6AH
Just outside Stevenage is the small but pretty oak, hornbeam and hazel woodland, Pryor's Wood, which welcomes bluebells during April and May. Spot the tracks of muntjac and fallow deer which are known to roam the woodland or spot one of the animals themselves if you step lightly. Follow this trail to get the full benefits of this wildlife-rich reserve.
Location : Brickendon Liberty
You wouldn't guess but neighbouring ancient woods, Nut Wood and Wormley Wood, are just 20 miles from central London. Escape the city, or travel from around the county as these woodlands are perfect to while away a spring afternoon strolling among the trees, that are peppered with bluebells. Bring your binoculars to enjoy some birdwatching too.
Location : Welwyn Garden City, Hertfordshire
Located in Welwyn Garden City is Sherrardspark Wood which is primarily comprised of sessile oak and hornbeam that are bathed in bluebells from mid-April. The wood is a Site of Special Scientific Interest. Bring a picnic, and the dog too.
Location : Upper Green Road, Tewin, Hertfordshire, AL6 0LZ
The traditional English orchard of Tewin with lovely fruit trees that blossom in the early spring is situated next to the shady Hopkyns Wood that welcomes swathes of bluebells in April and May.
Location : The entrance to Panshanger Park is via the Thieves Lane car park located just off the A414 near Hertford. The nearest postcode is SG14 2WN.
Bluebells, den building, an easy circular walk for youngsters and excellent blackberries come summer, a mile from Hertford North train station which has a regular service into London taking around 40 minutes to Finsbury Park. Panshanger is a huge park with a nature reserve, river, lakes and vast open meadows so it's a lovely day out. Bring a picnic
Location : Hertfordshire
Follow the footpath from Cassiobury Park across the West Herts Golf Club to find this pretty woodland spot, where bluebells fill the old WWII bomb craters.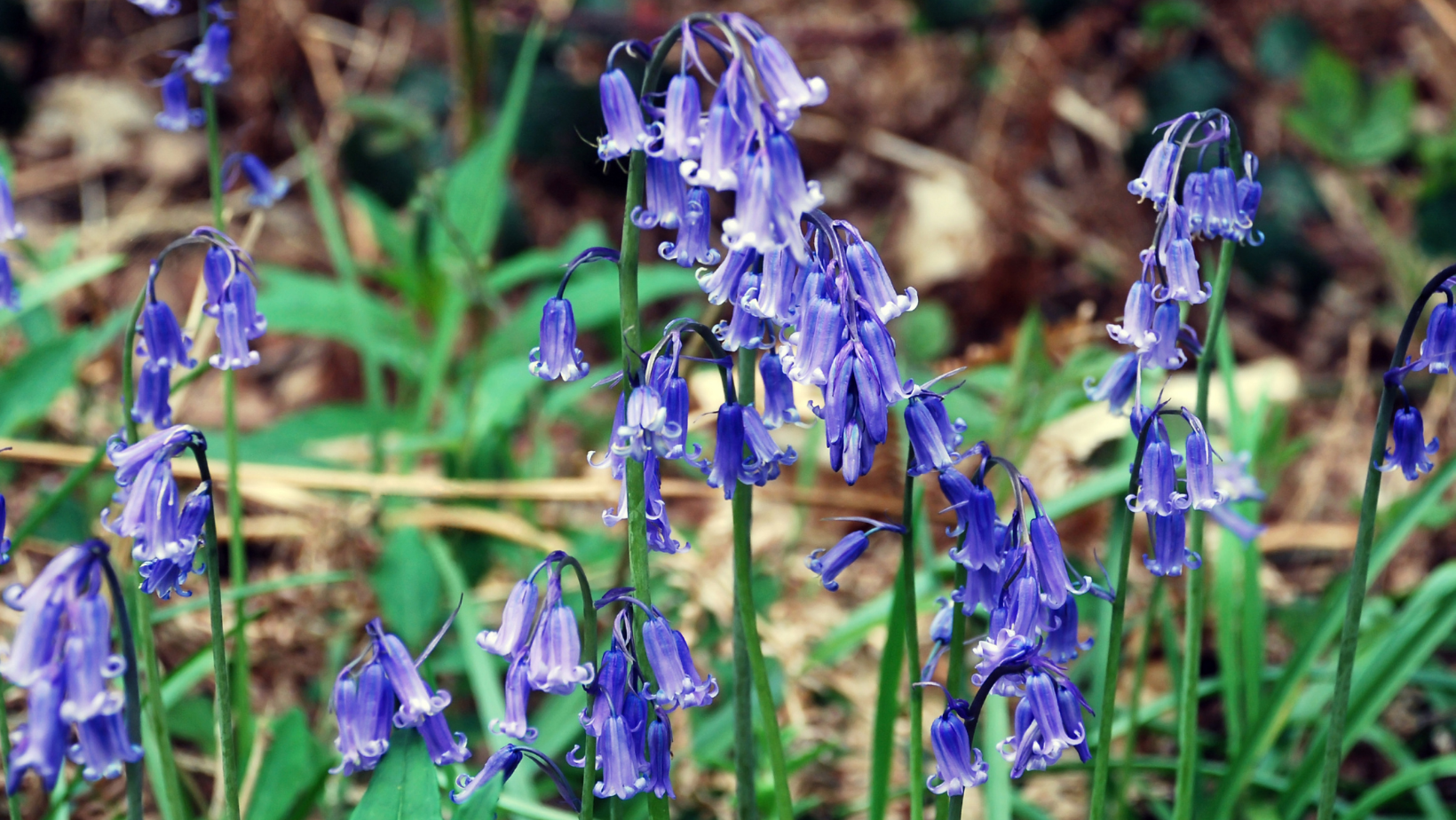 Bluebell Woods Isle of Wight
Location : America Wood, Shanklin
Just outside of Shanklin is America Wood. There's a rumour that this place was named as they used the wood to build ships for the American War of Independence, but its a bit unfounded. Amongst the trees and the bluebells here, you'll also be able to find wild badgers and more of the Island's famous Red Squirrel population.
Location : near Winford, Isle of Wight, PO36 0LD
By the end of April, the woodland floor of Borthwood turns into a carpet of blue, and a delicate scent fills the air. Nestled amongst the trunks of the ancient oaks and beeches, and lining the footpaths, you'll find hundreds of native bluebells for you to carefully tiptoe through.
Location : Brading, Isle of Wight, PO36 0NT
Eaglehead and Bloodstone copses form a splendid ancient woodland, home to red squirrels, dormice and a variety of bat species. In spring the woodland comes to life with primroses, wood anemones, bluebells and strange but beautiful toothworts. During the summer silver-wash fritillaries and white admiral butterflies can be seen fluttering in the glades.
Location : Mottistone, near Brighstone, Isle of Wight, PO30 4ED
Hidden away at the very rear of Mottistone Gardens is an area known as Shearn Place. Nestled beneath the downs above and crisscrossed with footpaths, this wooded area comes alive in May with bluebells.
Location : Town Lane, Newtown, Isle of Wight, PO30 4PA
This haven is abundant in both flora and fauna, so keep your eyes peeled. The copse can be accessed by the footpath next to the cottage opposite the National Trust building.
Location : Downend, Nr. Newport, Isle of Wight, PO30 2NU
Country park on the Isle of Wight which is scattered with woodlands and tucked away little spots to discover bluebells. There's also lots to do with the kids while you're there with their toboggan run and nature-themed attractions. Check out website for opening times and dates.
Location: Blackgang, Isle of Wight, PO38 2JB
Head along the ridge from St Catherine's Oratory towards Hoy Monument, and you'll come across swathes of wild bluebells covering the downs. Just as on Ventnor, the bracken ensures that they stay warm through winter. And we manage our countryside carefully, in order to create the best conditions for them to thrive.
Location : Ventnor Downs, Wroxall, Isle of Wight, PO38 1AH
It's not just deep in the shady woods that bluebells blossom. High above Ventnor, they can be found dancing in the breeze along the downs. The warmth provided by the bracken helps them survive winter and then blossom once spring arrives.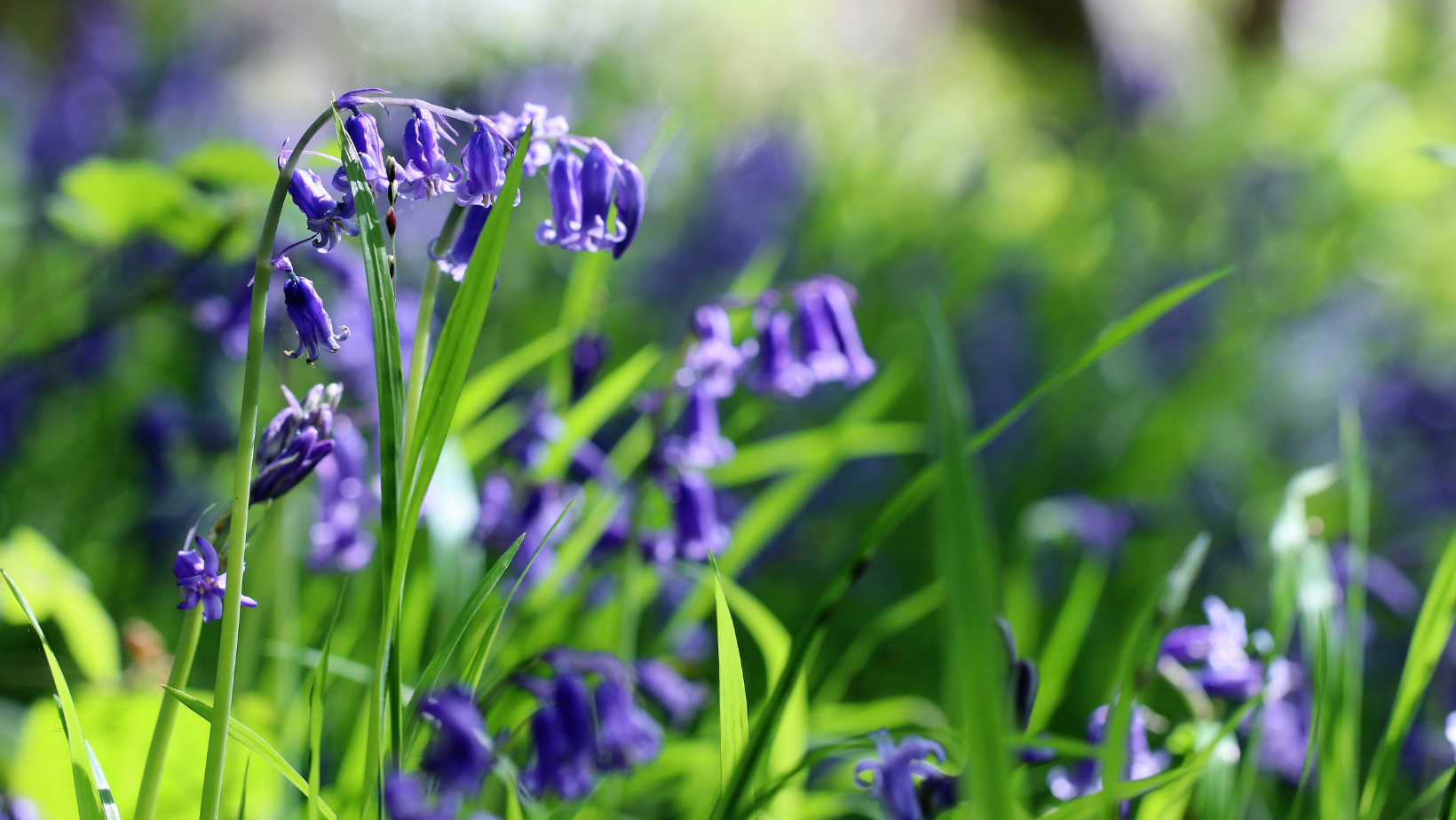 Bluebell Woods Kent
Location : Halfpence Ln, Gravesend DA12 3HB
This broadleaved ancient woodland of oak, hornbeam and sweet chestnut is a Site of Special Scientific Interest, and a great place to see bluebells and wood anemones in spring. There are two waymarked trails, it's alsopossible to do a circular walk encompassing Shorne Woods Country Park, which is also fabulous for bluebells, up on the 12km Darnley Trail.
Location : Lady Oak Lane, Goudhurst, TN17 2SJ
12,000 trees and shrubs are scattered across the landscape at Bedgebury Pinetum and when spring arrives, azaleas, rhododendrons and bluebells are all part of the stunning scenery. Pack a picnic, put your walking shoes on and enjoy this tranquil corner of the county.
Location : Hill Hoath Road, Edenbridge, Kent, TN8 7AD
Enjoy the 35 acres of grounds which surround this unique country house. Chiddingstone Castle is home to an amazing collection of artefacts from around the world and the grounds include a picturesque lake and grade II listed orangery. After the daffodils in March come the exquisite bluebells in the woodlands. It is also worth exploring the medieval village of Chiddingstone which is accessed via the iron gate from the grounds of the Castle.
Location : Ide Hill, Sevenoaks, Kent, TN14 6BA
This lovely hillside garden is a bluebell wonderland between April and May. The Edwardian estate, managed by the National Trust, has panoramic views over the Weald and a vibrant spring garden of rhododendrons and azaleas. For a lengthy bluebell adventure, grab your OS map and do a longer stroll that encompasses the surrounding Scords Wood. Alternatively, you can find woodland walk routes in the ticket office, which you are welcome to enjoy with four-legged friends; dogs are allowed in the gardens as well, but must be kept on a lead.
Ham Street Woods
Location : Hamstreet, Ashford TN26 2HH
The ancient woodland around the village of Hamstreet is a Site of Special Scientific Interest. In spring, carpets of bluebells and wood anemones bloom.This 400-year old wood is the last standing part of the oak forest that once covered the Weald. There are three way-marked trails (of up to 5 km) or, if you fancy a longer stroll, pick up the Saxon Shore Way or the Greensand Way, which both run through here. There is a car park at the end of Bourne Lane and further parking in the village.
Location : Benenden Road, Rolvenden, Cranbrook, TN17 4JA
Hole Park is a privately owned 15-acre garden set within 200 acres of gorgeous parkland. In late April and early May the woodland is carpeted in a sea of bluebells.The garden is open daily in spring and a lot of the garden is accessible by wheelchair; dogs are allowed in the parkland, but not the gardens.
Location : Church Rd, Maidstone ME17 1QT
Situated within the Kent Downs, this Woodland Trust estate has a good show of bluebells in spring. A mix of ancient woodland, new woodland and chalk grassland, with archaeological remains and gorgeous views over the Weald of Kent, this is a great place for a walk.
Location : Mote Road, Ivy Hatch, Sevenoaks, Kent, TN15 0NT
The 546-acre National Trust estate around this moated 14th-century manor house boasts a great display of bluebells in the spring, especially in Scathes Wood. As well as enjoying the bluebells in the woodland, take time to see the garden, which includes lakes, a formal garden and an orchard. Some of the garden is suitable for wheelchairs. Dogs are welcome on the estate (but not in the gardens) and in the outdoor part of the Mote Café. You can download the walks from the NT website or pick up from Ightham Mote.
Location : White Hill , Challock, Kent, TN25 4AR
This 1500-acre woodland, managed by the Forestry Commission, is one of the biggest and oldest forests in Kent. In spring, you can see carpets of fragrant bluebells. The mixed woodland has a fantastic sculpture trail, managed by Stour Valley Arts. Download walk routes and maps from the Friends of King's Wood website; only one route through the wood is accessible by wheelchair.
Location : Crockhamhill Common
Admire the panoramic views of the Weald from the top of Mariners Hill and the bluebells in the woods. Enjoy short circular strolls or join the Greensand Way, which runs along the hill's northern boundary.
Oare Gunpowder Works
Location : Western Link, Faversham ME13 7UD
It is said Guy Fawkes purchased gunpowder from here, but it's safe to say a more peaceful visit is to be had these days! Among the rich patchwork of habitats of wetland, woodland and open glades, bluebells are emerging across the landscape. Serene natural area with trails for hikers & their pets, plus gunpowder-mill ruins & local wildlife.
Location : Benenden, TN17 4LD
This remote and tranquil reserve comprises woodland, nesting within an area of pasture and orchard. Designated as a SSSI for its ghyll habitat and associated species – a rare habitat in the south east. The wood is mixed with a fairly sparse understorey due to its dense canopy. However, coppicing has recently taken place to open up the canopy and allow the understorey to develop and flourish. In the spring, the wood teems with bluebell, primrose and golden saxifrage.
Location : Faversham ME13 9RN
Enjoy walks in this ancient mixed woodland when the bluebells bloom in late April and early May. Formed of sand mounts that rise from chalk downland, the site has stunning views to the Wye Downs and the Isle of Sheppey.
Location : Lamberhurst, Tunbridge Wells, Kent, TN3 8JB
Enjoy swathes of bluebells at Scotney from mid to late April and into early May. The romantic 14th-century moated castle sits within a beautiful wooded estate that spans 770 acres. Enjoy a walk on one of the three easy-to-follow trails that runs through the parkland and woodland. Four-legged friends are very welcome in the estate, but must be kept on a lead.
Location : Biddenden Road, near Cranbrook, Kent, TN17 2AB
Sissinghurst Castle Garden is a joy in spring and summer; at this time of year, the Nuttery, the Orchard, the Delos and the Lime Walk especially are a treat. But the surrounding 460-acre estate is also wonderful, producing an indigo explosion of bluebells between April and May. There is a mapped three-mile walk on the National Trust website, which takes 1½ hours and passes through the bluebell wood, as well as the surrounding fields. Afterwards climb the stairs of Vita's enchanting writing tower to gaze over the fields you've just walked.
Location : Brasted Chart, Kent, TN16 1QG
With even more Wealden views across 200 acres of woodland, Toy's Hill is the place for when you want nothing more than to lace up your walking boots and stride into spring. You'll find bluebells spread all across the woodland floor.
Trosley Country Park
Location : Waterlow Rd, Vigo, Vigo Village, Gravesend DA13 0SG
This 170-acre park is owned by Kent County Council and is a Site of Special Scientific Interest. The Trosley woods bloom with bluebells at the end of April and early May. There are three waymarked trails through the park (including the Trosley Trail, which is accessible to wheelchairs), and the option of three circular walks, ranging from 3.5 to 7.5 miles. Dogs are welcome but must be on a lead around grazing animals.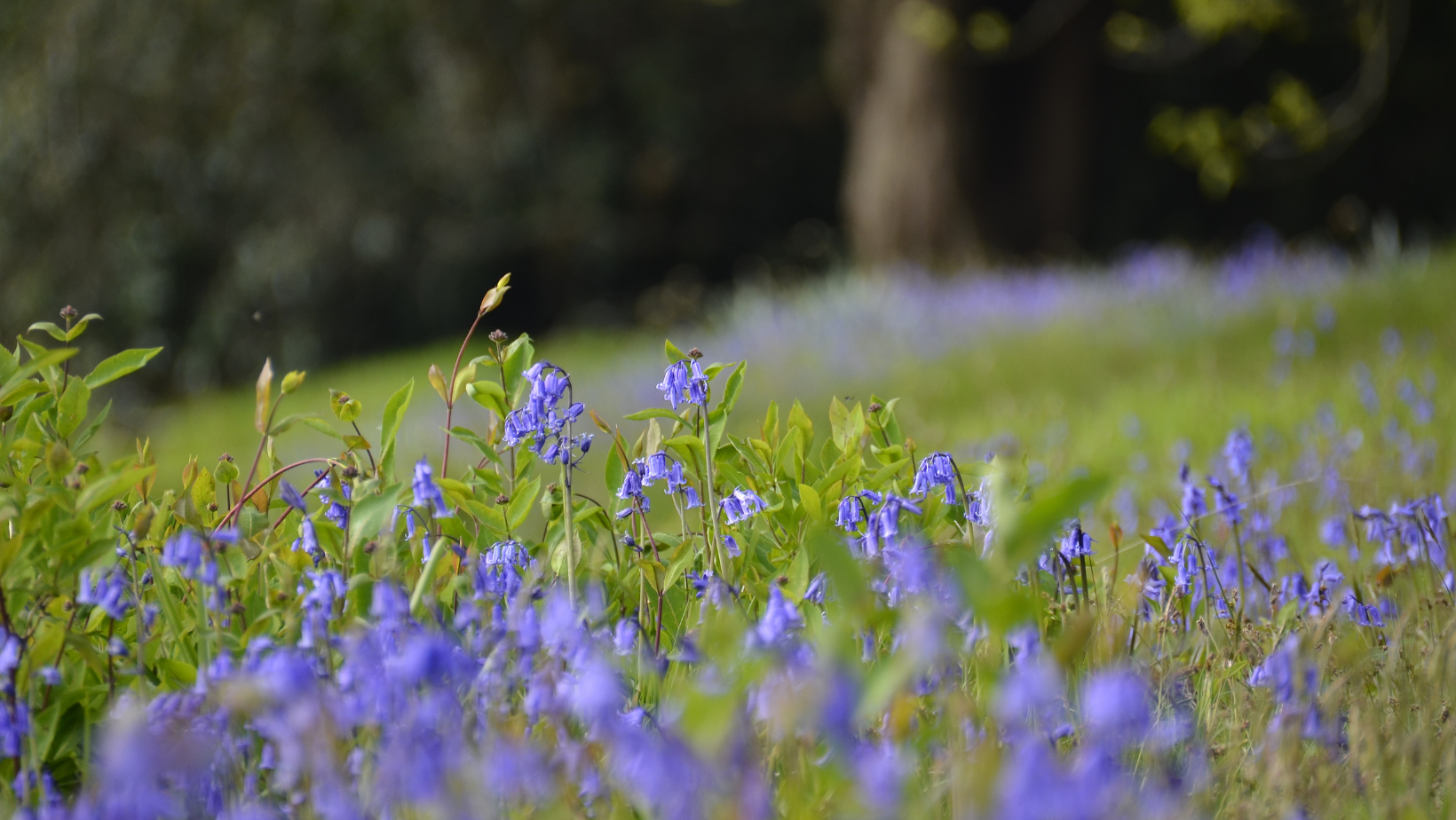 Bluebell Woods Lancashire
Location : Five miles north east of Lancaster, between Aughton and Caton, Aughton, Lancashire
Spring is the best time to visit Aughton Wood when the bluebells form a carpet across the woodland floor.
Location : Preston New Rd, Samlesbury, Preston PR5 0AG
At Brockholes, spectacular blue carpets spring up in Boilton Wood and practically glow between the trees! ,it won't be long until you can head over to the reserve and photograph them in all their glory.
Location : Hyning Scout Wood, Carnforth
Hyning Scout Wood lies between the villages of Yealand Conyers to the north and Warton to the south. This large 52 acre wood is rural and mostly made up of semi-natural ancient woodland to the south. lt has some wonderful mature sweet chestnut and beech trees. Access to the wood is straight off Hyning Road. There is limited parking to the south at the entrance that leads to a track known as Donkey Lane.
Location : Mason's Wood, Fulwood, Preston
Comprising mainly mature mixed broadleaf woodland and boasting a rich ground flora. Eight main entrances and a network of linear surfaced footpaths link this site to the surrounding open space and public footpath network. Masons Wood is onether best bluebell woods. If you'd like to visit and see a superb bluebell display, then mid-April to early-June is usually an ideal time for most woods.
Location : Rabbit Lane, North of Bashall Eaves, Clitheroe, Lancashire, BB7 3NB
The woodland areas of Moor Piece make it a perfect catchment area for bluebells during the spring time.
Location : 200 Liverpool Road, Rufford, near Ormskirk, Lancashire, L40 1SG
If you step into the North Woods at Rufford Old Hall in springtime, you'll find yourself surrounded by a sparkling sea of blue. This spot is well known for its display of thousands of bluebells in mid-April – arguably one of the best places to see bluebells in Lancashire.
Location : Just west of Warton Village, Carnforth, Lancashire, LA5 9RB
In Potts Wood and Strickland Wood the moist, calcareous soils are perfect for the beautiful band of ash, hazel, yew, birch and rowan trees that grow there. The wildflowers, too, are a sight to behold. The kaleidoscopic colours of wood anemone, bluebells, primrose, early purple orchids, violets and pignut are particularly spectacular when shafts of sunlight cast spotlights across the woodland floor.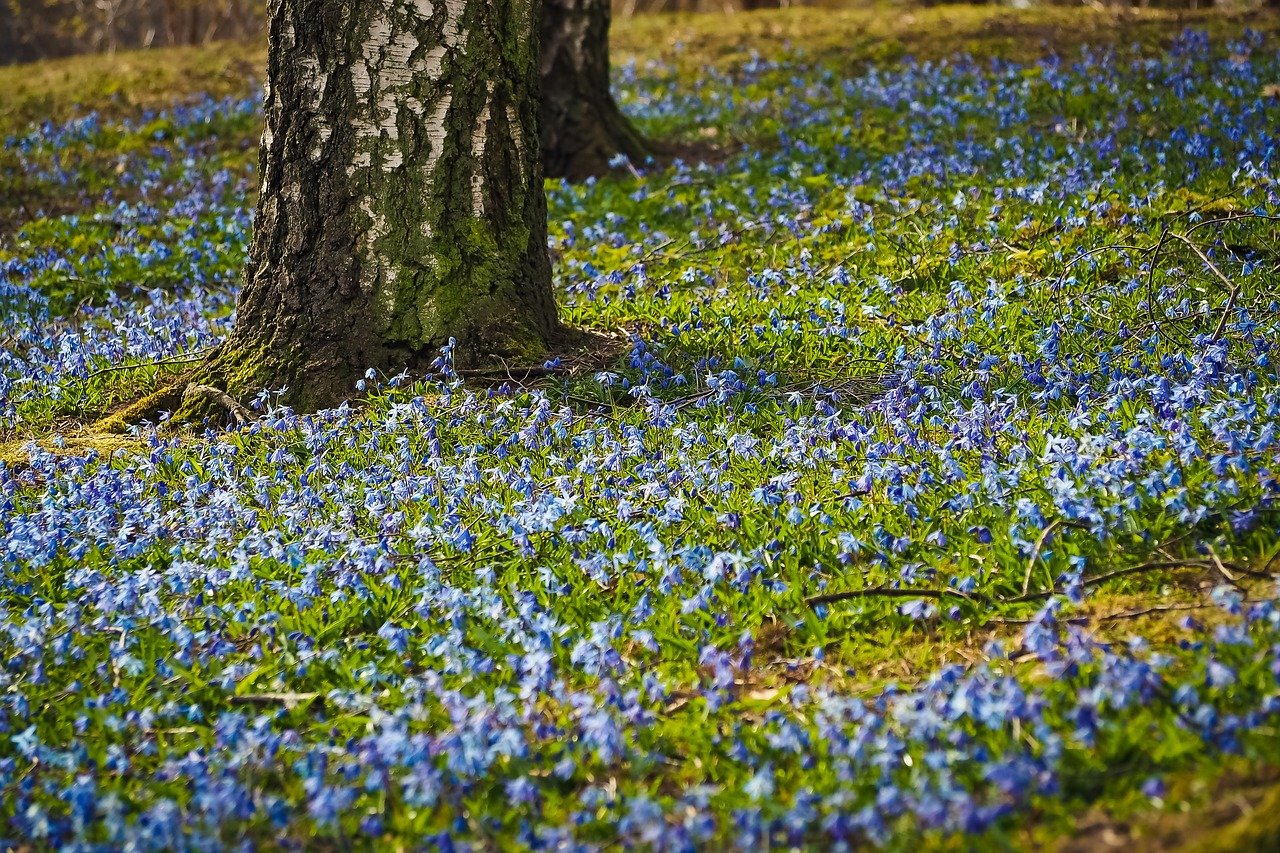 Bluebell Woods Leicestershire
Location : Ratby, Hinckley LE6 0LF
Burroughs Wood in Ratby Hinckley is a wood of two halves linked by a public Right of Way. The northern section contains ancient woodland with a sea of bluebells in the spring – definitely worth visiting.
Location : Warren Hills Road, Copt Oak, Leicestershire LE67 4UY
A combination of two ancient woodlands with an impressive display of bluebells in the spring. This reserve is divided into three parts, Burrow Wood, Cat Hill Wood and the field between them. The display of bluebells here in the spring is a real impressive sight and also attracts a variety of bird life.
Location : Harborough Hill Road, Stockerston, Oakham LE15 9JD
Bluebells, badgers and woodland birds: what more could you want from this beautiful woodland? Adjacent to Eye Brook Reservoir, the reserve is bursting with wildflowers, mammals and birds, and is the perfect place to enjoy a wander.
Location : Launde, Leicester, LE7 9XB
This ancient woodland is managed by the Leicestershire and Rutland Wildlife Trust and situated between Launde and Loddington in east Leicestershire and there is a circular walk through and around the wood. There are a variety of ancient trees and bluebells cover the woodland floor as well as other wild plants.
Location : Woodhouse Eaves, Leicestershire
The Outwoods is 110 acres of ancient woodland to the north of Loughborough and is one of the oldest surviving woodland sites in Charnwood. Come at the right time in April/May and you'll be amazed at the pretty sight of bluebells which carpet the ground. The Outwoods consists of a variety of different routes and walks, including an easy access path with a bird feeding station, and has a 24 hour car park for visitors.
Location : Braunston, Oakham LE15 8DB
A woodland reserve teeming with wildlife and ancient atmosphere, Prior's Coppice is a relic of the wildwood that once covered all of Leicestershire and Rutland. When you step beneath the trees, you can feel how old this remnant of woodland is. Some of the trees are several hundred years old and centuries of management have led to an ideal habitat for birds, beasts and butterflies (and botanists!).
Location : Oakham LE15 8BT
The easiest place to get to is Barnsdale Woods. The woods can be best accessed by parking at Whitwell car park & following the footpath west towards the woods. Open every day now and is a great walk for your dogs as they can come off their leads here.
Location : Newtown Linford, Leicestershire
Swithland Wood is part of the Bradgate Estate and is managed by the Bradgate Park Trust. The wood covers an area of 170 acres and is designated a Site of Special Scientific Interest and acknowledged as one of the best remnants of native woodland in Leicestershire and home to its fair share of traditional native bluebells.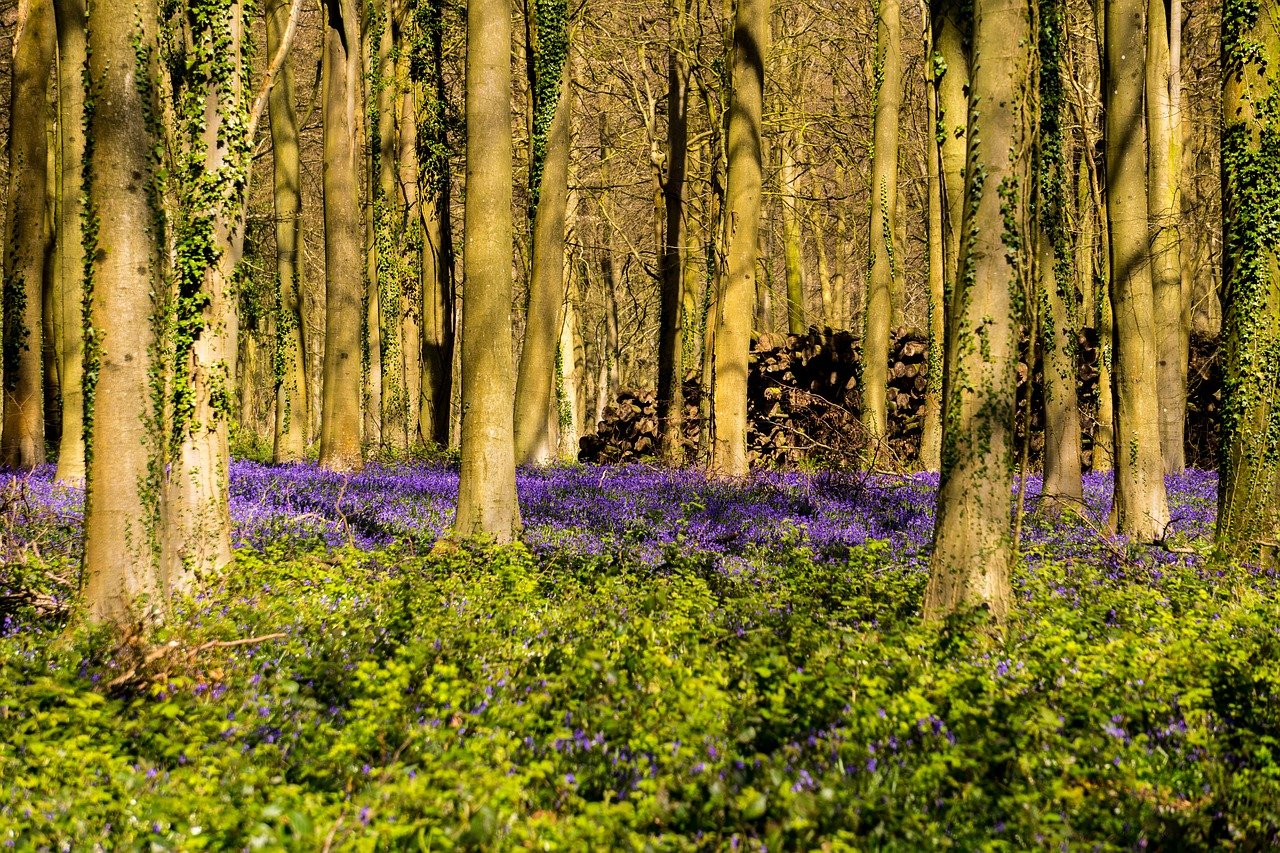 Bluebell Woods Lincolnshire
Location : South of Ashby de la Launde, Sleaford, LN4 3JJ
A network of footpaths exist allowing visitors to explore the woodland where they will find remarkable ancient coppiced ash, sycamore and horse chestnut trees, impressive stands of early purple orchids, and vast arrays of bugle, and maybe some bluebells.
Location: Obthorpe Lane, Thurlby, Bourne, PE10 0ES
The wood consists mainly of oak standards with hazel coppice. There are also ash, field maple, wych elm and wild service tree. Both common and midland hawthorns can be seen in the understorey. Bluebell, wood anemone and stitchwort are the most abundant species in the ground flora. Wood-sorrel, false brome, enchanter's-nightshade, bugle, yellow archangel and sweet woodruff can also be seen.
Location : Hoop Lane, Wragby, LN8 5QB
An excellent example of an oak/lime wood with a rich flora. Goslings Corner is one of the smaller ancient Lincolnshire oak/lime woods. The ground flora is impressively rich with abundant spring flowers, such as bluebell, wood anenome and woodruff, wood buttercup, yellow archangel, yellow pimpernel, ramsons and common valerian. Rarer woodland plants include greater butterfly-orchid and bird's-nest orchid. Look out for woodpeckers.
Location : Old Wood, Lincoln
Skellingthorpe Old Wood is an ancient woodland within Witham Valley Country Park, near the village of Skellingthorpe, Lincoln. It is most easily accessed on foot, by bike or on horseback. The woodland also has a high conservation value and you won't have to look hard to find bluebells. If you are lucky you might also spot some of the wildlife within the wood – owls can often be heard at dusk and deer have also been spotted.
Location : Off Haugh Lane, Haugh, Alford, LN13 0AN
Rigsby Wood is an ancient woodland lying partly on chalky Boulder Clay and partly on glacial sands at the edge of the Wolds. The path passes through a narrow section of the wood known as The Pingle in which old ridge and furrow can be detected, showing that this is not part of the ancient wood. The woodland soon opens out and the path crosses the medieval boundary bank into the old part of the wood. In this older part of the wood, bluebells are in abundance along with wood anemone, wood-sorrel, early-purple orchid, sweet woodruff and ragged-robin, which is an old meadow relict species.
Location : Tattershall Thorpe
Tattershall Carrs woods were once part of RAF Woodhall Spa during WWII which was home to the famous 617 Dambusters squadron. In the woods, you can find various abandoned buildings plus a fair few bunkers dotted around. It's up to you to find them though, that's all part of the fun.
Location : Morkery Lane, Castle Bytham, NG33 4SR
Tortoiseshell Wood is a fine example of Kesteven boulder clay primary woodland. The calcareous clay gives rise to a rich and varied ground flora. In spring and early summer the ground flora is dominated by carpets of bluebell and dog's mercury, with large scattered clumps of primrose, wood anemone and several species of violet.
Location : Morton Lane, Eagle Barnsdale, LN6 9EA
Tunman Wood has existed as woodland since at least 1774 and is reputed to have been used as a cross country route by the Knights Templar. Plant life thrives on the open rides, woodland edges and banks, with species such as primrose, bluebell, water avens, dog's mercury, wild arum, red campion and celandine.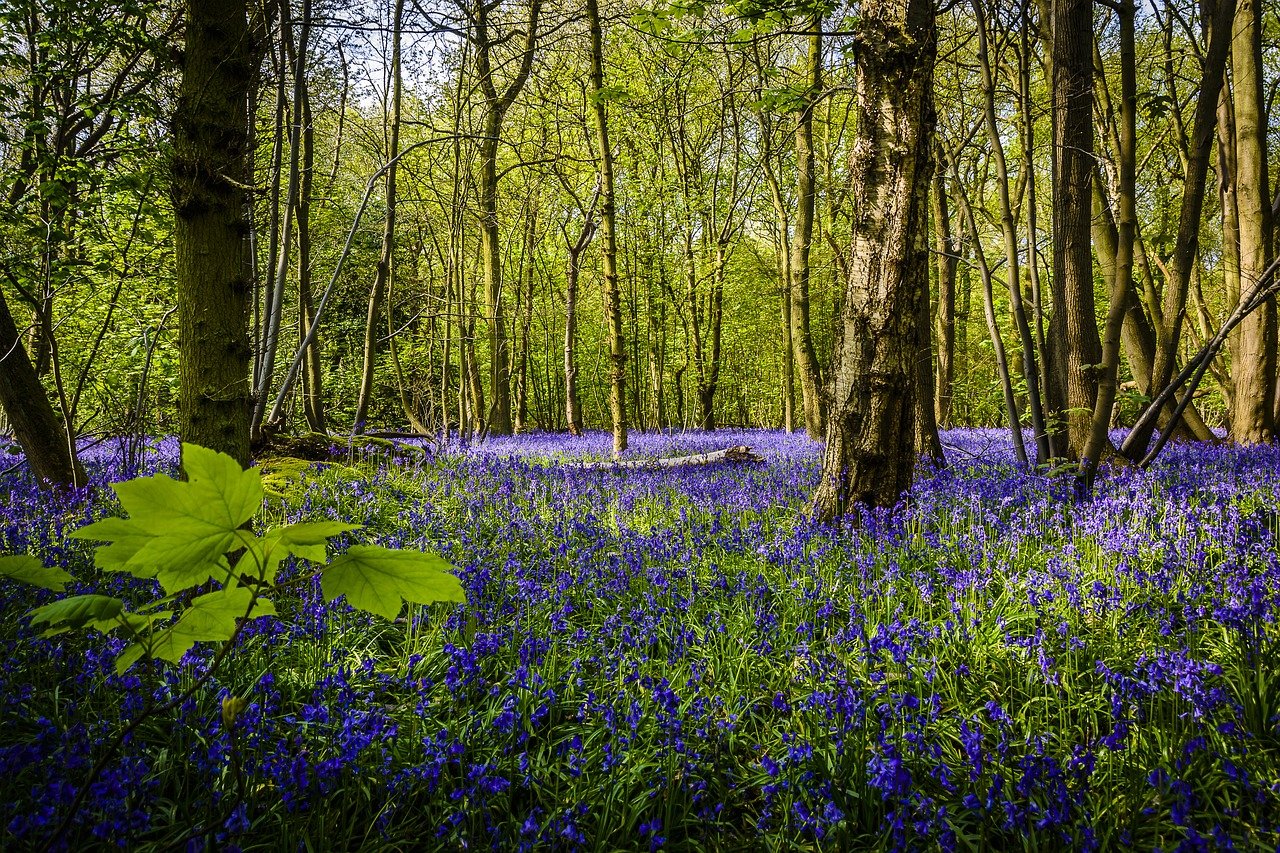 Bluebell Woods Liverpool
Location : RSPB Dee Estuary Nature Reserve, Burton Mere Wetlands, Puddington Lane, Burton, Neston CH64 5SF
This nature reserve near the Dee Estuary is perfect for a spot of bird watching, but also full of beautiful bluebells at this time of year. The woodland areas of the site are blanketed in the pretty spring flowers.
Location : Victoria Road, near Formby, Liverpool, L37 1LJ
The home of the red squirrel, Formby Pinewoods becomes a haven for bluebells in mid spring. Wander among the lush trees and soft undergrowth and enjoy the fleeting splash of colour on the Formby landscape.
Location : Next to the Runcorn Linnets Football Club in Runcorn, Cheshire. There is parking in the Murdishaw Valley car park off Murdishaw Avenue, next to the Halton Arms pub.
Just south of Runcorn, this huge ancient woodland is teaming with bluebells, and other colourful wild flowers come spring. As a designated nature reserve it is also a refuge for foxes, badgers and squirrels, with small streams, ponds, and meadows to explore.
Location : 200 Liverpool Road, Rufford, near Ormskirk, Lancashire, L40 1SG
With 14 acres of gardens and woodland there is plenty for you to explore at this Lancashire beauty spot. The best time to see them is in late April and early May in Beech Walk and the North Woods.
Location : The Walk, Speke, Liverpool, L24 1XD
Every spring, thousands of beautiful bluebells transform Speke Hall's ancient woodland into a blue paradise and it's always a must-see sight. It's one of the best places in Liverpool and the North West to see bluebells.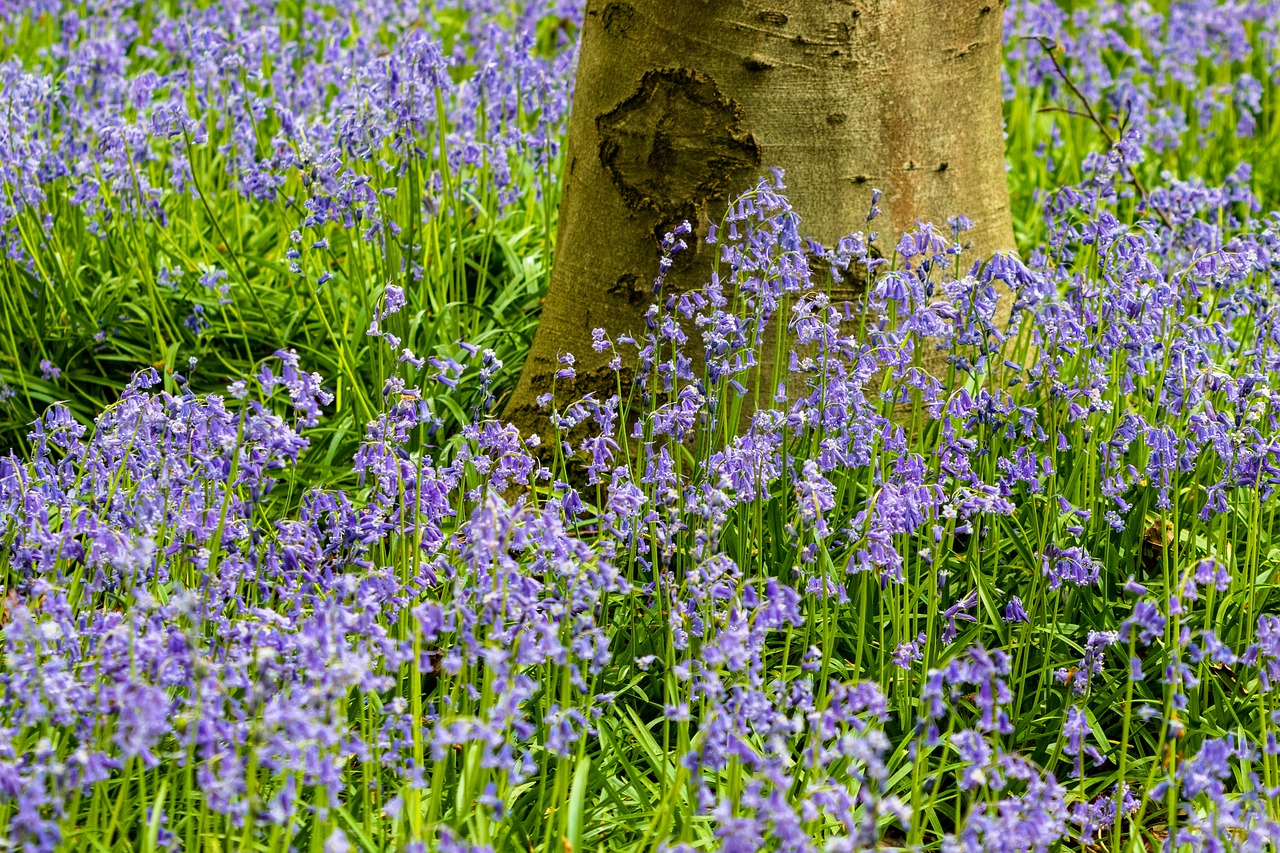 Bluebell Woods London
Location : Lynhurst Crescent, North Hillingdon, Hillingdon, UB10 9EQ
This ancient oak woodland brims with brilliant bluebells in spring and is a year-round haven for wildlife and wildflowers.
Location : Hampstead Heath, London, NW3 7JP
This enormous park in north London has many woodland patches where you'll find bluebells. Try Lime Avenue Bank. Don't forget to check out the fabulous views of London.
Location : 2 Sheppards Cottages, Muswell Hill Road, London N10 3JN
This 28 acre patch of woodland used to join the Forest of Middlesex which covered most of London, Hertfordshire and Essex in medieval times. You can easily reach Highgate Wood as it is next to Highgate Station on the Northern Line.
Location : Hyde Park, London, W2 2UH
After a planting incentive in 2013 when 40,000 English bluebell bulbs were planted, there are plenty to spot.
Location : Kew, Richmond, London, TW9 3AE
Home to London's finest bluebell woods but you can only access them by paying the entrance fee. See also – bluebells at Wakehurst. Nestled at the back of the botanic gardens, the grounds of Queen Charlotte's eighteenth-century thatched cottage boast one of London's finest bluebell woods.
Location : South Croydon CR2 8AA
Hidden away behind a group of houses and known to locals as the 'secret wood', Little Heath puts on a secret display of blue blooms when the weather begins to warm up.
Location : Jersey Road, Isleworth, Middlesex, TW7 4RB (sat nav TW7 4RD)
This National Trust run house and gardens have some lovely bluebell woods. They also run bluebell walks. Osterley is one of the last surviving country estates in London and the woods in its sprawling grounds are a bluebell utopia.
Location : Crown Woods Ln, London SE18 3JA
Reckoned by ecologists to be one of the most important woodlands for wildlife in the whole of London, drifts of bluebells appear in spring to accompany this nature fix.
Location : the postcode for the park is TW10 5HS
Although better known for its Azaleas and Rhododendrons, there is a bluebell walk in the Isabella Plantation.
Location : Crescent Wood Road, Sydenham Hill, SE26 6LS
This unique mix of new and ancient woodland, with remnants of a Victorian ornamental gardens contains over 200 species of plants, including the classic bluebell.
Location : Southern Grove, London E3 4PX
Set in a disused nineteenth-century cemetery this park is the only woodland in Tower Hamlets and the bluebells that pop up between the gravestones make for some beautifully spectral scenes.
Location : Wanstead Park, Warren Road, London, E11 2LS
Wanstead Park's woodland becomes an azure haze in spring when thousands of bluebells bloom.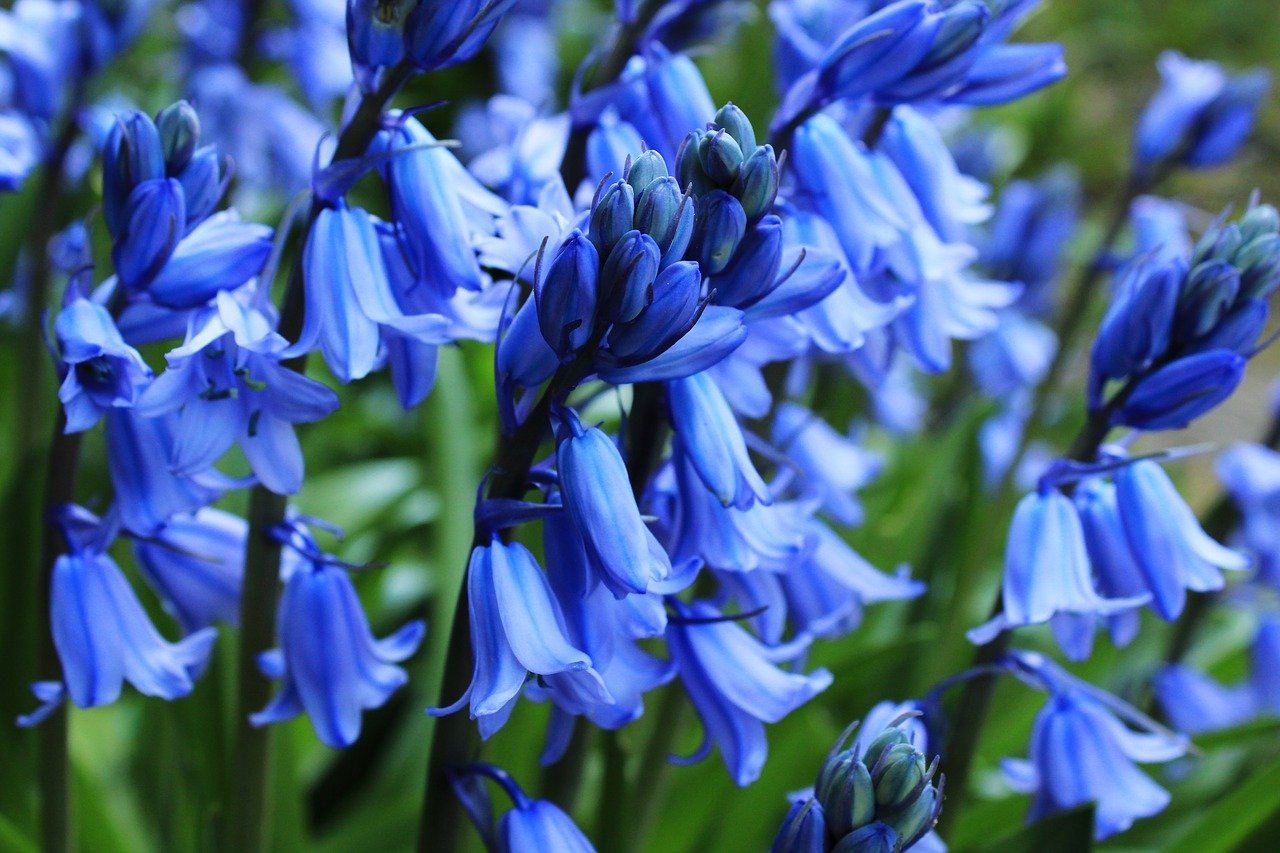 Bluebell Woods Manchester
Location : Altrincham, Greater Manchester, WA14 4SJ
At Dunham Massey stroll down camellia walk to see over 10,000 plants in the cyclamen grove, the bluebell meadow and yellow meadow. Take a walk and enjoy a beautiful display of bluebells on the estate. The largest collection of these delicate flowers can be found under the oaks and witch hazels next to the Bog Garden.
Location : Five miles north east of Lancaster, between Aughton and Caton, Aughton, Lancashire
Aughton Woods is the kind of nature reserve that inspires poets and enthuses artists, especially during the springtime. Visit at this time of year and you'll be overwhelmed by stunning carpets of azure bluebells that positively glow in the shafts of sunlight leaking through the trees.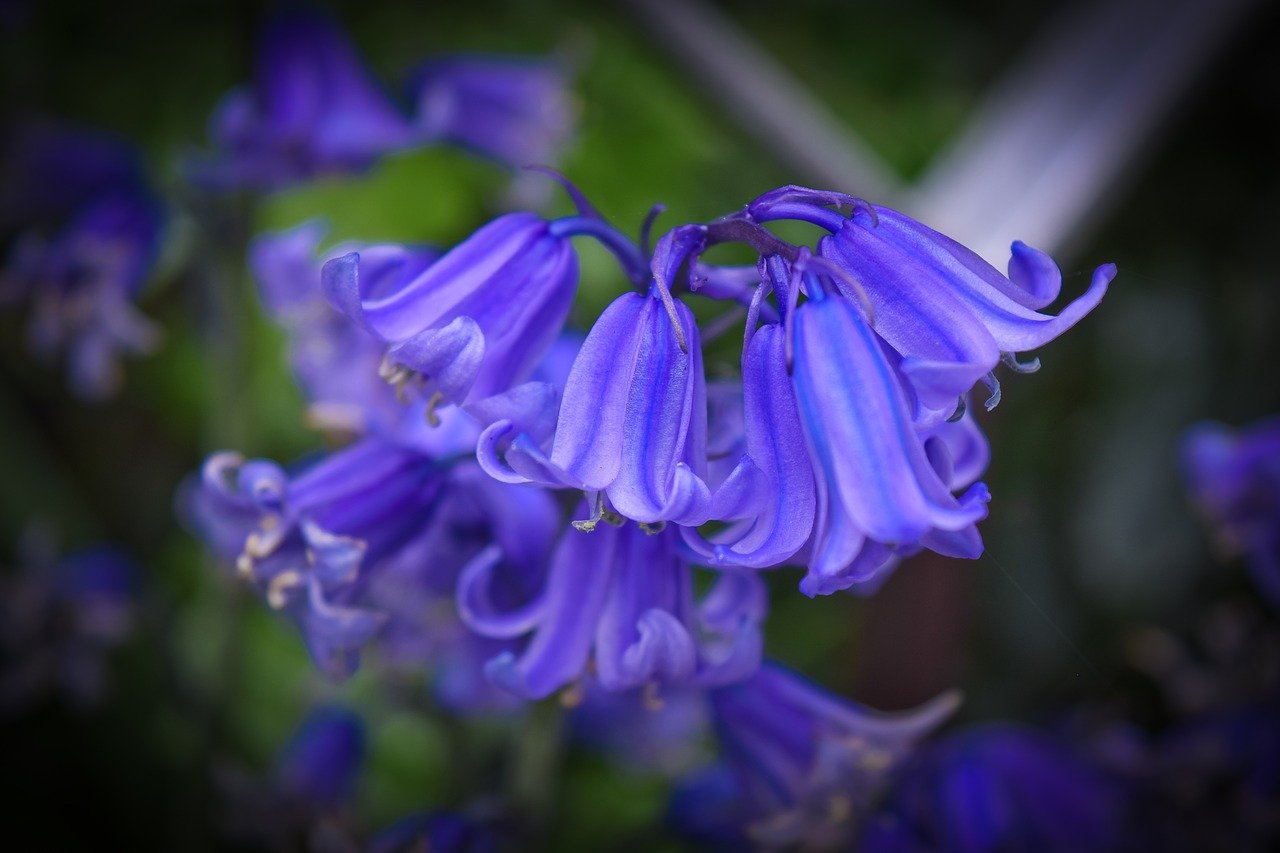 Bluebell Woods Norfolk
Location : Bacton Wood, North Walsham, NR28 9UE
Just 2.5 miles north-east of North Walsham lies Bacton Wood. Walkers can choose from three waymarked walks and can hope to see over 30 species of tree in addition to bluebells in the spring months. Whether you're taking a gentle stroll, bike ride or on horseback, visitors can enjoy the tranquillity of Bacton Wood. While enjoying the bluebells, keep an eye out for two sessile oaks which are over 200 years old.
Location : Blickling Estate, Aylsham, Norfolk, NR11 6NF
The famous National Trust property is one of Norfolk's gems, but in springtime its surrounding woodland really comes alive as bluebells spring to life. Tie it in with a visit to the House and Gardens, or make a special trip – it'll be worth it!
Bluebell Woods Gorleston
Location : Sidegate Rd, Gorleston-on-Sea, Great Yarmouth NR31 9AL
There are a number of small circular walks around the woodlands. Some giving you access to the open Norfolk countryside where you can walk your dogs in the large fields (which are not part of the woods). They woods are located behind the Gorleston Beacon Park industrial estate, near Captain Manbys Restaurant and Travelodge.
The easiest way to find Bluebell Woods in Gorleston is to drive along Sidegate Road and where you get to the sharp corner in the road,next to the electric substation, you can park just there and walk along the pedestrian pavement or bicycle pathway at the back of the South Gorleston Business Park.
Location : NR21 0BB
Part of Norfolk's less well-known important areas for nature – the North Norfolk Woods Living Landscape, Brett's Wood, close to Thursford, is one of NWT's newest reserves, having been purchased in 2010.
Location : Lingwood and Burlingham, Norwich
Burlingham Woods is a mixture of mature woodland and more recent wood and orchard plantings with three easy, circular walks of one mile, two miles or three miles offering a glimpse of bluebells.
Location : School Rd, South Walsham, Norwich NR13 6DZ,
Set in the heart of the Norfolk Broads, Fairhaven, at South Walsham, is surrounded by a 130-acre woodland. The pretty gardens contain a mix of native and cultivated planting including beautiful pockets of bluebells, candelabra primula and rhododendron.
Location: Foxley, Norfolk, NR20 4QR
Norfolk's largest ancient woodland is simply spectacular in the Spring. The woodland floor rolls out a magical blue carpet that stretches throughout.
Greenacres Memorial Park
Location : Watton Rd, Norwich NR4 7TY
This eco-burial site at Colney may seem like an unusual place to visit but the 16 acres of mature woodland and a sunny open meadow, The Dell, offer up a springtime carpet of blooming bluebells.
Location : Hethel Old Thorn, Church Lane, Norwich, Norfolk, NR14 8HE
Bluebells grace this ancient woodland during Spring. Not far from the market town of Wymondham. To conserve this Site of Special Scientific Interest, the Norfolk Wildlife Trust coppice the wood to encourage new growth.
Location : Old Church Road, Hainford, Norfolk, NR10 3BG
Norfolk Bluebell Wood Burial Park is a unique, natural burial ground in a beautiful park setting, home to centuries old bluebell woodland, newly planted woodland and a glorious wildflower meadow, all resting under big Norfolk skies. Located in the parish of Hainford, seven miles north of Norwich, it is a perfectly suited natural burial ground and final resting place for a loved one and all within easy reach of every part of the county.
Location :
By the 450-year-old Oak tree is a wonderful woodland that boasts a fantastic bluebell carpet from mid-April onwards.
Location : Upper Sheringham
On the outskirts of Sheringham, Pretty Corner Woods takes after its name with a stunning carpet of bluebells as well as red campion, wood sorrel as well as a spectrum of woodland butterflies.
Location : Upper Sheringham, Norfolk, NR26 8TL
The park boasts breath-taking coastal views as well as woodland magic. The landscape park and woodland garden has fine mature woodlands to explore, with a large variety of azaleas, rhododendrons and spring bluebells.
Location : Sisland Carr, Norwich NR14 6BQ
Near to Chedgrave and Loddon, Sisland Carr is a small wood of just under 30 acres with a mix of conifers and broadleaf trees, managed by the Woodland Trust. Head here in April and May to enjoy bluebells carpeting the woodland floor.
Location: Thursford, Fakenham NR21 0BB
As well as containing some of the oldest oak trees in Norfolk, Thursford Wood also has an excellent display of spring bluebells, summer ferns and autumnal fungi. Good numbers of common woodland birds are present.
Location : Common Pl, Walsingham NR22 6BP
The garden and grounds surrounding Walsingham Abbey are famous for the spectacular ruins of the mediaeval Priory and place of pilgrimage since the 11th century. The grounds are equally famous for its unrivalled displays of snowdrops in February but late spring also sees the beautifully maintained grounds transform the colourful wildflower meadows, with bluebells, within in the 18 acres of woodlands.
Location : IP25 6PS
Wayland Wood near Watton is the alleged setting of Babes in the Wood. Today, explorers in one of the largest woods in South Norfolk can expect to discover purple orchids, wood anemone and nightingales in addition to spring bluebells – lucky walkers may even spot a golden pheasant strutting through the leaves. Insect lovers should also keep an eye out for the diverse selection of moths inhabiting Wayland Wood – there are over 250 species! Open dawn to dusk every day, parking available, no dogs allowed.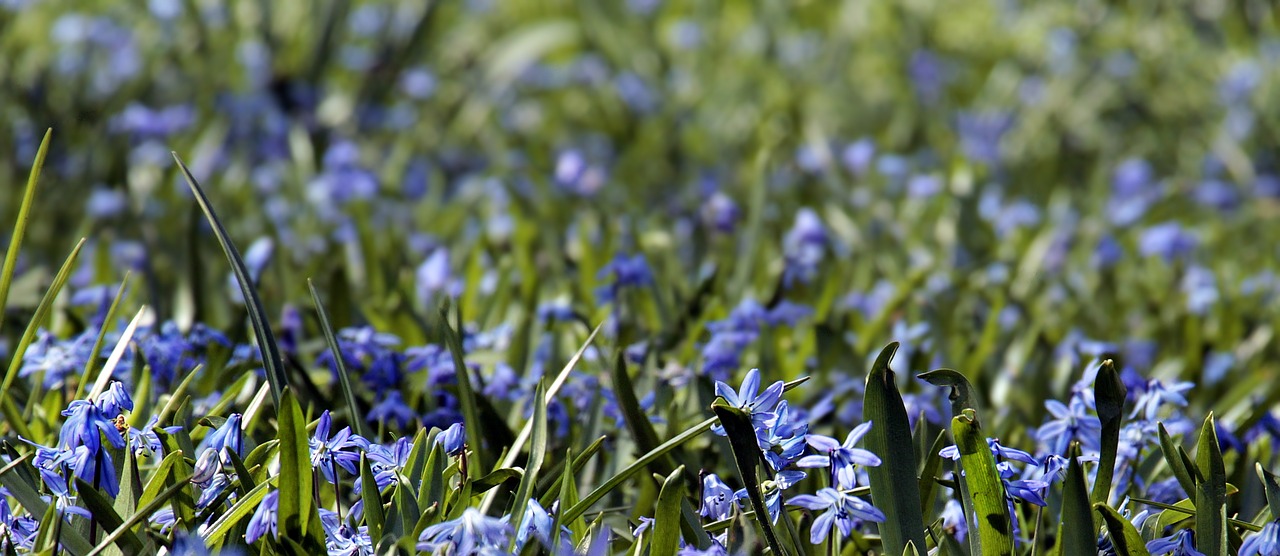 Bluebell Woods Northamptonshire
Location : Coton Manor Nr, Guilsborough, Northampton NN6 8RQ
This beautiful garden at Coton Manor occupies a hillside position extending down from the 17th century manor house constructed of mellow Northamptonshire stone. The 10 acre garden has luxuriant borders that will delight the plant enthusiast while everyone will enjoy the garden's charm and special atmosphere, with colour and interest throughout the seasons. Beyond the garden is a magical five acre bluebell wood and a wildflower meadow.
Location : 5 miles from Daventry, Northamptonshire
This is a magical spot of woodland crammed full of beautiful nature. It has been kept on top form by regular cutting of shrubs and trees to provide a reliable supply of wood for fuel and tools. But, the best part, the beautiful bluebells… When the sunlight hits and shines through the trees, this is a magical place to take it all in and admire the beauty.
Location : Lamport, Northamptonshire, NN6 9HD
Lamport Hall has a generous offering of bluebells, its a perfect place to spend the day. The gardens include the Walled 'cutting garden', which is thought to be one of the largest cutting gardens in England, full of colour and a variety of plants and gravelled pathways. This is a magical place to roam with hidden doors and relaxing benches to discover (just breathe in the history).
Location : Yarwell Village, Northamptonshire, PE8 6PA
One of the last remnants of the ancient Rockingham Forest, noted for its amazing woodland flora including carpets of bluebells and wild garlic.
Location : Glapthorn Road, Glapthorn, Northamptonshire, PE8 5BD
Part of Rockingham Forest, this special place has many bluebells awaiting with loads of hidden spots in the area to discover. Short Wood is a designated Site of Special Scientific Interest that has managed areas of oak, ash and maple trees and small areas of blackthorn scrub. The perfect place for you and your dog, this scenic route is full of nature and many butterflies inhabit the woods, making it even more scenic.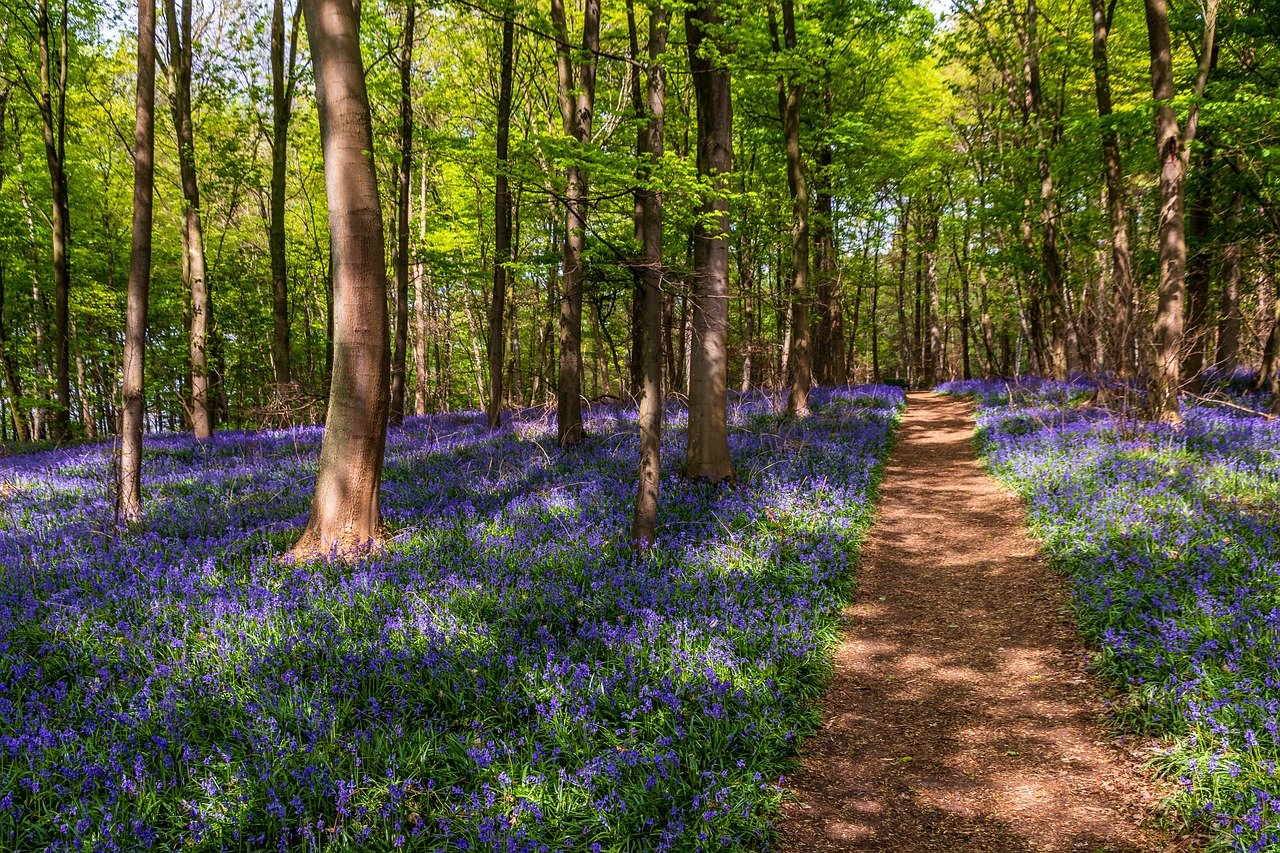 Bluebell Woods Northumberland
Location : near Ridley Hall, Bardon Mill, Hexham, Northumberland, NE47 7BP
a lovely spot to see bluebells in all their glory. The largest area of ancient woodland in Northumberland, it is covered in an abundance of wild flowers each spring. Storms made many paths inaccessible last year, but much of the area is now open, with a few alterations. A carpet of bluebells and ramsons, commonly known as wild garlic, covers the woodland floor in spring and early summer and make a beautiful setting for a springtime wander.
Location : Belsay, Nr Morpeth, Northumberland, NE20 0DX.
Lose yourself in the vast 30 acre Grade I listed gardens. Follow through ravines cut out of rock to discover the jurassic-feeling Quarry Garden. Inspired by Sir Charles Monck's travels, the Quarry Garden has its own microclimate which means all sorts of exotic plants grow here.
Halfpenny Woods
Location : off Bebside Furnace Road, Bedlington, Northumberland.
This is an oak, beech and sycamore-dominated woodland with large areas of wildflowers. Various birds and mammals including the great spotted woodpecker and roe deer.
Location : Thirlwall
On its steep banks, this ancient woodland provides habitat for badgers and both red and grey squirrels as well as glades for bluebells. Take a walk to the head of the river and the impressive Crammel Linn waterfall – rated as one of the UK's best wild swimming spots.
Location : Hexhamshire Low Quarter, Hexham
Thought to be Northumberland's last wild daffodil wood. Listen for the sound of Letah Burn as it tumbles by. Seek out massive specimens of beech and Douglas fir. Red squirrels, roe deer, fox and stoat share the wood with a varied bird population, as well as some beautiful bluebells. There is limited parking on Hill Road.
Location : Mitford Road, Morpeth, Northumberland, NE61 1RG.
A local nature reserve near Morpeth, has a super scattering of bluebells to see at this time of year.
Location : North of Horsley, Horsley, Northumberland
A collection of small lakes and reservoirs on the Hadrian's Wall Trail attracting rich bird life. Along the banks of Whittle Burn, where owls hoot and bluebells blossom, a magical glade and ancient wood awaits.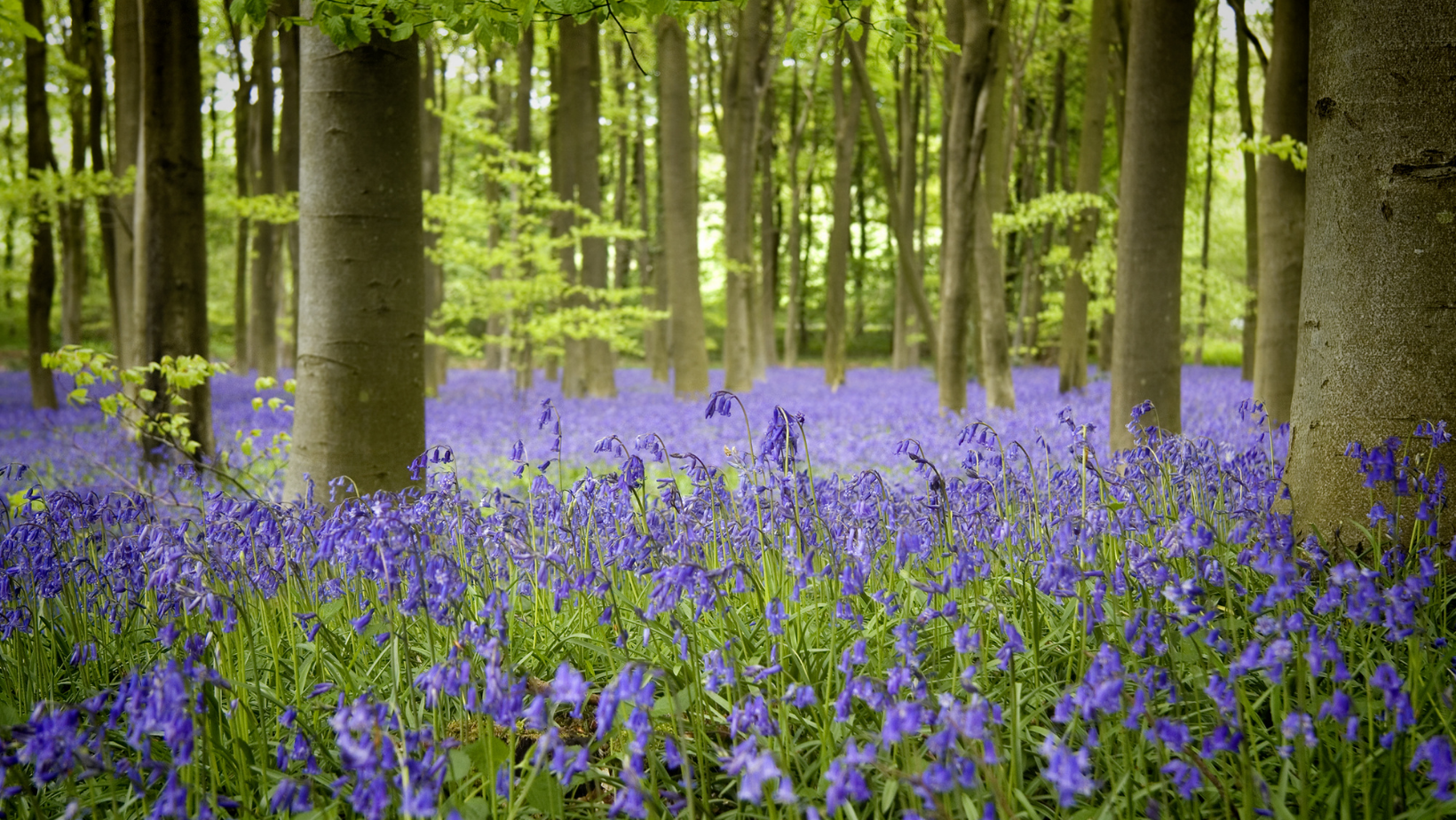 Bluebell Woods Nottinghamshire
Location : Loughborough Road, Bunny, Nottinghamshire, NG11 6QQ
Bunny Wood is referred to in the Domesday Book and was probably used by Saxon settlers as a source of wood. In 1487, Henry VII and his army camped nearby on their way to the Battle of East Stoke. Seasonal highlights include bluebells in spring, and wood anemones and butterflies in Summer.
Location : Crags Road, Welbeck, Worksop, Nottinghamshire, S80 3LH
Creswell Crags bursts into life at this time of year. The woodland path becomes carpeted with colour as bluebells, primroses and wild garlic flowers bloom under the shade of the trees. The stream that runs into the gorge lake is home to secretive water voles and spring gives you the best chance to see them before the vegetation grows and hides them away.
Location : Worksop, Nottinghamshire, S80 3AZ
The appropriately named 'Bluebell Wood' at Clumber Park is transformed in springtime. The carpet of intense blue under the opening tree canopy is one of our greatest woodland spectacles. The traditional early flowering of bluebells makes the most of the sunlight that reaches the woodland floor before the woodland trees cast their shade. Millions of bulbs may grow closely together in one wood, creating one of nature's most stunning displays.
Location : Oldmoor Wood, Nottingham NG16 2ST
Oldmoor Wood is said to be one of Britain's finest expanses of dense, spectacular blueness. Don't be put off by the patchier areas of bluebells near the start of the wood, just keep going and going and it will get better and better.Only 4 miles from M1, J26, it is well worth a visit
Location : Green lane, between Lambley and Woodborough, Nottinghamshire, NG4 4QE
This wood was once part of a much larger area of woodland that dates back to the 13th century. It is mainly ash/oak woodland with some other species and this mix provides an excellent range of habitats for wildlife. During Spring, when Bluebells & Wood Anemones carpet the ground.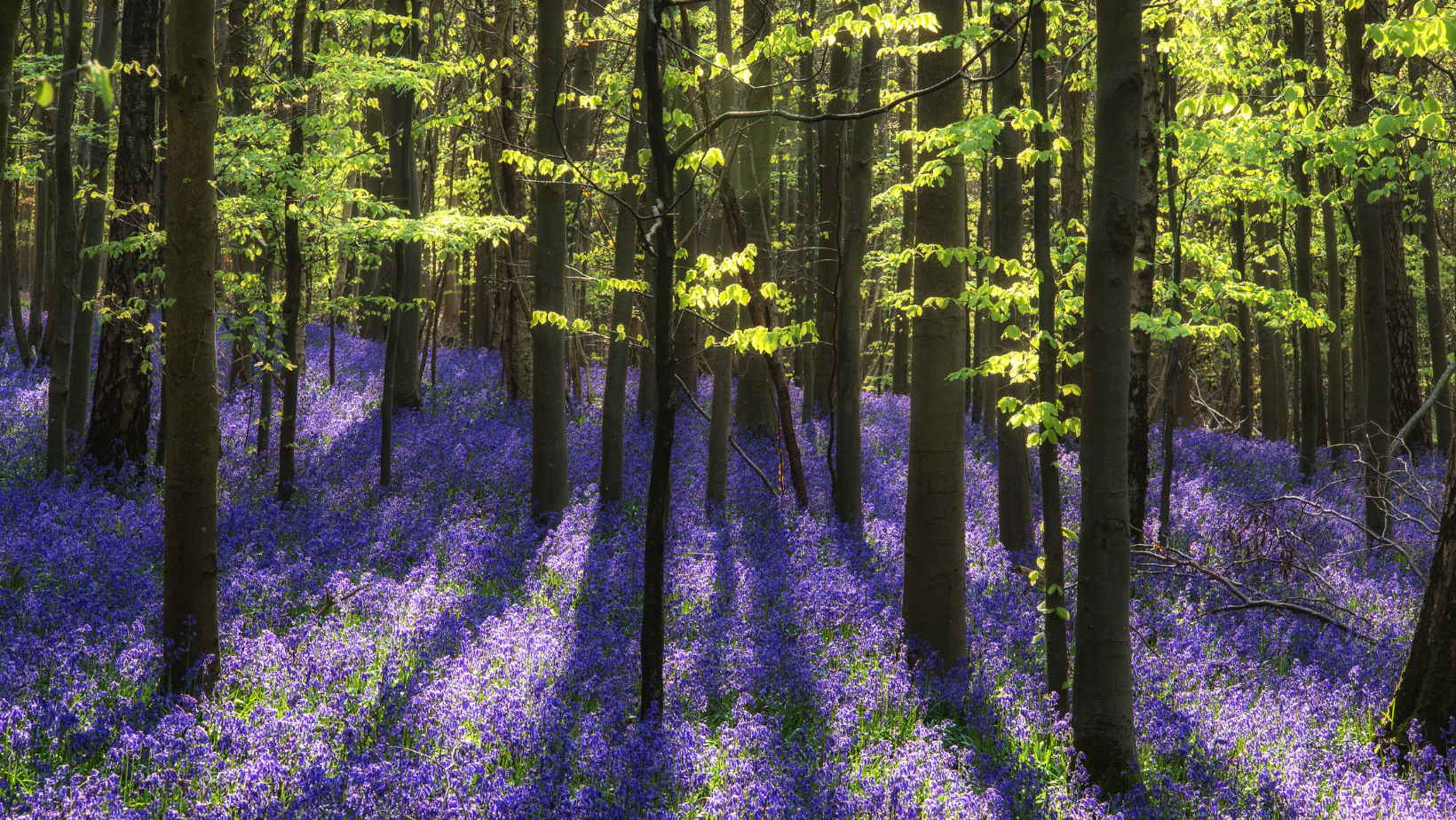 Bluebell Oxfordshire
Location : Coleshill, near Swindon, Oxfordshire, SN7 7NL
A spectacular display of bluebells among the beech trees at Badbury Hill and Badbury Clump. Badbury Clump is the remains of an Iron Age hill fort from about 600BC with woodland paths and trails perfect for families, with a free car park nearby.
Location : Hull's Copse, Abingdon
An oak-ash-hazel woodland with carpets of bluebells in spring.
Location : Blenheim Palace, Woodstock, Oxfordshire OX20 1UL
Home of the 12th Duke and Duchess of Marlborough and the birthplace of Sir Winston Churchill, Blenheim Palace is a UNESCO World Heritage Site with over 300 years of history, 2000 acres of Parkland and Formal Gardens, events, tours and exhibitions. It has a stunning bluebell display.
Location : Christmas Common Road, lewknor , Oxfordshire, OX49 5HL
Set in the Chiltern Hills with amazing views over the surrounding countryside, a walk around this rich woodland reveals a great mix of habitats and plenty of paths to explore. There are grassy areas suitable for picnics and perfect for dogs to play. Bluebells which can be seen in May are like a blue carpet and well worth a visit.
Location : Quarry Farm, Great Tew, Chipping Norton OX7 4BT
A popular filming location for The Crown, has acres and acres (3,500 to be exact) of woodland, parks and farmland- all prime bluebell hotspots.
Location : Rotherfield Greys, Henley-on-Thames, Oxfordshire, RG9 4PG
The Spinney Woods at Greys become home to a carpet of bluebells from April time (weather dependent). There will be marked out paths for families to follow, as well as a beautiful stroll this is quite a sight to witness. Greys also has stunning walled gardens as well as a den making area and children's play area in the woods.
Location : Oxford Lodge, Peacock Gate, Oxford OX44 9PX
Harcourt Arboretum is always a fantastic day out with the family with trees to climb, peacocks to look at and lots of open spaces to run around in. Bluebell Wood at Harcourt Arboretum generally starts with a faint mist of blue-violet in the native woodland and over the few weeks it develops into its seasonal glory.
Location : Huntercombe, near Henley-on-Thames, Oxfordshire, RG9 5RY
The bluebells can be found on the woodland walk just behind the house at Nuffield Place. Head to Visitor Reception to pick up an estate map and get exploring in hunt of these delicate flowers. The woodland walk can be uneven at times, but is suitable for even the littlest of legs, and even four-legged friends on leads are welcome to enjoy the beautiful spring flowers at Nuffield Place. There is a path leading up to the bluebells, which means they are completely accessible to see as well.
Location : Forest Hill with Shotover, Oxford
Large area of woodland and hill-top grassland with easy access and parking from several directions. Wide clear pathways are not very wheelchair friendly. Excellent and ancient deciduous wood, but wildlife spotting limited due to popularity with dog-walkers. Though on the upside, it's an excellent place to walk dogs…
Location : Bicester OX27 8RS
This delightful, ancient woodland contains a mix of native broadleaf and exotic conifers, carpets of bluebell in the spring and a variety of bird and butterfly species.
Location : 3.5 miles north-east of Oxford, Oxfordshire, OX3 9TY
Embark on a sensory journey through this secluded wildlife gem – once described as one of the richest habitats in middle England. The diversity of this small nature reserve is quite staggering. Boasting ancient broadleaved woodland, limestone grasslands, reedbed, fen, a stream and rare Oxfordshire heathland, the reserve supports over 400 plant species.
Location : Bix Bottom, 4 miles north-west of, Henley-on-Thames, Oxfordshire, RG9 6BJ
A hidden wildlife gem nestling in the Chiltern Hills with a nature centre, picnic areas, toilets and baby changing facilities. There's lots of wildlife to be seen and beautiful walks through woodland and grassland. In spring the woods are awash with carpet of stunning bluebells.
Location : University of Oxford, Sawmill Yard, Wytham, OXFORD, OX2 8QQ
Wytham Woods is an ancient semi-natural woodland, which has been owned and maintained by the University of Oxford since 1942. Its 1000 acres are a designated Site of Special Scientific Interest and are one of the most researched pieces of woodland in the world, exceptionally rich in flora and fauna, with over 500 species of plants, a wealth of woodland habitats, and 800 species of butterflies and moths.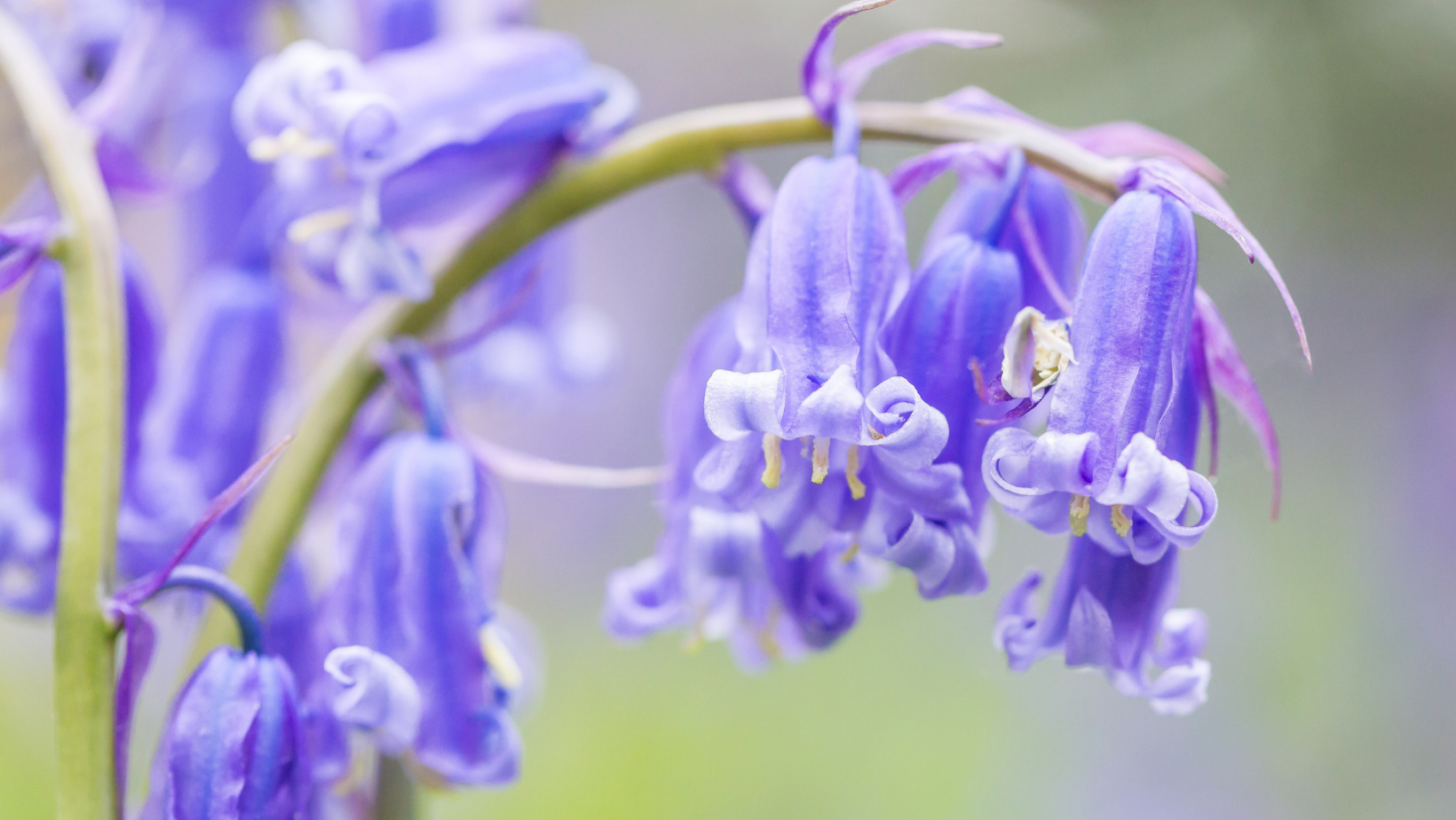 Bluebell Woods Shropshire
Location : 3 miles west of Oswestry, just south of Trefonen village, Oswestry, Shropshire, SY10 9AS
This is a small woodland of local interest, given to the Trust by Bridget Gledhill, a former resident of Trefonen. The bluebells and wood anemones that spill over the ground in spring testify that this is an ancient woodland site.
Clear felling some years ago resulted in an invasion of sycamores. Many of these were felled at the turn of the millennium and hundreds of ash, oak, rowan and other broadleaf trees planted. A curious beech tree with branches fused into a window can be found at the top of the wood. A great place to make dens!
Location : Quatt, near Bridgnorth, Shropshire, WV15 6QN
During late spring, Dudmaston's woodland is transformed into a blanket of blue. For the best displays, follow Captain Geoffrey's Estate walk, starting from Hampton Loade car park. Pass through the Long Covert. This stretch of woodland is south facing and the warmth from the sun releases the bluebells delicate fragrance. Arrive at Belle Vue, an area of the dingle which is especially deserving of its name during bluebell time.
Location : Off the A488 at Pontesford, Pontesbury, Shropshire, SY5 0UH
If you can manage this very steep climb, you will be rewarded with spectacular views and grassland studded with flowers. Renowned for its variety of wildlife habitats and there is a great deal more to be explored and discovered on its lower slopes. In spring the wood – hazel, oak, field maple, holly and yew – is awash with bluebells and singing with migrant birds.
Location : Just before and opposite the Buckatree Hotel in Little Wenlock, Wellington, Shropshire, TF6 5AL
Ancient oak woodland, spectacular views and more than 500 million years of history can be enjoyed here. It's not just old rocks that make the Ercall interesting. In spring the woods are awash with bluebells and singing with birds just returned from Africa.
Location : 3 miles south of Minsterley, Minsterley, Shropshire, SY5 0JA
In late spring bluebells flood the ground, with yellow archangel and early purple orchids also emerging. The wood is also home to a colony of dormice. There are well-marked paths throughout the woods including, on the southern side, a flight of more than 100 steps, leading up to the top and fine views over to the Stiperstones.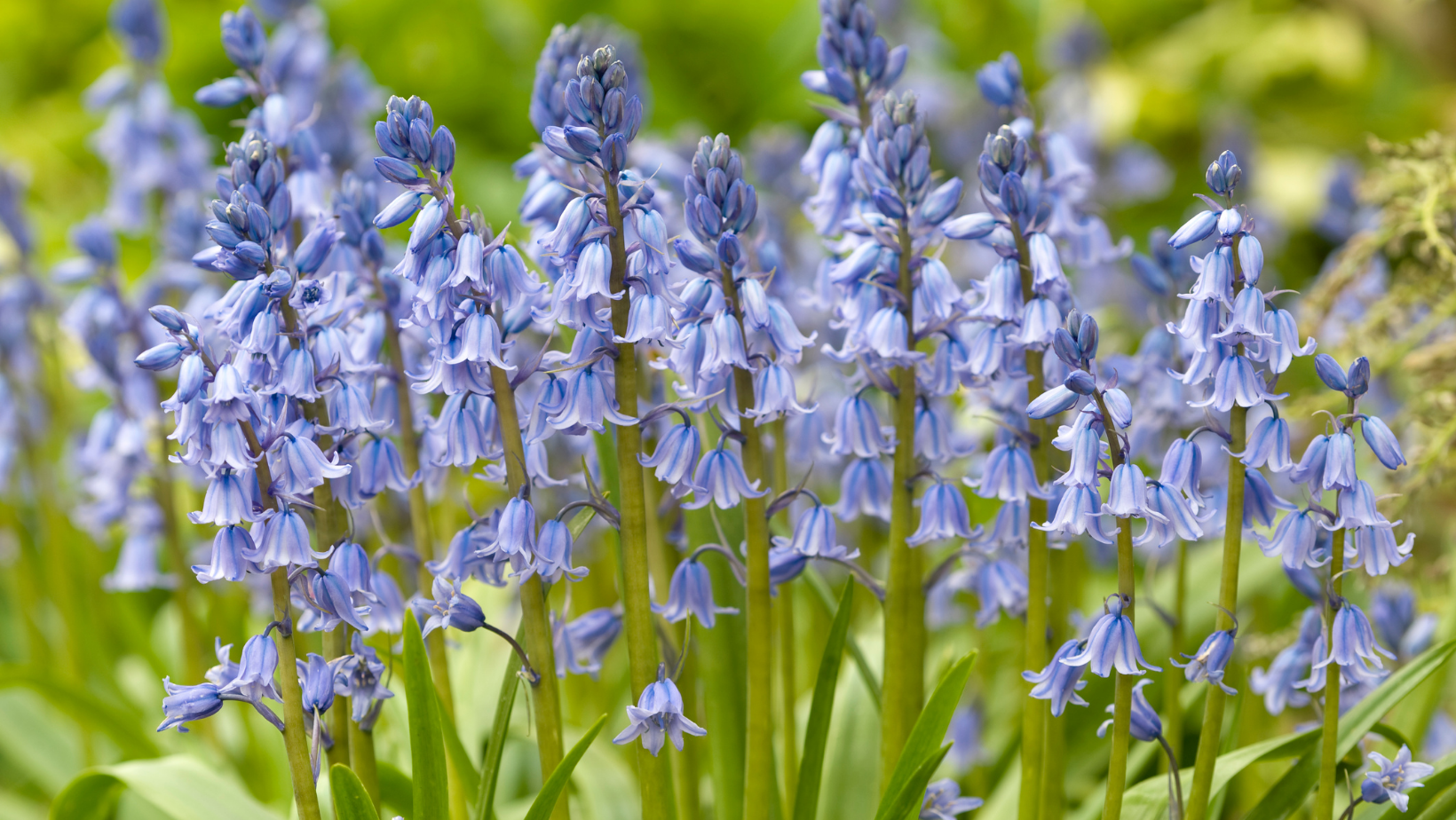 Bluebell Woods Somerset
Location : Turnhill Lane, Off A372, Bere Aller, Somerset, TA10 0QU
One of the Somerset Wildlife Trust's nature reserves, this ancient woodland along the western slope of Aller Hill is a Site of Special Scientific Interest (SSSI), with oak and ash trees, wood-peckers, the odd deer, the rare star-shaped earthstar fungi as well as all the bluebells.
Location : Preston New Rd, Samlesbury, Preston PR5 0AG
Six miles of rugged track and footpath, with some narrow and exposed but it's worth holding your nerve for amazing views across the Bristol Channel to the Brecon Beacons in Wales and the three valleys filled with bluebells and other flowers in amongst the gorse.
Location : Woodbury, Wells, Somerset
Combine bluebells and history – this Somerset Wildlife Trust nature reserve is on the site of an Iron Age hill fort, just a mile away from the centre of Wells – with views across to Glastonbury Tor and the Somerset Levels.
Location : Long Wood
Ancient bluebell wood once owned by the mediaeval Witham Priory now under the custodianship of the Somerset Wildlife Trust, with an easy trail with stunning bluebells, orchids, anemones, wild garlic and a little stream.
Location : Thurlbear, Stoke St Mary, Somerset
With its incredible variety of flowers, fungi and wildlife in an ancient woodland you won't be surprised to discover this is a Site of Special Scientific Interest (SSSI). Secret glades, foot paths and a rookery, all there to discover.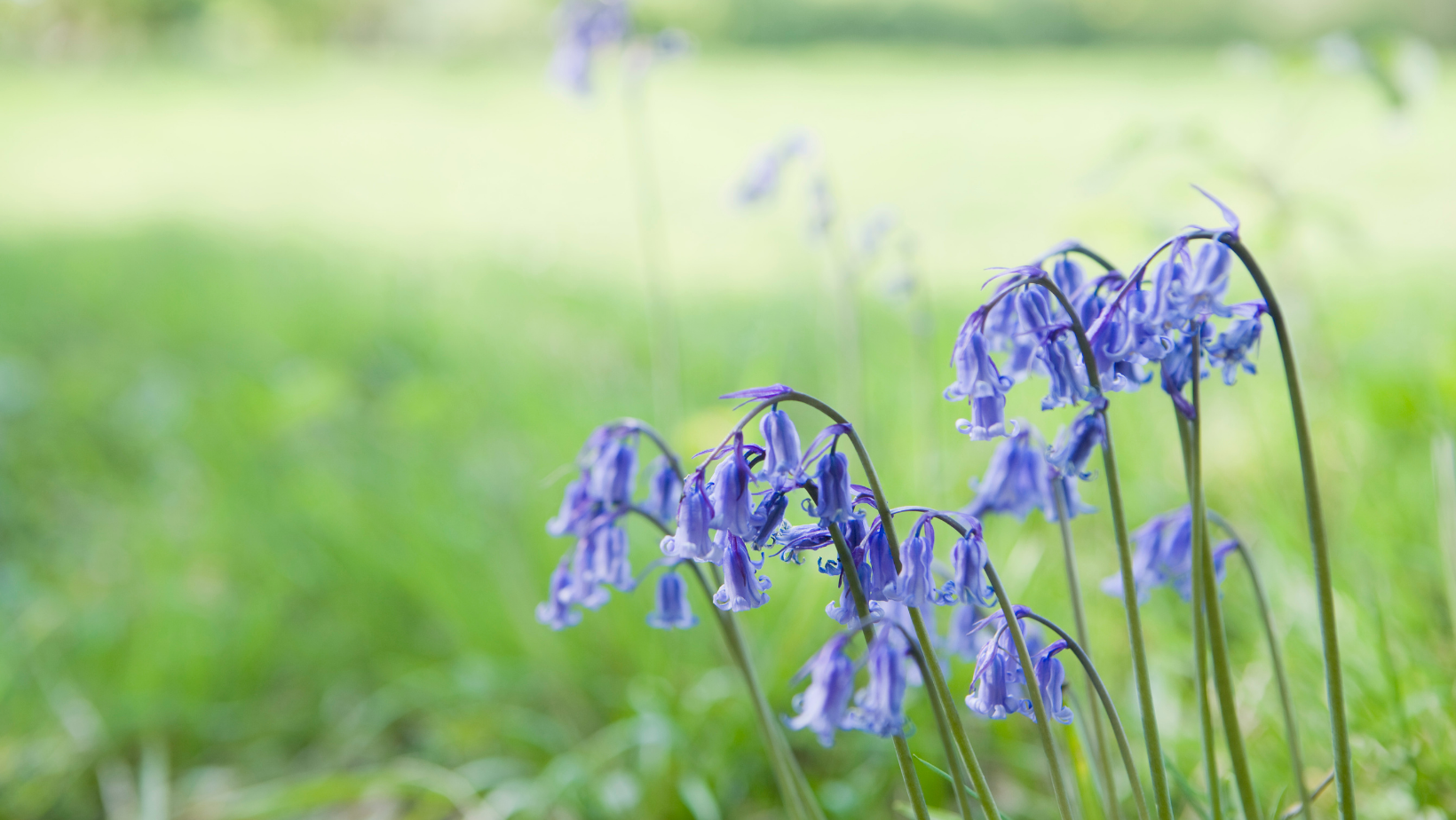 Bluebell Woods Staffordshire
Location : Birches Valley, Rugeley, WS15 2UQ
Birches Valley at Cannock Chase is a popular day trip in Staffordshire. It has lots of facilities, a large carpark and small cafe. During Bluebell season head into the woods, roughly following the Gruffulo trail and you'll be rewarded with a sea of colour.
Location : near Oakamoor, Staffordshire, ST10 3AG
A pretty reserve with ancient woodlands and flower-rich grassland, located within a secluded river valley. When visiting Cotton Dell, the arrow, and parking instructions take you to the Staffordshire County Council picnic area at Oakamoor. From the picnic area the reserve is half a mile away on foot. In the broadleaf woodland, you'll see young trees growing amongst the shrubs, whilst in spring carpets of wild flowers appear including bluebells, wood anemones and wood sorrel.
Location : Upper Longdon, Staffordshire, WS15 4LW
The reserve is made up of George's Hayes (the largest block), Piggot's Bottom and Square Covert. Visit the reserve in spring to experience the wonderful display of woodland flowers. Look out for bluebells, yellow archangel, wood anemone and wild garlic. All of these plants are associated with ancient woodlands and do not easily spread naturally to newly planted woods
Location : Trentham-Longton Road, Trentham, Staffordshire, ST4 8FR
Located just South of Stoke on Trent near Trentham, Hem Heath Woods is home to a variety of trails around its 41 Hectares. You won't just spot bluebells (although there are always plenty) but also many other spring flowers in bloom.
Location : Brakenhurst Rd, Burton-on-Trent DE13 8RG
Jacksons Bank is a great place for a family walk. As soon as bluebell season hits ,the floor of the forest becomes alive with a cobalt carpet of flowers. Follow this circular walk at Jacksons Bank to take is as many of the flowers as possible. There's a sweet picnic area near the carpark.
Location : Talke Pits, Staffordshire, ST7 1UH
A hidden gem of a reserve, with possibly the finest display of bluebells in the County. As well as the carpets of bluebells In spring you will also see dog's mercury, wood anemone, yellow archangel and wood sorrel.
Location ; Grange Road, Biddulph, Staffordshire, ST8 7SD
National Trust owned and Victorian designed, Biddulph Grange gardens is a beautiful place to visit in spring. The perfectly manicured gardens spring into colour, enjoy the the Woodland walk with plentiful bluebells, daffodils and other spring flowers.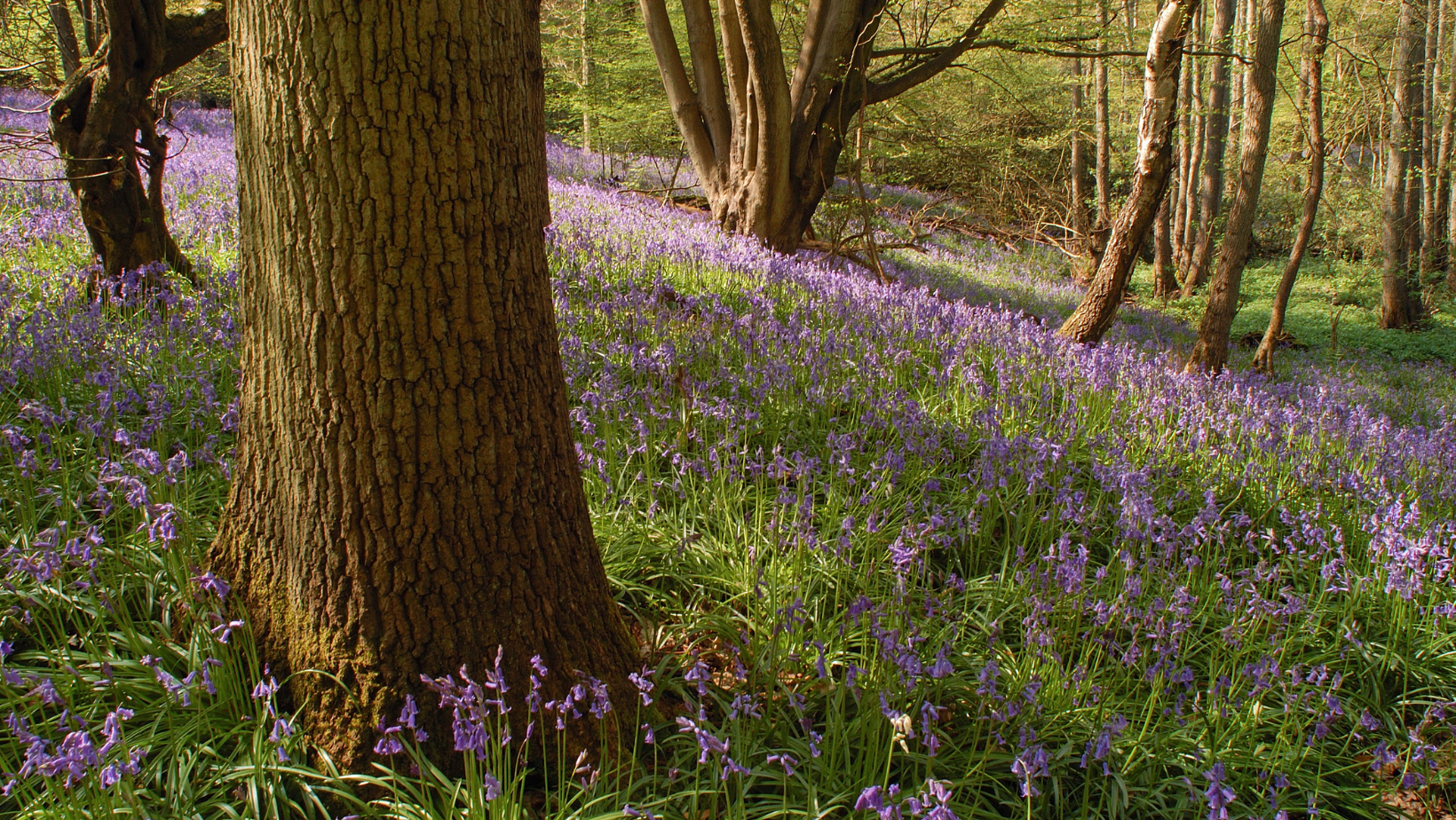 Bluebell Woods Suffolk
Location : near Assington, Sudbury, Suffolk, CO8 5BN
At this historical woodland visitors can witness the extraordinary display of bluebells that appear in late spring and admire the other varied natural features that carpet the woodland floor. A mixture of trees stand in large numbers and are populated by a diverse range of beautiful woodland birds so listen out for the spring chorus of willow warblers, black caps and whitethroats.
Location : Felsham Road, Bradfield St George, Bury St Edmunds, Suffolk, IP30 0AQ
During the spring the bright bluebells of Bradfield Woods begin to flower on the woodland floor and they are joined by over 370 species of flowering plants, including white wood anemones and yellow oxlips. There are 5 miles of pathways leading through these woods, dogs are welcome if on a lead.
Location : School Road, Sudbourne, Woodbridge, Suffolk, IP12 2BE
This tranquil woodland is home to a magnificent display of bluebells every spring when the flowers can be found scattered across the woodland floor. These popular plants share the landscape with a range of ancient trees and wild flower and fauna.
Freston Wood
Location : Ipswich (a short walk from Freston Church or a large layby on the B1456 hill)
Freston Wood is renowned for the swatches of bluebells nestled amongst the historic trees and they make a beautiful sight for spring visitors. The woodland has a rich history, dating back to medieval times, and the strong sense of this past is conveyed through the beauty of the place.
Location : West of Kersey near Hadleigh, Hadleigh, Suffolk, IP7 6HD
A woodland wonderland is created by the cobalt and purple swathes of spring flowers in this ancient space. In addition to the bluebells, woodland adventurers can spot up to 15 species of butterfly fluttering past early-purple orchid, violet helleborine, woodruff and herb-paris.
Location : The Rotunda, Horringer, Bury St Edmunds, Suffolk, IP29 5QE
With numerous trails to follow around the beautiful Georgian palace at Ickworth Park, ramblers can take a different route each time to hunt for the patches of blue blooms that appear in spring. The estate grounds are also home to one of the largest walled gardens in East Anglia, packed with heritage fruit and vegetables there are plans to reintroduce a range of fruit trees in the coming seasons.
Location : Barking, Ipswich
Marvel at the flowers in this Woodland Trust wood near Needham Market. In addition to the beautiful bluebells, Priestley boasts several species of orchid and the rare wild pear tree. The impressive display of bluebells is a spectacular sight and considered to be one of the finest shows of bluebells in Suffolk.
Location : Junction of Wood Farm Lane and Rissemere Lane, near Wangford, Southwold, Suffolk, IP18 6SL
Off the B1126 near Wangford, Southwold, this wood has seen local people help re-instate a 20-year cycle of coppicing that has resulted in a spectacular eruption of spring flowers to rival any East Anglian wood, including swathes of bluebells, yellow archangel and greater stitchwort. Remember your wellies though, the wood is always very muddy!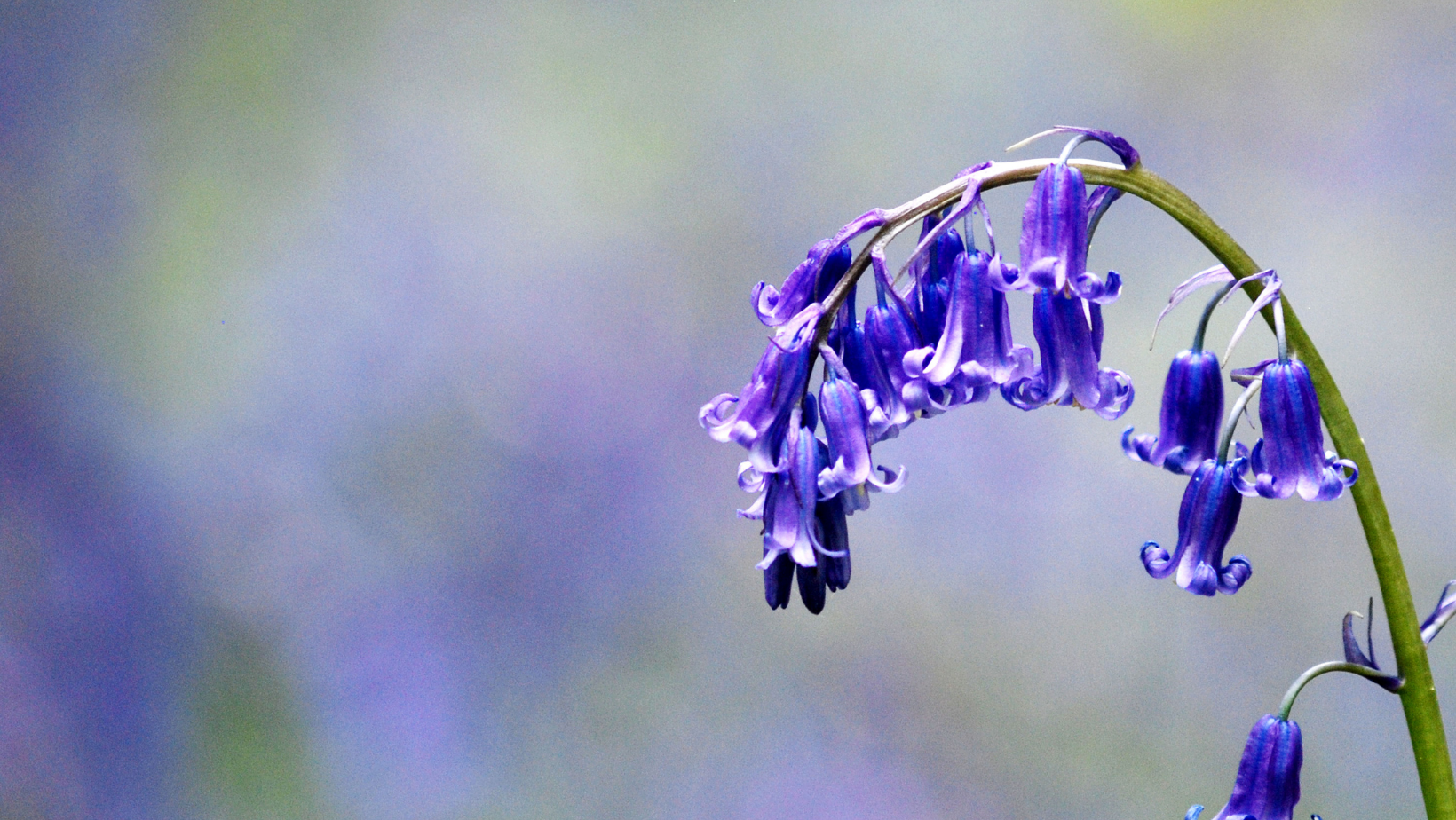 Bluebell Woods Surrey
Location : Holly Lane, Chipstead CR5 3NR
Tucked away in the north-east of Surrey, Banstead Woods are a haven for walkers, cyclists and those trying to spot the wonderful variety of birds that call the forest their home. Come the springtime, the woods are blanketed with bluebells, dancing in the shadows of the old oak, hazel and ash trees.
Location : Guildford GU4 8PZ
200-acre woodland & meadow reserve featuring walking trails & hillside views over the region.The bluebells in this 200 acres of woodlands and meadows are a sight to behold in spring, filling the air with their scents.
Location : Chinthurst Ln, Guildford GU5 0QH
A steep walk through ancient woodland to the top of the hill rewards visitors with fine views and beautiful displays of bluebells along the way. A quiet and peaceful spot, with many species of tree, including oak, sweet chestnut, hazel and rowan. You'll also find a stone folly built in the 1930s, which is now a Grade II listed building.
Location : Chiphouse Wood, Tadworth
An area of ancient semi-natural woodland a bridleway provides the main path to the north of the wood. Main broadleaf species include oak, beech, ash and also yew. Bluebells and other wild flowers occur seasonally.
Location : Wonersh, Stroud Common, Guildford GU5 0ST
At over 400 years old, this ancient semi-natural woodland near Shamley Green is a rare haven for wildlife. But Cucknell's Wood is no wilderness. Careful management is now enabling a wide range of species to flourish – and the wood to resume its productive life. In spring the flora is spectacular, with lime-green wood sorrel, starry white clusters of wild garlic flowers and glorious carpets of bluebells.
Location : Landslip car park, Abinger Road, Coldharbour, Dorking TQ147433
A one-mile walk to the historic arboretum, through a conifer avenue and into Frank's Wood, is where you'll find these blue wonders at Leith Hill. You'll most likely see little clusters along the roadside as you drive there too.
Location : Wray Lane, Reigate, Surrey, RH2 0HX
The woodland at Gatton Park become a festival of blue during spring as the native bluebells run riot. The park at Gatton Park is known for the work by English landscape designer Lancelot 'Capability' Brown. The woodlands are managed by the National Trust, and are open access all year round.
Location : Glover's Wood, Mole Valley RH6 0EL
Glover's Wood is one of the largest areas of woodland in the Surrey Weald. It is made up of oak, hazel and birch trees. The wood is home to a variety of rare plants and wildlife. Its features also include historical remains, such as a medieval bank and ditch systems.
Location : Little Earls Wood, Oxted
The ancient woodlands of Great and Little Earls Woods form the western extremity of a much larger expanse of woodland. Famed for a fantastic display of bluebells in spring Little Earls Wood to the north-west also has an area of old hornbeam coppice.
Location : East Clandon, Guildford, Surrey, GU4 7RT
After a long, grey winter what could be better than embracing the changing seasons with a blissful walk through springtime splendour. You can find spectacular spring colour all over our garden, parkland and woodland. Discover daffodils in the garden, blossom in the hedgerows, cowslips in the wildflower meadow and one of the very best bluebell woods around.
Location : Hatchlands Park, East Clandon GU4 7RT
Little Wix Wood is agreat place to find an abundance of beautiful bluebells. Regarded by some as the best place to see bluebells, the wood lies at the heart of the National Trust's Hatchlands Park, which boasts a charming on-site café and shop, a play area for the young and spectacular views of the Georgian manor house.
Location : Portsmouth Rd, Cobham KT11 1JE
The 18th century landscaped gardens at Painshill have some wonderful bluebell displays. Take in the unique 18th century follies including The Ruined Abbey, Turkish Tent, Gothic Temple and Gothic Tower while you're there.
Location : Great Bookham, near Dorking, Surrey, RH5 6BD
You'll find these delicious blue blooms scattered through Preserve Copse within the estate's gardens, but for the best displays you'll need to walk a little further. Follow one of the four way-marked walks across the 1,400-acre estate the shadier parts of ancient woodlands. Rangers suggest the Ranmore Common walk, which is way-marked with blue markers and butterflies on the paths.
Location : Windsor Road, near Old Windsor, Surrey, SL4 2JL (SatNav: TW20 0AE)
This is where King john sealed the Magna Carta 800 years ago, but at this time of year, the ancient woodland flowers take centre stage. In Cooper's Hill Woods, spring arrives with thick patches of bluebells, lesser celandines, dog's mercury and wood anemones creating a magical atmosphere. The National Trust's oldest tree, a 2,500 year-old yew known as the Ankerwycke yew is also here.
Location : Shere Road, West Horsley KT24 6AP
Situated on the chalk slopes of the North Downs and managed by Surrey Wildlife Trust, Sheepleas is a delightfully English blend of woods, scrub and grassland. In spring, the landscape really comes into its own, with bluebells peeping out from under the canopy of trees. On a clear day, you might even catch a glimpse of London's skyline.
Staffhurst Wood
Location : South of Oxted, Surrey, TN8 6QF
At any time of year, a walk through Staffhurst Wood brings you face-to-face with history. The fine mix of oak, ash and beech, with areas of hornbeam and hazel coppice, are an echo of the old 'Wildwood' that once covered much of the south of the UK. Come in spring, however, and you will also be rewarded with one of Surrey's most spectacular displays of bluebells.
Location : Wallis Wood, Surrey, RH5 5PL
A secluded and picturesque woodland reserve in the heart of the Surrey Hills AONB, Wallis Wood is a typical example of a Weald Clay hazel coppice woodland with oak standards. A gentle stream threads its way through the reserve, which is surrounded on one side by meadow pasture. A variety of woodland flora can be found including carpets of bluebells, broad-leaved helleborine orchid, common spotted orchid, primroses, violet helleborine orchid, wood anemone and the rare wild daffodil.
Location : Hampton Court Palace Gardens, KT8 9AU
Situated in the gardens of the historic Hampton Court Palace, 'The Wilderness' is a feast for the senses, no matter what the time of year. Springtime, however, is a real treat, with daffodils and bluebells frolicking in the long grass – a must visit.
Location : Hascombe Road, Godalming GU8 4AD
The National Trust's Winkworth Arboretum is far more than a place to simply admire trees, with shrubs and flowers creating explosions of colour all year-round. Amble around the gardens, taking in the beautiful landscape and see some bluebells too.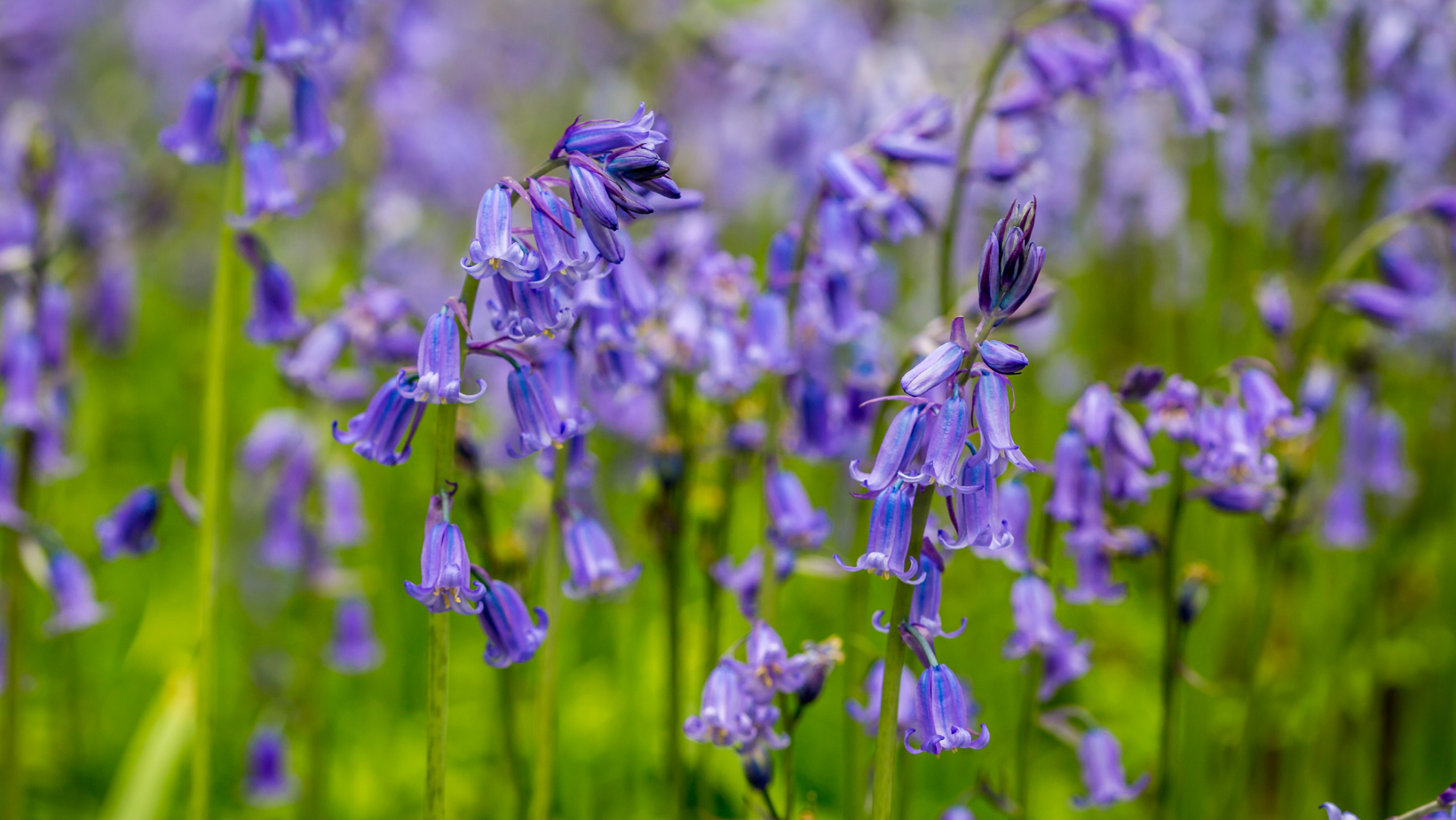 Bluebell Woods Sussex
Location : Bates Green Farm, Arlington, Polegate, East Sussex, BN26 6SH
Follow the celebrated Arlington Bluebell trail from 12 April – 19 May 10am – 5pm
Online booking only (last entry 4pm). A growing tradition for the last 40 years. This year however, they can only open Beatons Wood to visitors.
A circular walk of 1100 metres or 2/3 a mile in Beatons Wood has been made suitable for wheelchair users. This is where you see white anemones followed by the vistas of bluebells, established over centuries. On this walk there are seats for you to enjoy the peace and tranquility of this oak and hornbeam ancient wood. Along the walks there are signs illustrating the flora and fauna of the countryside for your information.
Location : B2089, Broad Oak, Rye TN31 6EX
Ancient and secondary woodland and open heathland combine at this spot in the High Weald Area of Outstanding Natural Beauty. It's to the north east of Powdermill Reservoir so you can combine bluebell spotting with waterside views.
Location : Lewes Rd, Scaynes Hill, Haywards Heath RH17 7PN
Costells Wood near Haywards Heath is a site of ancient woodland and a designated area of wildlife importance. A haze of bluebells blanket the floor beneath the broadleaf trees that thrive in the area and you'll find wild orchids and small ponds along the maze of pathways that trail through the bluebell walk. Parking can be found around 500 metres from the woods. Entry to the woods is free.
Location : Ebernoe, Petworth GU28 9LD
This varied ancient wooded area, now a Sussex Wildlife Trust nature reserve, incorporates ponds, streams, meadows and reclaimed arable land. Besides bluebells you may see wild orchids, purple emperor butterlies and ponies that help to keep the grass grazed. The common is about five miles north of Petworth and there's a car park at Ebernoe Church.
Location : Handcross, near Haywards Heath, West Sussex, RH17 6EB
The woodland and the wild garden at Nymans are carpeted with bluebells and guided tours are available to show you the highlights. In the gardens around the historic house see the magnificent magnolias.
Location : Off Fir Grove Rd, Heathfield TN21 0QL
Selwyns Wood is a small mixed semi natural woodland near the town of Heathfield, mainly oak, birch and sweet chestnut, but with a few old big beech trees. It is nestled in a south facing valley with three streams running through it, one of which has developed into a typical Wealden ghyll stream. There is also a small open area dominated by heather, a characteristic feature of woodlands in this part of Sussex.
Location : Sheffield Park, Uckfield, East Sussex, TN22 3QX
The aptly named Walk Wood at Sheffield Park and Garden is a newly restored ancient woodland. Thanks to a 15-year labour of love by the head gardener, a network of paths from the early 1700s have been recreated and will be surrounded by carpets of bluebells looking suitably lovely around the hornbeam trees and 400-year-old stumps.
Location : West Hoathly Road, East Grinstead, West Sussex, RH19 4NE
Around 20 of the 100 acres of the original Standen Estate should bluebell-tastic this spring with Rockinghill and Hollybush woods carpeted. New management of the woodland has helped boost numbers of the flowers. Purple orchids bloom at the same time to add to the magic. You may also spot roe and fallow deer, and perhaps even badgers from a recently completed viewing platform. Pick up a walk leaflet at visitor reception for suggested routes or download one online. One walk will take you to the Bluebell Railway.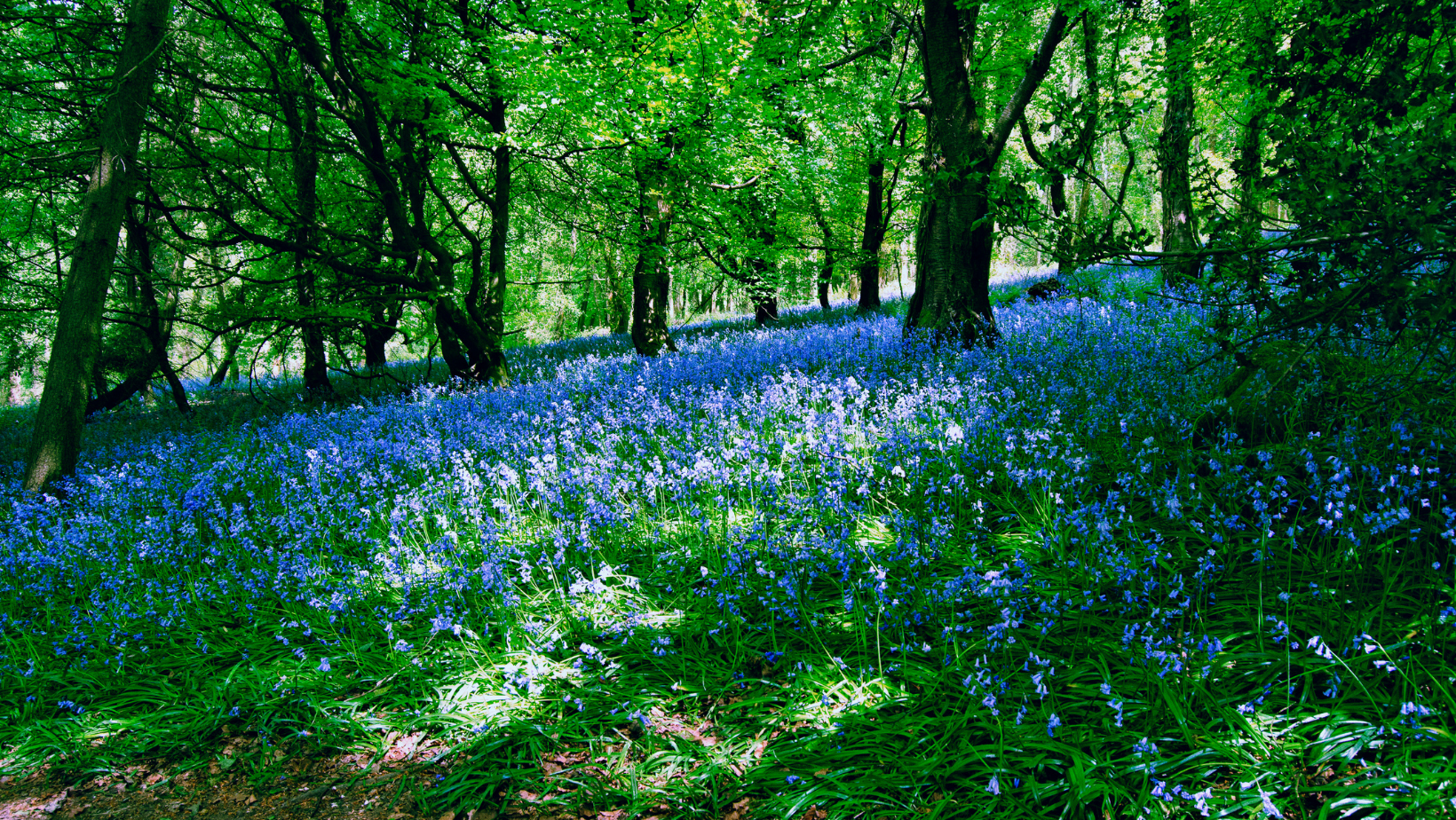 Bluebells Tyne & Wear
Location : Hedley Ln, Newcastle upon Tyne NE16 5EQ
This tranquil site is a mix of ancient woodland, which cloaks the long, narrow valley of Ridley Gill, and newer planting on former agricultural land where medieval farmsteads once stood. The wood is home to red squirrels and is brimming with birdlife. Address: Car park on Hedley Lane, Sunniside, Gateshead, 200 yards past the turn-off for Hedley Hall B&B.
Location : Lands Wood, Gateshead NE21 6SF
An ancient woodland site consisting mainly of oak and birch alongside birch, beech, alder and rowan. An extensive path network allows good access and ground flora such as bluebell and dog violet provide colour in season. To walk the perimeter of the woods takes around 35 minutes.
Location : The woodland can be reached on foot from the lay-by on the west-bound carriageway of the A174, immediately adjacent to Greystones roundabout. Head east from the lay-by on a surfaced track before turning south onto the Lazenby Bank Road; a bridleway which leads, for just 450 metres, to the entrance to Dave's Wood.
The skyline to the south of Middlesbrough is dominated by a long, green, wooded slope stretching all the way from Wilton Castle to the rocky outcrop and cluster of radio masts at Eston Nab. This is Lazenby Bank, a beautiful and varied woodland; much of it under ash and oak trees, but also including plantations of beech and chestnut. There are swathes of bluebells and pretty patches of wood anemones to enjoy in spring. Despite its close proximity to industrial Teesside, the woodland is a quiet, natural sanctuary for wildlife and visitors.
Location : From Redcar, take the A174 to Saltburn. Follow the road down Saltburn Bank onto the seafront, cross over the bridge, take the first right and park in the public car park. Walk towards the Northumbrian Water pumping station (the very large red brick building) and the signposted public footpath to the entrance.
Saltburn Gill is a wildlife-rich SSSI woodland set in a lovely secluded valley leading to the coast at Saltburn. A dense canopy of oak and ash trees shelter a winding path that runs the entire length of the valley and provides good opportunities to see all the reserve has to offer. In spring, showy yellow flowers of lesser celandine are shortly followed by carpets of strong smelling wild garlic and bluebells. Other plants to look out for include dog's mercury, woodruff, bugle, moschatel and wood avens.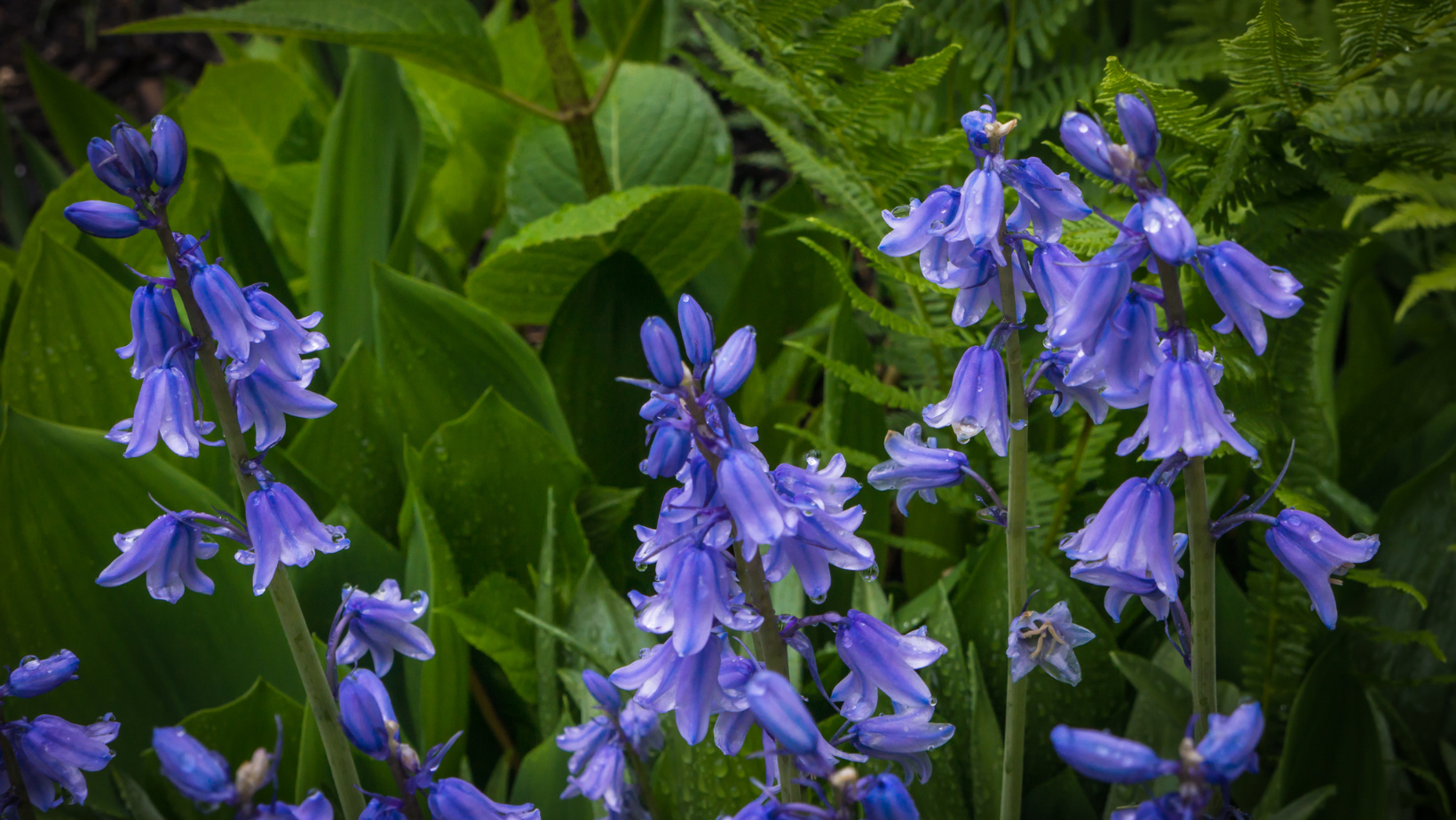 Bluebell Woods Warwickshire
Location : Rising Lane, Baddesley Clinton, Warwickshire, B93 0DQ
Spring is a lovely time to visit Baddesley Clinton and the surrounding areas, which are awash with bluebells. Daffodils are the cheeriest of spring bulbs with their bright colours and can be seen in swathes all around the grounds, but look particularly lovely along the Church Walk. Early spring also brings displays of Iris Reticulata in the walled garden, where over 2000 bulbs have been planted. As the weather warms and days begin to lengthen, carpets of woodland bluebells, especially along Church Walk, create a magical sight.
Location : Alcester, Warwickshire, B49 5JA
Whatever the time of the year, the striking, 15th century Tudor house and beautiful gardens of Coughton Court are a popular day out for families and history buffs alike. Once spring arrives, Timm's Grove, or Coughton Court's bluebell wood, becomes awash with the delicate blue flower for visitors to admire
Location : just off A429, Kenilworth, Warwickshire, CV8 2JS
A popular nature reserve managed by Warwickshire Wildlife Trust where you can enjoy the spectacular blanket of bluebells dotted with delicate wood anemone, yellow pimpernel and common dog-violet.
Location : Warwick, Warwickshire, CV35 8AS
An ancient woodland and meadow running along the River Avon, also managed by Warwickshire Wildlife Trust, and boasting a beautiful carpet of wild flowers in spring. The reserve is deservedly famous for its spectacular primroses, fantastic bluebells, wood anemone and lesser celandine. It's also home to 28 species of butterfly.
Location : Oldbury Road, Hartshill, Nuneaton, Warwickshire, CV10 0TE
Managed by Warwickshire County Council and covering 137 acres of woodland and open hilltop it has magnificent views across the Anker Valley and a stunning display of bluebells.
Location : Hay Wood , Haywood Ln, Warwick, CV35 7DD
Located near Baddesley Clinton, escape to Hay Wood for your next forest adventure. Whether walking or riding, Hay Wood is the perfect place to get away from it all and relax. As a peaceful ancient woodland site there is a great diversity of wildlife to look out for; foxgloves, bluebells, birds, butterflies, rabbits and Muntjac deer are just a few you could encounter.
Location : Packwood Lane, Lapworth, Warwickshire, B94 6AT
This National Trust property near the village of Lapworth is known for bluebells in the grounds. Packwood's contemporary mingled style garden, with herbaceous borders, wildflower meadows and beautiful orchard is the perfect place to dream of carefree days. The gardens are noted for their exciting and colourful borders, unusual plants, bountiful Kitchen Garden and magnificent yew trees.
Location : Ragley Hall Alcester, Warwickshire, B49 5NJ
The family home of the 9th Marquess and Marchioness of Hertford and their children. Ragley's ancient Ladies Wood floor is covered with a carpet of bluebells nestled in the bright green foliage as far as the eye can see. In the shade of the wood, the first thing that hits you is the scent of the bluebells.
Location : Redditch, Warwickshire, B80 7EN
This peaceful and atmospheric woodland is set on a hillside and its history traces back to 1250. The woodland is made up of sessile oak, birch, rowan, aspen and small leaved lime. Wildflowers emerge in spring with a sea of bluebells.
Both managed by Warwickshire Wildlife Trust, Ryton Wood, one of the best of the Princethorpe Woods, is one of the county's largest surviving semi-natural ancient woodlands. Part of it dates to the 11th century. In the large, clear glades there are fabulous bluebell displays. Nearby beautiful Wappenbury Wood, a large semi-natural ancient woodland, offers tranquil bluebell walks.
Location : Stratford-on-Avon, Warwickshire, CV37 0JH
Visit in spring to enjoy the exquisite carpet of bluebells, primroses and early-purple orchids. The woodland supports an impressive 250 different species of plants, including a number of more special flowers, found at limited sites across Warwickshire. You might see herb-paris, fragrant agrimony, columbine, meadow saffron or bird's-nest orchid. Another Warwickshire Wildlife Trust which has an exquisite carpet of bluebells in spring.
Location : On the southern edge of Coventry, situated in the University of Warwick campus, Coventry, Warwickshire, CV4 7AJ
Lying on Liassic sandstone and Triassic clay, this lovely nature reserve is made up of oak woodland, wetland and a meadow. A canopy of oak, sycamore, ash, hazel, elder and rowan create a shady woodland floor where bluebells flourish. Dog's mercury, wood-sorrel, wood anemone and violets offer springtime gems. Autumn brings an array of colour and the intriguing beefsteak fungus, stinkhorn and buttercap.
Location : Princethorpe, Warwickshire, CV23 9QA
With a network of grassy rides and glades, these beautiful woods offer tranquil walks through a wildlife treasure trove. On a sunny day you may spot butterflies like white admiral and purple hairstreak. Historically, an impressive 88 species of birds have been recorded, with plentiful sightings of warblers, woodpeckers and tawny owl, visit in spring for the bluebells.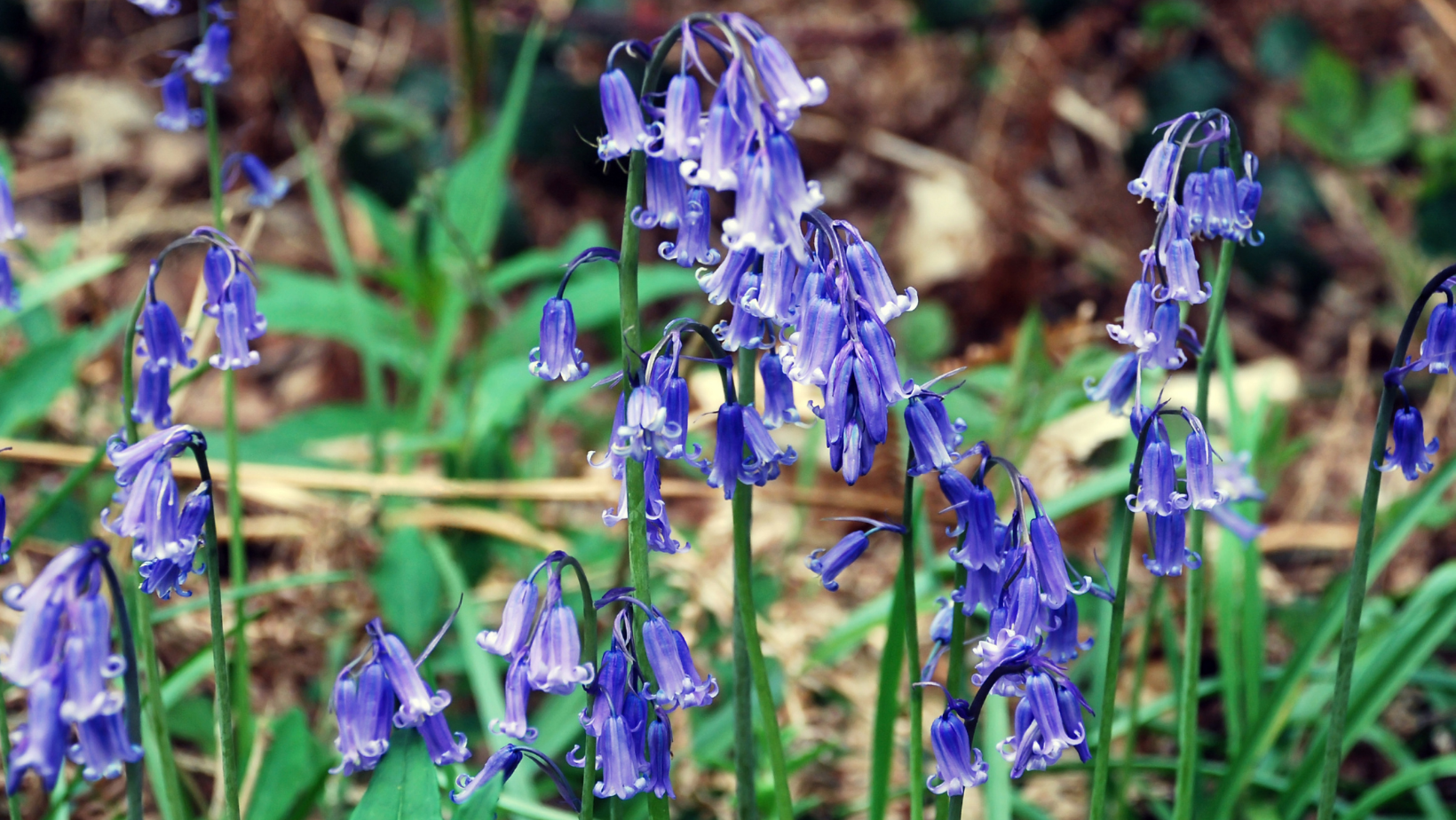 Bluebell Woods West Midlands
Location : Westbourne Road, Edgbaston B15 3TR
The Woodland Walk stretches from the lower garden up to the terrace and glasshouses and is full of primroses and bluebells in the spring. Trees here are coppiced regularly, allowing glades for the bluebells to flourish.
Location : Wood Lane, Solihull, B94 5JP
Wildflowers to be seen here include bluebell, lily of the valley, cow-wheat and bilberry. Fifty species of bird breed here, such as jay, chiff chaff, nuthatch and treecreeper, and also woodcock and all three woodpeckers. Badgers live in this woodland and red fox, muntjac and brown hare are all regular visitors to this reserve.
Location : 423 Sutton Rd, Walsall WS9 0QH
Access the Dingle from Sutton Road. The flat straight path is unsurfaced with trees or bushes on either side. There is an abundance of wildflowers and in late spring lots of Ramsons. A short walk brings you to a stile beyond. This is where the magic starts. The paths here are winding with some steps. There are many pools. Ramsons show as far as the eye can see. Walk into Cuckoos Nook & you immediately notice a change. In spring the sides of the path are carpeted by bluebells and wood anemones.
Location : 3 Netherstone Grove, Sutton Coldfield B74 4DT
Hill Hook Local Nature Reserve is located in Four Oaks, Sutton Coldfield, Birmingham, not far from Sutton Park. This hidden oasis of green, bordered by residential streets, is an outstanding site with a wide variety of habitats ranging from grassland, scrub and dry woodland to open water, marsh and alder carr woodland. This provides habitat for a wide variety of plants and animals.
Location : Cole Valley Road, Birmingham, B28 0DG (Kingfisher) Woodside, Birmingham B37 6LY (Yorks Woods)
Yorks Wood in Kingshurst is an 11-hectare ancient woodland which is home to a wide variety of birds. In spring the woodland floor is a carpet of bluebells.
Neighbouring Kingfisher Country Park has been designated under the 'Man and the Biosphere' programme and the valley contains many different types of landscape and wildlife habitats. Alongside the river there are areas of scrub, coarse grassland, wetland and ancient woodland.
Location : Warren Ln, Rednal, Birmingham B45 8ER
In the spring the whole area around the Lickey Hills wood is covered by bluebells. Adding to the array of colour are white flowered wood sorrel, foxgloves, stitchworts and buttercups.
Location : Birmingham Road / Skip Lane, Walsall, B43 7AN
Merrions Wood is a wonderful oak and beech woodland just three miles from Walsall town centre. It is beautiful in spring when the bluebells are in bloom. Start by walking up the main path, which is part of the Beacon Way national trail, along to the shady woodland pool and rustic bridge to the playing field for picnics and games.
Location : Yardley Wood Road, Moseley, B13 9JX
This nature reserve is packed with plants, wildlife, old gnarled trees and stunning displays of bluebells each spring. It's said to have been the childhood playground and inspiration for The Lord of the Rings author JRR Tolkien, who lived nearby.
Location : Underhill Ln, Bushbury, Wolverhampton WV10 7JF
Drive just ten minutes from the centre of Wolverhampton and you'll find yourself on our wonderful working farm surrounded by 90 acres of mature woodland, fields, the babbling Berry Brook and untouched meadowland. Chickens, pigs and sheep live on Northycote Farm, which is also home to a huge variety of wildlife in the surrounding countryside. The farm is free and is a simple breath of fresh air. There are some lovely long walks around it where you can enjoy the sound of birdsong whistling through the tree canopies undisturbed.
Location : 1A Temple Meadows Rd, West Bromwich B71 4DE
Sots Hole has over 5 hectares of some of the oldest woodland in Sandwell. The largely wet woodland supports a variety of tree species. A stream flows through the site and a small pool has recently been created. A surfaced path leads through the Reserve, linking up with other paths leading into Sandwell Valley Country Park
Location : Edgbaston Park Road, Edgbaston, B15 2RT
This is a lovely haven near to the city centre where you can enjoy bluebells. The Edgbaston Park Road attraction offers a seven acre oasis featuring more than 6,000 different plant species, including gorgeous bluebells.
Location : Clapgate Lane, Bartley Green, B32 3DS
The park comprises 450 acres of many different habitats which were originally a mosaic of farms and smallholdings. The damp meadow produces wonderful displays of wild flowers, including bluebells, in spring and summer. There is also an urban farm, visitor centre and play area.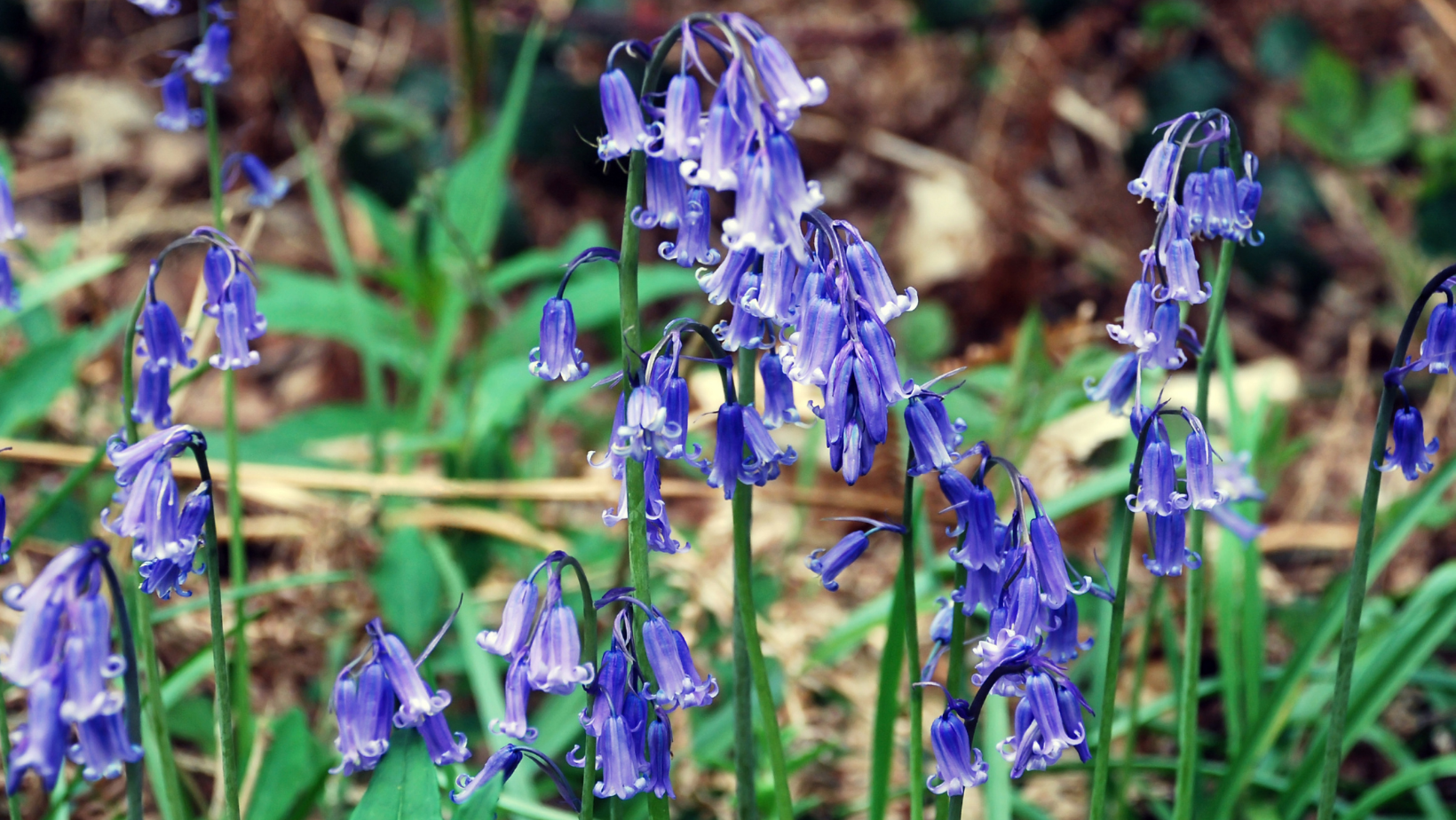 Bluebell Woods Wiltshire
Location : Ambrose Copse, Shaftesbury
Ambrose Copse is a predominantly oak/ash woodland which forms part of the Gutch Common SSSI. The Wood also lies within the Cranborne Chase and West Wiltshire Downs AONB and is surrounded by a mosaic of farmland and woodland. Ground flora includes bluebells wild garlic lesser celandine wood anemone and dogs mercury. Public access is limited due to the sites remote location and lack of easy parking. There are two entrances from the narrow lane that runs along the northern edge but there are no maintained paths within the wood.
Location : Salisbury SP5 1AG
Blackmoor Copse is a Site of Special Scientific Interest (SSSI) and one of the most important woods in Wiltshire for wildlife, particularly butterflies. The gently sloping site is criss-crossed by woodland paths and has a circular route for easy walking. In spring and summer glades and paths are sprinkled with wildflowers such as violets, primroses, bluebells and common spotted orchids.
Location : Bowood House & Gardens, SN11 0LZ
The gardens of Bowood come to life with many colours throughout their open season however look out for the bluebells, particularly when the rhododendron gardens open up for the season. A visual treat!
Location : Malmesbury SN16 9LQ
The eight meadows that make up this nature reserve on the edge of the Braydon Forest are awash with wild flowers and alive with insects during summer. Three fields – Horse Leaze, Cow Leaze and The Hams – are within Cloatley Manor Farm Meadows Site of Special Scientific Interest.
Location : Clouts Wood – Wroughton
A walk through this Site of Special Scientific Interest takes you from stream-soaked valley floor, up steep slopes to level land at the top. You will find mossy gnarled boles, splendid spreading trees and abandoned water cress beds. Clouts Wood is situated between Markham Banks nature reserve and King's Farm Wood and Diocese Meadows. Combine a walk through all four areas to enjoy contrasting landscapes.
Location : Colerne, Chippenham SN14 8BH
A significant tract of ancient woodland with a river running alongside. The wood provides habitats for many species of fauna and avifauna as well as rich ground flora including the scarce Solomon's Seal and Star of Bethlehem.
Location : Drew's Pond Wood, Devizes
Drewspond is a small community broadleaved coppiced managed woodland. plenty of paths and good bird and butterfly habitats.
Grovely Wood
Location : Grovely Wood, Salisbury
On the outskirts of Wilton, Grovely Wood forms part of the Wilton estate and sits between the Nadder and Wylye valleys. See the area come to life with bluebells and other spring flowers.
Location : Swindon SN5 8YW
This pocket of woodland provides a breathing space for wildlife in west Swindon and a peaceful place where workers can take a lunchtime stroll. In April and May you can enjoy a stunning display of native bluebells
Location : Lydiard Millicent
An ancient wood with oak birch and coppicing used to be part of the ancient Braydon Forest. Good for spring flowers and woodland birds.
Location : Braydon
An ancient woodland with oak, wych elm, a wild service tree and coppiced hazel. Habitats for spring flowers, birds,butterflies and fungi with ponds which attracts dragonflies. Rare ancient indicator species are present plus a flower meadow attached.
Location : near Mere, Wiltshire, BA12 6QD
The woodlands surrounding the garden offer a wonderful display of bluebells during May. To enjoy them pick up one of the estate walks, we recommend the Bonham Wood walk. Bluebells transform the woodland in spring time, their carpet of blue is a lovely addition to any spring walk and is sure to put a spring in your step.
Location : Tinney's Firs, Salisbury
Tinney's Firs is an attractive, mature, mainly broadleaf woodland named after a stand of large Douglas fir. An old brick kiln and unusual ponds hint at the wood's industrial past.
Location : Chippenham SN14 0TN
Vincients Wood is a semi-natural broadleaved woodland on the western edge of Chippenham. A circular route around the wood crosses a medieval woodbank that divides the wood in two; it would have been placed there as a boundary and to keep livestock out. In spring wood anemones, bluebells and early purple orchids blossom. Comma, holly blue, ringlet and speckled wood butterflies live here.
Location : Marlborough, SN8 4DY
South west of Marlborough, West Woods is a great place for fantastic displays of bluebells during late spring. The area is managed by the Forestry Commission and is a popular spot for locals.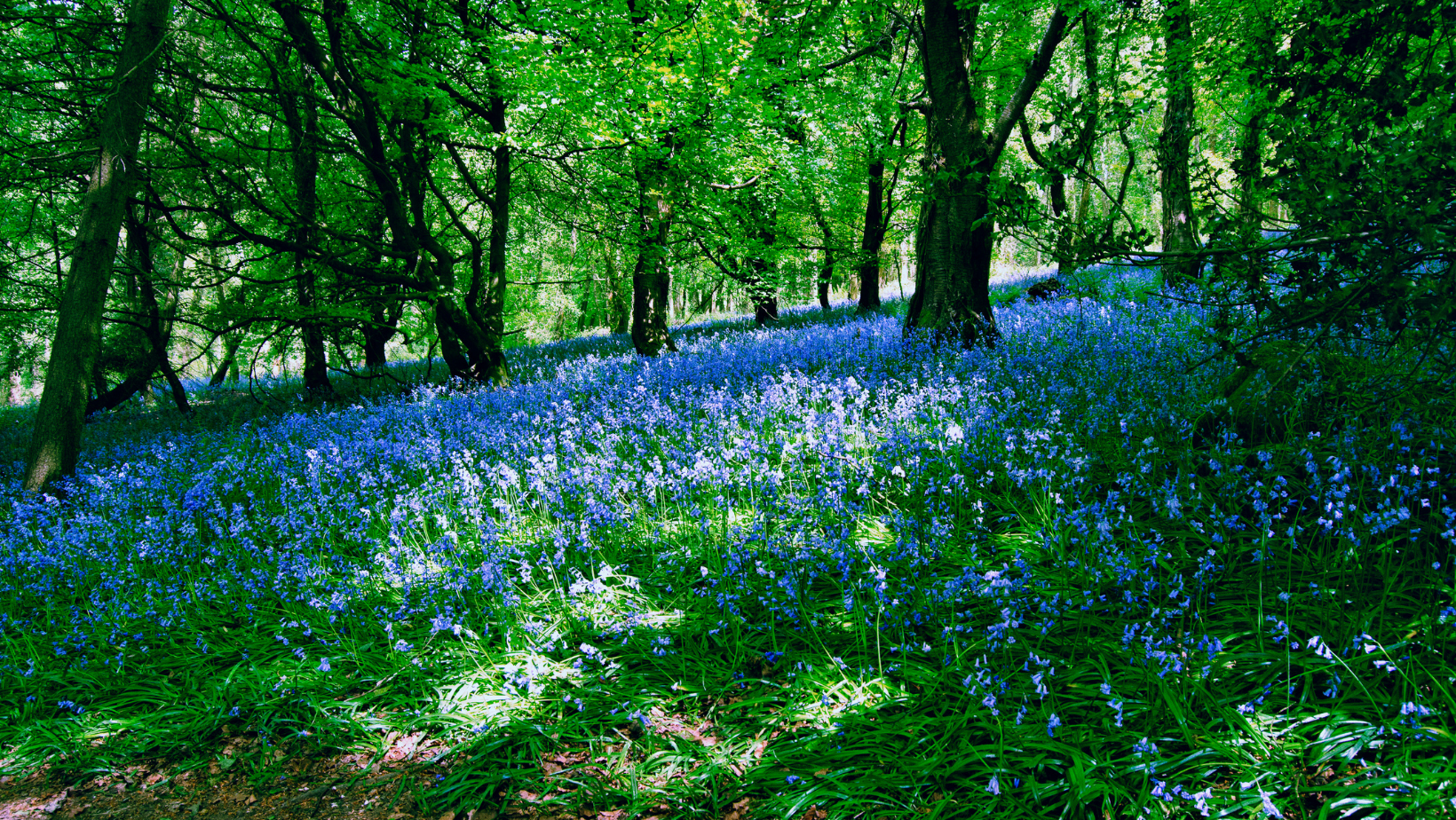 Bluebell Woods Worcestershire
Location : North end of Birmingham Road, 1 mile from north-east junction of the M5, Rubery, B61 0QD
These beautiful woods on the edge of Birmingham are renowned for their stunning shows of bluebells each spring but there's more to these 11 hectares than bluebells! Part of the National Trust's Chadwich Estate, they're managed by WWT and are great for walking in all year round. They lie on the northwest spur of the Lickey Hills
Location : 1 1/2 miles north of Woodcote Green, Bromsgrove, Worcestershire, DY10 4NX
It's said that this wood can be traced back to the Ice Age due to the presence of ancient woodland species. It's also a haven for bluebells in spring. The second largest woodland area in Worcestershire, dating back to at least the 13th century.
Address: near Romsley, Worcestershire
Managed by the National Trust, Croome is a stunningly grand landscape boasting enviable views over the Malvern Hills. At the heart of the parkland stands the formidable Croome Court, once home to the Earls of Coventry. Lakeside walks, with the dog by your side, are delightful all year round but once mid-April arrives, expect to admire clusters of pretty bluebells dotting your feet around the Temple Greenhouse in the Church Shrubbery and the Island Pavilion at the lake.
Location : 69 Waterworks Rd, Worcester WR1 3EY
Gheluvelt Park is a memorial park built in honour of those lost in the First World War. It straddles Barbourne Brook and has two distinct areas – a formal park to the east, and an informal area managed for wildlife conservation to the west, next to the River Severn.You don't have to seek out rural areas for bluebell-spotting; the city's parks also have their flowery charms.
Location : Alfrick Pound, Worcester WR6 5HR
The reserve is a mixture of meadows and woodland carpeted in bluebells in spring. Look out for dragonflies, grey wagtails and even otters by the brook. A trail leaflet to help guide visitors around the nature reserve is available from the small information centre near the entrance. It may also be worth a trip to the bluebell wood at Ombersley nearby too.
Location : CLICK HERE for parking details to access Malvern Hills
The slopes of the Malverns are awash with bluebells in the spring.
Location : Nr Monkwood Green, Worcester, Worcestershire, WR2 6NX
The wood is varied with a mixture of mature trees, stands of different ages, coppiced areas and sunny glades and rides. The open sunny conditions allow for blooms of woodland flowers – including bluebells and wood anemones – and the insects they attract.
Location : Malvern Hills, Worcestershire, WR6 6TT
As one of the largest small-leaved lime woodlands in the country, Shrawley Wood really is something special. Visit Shrawley Wood to see a spectacular display of bluebells in April and May. Visitors may park behind the New Inn pub (small charge applies), but are asked to patronise the pub in return!
Location : 1/2 mile west of Pershore on Besford Bridge road, Pershore, WR10 2AD
The floor of this woodland is carpeted with beautiful bluebells thanks to the work of the Worcestershire Wildlife Trust.
Location : Worcester
This ancient woodland has a wonderful display of bluebells in the spring, especially in areas where the hazel has been coppiced. Many butterflies also make use of the sunny hedgerow running along the western edge.
Location : Trench Ln, Droitwich WR9 7LW
There is generally a magnificent display of bluebells whichever way you look at Trench Wood. This is an ancient woodland, which is managed by the Worcestershire Wildlife Trust along with Butterfly Conservation because of its importance for woodland butterflies. Listen out for chiffchaffs warbling in the treetops and the occasional roe deer as you wander through the woods.
Location : Wildwood Drive, Worcester, WR5 2LG
There's lots to do at Worcester Woods Country Park, which has two nature reserves with lots of bluebells in spring, a huge open field for football and picnics, together with a lovely cafe and adventure play area.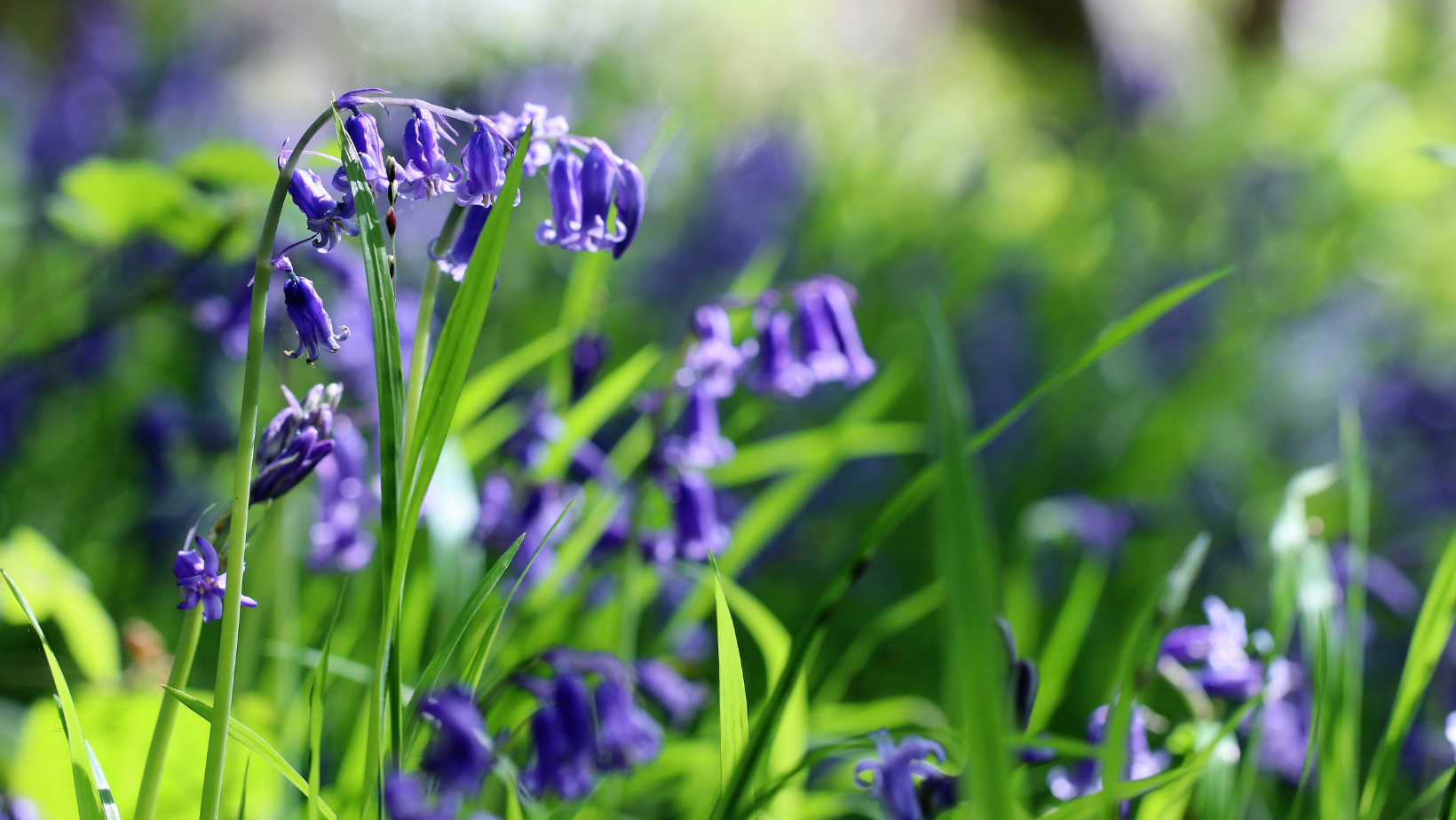 Bluebell Woods Yorkshire
Brayton Barff
Location : 53 Barff Ln, Brayton, Selby YO8 9ET
Brayton Barff can be reached by travelling a few miles to the west of Selby, just south-east of Thorpe Willoughby. Yorkshire Water's free car park is off Barff Lane, less than a mile to the west of Brayton (please note – there is a height barrier at the entrance). This woodland surrounding a covered reservoir is frequently visited for recreational activities such as walking, admiring the scenery and bird watching.
The undulating paths around the site are wide and well-surfaced, with no barriers to access for wheelchair and pushchair users such as steps and stiles. Climbing to the top of the hill offers visitors a rare viewpoint of the surrounding area, with its significant height relative to the miles and miles of flat land around it.
Location : Clara Dr, Calverley, Pudsey, LS28 5QW
Calverley Woods Circular is a 3.1 kilometer loop trail located near Pudsey, West Yorkshire, England that features a great forest setting and is good for all skill levels. The trail is primarily used for hiking, walking, and running.
Location : Sutton Bank National Park Centre, Thirsk, North Yorkshire, YO7 2EH
The dramatic Whitestone Cliff that towers above the wood shines out from the southern end of the Hambleton Hills to be seen for miles across the Vale of Mowbray to the Dales. A walk around the wood at anytime of the year gives you fantastic views as well as a variety of habitats to explore.
Location : Postcode for the car park is S35 7DS
Greno Woods is an ancient woodland, rich in wildlife and full of historic interest. Covering 169 hectares, it is one of our largest reserves and offers excellent opportunities for wildlife watching, exploration and recreation.
Location : nr Grewelthorpe Masham North Yorkshire
Hackfall Wood is an ancient woodland with original features such as grottos and glades, rustic temples and waterfalls. In the Spring there are carpets of bluebells and numerous woodland birds.
Location : Gibson Mill, Midgehole Road, Hebden Bridge, West Yorkshire, HX7 7AW
Located just west of Halifax, Hardcastle Crags is a great place to visit any time of year for the wildlife and busy streams, the woodland floor is covered with bluebells in spring.
Location : Milner Lane, Leeds, West Yorkshire, LS23 6NA
A mix of woodland, species rich grassland and wet flushes, Hetchell Wood provides a tranquil retreat on the edge of the conurbation of Leeds. The variety of habitats provide refuge for the rare species which were once widespread in the local landscape. The path network allows visitors to explore each of the habitats in turn along with other significant features such as the imposing rocky crags.
Location : Leeds LS10 4HX
An easy walk round, and in the Spring, is very famous for it's "carpet of blue", with all the Bluebells showing their gorgeous colour…. you can also ride the Middleton Railway while you're there.
Location : 24 Smithfield Rd, Sheffield S12 3JL
Just south of Sheffield, these beautiful ancient woods are carpeted in bluebells during Spring and provide a peaceful retreat from the bustle of the city.
Location : Wakefield, WF4 2EB
Newmillerdam is a nature reserve with a lake, water birds and plenty of wooded area that comes alive with bluebells in the Spring months.
Location : Cleveland, Newton-under-Roseberry, North Yorkshire, TS9 6QR
In the shadow of Roseberry Topping in North Yorkshire, is renowned for having an incredible display of bluebells. The National trust have a great recommended walk on their website.
Location : Doncaster Road, Nostell, near Wakefield, West Yorkshire, WF4 1QE
This 18th-century estate has an abundance of bluebells in their gardens, visitors can also explore 300 acres of parkland with a range of walks and views. At the moment, only the outdoor spaces at Nostell are open for local visitors to access for walks. You will need to book your visit in advance, but check the website for the latest policy as lockdown restrictions ease.
Location : above and between Austwick and the hamlets of Wharfe and Feizor
Hundreds of years ago, this area of woodland and pasture was part of Austwick's village quarry, you can still see how pock-marked the hillside is even though it is now grassed over. Read more about it on our Out of Oblivion website. The woodland area would also have been an important source of firewood and timber for locals in times gone by. Today it is designated as a Site Of Special Scientific Interest (SSSI) and in spring is a glorious tapestry of bluebells and other woodland flowers.
Location : Knaresborough HG5 9HE
Nidd Gorge woodland clings to a dramatic steep-sided valley. Its patchwork of habitats supports a wealth of wildlife and flora, and you'll find relics of an intriguing history dating back to the Iron Age. Stroll through the ancient, broadleaved woodland and along the banks of the gently meandering river in the sheltered depths of the valley, or climb higher for stunning views towards the historic spa towns of Knaresborough and Harrogate.
Location : Seckar Lane, Woolley, Wakefield, WF4 2LE
A carpet of bluebells covers the woodland floor in spring. Dead wood encourages invertebrates which provide food for many of the birds including Great Spotted Woodpecker and Treecreepers. In summer the heathland is a sea of purple when the Heather flowers.
Location : Skipton, BD23 1AW
Hidden behind one of Britain's most popular medieval castles, the Woodland Trust's Skipton Castle Woods is a rare ancient woodland habitat straight off the high street. With a fascinating history that dates back a thousand years, stunning seasonal displays, amazing wildlife and central location, Skipton Castle Woods is a must-visit if you're in the area. One of the Woodland Trust's most unique sites, there's lots for nature-lovers and families to see and do, so step off the high street, feel the earth under your boots and come explore.
Location : Harden, Bingley BD16 1AT
St Ives Estate in Bingley not only has an adventure playground that is great for a range of ages, lots of geocaching, a duck pond and a lovely cafe, it is also a great place to go for bluebell walks!
Location : Netherton Cemetry, Wakefield, West Yorkshire, WF4 4NE
A stunning woodland with a meandering beck trickling through – step into Stoneycliffe Wood, a semi-natural ancient woodland site, to enjoy bluebells and ramsons in spring, breeding birds in summer and fungi in autumn.
Location : Thorp Perrow Arboretum, Bedale DL8 2PS
Thorp Perrow is considered to be one of the finest collections of trees and shrubs in the country. There are more than 100 acres of woodland to explore with Spring bringing a beautiful displays of bluebells. Admission tickets must be pre-booked online prior to your visit.
Location : Calverley, Pudsey LS28 5QR
Once the garden of an impressive Victorian house, West Wood is a site with lots of quirky secrets to uncover. Look out for an old walled garden, hidden grottoes, and many more historical features. The vibrant history of the site, including an explosion in a firework factory, all add to the charm of West Wood. Today, the serene woodland is a haven for woodland birds whose songs fill the summer air.
Location : West Bretton, Wakefield WF43 4LG
Yorkshire Sculpture Park near Wakefield is a fantastic open air sculpture park perfect for family walks. If you head to the Lowe Lake, you'll find bluebells aplenty.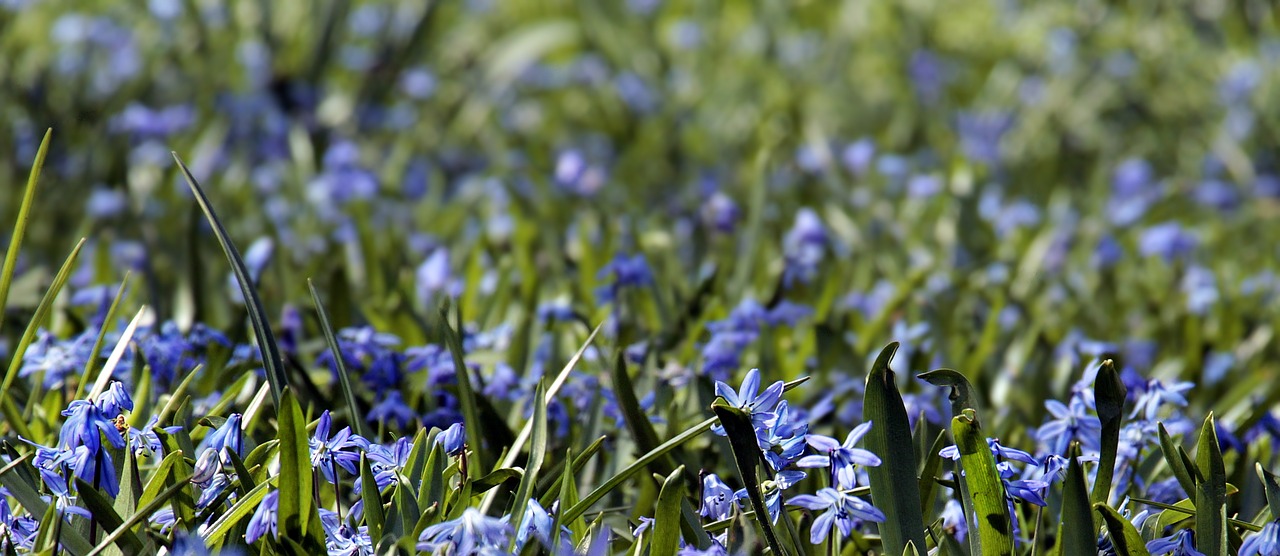 Bluebell Woods Scotland
Have you visited any good Bluebell woods in Scotland that you would recommend to visit, here are just a few examples, but feel free to suggest more for me to add to the list.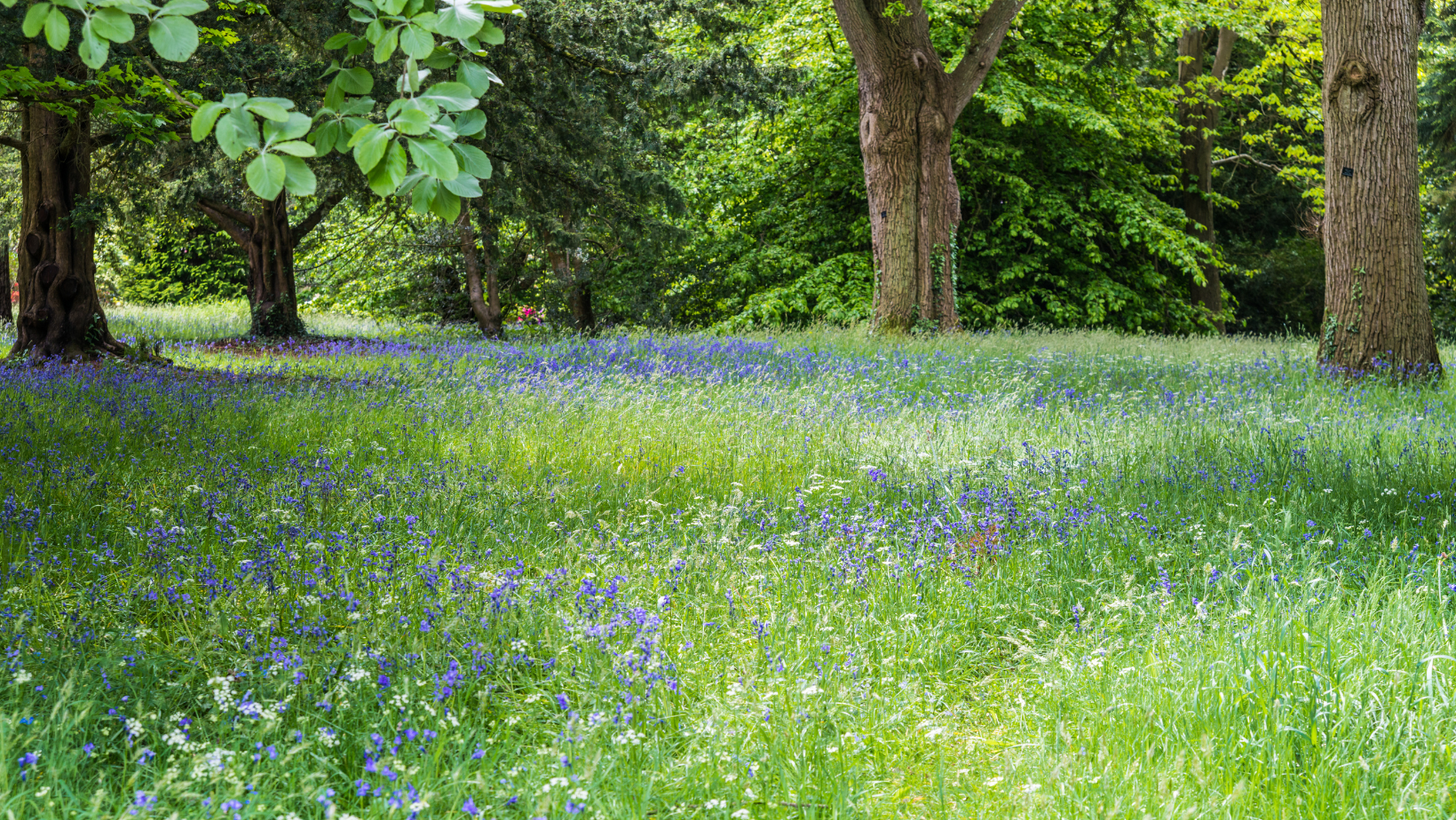 Bluebell Woods Wales
There are some stunning places to visit in Wales, here are just a few examples of Bluebell Woods for you to visit, feel free to let me know in the comments if there are any I must add to this list.

FAQS
Are Bluebell Woods Protected ?
Bluebells are protected under the Wildlife and Countryside Act (1981).
Can You pick Bluebells In the Woods ?
NO you cannot pick bluebells or willfully damage them ( uprooting or trampling on them) or you will face a large fine. They take years to grow and then years to recover if they suffer footfall damage.
You can find out further information on the National Trust website about Bluebells, their history and how we can look after them.
What Month Do Bluebells Come Out ?
It is a relatively short season to see these pretty flowers. English bluebells flower between mid-April and mid-May with peak bluebell season in the UK being the beginning to mid-May.
Are Bluebells Poisonous ?
Yes. All parts of the bluebell plant contain toxic glycocides that are poisonous to humans, dogs, horses and cattle. If any part of the plant is eaten, it can cause serious stomach upset, and if consumed in large quantities, may be fatal.
But as you are not allowed to pick the bluebells there should be no need for you to touch them, however please do ensure your dog stays well away from them.
'The Bluebell is the sweetest flower
That waves in summer air:
Its blossoms have the mightiest power
To soothe my spirit's care.'
Emily Bronte