Christmas Events in Norfolk are looking amazing this year, all of the favourites are back (with the exception of one) to make your Christmas 2021 one to remember, and if there are any of these you haven't visited before, make sure to add them to your list.
What Christmas Events in Norfolk For 2021?
Bure Valley Railway Festive Express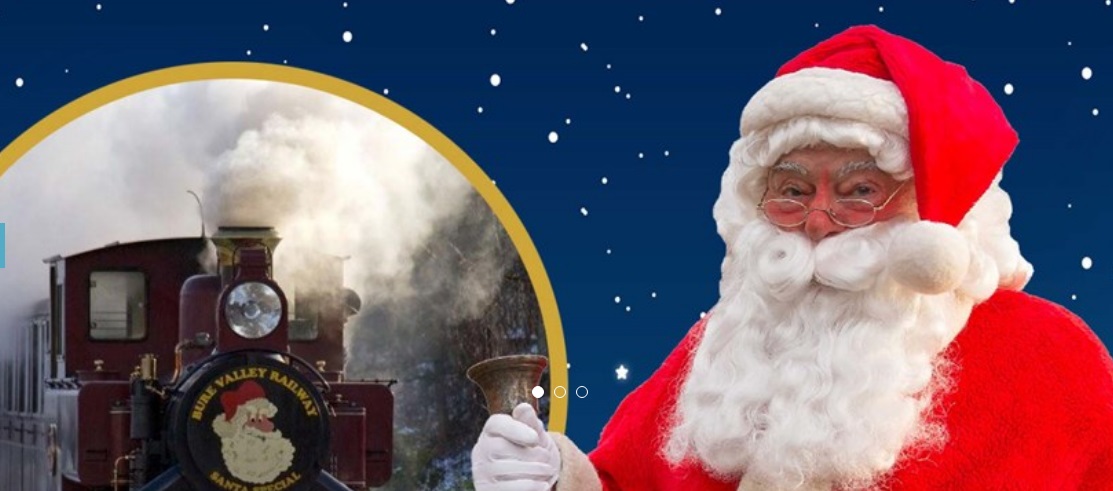 Hop on board one of our Festive Express steam trains this December. Enjoy a 1 hour experience from our Aylsham Station including festive treats, a 30 minute steam train ride and a guest appearance from Santa.
Each child will receive a personalised present from Santa himself.
Itinerary
Arrive at Aylsham Station 20-30 minutes before your train departs to collect your boarding pass and festive refreshments to enjoy on your journey. You will have your own heated private compartment for your party.
Once everyone has boarded, the train will depart our brightly decorated station to Brampton. Wave to your Steam engine from your carriage as it turns around before returning.
As you make your way back to Aylsham Station Santa will be waiting to greet you on his sleigh. Depart your train and visit Santa and his elves in his grotto.
For further information check out Bure Valley Railway Festive Express
Cromer Pier Christmas Show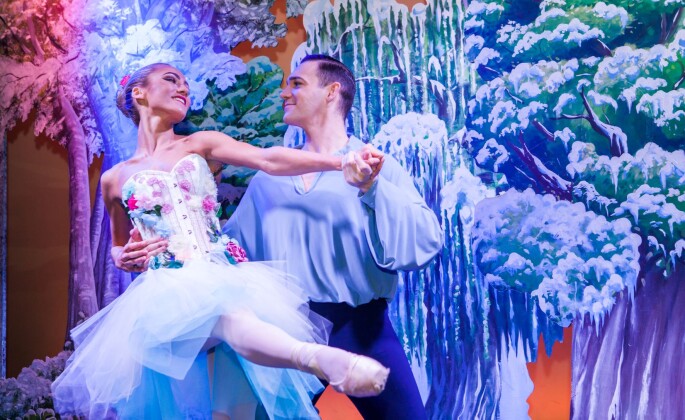 Our show will warm your hearts and get you ready for the Christmas season with a whole heap of festive fun and is fast becoming one of the 'must see' family Christmas shows in Norfolk, not only in production values, laugh-out-loud comedy, amazing dance routines and glitzy costumes but also as an exceedingly good value for money experience, strengthening the county's excellent festive entertainment offering.
Good old Norfolk boy, all-around entertainer, and jolly nice chap Olly Day returns for his belated twelfth year at the helm. Olly will be joined by world-class variety acts and vocalists and all the razzle and dazzle that you would expect from the Cromer Pier Christmas Show dancers, add those heart-melting moments from the little stars from Cromer dance school Marlene's School Of Dancing and you have the ultimate festive theatre experience.
For further information check out Cromer Pier Christmas Show
Hippodrome Christmas Spectacular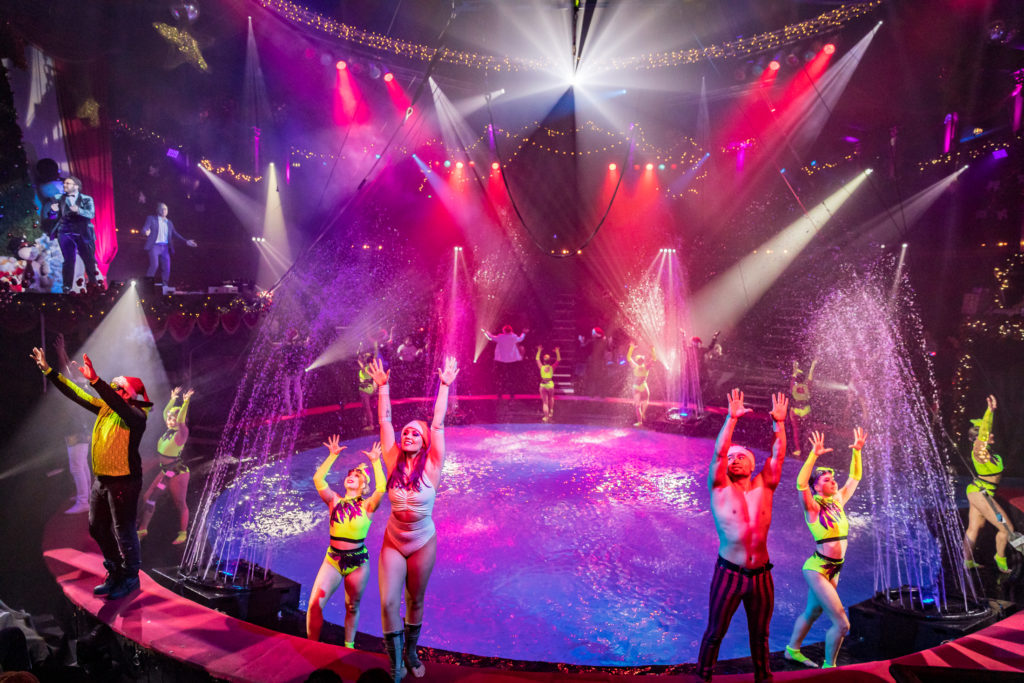 One of Europe's largest festive productions, this awe-inspiring show will whisk you away on a magical circus experience.
Norfolk family favourite Ben Langley will be returning, alongside host Jack Jay they will be bringing the Christmas cheer by the bucket load (literally). The show will feature a cast of world class circus acts alongside dancers and swimmers. All staged in the stunningly decorated Hippodrome auditorium.
The Christmas Spectacular will run from December 11th to January 9th
For further information check out Hippodrome Christmas Spectacular
Luminate Sandringham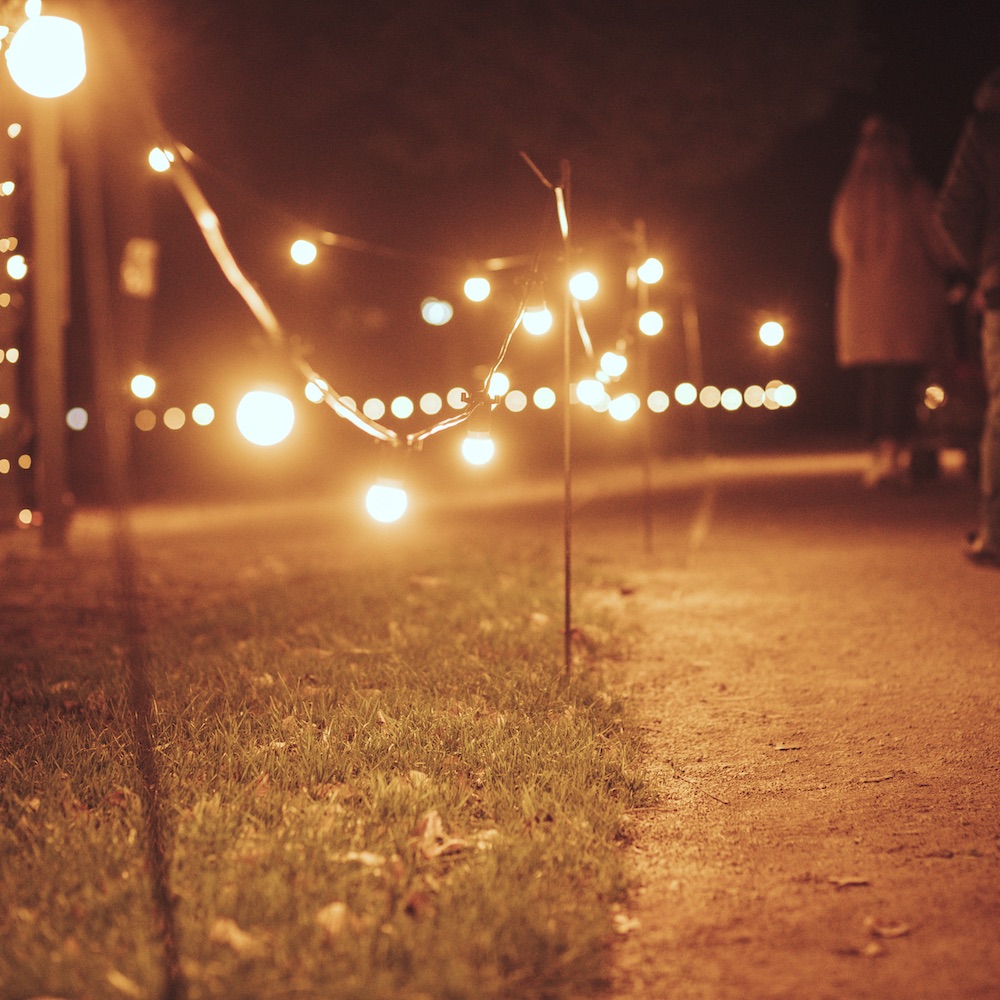 Sandringham Estate Winter Light Trail
Nestled deep within Her Majesty's private Estate, awaits a spectacular, illuminated trail, full of wonder and intrigue, to delight and enthral your senses.
As darkness descends, join us on our enchanting journey, as we weave a captivating light trail through the Country Park at Sandringham, the much loved rural retreat of Her Majesty. Immerse yourself in our mesmerising mile long trail, with stunning lighting elements and fabulous light play, all set to ambient music.
A Timeless experience to be enjoyed by all, young and old alike.
Luminate Sandringham will run nightly, from Friday 12th November 2021 to Sunday 19th December 2021
Tickets must be pre-booked online in advance.
For further information check out Luminate Sandringham
Norfolk Lights Express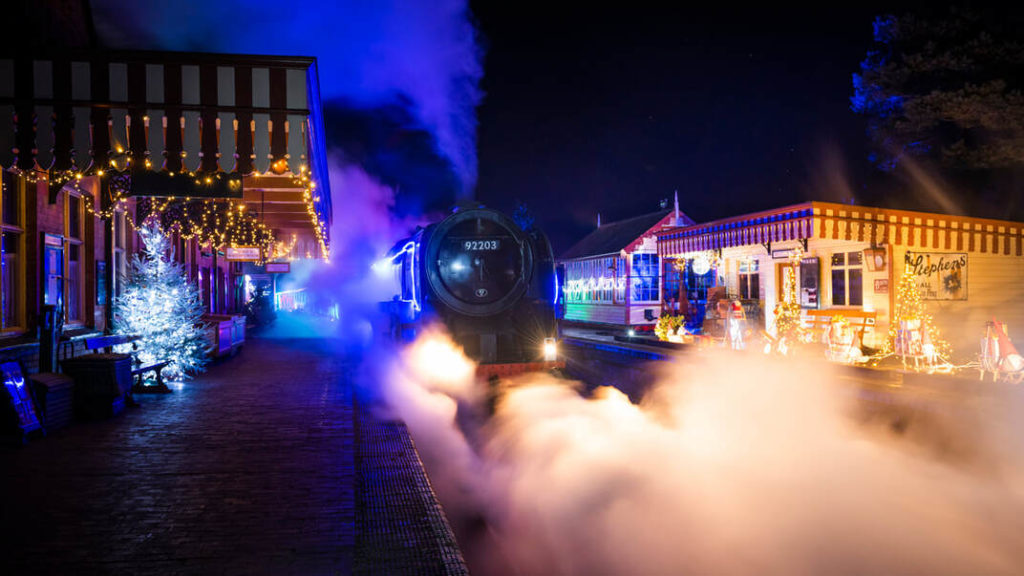 The Norfolk Lights Express is an immersive, wintertime experience that is fun for the whole family! Arrive after dark at Sheringham Station and you'll be greeted by the magical sight of a steam hauled train illuminated by thousands of tiny lights. The Old Luggage Office buffet will be open for you to purchase hot soup, hot drinks, alcoholic beverages, soft drinks, delicious homemade cakes and savoury refreshments.
Since it's debut in 2019, The Norfolk Lights Express has become firmly established as a favourite seasonal treat. As your train steams from Sheringham to Holt and back, you'll pass a series of colourful, lit-up dioramas and literally see the countryside adjoining the track in a whole new light as the on board lights shine on the scenery in a series of changing colours.
The Norfolk Lights Express will be operating daily from November 15 2021 until January 3 2022, with the exception of December 6, 24, 25 and 26.
For further information check out Norfolk Lights Express
Roarr! Dinosaur Adventure Dippy's Christmas Celebration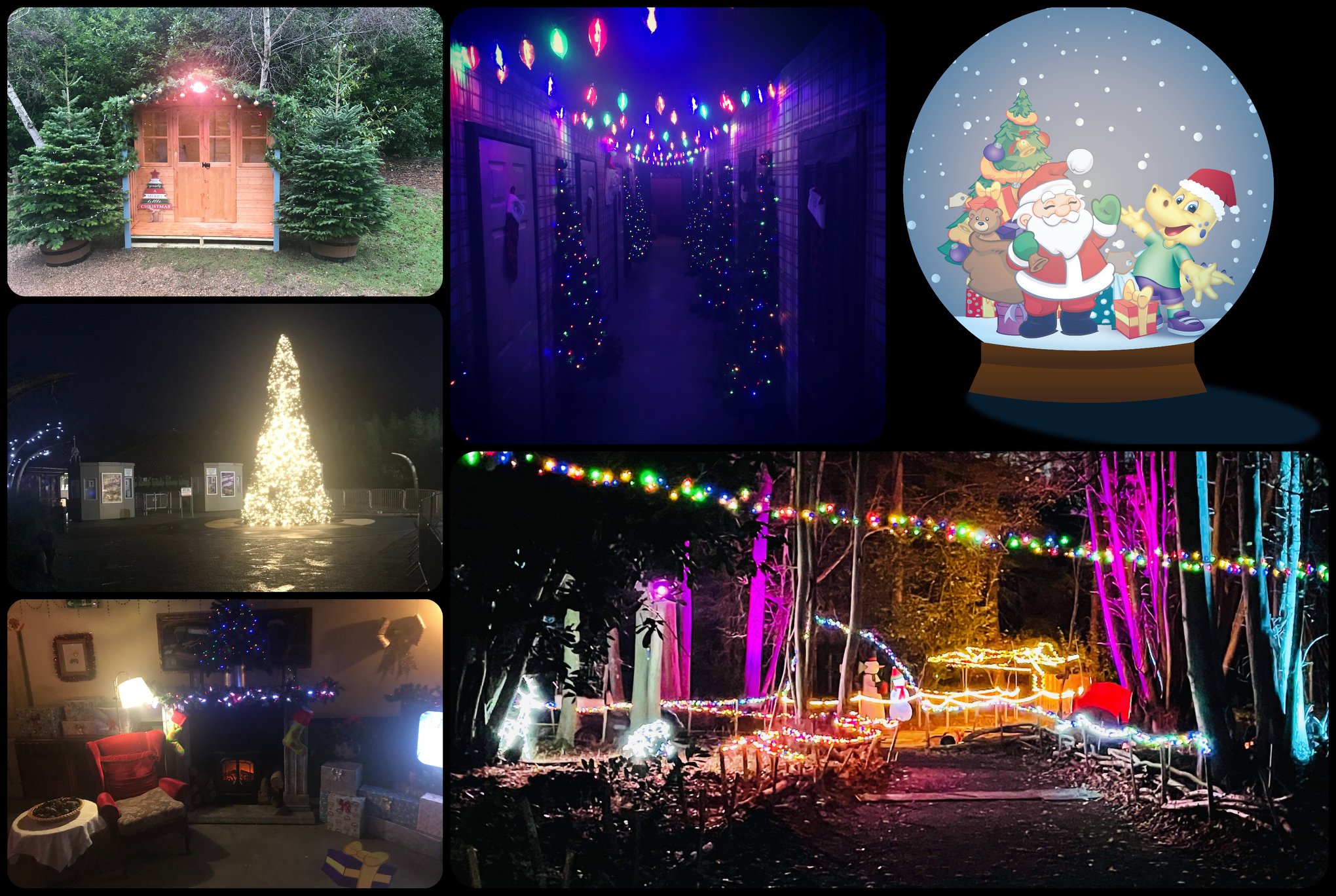 Take advantage of our early bird prices as these will change on December 1st
We have Two Sparkling Christmas options available for our guests to experience this year:
1.
Jingle all the day – Join us for the ultimate Christmas experience – where the festive magic is brought to life in front of your eyes! Following a very successful sold out Dippy's Christmas Celebration in 2020, we have taken all of your feedback to keep individual time slots no queuing and a free adult with each child.
Your adventure will begin with our elves giving the children a magical passport before meeting Mother Christmas and receiving a delicious gingerbread. You will journey through the festive wintery route with elves throughout the experience, where the children will also receive a candy cane before meeting the most important man of all – Father Christmas.
Included in the Jingle all the Day experience is a digital photograph with Father Christmas and hot chocolate for all members of the family. Father Christmas will then give each child a golden ticket to exchange for a gift of their choice from his toy shop. You will also need to purchase your park tickets when you book – as the Jingle In The Day is a separate immersive Christmas experience to our day-to-day park adventure.
Dippy's Christmas Celebration – Jingle all the day – Christmas £15.00 per child (includes 1 adult)
Additional Adult £2.00 from 10.30am – 3.30pm
2.
Sparkle in the Dark – Our Christmas evenings offer the opportunity to meet Father Christmas after the park closes, when everything looks more magical and sparkly. Entry £17.50 per child, which includes one free adult entry, additional adults are charged at £4 per head as part of the same family. You will enjoy the same Dippy's Christmas Celebration as detailed above, plus some additional magical surprises.

The Experience runs from (17.30pm-20.25pm) – 26 & 27 Nov, 3 & 4 Dec, 9-12 Dec, 16-18 Dec and 20 – 23 Dec.
Dippy and our tinsel-tastic team of elves look forward to welcoming you to Roarr!
For further information check out Roarr! Dinosaur Adventure Dippy's Christmas Celebration
Santa Experience Wroxham Barns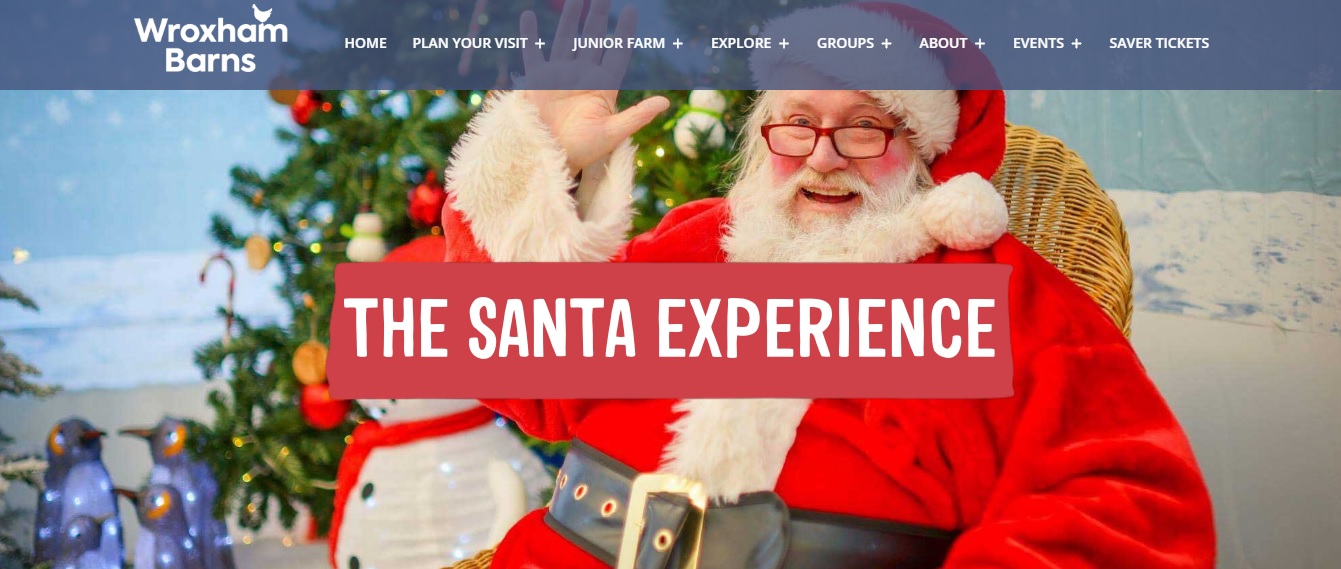 Norfolk's sell-out Christmas experience is back and this year it's even bigger than ever before! Previously the well known and loved Santa Experience, we've added even more, to turn it into the CHRISTMAS experience. Taking place every weekend in December, PLUS 20th 21st, 22nd, 23rd and exclusive, limited Christmas Eve sessions too.
We're delighted to announce that Norfolk's favourite Santa has agreed, once again, to take time out of his busy schedule at the North Pole, to come to Junior Farm & Fun Park at Wroxham Barns, with his Elves for his hugely popular 'Christmas Experience' and this year there's even more fun to be had! There's ALL-NEW and improved Live Animal Nativity, new Elf College, new Mrs Claus Kitchen, our Toy Shop and Snow Storm Barn PLUS the option to add a Teddy Bear workshop session too!
We are offering an immersive and very special 'Christmas Experience' lasting nearly 3 hours with NO QUEUES! We will be bringing alive the magic of Christmas for your little ones and an opportunity to spend quality time with Santa, Mrs Claus and their Elves. Children will take part in an all new Elf College with our mischievous North Pole Elves and at their Graduation Ceremony each child will receive an Elf School Diploma Certificate and an Elf Hat to take home (parents, you don't miss out, there'll be an Elf Hat for you to keep too)!!.
There will also be a quality Christmas craft that the children can make which they get to keep and take home. It's then onto our all new REAL animal Nativity to see the Donkeys and other animals along with our elves in our new and enlarged Barn. Next and new for 2021, head to the Fun Park for Mrs Claus' Kitchen workshop; watch how great (or not) she is at baking and get to decorate your very own Gingerbread person to take home.
From there it will be time to meet the man in red himself for story time and Reindeer Food making. Next, you will head through our real Christmas tree lined Snow Storm Barn and walk through a real snow storm, (made by our fabulous snow machine) – cameras at the ready as this is a perfect photo opportunity!! Finally it's on to the Toy Shop to choose ANY gift you like!
If 2 hours and 45 minutes of all inclusive fun wasn't enough, this year your tickets also include UNLIMITED PLAY at the Fun Park and walks around Junior Farm either before or after your Christmas Experience. PLUS you can also add Build a Teddy in our very own workshop with our elves too to make your day out even more memorable.
There will be lots of photo opportunities where you can take some fabulous images to keep and to share with family and friends
For further information check out The Santa Experience Wroxham Barns
Santa North Norfolk Railway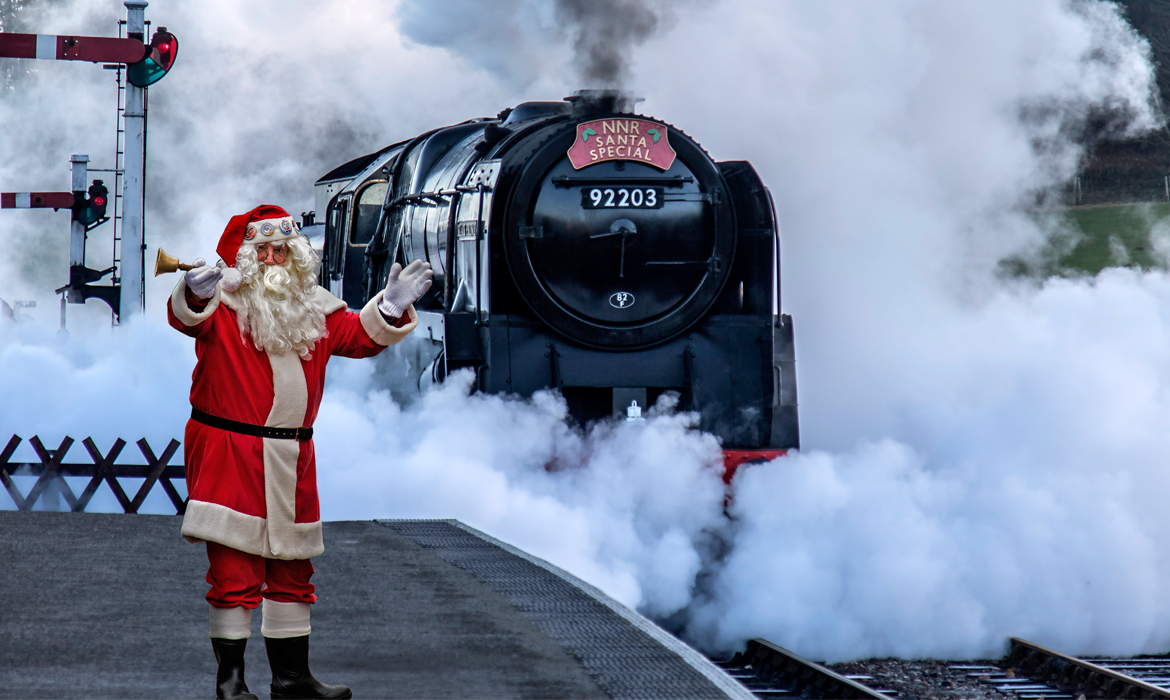 Join us for a magical seasonal trip. Step onto the platform at Sheringham Station and see the steam gently rising around the carriages as Santa's Special Train waits for you to board. Grab a hot soup, drink or delicious homemade refreshments from The Old Luggage Office buffet and climb aboard the train of historic carriages ready for a journey to meet Father Christmas himself.
The helpful station staff will show you to your reserved seats where you can settle back, listen for the Guard's whistle and watch him wave his green flag to send the train on its way. With a toot from the engine and a whoosh of steam you're off – next stop Santa's grotto!
Alight at the charming Edwardian Station at Weybourne, enjoy seasonal refreshments for adults and children and stroll through the marvelously decorated and themed Christmas Tree Kingdom en route to see Santa and his elves. There's a wrapped present for every child and time for photographs before you rejoin the train for the run back to Sheringham.
Santa Special Steam Trains
Weekends 27 November – 19 December
and daily 20 – 24 December
Make your family's Christmas extra special this year with a festive trip on a full-size steam train journey to meet Father Christmas.
For further information check out Santa on North Norfolk Railway
Santa River Cruise at Wroxham

postponed until 2022
Living so close to the Norfolk Broads its only fitting that you can visit Santa on a River Cruise on board the Vintage Broadsman.
Santa Cruises leave from the moorings by Wroxham Bridge. Santa's Pixies will serve all children a large festive cookie and soft drink and all the adults will receive one or two glasses of mulled wine and a mince pie. As you cruise down to Wroxham Broad the children will be able to take part in a Christmas quiz and a free to enter colouring or drawing competition.
When you reach Wroxham Broad Santa prepares his reindeer to land on the top deck of the boat. What a clatter the sleigh makes as it comes in for its final approach! Santa will then heave his heavy sack off the sleigh and carry it into the lower deck.
All children aged between 1 and 15 years will be called to Santa to receive a very special gift. Once Santa has delivered all the presents families will then be able to go onto the top deck to admire the beauty of the Broads.
Thursford Enchanted Journey of Light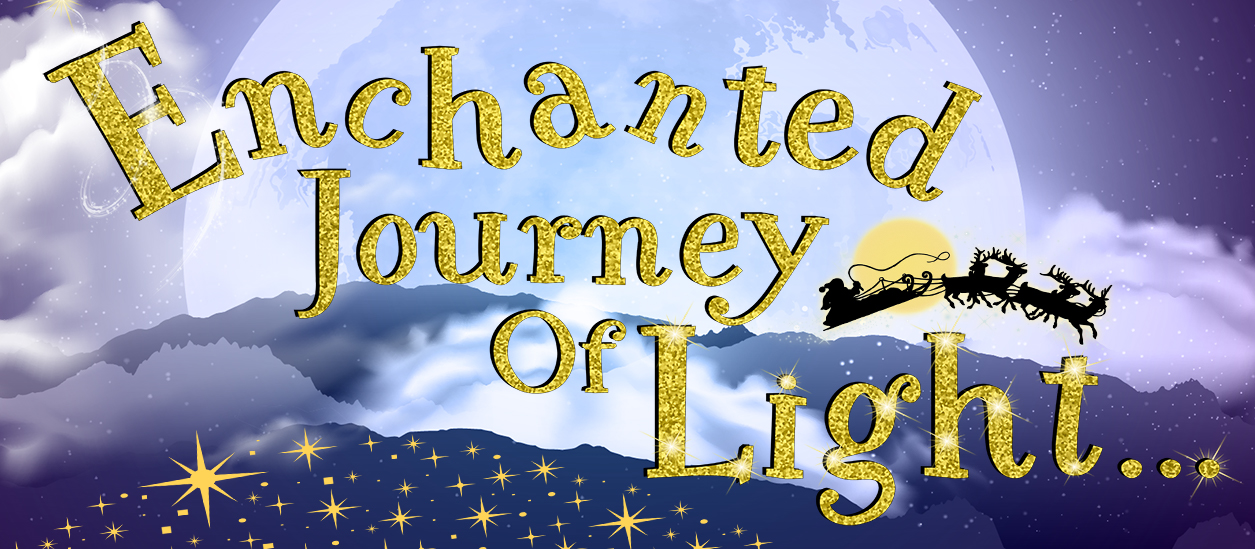 When twilight falls the magic begins!
Your journey will progress into the Santa's Magical Journey Building (sadly Santa is STILL ICE-olating so will not be attending the event). You will travel past the penguins and polar bears to the giant-sized teddy bears! Get ready to see how the elves have loaded Santa's sleigh, then past the busy elves hard at work in the toy factory using the wondrous wrapping machine!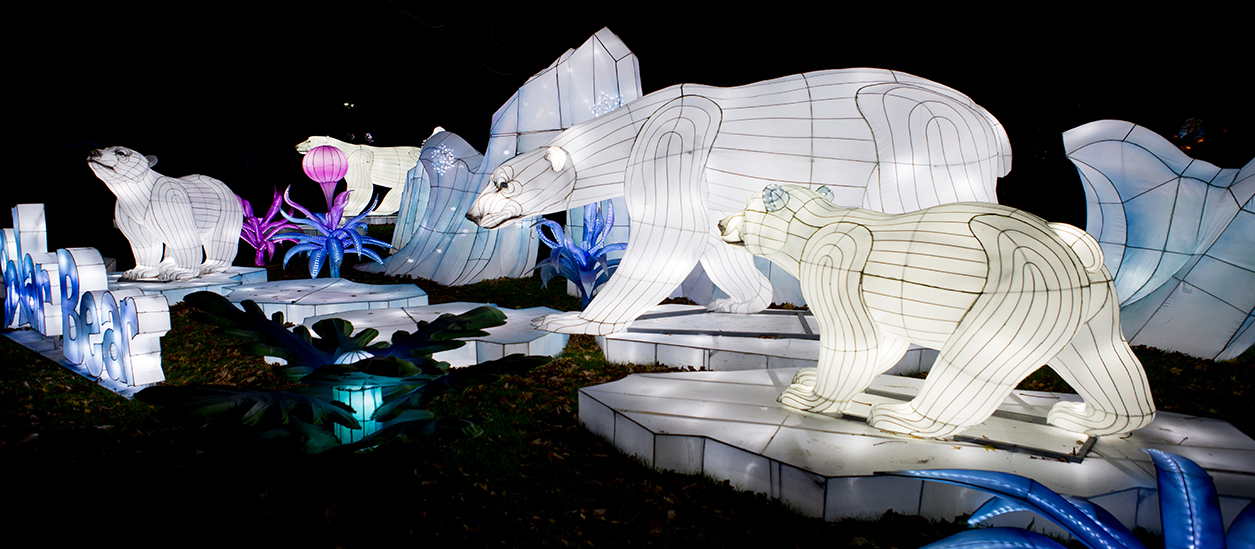 Throughout your journey you'll meet lots of fantasy land characters including the snowman family, make sure you watch out for their snowballs!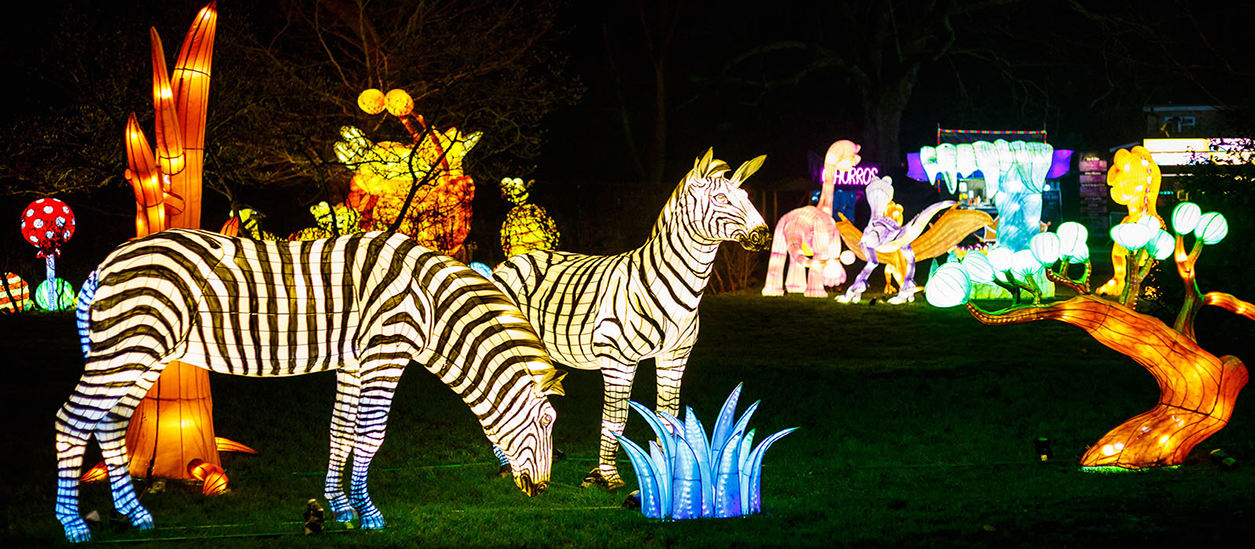 Your journey continues as you venture outside to the Lantern Light Extravaganza, bigger and better for 2021 and with lots of new creatures for you to marvel at: a beautiful, breath-taking festival of luminous sculptures, from a fantasy underwater world to the wilds of the North Pole. Watch out for the naughty mushroom gnomes!
For further information check out Thursford Enchanted Journey of Light
Looking for more Christmas Days Out, check out Santas Grotto, Christmas Farm Parks, Christmas at the Zoo, Christmas at Theme Parks, Christmas Shows and Pantomimes, Polar Express Train Rides and Santa Trains