The Disney Parks are one of those locations and holidays that many families strive to get to. But whether this is a once in a lifetime trip, or you are avid Disney fans that try and go as often as possible, heading to a Disney Park at a specific time of the year where there are events will always be a highlight. Disneyland Paris is a great location to visit for a smaller period of time, such as a weekend or a few spare days that you have.
Halloween is such an exciting time at Disney, and Disneyland Paris really makes a huge deal out of the spectacle. There is so much to explore, to see, and to do, so with that in mind here is the low-down of what to expect at Disneyland Paris at Halloween and how you can make the most of it.
When does the Disneyland Paris Halloween season run from and to?
The Halloween season starts early in the Disney Parks, and Disneyland Paris Halloween will be starting those celebrations from the 1st of October and running right through until the 7th of November. This gives you plenty of time to enjoy the festivities. Not only will there be Halloween treats throughout the park, but you can also expect changes in terms of autumnal links throughout the two parks.
What happens with the Disney Characters?
First of all, the Halloween at Disneyland Paris sees a return of some of the much-loved villains of popular Disney films, especially Maleficent who will make a return for the Disneyland Paris Halloween parades. You will find that there will be more villains throughout the parades as well as selfie spots around the two parks where you can get some incredible pictures and autographs with your favourite villain characters. You will also notice that some of the other well-loved characters will still be around, however, they may have a Halloween twist on some occasions as you see them around the parks.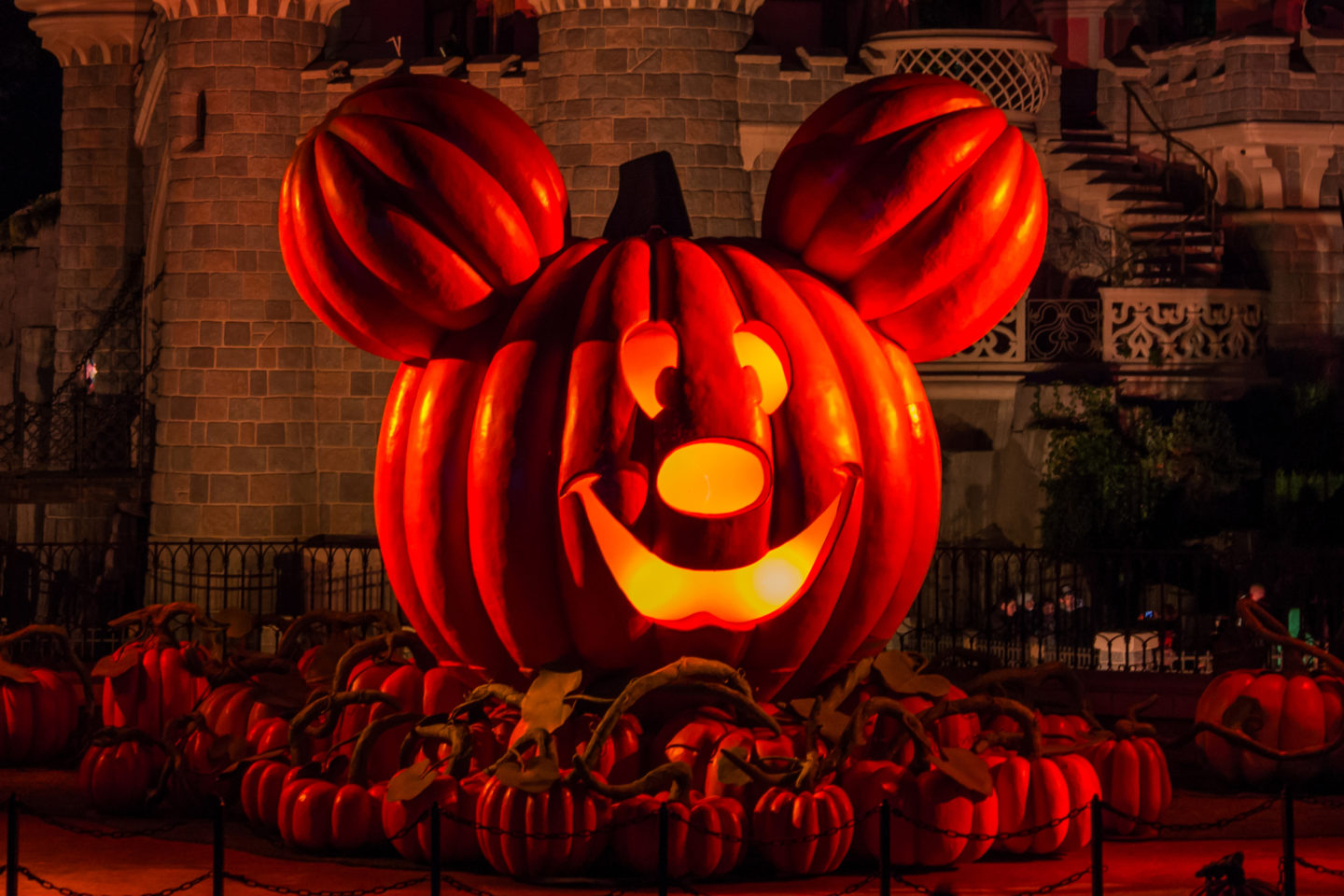 Are there any specific Disneyland Paris Halloween Events, Parades, and Shows?
The great thing about the Halloween season is that there are so many fantastic shows, events and parades centred all around the spookiness of the seasons. For starters, the parades will feature more Disney villains throughout, as well as the floats and the characters having a more Halloween twist to how they look. There will also be indoor meet and greets as well as outdoor selfie opportunities.
What Does Halloween Disneyland Paris Look Like?
The park gets a makeover for the Halloween season and you will see an abundance of Halloween decorations throughout the two parks, as well as plenty of pumpkins around. There will be plenty of photo opportunities throughout with pumpkin scarecrows, and lots to see and do.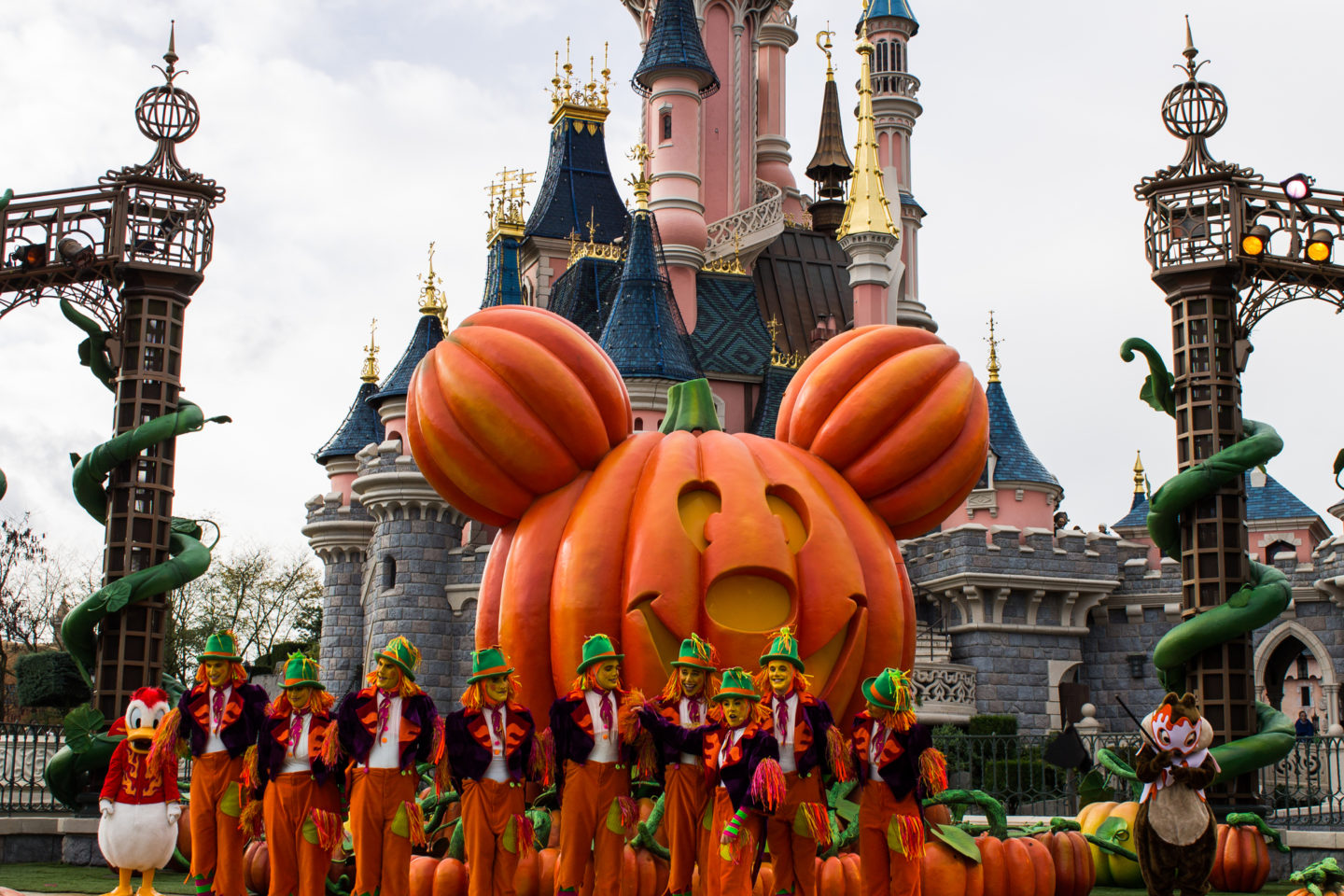 Any specific Disneyland Paris Halloween Merchandise?
Of course, no Disney visit would be complete without all of the incredible merchandise that you can get your hands on. There will be an array of Disneyland Paris Halloween merchandise available in the parks at Thunder Mesa, Tower Hotel Gifts, and World of Disney. Think mugs, stationery and also lots of other fun things. The Disneyland Paris team has also designed a range of Fabulously Villainous merchandise just for Halloween. It looks so much fun. There are so many things you can buy to commemorate the Halloween season, but you will also still be able to get your hands on normal merchandise.
Things to think about with Disneyland Paris Halloween Food and Drink?
It is important that you make the most of all the food and drinks options that you can do during your trip to Disneyland Paris on Halloween. The Disney parks go all out when it comes to food and drinks, and you will be able to enjoy certain menus from set table service restaurants. Including a meal that has a dessert inspired by the poison apple in Snow White.
Is there a Disneyland Paris Halloween Party?
There will also be a Disneyland Paris Halloween Party that takes place on the 31st of October. This is the perfect chance to dress up and enjoy lots of fun activities and seeing all of the characters dressed up. You need to buy tickets for the party but they also give you park access as well.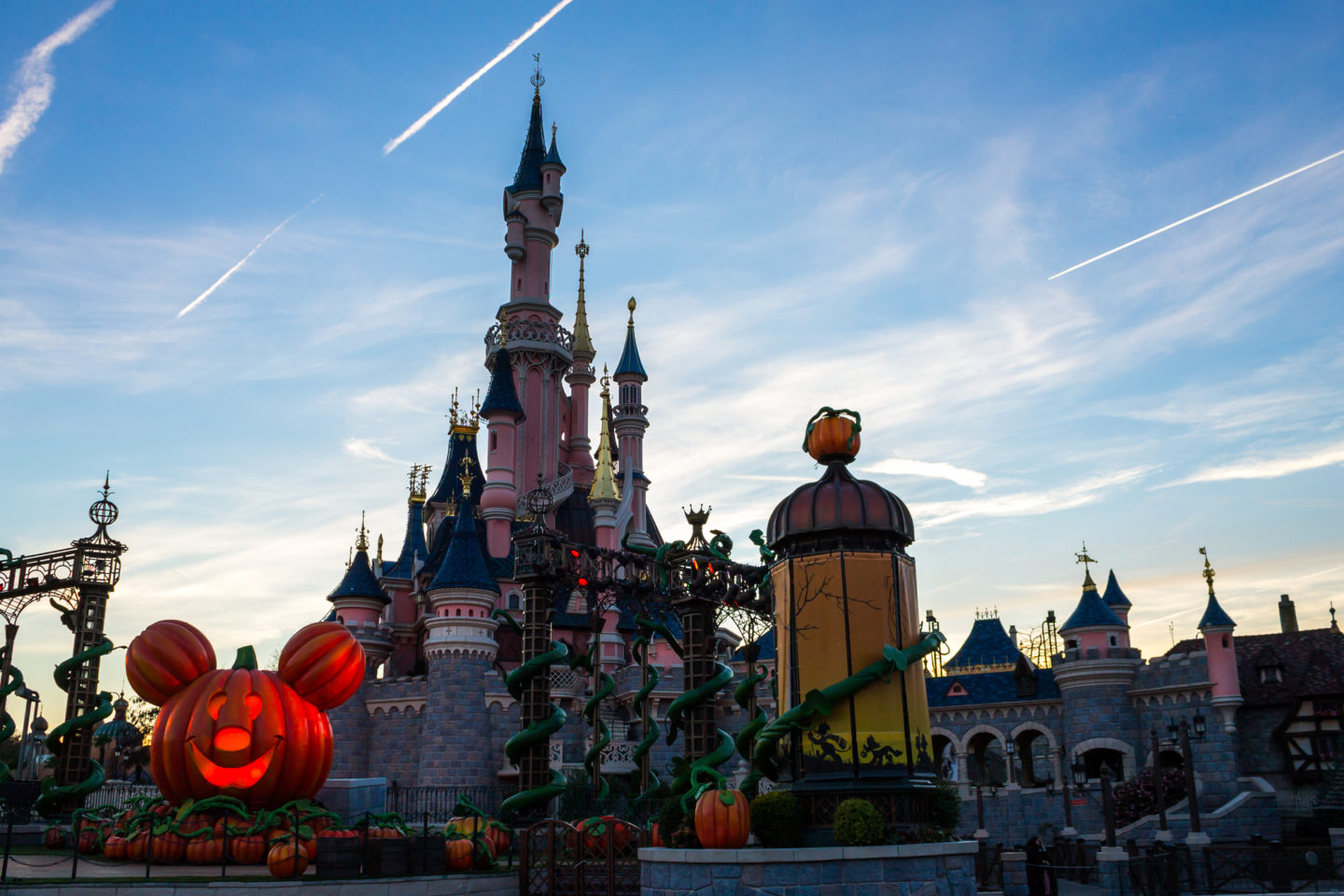 Top tips to help you make the most of your Disneyland Paris trip during the Halloween season
Enjoying the Halloween season at Disneyland Paris is important. So you may be wondering what tips can help you to embrace it. Here are a couple of suggestions.
Make sure you book fast track passes
It is a busy time of year to head to Disneyland Paris so you may want to ensure that you book any fast track passes so that you can access everything when you are there. You will want to ensure that you can experience all of the parks as well as all of the Halloween festivities.
Choose when you watch the parades and be early for the ideal viewing spot
There will be some amazing parades taking palace throughout the Halloween season so you will want to ensure that you can make the most of seeing them. The parades are repeated thought the day, so you don't need to see each one. Instead, choose a time that is best for you and your family and then get a good spot early so that you can see it all.
Pack wisely
Make sure you cover every eventuality when you pack for a day at Disneyland Paris. You will want to ensure that you can experience everything without the perry of having to come out of the park.
Book your food in advance
It is also a good idea for you to book your food and restaurant offerings in advance. You might want to experience Halloween dining or want to embrace character breakfasts or dinners. These will need to be booked up in advance to avoid any disappointment. This can also help you to plan the time you do have in the parks and on the resort complex.
What can you do to embrace the Halloween season at Disneyland Paris?
Halloween is such a great time of the year that the whole family can enjoy. So many families now embrace Halloween and feel that it is an event for the calendar in the lead-up and also the big day itself on the 31st of October. Heading to Disneyland Paris at any stage of the Halloween season will be a lot of fun. But you may be wondering what you can do to embrace the Halloween season. Without further ado, here are a couple of suggestions.
Halloween Mickey or Mini Mouse ears
Everyone loves to wear something Disney orientated when they are heading to any of the Disney parks, and one thing that has grown in popularity in recent years is wearing Mickey or Mini Mouse ears. The whole family can do this as there are specific ones for young children as well as adults. If you are prepared in advance, you could look at having some custom ones made for you. Purchasing any Mickey or Mini Mouse ears ahead of your trip will always work out much more cost-effectively, as you can end up paying a premium when buying these sorts of things in the parks.
Dress up as a family
Another great option to consider would be to dress up as a family. Many families do this generally when they head to Disneyland anyway. Having a theme or wearing specific Disney clothes. However, for Halloween, you could decide to dress up as a family. It can be a famous family or just have a theme based on Halloween characters or Disney films and franchises. There are so many fun things you could do with this and searching online for some inspiration would be a good place to start. Some people may feel a little out of place doing this, but rest assured so many people will be dressing up, especially at this time of the year.
Get your kids to dress up
If you don't fancy dressing up as a family then you could look at just getting your children to dress up instead. This can be a lot of fun and you could plan outfits for everyday that you are there to celebrate. With so many events going on and things to do as mentioned above, there are plenty of opportunities for your kids to dress up and fully get involved with the Halloween spirit.
Be prepared to spend the whole day in the parks
Finally, make sure you are fully prepared to spend the day in the parks. Halloween falls in Autumn, so be mindful that the weather can be ever-changing. Make sure that you pack for all weather or layer up with your clothes, so when the sun does come out you won't be too cold, but that you are prepared for the rain that may strike with a moment's notice. You will also want to pack other essentials such as:
Water
Snacks
A travel charger for your phone
Camera
Baby wipes
Anti-bacterial wipes
Any masks you might need
Hopefully, these tips will help you to fully embrace the Disneyland Paris Halloween Event.