Disneyland Paris Annual passes are available for access to both of the resort's theme parks. There are additional perks depending on which pass you choose. There are four current options with different levels of benefits starting with a basic Discovery pass.
This first pass includes 150 days of availability at Disneyland Park and Walt Disney Studios Park per year.
The Blue Discovery pass also includes an upgrade opportunity for €60 to add parking to the pass. Beyond this basic pass, there are three additional tiers of Disneyland Paris Annual pass that provide more layers of service.
These include discounts, gifts, and other privileged features like extra time in the parks and special event pricing. Here is what each of the pass options looks like and how much a Disneyland Paris annual pass could cost.
Discovery — Blue
The starting point for annual pass holders is the Discovery Pass, which I suppose is named that way because it allows newcomers to discover the annual pass experience.
You don't have to start out here, but if you are unfamiliar with the parks or don't know how much time you want to spend at the resort, the basic Discover pass may be worth it to you. It's the least expensive option.
Pricing for Disneyland Paris is not available at this time until they resume sales in the near future. Aside from the €60 parking add-on there are no additional benefits beyond 150 possible days to visit the park each year at no additional cost.
Magic Flex – Silver
The Magic Flex is the first Disneyland Paris Annual Pass option for guests who are serious about wanting to frequent the two parks but have to consider their budget.
This Magic Flex option includes more days and a small discount for things like merchandise, room rates, and dining. The Magic Flex pass includes parking but offers an add-on for Photopass with an extra charge of 65€.
Again base prices for all passes remain temporarily unavailable until you can purchase passes on the Disneyland Paris website.
The number of available dates increases from 150 to 300 per year when you upgrade to the Magic Flex pass. The pass is subject to a validity period which reduces your opportunities at certain times of the year depending on projected attendance.
Magic Plus – Gold
Magic Plus is a lot like Magic Flex, only it offers 50 additional days and some extra perks. Photopass becomes available as an add-on for only €59.
The discounts are the same, however you get more privileges, such as special pricing on guest tickets and discounts for Buffalo Bill's Wild West Dinner Show.
Magic Plus pass holders also get a reserved park entrance at both parks and Extra Magic Time. This tier is the first to include the EMT feature which allows the pass holder additional time in the parks before they officially open.
Infinity – Black
The top-of-the-line option for a Disneyland Paris annual pass is the Infinity pass. This offers everything the Magic Plus pass offers plus better discounts and more additional perks.
Most importantly, it's the only pass that allows access 365 days per year. They might even make an exception on leap years, but I'm not sure about that.
Room rates are even better than the Magic Flex and Magic Plus options which have offerings that start as low as €98.
The Infinity pass gives you rates as low as €81 per night. Another discount bump is the 15% dining discount which is up from the 10% offered in lower tiers.
Guest ticket privileges are also increased with about a €5 difference in price relative to the silver and gold tier pricing based on seasonal rates.
Beyond the offering included with the gold pass, the black Infinity pass also includes Photopass, free stroller, and wheelchair use, free guest storage, and additional perks not even mentioned on the Disneyland Paris website.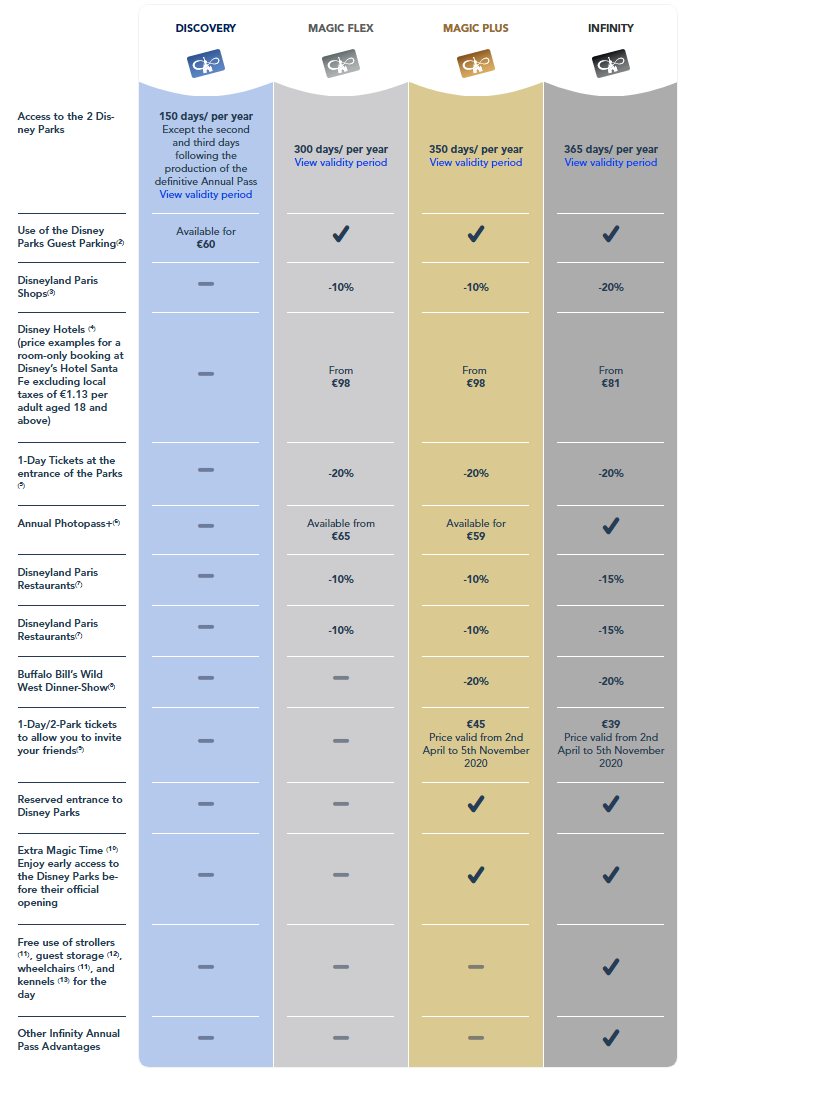 Pricing Breakdown
While pricing is not currently available for these passes, the prices in 2020 started at €179 for the Discovery pass and went all the way up to €449 for the Infinity pass.
The Magic Flex and the Magic Plus rested comfortably in the middle at €259 and €299 respectively. How much value any of these Disneyland Paris annual pass options provide is purely dependent on how you plan to use them and how much money it will save or cost you.
Special Rates and Top Tips
Large Family
20% off the simultaneous purchase of 5 or more Annual Passes (same Passes) for the same family (same address).
Top Tip
On the day of your visit and up to 30 days afterwards, deduct the price of your 1-day admission ticket from the price of any Annual Pass. (Offer subject to conditions).
Check out Disneyland Paris Fastpass and Express Luggage Service
In line with the latest French authorities' requirements, a Health Pass is required for guests aged 18 and older to visit the Disney Parks. As of 9 August, the Health Pass will be extended to the Disney Hotels and Disney Village. As this situation is evolving, we will continue to address your questions and update the dedicated page as needed.
Please visit our Health and Safety page for:
– Information on what a Health Pass is, how it will be used and where;
– Details regarding the on-site testing centre, managed by a third party, and available for guests who may require a test (PCR or Antigen) upon arrival, or prior to their return to their home country.
We continue to provide flexible commercial conditions that you can find here.
We look forward to welcoming you soon to Disneyland Paris.