When it comes to visiting theme parks one of my personal favourite things to do other than enjoy the rides and attractions is to try out all of the foods and treats that are available exclusively at that park. I'm a foodie and I love trying out different foods everywhere I go! If you are looking to get the full magical experience and you want to truly feel like you are a part of the Harry Potter world then there are definitely some foods and restaurants that you need to try during your visit to the park to ensure you get the full wizarding experience.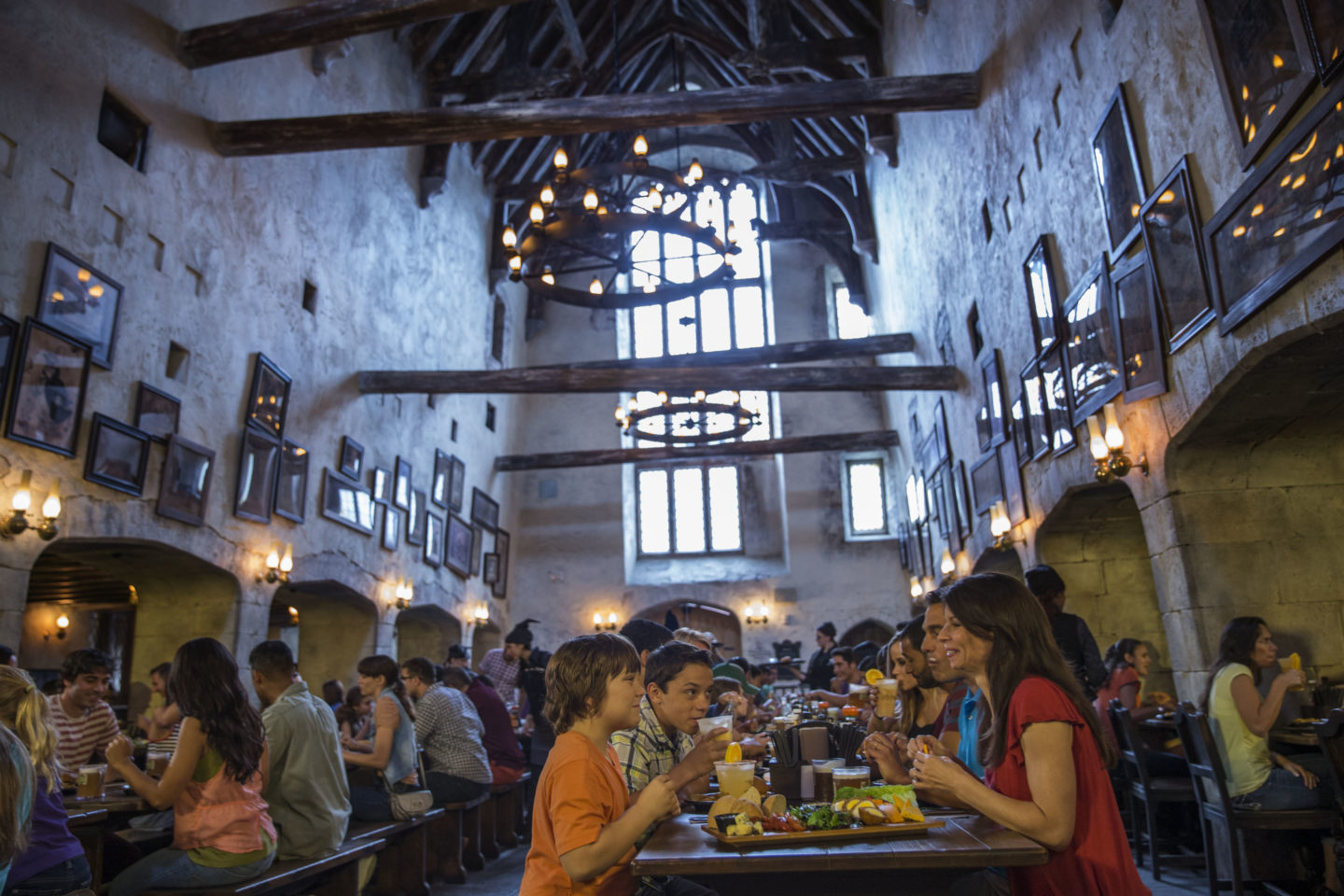 1.  The Leaky Cauldron
First up would be the Leaky Cauldron which is a restaurant open for breakfast, lunch, and dinner located on Diagon Alley. At the Leaky Cauldron you can visit at any time and get a true english experience as they serve authentic British dishes for any time of day. Whether you visit in the morning for a full english breakfast or you dine for lunch or dinner you're bound to try something that you may not have had without visiting England. Some of the classic dishes that they serve include bangers and mash (Sausages and Mashed Potatoes), Fish n Chips, and even Cottage Pie or also known as Shepherd's pie (A meat pie topped with mashed potatoes). The Leaky Cauldron is a truly authentic, highly themed, Wizarding World experience. I would highly recommend checking it out during your trip to the park.
2. Three Broomsticks
On the contrary of The Leaky Cauldron, Three Broomsticks is located on the Hogsmeade side of the park and similarly to The Leaky Cauldron you will find plenty of classic British dishes to get a truly British experience with your dining. In addition to the delicious meals that the Leaky Cauldron serves the Three Broomsticks takes it a little bit further with things such as Smoked Turkey Legs and what is known at the Great Feast. The Great Feast is meant to be shared between multiple guests and includes rotisserie chicken, ribs, corn on the cob, roasted potatoes, and salad. You're sure to leave the Three Broomsticks stuffed to the brim, maybe take a short break before riding any rollercoasters after dining! LOL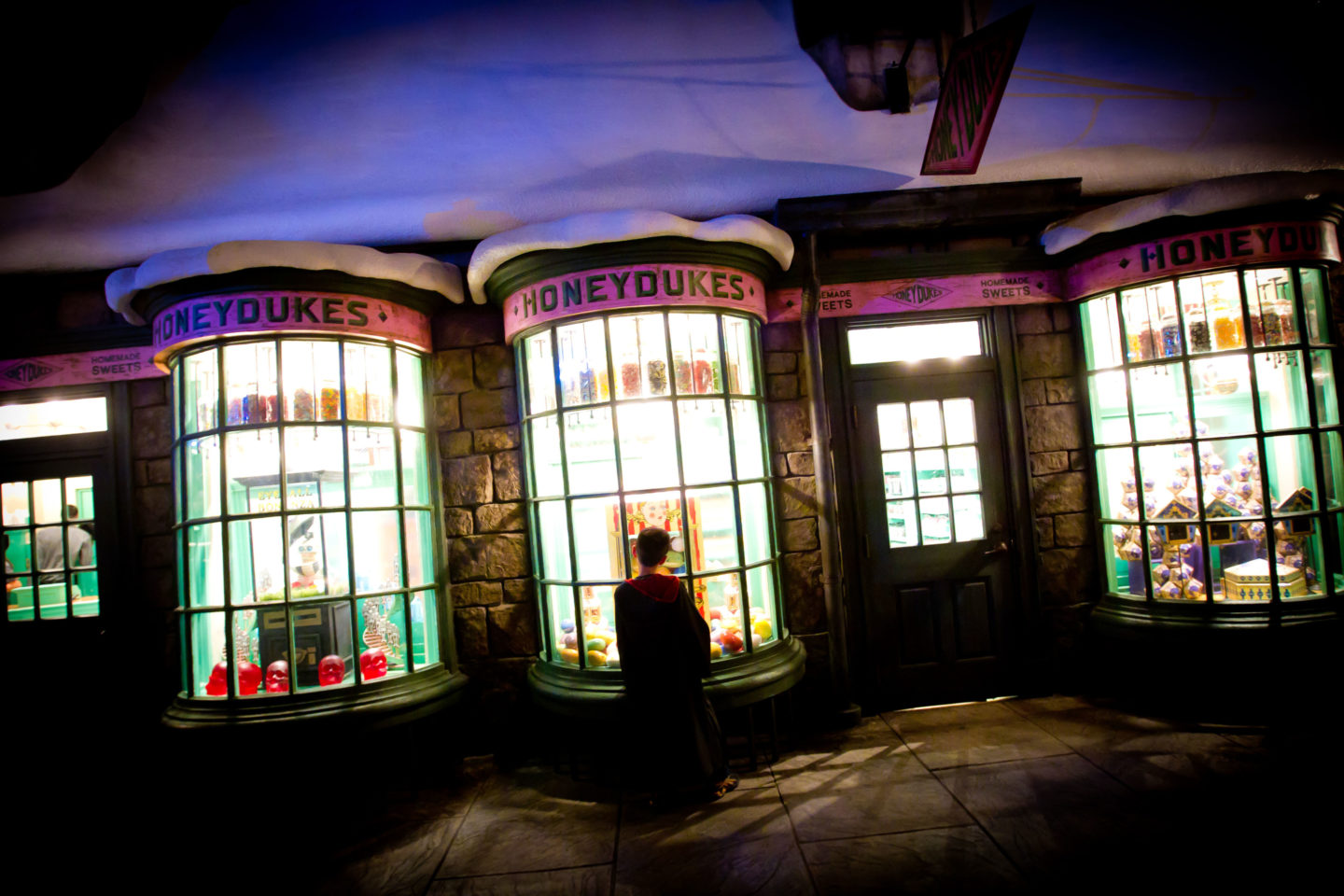 3. Honeydukes
Although it is not a restaurant, Honeydukes is a must for all things sweet. Honeydukes is a sweets shop located in the Hogsmeade side of the park and they have all of the most popular Harry Potter sweets and treats including Chocolate Frogs and Bernie Bott's Every Flavour Beans! I would highly recommend checking out Honeydukes.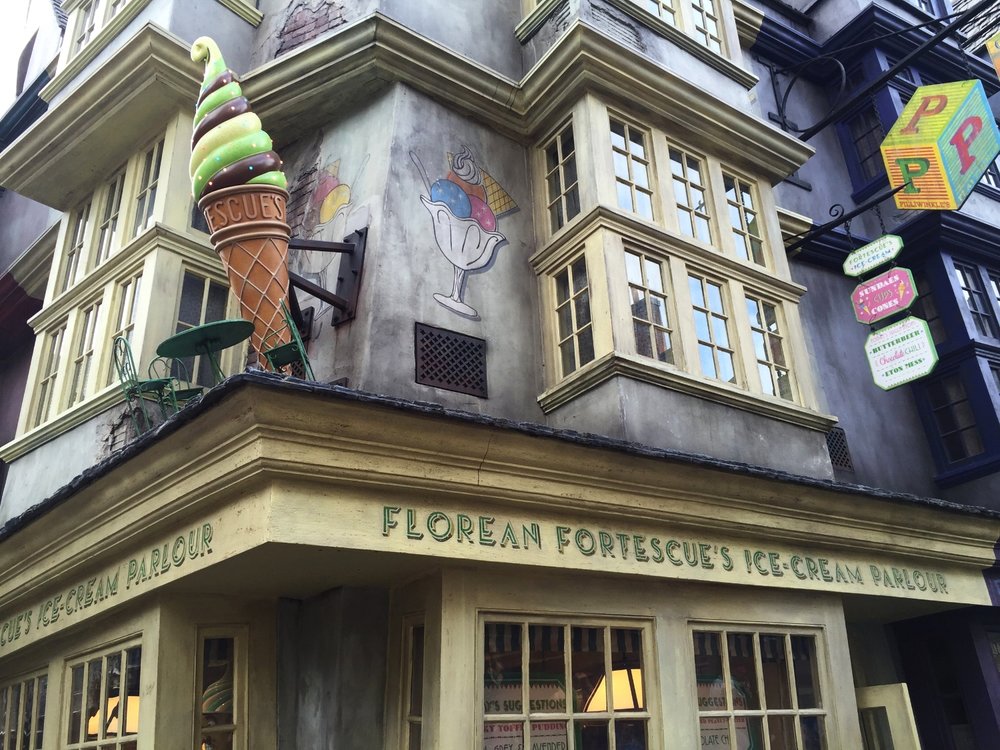 4. Florean Fotescue's Ice-Cream Parlour
If you're looking for a good dessert spot, I would definitely recommend checking out Florean Fotescue's Ice Cream Parlour. Florean Fortescue's serves 10 different Soft Serve ice cream flavors including Granny Smith, Mint, Pistachio, and much more and they also sell 10 different Hard Packed Ice Cream flavors Chocolate Chilli, Earl Grey & Lavender, and Strawberry Peanut Butter. Not to mention, this is where you will also find the famous Butterbeer Ice Cream! Butter Beer is extremely popular amongst the Harry Potter world and it comes in many forms including cold beverage, hot beverage, frozen, and even the ice cream! My personal favourite is the ice cream, it is like a nice butterscotch ice cream that reminds me of the butterscotch candies I used to get from my grandmother, yum! If you're looking for something sweet, this is the spot to be!
The Wizarding World of Harry Potter
is jam packed full with various types of foods, snacks, sweets, and treats and these are just a few places that you can find the best. If you are able to fit in all the stops and try a little bit of everything I would highly recommend it, you will not regret it. However, if you're looking to save some money and only have the opportunity to try one or a couple of these things….well then you will just have to plan a trip to come back and try the rest! LOL I hope these foodie spots are as enjoyable for you and your family as they have been for mine. Keep Calm and Wizard On!