Saturday night Asa and I went to PrimEVIL – Norfolk's Biggest Scare Experience located at Roarr Dinosaur Adventure, one of our usual date nights, I mean who needs romance and flowers when you can have blood, gore and spiders!
Primevil is featured in my giant list of Halloween Scare Events and The last time we visited for Primevil was back in 2018, so we were curious to see how it had expanded and changed, even with a giant pandemic thrown in the mix!!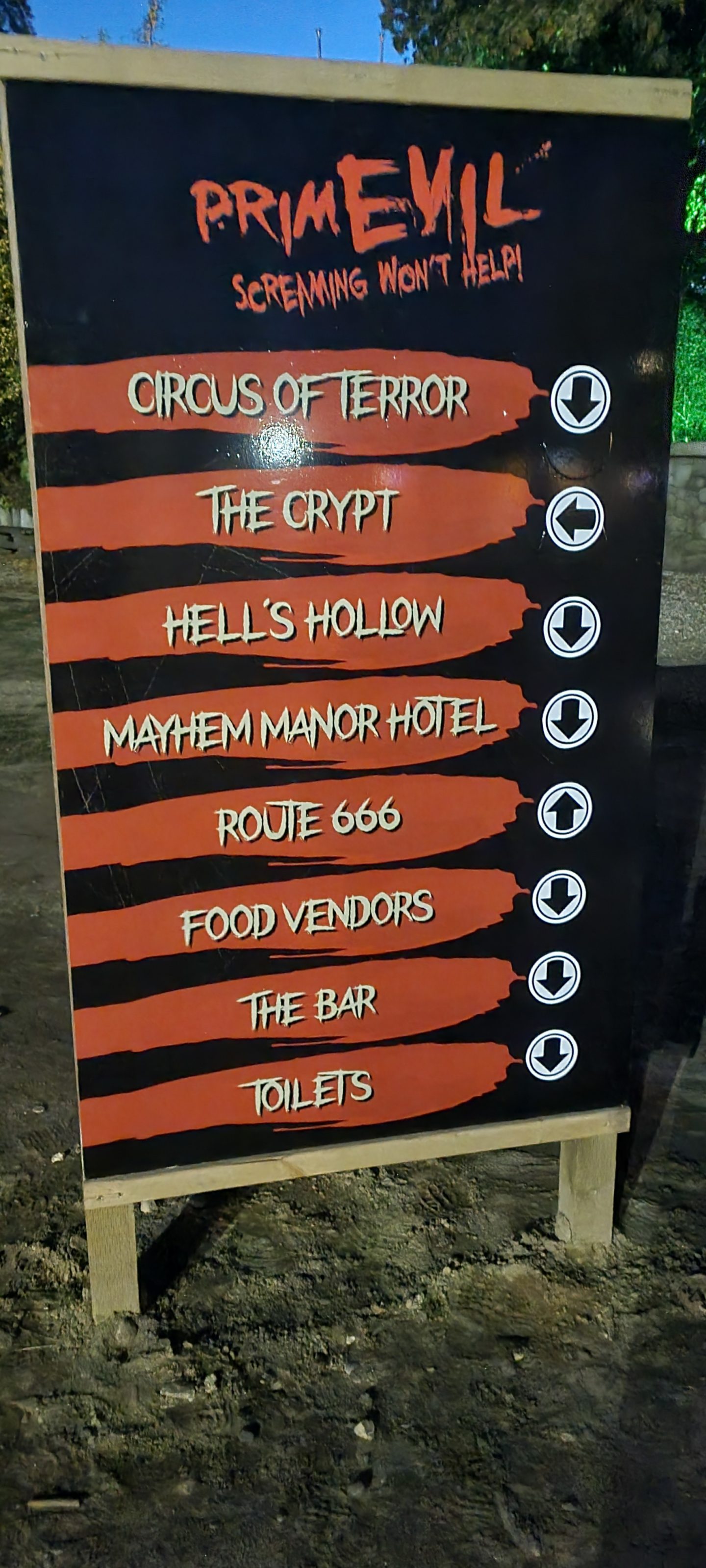 The first thing I noticed was the HUGE choice of food and refreshments available for everyone to enjoy in between being scared half to death!
You could choose from various street food vendors from Norfolk, including Bucket List, Swash Nosh, The Food Dude Crepes and Waffle Sticks, Fat Teds Streat Food, Gringos Nacho Factory, bar was supplied by Junkyard Market, definitely recommend an orange hot chocolate from Deans Beans
All of the street vendors are located together, so you don't have to traipse around trying to decide where and what to eat, whilst you are eating and drinking there are various acts for you to watch from fire dancing to juggling and people on giant stilts!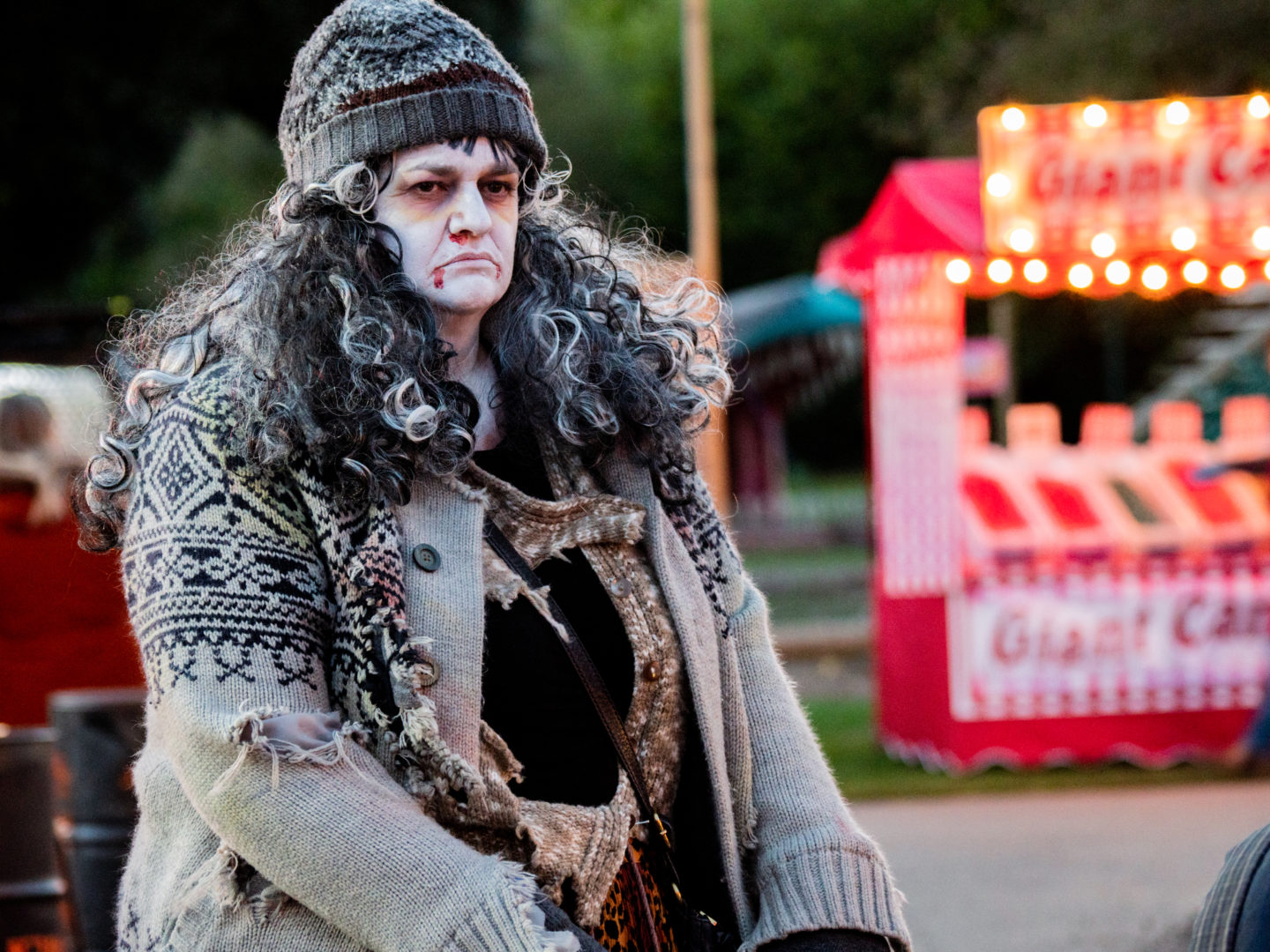 The Five Primevil Haunts
Route 666 – The old route has been split and although Pa and his hillbilly family are still waiting for you to join them for supper there is a new terror in the woods, something stirs, something new.
We headed straight down to Route 666 as we knew it would get busy pretty quickly, you walk round in small groups, we were paired with some very chatty ladies that gave running commentary and lots of screams throughout the journey!! As well as the great jump scares and hill billy actors its also kind of cool to walk round in the dark looking at some of the dinosaurs towering above your head!!
Mayhem Manor Hotel – The meddling new management at Mayhem Manor Hotel continue to wreak havoc with mazes-within-mazes and endless corridors. Enter at your peril as it may be some time before you can safely find your way out.
This one takes in larger groups so moves at a fair pace when queuing outside, you are provided with a couple of lanterns to guide your guests through the hotel, Asa was chosen as a trustworthy guide by the people to lead the way, without giving too much away, its definitely not going to win any tripadvisor awards for cleanliness and the smells are quite horrific in some parts!
Circus of Terror – Prepare for major scares from the menacing carnevil at the Circus of Terror led by twisted jester Malvado, who is on the lookout for new recruits to join his band of freaks
This was my favourite haunt last time we visited, and I still love it! The spinning floor, ball pit, squishy floors all make for a brilliant adventure, apologies to the lads from TOWIE who we did the haunt with, as I had absolutely no clue who you were (really need to watch more TV!!), just glad you got off the revolving floor before I 'gracefully' wobbled off it!!!
Hells Hollow – Dark in every sense of the word, all-new Hell's Hollow is a psychological terror-fest, taking away sight and replacing it with sounds and sensations that combine to psyche out even the most sensible visitors.
Hells Hollow was a new one for us, it involves black hoods and no sight, just relying on the ropes to guide you round! Totally different experience and one i'm not sure if I enjoyed or not! You are so focused on following the rope, it kind of takes away from the anticipation of the frights, but definitely something totally different.
The Crypt – Watch out for the reawakened bloodline at The Crypt where bodies that have lain untouched for centuries have been rudely disturbed and are ready to show their displeasure to anyone bold enough to walk among them.
Unfortunately on this occasion, we didn't get to experience The Crypt, simply because we ran out of time, the park hadn't closed, we just had a limited time available.
Extra Activities
As well as the five haunts, there are a couple of extra activities that you can try (for an additional charge) Axe Throwing and Zombie Archery, as well as a go on the Predator High Ropes (this is included with fast track and VIP tickets)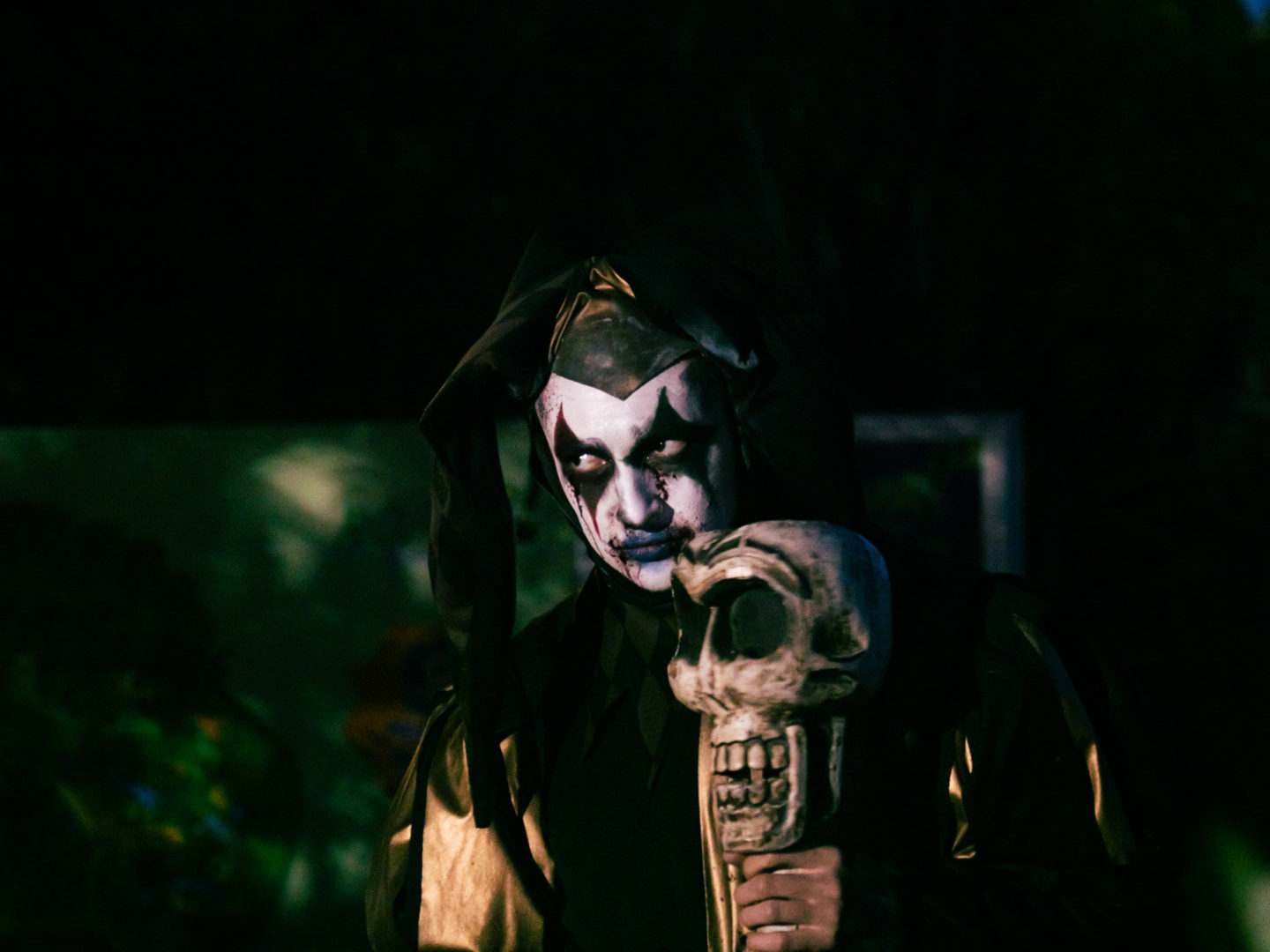 Tickets For Primevil
Online tickets must be purchased, at the very latest, before midnight on the day before your visit – and are not transferrable to any other date.
ROARR! Dinosaur Adventure Season Ticket Holders will be required to present their cards at admissions for validation. Tickets are only valid for the day they have been purchased for and are not transferrable.
Children under the age of 16 must be accompanied by an adult at all times while in the park and when going through the haunts. Anyone under the age of 16 without an accompanying adult will not be granted access to the park.
Tickets will be removed from online sale daily at 3pm.

PrimEvil All Haunts From £30, however students and staff at UEA get a 15% discount
All Haunts enjoy entry to PrimEvil and one visit to each haunt across the Park during the night.
PrimEvil Fast Track From £45
Fast track enjoy entry to PrimEvil, a go on Predator High Ropes and one fast-track entry to each haunt across the Park during the night.
PrimEvil VIP from £50
VIP enjoy entry to PrimEvil, a free drink at the bar, a go on Predator High Ropes and unlimited fast-track entry to all haunts across the Park all night.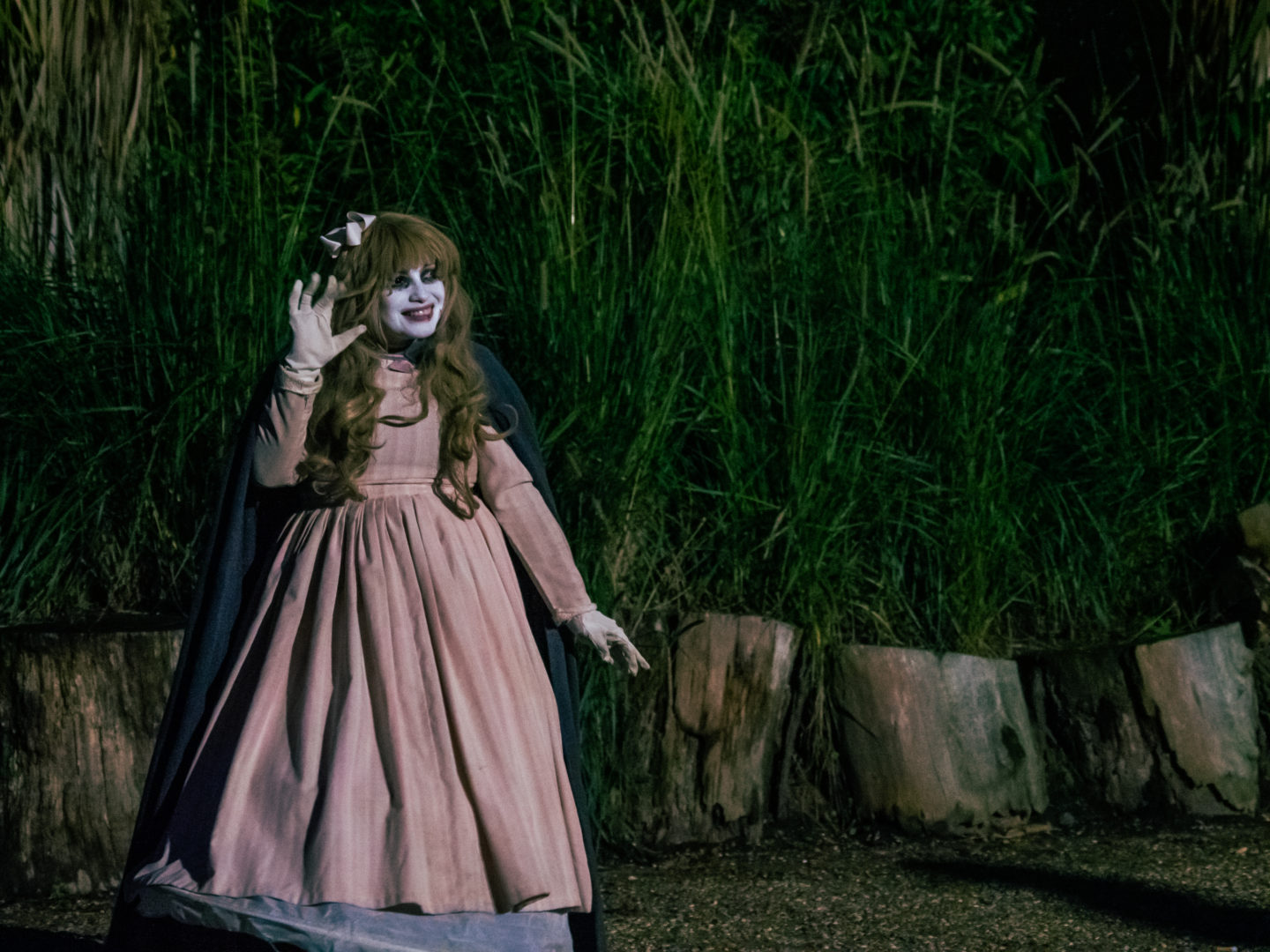 Queuing!
Each of the four Haunts we experienced had a queue, that varied in length and time to get into the attraction, which is to be expected, however there are various walk about actors that interact and make some people jump, others asked for a selfie!
So although you are queuing for a while, this does make the time pass, and if you go with the intention of having a five hour night out, with people you enjoy spending time with, then you'll be fine and won't notice the queues!
Our Thoughts on Primevil
Asa and I do not scare easily, (us telling people we have seven children usually sends them away screaming!) the last time we went on a horror ride that took photos, everyone else was shrieking and looking petrified, when our photo came out we looked like we were ready for a fight!
So we knew it wasn't going to be a terrifying experience, and I loved the whole atmosphere of the place, the actors were great at getting reactions.
My particular favourite was the 6 teens in front of us waiting for the Circus of Terror, (blowing sweet smelling vape in my face throughout) posing for a selfie with one of the lesser creepy looking guys, and the clown photobombing, and the immaculate timing of them all realising there was someone else in the photo, just as he turned on his chainsaw, which saw all six scatter in different directions with lots of screaming!!!
If you are looking for a great night out with friends or family, where you can eat, drink, laugh and see who's the bravest and who isn't as brave as they thought they were, this in the evening for you!
We were invited along as guests to Primevil, all thoughts and opinions are our own.