Marvel At Disneyland Paris – If you have a child (or a partner) who is a HUGE Marvel fan, then the chances are they would love to visit Disneyland Paris!
There are some fantastic Marvel themed attractions within the Marvel Avengers Campus, plus a Marvel Hotel for you all to explore.
Check out the latest great offer, enjoy a family break for £122* per person per night when booking a Disney Davy Crockett Ranch hotel and ticket package! Available on selected Sunday to Friday arrivals, price is based on 2 adults and 2 children sharing a Pioneer Tribe Cabin for 3 nights and includes a 4-day ticket. Available on selected Easter school holiday dates!
Where Can I Find Marvel At Disneyland Paris ?
Disneyland Paris Avengers Campus
Disneyland Paris's Marvel Avengers Campus is the first Marvel themed universe in Europe, it's a completely immersive land with live-action stunts and marvel restaurants, all encompassed in Marvel themed architecture, it can be found in the Walt Disney Studios park and it has really brought this park to life.
As you enter the Campus, you'll find yourself in the midst of an epic Avengers tale, where great power comes great responsibility. Marvel characters will make unexpected appearances, and thrilling live-action stunts will unfold before your eyes.
The Quinjet stands boldly atop the Quinpad, stationed just outside S.H.I.E.L.D. Headquarters, and it is awaiting your presence.
Marvel Rides Disneyland Paris
There are two Marvel-themed attractions at Disneyland Paris, Spider-man W.E.B. Adventure and Avengers Assemble: Flight Force.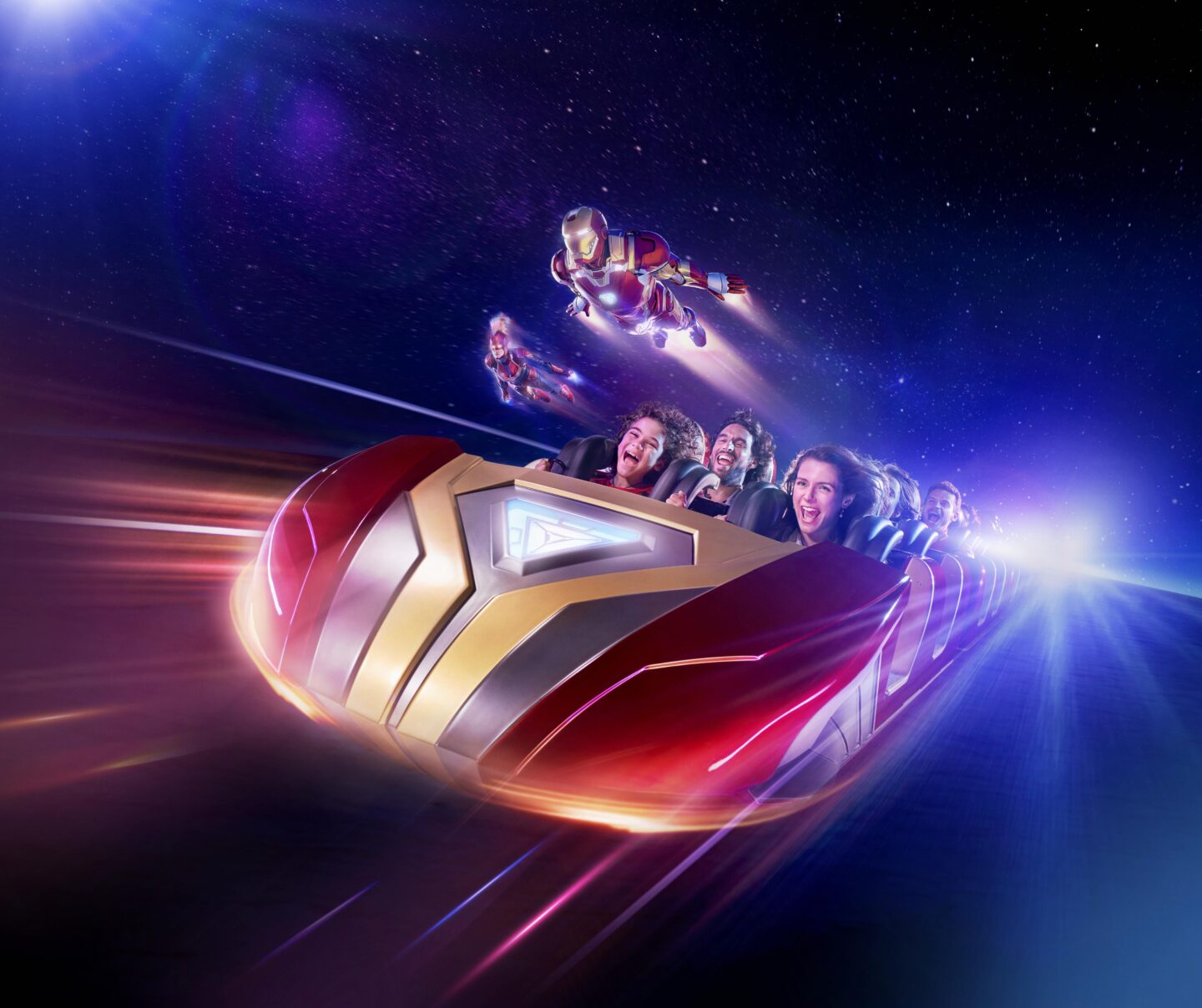 Avengers Assemble : Flight Force
Minimum Height Requirement : 1.2m
You will take on the role of a Superhero, joining forces with Iron Man and Captain Marvel to save the world from an intergalactic threat.
The steel rollercoaster starts off with a 3 second 0-60 mph launch, it features a corkscrew and double inversion sea serpent roll and lots of twists and turns.
Previous visitors to Disneyland Paris may recognise the ride which was previously called Aerosmith Rock 'n' Roller Coaster, that was in the park from 2002 to 2019.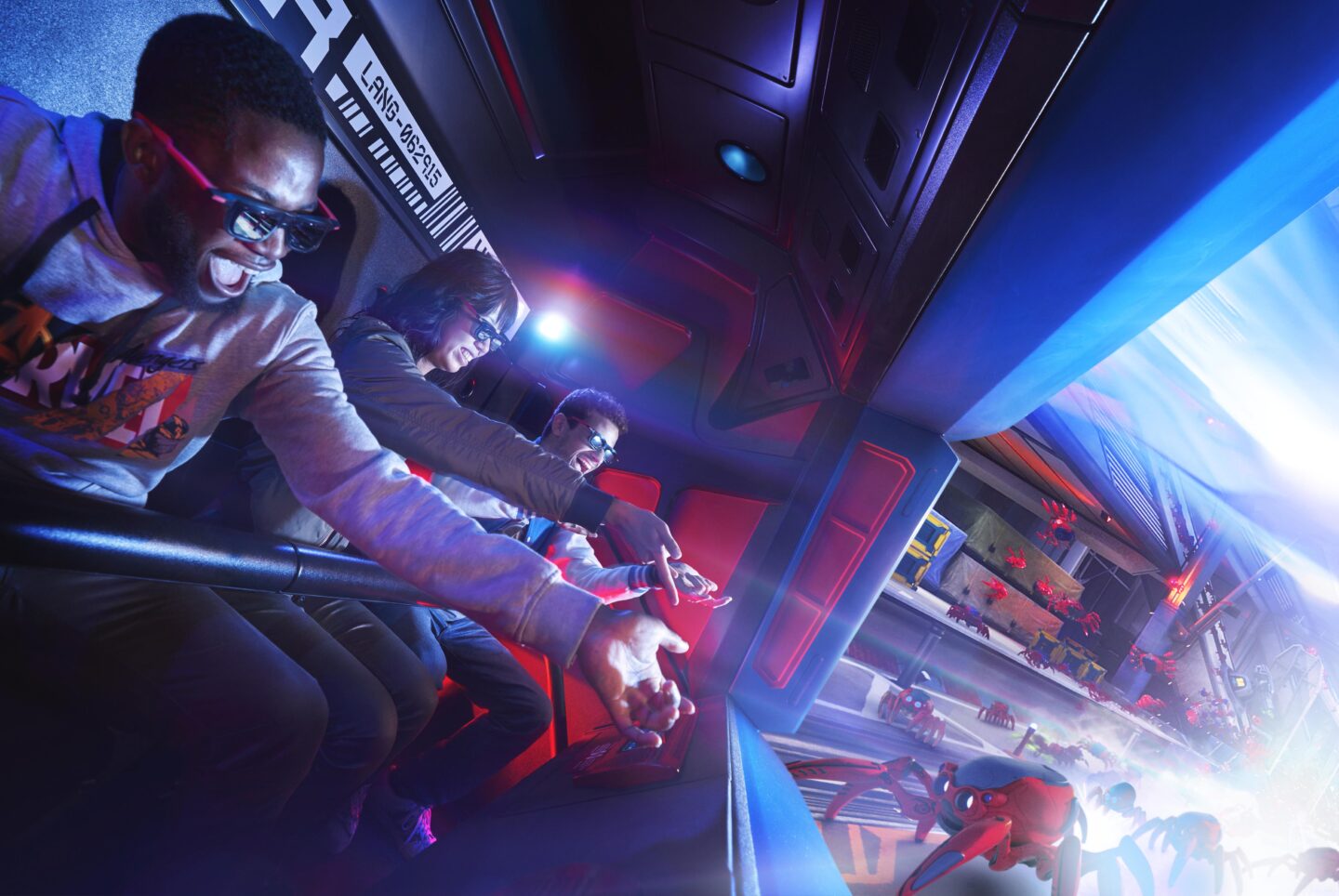 Spider-man W.E.B. Adventure
Minimum Height Requirement : none (suitable for all riders)
Peter Parker's Spider-Bots have escaped and are replicating, creating chaos throughout Marvel Avengers Campus.
Spider-Man needs the help of Avengers Campus recruits (that's you!), who have been granted web-slinging superpowers, to try and capture the Spider-Bots.
Riders board WEB Slinger carriages for this interactive attraction and use their arms to sling webs to help capture the Spider-Bots.
As this ride has no height restrictions the whole family can get involved in the web slinging action, the only thing you need are your 3D glasses and a desire to show off your best spidey moves!
Marvel Avengers Campus Performances
If you have a favourite Marvel character, chances are you will see them in one of the performances that take place randomly throughout the day in the Marvel Avengers Campus, there doesn't seem to be much warning other than the guards in black clearing areas and ushering people out of specific areas!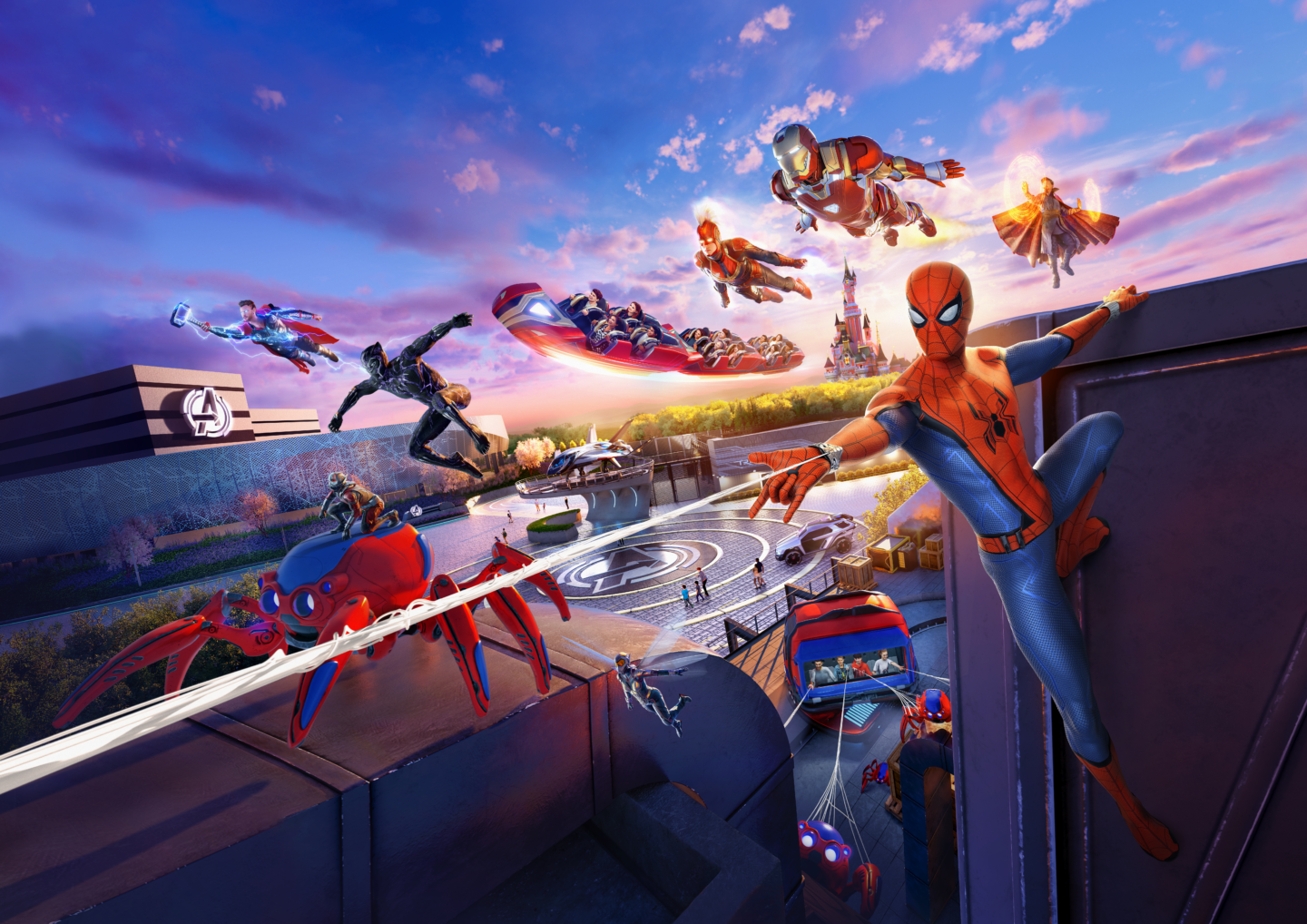 The Amazing Spiderman
See if you can spot Spider-Man as he runs, jumps, flips and swings from the rooftops of the W.E.B. Workshop building!
Keep your eyes peeled and you could see a breathtaking demonstration of his extraordinary strength, incredible agility and razor-sharp reflexes!
When and Where : Multiple displays per day, on the rooftops of Spider-Man W.E.B. Adventure
Avengers Unite!
Watch as Black Widow and Black Panther team up for an epic rooftop battle… and look out for Spider-Man, who's never too far from the action!
Taskmaster and a gang of mercenaries have infiltrated the Marvel Avengers Campus, looking to get their hands on something valuable.
Luckily, the Avengers are prepared for such attacks! Watch as Black Widow and Black Panther team up to battle these pesky foes on the rooftops of the W.E.B. workshop!
When and Where : Multiple displays per day, on the rooftops of Spider-Man W.E.B. Adventure
Warriors of Wakanda
Take part in a training session with General Okoye as she teaches you the 5 tenets of the Dora Milaje, the Wakandan Warriors who protect Black Panther.
Wakanda Forever! Learn the ways of Wakandan Warriors
Participate in a series of strength and skill exercises with the leader of this elite team of warriors. Some recruits may even be selected to learn special fighting techniques!
When and Where : Multiple appearances per day, near Avengers Assemble: Flight Force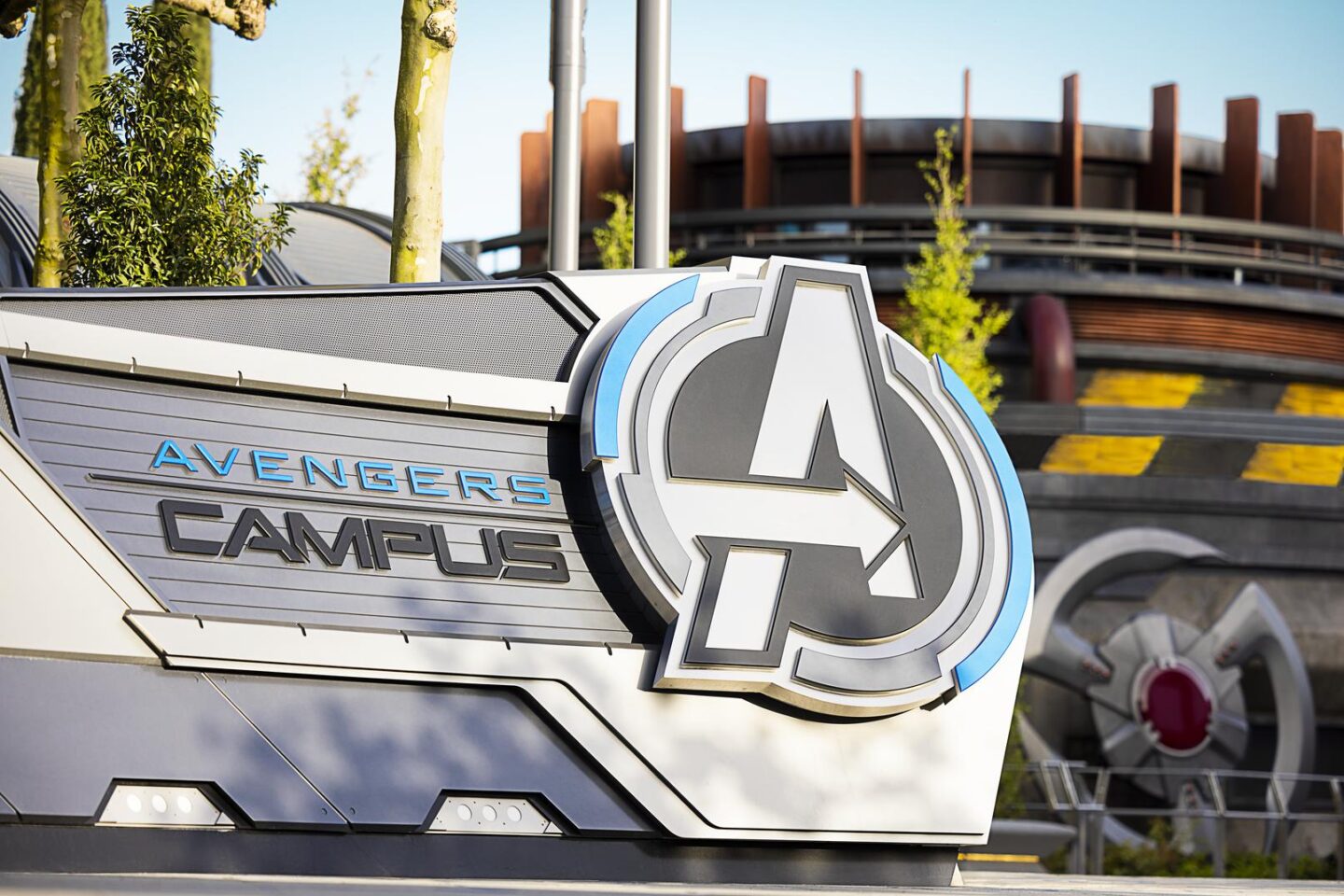 Heroic Welcome
Earth's mightiest heroes have gathered in Marvel Avengers Campus to celebrate the arrival of their newest recruits and bid them a truly heroic welcome!
Come and experience a hero's welcome… literally! The Avengers have assembled to greet their newest recruit before you embark on your epic adventure. Are you ready?
When and Where : Multiple appearances per day, rooftops Spider-Man W.E.B. Adventure and Avengers Quinjet
Guardians of The Galaxy Dance Challenge
Star-Lord once used his dance moves to save an entire planet… now he wants to see if you have the right moves to become a Guardian of the Galaxy!
Join him and Gamora for an epic dance-off and see if you've got what it takes.
When and Where : Multiple appearances per day, near Avengers Assemble: Flight Force
Avengers: Power The Night Drone Show
If you are looking for a Marvel spectacular, this is definitely not one to miss. From 1 September to 7 January 2024, catch the return of this jaw-dropping new night time drone show lighting up the sky above Walt Disney Studios Park with all the might of the MARVEL Universe.
With state-of-the-art projections, pyrotechnics and up to 500 drones*, it's a high-tech Avengers spectacular never seen before in any Disney Park. No hero will want to miss it.​
To get the best view and full effect, try to position yourself in the Courtyard but in the middle section, we were slightly over to the left and at the beginning it was difficult to see the full effect of the drones to the side of the building.
​*This show will take a scheduled break from 6 November to 1 December 2023.​
**The show is subject to change, postponement or cancellation without prior notice, particularly in the event of bad weather or safety concerns.​
Where Can I Meet Marvel Superheroes?
There are a few options for your Marvel fan to meet their idols, if you are not staying at Hotel New York The Art of Marvel, then you will want to head to The Hero Training Center which is the setting for Avengers Super Hero meet and greets.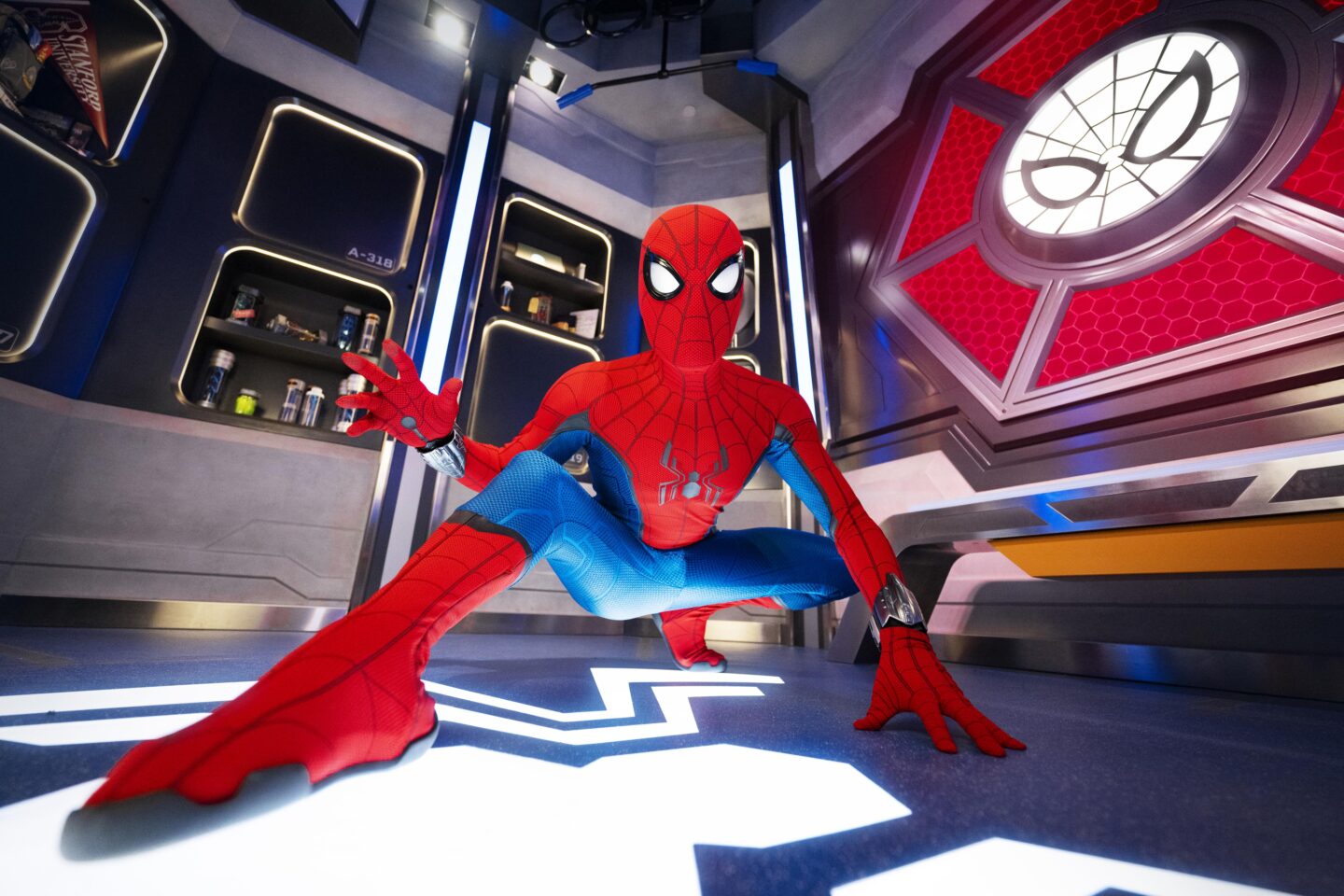 Hero Training Center
It can be found in the Marvel Avengers Campus. It has a virtual queueing system, where you can meet Spider-Man, Captain Marvel and Iron Man.
There is also an option to pick an unnamed Super Hero and find out their identity at the time of the meet and greet, if you're feeling lucky!
To join the virtual queue for the Hero Training Center, you must book your training session via the official app once you have entered the Disney Parks.
If you link your Ticket, Pass or Hotel booking to your account in the app before you arrive you will be ready to join the virtual queue on the day.
Make your way to the Hero Training Center when your countdown timer reaches zero, where you can join a short queue to meet your Marvel Hero.
Hotel New York The Art of Marvel Options
Marvel fans will love the onsite Disneyland Paris Hotel, the Disney Hotel New York: Art of Marvel.
This 4* hotel is less than a 10-minute walk to the parks and facilities include a swimming pool and guest-only Marvel meet and greets, with over 350 Marvel artwork pieces to discover throughout the hotel, it is a Marvel Fans Dream!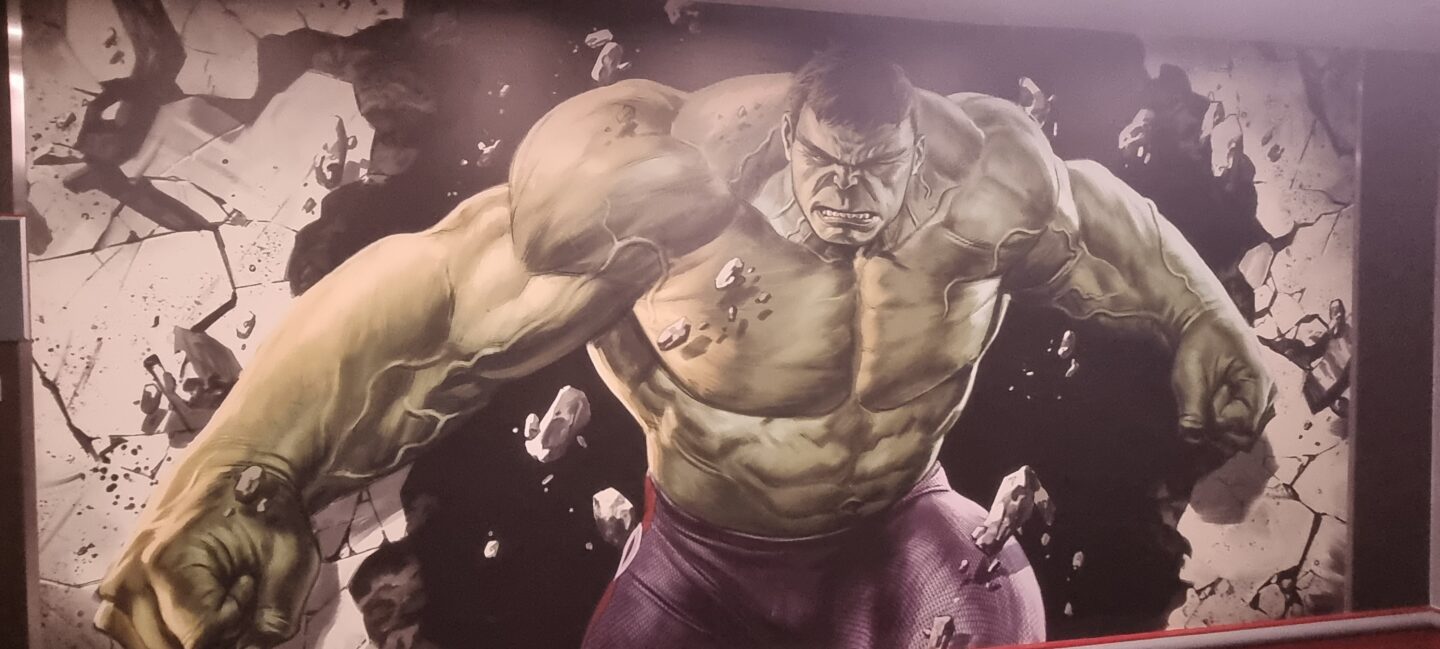 Super Hero Station
If you are staying at Hotel New York – The Art of Marvel you have access to the Super Hero Station which is the only place you can meet Captain America or Black Widow, and star in your very own action-packed Marvel photos brought to life by 3D effects.
You can beat the queue and book your Super Hero Station in advance on the app, or book in person by visiting the Super Hero Station.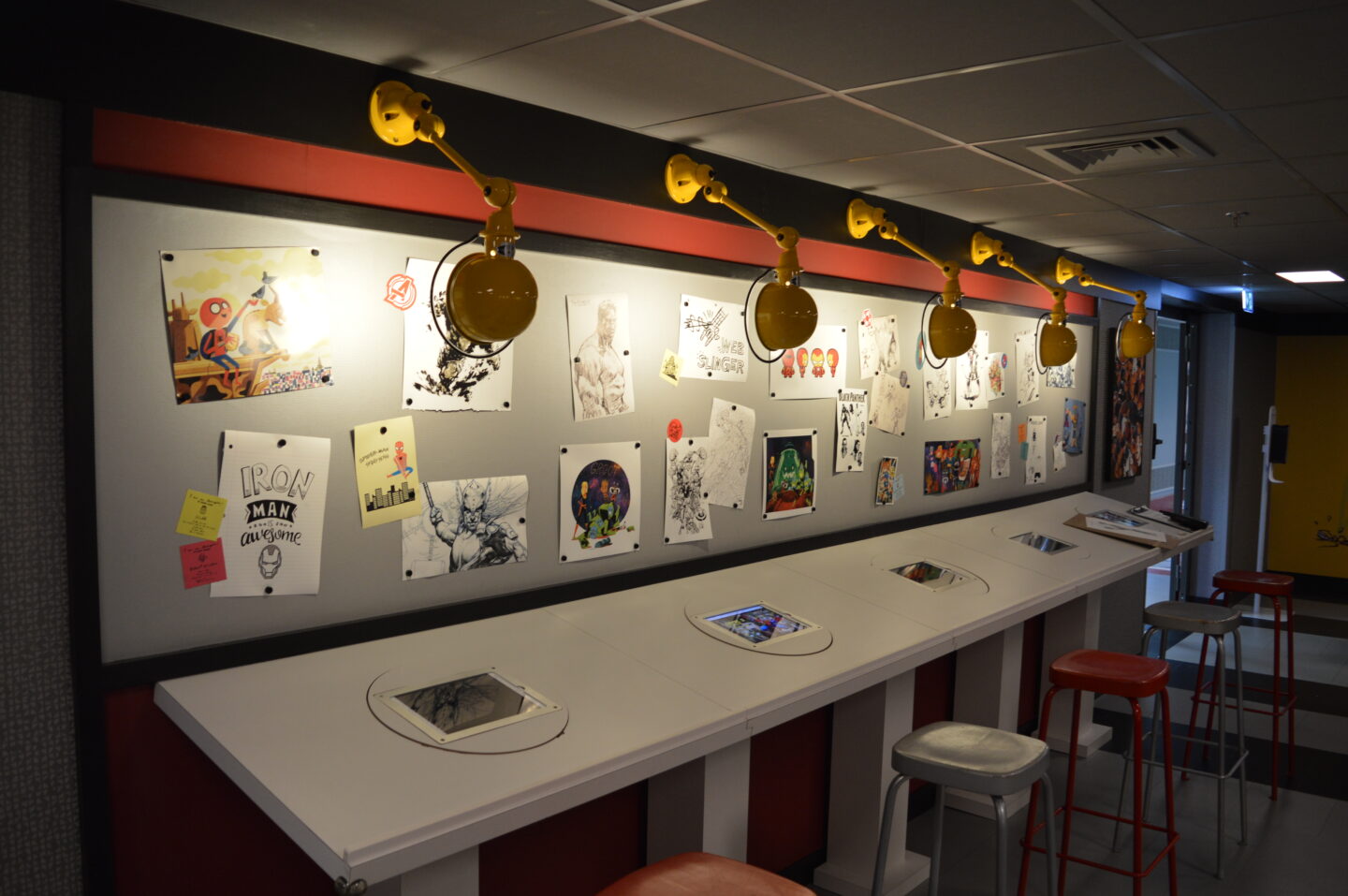 Marvel Design Studio
Heroes of all ages and their squads can assemble in the Marvel Design Studio for a super selection of creative activities.
They can learn how to draw powerful Super Heroes during a pre-recorded lesson with a professional illustrator, watch Marvel Cartoons and play epic games and quizzes.
Access to the Marvel Design Studio is free for al guests, but it is recommended that you book the drawing experience as it's super popular!
Where Can I Find Marvel Themed Food?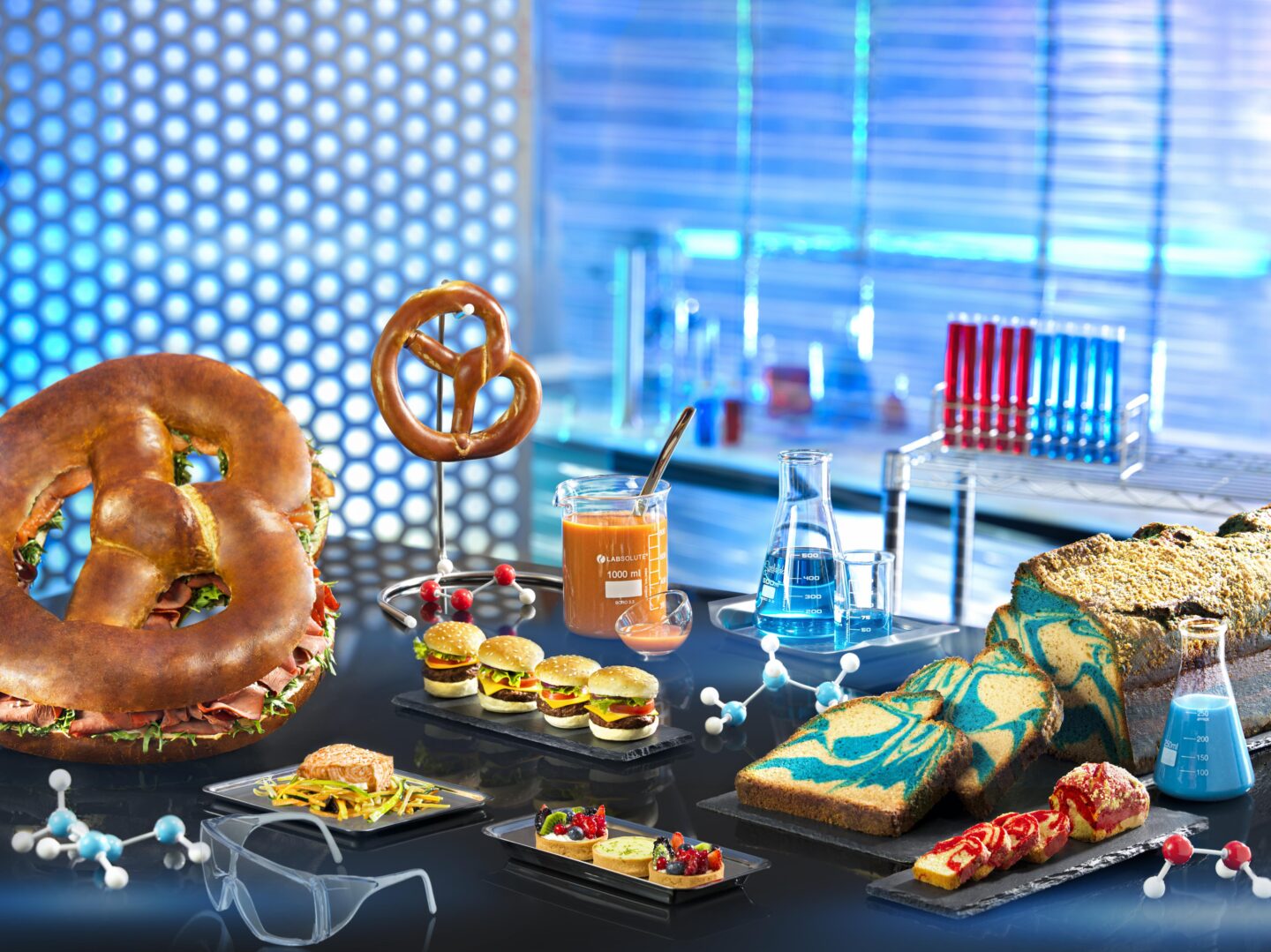 PYM Kitchen
PYM Kitchen is an all-you-can-eat buffet for lunch and dinner, located within the Marvel Avengers Campus. It is described as an experimental lab that uses Ant-Man and the Wasp's PYM particle technology to shrink and grow the ingredients. The laboratory theming is strong!
This restaurant is extremely popular and books up very quickly, however its worth checking daily, as we were able to book a lunch here three days before arriving.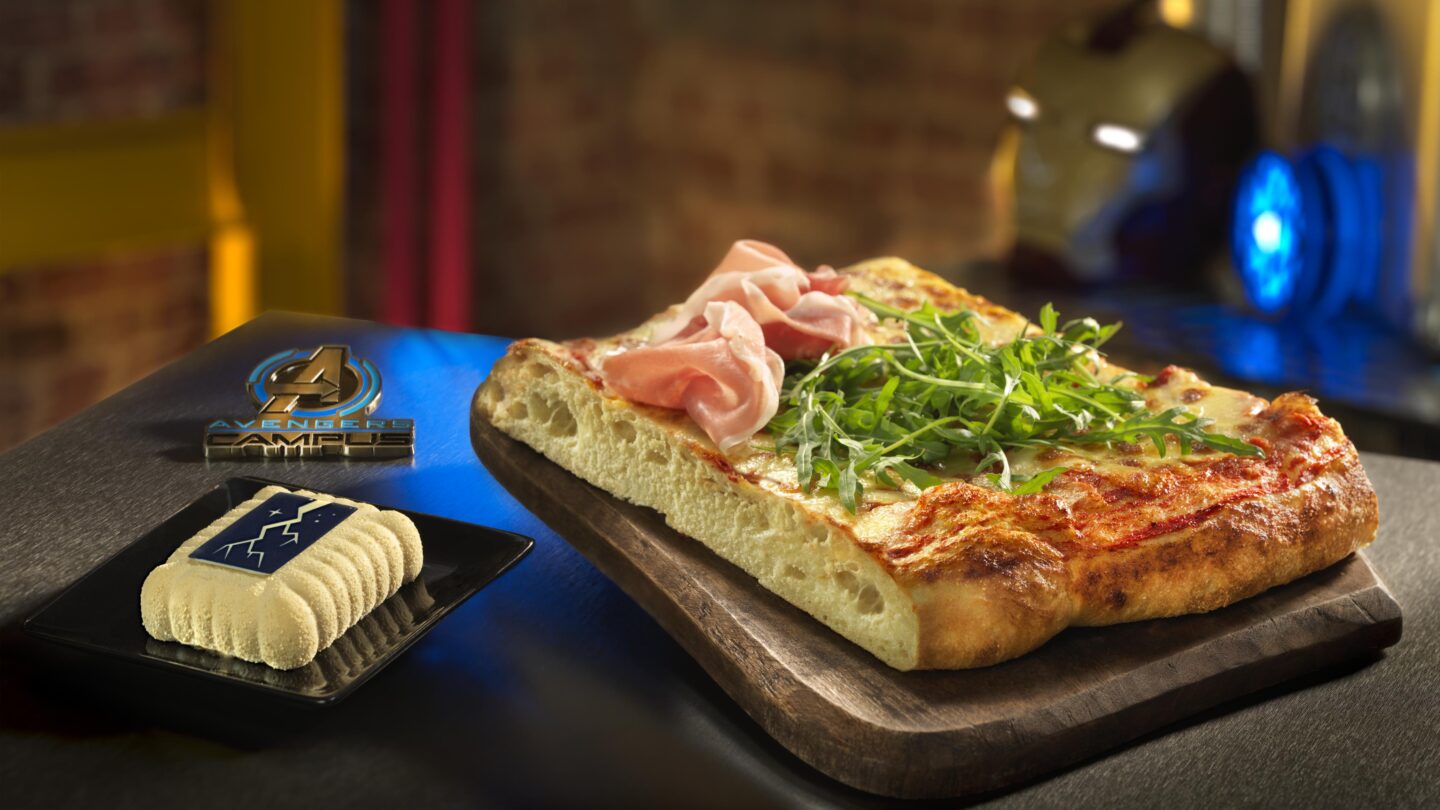 Stark Factory
Stark Factory offers a quick-service dining option with choices of pizza, pasta and salads, located within the Marvel Avengers Campus.
The concept of Stark Factory is a high-tech workspace where Super Heroes go to recharge and repair. If you are not dining there its worth just sticking your head in to see the decor and Hulkbuster!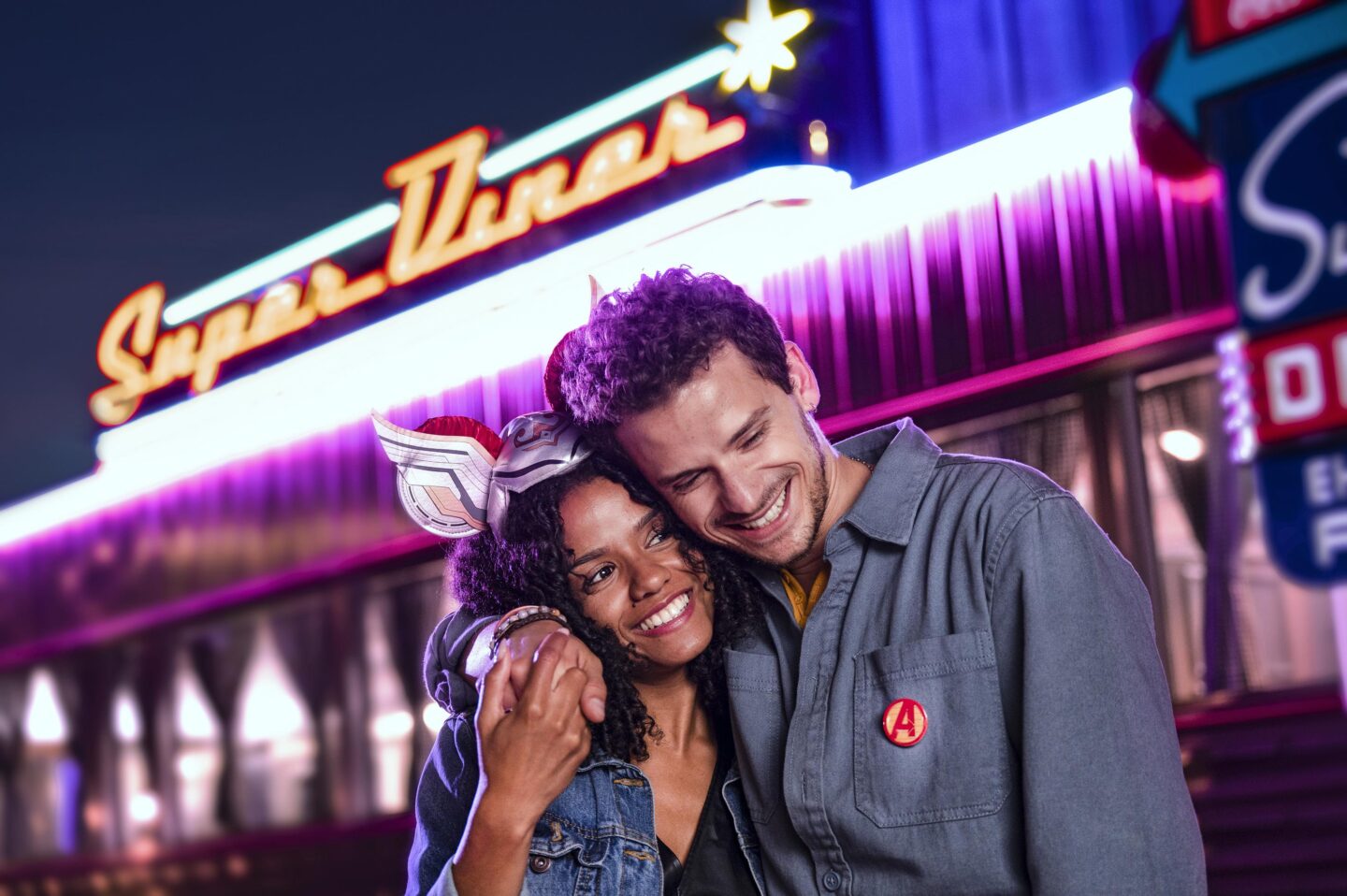 Super Diner
Drop in on Peggy Carter's friend Angie at her Super Diner to enjoy a famous Shawarma (or its vegan version) and an iconic Choco-Blast!
Take a seat on the patio of this 1950s-style diner, once popular with S.H.I.E.L.D. agents. Discuss a top-secret project over a typical Avengers snack in a deliciously retro atmosphere!
FAN-Tastic Food Truck
Recharge your superpowers at Tony Stark's favourite food truck, serving up New York classics: a selection of gourmet hot dogs (classic, crispy or vegan) and delicious sweet treats: a vegan cookie or the Street Pop Cheesecake!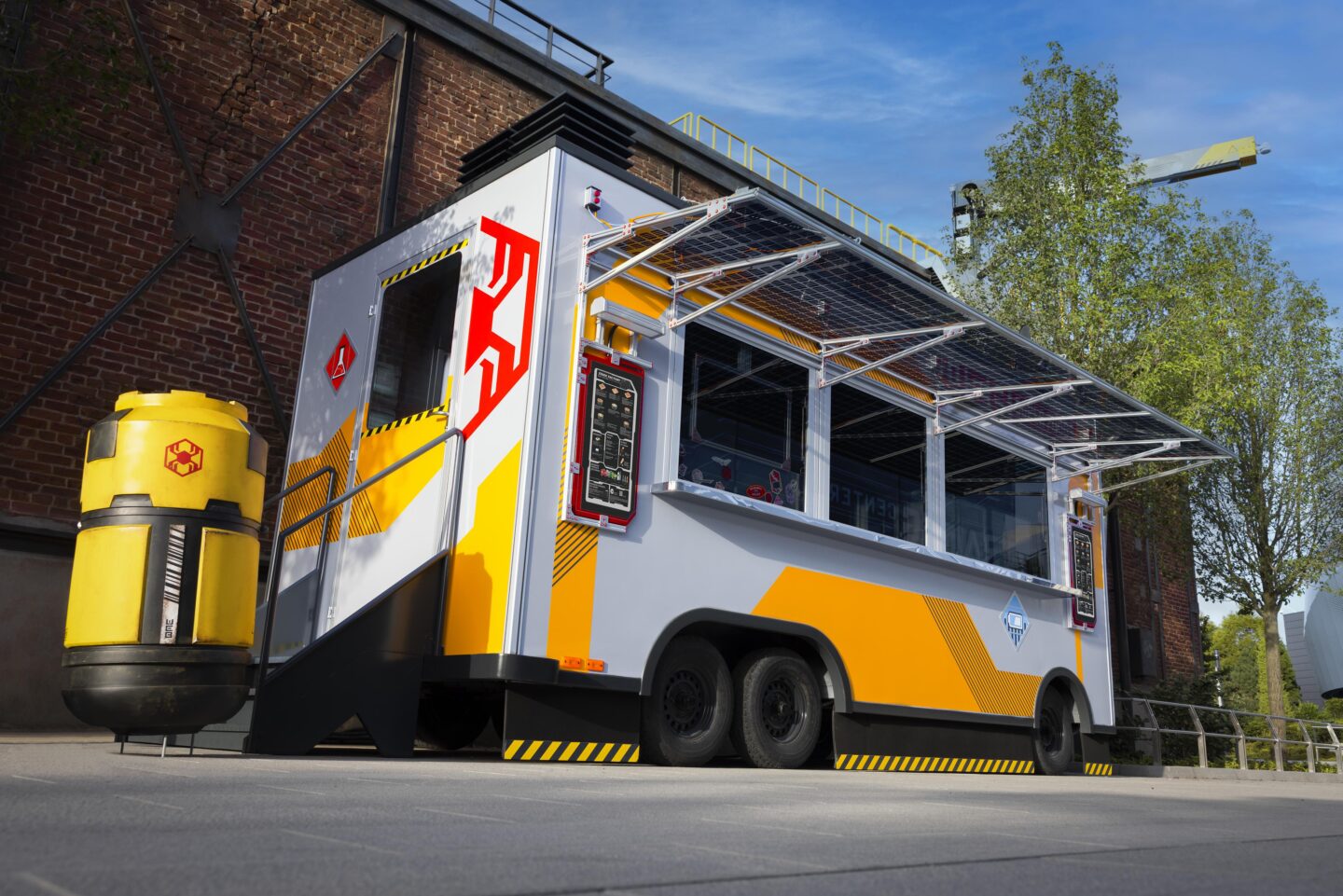 WEB Food Truck
Take your taste buds to Asia at this food truck designed by the smartest inventors from the nearby W.E.B. facility.
Order a noodle dish with chicken, prawn, or smoked tofu, prepared before your very eyes. And for a sweet touch, opt for the coco balls!
Restaurant en Coulisse
Not technically a Marvel themed restaurant, as it changes with the seasons, but when we went at the end of September they had a Black Widow Spy Burger Meal (which was very tasty) but currently it's a Pumpkin Patch Burger for Halloween, so you may want to check the menu when you arrive to see what's on offer.
Disney Hotel New York – The Art of Marvel Restaurants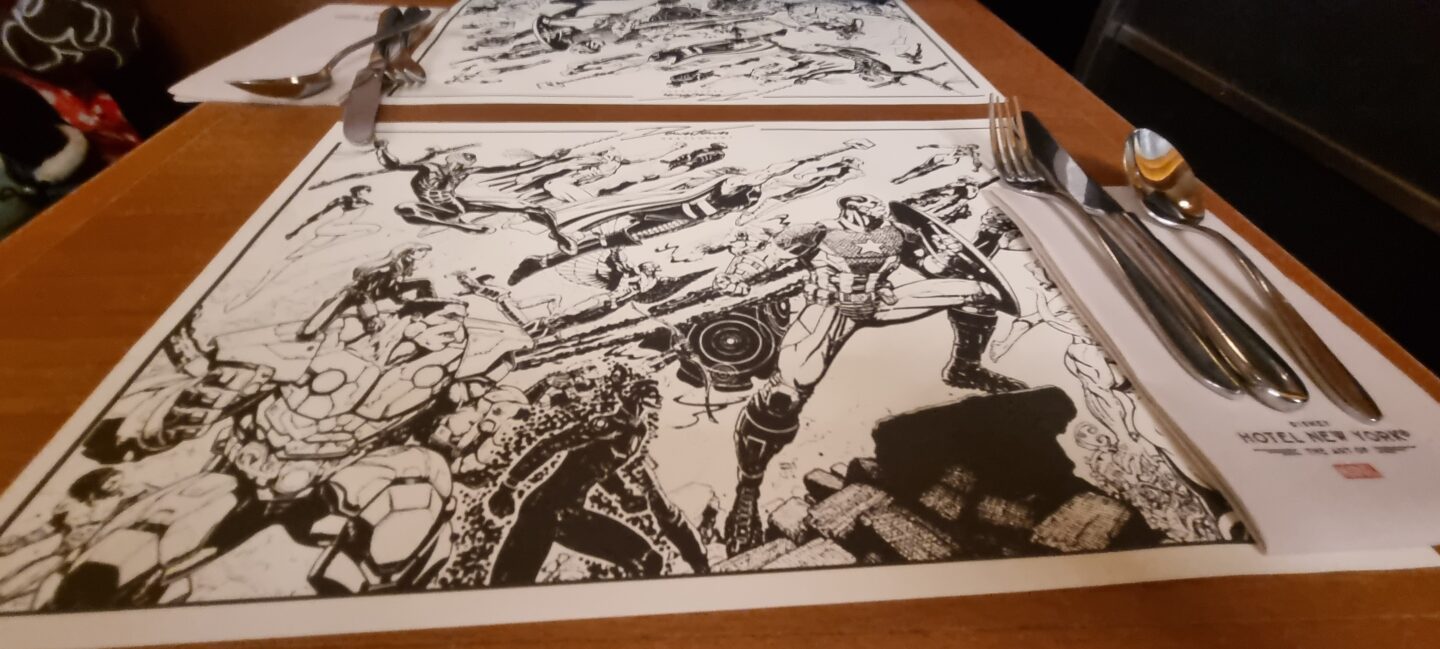 Downtown Restaurant
Surrounded my Marvel themed decor everywhere you look, and super cool Marvel Design Placemats! The Thor's hammer dessert and Groot in his pot are definitely ones to look out for!
Downtown Restaurant is an all you can eat buffet service, which can be booked via the app and is included in meal plans, although it is very popular so you need to book it early!
Like any block in New York, at the Downtown Restaurant you can find dishes from all around the world. Voyage from China Town to Little Italy in just a few steps and watch in mouth-watering anticipation as your meal is prepared before your very eyes.
And don't forget the delicious desserts, definitely need to leave enough room for those!
Whilst you are browsing the restaurant check out the enthralling Marvel comic book history on the walls, featuring 90 pictures.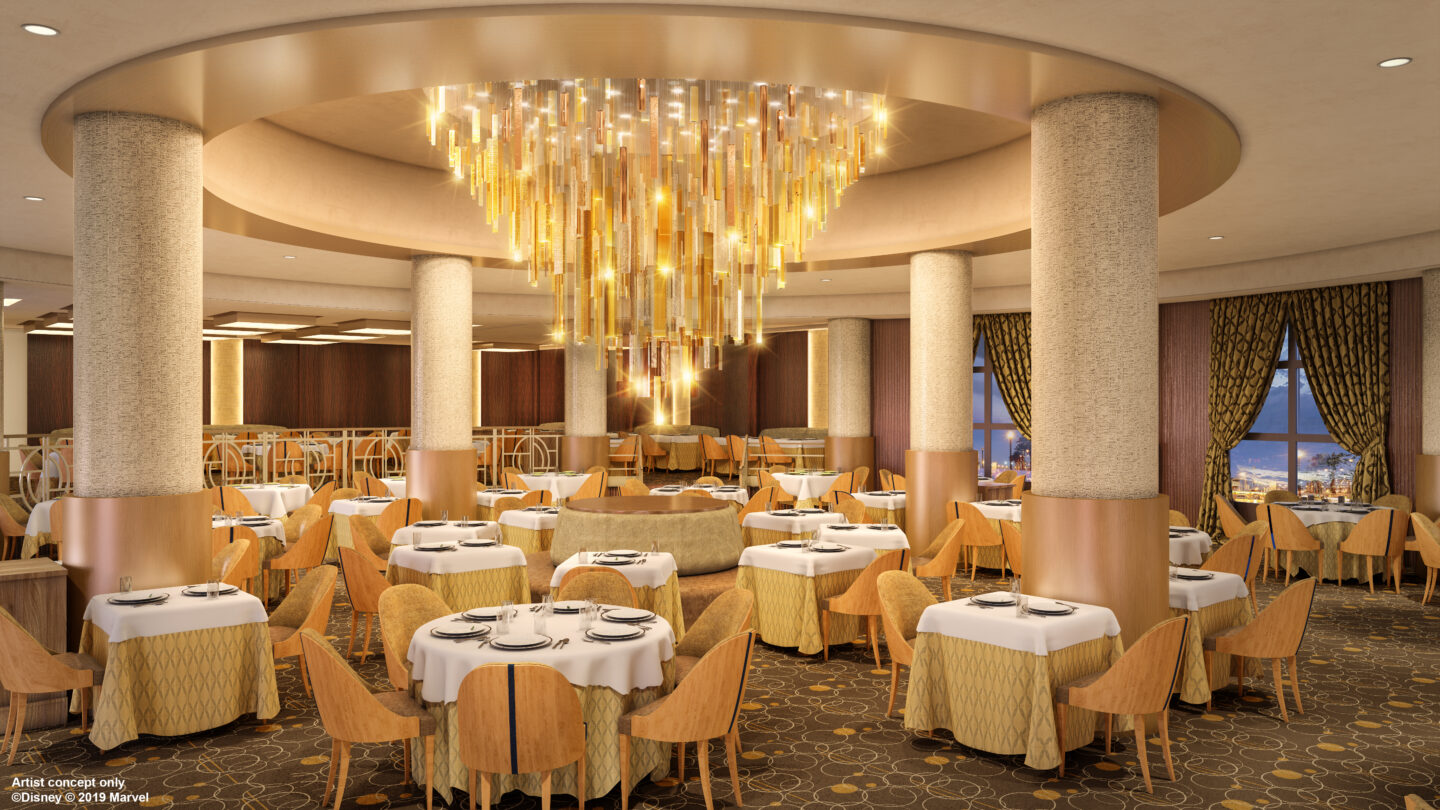 Manhattan Restaurant
Served under the chandelier of Asgard, choose from a selection of fresh pasta, creamy risotto and delicious antipasti.
If you have booked breakfast with your stay, this is served across both restaurants, and has a vast array of hot and cold food to choose from.
Skyline Bar
Not really Marvel themed food, but definitely one to experience if you have a Marvel fan in the family, the Skyline Bar and it's breathtaking view will make you feel like you're overlooking New York from the top of a skyscraper.
The perfect place to spot a high-flying Super Hero!
Where Can I Purchase Marvel Merchandise?
There are various marvel themed merchandise dotted across all of the stores in the parks, such as Groot plushies and Thor Hammer pins, but for more specific Marvel goodies, there are two specific stores
Mission Equipment
The Marvel Avengers Campus has one specific gift store, Mission Equipment, where a selection of Marvel souvenirs are available to purchase.
It stocks Spider-Bots, Power Bands and exclusive apparel.
New York Boutique
Located within the Hotel New York Art of Marvel Hotel the New York Boutique has powerful Super Hero Souvenirs and collectibles, many of them exclusive to Disney Hotel New York-The Art of Marvel.
So, there you have it, all the places to meet, eat and purchase Marvel at Disneyland Paris, have you visited the Marvel Avengers Campus yet?
*Average price calculated by dividing the package price of £1,461.94 by 4 people (2 adults + 2 kids aged 3-11 years old) and 3 nights. Price rounded up to the next pound. Selected Sunday to Friday arrivals between 1st April 2024 and 14th April 2024 sharing a Pioneer Tribe Cabin at Disney Davy Crockett Ranch. Price example subject to change depending on time of booking. Limited availability at that price. Conditions apply.
Considering booking a Disneyland Paris Hotel but unsure which is the best one for you, check out their price estimate calendar and find the best deal for your family.