Premier Inns offer great value for money, their family rooms are spacious and include a kingsize Hypnos bed for the grown-ups, and two pull-out or sofa beds for the children. If you're travelling with a baby, you can also request a travel cot.
But what happens if there are more of you than the standard 2 adult, 2 children family, well then you will want interconnecting rooms, perfect for large families and also great for parents with older teens that don't want to be stuck in the same room as mum and dad for the stay!
Hotels with Interconnecting rooms are definitely a great way to ensure all families, regardless of their size can enjoy time away to visit new places and have quality time together.
With the added bonus that Premier Inn offer all you can eat breakfast for just £9.50 per adult and when an adult orders a Premier Inn Breakfast up to two kids eat breakfast for free!
They are also the perfect place to stay if you're visiting a Theme Park
How To Book Interconnecting Rooms
Each of the Premier Inn hotels lists if they have interconnecting rooms available, but you do have to go to each page individually to find out if they offer them in the first place, which can take quite a while, but now you don't have to, as I have gone through all of the Premier inns and found the ones that offer interconnecting rooms, all you have to do is decide where you'd like to go, then telephone the number listed beneath the address and check if they have availability, as simple as that!
Calls to 0871 numbers cost 13p a minute plus any additional charges from your phone operator. Calls to 0333 numbers are charged at the national rate.
The only problem you have is deciding where to go for your next adventure!
Premier Inns Bedfordshire with interconnecting rooms
Bedford South (A421) hotel – Fletcher Road, Kempston, Bedford MK42 7FY Phone: 0333 321 9301
Bedford Town (Riverside) hotel – Riverside Square, Bedford, Bedfordshire MK40 1AS Phone: 0333 777 3687
Luton Town Centre hotel – Regent Street, Luton, Bedfordshire LU1 5FA Phone: 0871 527 9542
Luton South (M1, J9) hotel – London Road, St Albans, Herts AL3 8HT Phone: 0333 777 4667
Premier Inns Berkshire with interconnecting rooms
Newbury Town Centre (London Road) hotel – Park Way, Newbury, Berkshire RG14 1EE Phone: 0333 234 6614
Newbury Town Centre (A339) hotel – Pinchington Lane, Newbury, Berkshire RG14 7HL Phone: 0333 234 6476
Reading (Caversham Bridge) hotel – Richfield Avenue, Reading, Berks RG1 8EQ Phone: 0333 321 8344
Reading Central hotel – Letcombe Street, Reading, Berkshire RG1 2HN Phone: 0333 321 8345
Reading South (M4/J11) Hotel – Reading Gateway, Proctor End Sth, Reading RG2 0GG Phone: 0330 135 9038
Sandhurst hotel – 221 Yorktown Road, College Town, Sandhurst GU47 0RT Phone: 0333 321 8462
Maidenhead Town Centre hotel – Kidwells Park Drive, Maidenhead, Berkshire SL6 8AQ Phone: 0333 321 9357
Slough Central South (Windsor Road) hotel – Windsor Road, Slough, Berkshire SL1 2EL Phone: 0333 234 6626
Slough hotel – 76 Uxbridge Road, Slough, Berkshire SL1 1SU Phone: 0333 321 8867
Winnersh hotel – Reading Road, Winnersh, Wokingham RG41 5HQ Phone: 0118 338 3730
Premier Inns Birmingham with interconnecting rooms
Birmingham City – Aston hotel – Richard Street, Aston, Waterlinks B7 4AA Phone: 0333 777 3907
Birmingham Centre (Waterloo Street) hotel – 3-6 Waterloo Street, Birmingham, B2 5PG Phone: 0333 777 3903
Birmingham City Centre (New St Station) hotel – Birmingham Exchange Buildings, Stephenson Place, Birmingham B2 4NH Phone: 0333 321 9318
Birmingham City Centre Broad Street hotel – Essington Street, Birmingham B16 8AL Phone: 0333 777 3904
Birmingham Sth (Hall Green) hotel – Stratford Road, Hall Green, Birmingham B28 9ES Phone: 0333 777 3914
Birmingham Central (Hagley Road) hotel -176-184 Hagley Road, Birmingham,B16 9NY Phone: 0333 777 3908
Birmingham (M6 J7) hotel – 222 Birmingham Rd, Great Barr Birmingham B43 7AG Phone: 0333 777 3902
Birmingham NEC/Airport hotel – Bickenhill Parkway, Birmingham, B40 1QA Phone: 0333 777 3911
Solihull Town Centre hotel – 68 Station Road, Solihull, B91 3RX Phone: 0333 321 9272
Solihull South (M42) hotel – Stratford Road, Solihull, ShirleyB90 4EP Phone: 0871 527 8986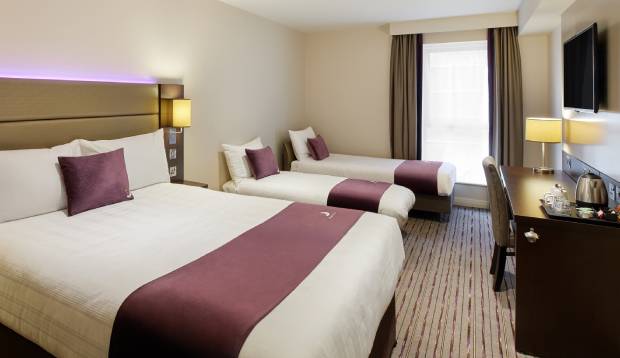 Premier Inns Bristol with interconnecting rooms
Bristol City Centre (Lewins Mead) hotel – Lewins Mead, Bristol, BS1 2NT
Phone : 0333 003 7734
Bristol City Centre (Finzels Reach) hotel – Finzels Reach, Counterslip, Bristol, BS1 6BX
Phone : 0333 234 6449
Bristol South hotel – Hengrove Leisure Park, Hengrove Way, Bristol, BS14 0HR
Phone: 0333 777 3964
Bristol East (Emersons Green) hotel – Emersons Green, 200/202 Westerleigh Rd, Bristol, BS16 7AN
Phone: 0333 777 3961
Bristol (Alveston) hotel – Thornbury Road, Alveston, Nr. Bristol, BS35 3LL
Phone: 0333 777 3948
Premier Inns Buckinghamshire with interconnecting rooms
Milton Keynes Central (Theatre District) hotel – 801 Avebury Boulevard, Milton Keynes,
MK9 3JT Phone: 0333 234 6443
High Wycombe Central hotel – Arch Way, High Wycombe, HP13 5HL Phone: 0333 321 9249
Milton Keynes South West (Furzton Lake) hotel – Shirwell Crescent, Furzton Lake, Milton Keynes MK4 1GA Phone: 0333 321 1329
Premier Inns Cambridgeshire with interconnecting rooms
Cambridge East (Newmarket Road) Hotel – Newmarket Road, Cambridge, CB1 3EP
Phone : 0333 321 9289
Cambridge (A14, J32) Hotel – Ring Fort Road, Cambridge, CB4 2GW
Phone : 0333 777 3975
Cambridge North (Girton) Hotel – Huntingdon Road, Girton, Cambridgeshire, CB3 0DL
Phone : 0333 777 3976
Peterborough North Hotel – 1023 Lincoln Road, Walton, Peterborough, PE4 6AH
Phone : 0333 321 1389
St. Neots (Colmworth Park) Hotel – 2 Marlborough Road, Colmworth Business Park, Eaton Socon, PE19 8YP
Phone : 0333 321 9024
Huntingdon (A1/A14) Hotel – Great North Road, Brampton, Huntingdon, PE28 4NQ
Phone : 0333 003 1734
St. Neots (A1/Wyboston) Hotel – Great North Road, Eaton Socon, St. Neots, PE19 8EN
Phone : 0333 321 9023
Peterborough City Centre Hotel – Rivergate, Peterborough, PE1 1EN
Phone : 0333 015 0102
Premier Inns Cheshire with interconnecting rooms
Northwich South Hotel – London Road, Leftwich, Northwich, CW9 8EG
Phone : 0333 321 1363
Crewe West Hotel – Coppenhall Lane, Woolstanwood, Crewe, CW2 8SD
Phone : 0333 777 4633
Warrington South Hotel – Tarporley Road, Stretton, Warrington, WA4 4NB
Phone : 0333 321 9131
Crewe Central Hotel – Weston Road, Crewe, CW1 6FX
Phone : 0333 777 4632
Runcorn Hotel – Chester Road, Preston Brook, Runcorn,WA7 3BB
Phone : 0333 321 8459
Chester (Railway Station) Hotel – 20-24 City Road, Chester, Cheshire, CH1 3AE
Phone : 0333 777 4592
Warrington Central North Hotel – Floyd Drive, Warrington, WA2 8DB
Phone : 0333 321 9126
Warrington South Hotel – Tarporley Road, Stretton, Warrington, WA4 4NB
Phone : 0333 321 9131
Widnes Hotel – Venture Fields, Widnes, WA8 0GY
Phone : 0333 321 9239
Macclesfield North Hotel – Springwood Way, Tytherington, Macclesfield,SK10 2XA
Phone : 0333 321 1284
Premier Inns Cornwall with interconnecting rooms
Newquay (Quintrell Downs) Hotel – Quintrell Downs, Newquay, Cornwall, TR8 4LE
Phone : 0333 321 1355
Truro Hotel – Old Carnon Hill, Carnon Downs, Truro, TR3 6JZ
Phone : 0333 321 9102
Wadebridge Hotel – Gonvena Hill, Wadebridge, Cornwall, PL27 6BN
Phone : 0120 822 2066
Camborne Hotel – Treswithian Road, Camborne, Cornwall, TR14 7NF
Phone : 0333 321 9238
Helston Hotel – Clodgey Lane, Helston, Cornwall, TR13 8FZ
Phone : 0333 003 1716
Liskeard Hotel – Liskeard Retail Park, Haviland Road, Liskeard, PL14 3FG
Phone : 0333 321 1094
Premier Inns County Durham with interconnecting rooms
Darlington Town Centre Hotel – Saint Cuthbert's Way, Feethams, Darlington, DL1 5RD
Phone : 0333 234 6606
Durham City Centre (Walkergate) Hotel – Freemans Place, Walkergate, Durham, DH1 1SQ
Phone : 0333 777 4669
Bishop Auckland Hotel – West Auckland Road, Bishop Auckland, County Durham, DL14 9TW
Phone : 0333 777 3916
Stockton-On-Tees (Teesside) Hotel – Whitewater Way, Thornaby, Stockton On Tees, TS17 6QB
Phone : 0333 321 9054
Wolviston/Wynyard Hotel – Coal Lane, Wolviston, Stockton-On-Tees, TS22 5PZ
Phone : 0333 321 9052
Premier Inns Cumbria with interconnecting rooms
Penrith Hotel – 2 Common Garden Square, Penrith New Squares, Penrith, CA11 7FG
Phone : 0871 527 9642
Cockermouth Hotel – Egremont Road, Cockermouth, Cumbria, CA13 0QX
Phone : 0333 234 6527
Carlisle Central Hotel – Warwick Road, Carlisle, CA1 2WF
Phone : 0333 777 3988
Kendal Central Hotel – Maude St, Kendal, Cumbria, LA9 4QD
Phone : 0333 003 1745
Whitehaven Hotel – Howgate, Whitehaven, Cumbria, CA28 6PL
Phone : 0333 321 9144
Ulverston Hotel – Lonsdale Terrace, Ulverston, Cumbria, LA12 9AU
Phone : 0333 234 6491
Barrow-In-Furness Hotel – North Road, Barrow-In-Furness, LA14 2PW
Phone : 0333 321 9311
Premier Inns Derbyshire with interconnecting rooms
Matlock Hotel – Bakewell Road, Matlock, Derbyshire, DE4 3A
Phone : 0333 234 6447
Derby City Centre (Riverlights) Hotel – Morledge, Derby, Derbyshire DE1 2BB
Phone : 0333 234 6462
Derby City Centre (Cathedral Quarter) Hotel – Full Street, Derby, Derbyshire DE1 3AF
Phone : 0333 234 6502
Buxton Hotel – 131 London Road, Buxton, Derbyshire, SK17 9NW
Phone : 0333 234 6459
Ripley Hotel – Nottingham Road, Ripley, Derby DE5 3QP
Phone : 0333 321 8447
Chesterfield West Hotel – Baslow Road, Eastmoor, Chesterfield, S42 7DA
Phone : 0333 777 4596
Chesterfield North Hotel – Tapton Lock Hill, Off Rotherway, Chesterfield, S41 7NJ
Phone : 0333 777 4593
Premier Inns Devon with interconnecting rooms
Exeter Central St Davids Hotel – Bonhay Road, Exeter, Devon EX4 4BG
Phone : 0333 321 9216
Torquay Seafront Hotel – Seafront, Belgrave Road, Torquay, TQ2 5HE
Price : 0333 321 9097
Plymouth City Centre (Lockyers Quay) Hotel – 1 Lockyers Quay, Coxside, Plymouth, PL4 0DX
Phone : 0333 321 1392
Exeter City Centre Hotel – 2 Southernhay Gardens, Exeter, Devon, EX1 1SG
Phone : 0333 321 9068
Exmouth Seafront Hotel – The Esplanade, Exmouth, Devon, EX8 2AZ
Phone : 0333 321 9294
Honiton Hotel – Turks Head Lane, Honiton, Devon, EX14 1BQ
Phone : 0333 234 6615
Newton Abbot Hotel – Newton Abbot Racecourse, Newton Road, Newton Abbot, TQ12 3AF
Phone : 0333 321 9234
Paignton Seafront (Goodrington Sands) Hotel – Tanners Road, Goodrington, Paignton, TQ4 6LP
Phone : 0333 321 9205
Paignton South (Brixham Road) Hotel – White Rock, Long Road South, Paignton, TQ4 7RZ
Phone : 0333 321 9248
Bideford Hotel – Clovelly Road, Bideford, Devon, EX39 3QU
Phone : 0333 234 6458
Seaton Hotel – Harbour Road, Seaton, Devon, EX12 2NA
Phone : 0333 234 6482
Premier Inns Dorset with interconnecting rooms
Poole Centre (Holes Bay) Hotel – Holes Bay Road, Poole, Dorset, BH15 2BD
Phone : 0333 321 1397
Weymouth Seafront Hotel – Lodmoor Country Park, Preston Beach Road, Weymouth, DT4 7SX
Phone : 0333 321 9143
Weymouth Hotel – Gateway Business Park, Mercery Road, Weymouth, DT3 5HJ
Phone : 0333 321 9283
Dorchester Hotel – 5 Pope Street, Dorset,DT1 1GW
Phone : 0333 321 9278
Bournemouth East (Boscombe) Hotel – 47 Christchurch Road, Boscombe, Bournemouth, BH1 3PA
Phone : 0333 777 3931
Christchurch (East) Hotel – Somerford Road, Dorset, BH23 3QG
Phone : 0333 777 4616
Christchurch / Highcliffe Hotel – 266 Lymington Road, Highcliffe, Dorset, BH23 5ET
Phone : 0333 321 9215
Premier Inns East Sussex with interconnecting rooms
Eastbourne (Polegate) Hotel – Hailsham Road, Polegate, Eastbourne, BN26 6QL
Phone : 0333 777 4677
Eastbourne Town Centre Hotel – Terminus Road, Eastbourne, East Sussex, BN21 3DF
Phone : 0333 321 9323
Hastings Hotel – 1 John Macadam Way, Hastings, East Sussex, TN37 7DB
Phone : 0333 003 1697
Lewes Town Centre Hotel – The Old Courtroom, Court Road, Lewes, BN7 2PG
Phone : 0333 234 6628
Premier Inns East Yorkshire with interconnecting rooms
Bridlington Seafront Hotel – Albion Terrace, Bridlington, East Riding Of Yorkshire YO15 2PJ
Phone : 0333 234 6572
Hull City Centre Hotel – Tower Street, Kingston Upon Hull, Hull, HU9 1TQ
Phone : 0333 003 1731
Beverley Town Centre Hotel – Flemingate Centre, Flemingate, Beverley, HU17 0NQ
Phone : 0333 321 3078
Goole Hotel – Rawcliffe Road, Airmyn, Goole, DN14 8JS
Phone : 0333 003 1683
Premier Inns Essex with interconnecting rooms
Colchester Town Centre (Castle) Hotel – St Peters Street, Colchester, EssexCO1 1EW
Phone : 0333 321 9352
Chelmsford City Centre Hotel – Victoria Road, Chelmsford, Essex, CM1 1NY
Phone : 0333 321 9363
Basildon (Festival Park) Hotel – Festival Leisure Park, Pipps Hill Road South, Off Cranes Farm Road, SS14 3WB
Phone : 0333 777 3683
Basildon (East Mayne) Hotel – Felmores, East Mayne, Basildon, SS13 1BW
Phone : 0333 777 3682
Basildon (Rayleigh) Hotel – Rayleigh Weir, Arterial Road (A127), Basildon, SS6 7SP
Phone : 0333 777 3684
Brentwood Hotel – 169 Kings Road, Brentwood, Essex, CM14 4EG
Phone : 0333 777 3943
Braintree (A120) Hotel – Cressing Road, Galleys Corner, Braintree, CM77 8GG
Phone : 0333 777 3941
Braintree (Freeport Village) Hotel – Fowlers Farm, Cressing Road, Braintree, CM77 8DH
Phone : 0333 777 3942
Southend Airport Hotel – Thanet Grange, Princes Avenue, Southend On Sea, SS2 6GB
Phone : 0333 321 9014
London Stansted Airport Hotel – Thremhall Avenue, Stansted Airport, Stansted, CM24 1PY
Phone : 0333 321 9264
Harlow North (Harlow Mill) Hotel – Cambridge Road, Old Harlow, Essex, CM20 2EP
Phone : 0333 003 1693
Southend On Sea (Eastern Esplanade) Hotel – Eastern Esplanade, Southend On Sea,, SS1 2YT
Phone : 0333 321 9351
Thurrock West Hotel – Stonehouse Lane, West Thurrock, Essex, RM19 1NS
Phone : 0333 321 9083
Thurrock East Hotel – Fleming Road, Unicorn Estate, Chafford Hundred, RM16 6YJ
Phone : 0333 321 9079
Clacton-On-Sea (Seafront) Hotel – Marine Parade West, Clacton-On-Sea, Essex, CO15 1RD
Phone : 0333 321 9368
Colchester (A12) Hotel – Ipswich Road, Colchester, Essex, CO4 9WP
Phone : 0333 777 4623
Colchester Cowdray Avenue (A133) Hotel – Cowdray Avenue, Colchester, Essex, CO1 1UT
Phone : 0333 777 4619
Loughton/Buckhurst Hill hotel – High Road, Buckhurst Hill, Essex IG9 5HT
Phone : 0333 321 1279
Premier Inns Gloucestershire with interconnecting rooms
Gloucester (Quayside) Hotel – Bakers Quay, St Ann Way, Gloucester, GL1 5BQ
Phone : 0330 135 9036
Gloucester (Longford) Hotel – Tewkesbury Road, Longford, Gloucester, GL2 9BE
Phone : 0333 003 1677
Cheltenham North West Hotel – Tewkesbury Road, Uckington, Cheltenham, GL51 9SL
Phone : 0333 777 4535
Cirencester Hotel – Kings Meadow, Cirencester, Gloucestershire, GL7 1NP
Phone : 0333 234 6543
Premier Inns Hampshire with interconnecting rooms
Southampton (Cumberland Place) Hotel – 12-13 Cumberland Place, Southampton,, SO15 2WY
Phone : 0333 234 6552
Southampton (Eastleigh) Hotel – Leigh Road, Eastleigh, Hants, SO50 9YX
Phone : 0333 321 9004
Southampton City Centre (West Quay) Hotel – 96 Harbour Parade, Southampton, SO15 1BA
Phone : 0333 321 9233
Portsmouth Havant South (Langstone/A27) Hotel – East Langs Tech Park, Langstone Road, Havant, PO9 1SA
Phone : 0333 234 6479
Portsmouth (Horndean) Hotel – 2 Havant Road, Horndean, Portsmouth, PO8 0DT
Phone : 0333 321 4231
Portsmouth City Centre Hotel – 1 Isambard Brunel Road, Portsmouth, Hampshire, PO1 2TR
Phone : 0333 321 9358
Portsmouth (Havant) Hotel – 65 Bedhampton Hill Road, Bedhampton, Havant, PO9 3JN
Phone : 0333 321 3997
Basingstoke West (Churchill Way) Hotel – Basingstoke Leisure Park, Worting Road, Basingstoke, RG22 6PG
Phone : 0333 777 3686
Andover Hotel – West Portway Ind. Estate, Joule Road, Andover, SP10 3UX
Phone : 0333 777 3664
Winchester Hotel – Caledonia House, Winnal Manor Road, Winchester, SO23 7RT
Phone : 0333 321 9308
Aldershot Hotel – 7 Wellington Avenue, Aldershot, Hampshire, GU11 1SQ
Phone : 0333 777 3661
Basingstoke Town Centre Hotel – Victoria Street, Town Centre, Basingstoke, RG21 3BT
Phone : 0871 321 9356
Farnborough Town Centre Hotel – 3 Kingsmead, Farnborough, Hampshire, GU14 7SJ
Phone : 0333 321 9425
Fleet Hotel – 7-11 Fleet Road, Fleet, Hampshire, GU51 3QF
Phone : 0333 321 9322
Gosport Hotel – Fareham Road, Gosport, Hampshire, PO13 0ZX
Phone : 0333 321 9314
Lymington (New Forest, Hordle) Hotel – Silver Street, Hordle, Lymington, SO41 0FN
Phone : 0333 321 1283
Ringwood Hotel – Forest Gate Business Park, Ringwood, HampshireBH24 3AS
Phone : 0142 520 6667
Premier Inns Herefordshire with interconnecting rooms
Ross-On-Wye Hotel – Ledbury Road, Ross-On-Wye, Herefordshire, HR9 7QJ
Phone : 0333 321 8454
Premier Inns Hertfordshire with interconnecting rooms
Welwyn Garden City Hotel – Stanborough Road, Welwyn Garden City, Hertfordshire, AL8 6DQ
Phone : 0333 321 9137
Stevenage North Hotel – Coreys Mill Lane, Stevenage, Hertfordshire, SG1 4AA
Phone : 0333 321 9028
St Albans City Centre Hotel – 1 Adelaide Street, St Albans, Hertfordshire, AL3 5BH
Phone : 0333 321 9331
Ware Hotel – Marsh Lane, Ware, Hertfordshire, SG12 9QB
Phone : 0333 003 3405
Hitchin Town Centre Hotel – Portmill Lane, Hitchin, Hertfordshire, SG5 1DJ
Phone : 0333 321 9379
South Mimms/Potters Bar hotel – Swanland Road, South Mimms, Potters Bar EN6 3NH
Phone : 0333 321 9002
St. Albans/Bricket Wood Hotel – Smug Oak Lane, Watling Street, Bricket Wood, AL2 3PN
Phone : 0333 321 9018
Letchworth Garden City Hotel – Station Road, Letchworth Garden City, Hertfordshire, SG6 3BG
Phone : 0333 234 6602
Watford North Hotel – 859 St Albans Road, Garston, Watford WD25 0LH
Phone : 0333 321 9135
Kings Langley Hotel – 37 Hempstead Road, Kings Langley, Hertfordshire, WD4 8BR
Phone : 0333 003 1748
Tring Hotel – Tring Hill, Tring, Hertfordshire, HP23 4LD
Phone : 0333 321 910
Premier Inns Isle Of Wight with interconnecting rooms
Isle of Wight Sandown (Merrie Gardens) Hotel – Merrie Gardens, Newport Road, Sandown, PO36 9PE
Phone : 0333 234 6510
Isle of Wight Sandown (Seafront) Hotel – 1-9 Esplanade, Sandown, Isle Of Wight, PO36 8LA
Phone : 03330 150095
Premier Inns Kent with interconnecting rooms
Ashford (Eureka Leisure Park) Hotel – Eureka Leisures Park, Rutherford Road, Ashford, TN25 4BN
Phone : 0333 777 3668
Sittingbourne Kent Hotel – Bobbing Corner, Sheppey Way, Sittingbourne, ME9 8RZ
Phone : 0333 321 8678
Canterbury City Centre Hotel – 1-7 New Dover Road, Canterbury, Kent, CT1 1UP
Phone : 0333 321 9298
Rainham (Kent) Hotel – High Street, Rainham, Gillingham, ME8 7JE
Phone : 0333 321 9211
Maidstone (Allington) Hotel – London Road, Maidstone, Kent, ME16 0HG
Phone : 0333 321 1286
Herne Bay Hotel – Blacksole Farm, Margate Road, Herne Bay, CT6 6LA
Phone : 0333 003 1723
Chatham/Gillingham (Victory Pier) Hotel – Blake Avenue, Gillingham, Kent, ME7 1GB
Phone : 0333 321 9353
Maidstone/Sevenoaks Hotel – London Road, Wrotham Heath, Nr Sevenoaks,TN15 7RX
Phone : 0333 321 8464
Ramsgate (Manston Airport) Hotel – Tothill Street, Minster, Ramsgate, CT12 4AG
Phone : 0333 321 9212
Sevenoaks Hotel – Hitchen Hatch Lane, Sevenoaks, Kent, TN13 3BE
Phone : 0173 249 6392
Dartford Hotel – The Bridge Business Park, Halcrow Avenue, Dartford, DA1 5FX
Phone : 0333 321 9251
Swanley Hotel – London Road, Swanley, BR8 7QD
Phone : 0333 321 9226
London Bexleyheath hotel – 51 Albion Road, Bexleyheath, Kent DA6 7AR
Phone : 0333 321 9372
London Bromley hotel – Simpsons Road, Shortlands, Bromley BR2 0QL
Phone : 0203 960 3250
Premier Inns Lancashire with interconnecting rooms
Preston Central Hotel – Fox Street, Preston, PR1 2AB
Phone : 0333 321 8335
Blackburn South (M65, J4) Hotel – Off Eccleshill Road, Riversway Drive, Lower Darwen, BB3 0SN
Phone : 0333 777 3917
Blackpool Airport Hotel – Squires Gate Lane, Blackpool, FY4 2QS
Phone : 0333 777 3919
Blackpool (Bispham) Hotel – Devonshire Road, Bispham, Blackpool, FY2 0AR
Phone : 0333 777 3918
Blackburn Town Centre Hotel – 3 Cathedral Square, Blackburn, Lancashire, BB1 1FB
Phone : 0333 321 3081
Premier Inns Leicestershire with interconnecting rooms
Leicester City Centre Hotel – St. Georges Tower, 1A St. Georges Way, Leicester, LE1 1AA
Phone : 0333 003 7695
Leicester Fosse Park Hotel – Braunstone Lane East, Leicester, LE3 2FW
Phone : 0333 003 7674
Loughborough Hotel – Southfield Road, Loughborough, Leicestershire, LE11 9SA
Phone : 0333 321 9242
Hinckley Hotel – Wharf Farm, Coventry Road, Hinckley, LE10 0NB
Phone : 0333 003 1725
Ashby De La Zouch Hotel – Flagstaff Island, Flagstaff Park, Ashby De La Zouch LE65 1JP
Phone : 0333 777 3667
Premier Inns Lincolnshire with interconnecting rooms
Lincoln City Centre Hotel – Broadgate, Lincoln, LN2 5AQ
Phone : 0333 321 9305
Lincoln (Canwick) Hotel – Lincoln Road, Canwick Hill, Lincoln, LN4 2RF
Phone : 0333 321 1092
Boston Hotel – Wainfleet Road, Boston, PE21 9RW
Phone : 0333 777 3927
Grantham Hotel – A1/607 Junction, Harlaxton Road, Grantham, NG31 7JT
Phone : 0333 003 1684
Grimsby Hotel – Europa Park, Appian Way, Off Gilbey Road, DN31 2UT
Phone : 0333 003 1688
Scunthorpe Hotel – Gadwall Way, Lakside Parkway, Lakeside Retail Park, DN16 3UA
Phone : 0333 321 8463
Premier Inns London with interconnecting rooms
London Angel Islington – 18 Parkfield Street Islington London N1 0PS
Phone : 0333 003 1744
London Archway Hotel – Hamlyn House, Macdonald Road, London N19 5DD
Phone : 0333 003 7819
London Edmonton Hotel – Advent Way, Edmonton, London N18 3AF
Phone : 0333 321 9296
London Dagenham Hotel – Chequers Corner , 2 New Road, Dagenham RM9 6YS
Phone : 0333 321 9271
London Romford (Mercury Gardens) Hotel – Mercury Gardens, Essex, RM1 3EN
Phone : 0333 321 8452
London Beckton Hotel – 1 Woolwich Manor Way, Beckton, London E6 5NT
Phone : 0333 321 1244
London Brixton Hotel – 434 Coldharbour Lane, Brixton, London SW9 8HH
Phone : 0333 321 9362
London Chiswick Hotel – Hogarth Roundabout, Axis House, Chiswick W4 2TH
Phone : 0333 234 6456
London City (Aldgate) Hotel – 66 Alie Street, Aldgate, London E1 8PX
Phone : 0333 321 9361
London City (Tower Hill) Hotel – 24 Prescot Street, London, E1 8BB
Phone : 0333 321 1245
London Clapham Hotel – 638-640 Wandsworth Road, Clapham, London SW8 3JW
Phone : 0333 234 6486
London Enfield Hotel – Innova Park, Corner Of Solar Way, Enfield EN3 7XY
Phone : 0871 527 8374
London Greenwich Hotel – 43-81 Greenwich High Road, Greenwich, London SE10 8JL
Phone : 0333 321 9206
London Hackney Hotel – 27 Dalston Lane, Hackney, London E8 3DF
Phone : 0333 003 3401
London Hendon (The Hyde) Hotel – Hyde House, Hendon, London NW9 6LH
Phone : 0333 321 9324
London Lewisham Hotel – 1-13 Lewisham High Street, Lewisham, London SE13 5AF
Phone : 0333 321 9338
London Orpington Hotel – 83 The Walnuts, Orpington, London BR6 0TW
Phone : 0333 234 6591
London Richmond Hotel – 136-138 Lower Mortlake Road, Richmond, London TW9 2JZ
Phone : 0333 321 9261
London Sidcup Hotel – 101-108 Station Road, Sidcup, London DA15 7BS
Phone : 0333 234 6539
London Stratford Hotel – 9 International Square, Westfield Stratford City, Montfichet Road E20 1EE
Phone : 0333 321 9225
London Tolworth Hotel – 12 Kingston Road, Tolworth, London KT5 9NU
Phone : 0333 234 6605
London Tottenham Hale Hotel – Station Road, Tottenham Hale, Tottenham N17 9LR
Phone : 0333 234 6596
London Uxbridge Hotel – Phase 500, Riverside Way, Uxbridge UB8 2YF
Phone : 0333 321 9275
London Wandsworth Hotel – 45 Garratt Lane, London,SW18 4AD
Phone : 0333 321 9342
London Wembley Stadium Hotel – 1 Wembley Park Boulevard, Wembley, London HA9 0GG
Phone : 0333 234 6585
London Woolwich (Royal Arsenal) Hotel – 91 Beresford Street, Woolwich, London SE18 6BG
Phone : 0333 234 6542
Premier Inns Manchester with interconnecting rooms
Manchester Salford Media City Hotel – Blue, Media City Uk, Salford, M50 2AB
Phone : 0333 234 6548
Manchester (Denton) Hotel – Alphagate Drive, Manchester Road South, Denton, M34 3SH
Phone : 0333 321 1291
Manchester Tameside (Hyde) Hotel – Stockport Road, Mottram, Hyde, SK14 3AU
Phone : 0333 321 1293
Premier Inns Merseyside with interconnecting rooms
Liverpool City Centre (Liverpool One) Hotel – 48 Hanover Street, Liverpool, L1 4AF
Phone : 0333 321 9282
Liverpool John Lennon Airport Hotel – 57 Speke Hall Avenue, Liverpool, L24 1YD
Phone : 0333 321 1235
Liverpool North Hotel – Northern Perimeter Road, Netherton, Merseyside, L30 7PT
Phone : 0333 321 1236
Wirral (Greasby) Hotel – Greasby Road, Greasby, Wirral, CH49 2PP
Phone : 0333 321 9184
Southport Central Hotel – Marine Drive, Southport, Lancashire, PR8 1RY
Phone : 0333 321 9016
Birkenhead Town Centre Hotel – Conway Street, Birkenhead, CH41 5AP
Phone : 0333 003 7892
Premier Inns Norfolk with interconnecting rooms
Norwich Airport Hotel – Delft Way, Norwich Airport, Norwich, NR6 6BB
Phone : 0333 321 1367
Norwich West (Showground/A47) Hotel – Longwater Interchange, Dereham Road, New Costessey, NR5 0TP
Phone : 0333 321 1366
Great Yarmouth West (A47) Hotel – North River Road, Runham Vauxhall, Great Yarmouth, NR30 1SH
Phone : 0333 321 9345
Great Yarmouth (Seafront) Hotel – South Beach Parade, Great Yarmouth, Norfolk, NR30 3DD
Phone : 0149 380 8794
Kings Lynn Hotel – Clenchwarton Rd, West Lynn, Kings Lynn, PE34 3LW
Phone : 0333 003 1749
Thetford Hotel – Maine Street, Thetford, IP24 3PG
Phone : 0333 321 9078
Premier Inns Northamptonshire with interconnecting rooms
Northampton Town Centre Hotel – Swan Street, Northampton, Northamptonshire, NN1 1FA
Phone : 0333 003 3404
Northampton South (Wootton) Hotel – Newport Pagnell Road West, Wootton, Northampton, NN4 7JJ
Phone : 0333 321 1359
Northampton West (Harpole) Hotel – Harpole Turn, Weedon Road, Harpole, NN7 4DD
Phone : 0333 321 1361
Wellingborough Hotel – London Road, Wellingborough, Northamptonshire, NN8 2DP
Phone : 0333 321 9136
Corby Hotel – 1 Little Colliers Field, Corby, Northants, NN18 8TJ
Phone : 0333 777 4625
Silverstone Hotel – Brackley Hatch, Nr. Brackley, Northamptonshire, NN13 5TX
Phone : 0333 321 8673
Premier Inns Northumberland with interconnecting rooms
Ashington Hotel – Queen Elizabeth Country Park, Woodhorn, Ashington, NE63 9AT
Phone : 0333 777 3672
Newcastle Airport (South) Hotel – Callerton Lane Ends, Woolsington, Newcastle Upon Tyne, NE13 8DF
Phone : 0333 321 1343
Newcastle Gosforth/Cramlington Hotel – Moor Farm Roundabout, Off Front Street, Moorfarm Industrial Estate, NE23 7QA
Phone : 0333 321 1337
Newcastle (Holystone) Hotel – Edmund Road, Holystone, Tyne And Wear, NE27 0UN
Phone : 0333 321 1338
Newcastle City Centre (New Bridge Street) Hotel – Newbridge Street, Newcastle Upon Tyne, NE1 8BS
Phone : 0871 527 8802
Whitley Bay Hotel – 9 Spanish City Plaza, Whitley Bay, Tyne & Wear, NE26 1BG
Phone : 0333 234 6570
Newcastle (Washington) Hotel – Emerson Road, Washington, Tyne & Wear, NE37 1LE
Phone : 0333 321 9132
Durham City Centre (Walkergate) Hotel – Freemans Place, Walkergate, Durham, DH1 1SQ
Phone : 0333 777 4669
Premier Inns North Yorkshire with interconnecting rooms
Thirsk Hotel – Sowerby Gateway, Thirsk, North Yorkshire, YO7 3HF
Phone : 0333 234 6563
Scarborough (South Bay) Hotel – Falconer Road, Scarborough, North Yorkshire, YO11 2EN
Phone : 0333 321 9228
York City (Blossom St South) Hotel – 28-40 Blossom Street, York, YO24 1AJ
Phone : 0333 321 9197
York City (Blossom St North) Hotel – 20 Blossom StreetYorkNorth Yorkshire, ,YO24 1AJ
Phone : 0333 321 9198
York North Hotel – Clifton Park Avenue, Shipton Road, York, YO30 5PA
Phone : 0333 321 9201
Catterick Garrison Hotel – Princes Gate, Catterick, North Yorkshire, DL9 3BA
Phone : 0333 321 8681
Harrogate South Hotel – Hornbeam Park Avenue, Harrogate, HG2 8RA
Phone : 0333 003 1694
Harrogate Town Centre Hotel – Springfield Avenue, Harrogate, HG1 2HY
Phone : 0333 321 9312
Middlesbrough Town Centre Hotel – Wilson Street, Middlesbrough, North Yorkshire, TS1 1AE
Phone : 0333 234 6599
Skipton North (Gargrave) Hotel – Hellifield Road, Gargrave, Skipton, BD23 3NB
Phone : 0333 321 8798
Bridlington Seafront Hotel – Albion Terrace, Bridlington, East Riding Of Yorkshire, YO15 2PJ
Phone : 0333 234 6572
Premier Inns Nottinghamshire with interconnecting rooms
Newark Hotel – Lincoln Road, Newark, Nottingham, NG24 2DB
Phone : 0333 321 1336
Nottingham City Centre (Chapel Bar) Hotel – 7 Chapel Quarter, Nottingham, Nottinghamshire, NG1 6JS
Phone : 0333 321 9441
Nottingham North (Daybrook) Hotel – 101 Mansfield Road, Daybrook, Nottingham, NG5 6BH
Phone : 0333 321 1375
Premier Inns Oxfordshire with interconnecting rooms
Bicester Hotel – Oxford Road, Bicester, Oxfordshire, OX26 1BT
Phone : 0333 321 9288
Banbury (M40, J11) Hotel – Stroud Park, Ermont Way, Banbury, OX16 4AE
Phone : 0333 321 9439
Witney Hotel – Ducklington Lane, Witney, OX28 4JF
Phone : 0333 321 9343
Chipping Norton Hotel – Spring Street, Chipping Norton, Oxfordshire, OX7 5NN
Phone : 0333 234 6452
Premier Inns Shropshire with interconnecting rooms
Shrewsbury Town Centre Hotel – Smithfield Road, Shrewsbury, SY1 1QB
Phone : 0333 321 9295
Shrewsbury North (Harmer Hill) Hotel – Harmer Hill, Shropshire, SY4 3DS
Phone : 0333 321 8672
Telford North Hotel – Donnington Wood Way, Donnington, Telford, TF2 8HH
Phone : 0333 321 9075
Telford International Centre Hotel – Unit 8, Southwater Square, Southwater Way, TF3 4DE
Phone : 0333 321 9348
Oswestry Hotel – Rods Meadow, Maes-Y-Clawdd, Maesbury Road Estate, SY10 8NN
Phone : 0333 321 1383
Newport/Telford Hotel – Stafford Road, Shropshire, Newport, TF10 9BY
Phone : 0333 321 1352
Premier Inns Somerset with interconnecting rooms
Bath City Centre Hotel – 4 James Street West, Bath, BA1 2BX
Phone : 0333 321 9326
Bridgwater North (A38) Hotel – Express Park, Bristol Road, Bridgwater, TA6 4RR
Phone : 0333 777 3946
Weston Super Mare Jct 22 M5 (Lympsham) Hotel – Bridgwater Road, Lympsham, Bleadon, BS24 0BP
Phone : 0333 321 9141
Taunton Ruishton (M5, J25) Hotel – Ruishton Lane, Ruishton, Taunton, TA3 5LU
Phone : 0333 321 9071
Glastonbury Hotel – Morland Road, Glastonbury, Somerset, BA6 9FW
Phone : 0333 321 9291
Frome Hotel – Commerce Park, Jenson Avenue, Frome, BA11 2LD
Phone : 0333 777 7269
Portishead Hotel – Wyndham Way, Portishead, Bristol, BS20 7GA
Phone : 0333 321 3962
Weston-Super-Mare (Seafront) Hotel – Beach Road, Weston Super Mare, BS23 1TT
Phone : 0333 321 9279
Wells (Somerset) Hotel – Rowdens Road, Wells, Somerset, BA5 1UA
Phone : 0333 234 6496
Minehead Hotel – Seaward Way, Minehead, Somerset, TA24 6DF
Phone : 0333 234 6516
Premier Inns South Yorkshire with interconnecting rooms
Barnsley (Dearne Valley) Hotel – Meadow Gate, Valley Park, Wombwell, S73 0UN
Phone : 0333 777 3679
Barnsley Central M1 J37 Hotel – Gateway Plaza, Sackville Street, Barnsley, S70 2RD
Phone : 0333 321 9204
Doncaster Central (High Fishergate) Hotel – High Fishergate, Doncaster, South Yorkshire, DN1 1QZ
Phone : 0333 777 4645
Premier Inns Staffordshire with interconnecting rooms
Stoke-On-Trent (Hanley) Hotel – Etruria Road, Hanley, ST1 5NH
Phone : 0333 321 9337
Rugeley Hotel – Power Station Road, Tower Business Park, Staffordshire, WS15 1LX
Phone : 0333 321 9213
Cannock South Hotel – Watling Street, Cannock, Staffordshire, WS11 1SJ
Phone : 0333 777 3978
Cannock (Orbital) Hotel – Eastern Way, Cannock, Staffordshire, WS11 8XR
Phone : 0333 777 3977
Leek Town Centre Hotel – Ashbourne Road, Leek, ST13 5AS
Phone : 0333 321 9252
Lichfield City Centre Hotel – Swan Road, Lichfield, Staffordshire, WS13 6QZ
Phone : 0333 321 9317
Tamworth Central Hotel – Bonehill Road, Bitterscote, Tamworth, B78 3HE
Phone : 0333 321 9067
Tamworth South Hotel – Watling Street, Wilnecote, Tamworth, B77 5PN
Phone : 0333 321 9069
Premier Inns Suffolk with interconnecting rooms
Felixstowe Town Centre Hotel – Undercliff Road West, Felixstowe, Suffolk, IP11 2AN
Phone : 0333 234 6558
Bury St Edmunds Town Centre Hotel – The Churchyard, New Shire Hall, Raingate Street, IP33 1RX
Phone : 0333 321 9354
Ipswich (Chantry Park) Hotel – Old Hadleigh Road, Ipswich, IP8 3AR
Phone : 0333 003 1738
Ipswich South East Hotel – 3 Augusta Close, Ransomes Euro Park, Ipswich, IP3 9SS
Phone : 0333 003 1742
Ipswich Town Centre (Quayside) Hotel – 33 Key Street, Ipswich, IP4 1BZ
Phone : 0333 321 9285
Lowestoft Hotel – 249 Yarmouth Road, Lowestoft, Suffolk, NR32 4AA
Phone : 0333 321 1281
Premier Inns Surrey with interconnecting rooms
Guildford North (A3) Hotel – Parkway, Guildford, Surrey, GU1 1UP
Phone : 0333 003 1689
Cobham Hotel – Portsmouth Road, Fairmile, Cobham, KT11 1BW
Phone : 0333 777 4618
Woking Town Centre Hotel – Eurobet House, Church Street West, Woking, GU21 6HT
Phone : 0333 321 9329
Woking West (A324) Hotel – Bridge Barn Lane, Horsell, Woking, GU21 6NL
Phone : 0333 321 9187
Addlestone Hotel – Station Road, Addlestone, Surrey, KT15 2AH
Phone : 0333 234 6439
Sunbury (Kempton Park) Hotel – 68 Staines Road West, Sunbury Cross, TW16 7AT
Phone : 0333 321 9057
Staines-upon-Thames Hotel – 90-106 High Street, Staines Upon Thames, London TW18 4DP
Phone : 0330 135 9034
Bagshot Hotel – 1 London Road, Bagshot, Surrey, GU19 5HR
Phone : 0333 777 3675
Camberley Hotel – 10 Park Street, Camberley, Surrey, GU15 3PL
Phone : 0333 321 9246
Farnham Hotel – Guildford Road, Farnham, Surrey, GU9 9QJ
Phone : 0333 234 6490
Premier Inns Sussex with interconnecting rooms
Burgess Hill Hotel – Charles Avenue, Burgess Hill, West Sussex, RH15 9AL
Phone : 0333 777 3967
Littlehampton Hotel – Roundstone Lane, East Preston, Littlehampton, BN16 1EB
Phone : 0333 321 1095
London Gatwick Airport (Manor Royal) Hotel – Fleming Way, Crawley Business Quarter, Crawley, RH10 9DF
Phone : 0333 321 9209
Horsham North (Horsham Station) Hotel – 57 North Street, Horsham, West Sussex, RH12 1RB
Phone : 0333 003 1726
London Gatwick Airport (North Terminal) Hotel – Northway, Gatwick North Terminal, West Sussex, RH6 0GQ
Phone : 0333 321 9265
Eastbourne (Polegate) Hotel – Hailsham Road, Polegate, Eastbourne, BN26 6QL
Phone : 0333 777 4677
Eastbourne Town Centre Hotel – Terminus Road, Eastbourne, East Sussex, BN21 3DF
Phone : 0333 321 9323
Hastings Hotel – 1 John Macadam Way, Hastings, East Sussex, TN37 7DB
Phone : 0333 003 1697
Premier Inns Tyne & Wear with interconnecting rooms
Newcastle City Centre (The Gate) Hotel – 95 Newgate Street, Newcastle, Tyne And Wear, NE1 5RF
Phone : 0333 234 6442
Newcastle (Holystone) Hotel – Edmund Road, Holystone, Tyne And Wear, NE27 0UN
Phone : 0333 321 1338
Newcastle City Centre (New Bridge Street) Hotel – Newbridge Street, Newcastle Upon Tyne, NE1 8BS
Phone : 0871 527 8802
Newcastle (Washington) Hotel – Emerson Road, Washington, Tyne & Wear, NE37 1LE
Phone : 0333 321 9132
Newcastle Gosforth/Cramlington Hotel – Moor Farm Roundabout, Off Front Street, Moorfarm Industrial Estate, NE23 7QA
Phone : 0333 321 1337
Newcastle Airport (South) Hotel – Callerton Lane Ends, Woolsington, Newcastle Upon Tyne, NE13 8DF
Phone : 0333 321 1343
Sunderland City Centre Hotel – 1-3 Hind Street, Sunderland, Tyne & Wear, SR1 3QD
Phone : 0333 003 7893
Whitley Bay Hotel – 9 Spanish City Plaza, Whitley Bay, Tyne & Wear, NE26 1BG
Phone : 0333 234 6570
Premier Inns Warwickshire with interconnecting rooms
Warwick Hotel – Opus 40, Haywood Road, Warwick, CV34 5AH
Phone : 0333 321 9245
Leamington Spa Town Centre Hotel – 154-156 Parade, Leamington Spa, CV32 4BQ
Phone : 0333 321 9281
Coventry City Centre (Earlsdon Park) Hotel – Earlsdon Park , 53 Butts Road, Coventry, CV1 3BH
Phone : 0333 321 9244
Stratford Upon Avon Central Hotel – Payton Street, Stratford Upon Avon, Warwickshire, CV37 6UQ
Phone : 0333 321 9223
Stratford Upon Avon Waterways Hotel – The Waterways, Birmingham Road, Stratford Upon Avon, CV37 0AZ
Phone : 0333 321 9243
Rugby North (Newbold) Hotel – Brownsover Road, Rugby, Warwickshire, CV21 1HL
Phone : 0333 321 8457
Rugby North (M6 Jct1) Hotel – Central Park Drive, Central Park, Rugby, CV23 0WE
Phone : 0333 321 8456
Nuneaton/Coventry Hotel – Coventry Road, Nuneaton, Warwickshire, CV10 7PJ
Phone : 0333 321 1379
Premier Inns West Midlands with interconnecting rooms
Birmingham City – Aston Hotel – Richard Street, Aston, Waterlinks, B7 4AA
Phone : 0333 777 3907
Birmingham City Centre Bridge Street Hotel – 20 Bridge Street, Birmingham, West Midlands, B1 2JR
Phone : 0333 777 3906
Birmingham City Centre (Waterloo Street) Hotel – 3-6 Waterloo Street, Birmingham, B2 5PG
Phone : 0333 777 3903
Birmingham City Centre Broad Street Hotel – Essington Street, Birmingham, West Midlands, B16 8AL
Phone : 0333 777 3904
Birmingham Central (Hagley Road) Hotel – 176 – 184 Hagley Road, Birmingham, B16 9NY
Phone : 0333 777 3908
Birmingham City Centre (New St Station) Hotel – Birmingham Exchange Buildings, Stephenson Place, Birmingham, B2 4NH
Phone : 0333 321 9318
Birmingham (Great Barr/M6 J7) Hotel – 222 Birmingham Road, Great Barr, Birmingham, B43 7AG
Phone : 0333 777 3902
Birmingham South (Hall Green) Hotel – Stratford Road, Hall Green, Birmingham, B28 9ES
Phone : 0333 777 3914
West Bromwich Hotel – New Gas Street, West Bromwich, West Midlands, B70 0NP
Phone : 0333 321 9138
Solihull Town Centre Hotel – 68 Station Road, Solihull, B91 3RX
Phone : 0333 321 9272
Birmingham NEC/Airport Hotel – Bickenhill Parkway, Birmingham, West Midlands, B40 1QA
Phone : 0333 777 3911
Solihull South (M42) Hotel – Stratford Road, Solihull, Shirley, B90 4EP
Phone : 0871 527 8986
Birmingham South (Longbridge Station) Hotel – 1 High Street, Longbridge, Birmingham, B31 2UQ
Phone : 0333 321 9313
Walsall Town Centre Hotel – Waterfront, Wolverhampton Street, Walsall, WS2 8LR
Phone : 0333 321 9277
Walsall (M6, J10) Hotel – Bentley Green, Bentley Road North, Bentley, WS2 0WB
Phone : 0333 321 9109
Balsall Common (Near Nec) Hotel – 112 Kenilworth Road, Balsall Common, Berkswell Near Coventry, CV7 7EX
Phone : 0333 777 3676
Stourbridge Town Centre Hotel – Birmingham Street, Stourbridge, West Midlands, DY8 1JR
Phone : 0333 321 9341
Dudley (Kingswinford) Hotel – Dudley Road, Kingswinford, Dudley, DY6 8WT
Phone : 0333 777 4653
Dudley Town Centre Hotel – Castlegate Business Park, Castlegate Way, Dudley, DY1 4RJ
Phone : 0333 321 9306
Coventry City Centre (Belgrade Plaza) Hotel – Belgrade Plaza, Bond Street, Coventry, CV1 4AH
Phone : 0333 777 4629
Coventry City Centre (Earlsdon Park) Hotel – Earlsdon Park , 53 Butts Road, Coventry, CV1 3BH
Phone : 0333 321 9244
Coventry East (Binley/A46) Hotel – Rugby Road, Binley Woods, Coventry, CV3 2TA
Phone : 0333 777 4627
Coventry East (M6,Jct2) Hotel – Gielgud Way, Cross Point Business Park, Coventry, CV2 2SZ
Phone : 0333 777 4626
Coventry South (A45) Hotel – Kenpas Highway, Coventry, CV3 6PB
Phone : 0333 777 4628
West Bromwich Town Centre (New Square) Hotel – Congregation Way, West Bromwich, West Midlands, B70 7PU
Phone : 0330 135 9032
Premier Inns West Sussex with interconnecting rooms
Burgess Hill Hotel – Charles Avenue, Burgess Hill, West Sussex, RH15 9AL
Phone : 0333 777 3967
London Gatwick Airport (Manor Royal) Hotel – Fleming Way, Crawley Business Quarter, Crawley, RH10 9DF
Phone : 0333 321 9209
Horsham North (Horsham Station) Hotel – 57 North Street, Horsham, West Sussex, RH12 1RB
Phone : 0333 003 1726
London Gatwick Airport (North Terminal) Hotel – Northway, Gatwick North Terminal, West Sussex, RH6 0GQ
Phone : 0333 321 9265
Littlehampton Hotel – Roundstone Lane, East Preston, Littlehampton, BN16 1EB
Phone : 0333 321 1095
Eastbourne (Polegate) Hotel – Hailsham Road, Polegate, Eastbourne, BN26 6QL
Phone : 0333 777 4677
Worthing Seafront Hotel – 127 Marine Parade, Worthing, West Sussex, BN11 3FN
Phone : 0333 321 9369
Premier Inns West Yorkshire with interconnecting rooms
Leeds City Centre (Whitehall Road) Hotel – 1 Whitehall Riverside, Lower Wortley, Leeds, LS1 4EQ
Phone : 0333 234 6551
Bradford Central Hotel – Vicar Lane, Bradford, BD1 5LD
Phone : 0333 321 9237
Bradford South Hotel – Dyehouse Drive, Whitehall Road, Cleckheaton, BD19 6HG
Phone : 0333 777 3938
Leeds / Bradford Airport Hotel – Victoria Avenue, Yeadon, Nr Leeds, LS19 7AW
Phone : 0333 003 1754
Leeds Headingley Hotel – Headingley, Arndale Centre, Leeds, LS6 2UE
Phone : 0333 234 6488
Halifax Town Centre Hotel – Broad Street Plaza, Halifax, West Yorkshire, HX1 1YA
Phone : 0333 321 9262
Bradford North (Bingley) Hotel – 502 Bradford Road, Sandbeds, Keighley, BD20 5NG
Phone : 0333 777 3937
Leeds City Centre (Leeds Arena) Hotel – Hepworth Point, Clay Pit Lane, Leeds, LS2 8BQ
Phone : 0333 321 9266
Huddersfield Central Hotel – St Andrews Road, Huddersfield, West Yorkshire, HD1 6SB
Phone : 0333 003 1727
Wakefield South (M1, Jct39) Hotel – Calder Park, Denby Dale Road, Wakefield, WF4 3BB
Phone : 0333 321 9108
Premier Inns Wiltshire with interconnecting rooms
Trowbridge Hotel – St Stephens Place, Trowbridge, BA14 8AH
Phone : 0333 321 9319
Chippenham Hotel – Cepen Park, West Cepen Way, Chippenham, SN14 6UZ
Phone : 0333 777 4613
Salisbury North Bishopdown Hotel – Pearce Way, Bishopdown, Salisbury, SP1 3GU
Phone : 0333 321 8461
Salisbury South Milford Hotel – New Petersfinger Road, Salisbury, Wiltshire, SP1 2FF
Phone : 0330 135 9042
Premier Inns Worcestershire with interconnecting rooms
Kidderminster Hotel – Slingfield Mill, Weavers Wharf, Kidderminster, DY10 1AA
Phone : 0333 321 9263
Redditch North (A441) Hotel – Bordesley Lane, Alvechurch Highway, Redditch, B97 6AQ
Phone : 0333 321 9276
Malvern Hotel – Townsend Way, Malvern, WR14 1GD
Phone : 0333 321 9297
Worcester City Centre Hotel – County Ground, New Road, Worcester, WR2 4RL
Phone : 0333 321 9327