Who would have thought in the mid nineties, that the failed Euro Disney park would bounce back and become a multi park resort with 8 Disney hotels and 8 partner hotels over the next 27 years?  Now Disneyland Paris is a celebrated international destination and a prized piece of the Disney Brand.  Disneyland Paris borrowed so much inspiration from the parks and hotels that came before it.
Now, it is fueling new developments as the wheel of imagineering comes full circle. This Disneyland Paris vacation guide will help you sort out the more unique aspects to look for at Disneyland Paris.
As you plan out the number of days of your Disneyland Paris vacation, consider the size. There are two theme parks in the resort and several hotels. Depending on where you are from and what you are in France for, a visit to Disneyland Paris can comfortably range from 1-4 days.
That is because the intricacies of Disneyland Park are worth exploring extra days.  Walt Disney Studios is a much Smaller park, but combined with other resort experiences such as the Disney Village, it is definitely worth taking a day for.  This Disneyland Paris vacation guide will address some of those details and help you discover the dining and  hotels that will make your stay more magical.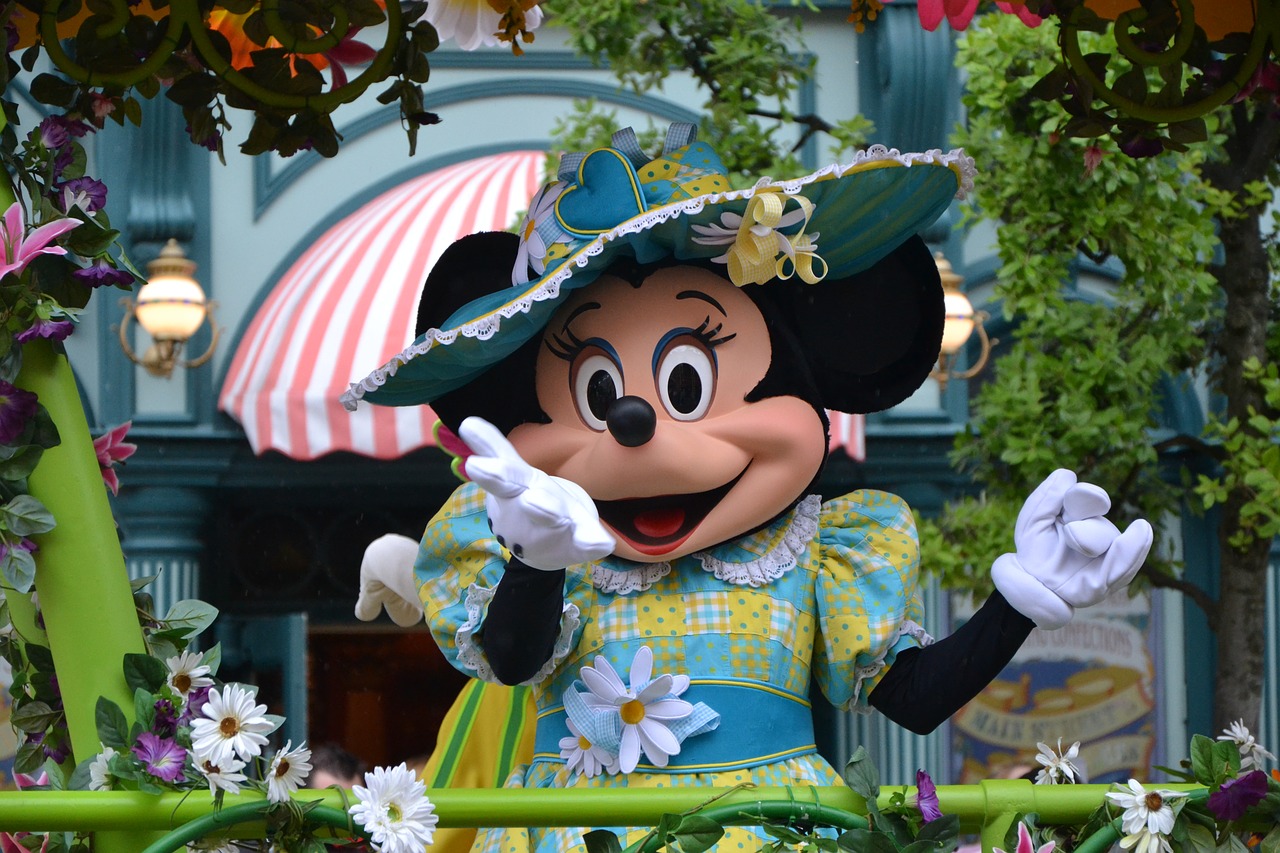 The Disneyland Paris Vacation Arrangement
Disneyland Paris, in some ways is a better reflection of the original Disneyland than the preceding parks in Disney World and Tokyo. The scale and layout are eerily similar, which makes the differences sort of unsettling in the sense that they invite a sense of mystery and wonder even if you have visited the US parks hundreds of times before.
The first big difference is the distinct style of Sleeping Beauty Castle. Pushed to create a more magical display, imagineers used real life and fictional inspiration to design an enchanted castle that would inspire residents in a country full of castles.
The soaring Tourettes and ornate design steels your attention and you almost never notice that there is not Matterhorn Mountain. These two giveaways are necessary, because Main Street USA and Fantasyland have such striking similarities to the original Disneyland.
However, another key difference that separates Disneyland Paris from other Disneyland parks around the world is the amount of snowfall.
Most Disney Parks get trivial amounts of snow in winter, if any. While the snowfall is not heavy, when it does occur it dusts the Disneyland landscape in a pretty white sparkly film that adds to the mystery and magic of the park.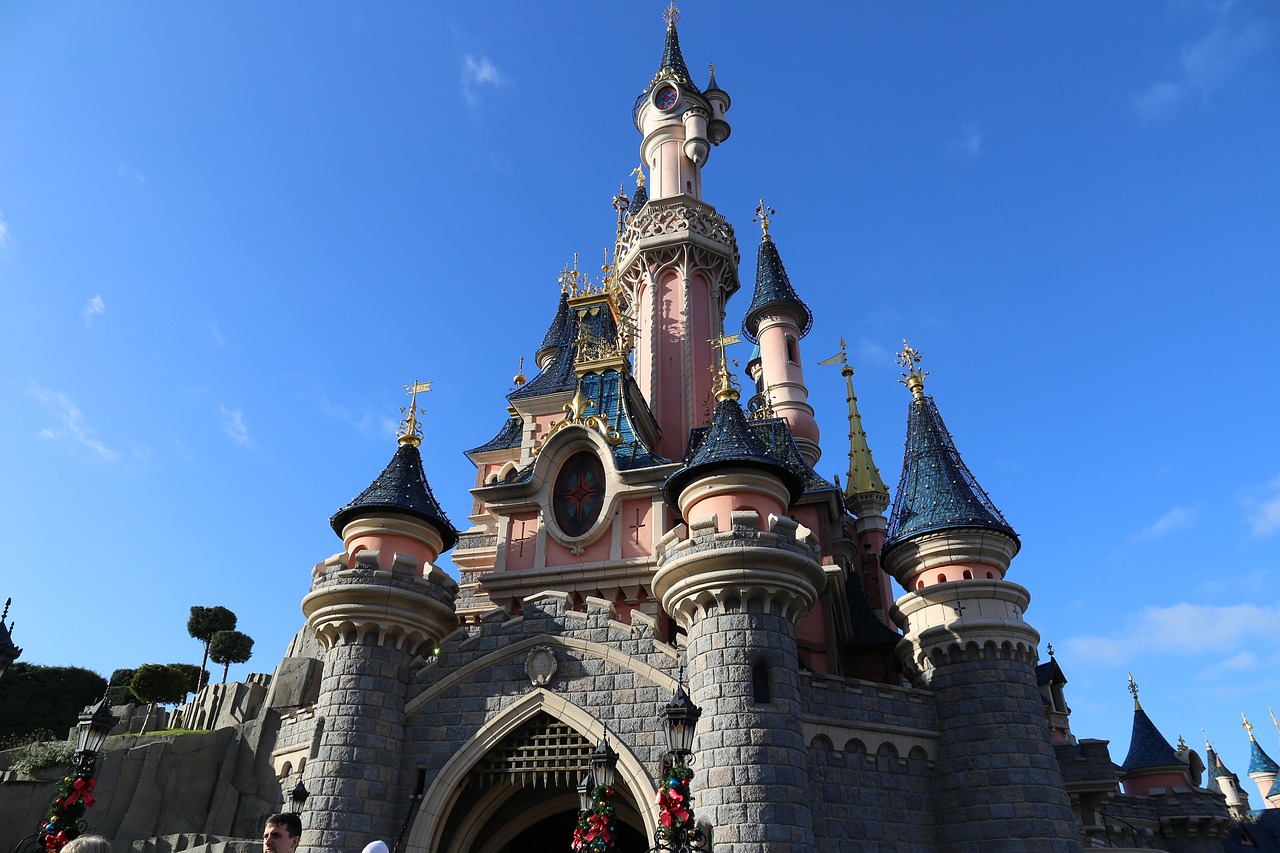 The Castle
Sleeping Beauty Castle is a much more conceptualized storybook style structure, which sets it apart from the real castles in the region. It rests on a hill that slopes artfully off to the left side. Within a cave below the castle, you can encounter a very large animatronic dragon, which is quite impressive. Up above is a walkthrough attraction, showcasing the beauty of the castle as it tells the story of Sleeping Beauty using elegant stained glass windows.
After you enter Disneyland Paris through Main Street USA and make your way toward the castle you come to Disney's traditional hub and spokes, which is a location before the castle that is surrounded by gateways to different lands. In Paris these lands are arranged– moving clockwise– Frontierland, Adventureland, Fantasyland, and Discoveryland.
A New Frontier
Frontierland and Adventureland have swapped places so the the first gate you come to leads to the old American west. Because different parks have to find new ways to showcase classic attractions, The Haunted Mansion is found here in the form of Phantom Manor.
It has a different back story than the other Haunted Mansions and is considerably darker, but the story very uniquely ties in with the rest of the area including Big Thunder Mountain Railroad, which is an upgrade to any of the other versions of the ride. Frontierland leads you across a walk through fort and encircles an island where the stacked peaks of Big Thunder tower over the area.
A Big Adventure
Adventureland is huge and full of interactive fun. There is also a massive island here where you can play and explore. The areas surrounding the river evoke uniquely Disney settings with African and Indian influence as well as dense maze like jungle.
Indiana Jones and the Temple of Peril is the prize at the back of Adventureland, and the must ride Pirates of the Caribbean is an exciting variation on the classic on the border of Fantasyland.
New Fantasyland
As Adventureland Transitions to Fantasyland you go from Pirates of the Caribbean to Pirates of Neverland in a smooth segue that introduces Peter Pan's Flight, another Disney classic. Then there is Dumbo, the whirling centerpiece of Fantasyland, flanked by the Mad Tea Party in a larger Alice and Wonderland themed area, and Lancelot's Carousel next to the Snow White and Pinocchio dark rides.
On the left, just past Peter Pan's Flight is a housed character location and when you continue passed the Alice in Wonderland theme you will find Casey Junior, The Storybook Canal and It's a Small World. The way I feel about the Fantasyland at Disneyland Paris is that it is beautiful, imaginative and historic.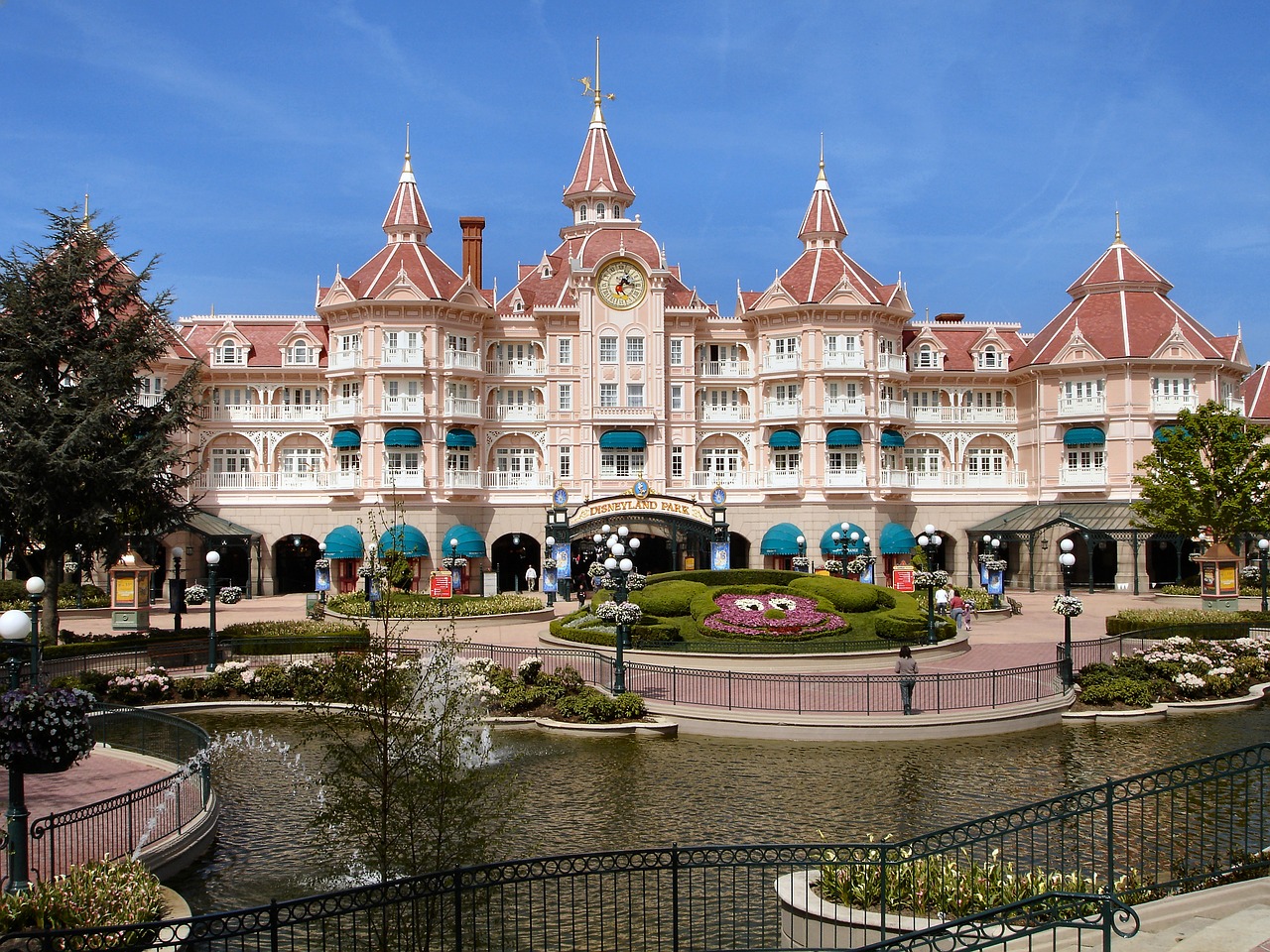 The Tomorrowland Problem
Disney has always had a land that looks to the future and it has always struggled to keep that depiction relevant. In Paris, Imagineers brilliantly sidestepped the issue and created a future fixed in time.
The fictional future inspired by science fiction author Jules Verne is called Discoveryland. Since the attractions are based on classic literature they never need to be updated or reimagined. Having said that– Hyperspace Mountain.
Star Wars has taken one Mission 2, the Space mountain inspired by Jules Verne's From the Earth to the Moon. Star Tours brings George Lucas to Discoveryland as well.
Space Mountain is usually tucked out of the way, so it's very interesting that in Paris it becomes the centerpiece of Discoveryland. Surrounding it are Star Tours, Mickey's Philharmagic (3D Animated Musical), the Nautilus walkthrough, The Autopia, Buzz Lightyear Laser Blast, and The Orbitron (Dumbo with rockets).
Closures
At the time of writing this post, the following attractions are temporarily closed. Make sure to check the current schedule as you plan your trip. Some of these, you will not want to miss:
Disneyland Railroad
Autopia
Casey Junior
Storybook Land Canal
Aladdin walkthrough
Pocahontas Indian Village
Phantom Manor
Dining at Disneyland Paris
Dining at Disneyland Paris is very immersive and well themed. There are plenty of buffets, and terrific quick service options available, prefect for lunch or dinner, with various Meal Plans available. Whatever your tastes are there is something terrific in store for you on your Disneyland Paris vacation.
On Main Street, there is a good restaurant for Walt Disney historians called Walt's but it is currently closed, so be on the lookout for that. Toad Hall, the local for the original Disneyland's Mr. Toad's Wild Ride, is reinvented at Disneyland Paris as a quick service restaurant.
Other places I recommend are the Silver Spur Steakhouse in Frontierland and Fuente Del Oro and Agrabah Cafe. Last, of course, there is the princess character dining at the castle, which is a magical family experience if you have younger kids, I can definitely recommend the Disneyland Paris Snacks too
Disneyland Paris Overnight
Disneyland Paris vacation tends to lead to a stay at Disneyland Paris hotels. There are 8 total, but three are currently the closest. Disneyland Hotel resembles a Victorian mansion, The Newport Bay club has a nautical Yacht Club feel; And the Sequoia Lodge evokes the qualities of a grand lodge in the wilderness. Disney's Hotel New York is under renovation as Disney incorporates it with the art of Marvel.
Santa Fe Springs and Hotel Cheyenne are also nearby. They are a little farther off but more budget friendly as well. Santa Fe has the feeling of the Pixar movie Cars. The western themed Hotel Cheyenne features Woody from Toy Story. The Davy Crockett Ranch is within 10 minutes drive of the park, but there are no shuttle services, so you do require transport.
If you are looking for something a little different, why not have an apartment at Adagio Marne-la-Vallée Val d'Europe, 10 minutes by free shuttle to the Parks, or maybe the Grand boulevard style hotel Hôtel l'Elysée Val d'Europe , close to the shopping mall and a few minutes from the parks via shuttle.
The Kyriad Hotel is just a few short minutes via shuttle from the parks but gives you the feel of the French countryside.
Our next Disney adventure will probably take place at Algonquin's Explorers Hotel this pirate themed hotel has rooms that can accommodate up to ten people, perfect for larger families, if you are a golfing fan how about the Radisson Blu Hotel, situated on 27 Hole Golf Disneyland.
If your children are fans of the circus, check out Vienna House Magic Circus Hotel, and finally for all the little prince and princesses that would love to live in a castle, but slightly further away from the parks, still with a free shuttle bus, the Vienna House Magic Circus Hotel, there really is a place to stay for every budget and taste.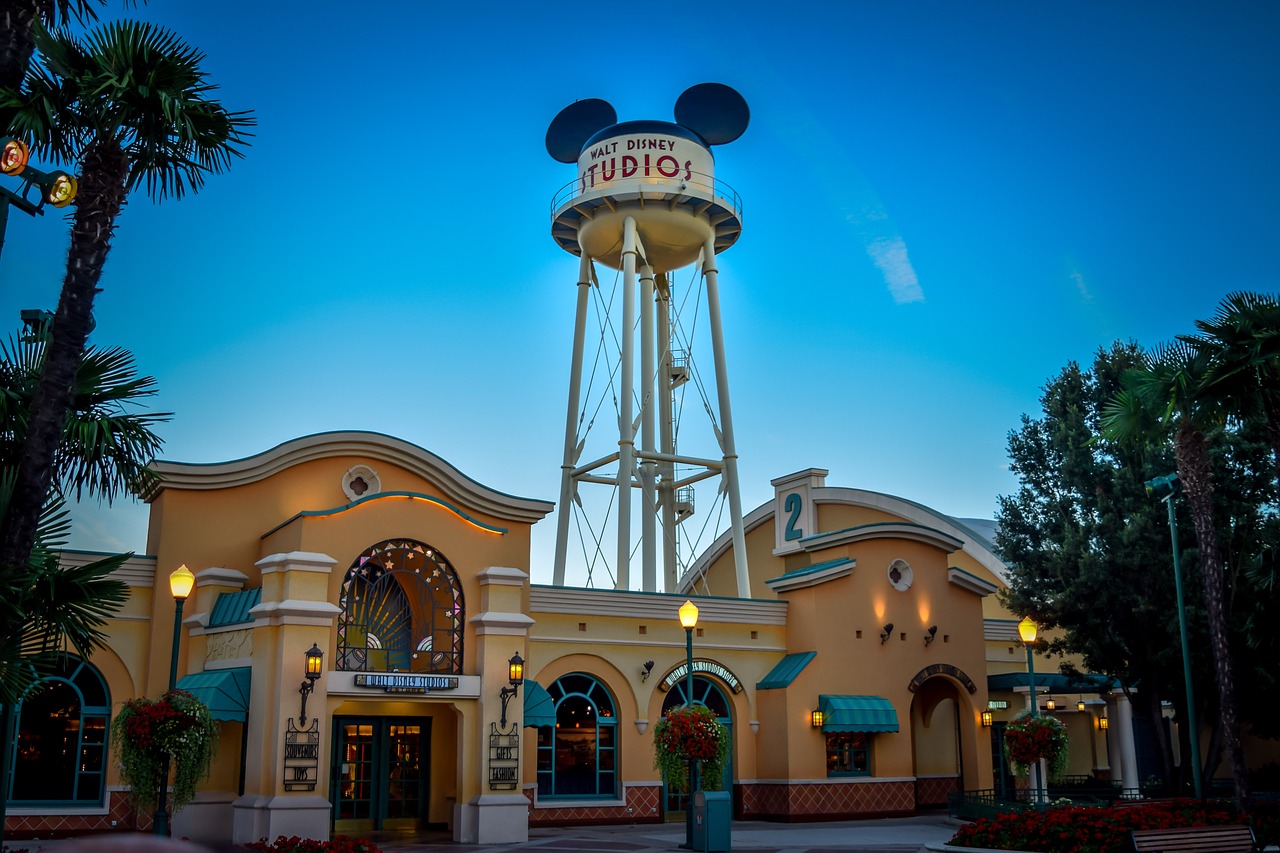 Walt Disney Studios
Walt Disney Studios just got a little bit smaller. It's not a large park to begin with. However, they have done away with the tram tour and have big plans for an expansion. The studio theming is fun, especially for those inspired to work in the film industry. Although the park is small, you should not miss it.
Walt Disney Studios is where you can visit Toy Story Land and ride Ratatouille. It's also where you experience Aerosmith's Rockin' Roller Coaster, Armageddon, and Tower of Terror.
The park will begin to roll out its 2.5 billion dollar expansion starting in 2021. Then, we will begin to see new Marvel attractions as well as new lands dedicated to Marvel, Star Wars, and Arendelle.
If you are planning a trip to Disneyland Paris and want to ensure you do not miss out on anything, check out Big Family Little Adventure's Ride Checklists For Walt Disney Studios and Disneyland Park.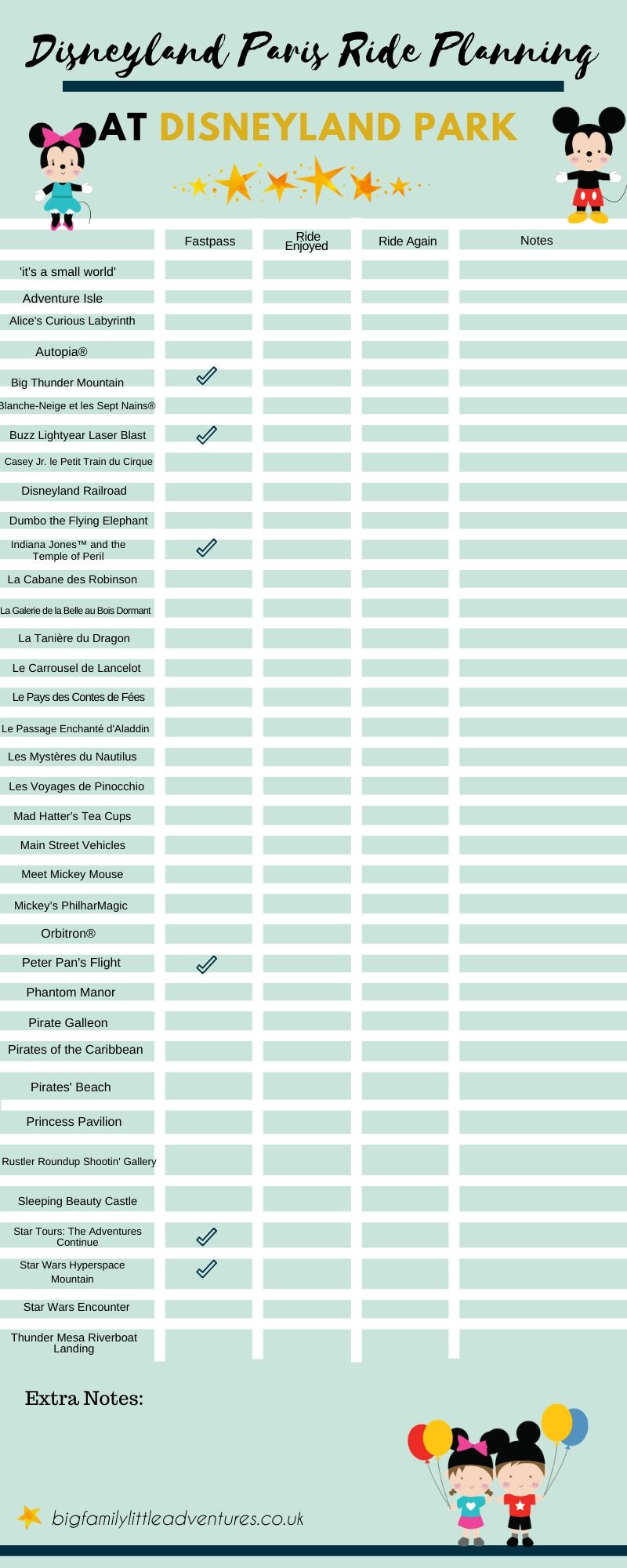 Download Your very own copy of the Disneyland Park Ride Planning Checklist here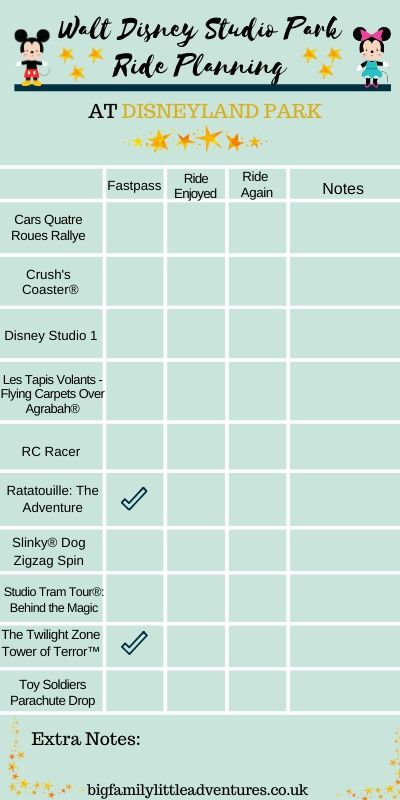 Download Your very own copy of Walt Disney Studios Ride Planning Checklist here