Last night I took Viggo (8), Eowyn (12) and Neva (18) to watch Bedknobs and Broomsticks Tour at The Norwich Theatre Royal. It was the first time that Viggo had been to that particular theatre and he was very impressed with the circle and how many seats there were!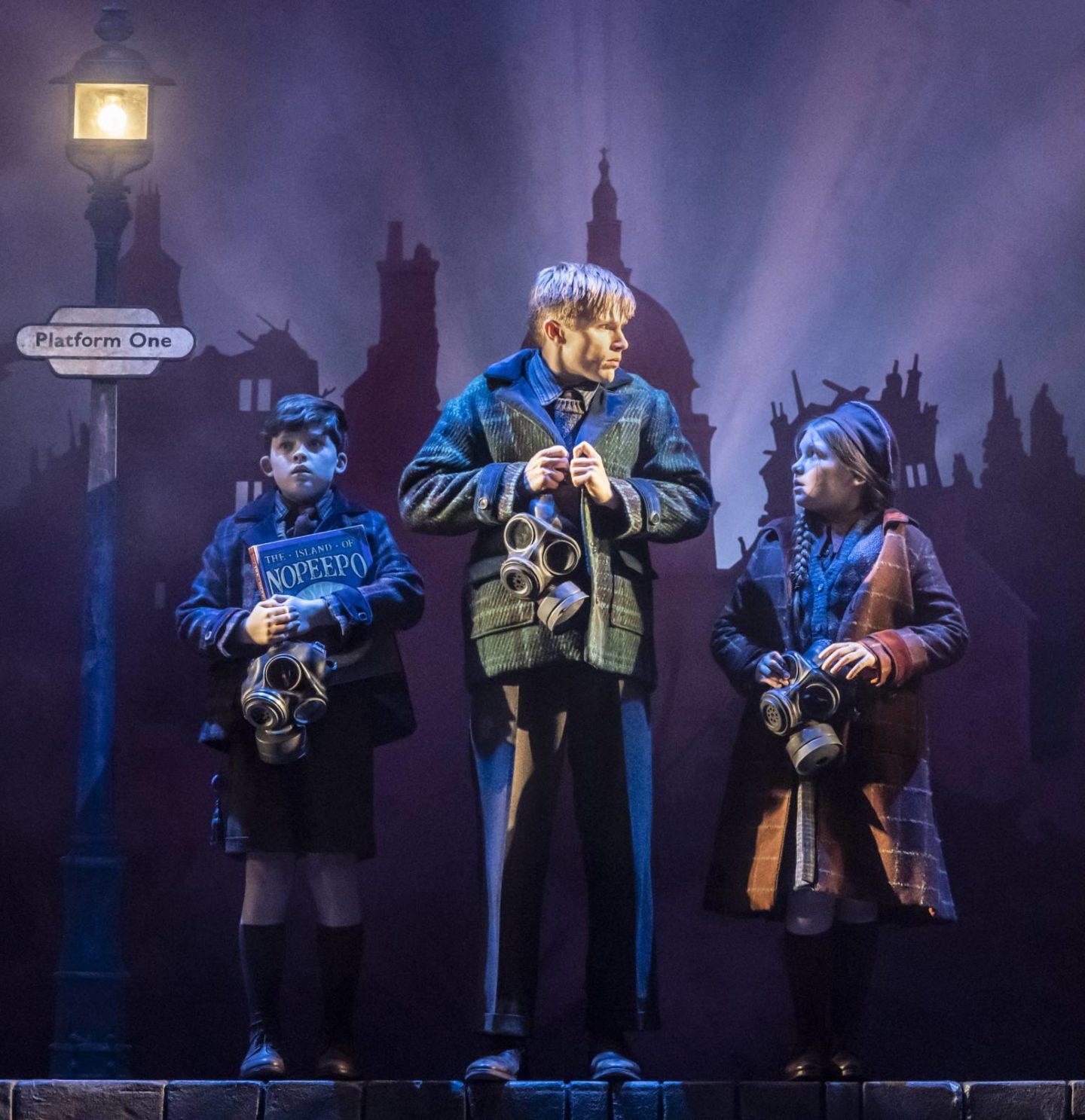 Returning To Norwich Theatre Royal
Last week was the first time we had been to the theatre since the pandemic started, seems such a long time ago, and Six had been postponed twice, I was slightly apprehensive about returning, especially with a sell out show, but I needn't have worried.
On arrival there are notices advising you how to keep you safe including hand sanitiser on the way in and you are advised to wear masks when moving around the building, which most people seemed to continue to do, socially distancing was still evident, and even when queuing for the merchandise just inside the front door there was enough space for everyone to move around without feeling crowded.
Although there is no social distancing within the actual theatre seating area, the seats are pretty spacious and you never feel as if you're on top of the people sitting next to you
Bedknobs and Broomsticks Magical Musical Tour
Both Eowyn and Viggo had not watched the Bedknobs and Broomsticks movie, so had no idea what to expect, Neva and I had seen it but were both intrigued how the stage version would be able to emulate the iconic flying bed, a witch on a broomstick and a talking lion, and we were not disappointed!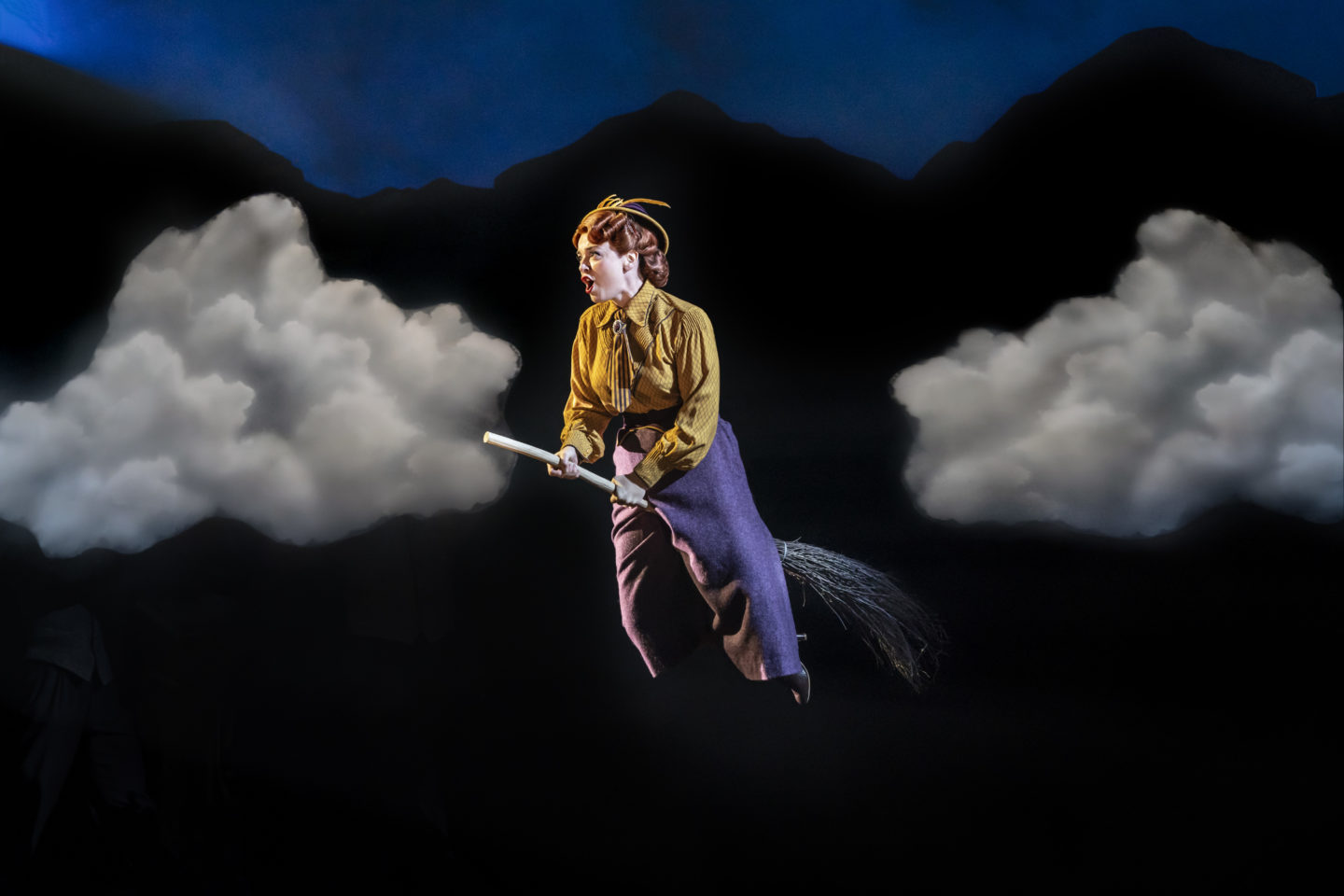 What Can You Expect at Bedknobs and Broomsticks Tour ?
The website says "Enter a world of magic and fantasy as Disney's classic movie Bedknobs and Broomsticks makes its world premiere as an exciting new musical. With the original songs by the legendary Sherman Brothers (Mary Poppins, The Jungle Book, Chitty Chitty Bang Bang), including Portobello Road, The Age Of Not Believing, The Beautiful Briny and new music and lyrics by Neil Bartram and book by Brian Hill, Bedknobs and Broomsticks will be brought to life by award-winning theatre-makers Candice Edmunds and Jamie Harrison.
When the three orphaned Rawlins children are reluctantly evacuated from wartime London to live with the mysterious Eglantine Price (Dianne Pilkington), they have no idea what adventures lie ahead. Upon discovering Eglantine to be a trainee witch, they join forces to search for a secret spell that will defeat the enemy once and for all. Armed with an enchanted bedknob, a bewitched broomstick and a magical flying bed, they encounter surprising new friendships on their journey from Portobello Road to the depths of the beautiful briny sea."
What Did We Think Of Bedknobs and Broomsticks ?
I actually preferred the stage version to the original movie, you felt like you were there in the moment with the people on stage and i've still yet to figure out how they made the things fly!!!
The show begins with the three children in their bedroom getting ready for bed, a pillow fight, an older child trying to get some peace and their parents telling them to get into bed, is quickly destroyed by the loud bangs, the destruction of their home, and the three children's journey to the countryside after being evacuated, it was non stop action from the word go, Viggo sat there entranced (which is always a good sign at the start of watching something!)
They are then introduced to Miss Eglantine Price (Dianne Pilkington) and their journey together begins!
Your first encounter of flying objects is when Miss Price receives her broomstick in the post, and she tries it out for the first time, this had many younger members of the audience laughing out loud as she tried to master it, and many puzzled adults trying to see if they could see secret wires or what trickery was being used!
The children discover she is a witch and together they begin the quest of trying to locate the Substitutiary Locomotion spell, which leads them first to London to find Professor Emelius Browne (Charles Brunton), then onto Portobello Road to find the missing half of the spell book.
This is definitely one of my favourite parts of the show, I loved all the dancing and the different characters that they meet, Eowyn's favourite part was their encounter with the book seller and the trade they make for the missing half of the book.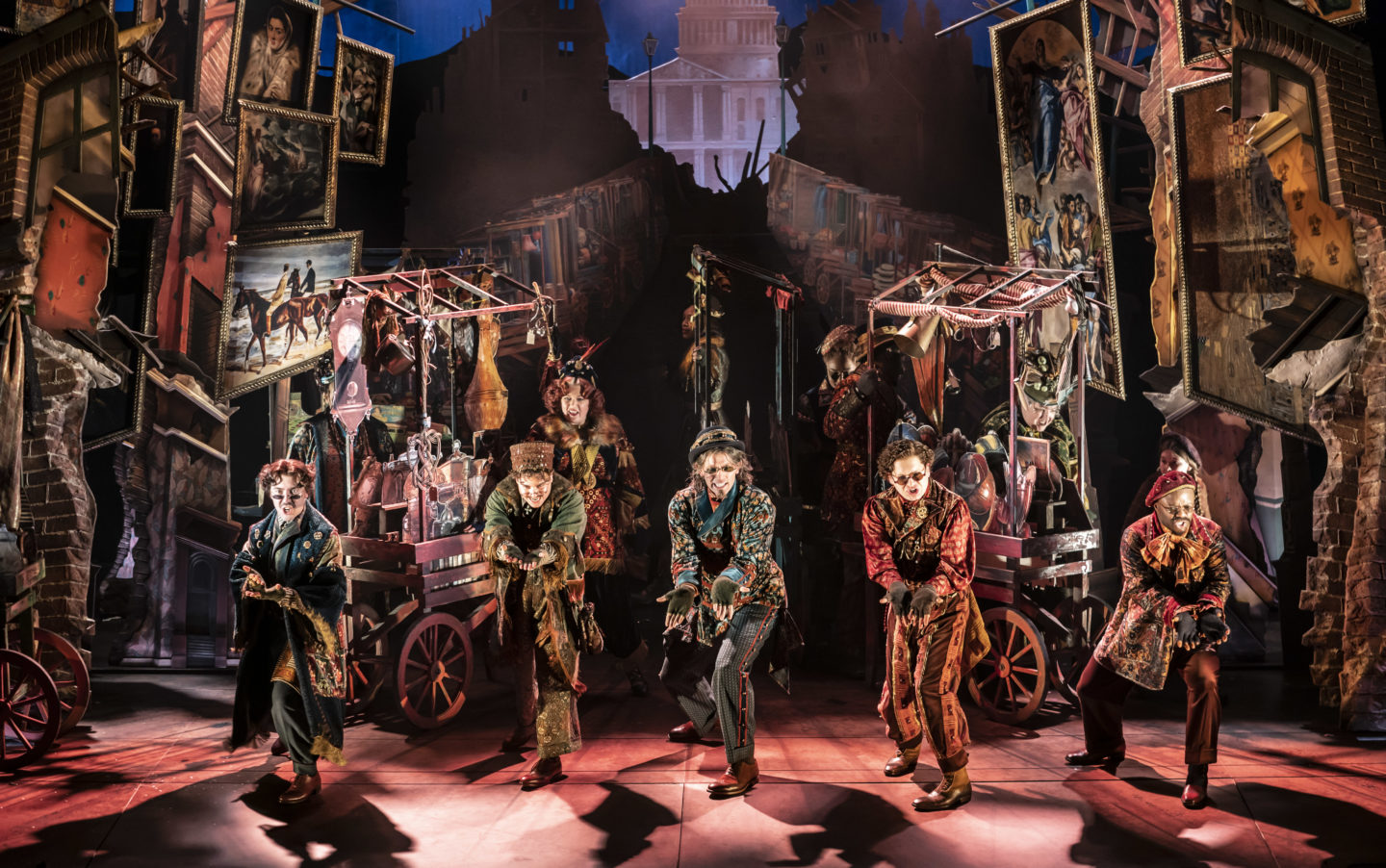 In the musical they are transported to the land of NoPeepo in search of the star of Astaroth, (not Naboombu) which sees them travel underwater and take part in a dance contest Bobbing Along in The Beautiful Briny, the puppetry was excellent and the facial expressions of the large fish had many of the younger audience members giggling away.
The Lion, Bear and the secretary bird (who was much more fancy than the film!) puppets were excellent and the way it was executed, it had you there with them at the bottom of the Sea!
But of course the most iconic part of the entire show is the flying bed, and if i'm completely honest I thought they would just leave it on the floor and make believe, I wasn't quite expecting them to 'take off' on each part of their adventure, and fly through doors and windows (how did they do that!), it truly was a brilliant piece of theatre, and then you move onto the moving objects………
I have given you a brief overview of this brilliant musical, but I don't want to say much more as it will ruin it for you, so I would recommend anyone considering buying tickets to do so!
The recommended age is 5+ and I agree although there were a couple of younger audience members, but it lasts 2 hours 35 minutes including the interval, so quite a long time for a small one to sit there, but the story had you captivated, so they may be ok.
It does contain finger lights (similar to strobe lighting), but that just adds to the magic!
Bedknobs and Broomsticks Tour is in Norwich until 3rd October, but if you are not local it is touring the country until May 2022, so plenty of time to find a theatre near you, head over to the Bedknobs On Stage to book your tickets.
There are so many great shows appearing in Norwich over the next couple of months, I mentioned that we went to see Six last week, you can read our original review when it first debuted at Norwich Playhouse in July 2018 HERE
The same company that produced Six are back with a brand new show, that we have just booked called Fantastically Great Women Who Changed The World which sounds like another great hit, all the children adore The Play That Goes Wrong, so we have booked mischief theatres Groan Ups and Magic Goes Wrong
I invested in a friend of the Norwich theatre pass, which means I was able to book the Magic Goes Wrong Tickets earlier than public release and being a friend of the theatre you can book opening night tickets for half price, so the cost of my personal friend of Norwich Theatre is £35.50 for the year, it has already paid for itself as I saved over £90 on one shows tickets. If you are a regular Norwich Theatre Royal attendee, its definitely worth investing in, you can find more info about the Friends of Norwich Theatre Royal HERE
Our Waitress Tickets are now postponed until August 2022, which leaves plenty of time to book in some more great shows.