Golf courses have had a poor reputation over the years. Wasting water, polluting the environment, damaging wildlife and taking up unnecessary space are common criticisms levelled at the arrangement. Not to mention this all taking place within what some see as an elitist club, known for exclusionary, outdated rules and behaviour, for example banning female membership.
However, there is an extremely positive side to golf courses and clubs, which has been brought into keen focus during the lockdowns enforced as a result of the coronavirus pandemic, when golf playing numbers soared.
Golf courses provide a great way to get outside, into the sun and the fresh air while exercising, which can be hugely beneficial for our physical and, perhaps more importantly during these times, mental health.
Managed correctly, a sustainable golf course can protect the local, natural heritage, helping wildlife to thrive, while serving as a miniature nature reserve.
Certain golf courses have led the way in their approach to sustainability and the environment, and golfing equipment and clothing producers are also playing their part to help ensure that the golfing industry and the environment can in fact develop side by side and live in relative harmony with one another.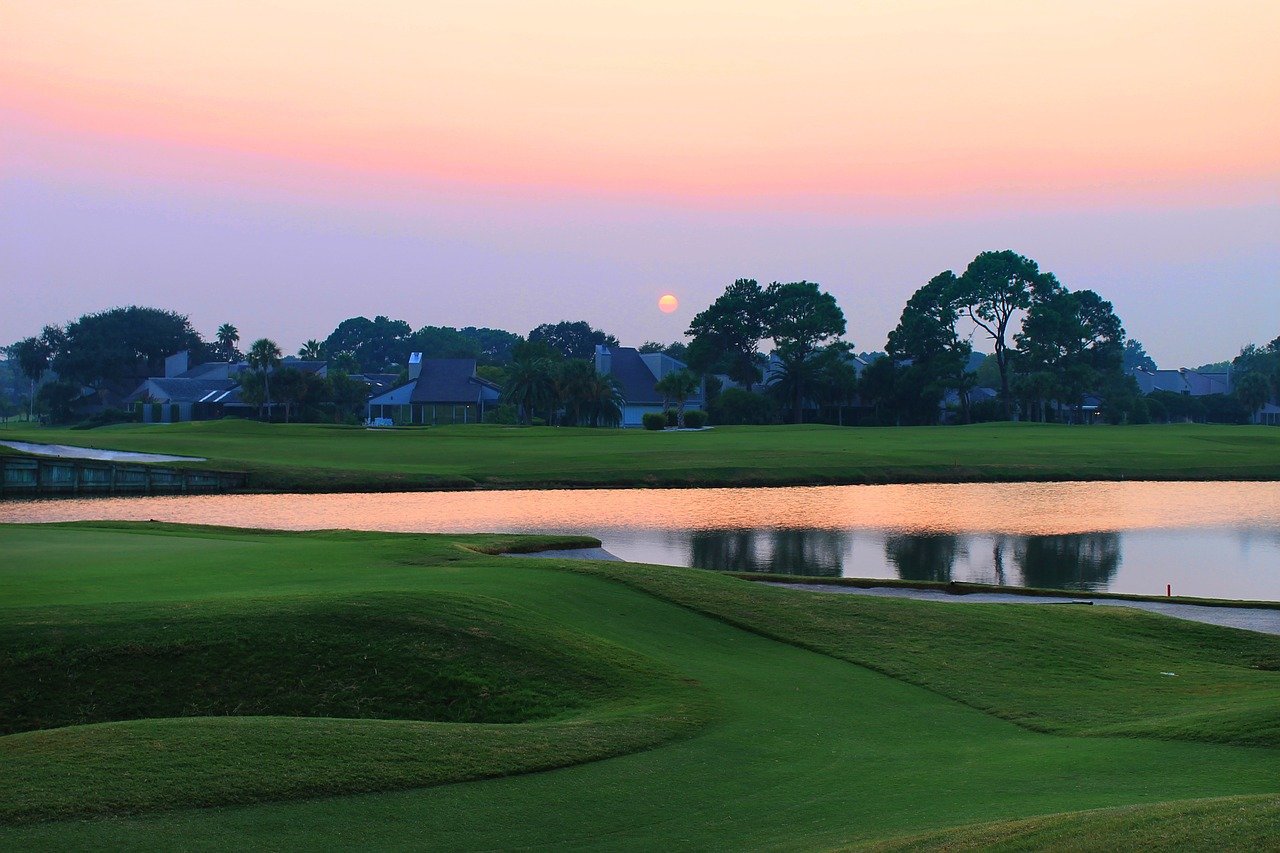 Collision Golf Course?
Teeing off with the potential negative impacts of a golf course, its detractors will point to how golf development is unsustainable to people and the environment.
Environmentalists frequently label golf courses as chemical wastelands with pollution as a result of pesticides and fertilisers used to treat the grass.
The huge quantities of water being used to keep the greens and fairways looking attractive and lush is also a problem not to be ignored.
The Golf Environment Organisation (GEO) Foundation are an international non-profit dedicated entirely to inspiring, supporting, and recognising sustainable golf. They say that global water consumption is doubling every 20 years.
Meanwhile water deficits are increasing, with many communities around the globe having to cope with extended droughts.
It is therefore perhaps understandable that a typical golf course, which uses on average 90 million gallons of water every year, should be under the spotlight.
Environmentalists may also point to the vast quantities of land that is being used for golf course development, with the average golf course requiring around 150 acres. The land use could be alternatively used as wooded areas, farmland, wetlands, animal habitats or something entirely different which is viewed as more environmentally friendly and useful to society as a whole.
In terms of the impact on wildlife, the nature conservation community in general sees golf courses as lacking in substantial wildlife potential because they comprise a large expanse of intensively managed grass.
The Wildlife and Countryside Act 1981 represents the major legal instrument for wildlife protection in Britain and if protected species are present on a golf course, then there are potential implications for the course owners and managers which, in conjunction with certain sites being designated as protected areas, provides a requirement for management to maintain the habitats and species found.
The Benefits of Golfing
Now for the positives. The health benefits of getting out on a golf course are plentiful. Playing golf means spending a lot of time outdoors with fresh air helping anything from digestive health to blood pressure and heart rate.
Golf is also a low impact sport with the option to walk an 18-hole course while carrying a bag, which can be good for circulation and help combat obesity and related health diseases.
Spending time in the sunlight also boosts levels of Vitamin D, which in turn helps to support our immune system. With many golf courses being set in picturesque locations, the experience of being near nature can have great mental health benefits, including reducing anxiety, improving concentration and overall mood.
Many business owners find that outsourcing time consuming work whilst escaping to a game of golf, means they can truly relax.
And golf is such a social sport, and a conversation with a caddy or fellow player all helps with reducing work and life related stress and enjoying the overall experience.
So, with all these health benefits, it is important for a golf course to also be sustainable.
When land is being developed for housing throughout the country, golf courses can provide green breathing spaces among the concrete landscape and use the wide global appeal of golf to raise sustainability awareness.
The R&A (which engages in and supports activities undertaken for the benefit of the sport of golf, deriving its name from the members' golf club) defines golf course sustainability as:
"Optimising the playing quality of the golf course in harmony with the conservation of its natural environment under economically sound and socially responsible management."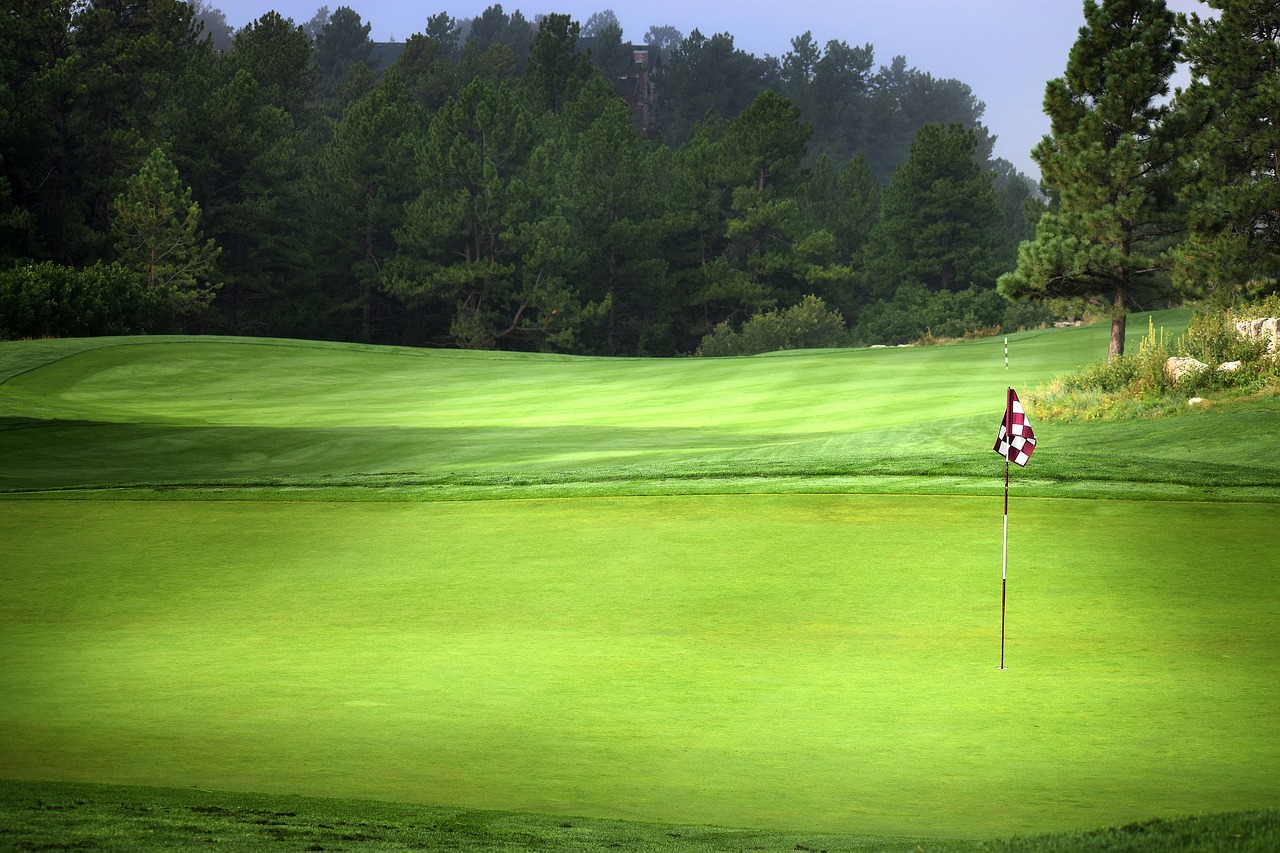 What Golf Clubs Can Do
In order to lead by example, golf courses can adopt the following practices:
REDUCE CARBON FOOTPRINT
Clubhouses use energy efficient and 'smart' lighting
Larger clubs use wind, solar and geothermal energy such as ground source heat pumps and solar panels
AIM FOR ZERO WATER WASTAGE
Clubs use technology to pinpoint water use and cut down on waste
Courses can filter storm water runoff through wetlands and turf grass
Courses introduce drought resistant vegetation
INTRODUCE ORGANIC MANAGEMENT TECHNIQUES
Clubs use organic alternatives to pesticides
Course managers select grass that is naturally pest resistant
Courses allow animals, like sheep, to graze in the out-of-play areas
Help wildlife thrive
Groundskeepers mark off nesting sites
Record number and variety of wildlife on site
Manage the rough and out-of-bounds areas for wildlife
The GEO Foundation recognises the efforts of golf clubs and award international sustainability certification to golf clubs in recognition of its commitments to the environment and local community.
The 'GEO Certified' accreditation is the international standard in course sustainability and reflects that those clubs have met the ISEAL member certification standard.
Verified by an independent auditor after a site-visit verification, the accreditation focuses on three main areas:
Commitment to nature, with conservation and natural course materials
Responsible use of energy and waste;
Positive community value
Some golf clubs have also begun to enrol in the 'Operation Pollinator' programme. In doing so, they're committed to establishing a minimum of 0.5 hectares of new wildflower habitat around the golf course.
While also improving the visual appeal and aesthetics of the golf course, these areas have the potential to provide outstanding habitats and food sources for a range of native bees and other pollinating insects.
With bumblebee numbers continuing to decline, and some UK species on the verge of extinction, the golf course can play a vital role in providing pockets of sanctuary, providing habitats and food sources for a range of native bees and pollinating insects.
Sustainable Golf Equipment
Golf equipment producers and clothing manufacturers can also play their part in the promotion and practice of sustainable golf.
One golf equipment brand produced an industry first by recycling plastic bottles into threads to form the fabric of its golf bags.
A clothing brand has also used recycled plastic bottles to make a golf jumper and another has used recycled materials in its clothing and footwear.
Plastic tees are also set to become a thing of the past, with sustainable bamboo versions being manufactured.
Golf clearly isn't at the top of the list of sports for causing environmental damage (you only need to look as far as motor sports) but there is clearly still work to be done.
Golf courses must continue to become more sustainable, while convincing the general public that sustainable practices are being implemented, with the environment in which courses sit, being at the forefront of owner's development plans.
Research sources:
10 of the world's most eco-friendly golf courses