Eowyn and I went along last night to Norwich Theatre Royal for the opening show of Awful Auntie written by the comedian David Walliams, and it was completely bonkers!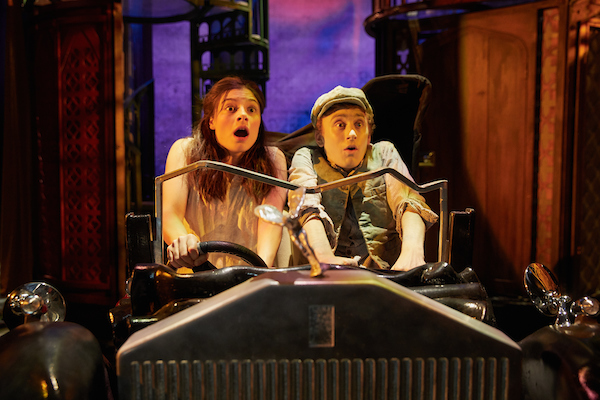 Eowyn has read lots of David's books and watched the accompanying TV performances, so she was keen to see how one of his stories would play out on stage, and she was not disappointed!
Lochlan came along to the same theatre many years ago to watch Mr Stink and the chatter from Eowyn reminded me of his visit back then! Lots of laughter and trying to explain all of the goings on, which was obviously pretty difficult as there was no sense to the story whatsoever!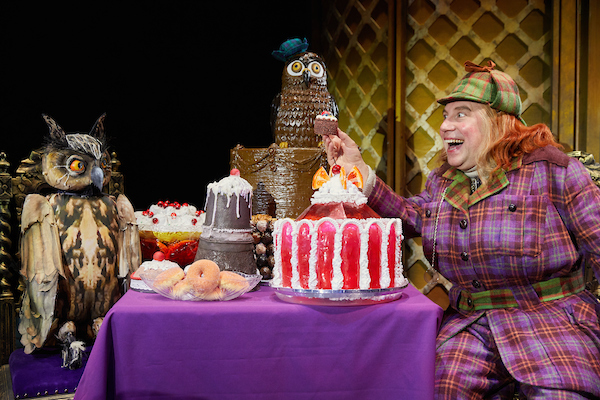 If I told you that there was a large Bavarian Owl, a dead chimney sweep, a rotten old aunt who had a habit of killing people and a girl who begins the story tied to a bed for 3 months, you wouldn't believe me, but that's exactly what we witnessed!
For tonight's performance there were a couple of changes to the programme, although you certainly couldn't tell, my favourite was definitely Soot (Ashley Cousins) who was charming, sincere and a very likeable character, Eowyn thought Gibbon (Harry Sutherland) was hilarious and definitely stole the show for her.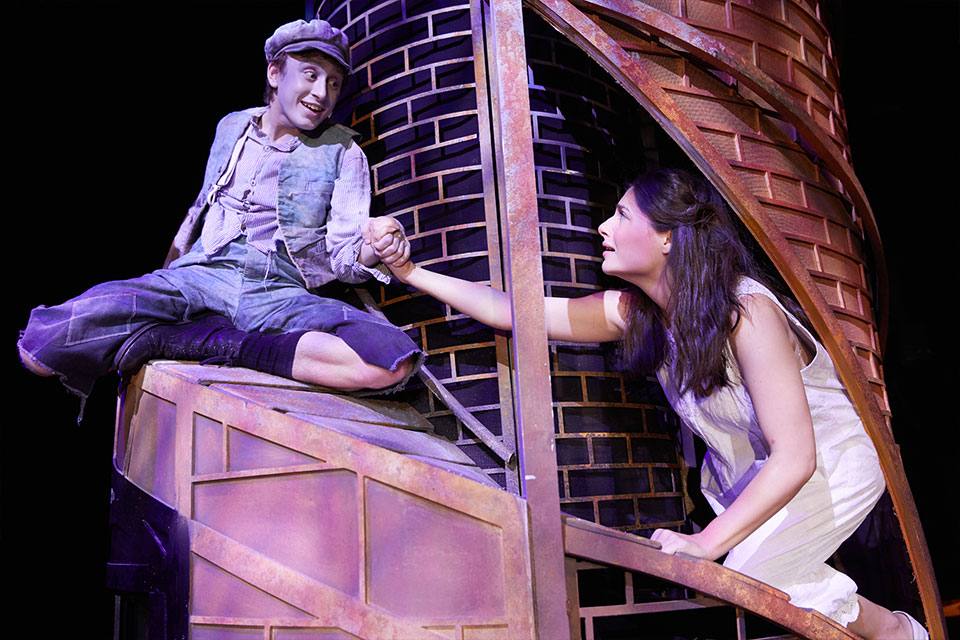 The set was brilliant, since Xene has started her production design course I have been looking much closer at all of the set designs and this one merged simplicity with a brilliant use of space and very believable props and lighting, I LOVED the puppets of the characters, particularly when Auntie got dropped by Wagner the Owl! The climbing up from the cellar to the kitchen was brilliant, and the way the two columns moved and interchanged was perfect.
Some excellent driving of the old car by Stella (Georgina Leonidas) and the pranks she and Soot pulled on Auntie (Richard James) had Eowyn in stitches.
If you like the sound of this completely crazy production, or you have a fan of the book then grab yourself some tickets, it has a recommended age of 8+ although there were a few slightly under that age in the audience, under 3s will not be permitted.
Birmingham Stage Company is performing Awful Auntie until 2nd December, check out the website for details of the tour dates and venues.
Another great family show is The Worst Witch