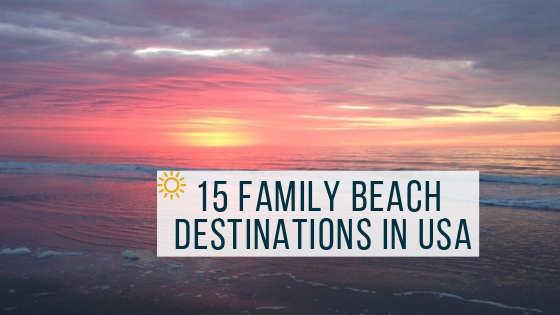 15 Family Beach Destinations in USA
Try one of these top 15 family beach destinations in USA to make your next beach vacation full of memories that will last a lifetime.
Waves crashing, sand between your toes, and the sun on your face. The beach is the perfect vacation for families. But they aren't all the same. Some beaches cater to the spring break crowd while others are better for youngsters.
South Padre Island, Texas
This is the beach for the family on a budget. 11 months out of the year the rates are low and hotels are easy to find. Just try not to go in March when spring break fever takes over. Located on highway 100, South Padre Island is a water sport paradise. You can go deep sea fishing, diving, swim with dolphins or go on an ecological tour.
Plus it has some of the best surfing on the Gulf Coast. South Padre Island is warm most of the year so you don't have to wait til summer to visit. February hosts the annual Kite Festival and in May you won't want to miss the Texas State Surfing Championships.
Cannon Beach, Oregon
80 miles west of Portland, Oregon you'll find Cannon Beach. Cannon Beach is set amid huge Oregon forests and huge rocks. A landmark for Cannon Beach is the 235-foot high Haystack Rock. Pacific waters this far north are not good for swimming but there are other activities at the beach for the entire family.
Kit flying, tide pooling, and sand castle building. One of the west coast's largest sand castle building contests takes place in June every year and children from all over come to enter.
Coast Guard Beach, Massachusetts
Coast Guard Beach is part of the Cape Cod National Seashore. It is considered one of America's top beaches. The surfing is some of the best on the east coast, and swimming here is one of the favorite past times. Seafood restaurants abound and the area is known for its food.
Coast Guard Beach is also an educational place for kids. Children can view the nesting area of the endangered piping plovers in early summer or visit the site of the Mayflowers first landing.
Hilton Head, South Carolina
Hilton Head Island is considered a spring break paradise, but families visiting at other times of the year can great deals. Hilton Head has over 30 golf courses and many tennis courts.
Parking can be somewhat difficult but there are many shuttles to and from the beach areas. There are over 12 miles of white sand beaches where dolphins can be viewed from land. Rollerblading, kayaking and swimming are also great activities for the family.
Sanibel Island, Florida
Sanibel Island is just a few minutes drive from Fort Meyers International Airport. It is one of Florida's top destinations for families, weddings and other getaways. Sanibel Island is world renown for it's over 17 miles of shelling beaches. The kids will be astounded by the many seashells of all shapes and colours they can find.
Visiting the J.N. "Ding" Darling National Wildlife Refuge children will be able to see bald eagles and over 240 other species of birds, reptiles and mammals. There are also golf, shopping and tennis areas for the adults on the trip.
Coronado Beach, California
Coronado Beach is just minutes from downtown San Diego. It has a very small town atmosphere with quaint shops and activities. Surfers frequent the area in the mornings while seals are seen on the beaches. Body boarders, tide poolers, sand sculptors and pet enthusiasts fill the area in the afternoons.
Coronado beach is a small area and can be traveled without a vehicle. Shuttles car very cost effective with fee's of only a dollar. From December to February whale watchers invade the area to watch these majestic beasts in their natural habitat. Be sure to visit the Ferry Landing Marketplace for all your souvenir needs. Since Coronado Beach is near San Diego children would enjoy the San Diego Zoo or Seaworld.
Duck, North Carolina
If you are looking for a low key family vacation spot, Duck, North Carolina is the place for you. There are no hotels in Duck proper so you will have to rent a vacation home or find a local Bed and Breakfast. It's not a good place to go bar hopping but families really enjoy this secluded area.
The crowds are much smaller than at the bigger beaches and the waters are relatively calm. This is good for boogie boarding, body surfing and swimming. The sound is also a great place for nature enthusiasts and children who love animals.
Panama City, Florida
Panama City Beach has something for everyone in the family. Golf for dad. Shopping for mom. Amusement parks for the kids, you name it Panama City probably has it. Gulf World boasts a Dolphin Stadium as well as a Tropical Bird Theatre and kids of all ages will enjoy the rides.
Tennis and sunset cruises as well as dolphin excursions and beach side concerts are just a few of the things you can do in Panama City Beach. Families should not visit during spring break because of the crowds. Panama City beach has 27 miles of white sand and shimmering waters for families to enjoy as well.
Myrtle Beach, South Carolina
Myrtle Beach is a kids paradise. There are so many things to do with children in this area that its hard to decide what to do first. Myrtle Beach boasts the most amusement parks, water parks, restaurants and live entertainment around. The Strand is filled with many kid friendly hotels, but you can also rent vacation homes and condos.
Besides the many tourist attractions the beach offers fishing, swimming, sunbathing, sailing and surfing. Many of the hotels also offer water rides and playgrounds for the youngsters. Myrtle Beach has more family activities than any other beach in the U.S.
Waikiki Beach, Hawaii
No trip to Hawaii would be complete with a visit to Waikiki Beach. Kids and adults alike can try many different activities including para-sailing, canoeing, sand castle building, snorkelling and surfing. Waikiki Beach was once the place where Hawaiian royalty liked to spend their time, but now it is paradise for families.
On the weekends fire work displays and hula shows are the norm. There are many restaurants, shops and night spots for the adults as well as activities for the kids. There are areas for surfing as well as casual swimming and fishing. Not many people could be bored in Waikiki.
Nantucket Island, Massachusetts
Nantucket Island still keeps the quiet charm from its early days a whaling community. It's natural beauty brings many tourists year round. In April the Daffodil Festival is a great attraction for families. You'll be transported to yesteryear when you visit Nantucket Island with its cottages and wild roses.
Ride a bike, go fishing or even charter a boat to view the spectacular sunsets. Nantucket town offers museums, historical walks and many other activities for the whole family. The beaches are wide and the water is relatively calm in some areas. Nantucket Island has many beaches including Children's Beach which is perfect for your little explorers.
Kiawah Island, South Carolina
Kiawah Island is only 20 miles from Charleston, South Carolina and is a hidden gem when it comes to family destinations. Most of Kiawah Island is a beach resort for families. Families have access to private beaches, golf courses, tennis courts and much more.
The kids can even learn to play golf with lessons and workshops for the entire family. There is beach volleyball, basketball and soccer as well as nature programs and fishing for the kids. Walking and paddling tours allow children to see the indigenous wildlife, like alligators, loggerhead turtles and many varieties of birds. Nearby Charleston also has shopping and great restaurants.
Siesta Key, Florida
Siesta Key is known for its soft silky beaches. The sand is said to be the softest around. Families can bask in the sun, swim and boogie board in the calm waters on this Gulf Coast Beach. Visitors can collect shells, rent a catamaran, kayak, walk along the boardwalks and enjoy the salty ocean air.
There are lots of cozy restaurants where you can try the local conch fritters and shops where you can buy local wares. Siesta Key has old Florida charm and is close to Sarasota.
Poipu Beach, Kauai Hawaii
Poipu Beach has many things to offer families. You can choose from sunbathing, swimming, snorkeling, kayaking, biking, golfing and hiking. Hiking in this tropical environment with it's sandy beaches and rugged cliffs can be an adventure.
Several movies have done filming in this area because of its scenic beauty. Families can learn to surf and rock climb as well as para-sailing and other activities. Poipu Beach is renown for cliff diving, if some of the adults in the group want to try it.
Caladesi Island, Florida
Caladesi Island is located off the coast of Florida near Clearwater. This island is a tropical paradise that can only be reached by boat. It is very secluded since there are no roads leading into it. The crowds are small and natural wonders of this island are incredible.
Children can swim, boat and kayak. They can explore the wild mangrove trails on foot or by bike. Nature enthusiasts love this island because of the indigenous wild life. Sea turtle frequent the beaches to lay their eggs and other animals inhabit the dunes. Caladesi Island is nice quiet beach area for families who want to get away from the hustle and bustle of today's fast paced world.
Whether you want to bask in the sun, build sand castles along the shore, learn to para-sail or kayak a beach vacation could be just what your family is looking for. You can visit the big tourist beaches like Hilton Head and Myrtle Beach or opt for more quiet surroundings with Duck, North Carolina or Caladesi Island in Florida.
Whatever your speed is, there is a beach to accommodate you and your family. Make life long memories at one of these 15 scenic beaches and it will be something you'll never forget.
If you are considering somewhere other than USA, why not 15 insanely beautiful beaches in Greece