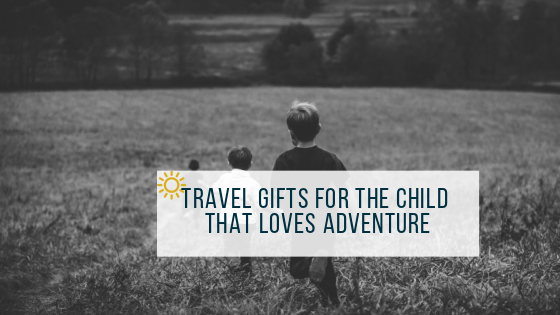 Travel Gifts For The Child That Loves Adventure
With less than a month to go until Christmas, I have been thinking about what to buy for the child that loves to get out and about, and loves to travel. Kids Clothes are extremely practical, especially when looking at items to travel in, but not a fun gift to open, so I would try to avoid them, unless of course they have the perfect design that you know your child will be happy with, I also find more gift ideas on this gift blog
So what would your child enjoy opening under the tree on Christmas Morning.
1. A Travel Journal to record all of their days out and family holiday adventures, not only is is fun and exciting to record all of your memories, but its educational too!
2. Their very own suitcase, I love the Trunki designs, and the way they are able to sit on the case whilst waiting at an airport, who wouldn't love one of these, especially if it is accompanied by an actual letter telling them about a forthcoming trip.
3. Their very own globe to learn about the world they want to explore, this one enables the to use augmented reality and a touch pen to get an even more in depth knowledge of our planet.
4. If your children are anything like mine they adore taking photographs, the teens are fine using my dslr, but maybe not the little ones, consider this camera for Children and get them into photography from a young age.
5. A Travel Pillow is perfect for long journeys in the car, or on a train, they fold up fairly small and can be used as a toy when not being used as a pillow, with various animals available, they are perfect for all children.

6. A tablet or Kindle device is perfect for passing the time on a long car journey, or waiting at the airport, or just chilling in the holiday cottage, and with the sturdy case, it means even the little ones can have a go without damaging it.
7. As I have older children, maybe a Go Pro for them to capture their memories and adventures.
8. To ensure they know where they are going and won't get lost, how about a compass ?
9. Not sure about your children, but mine love to carry their own things, which means I have less to carry, so why not purchase them a new backpack for Christmas, ensuring its big enough to fit their gear in, but not too big that they will get fed up after 5 minutes and hand it to you to carry!
10. My children are always thirsty, but I have trouble finding suitable bottles that don't leak, at present we are loving the Ion8 Leakproof Sports Water Bottle, it's easy to use and not one drop has leaked.
*this post may contain affiliate links*