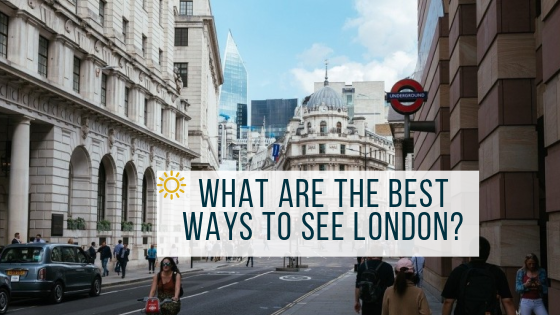 What are the Best Ways to See London?
There are few cities as exciting, beautiful and cultural as London. London is also an enormous city which can make it hard to explore on a trip here, but there are a few ways of getting around which will show you the city and help you to soak up the special atmosphere found here as well as find your bearings.
Bus Tour
A bus tour is a fantastic way to see the city, especially if you are on an iconic double-decker red bus. This is a great opportunity to explore the different areas of the capital, to learn about the places that you are driving past and to find your bearings. You can also usually hop on and off which allows you to go at your own pace.
Cruise
A cruise down the River Thames is another popular way to see the city and a fun experience in its own right. London's skyline looks stunning from the river and it is a relaxing way to see the capital in all of its glory. There are many London river cruises that you can find discounts for online which are great fun and a special experience.
Bike Tour
A bike tour is another good and healthy option which allows you to get up close to all of the major attractions found around the city. There are guided bike tours that will take you to areas that many tours cannot access along with all of the popular attractions.
Walking Tour
It is hard to beat a walking tour as this is the best way to soak up the atmosphere, take your time and enjoy being in one of the most famous cities in the world. The walking tours can take you right up to the major attractions and it is also one of the best ways to find your bearings in such a big city.
London Eye
The London Eye is a brilliant way to see London (and beyond) from above and give you an idea of its layout. It is also a special and unique experience but it will not give you the same up-close feeling that you will get with the other methods suggested.
These are the best ways to see and experience London in all of its glory. It can be daunting as such a big city with so much to see and do, but the above will help you to see the highlights and soak up the atmosphere in this beautiful, historic and cultural city.
If you are staying in London for a holiday, there are lots of places you can visit for a day, check out these Top 10 Day Trips From London By Train
this is a collaborative post