For me snowdrops are one of the first signs that spring is on it's way, Galanthus Nivalis is one of the most common wild snowdrops, although there are currently 20 different species of wild snowdrops, over the years, over one thousand new varieties have been cultivated, with the snowdrops themselves sometimes creating them by cross-fertilisation.
Not only do they look beautiful, but snowdrops are one of the first flowering plant of the year, that provides early nectar for the bees, so if you are able to plant some of your own snowdrops, you will be helping the eco system that bees need to survive.
Snowdrops are among the first to raise their heads in the New Year and when it is warm they release a delicate fragrance. Look carefully at the snowdrops to see their green markings on the inside.
Did you know that soldiers were so enchanted by snowdrops that they brought them back from the Crimean War battlefields to plant in their own gardens?
They are a fairly easy plant to take care of and multiply as the years go by, meaning you may eventually have your own snowdrop walk in your back garden, but until then, here are some Snowdrops walks for you to visit throughout the UK.
There are usually many gardens taking part in Snowdrop Walks during February and March, but some of them may not be open, for the latest updates and individual gardens that are open and taking part, check out the National Open Garden Scheme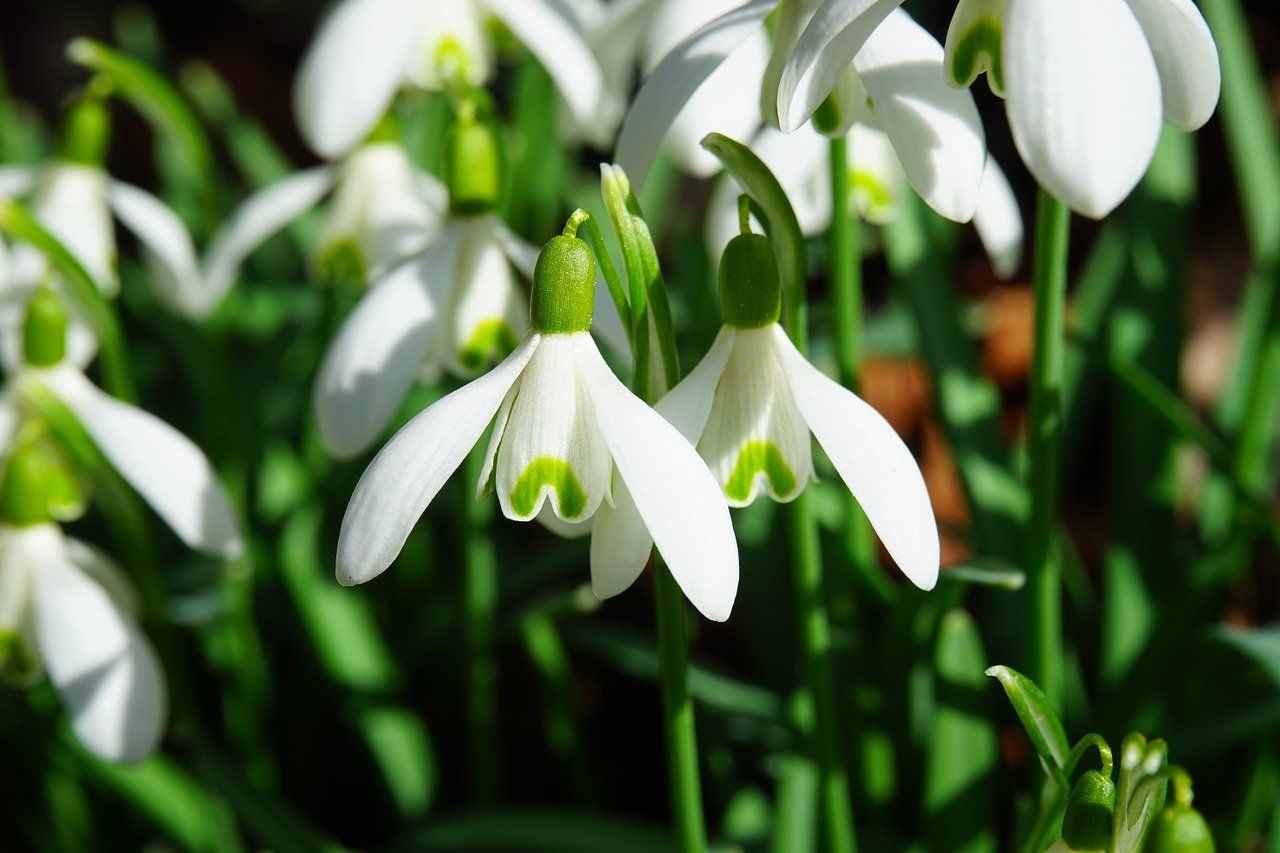 Snowdrop Walks 2022
Snowdrop Walks Bedfordshire
The Garden Wood has lots of wildlife and beautiful flowers (snowdrops, bluebells etc). Still today you can enjoy the snowdrops (in February), originally planted by Humphry Repton in Garden Wood.
The walk is a circular route taking you through the wood, into the Orchard area where the Garden Room Cafe is and either back down the Walled Garden path or onto the Lawn at the rear of the house, ending back at the car park.
Address: Park Rd, Moggerhanger, Bedford MK44 3RW
Opening Times: 10.00-16.00.
Snowdrop Walks Berkshire
A great place for a winter walk, with four marked-routes across the parkland, but Basildon Park becomes a fantastic snowdrop spotting location in the early months.
Address: Lower Basildon, Reading, Berkshire, RG8 9NR
Opening Times: 10.00-16.00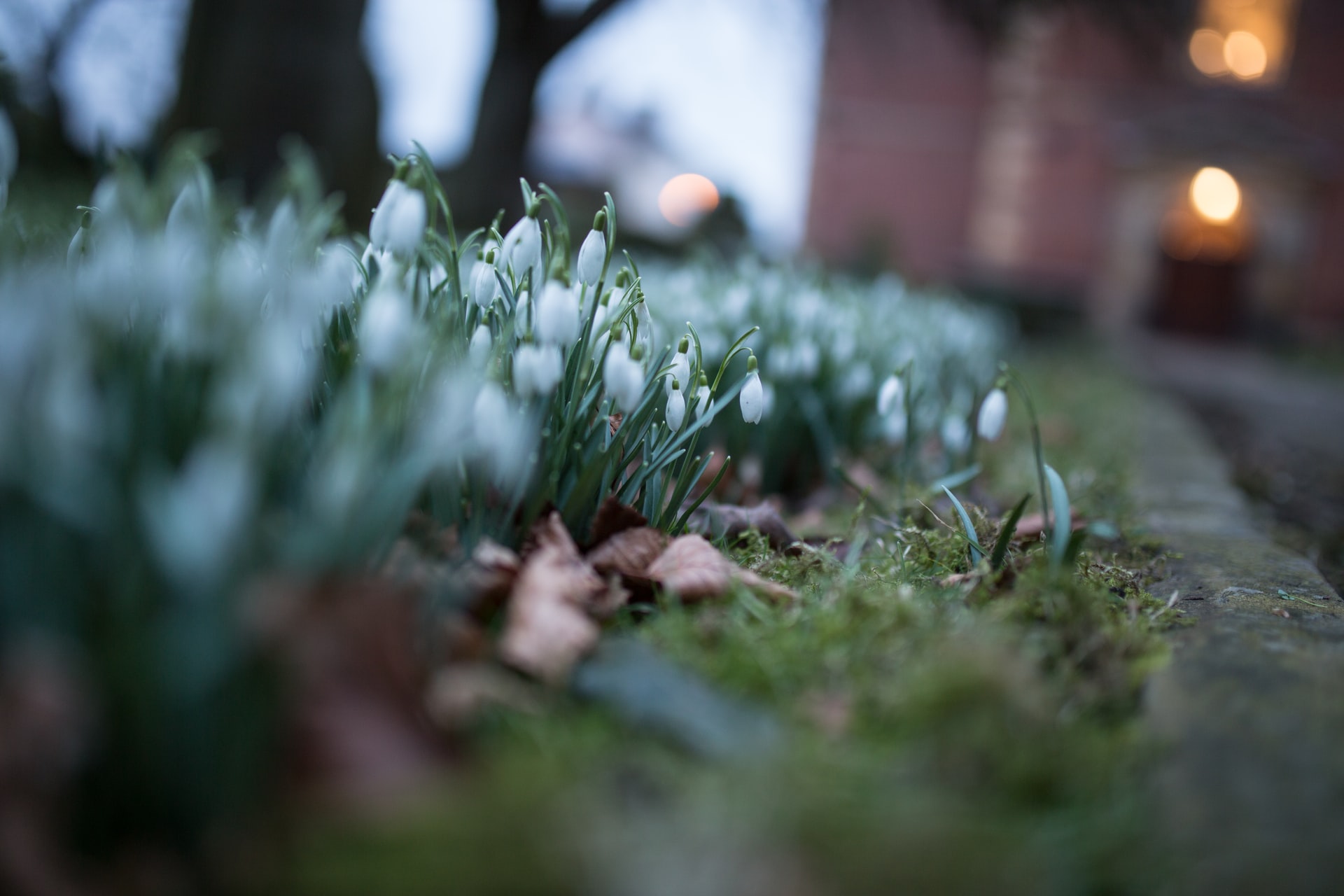 Snowdrop Walks Buckinghamshire
From the beginning of February to the end of March, follow the pearly white snowdrops around the estate on this walking trail. We'll take you past the best spots, including The Long Garden, Blenheim Pavillion and The Water Garden. Pick up your free trail from the Information Centre.
Address: Cliveden Road, Taplow, Maidenhead, Buckinghamshire, SL1 8NS
Opening Times: 09.30- 16.30
Two miles north of High Wycombe, you will be welcomed with 680 acres, carpeted with winter and spring flowers.
Address: High Wycombe, Buckinghamshire, HP14 4LA
Opening Times: 09.30-16.00
We've brought back our special snowdrop walk, with special paths re-opened for this winter season highlight; see one of the best hidden treasures of the garden at Stowe where the snowdrops blanket the banks as you walk from the Lamport Garden to the Gothic Temple. Winter is a great season for displaying the garden undressed where the defined views open and become more apparent.
Address: Buckingham, Buckinghamshire, MK18 5EQ
Opening Times: 10.00 – 16.00.
There are various places you can find snowdrops at waddeson manor, which include The Daffodil Valley, Between the Aviary, the Rose Garden and Tay Bridge, Baron's Walk, Tulip Patch and Eythrope.
Address: Waddesdon, near Aylesbury, Buckinghamshire, HP18 0JH
Opening Times: From 2 Feb 2022 Waddesdon will open Wed-Sun 10am-4pm
Snowdrop Walks Cambridgeshire
Anglesey Abbey has one of the finest snowdrop collections in the country, with over 350 varieties of these delicate white flowers, many of which are rare.
Address: Quy Road, Lode, Cambridge, Cambridgeshire, CB25 9EJ
Opening Times: Open 9.30-16.00
Originally a great 'Anglo-Dutch' garden of canals, park, and formal gardens open during snowdrop season, which was later informalised in the 18th century and has been greatly extended by the present owner. Sweeping seasonal displays of daffodils and snowdrops.
Address: Chippenham Hall, Chippenham Park, Newmarket CB7 5PT
Opening Times: EVERYDAY FROM SATURDAY, 22ND JANUARY 2022 TILL FRIDAY, 1ST APRIL 2022, 10AM–4PM. LAST ENTRY 3PM.
At Wimpole snowdrops and aconites can be found throughout the Pleasure Grounds and will be looking their best in February. Why not brighten up a dull winter day with a walk to see them?
Address: Arrington, Royston, Cambridgeshire, SG8 0BW
Opening Times: Daily 09.30 – 16.00.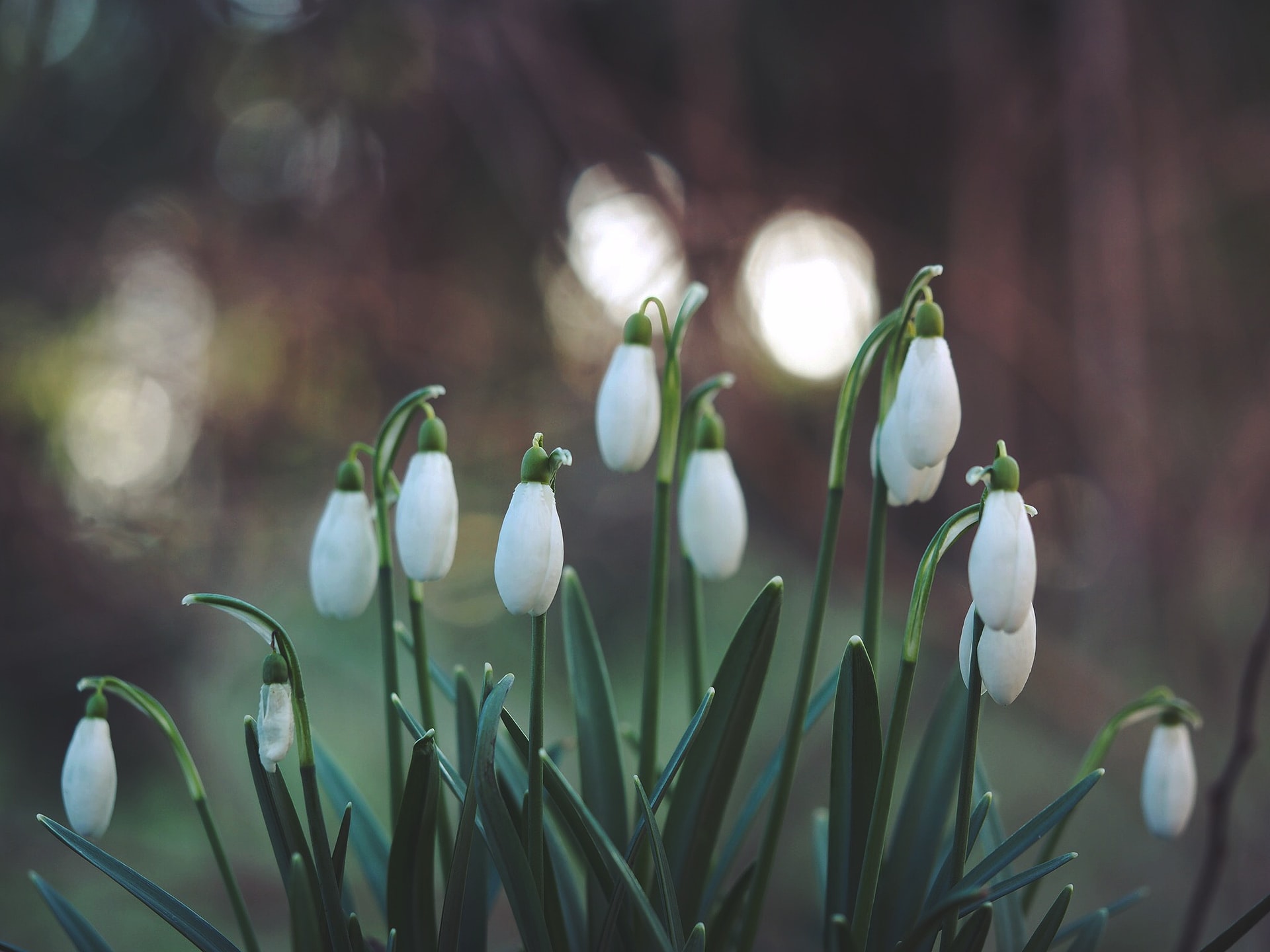 Snowdrop Walks Cheshire
The garden is amongst one of the most beautiful in Britain and it is strongly recommended that you take the opportunity to walk the grounds and discover Snowdrops dotted around the woodland, the gardens have been generated within the last 250 years by the same family.
Address: Northwich, Cheshire, CW9 6NA
Opening Times: The gardens are open to visitors every day (except for Christmas Day) from 10am until 4pm with last entry at 3.30pm.
The seven-acre winter garden at Dunham Massey is the largest of its kind in Britain. Since the garden opened in 2009, over 200,000 double and single snowdrops have been planted, which now create a shimmering carpet of white from late December to early February.
The garden contains almost 700 different plant species, including 20,000 narcissi that will also be in bloom in early spring.
Address: Altrincham, Greater Manchester, WA14 4SJ
Opening Times: 10:00 – 16.00.
Wander beside the meandering river in the ornamental garden created by Robert Hyde Greg in the 1860s, and spot the snowdrops popping up in front of Quarry Bank House where the mill owners lived. You'll find snowdrops in the orchard beside the Apprentice House too.
Address: Styal, Wilmslow, Cheshire, SK9 4LA
Opening Times: The mill is open by guided tour only from Wednesday to Friday 10.30-16.00. Please see website for the tour times. It is open for free flow visits at weekends.
Snowdrop Walks Cornwall
Snowdrops in the Upper Garden
In winter, look out for the display of brilliantly coloured dogwoods taking center stage on the pond island. The white bed, behind the cut flower garden is also looking its best in the winter months, with heather, hellebore and snowflakes to delight.
Address: St Dominick, near Saltash, Cornwall, PL12 6TA
Opening Times: Garden open from 10am-4pm daily. House closed until March 2022
The Valley garden will reopen on Saturday 19th February 2022 and will show signs of early spring, with carpets of snowdrops.
Address: Mawnan Smith, near Falmouth, Cornwall, TR11 5JZ
Opening Times: 10.30-17.00, opens from 19th February.
The snowdrops will appear in the borders throughout February. A welcoming garden set in an estate with stunning maritime views and lovely woodland walks
Address: Feock, near Truro, Cornwall, TR3 6QL
Opening Times: 10.00-16.30.
When the exotic Cornish Garden opens to the public on 13th February 2022, you will find a great display of snowdrops as you wander through the historic garden.
Address: Madron, near Penzance, Cornwall, TR20 8RZ
Opening Times: 10.30-17.00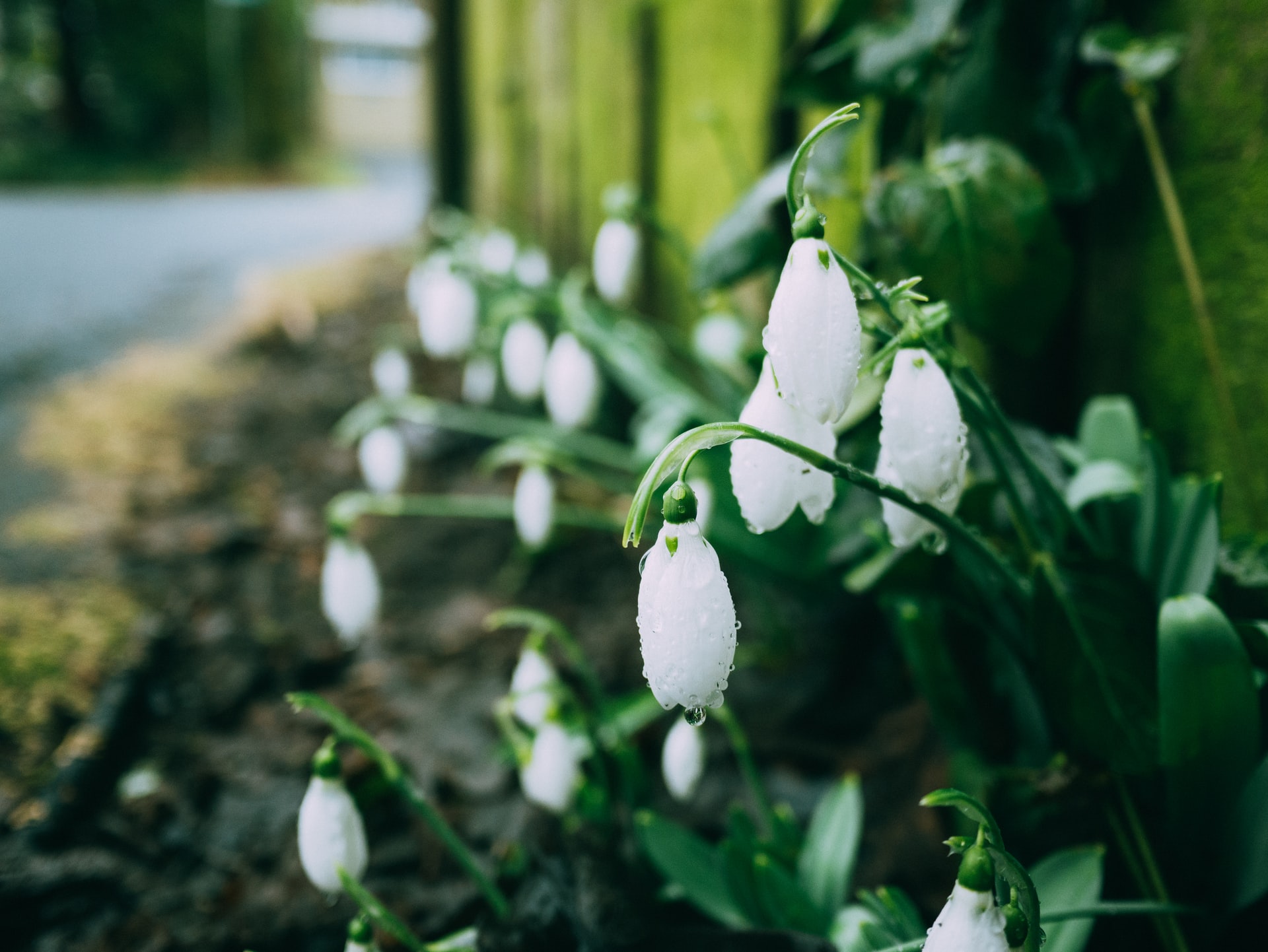 Snowdrop Walks Cumbria
Discover a winter walk filled with scent and colour at Sizergh, alongside the magnificent stumpery garden, the home of evergreen ferns and spring flowering bulbs. Head to The Knoll in the woodland garden for the first glimmers of spring from delicate winter aconites and snowdrops to colourful bluebells and wood anenomes.
Address: Sizergh, near Kendal, Cumbria, LA8 8DZ
Opening Times: 10.00-15.30
Snowdrop Walks Derbyshire
At Calke Abbey, Derbyshire, you can enjoy woodland and wild flowers throughout the gardens and estate.
Address: Ticknall, Derby, Derbyshire, DE73 7JF
Opening Times: 09:30 – 16:00.
Most of Hardwick's snowdrops are clustered in the east and west corners of the South Court. Under the bows of the yews and lime the snowdrops appear to almost glow. Following on from the flowering cyclamen and before the deep purple crocus, the display of snowdrops is a special time of year.
Address: Doe Lea, Chesterfield, Derbyshire, S44 5QJ
Opening Times: 09:30 – 16:30.
Snowdrop Walks Devon
The Spring Garden at greenway will be full of Snowdrops amd Camellias when it reopens on Saturday 19th February 2022.
Address: Greenway Road, Galmpton, near Brixham, Devon, TQ5 0ES
Opening Times: 10.30-17.00.
1. Killerton garden
Snowdrops and daffodils add a splash of spring colour to the historic landscaped garden. It's accessible for everyone and is the best place to see an exciting range of spring flowers. Magnolias come out early, brightening the trees near the Dairy cafe.
2. Dane's Wood
Named after the Danish raids of the tenth century, this woodland is a great place to see snowdrops and bluebells. Dane's Wood is a perfect place for a gentle dog walk is a short drive or ten minute stroll from Killerton house.
3. Ashclyst Forest
Famous for its butterflies, Ashclyst forest is one of the largest woods in east Devon. In spring you can find yourself alone on the footpaths, enjoying the display of snowdrops, bluebells and woodland flowers.
Address: Broadclyst, Exeter, Devon, EX5 3LE
Opening Times: 10.00-16.00.
A walk down the centre of Coleton Fishacre gardens, leads you to a bank of snowdrops blowing in the sea breeze. Enjoy the views of the snowdrops on one side and the sea on the other.
Address: Brownstone Road, Kingswear, Devon, TQ6 0EQ
Opening Times: The house and garden at Coleton Fishacre are open on weekends throughout January and February 2022. 11.00-15.00.
The Garden in The Wood is a great place to see dainty snowdrop[s and Camellias.
Address: Bolham, Tiverton, Devon, EX16 7RG
Opening Times: Please note from Monday 17 January, the house, Walled Kitchen garden and the Formal and Woodland garden will be closed Monday-Friday and access to the Formal and Woodland garden will be restricted at weekends as they upgrade the footpaths.Open 10.00 – 16.00.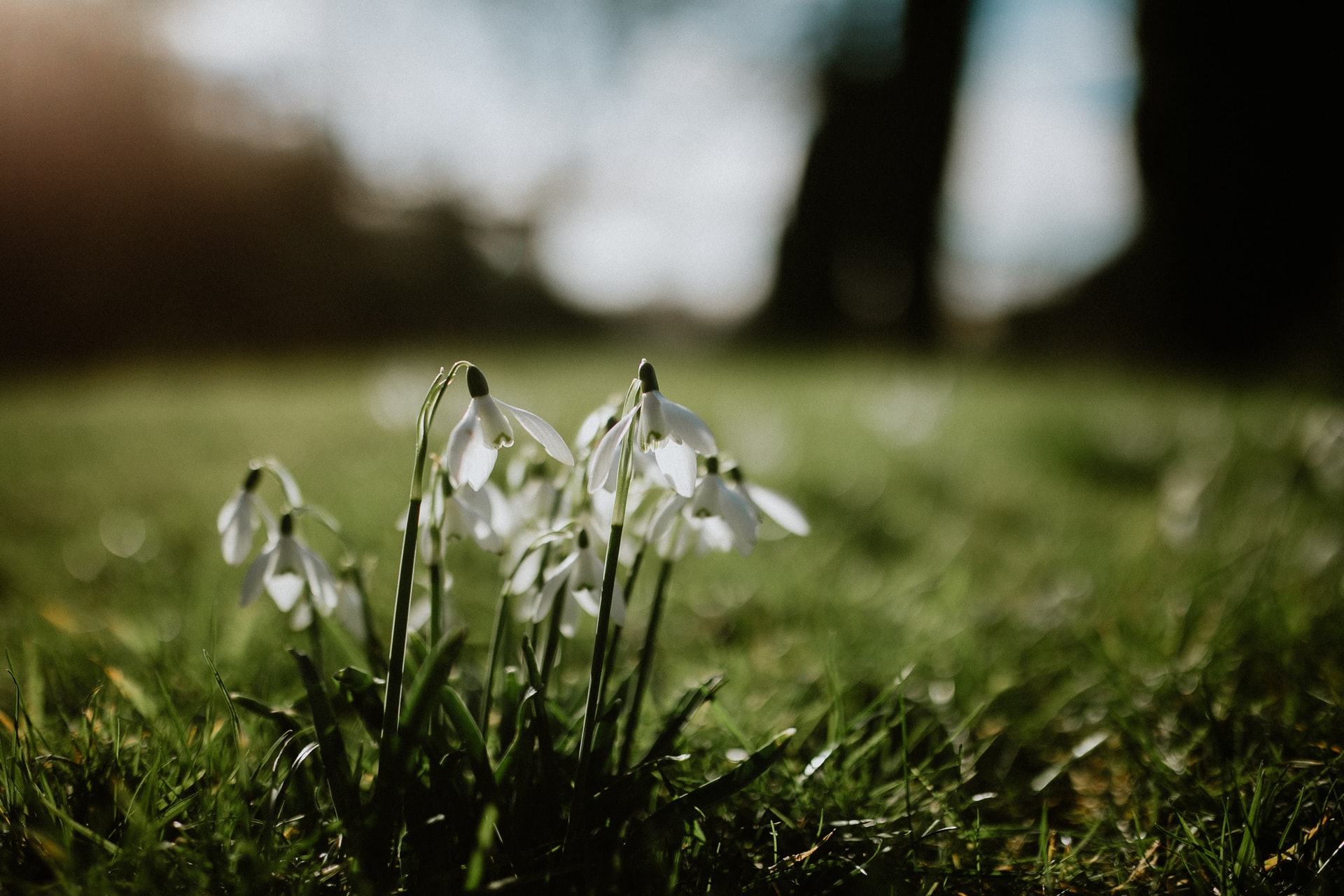 Snowdrop Walks Dorset
The best time to see the snowdrops at Kingston Lacy is from late January to the end of February. The Victorian fernery is a good place to start where, nestled between the sleeping tree ferns, snowdrops carpet the beds around the twisty paths. With fun names like 'Ding Dong' and 'Heffalump' the Fernery is home to over 35 different varieties.
Address: Wimborne Minster, Dorset, BH21 4EA
Opening Times: 09.30-16.00.
For more places to see Snowdrops in Dorset, check out Exploring Dorset Where To See Snowdrops in Dorset
Snowdrop Walks Essex
Audley End is a glorious Jacobean stately home owned by English Heritage.
The walled kitchen garden at Audley End House and Garden is based on Victorian times with produce used by the household.
But what makes this garden unique is that it is cultivated organically, the produce ending up in the organic shop for visitors to buy, rather than on the banqueting table.
From around mid January to mid March there are great displays of snowdrops.
Address: Off London Road, Saffron Walden, Essex, CB11 4JF
Opening Times: 10.00-16.00
Easton Lodge in Great Dunmow has an intriguing history and dramatic renovations of the 'forgotten gardens' means that visiting is truly a treat. There is an atmospheric Italian garden that attracts lots of wildlife as well as a 1.9 acre walled garden. The Gardens are renowned for their snowdrops in February.
Address: Little Easton, Dunmow, CM6 2BD
Opening Times: The new season starts with snowdrops in February: the traditional Open Sundays on 13 February and 20 February and on Thursdays as well, on 17 February and 24 February 2022. Open 11.00 – 16.00
One of Britain's finest remaining examples of Royal Hunting Forest, this National Trust woodland near Stansted Airport has been influenced by centuries of human intervention.
As well as the patches of snowdrops you'll encounter during January and February, you'll have the opportunity to see many of the 3,500 species of wildlife that call the woodland home and ancient trees that are over 1000 years old.
Address: Bush End Road, Takeley, Bishop's Stortford, Essex, CM22 6NE
Opening Times: Wednesday-Sunday, 9.00-14.30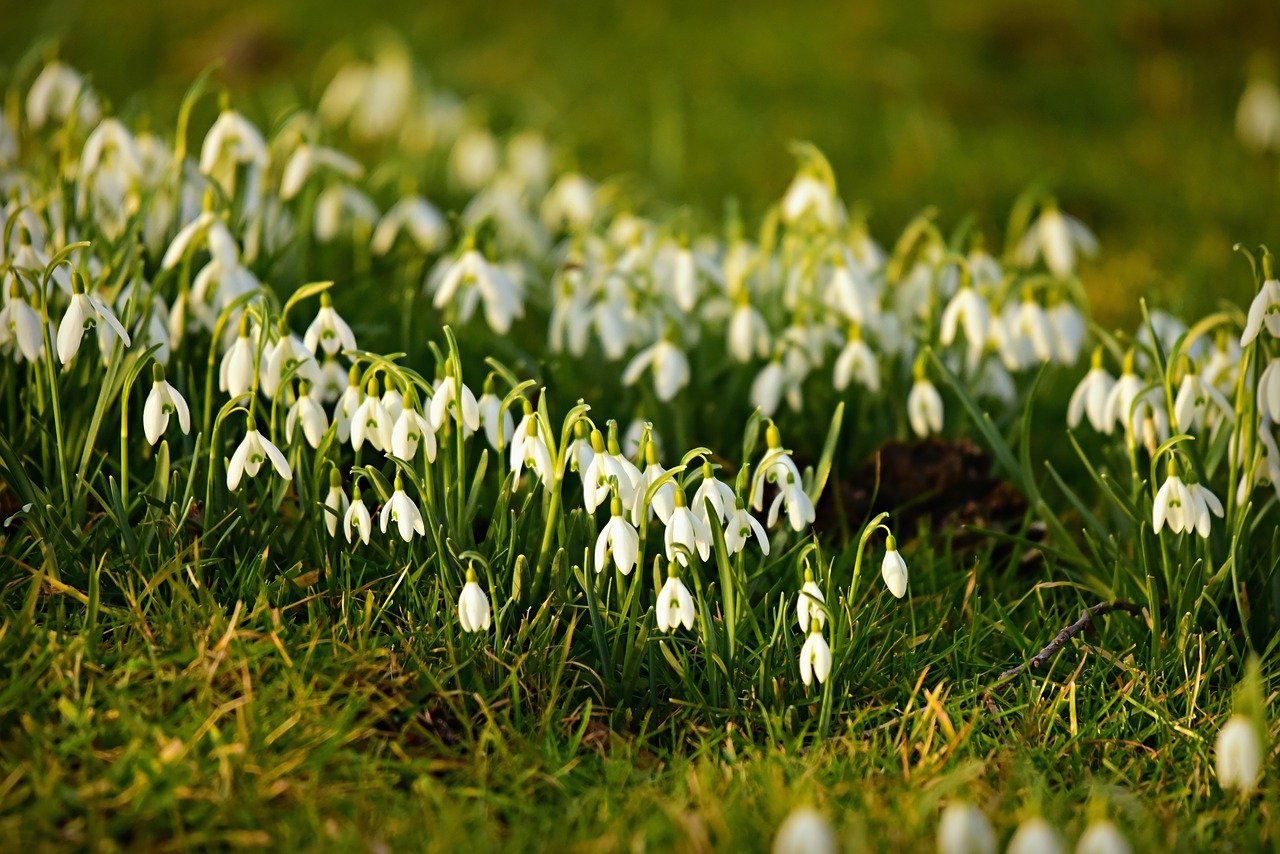 Snowdrop Walks Gloucestershire
Snowdrops can be seen from around 20th January
Address: Batsford, Moreton-in-Marsh GL56 9AT
Opening Times: The Arboretum and Garden Centre are open from 9.30am-5.00pm Monday-Saturday and 10.00am-5.00pm on Sunday.
Last entry into the Arboretum is 3.30pm, please vacate the car parks by 5.15pm
In February and early March there are masses of snowdrops in the gardens, with a small woodland trail.
Address: Cerney House North Cerney Cirencester GL7 7BX
Opening Times: Open 7 days a week 10am-7pm (or till dusk in earlier months) Including Bank Holidays
In 1874 Henry Elwes had discovered Galanthus elwesiis whilst travelling in western Turkey and he became one of the prominent galanthophiles of his day.
It is clear that he planted widely, as the Colesbourne Park garden today contains large populations of snowdrops, many of them hybrids, descended from those plantings.
New cultivars have been added to the collection each year, with the collection now totalling some 350 cultivars.
One of the best snowdrop displays to visit in England
Address: Colesbourne, Nr. Cheltenham, Gloucestershire, GL53 9NP
Opening Times: Saturday 29th January and Sunday 30th January/ Saturday 5th and Sunday 6th Feb / Saturday 12th Feb and Sunday 13th Feb / Saturday 19th Feb and Sunday 20th Feb / Saturday 26th Feb and Sunday 27th Feb Open from 13.00-16.30. Find out more about the Snowdrop open days HERE
Dyrham's snowdrops sometimes crop up as early as Christmas and New Year and, by January, can be admired in front of the 17th-century house, in the terraces and in the garden.
Dyrham is home to more than half a dozen types of – snowdrop, all of which occur naturally – although they are helped along with annual snowdrop dividing sessions carried out by the garden team to encourage growth the following year.
Address: Dyrham, near Bath, South Gloucestershire, SN14 8HY
Opening Times: 10.00-16.00.
Newark Park reopens in February, just in time for snowdrop season. Bring your walking boots and enjoy a winter's walk amongst carpets of snowdrops in the garden and the estate.
Address: Newark Park, Ozleworth, Wotton-under-Edge, Gloucestershire, GL12 7PZ
Opening Times: Newark Park is open at weekends in January from 10.00-16.00, then daily from 5th February 2022.
Over five million snowdrops carpet the wooded areas of the Garden.  No one knows how they got here, but their number and natural beauty makes them one of Gloucestershire's must-see events. 
There are 15 varieties in total in the Garden, with the most famous being Galanthus "Atkinsii", a particularly tall and handsome snowdrop.  This was discovered int he garden in the 1800s by James Atkins, who lived in an estate cottage.
The main collection of snowdrops is in the Snowdrop Grove, with more modern varieties above the maze.
Address: Painswick Gloucestershire GL6 6TH
Opening Times: We are open daily until 27 February for snowdrop season (predicted to bloom late Jan). Admission will be by advance booking only..Opening times for all of 2022 can be found here.
With an eight acre stretch of picturesque gardens to explore, interspersed with stunning Cotswold stone, during the spring you'll find over 150 variations of snowdrops – some with markings, some rare, and even yellow and green markings.
Address: Rodmarton Cirencester, Gloucestershire GL7 6PF
Opening Times: Planning to Open for snowdrops on 2,5,9,12,16 and 19 Feb 2022 13.30 onwards.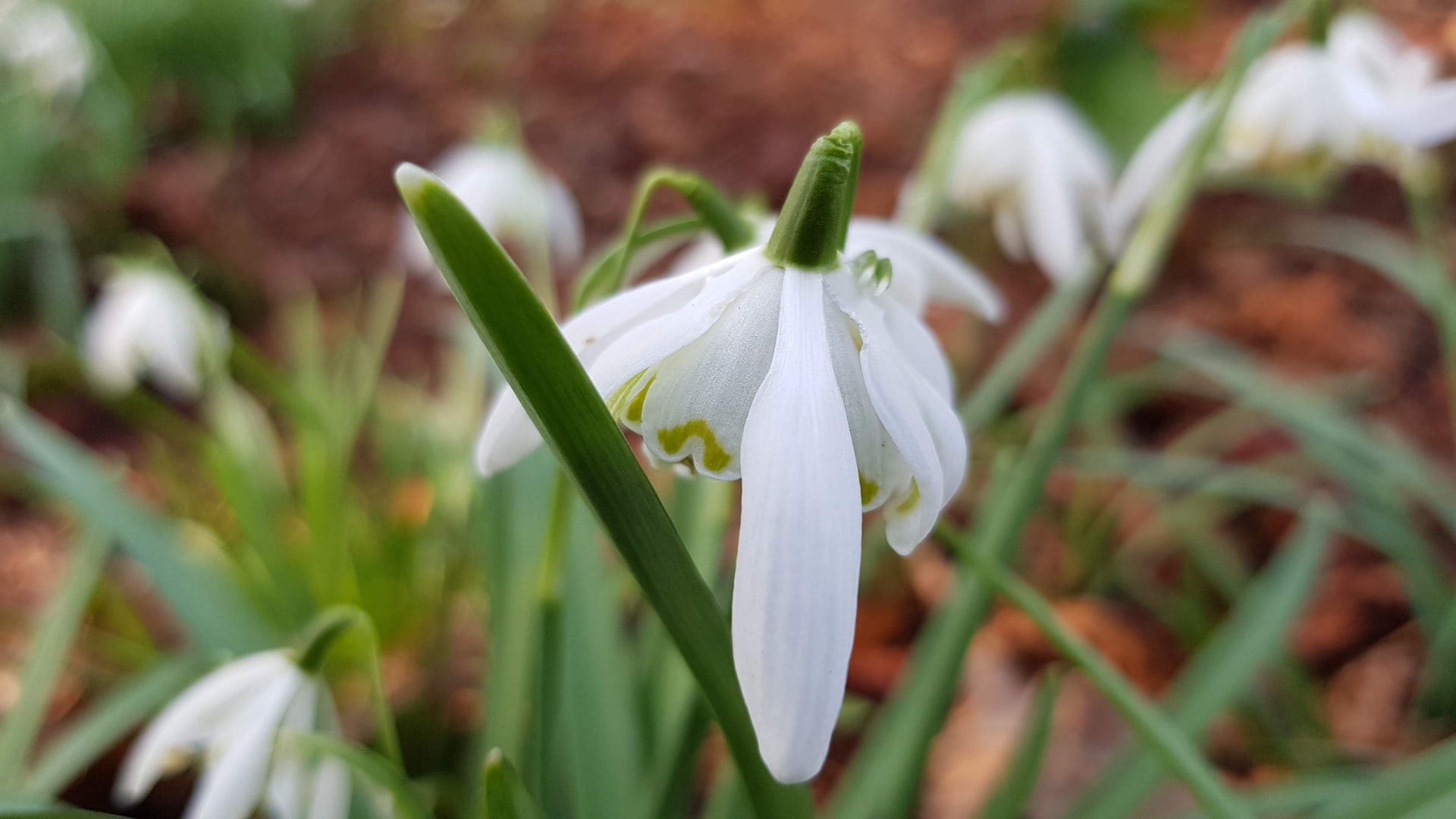 Snowdrop Walks Hampshire
Hinton's previous owner, Ralph Dutton, designed the East Lawn of the garden around the tiny parish church in the grounds. He knew that, even in colder months, the congregation was likely to gather on the grass after the Sunday service.
So he planted the lawn with fragrant winter flowers such as daphnes, which have a zingy lime scent and tiny pink flowers. Spot snowdrops throughout the season.
Address: Hinton Ampner, near Alresford, Hampshire, SO24 0LA
Opening Times: 10.00-16.00.
Snowy clusters of snowdrops emerge in Mottisfont's gardens from January, nestled beside the font stream, at the beginning of the river walk.
A woodchip path winds through the bulbs, to give everyone maximum enjoyment of this beautiful winter scene. The plants self-seed and colonise, extending the display every year.
Address: near Romsey, Hampshire, SO51 0LP
Opening Times: 10.00 – 16.00.
One of the first sights to meet visitors when viting The Vynein early spring is a ribbon of pearly white colour from the snowdrop trails that wind their way from the estate's car park to the Walled Garden. Further displays can be found in the Wild Garden.
Address: Vyne Road, Sherborne St John, Basingstoke, Hampshire, RG24 9HL
Opening Times: 10.00-16.00.
Snowdrop Walks Herefordshire
A maturing rural garden with areas of meadow, wood and orchard, blending with countryside and providing habitat for wildlife. Perfect at this time of year for snowdrops.
Address: Ivington Green, Leominster, Herefordshire HR6 0JN
Opening Times: Currently open for the National Garden Scheme on: Thursdays 27th Jan to 3rd Mar (10am -4pm), Wednesdays 31st Mar to 12th Oct (10am -4pm), Sat 30th Apr & Sun 1st May (11am -4pm), Sun 24th Jul (11am -4pm), Sun 18th Sept (11am -4pm)
Snowdrop Walks Hertfordshire
The gardens are opened every year in February when they are carpeted in a spectacular display of naturalised snowdrops around the remains of the Norman keep and surrounding moat.
Two main species of snowdrop make up the spectacular display: the single common snowdrop Galanthus nivalis; and double Galanthus nivalis 'flore pleno.'
The snowdrop walk, which runs along the wall at the top of the moat, was planted in the early twentieth century by the present owner's family. Opening the gardens at snowdrop time became an annual tradition which has continued to the present day.
Address: Benington Lordship, Nr Stevenage, SG2 7BS
Opening Times: Saturday 5 February – Sunday 27 February 2022 11-4pm daily FOR NGS Tuesday 8th February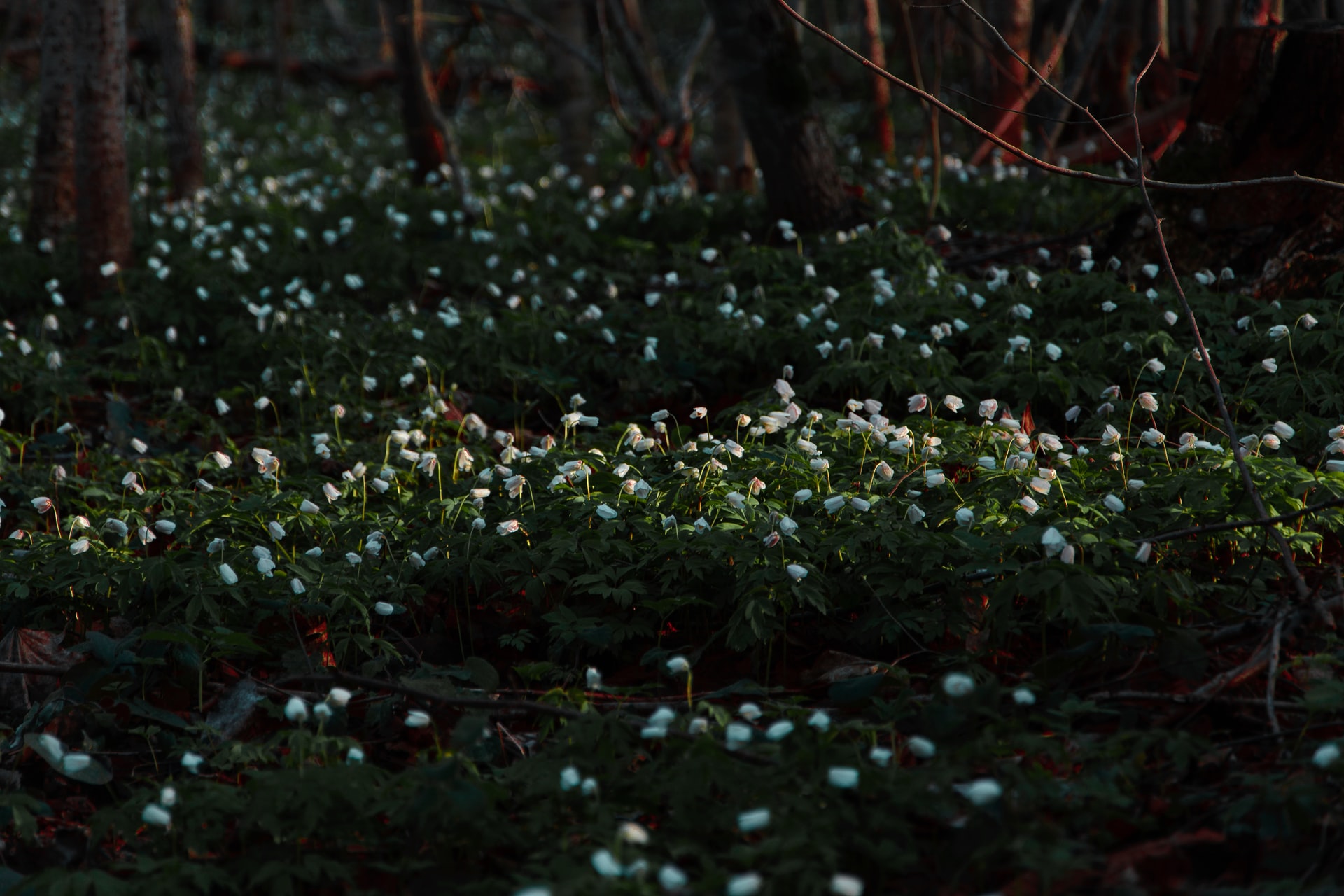 Snowdrop Walks Kent
The garden at Chartwell is a feast for the eyes year-round. In the colder months, admire the winter border, wander the orchard and circle the lakes. Depending on the season, snowdrops may peak through from late February.
Address: Mapleton Road, Westerham, Kent, TN16 1PS
Opening Times: 10.00 – 15.30
The colder season is also perfect for a quiet walk around the wider frosty estate. Time for woodland wanders with the sun shining through bare trees. Keep an eye out for clumps of snowdrops dotted around the woodland floor and garden.
Address: Biddenden Road, near Cranbrook, Kent, TN17 2AB
Opening Times: 11.00-15.00.
Snowdrop Walk Lancashire
Snowdrop Season – Every weekend throughout February
Take the snowdrop trail through the parkland and marvel at the vast displays of snowdrops
Address: Lytham Hall, Ballam Road, Lytham, FY8 4JX
Opening Times: 10am -16.30pm.
Snowdrop February
Snowdrop Sunday 13th February 2022.
Come and stroll around Cabin Wood and enjoy our wonderful display of snowdrops. Admission and car parking are free. Well behaved dogs on leads are welcome. Refreshments will be on sale in the Cabin Café – tea, coffee and delicious homemade cakes.. Donations welcome.
Address: Holly Lane, Aughton, Ormskirk, L39 7HB.
Opening Times : 12noon – 4pm.
Snow Drop Sundays – February 2022
Experience one of the finest carpets in the country cultivated by the Bank Hall Action Group. Use the #bankhallbretherton and #SnowdropSunday hashtags
They are planning to open on Sundays 6th, 13th, 20th & 27th February for the Snowdrop Walks. Opening Time will be from 12 Noon to 4.00 pm (Last Admission 3.30 pm). Admission will be £3.00 per Adult with Children entering free and you will need to pay on the gate, (Cash only). They are expecting that Refreshments will be available. Dogs are welcome to this event but must be kept on a short lead at all times. The paths are wood-chipped but are not, therefore, suitable for wheelchairs and may also present difficulties for prams.
Please check the website and public facebook page for any changes in these arrangements before you come to the event as with the current pandemic these may change before the open days.
Address: Bank Hall Drive, Liverpool Road Bretherton PR26 9AT
Opening Times : From 12 Noon to 4.00 pm (Last Admission 3.30 pm).
This narrow strip of mixed woodland may be small, but it certainly doesn't lack in nature. Snowdrops can be seen in winter before making way for bluebells and a locally rare plant called touch-me-not balsam, which can be seen in just one other location in Lancashire.
Nuthatches, garden warblers, willow warblers and thrushes are just a handful of the birds that can be seen.
Address: Old Hall Lane, Pleasington, Blackburn Lancashire BB2 6RJ
Opening Times: Always open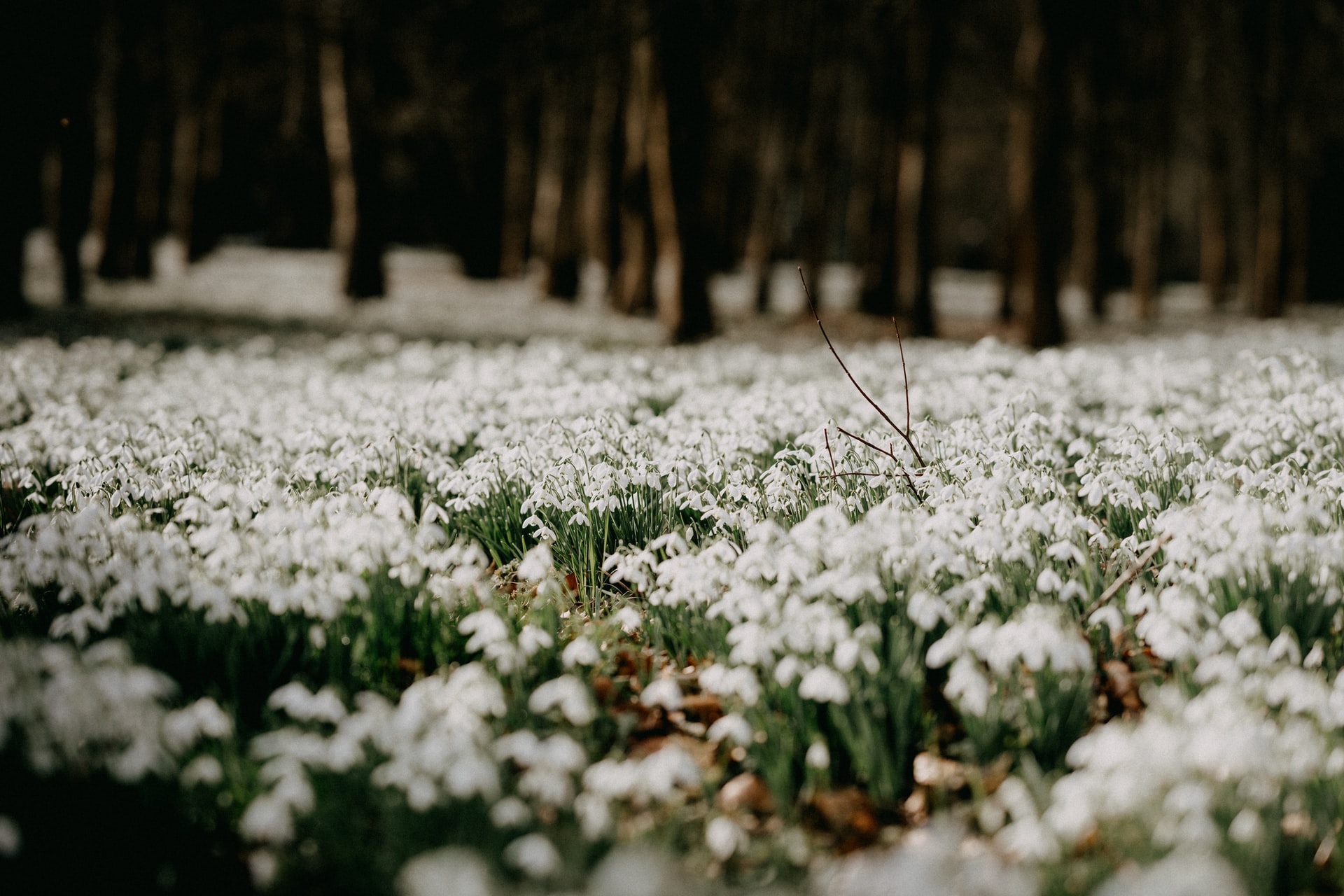 Snowdrop Walks Leicestershire
This reserve is well known for the spectacular display of snowdrops that appear in late winter and early spring. A visit to this special site is a must to enjoy the carpet of white that appears, giving hope that warmer times are on the way and spring is just around the corner.
Address: Staunton Harold hall, Ashby-de-la-Zouch, Leicestershire LE65 1RT
Opening Times: Open All the Time
Snowdrop Walks Lincolnshire
Belton is home to a number of species of snowdrop including Galanthus Nivalis, the common snowdrop and Flore Pleno, the double snowdrop. Each year the estate presents an overlay of over 20,000 snowdrops in drifts throughout the Pleasure Gardens and around the Gothic ruin
Address: Grantham, Lincolnshire, NG32 2LS (SatNav: NG32 2LW)
Opening Times : 09:30 – 16:00.
Snowdrops at Gunby are mostly the common snowdrop, Galanthus nivalis and the double form Flore Pleno. These snowdrops are often thought to be native to Britain, but actually come from southern Europe. They can be found at many locations around the gardens and grounds, as they are strong survivors that readily take in their stride any changes in a garden.
This survival instinct also means that there can sometimes be surprise unrecorded variations in a garden where snowdrops have been grown long-term. Look out too for the relatively recent addition, during Gunby's tenanted times, of the green leaf snowdrop Galanthus ikariae.
Address: Gunby, Spilsby, Lincolnshire, PE23 5SS
Opening Times: Open from 12th february 2022, 10.00-15.00.
Over the past 16 years, 170,000 snowdrops, 45,000 crocus, winter irises, and a selection of other bulbs have been planted to create a ¼ mile winter walk leading through the garden and woodland.
There are banks of willows, dogwoods and winter flowering shrubs, a grove of gleaming white Himalayan birch and pleached red-twigged limes to delight the visitor.
Address: Saxby, Market Rasen LN8 2DQ
Opening Times: 11 February 2022 – 20 February 2022. Open everyday 11 am-4pm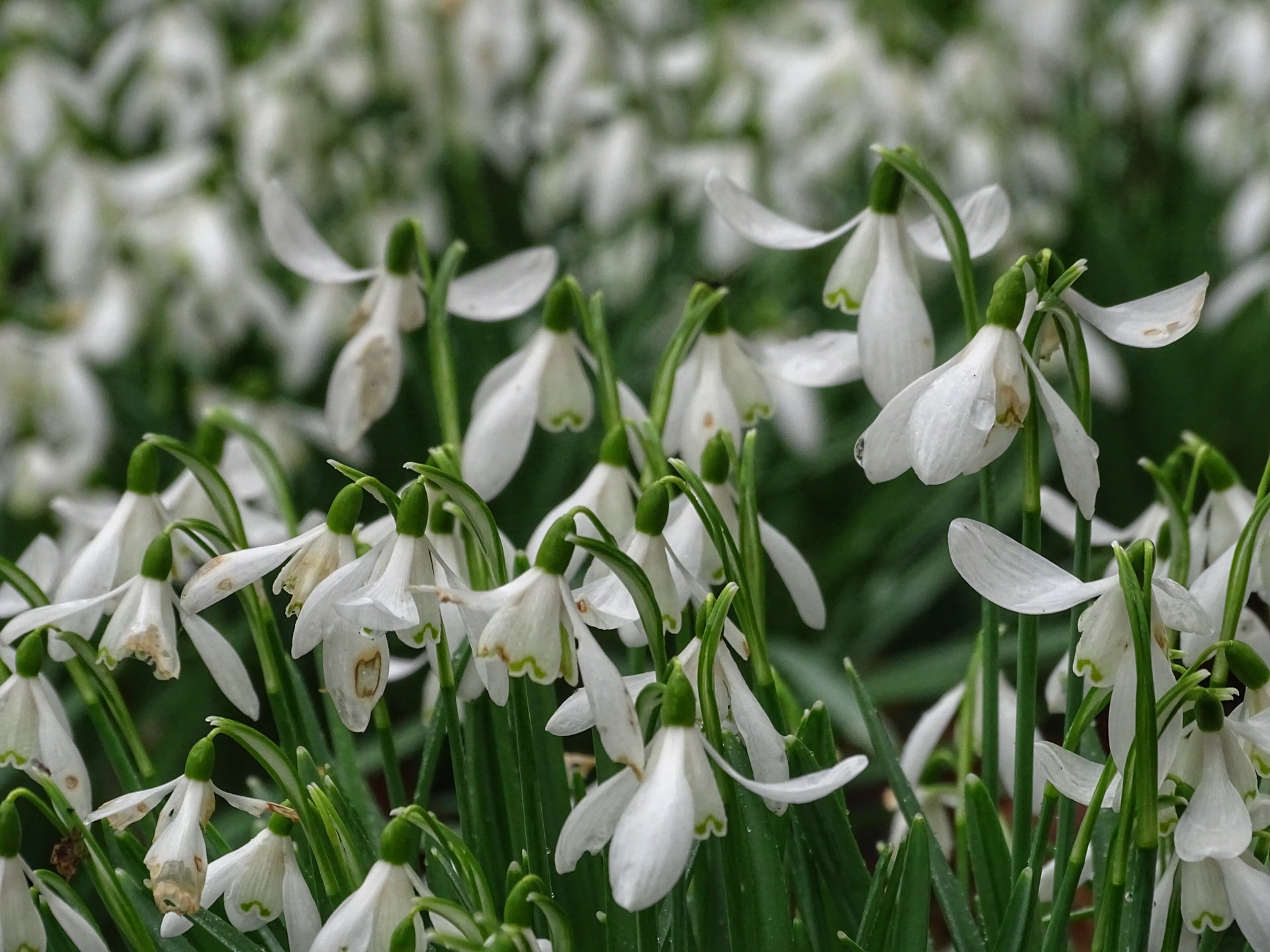 Snowdrop Walks London
Address: 66 Royal Hospital Road, Chelsea, London SW3 4HS
Join us in heralding the first signs of spring as we reopen on Sunday 23 January 2022. Visit during a celebration of the earliest spring blooms, the coming of warmer weather and lighter days.
There will be a special Heralding Spring Trail, leading you around the Garden finding some of the many species of snowdrops and spring blooms growing here. Follow the course of dainty white flowers weaving though London's oldest botanic garden, and you will start to see why snowdrop collecting became so popular that the term Galanthophile (from Galanthus, or snowdrop) was coined to describe collectors of these plants.
Opening Times: Open from Sunday 23rd January 2022, 11.00-16.00
In an old nineteenth-century cemetery, this park is the only woodland in Tower Hamlets and right now it's about to be filled with torrents of snowdrops.
These include common varieties and some rarer blooms such as the giant snowdrop and the green snowdrop as well as different kinds of snowflake flowers. Seeing these pure petals pop up between the gravestones is a sight to behold.
Address: Southern Grove, London E3 4PX
Opening Times: Open 24 hours
There are a whopping 300 acres to explore at London's famous botanic gardens. But, if it's snowdrops you're after be sure to make a beeline for the Rock Garden and the futuristic-looking Davies Alpine House where you'll find the precious white flowers.
Address: Kew, Richmond, London, TW9 3AE
Opening Times: 10.00-16.00pm
Snowdrop Walks Merseyside
Beautiful swathes of snowdrops lie all around the 500 acres of parkland that make up Croxteth Country Park. And if that wasn't enough, as spring approaches they will soon be followed by thousands of bluebells and fragrant expanses of wild garlic.
Address: Croxteth Hall and Country Park, Off Muirhead Avenue East, Liverpool, Merseyside, L11 1EH
Opening Times: 7.00 – 19.00
Snowdrops aren't the only draw in this 13-hectare woodland – visit well into spring and you'll also be treated to daffodils and bluebells growing along the accessible trails. It is the perfect spot for a family stroll or even a leisurely bike ride.
Address: Otterspool Dr, Liverpool L17 5AL
Opening Times: Open All Day
These sunken, secluded cemetery gardens are a little oasis of peace alongside Liverpool's magnificent Anglican Cathedral. Grade I listed by English Heritage, the garden is an ideal place to relax and take in the beauty of the historical architecture which surrounds it, the perfect place to watch spring unfold with the snowdrops.
Address: Cathedral Gate, Upper Duke St, Hope St, Upper Parliament St, St James Rd, Liverpool L1 7AZ
Opening Times: Open all year round, 24 hours a day.
A green oasis with a rare Tudor house at its heart, surrounded by beautiful gardens, woodland and glorious views over the River Mersey.
Address: The Walk, Speke, Liverpool, L24 1XD
Opening Times: 10.30-16.00
Snowdrop Walks Norfolk
White snowdrops and bright yellow aconites create quite the display at Oxburgh Hall during the winter. Venture into the Wilderness, My Lady's Wood and along the north terrace, where thousands of these delicate flowers begin to emerge, all of which have been naturally seeded, rather than designed.
Address: Oxborough, near Swaffham, Norfolk, PE33 9PS
Opening Times: Daily 09.30 – 16.00.
Stunning snowdrop displays are visible on this estate. The Upcher family left their estate to the National Trust, so it's fitting that Galanthus plicatus 'Upcher' features throughout the Park, among other varieties.
Address: Upper Sheringham, Norfolk, NR26 8TL
Opening Times: Dawn to Dusk
Carpets of snowdrops mingled with aconites have naturalised throughout our 18 acres of grounds and woodland, and along the banks of the River Stiffkey which runs through the Abbey Grounds.
The Snowdrop Walks open in late January, and remain open until early March when the flowers fade.
Address: The Shirehall Museum, Common Place, Walsingham, Norfolk NR22 6BP
Opening Times: Open for snowdrop walks from Monday 24th January-Sunday 6th March. Hours will be daily, 10am-4pm. Admission at the High Street Gate.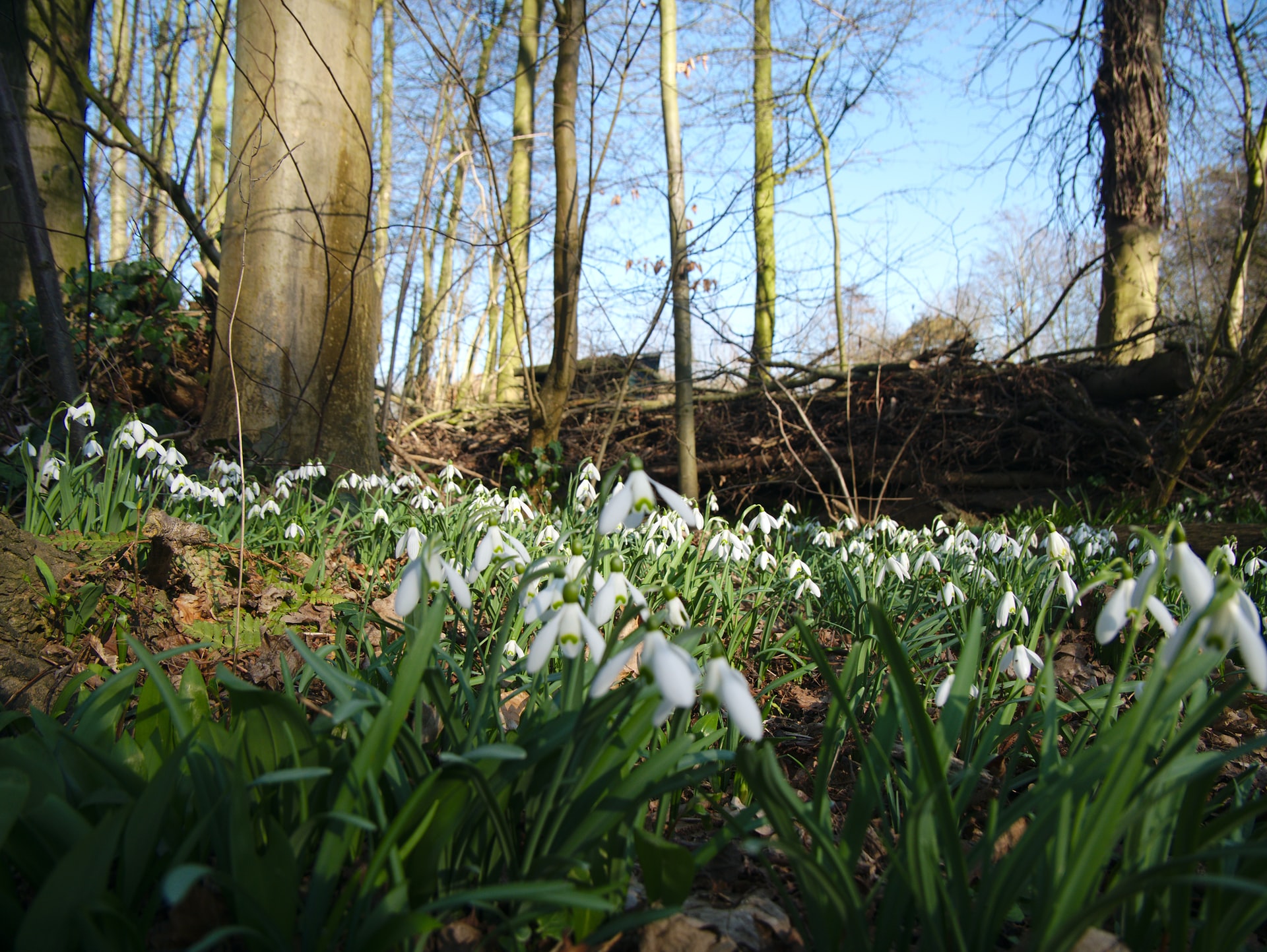 Snowdrop Walks Northamptonshire
Depending on the season the end of January usually heralds the start of the snowdrop season, coinciding with the flowering of hellebores and crocus. All these flowers stand up gallantly to snow and icy conditions which frequently occur at this time of year.
SNOWDROPS AND HELLEBORES 2022
The garden will be open for three weekends for snowdrops and hellebores with slightly different opening times:
Address: Guilsborough, Northampton NN6 8RQ
Opening Times: 11.00am – 4.00pm with hot drinks, soup and light snacks available from the cafe. 19/20 Feb; 26/27 Feb and 5/6 March from 11.00am – 4.00pm
With over 80 varieties of magnificent snowdrops planted in swathes throughout this beautiful 60-acre woodland haven, it's sure to be the perfect place to come and escape this winter.
Among them are Galanthus 'Evenley Double', a special snowdrop which was developed and propagated on site, and other notable varieties such as 'Hill Poe' and 'Lady Beatrix Stanley'.
Spot them as you follow our many paths and rides, weave your way through the tall trees, and take a stroll along the bank of our peaceful stream. You might even spot the roaming guinea fowl!
Address: Evenley Wood Garden Evenley Northamptonshire NN13 5SH
Opening Times : Visit Evenley Wood Garden from the 1st February – 28th February for Snowdrop Days 10am – 4pm. The café will also be open from Tuesday to Sunday 10am – 4:00pm
Snowdrop Walks Northumberland
Visit the stunning Snowdrop Festival during February and enjoy winter woodland walks through carpets of Snowdrops. The Gardens and Tea Room will be open Wed – Sun 10.30am – 4pm.
There is a large collection of snowdrops mainly planted between the wars by Lady Grey, who was a great bulb enthusiast; over time, a number of natural hybrid's have evolved and multiplied.
Every now and then boffins descend on us and give them cultivar names on what to a layman might appear to be tiny differences. They are planted in large drifts throughout the garden, often with winter aconites, and make a fine display telling us all that spring is not far away.
Address: Alnwick Northumberland England NE66 3LB
Opening Times: Early February to 31st March Open daily 10.30am – 4pm
Look out for drifts of delicate white snowdrops blooming in the woodland around Wallington – there are hundreds of thousands to spot, including some unusual varieties
Address: Cambo, near Morpeth, Northumberland, NE61 4AR
Opening Times: 10:00 – 17:00.
Snowdrop Walks Shropshire
From New Year onwards the team at Attingham are keeping an eye out for the first of the snowdrops. Usually, beginning to make an appearance from early January (dependent upon weather conditions) these delicate green and white flowers transform the floor of the woodland in February.
Wrap up warm as the new year arrives and take a refreshing stroll around Attingham to spot the snowdrops.
Snowdrops are traditionally seen as a symbol of hope at the end of the winter and with the wet and mild winter we've had so far this year they are likely to start 'springing up' in January.
Address: Atcham, Shrewsbury, Shropshire, SY4 4TP
Opening Times: 08:00 – 17:00.
Snowdrops tend to flourish in damp woodland from late January onwards. Take a walk through the Dingle to see them at their best. Dogs on leads are welcome too.
Our visitor facilities (including toilets) open at Dudmaston on 12, 13, 19 and 20 February. The tea-room will be serving takeaway hot drinks and treats to warm you up after your winter walk.
Address: Quatt, near Bridgnorth, Shropshire, WV15 6QN
Opening Times: 11.00-16.00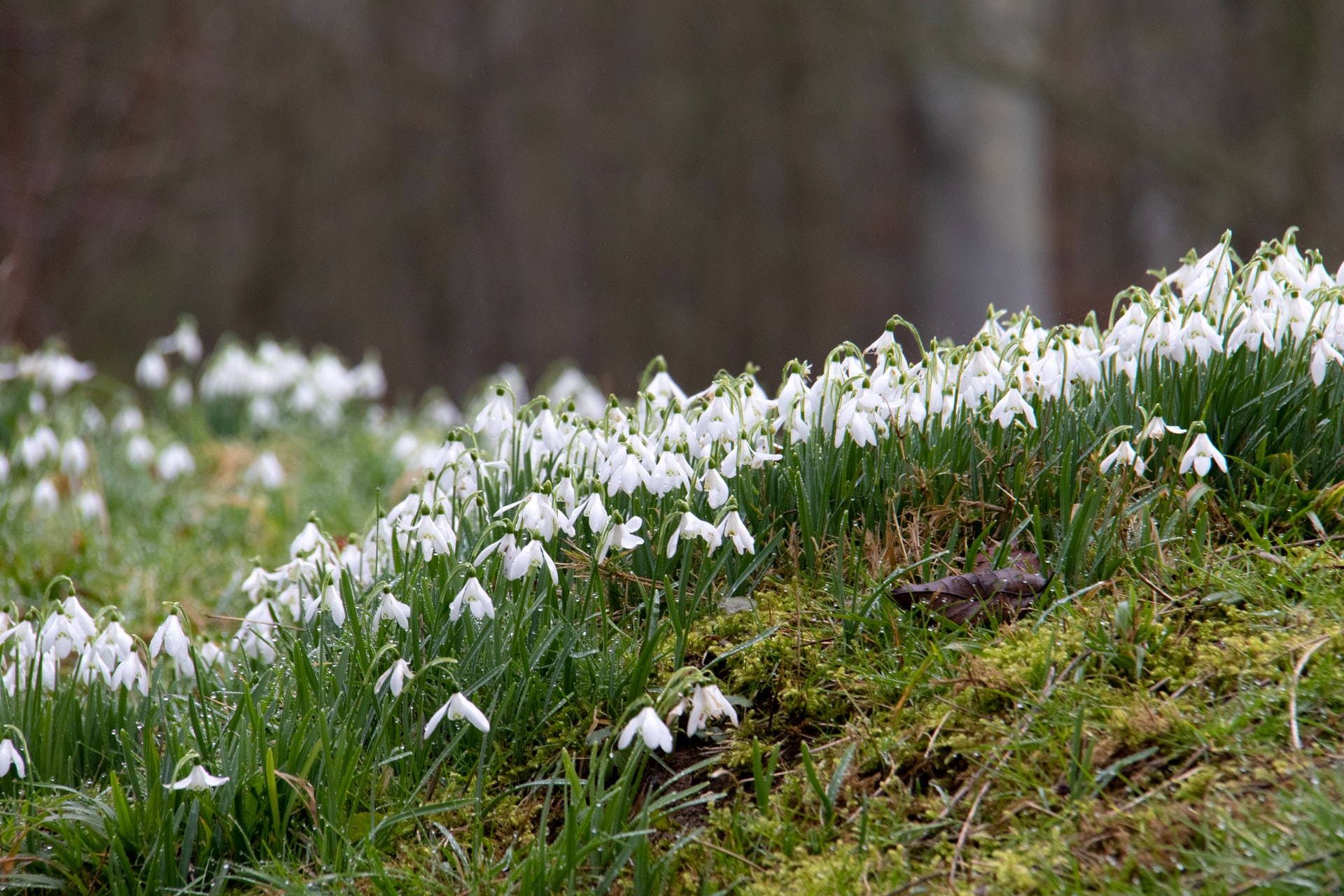 Snowdrop Walks Somerset
Winter in Prior Park is the perfect place to reflect on the year gone by, surrounded by the sights of winter and the start of spring, which includes swathes of snowdrops.
Address: Ralph Allen Drive, Bath, Somerset, BA2 5AH
Opening Times: 10.00-16.00
Dunster castle is the perfect place to see snowdrops, with 28 acres of parkland, wooded riverside and terraced garden.
Address: Dunster, near Minehead, Somerset, TA24 6RL
Opening Times: 10.00-16.00.
Snowdrop Walks Suffolk
Follow the path along Lady Geraldine's Walk and wind your way around Albana Walk, where snowdrops are complemented by the golden glow of aconites. If it is carpets of white you are looking for, this is the place to visit.
Address: The Rotunda, Horringer, Bury St Edmunds, Suffolk, IP29 5QE
Opening Times: Daily 10.00- 16.00.
Snowdrop Walks Surrey
Take a stroll through The Wilderness: not as bleak as it sounds, this is the Stuart house's woodland garden and it's filled with layered snowdrops, winter aconites and early narcissi at this time of year.
Address: Ham Street, Ham, Richmond, Surrey, TW10 7RS
Opening Times :
In the garden at Polesden Lacey you'll find beautiful snowdrops all across the garden from January through to March. The two key areas to head for are the Winter Garden and Lime Walk.
Address: Great Bookham, near Dorking, Surrey, RH5 6BD
Opening Times : 10.00-16.00.
Winkworth Arboretum in Surrey is the perfect place to enjoy peaceful seasonal beauty. Thousands of snowdrops pop up in clusters from early February.
The best displays can be found outside the tea-room, where you can see a lawn of common snowdrops (Galanthus nivalis), and along the Upper Arboretum and Spring Walk
Address: Hascombe Road, Godalming, Surrey, GU8 4AD
Opening Times: 10.00-16.00.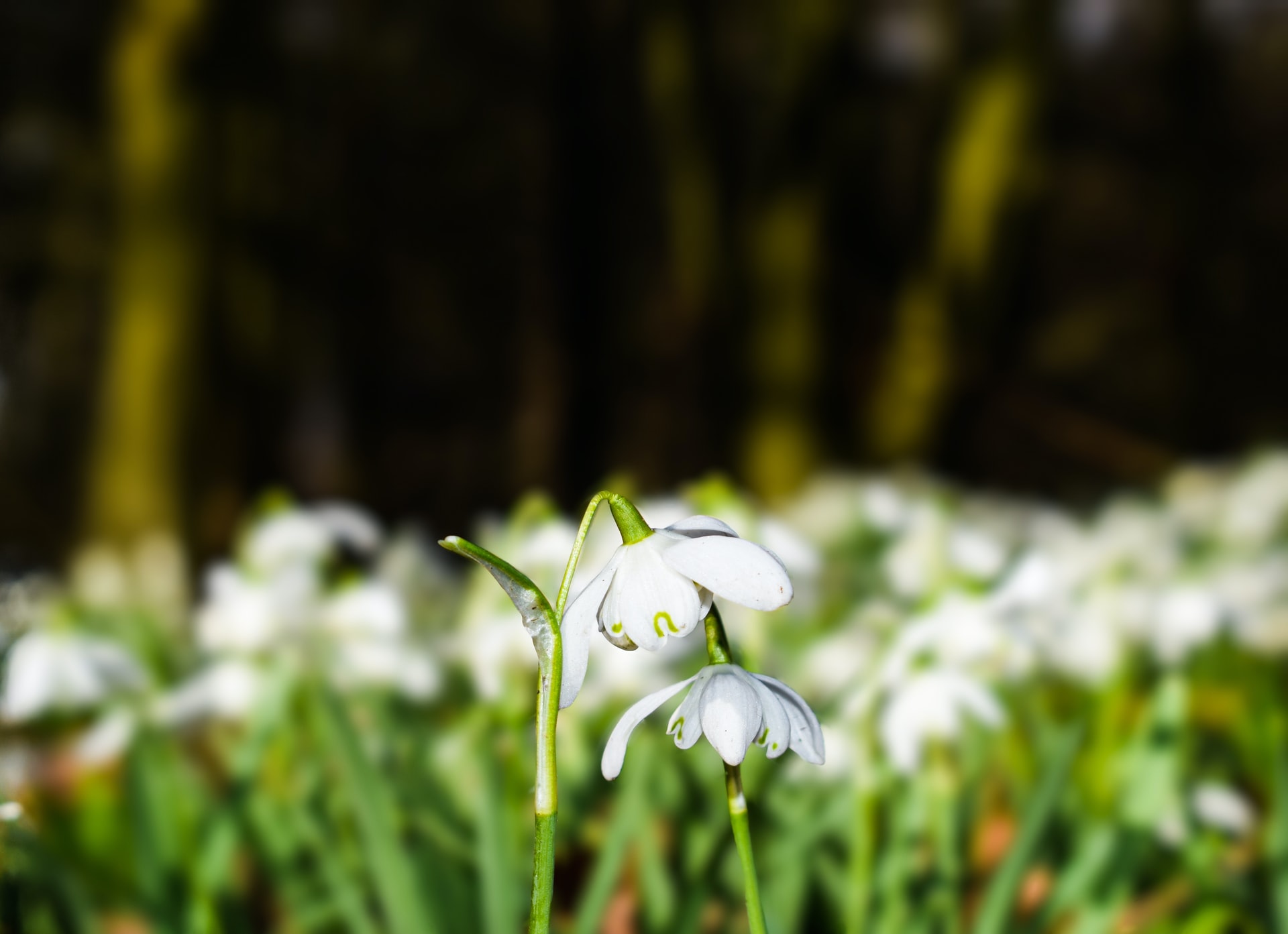 Snowdrop Walks Sussex
The structure of the clipped yew hedges and avenue of pleached limes look crisp and angular with a frosty layer topping them. Bursts of colour can be found in the borders with Hellebores stealing the show.
Evergreen shrubs continue to keep the garden looking green and fresh even through the darker winter months. Look out for clumps of snowdrops as you stroll around.
Address: Bateman's Lane, Burwash, East Sussex, TN19 7DS
Opening Times: 10.00-16.00.
During wintertime the garden is at rest, but not asleep. Spot snowdrops in the top garden and delicate witch-hazels in the walled garden while buds burst into bloom as winter gives way to early spring.
Address: Handcross, near Haywards Heath, West Sussex, RH17 6EB
Opening Times: 10.00-16.00. In line with government guidance, outdoor spaces only at Nymans are open for local visitors to access for walks. You will need to book your visit in advance.
For the first glimpse of spring visit Petworth and see swathes of snowdrops that carpet the Pleasure Grounds – a welcome sign of warmer days to come.
Address: Petworth House and Park, Petworth, West Sussex, GU28 9LR
Opening Times: 08.00 – 18.00.
Snowdrop Walks Warwickshire
From January to May the churchyard at Baddesley has many beautiful flowers; first snowdrops, then daffodils and then bluebells. Flowering snowdrops are traditionally seen to herald the end of winter and there is a wonderful display at Baddesley.
Address: Rising Lane, Baddesley Clinton, Warwickshire, B93 0DQ
Opening Times: 09.00 – 18.00.
Snowdrop Walks Wiltshire
Invigorated by the appearance of snowdrops, crocuses and the sounds of birds singing in the crisp air, head out into the grounds and village for some early spring walks.
Address: Lacock, near Chippenham, Wiltshire, SN15 2LG
Opening Times: 11.00-16.00
Carpets of brilliant white snowdrops surround the lake in this world-famous garden from February. With winding paths to follow and surprises round every corner, early spring is the perfect time to visit.
Address: near Mere, Wiltshire, BA12 6QD
Opening Times: 10.00-14.30.
Snowdrop Walks Worcestershire
There's a wonderful show of snowdrops in the Church Shrubbery in the first few months of the year and you can see Galanthus nivalis which were mentioned in the 1824 guidebook, the Hortus Croomensis.
Over a two year period in 2009 and 2010 they planted 10,500 snowdrops in the Church Shrubbery.
Address: near High Green, Worcester, Worcestershire, WR8 9DW
Opening Times : 10:00 – 16:30.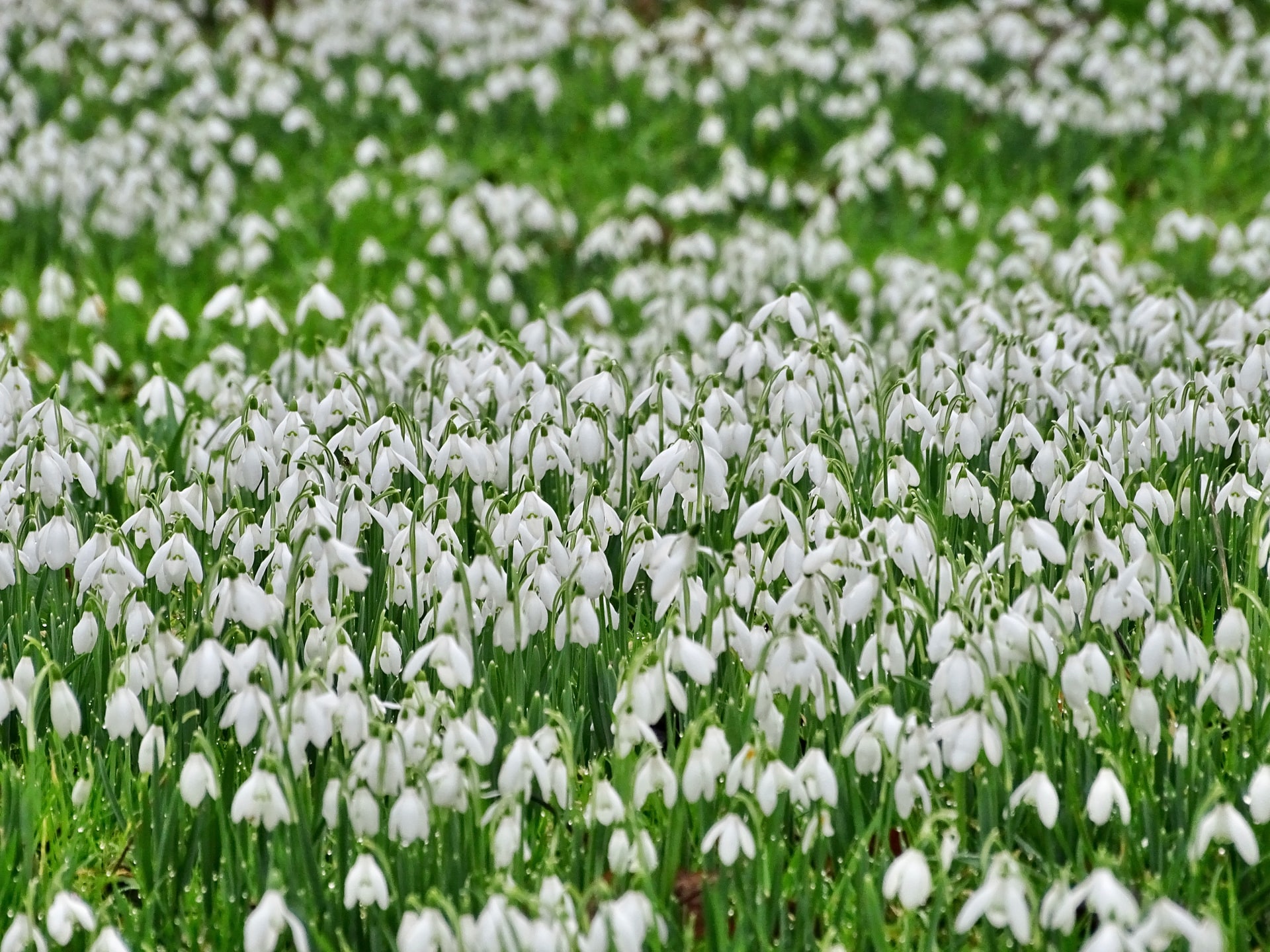 Snowdrop Walks Yorkshire
There are over 300,000 spring bulbs planted along the south ha-ha. As winter turns to spring this beautiful spot just beyond the walled garden boasts first a white carpet of snowdrops, followed by Daffodils.
Address: Beningbrough, York, North Yorkshire, YO30 1DD
Opening Times: 10.00-14.30.
This World Heritage Site is a paradise for outdoor and nature lovers. Snowdrop displays are a legacy left by Earl de Grey who planted the flowers along the banks of the River Skell when he owned the estate during the 19th century.
There are miles of footpaths and trails to explore and whichever walking route you choose, you'll find beautiful views. Early spring is the perfect time to explore this amazing place and the surrounding countryside.
Address: Fountains, Ripon, North Yorkshire, HG4 3DY
Opening Times: 06:00 – 18:00.
The Pleasure Grounds at Nostell come to life in spring with snowdrops popping up in the landscape. Follow the circular path through the woodland of sweet chestnuts and oaks, making your way towards the Lower Lake and Boat House.
As you make your way back up to the Middle Lake, look out for the cascade flowing over the stone Druid's Bridge
Address: Doncaster Road, Nostell, near Wakefield, West Yorkshire, WF4 1QE
Opening Times: 09.30- 17.00.
Just over two years ago, 8,000 bulbs were planted in the garden at Ormesby Hall. They'll emerge as winter moves into spring so look out for the white sheen of 2,000 snowdrops
Address: Church Lane, Ormesby, near Middlesbrough, Redcar & Cleveland, TS7 9AS
Opening Times : Parkland Open All day.
Great displays of snowdrops can be found at Brodsworth Hall.
Address: Brodsworth, Doncaster, South Yorkshire, follow brown signs
Opening Times : Brodsworth is open Saturday – Sunday 10am – 4pm until 13th February, then daily from 14th February 2002.
This winter, let the spectacular sight of snowdrops bring you out of hibernation
Wrap up warmly this winter and enjoy the breathtaking display of snowdrops here.
Every February, thousands of hardy snowdrops push through the cold winter ground to create a magnificent 'white carpet' across the woodland floor here at Burton Agnes. Walking peacefully among these makes a truly memorable day out at the end of the long winter. The beautiful little flowers grow in numbers each year and are such a welcome sight. This biblical symbol of hope reminds us that winter eventually gives way to spring, and announces the new season.
Galanthophiles may also like to buy some Burton Agnes-propagated snowdrops 'in the green', which is the best way of building a collection.
Address: Rudston Rd, Burton Agnes, Driffield YO25 4NB
Opening Times: The woodland is open for walking among the snowdrops from the 5th February to 6th March 2022, from 11am to 4pm daily.
Check out more of our Outdoor Adventures
Have you spotted any snowdrops that are not listed, feel free to tell us in the comments and we can add them in.