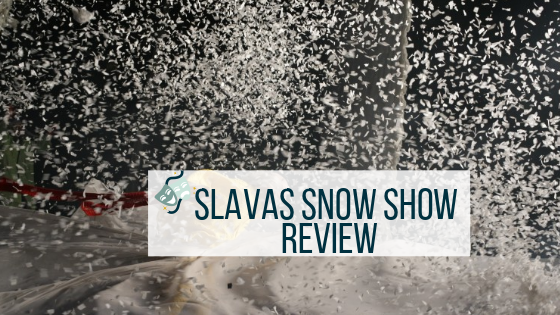 Slavas Snow Show at Norwich Theatre Royal Not to be missed!
Last night Neva and I were invited along to the opening night of Slavas Snow Show at Norwich Theatre Royal. I had originally seen this advertised months ago and was very curious, as Neva means Snow in Latin, we obviously had to go and see it!
The programme gives very little away, so I don't want to spoil it for everyone, and I want you to go into the theatre just like we did, not really knowing what to expect, however I will say it was BRILLIANT, we laughed so hard I ended up with a coughing fit! Some may call it weir, others bizarre, some just plain bonkers, but that is the entire beauty of the production, it transports you off to a land of snow.
The 'story' centres around a yellow clown who is rather sad, but is cheered up by a large group of very funny green clowns, from the moment it begins you are captivated by the facial expressions, and feel as if you know exactly what he is feeling, there are lots of different small stories intertwined together, including a shark on wheels, a very wonky table, fuzzy telephones and lots of snow! (and nearly as much water!)
The effects are nothing short of stunning, and you feel as if you are at the centre of it, right there with the performers.
They are an extremely talented bunch and anyone who is slightly apprehensive about clowns should totally go and see these guys, I guarantee it will change your perception entirely.
The recommended age range is 6+ and I agree, although Viggo aged 4 would love all of the comedy, he may be a little too young for some of the effects (there is smoke and bright lights involved). If you haven't booked your tickets yet, then go and book them now, you will not be disappointed, and if you are not so keen on audience participation, then maybe sit nearer the back in the stalls!
It is a true delight and the ending is inspiring, it gives you a warm fuzzy feeling inside and makes you feel like a child again, the age range of the audience was immense, proving that it really is a show for all ages.
If you would like to see Slavas Snow Show at Norwich Theatre Royal, it will be taking place Wednesday – Saturday evenings at 19.30pm and Thursday and Saturday afternoon at 14.30pm although if you are thinking of going on Saturday to either performance, book it quickly as they are nearly all sold.
If you do not get a chance to see Slavas Snow Show at Norwich, do not panic, there are plenty more places to catch it, check out the tour dates here