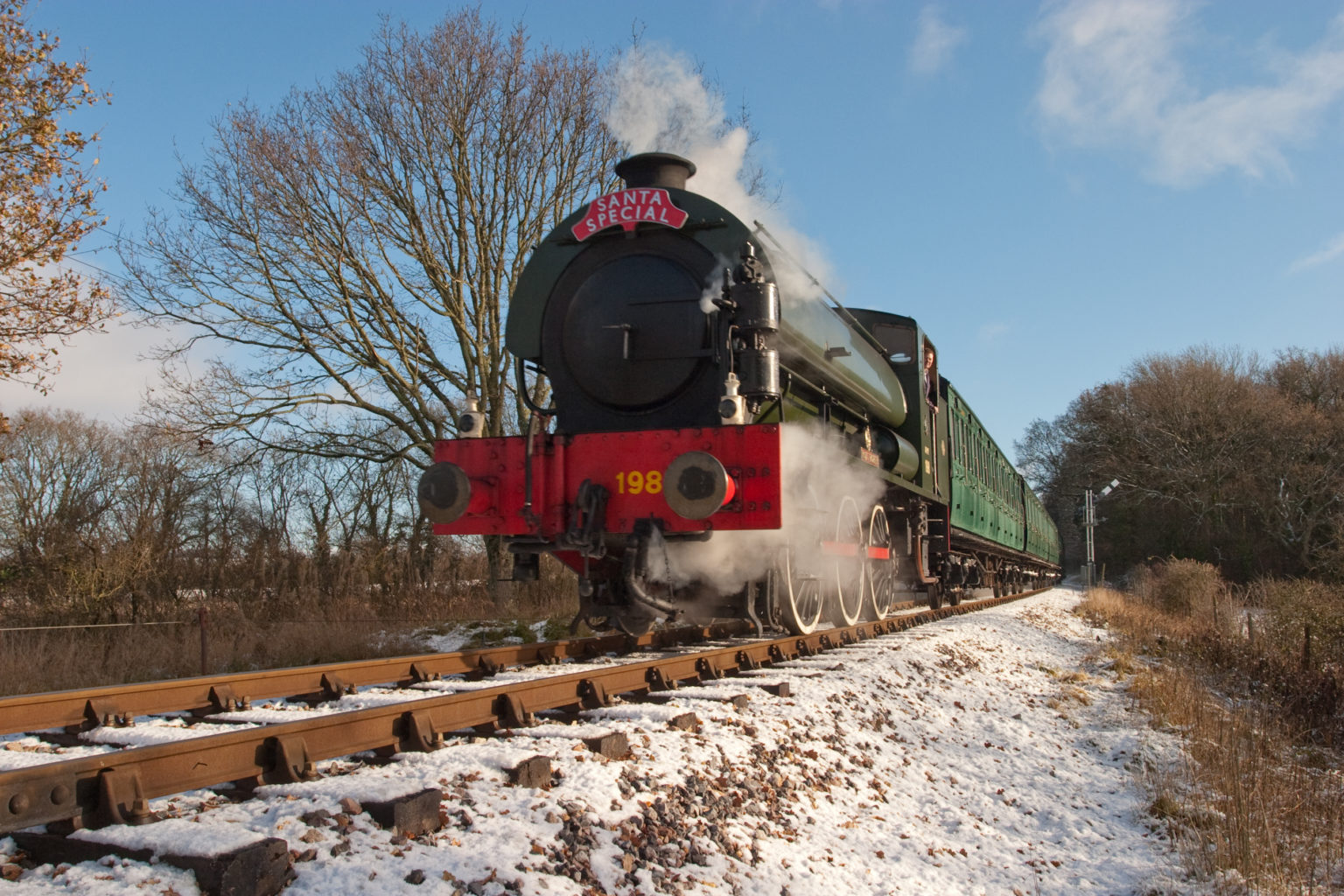 Have You Booked A Santa Train Ride Yet?
Looking for something unique to do with the children over the festive season, why not take them on a magical Santa Train Journey, to visit the man himself.
Santa Train rides are offered at various locations throughout the UK, perfect for any young train enthusiast or children who love the outdoors and something different, whether you're riding a Santa Express or going on a Magical Light Journey, a Santa Steam Train experience, is one to add to the list, and if your children are grown up, maybe you could share it with them and their children, a lovely multi generational outing to share together.
Sadly the Polar Express six destinations are cancelled for the 2020 season, so we will update the information as soon as the 2021 dates are announced.
Bo'Ness and Kinneil, Llangolen Railway, Bodmin & Wenford Railway, Middleton Railway, Ribble Steam, Llanberis Lake Railway, Dartmouth Steam Railway Santa Express, Train of Lights Caledonian Railway and Peak Rail have all announced they will also not be running their Santa Train 2020.
Currently Amerton Railway Santa Special, East Kent Railway Santa by Train and Mid-Suffolk Light Railway Santa Special Mid Hants Railway Santa Experience Blaenavon's Heritage Railway Chasewater Railway are all SOLD OUT but they do advise checking their websites and social media pages to check for any cancellations or last minute available bookings.
Santa Train Rides 2020
Your party will board the train at the platform adjacent to the Apedale Heritage Centre, and the train will run to the far end of our railway. There, Santa will come to each train compartment and have a conversation, from a distance, with each child. Guests will not leave the compartment in which they are seated. Each child will get a simple gift, and the train will then return to the starting point.
The experience will last approximately 45 minutes. We will be using only our open-sided coaches, so we advise that guests wrap up warm.
All gifts for children will be chocolate-based. Please let us know at the time of booking if this is unsuitable for your child by emailing [email protected]
The Heritage Centre will be open for hot food and drinks. Their toilets will be available, but please note that capacity is limited ("one in, one out") and there may be a queue at busy times.
Opening Dates: 12/13th and 19/20th December 10:00, 11:00, 12:00, 13:30, 14:30, 15:30, 16:30
Address: Loomer Road, Chesterton Newcastle under Lyme ST5 7LB
Telephone: 0845 094 1953
Price: Compartment for up to six people £20
Our Christmas Special is the most magical, family, Christmas experience. The time you book for is your train ride where your enchanted experience will begin, please be sure to arrive 30 minutes before your slot so you have plenty of time to prepare. Once you've checked in you will board upon the Santa Express where our driver will navigate you through the Estate Woodland. You will arrive at Father Christmas's Winter Wonderland where you and your family will meet Father Christmas himself, along with his very helpful Elves, receive a special gift and also watch a Christmas dance!
After your train ride you will be led into the enchanted walk to visit the talking Gingerbread House, Dolly. Here you will listen to tales of how cheeky Ginger and Brownie, our resident Fairy and Elf, have been causing havoc in the woods.
Once you have listened to Dolly's tales, you will then explore our Adventure Play Area while enjoying the delights of our Café and seating area in our brand-new Tipi Tents. Your children can also create their own Reindeer Food to leave out on Christmas Eve and have time to write their letters to Father Christmas and post at our North Pole Post Office too!
The fun does not stop there as you will then be escorted to meet the wonderful Mother Christmas for your interactive show.
Opening Dates: 3rd to 24th December
Address: Audley End Miniature Railway, Audley End Road, Audley End, Saffron Waldon, Essex CB11 4JB
Telephone: 01799 510726
Price: Adults and Children over 92cm from £18, Child under 92cm from £9, Under 1 is FREE
Unfortunately due to the latest restrictions in place the train rides will not be able to take place between 5th and 13th December, visits after this date will be subject to the next update, however all is not lost, you can still see father Christmas…..
Simply bring your family group or 'household bubble' along to Bitton Station within 30 minutes of the time your train was due to depart and you'll be greeted by Santa's elves. First, you'll see our Christmas donkeys with their festive hats on the lawn to the side of the station. Then, you'll wait on the platform for your turn to meet Santa where he'll give out your presents and you can take photos with him, all socially-distanced of course. You'll also still receive your mince pies and festive biscuits to enjoy whilst you're at the railway too.
Unfortunately, if you're booked for trains on the 5th, 6th, 7th, 12th & 13th you wont be able to ride on the train as these are classed as 'indoor spaces'. This is a real shame as all our volunteers were so looking forward to welcoming you aboard. But, we did warn you that this might happen when you bought your tickets and said we wouldn't be able to offer refunds in these circumstances. Trains on later dates may be able to run following the Government's fortnightly review of restrictions and we'll be in contact again once we know more.
A 50 minute (six mile) trip in a heritage carriage behind one of our steam locomotives
A short greeting from Father Christmas as he greets each family as he passes through the train and a photo opportunity with him when you return to Bitton Station
A quality present for each child, given out onboard
A mince pie or festive biscuit for everyone to enjoy as they go on their journey
The chance to meet the Christmas donkeys on the platform at Bitton Station
Opening Dates:
Trains will depart from Bitton Station at:
10:15, 11:45 13:15 14:45* & 16:15* (* does not run on Monday 7th)
Sat 5 & Sun 6 December, Mon 7 December, Sat 12 & Sun 13, Sat 19 & Sun 20, Tues 22, Wed 23 & Christmas Eve
Address: Bitton Station, Bath Road, Bitton Bristol, BS30 6HD
Telephone: 0117 932 5538
Price: Sat 5 & Sun 6 December: £15 per seat. Mon 7 December: £10 per seat. Sat 12 & Sun 13 £15 per seat. Sat 19 & Sun 20 £16 per seat. Tues 22, Wed 23 & Christmas Eve £16 per seat
Classic Santa Experience – Santa will visit your group in your compartment and hand out gifts to all the children.
All adults will receive a small festive drink (white wine or sherry) and a mince pie.
Children will get a small packet of sweets and a juice drink.
Further refreshments will be available on board, ordered and served to your compartment by our onboard team.
Deluxe Santa Experience – Santa will visit your group in your compartment and hand out gifts to all the children.
Your compartment will have Christmas crackers for your group, complimentary hot drinks for all adults, and a large hamper full of festive treats for everyone to make your experience one to truly remember. Please let us know of any allergies and we can tailor your hamper to suit.
Further refreshments will be available on board, ordered and served to your compartment by our onboard team.
Opening Dates: 5/6th 12/13th 19/20th 23/24th December
Address: Shackerstone Station, Shackerstone, Leicestershire. CV13 6NW
Telephone: 01827 880754
Price: Classic for 4 people from £72, Classic for 5 people from £90, Classic for 6 people from £108
Deluxe for 4 people from £104, Deluxe for 5 people from £130, Deluxe for 6 people from £156
Get into the mood with some Christmas music while having your tickets checked, Board your train in your own private compartment for a safe and enjoyable journey, Mince pies and chocolate coins waiting for you on board
Enjoy the trip to Horsted Keynes through the winter countryside.
Visit Santa in his parlour with an opportunity for a photo, Collect your special present from Santa's Workshop, Enjoy the traditional inclusive amusement attractions – all carefully spaced apart, Take time for a glass of delicious Christmas Punch on sale on the platform
Rejoin your train to return to Sheffield Park or East Grinstead, Pick up Christmas gifts at our market stalls and shops
The whole experience will take around 2 hours from Sheffield Park and 2 hours 15 minutes from East Grinstead
Opening Dates: 5th/6th Dec, 12th/13th Dec, 19th/20th/22nd/23rd/24th Dec
Address: Sheffield Park Station, East Sussex, TN22 3QL
Telephone: 01825 720800
Price: Third class compartments – £130.00 First class compartments – £170.00
Hop on board one of our Festive Express steam trains this December. Enjoy a 1 hour experience from our Aylsham Station including festive treats, a 30 minute steam train ride and a guest appearance from Santa.
Each child will receive a personalised present from Santa himself.
Itinerary
Arrive at Aylsham Station 20-30 minutes before your train departs to collect your boarding pass and festive refreshments to enjoy on your journey. You will have your own heated private compartment for your party.
Once everyone has boarded, the train will depart our brightly decorated station to Brampton. Wave to your Steam engine from your carriage as it turns around before returning.
As you make your way back to Aylsham Station Santa will be waiting to greet you on his sleigh. Stay seated in the warmth of your carriage as we call you forward to collect your children's personalised present from Santa.
Opening Dates: 5 & 6 Dec 2020, 12 & 13 Dec 2020, 19 & 20 & 21 & 22 & 23 & 24 Dec 2020
10.00, 12.30, 15.00, 17.30.
Address: Aylsham Station, Norwich Road, Aylsham, Norfolk, NR11 6BW
Telephone: 01263 733858
Price: £12 per person
Experience a magical Santa Steam Special as we travel from Princes Risborough in Buckinghamshire and chuff onward and 'Over the County Border' to meet Santa and his Elves at his new North Pole Grotto at Chinnor in Oxfordshire!
We continue to be in daily contact with Santa on his Steam Specials this December. We've exchanged lots of thoughts on how everyone who visits Santa can stay safe and well in these difficult times. Mrs Claus says that her first priority is a Covid-secure visit – but importantly she says that all the boys and girls (and their families) who travel to see Santa must still enjoy a fabulous experience!
Opening Dates: 12/13th 19/20th 21/22/23rd December 10.45, 13.00 & 15.15
Address: Platform 4, Princes Risborough Station, Buckinghamshire HP27 9DN.
Telephone: 01844 353535
Price: Compartment £95 inclusive for up to 6 Seats, Open plan seating £16 per Seat
Unfortunately due to the latest restrictions in place the train rides will not be able to take place this year.
The Christmas Elves will be on-hand to welcome you aboard the festive filled coaches, where they will introduce the big man himself. But wait what's wrong? Oh no; the Elves have forgotten to invite Father Christmas! As we can't have a Santa Express without him, we're going to have to take a detour to the North Pole to pick him up.
Whilst venturing through Consall and Cheddleton, each of the happy little elves will help to spread the Christmas cheer with singsongs and quizzes for all to enjoy and join in with. Make sure to keep one eye out of the window, as the further North we go the more magical the land becomes. After passing through the Northern Lights you will arrive at the North Pole, where everyone's hero will be waiting to be collected.
Once we all cheer him onboard, we can then return to our journey whilst Father Christmas comes to meet you all at your seat. Bearing wonderful gifts for each little Boy and Girl, he will take time to learn all that is on each child's wish list. Mums, Dads, Grandmas and Grandpas can relax and enjoy a drink some of the finest North Pole chocolate courtesy of Santa's Christmas elves.
Opening Dates: 5, 6, 12, 13, 19, 20, 22, 23, 24 December Froghall Departures: 10:00, 12:00, 14:00, 16:00
Address: Churnet Valley Railway, Kingsley & Froghall Station, Froghall, Staffordshire, ST10 2HA
Telephone: 01538 360522
Price: From £17 for adults, From £12 for children 2-15 and £7 for children under 2, Private Compartment an extra £30 with min 6 people max 8 people.
We are pleased to say that Santa is visiting us again this year. We have worked hard with Santa and the Elf and Safety team to ensure that your visit to him will be as enjoyable and safe as we can make it. Things will be different this year. You will meet Santa in his grotto before travelling on our diesel train to collect your present from Santa's Toy Shop.
Opening Dates: 6th 12/13th, 19/20th and 22nd December 10am – 15.30pm
Address: Colne Valley Railway Castle Hedingham Halstead Essex CO9 3DZ
Telephone: 01787 461174
Price: 2 people £40, 3 people £50, 4 people £60, 5 people £75, 6 people £90
Visit the Dean Forest Railway this Christmas for your chance to ride behind a real steam engine and visit with Santa and his elves! With presents for the children and a miniature for the adults (plus mince pies for everyone!)
Opening Dates: 5th/6th/9th/12th/13th/19th/20th/21st/22nd/23rd/24th December
Address: Norchard Station, Forest Road, Lydney, Glos. GL15 4ET
Telephone: 01594 845840
Price: £15 Per Person Under 2s FREE
Climb aboard a train of vintage carriages with a private compartment for each group and listen for the whistle and whoosh of steam as the train sets off on a journey to meet Father Christmas.
Santa is letting his reindeer take a rest ahead of Christmas Eve and he will be in a special train full of presents in a wonderfully decorated Victorian station. He has a gift for every child, helpers to entertain the family and has arranged a second steam train to take visitors (and their presents) on a festive journey, ready to explore the rest of the 21-acre living museum.
There are seasonal refreshments to enjoy as you explore original 1932 GWR Engine Shed. Here, you can see more restored locomotives, see onto the footplate of some and meet Eddie the Engine Driver who will be telling festive tales of the railways at Christmas time. The refreshments are all included in your ticket price and come in the shape of mince pies and mulled wine/non-alcoholic punch which will be served to adults, while for children there's gingerbread and hot chocolate – with marshmallows of course!
Opening Dates: 5/6th 12/13th 19/20/22/23rd December 9.30am to 16.00pm
Address: Didcot Railway Centre, DIDCOT, Oxfordshire, OX11 7NJ
Telephone: 01235 817200
Price: From £15.75 to £17.50 per person
Take a steam train ride to Rawtenstall and back through the Irwell Valley – journey time approximately 80 minutes, Immerse yourself in the festive atmosphere with a beautifully decorated train interior, Meet Santa and his elves as they provide a gift to every child, Receive an activity pack for children and a mince pie and festive tipple for grown ups.
Opening Dates: 5th/6th Dec, 12th/13th Dec, 19th/20th/21st/22nd/23rd/24th Dec
Address: Bolton Street Station, Bury, Lancashire, BL9 0EY.
Telephone: 0333 320 2830
Price: From £20 per Adult, £31 per Child and Compartment for 6 from £159
You will have a 40 minute ride on the Santa Special train first, then cross the line to the North Pole Station where you can visit Santa and receive a gift (if you have been good, of course!)
When making your booking, you will be asked to specify the gender and age of each child so that Santa can choose presents accordingly. If you have a little girl who would prefer a 'boy's toy' – or visa versa, – please reflect this in your gender choice and also consider the appropriate age choice to suit the recipients.
If you are bringing an infant (uder the age of one) we do not expect them to need their own seat on the train, so please choose the 'Adult and Infant' ticket option.
There will be a Goody Bag for every family group to take onto the train which will contain colouring sheets, crayons and a family Santa quiz sheet. Refreshments will be served including mulled wine and mince pies.
Opening Dates: 5/6th 12/13th 19/20/22/23/24th December from 10.30 am to 17.00pm
Address: Cranmore Railway Station Cranmore BA4 4QP
Telephone: 01749 880417
Price: From £15 to £19 per person
The Derbyshire Dales have a secret! Many years ago, whilst flying through the skies above, Santa looked down from his sleigh and saw how beautiful the rolling hills looked in the snow.
"If only every boy and girl could see the magic below" he said to himself. Then, in the distance, Santa heard a noise that even he, with everything that he has heard before, thought was the most magical noise that he had ever heard. That sound was the sound of a steam engine, and it was at that moment that the most magical train ride was born!
When Santa arrived home he began to work on his new project, finding elves to build a station for him to use, finding the best onboard hosts who love Christmas. They must believe in him and his Christmas magic! Of course, not forgetting the most scrumptious hot chocolate makers in the world.
Now the train is ready your golden ticket awaits! Your train departs from Wirksworth's beautiful old station soon so now join us and step into our wonderful world of Christmas imagination. Get your golden ticket ready, this is going to be a ride you will remember!
Opening Dates: 5th, 6th, 12th, 13th, 19th, 20th, 21st, 22nd, 23rd, 24th December 2020
Address: Wirksworth Station Station Road Coldwell Street Wirksworth DE4 4FB
Telephone: 01629 823076
Price: Compartment for up to six people prices from £55 to £70 per compartment, not per person.
The fires are lit at Bolton Abbey station and festive decorations will be all around. Seasonal fare will be available to purchase from the Refreshment Room and buffet cars, which will be bulging with mince pies and other Christmas treats.
Santa will be on the train, giving out presents to well behaved children, festive music will be playing whilst entertainers & elves will ensure a jovial Christmas spirit throughout!
Opening Dates: 5th/6th Dec, 12th/13th/15th Dec, 19th/20th/21st/22nd/23rd/24th Dec
Address: Bolton Abbey, Skipton, North Yorkshire, BD23 6AF
Telephone: 01756 710614
Price: From £13 person or Compartment for four – from £86 Compartment for six – from £115
Santa's special trains will operate a little differently in 2020. We have curated a special programme that still preserves the joy and wonder of seeing Santa himself at this special time of year.
Whilst it will not be possible to meet Santa in the traditional way, there will still be opportunities to see him, and get those memorable photographs.
All good children will receive a personal present from Santa; these will be distributed during the journey whilst the train is stopped in a station, by the elves who will leave them at the end of your coach for you to collect.
Seating
In order to maintain social distancing, tickets are sold for compartments for up to 6 or 8 people. This is your group's compartment for the entire journey, you will not share it with anyone else. Some of the compartments will be in our open coaches with appropriate screening.
Opening Dates: 5, 6, 12, 13, 19, 20, 21, 22, 23, 24 December
09.20 (Not 21 December)
11.00
12.40
14.20 (Not 24 December)
16.00 (Not 21 or 24 December)
All trains depart from North Weald station.
You should allow up to 2 1⁄2 hours for your Santa Special experience.
Address: Ongar Station Station Approach Ongar Essex CM5 9BN
Telephone: 01277 365200
Price: Compartment for 6 people £175. Compartment for eight people £225
A truly wonderful experience of lights and music is coming to the Epping Ongar Railway this year, featuring a specially designed show to highlight our stations, rural setting and woodlands, that you can experience from the comfort of a train carriage.
Suitable for all the family, our Epping Ongar Light Fantastic services start on 3 December.
The exterior of the train looks spectacular but that is only a part of the experience. Once on board sit back, relax and experience the illuminations alongside the train and a number of special lineside displays that will melt your hearts.
Opening Dates: 3/4/5/6th 9/10/11/12/13th 16-23rd 27-30th December and 1/2nd 8/9/10th January 2021
Train Times – 17.15, 18.45 and 20.15
Address: Ongar Station Station Approach Ongar Essex CM5 9BN
Telephone: 01277 365200
Price: £20 per person
Take the 1 1/4 mile steam train ride around the Country Park, on your journey remember to "Count Santa's Missing Presents". When you arrive at Evesham Vale Station tell the guard how many you have found, and children will receive a small treat.
On your return to Twyford Station, adults can enjoy seasonal refreshments including a locally made mince pie and warm spiced apple drink, Children have a biscuit and a squash whilst waiting to meet Santa. (Food allergies cannot be accommodated)
Santa and his Elves will meet you in his Festive Log Cabin, where your children will receive their present, there will be plenty of opportunities for photos with Santa and the Elves.
​
​Trains run every 30 minutes from 10.30 until 4.00pm
Opening Dates: 5th/6th Dec, 12th/13th/19th/20th/22nd/23rd/24th Dec
Address: Evesham Vale Light Railway The Valley, Evesham WR11 4DS
Telephone: 01386 422282
Price: Adults £5.50 Children 2-15 £8.50 Under £5.50 inc present
Your Santa Experience will begin at our festively decorated Toddington Station where there is a large free car park.
One of our amazing heritage steam-hauled and decorated trains will be waiting to take you for a 10 minute train ride in your own private compartment or specially reserved seats in an open carriage on a magic trip through the Cotswolds and beyond to The North Pole (Winchcombe). Here you will be able to walk through a wonderland of lights, trees, and decorations where Santa will be waiting to talk to all the children. As in previous years, all children will of course be given high quality presents which we have become famous for.
The whole family will then be able to enjoy the usual refreshments including the railway's famous and highly recommended mince pies; additionally, for the first time this year, adults also have the option of a free glass of mulled wine before re-joining the train for the trip back to Toddington, where children will additionally receive a small goody bag for the journey home.
Opening Dates: 5th/6th/ 12th/13th/19th/20th/22nd/23rd/24th December
Address: Winchcombe Railway Station, Winchcombe, CHELTENHAM, GL54 5LD
Telephone: 01242 621405
Price: £20 Per Person
Santa has swapped his sleigh for a fun filled journey on an enchanting steam train. Ride on board our award winning Santa Specials and let Father Christmas surprise you with a an exciting present at your seat and a chat with the man himself! We look forward to welcoming you for some pure festive magic.
Santa is really looking forward to seeing all the children again and will visit each compartment during your Santa Express journey, to help Santa please make sure you fill in all the details when you book your tickets.
Opening Dates: 5th to 24th December at 10:00 11:45 13:50 15:40
Address: Quorn and Woodhouse Station, Woodhouse Road, Quorn, LE12 8AG
Telephone: 01509 632323
Price: Compartment for up to 4 people from £69. Compartment for up to 6 people from £76
Our Winter Wonderlights experience is a train ride like no other:
See Great Central Railway as you've never seen it before.
A steam train with a magical twist, fantastically dressed in a myriad of lights.
Watch from the train as the nearby countryside is illuminated by a spectacular lighting display.
Our vintage steam locomotives and carriages transformed into a spectacle that's not to be missed.
The Winter Wonderlights trains will depart from Quorn & Woodhouse station (LE12 8AG) in 2020
Opening Dates: 5/6/9/12/13/16/19/20/21/22/23 December at
Address: Quorn and Woodhouse Station, Woodhouse Road, Quorn, LE12 8AG
Telephone: 01509 632323
Price: Compartment for up to 6 people from £82
It comes round quicker every year… and once again Santa has booked his visits to Groudle Glen Railway for the two weekends prior to Christmas
Opening Dates: Operating 10am to 3pm on 12th 13th, 19th & 20th December
Address: Groudle Glen, King Edward Rd Onchan, Isle of Man IM3 2JY
Telephone: 01624 670453
Price: Tickets from £7
A trip riding behind 'Jack' the seaside engine from Eastoke Corner to Beachlands and back, where your children will then meet Father Christmas in his grotto inside our Eastoke Depot. (socially distanced from him of course!)
All children will receive a present, and a wrapped treat and carton of drink to take away.
All enquiries/bookings 07394 194066
Opening Dates: 5/6th, 12/13th 19/20/21/22/23/24th December
Address: Sea Front, Hayling Island PO11 0AG
Telephone: 07394 194066
Price: Under 2s FREE, Children 2-15 £10 Adult £6
A traditional Christmas awaits you at Havenstreet. After your train ride, follow the pathway to Santa's North Pole station, where you'll be warmly welcomed by our seasonal Station Master and his helpers. Watch and listen to amazing entertainment while you wait, before being led by one of Santa's helpers to meet the man himself on board a traditionally festive Victorian carriage.
Santa hasn't forgotten about the adults either. Grown ups can enjoy a complimentary mince pie and glass of fruit punch.
Opening Dates: 5/6, 12/13, 19/20, 22/23/24 December Boxing Day and New Years Day Times available between 10am and 4pm
Address: The Railway Station, Main Road, Havenstreet, Ryde, PO33 4DS
Telephone: 01983 882204
Price: From £10.75 per ticket
The experience for 2020 includes:Steam Train Ride for 70 minute return journey
A complimentary refreshment pack for each family to enjoy during the journey
Age-appropriate presents for all children 11 and under
Children aged 12-15 will receive chocolates from Santa
Babes under 18 months of age are free of charge and receive a gift
Magician providing on-board entertainment
Free rides on the vintage gallopers on-site at Tenterden
Free photograph of your family group
Visit to the station's Christmas model village
The main attraction, Santa himself, will be travelling through the train giving presents to your children. Santa will make his way through the train and speak to your family from a safe distance. Have your camera ready to capture that all-important moment!
Opening Dates: 5/6, 12/13, 19/20, 22/23/24 Dec
Address: Tenterden Town Station, Station Road, Tenterden, Kent, TN30 6HE
Telephone: 01580 765155
Price: Open Plan Standard Class up to 4 people from £90. Open Plan First Class up to 4 people from £120
Private Family Standard Class Compartment up to 8 people from £180
Private Family First Class Compartment up to 4 or 6 people from £155
This festive season, step aboard the steam-heated carriages of our Santa Specials & be transported through our magical tunnel to the North Pole.
Meet Santa & his jolly helpers inside their cosy grotto, filled with sacks of presents for the good girls & boys.
Whilst waiting to see Santa, adults will be treated to a mince pie and festive tipple and children will enjoy biscuits and juice in our heated marquee. Santa will also be bringing one of his cheeky elves along to help keep everyone entertained!
Children will have an opportunity to write their letters to Santa, complete activity sheets, make a Christmas wish upon our Wishing Tree, make up a bag of special reindeer food to take home with them and have a run around on the outdoor adventure playground.
You can start or finish your Christmas experience with a FREE whizz around the duck pond miniature railway – included in the price of your ticket.
REMEMBER! You are permitted to take photographs & videos in our grotto at no additional charge, so charge up those batteries..
All Christmas services last for approximately 1hr 30m and are return trips.
Opening Dates: 5/6th, 12/13th, 19/20/22/23/24th December between 10am and 6pm
Address: Park Mill Way Clayton West Huddersfield West Yorkshire HD8 9XJ
Telephone: 01484 865727
Price: Adult from £15 Child from £9.50
Come and enjoy the wonder and magic of Lappa Valley at Christmas time. Meet Santa in his grotto, where there is a present for every child. Take a nostalgic steam train ride through the wooded valley into Lappa and find lots of festive fun.
All aboard a nostalgic steam train journey into Lappa Valley
Enjoy balloon modelling
Music from the traditional fairground organ
Rides on the Woodland Railway
Seasonal refreshments
Visit Santa in his new (socially-distanced) grotto for 2020!
Opening Dates: 5/6th, 11/12/13th 19/20/21/22/23/24th December Between 9.40am and 15.30pm
Address: Lappa Valley, St Newlyn East, Newquay, Cornwall, TR8 5LX
Telephone: 01872 510317
Price: Adult £13.99 Child (age 1 -15 with present) £13.00 Under 1 with present £8.99
Take a 25-minute steam-train ride over a historic narrow-gauge railway that's more than 100 years old, and run by enthusiastic volunteers.
Meet Santa at Page's Park grotto, where children up to 12 will receive an early present.
And to help you with your present-hunting, our shop at Page's Park station has the best selection of Thomas products, and much more besides.
Opening Dates: 5/6th, 12/13th, 16th, 19/20/21/22/23/24th December Departures between 10.30am and 16.30
Address:
Telephone:
Price: Adults 13+ £9 Children 2-12 £9.50 Child under 2 £5
This winter, illuminate your senses with the brand new festive event: Land of Light!
A myriad of magical light installations will emerge across Longleat in seven unique zones. In the Land of Light, you can discover motion-detected splashes of playful colour and movement and immerse yourselves in enveloping blankets of soft, synchronised light and sound
All aboard! Enjoy the magic of the festive season by visiting Father Christmas himself, in his woodland grotto.
Board the Santa Train at Longleat Central Station and be whisked away on a winter adventure to North Pole Holt to meet the man himself and receive a special Christmas gift – only for those on the nice list, of course!
Opening Dates: 3rd December to 10th January
Address: Longleat, Warminster, Wiltshire, BA12 7NW
Telephone: 01985 844400
Price: Land of Light admission charge : Adult from £36.50 Child from £27.35, Santa Train: Child £14.95 Adult £5.00
On arrival our staff will check your tickets and direct you through our Gift Shop to our Museum. Once into the museum one of Santa's elves will hand the children their Festive pack (which includes a small gift and fun activities to do during your visit). The Museum is decorated better than ever before with a fabulous light display put together by our volunteers and Santa's elves have taken over our museum!
Our famous Elf trail is back for all the family to get involved with – can you help Santa find all the elves? When you have been around our museum, it will be time for you to travel on Mr Ribble's Festive Train, decorated for the holiday season.
Opening Dates: 5th/12th/19th December 10am – 5pm
Address: Chain Caul Rd, Preston, Lancashire. PR2 2PD
Telephone: 01772 728800
Price: £9 Per Person Under 3s £5
The Norfolk Lights Express is a fantastic wintertime experience returning to the North Norfolk Railway for 2020. Join us on this extravagant evening train ride through the beautiful North Norfolk countryside from the original Railway station building in the Seaside town of Sheringham up to Holt, which for this year will be turned in to a picturesque winter wonderland. Whilst on your journey, you will see beautifully lit line-side displays which are sure to dazzle everyone of all ages. Your journey will be accompanied by an atmospheric soundtrack tailored specifically for the experience.
There will be plenty of food and drinks available on your journey too, from mulled wine and hot chocolate to warm chestnuts, along with much more. There is something for the whole family!
Opening Dates: 3rd December until 17th January 2021
Address: North Norfolk Railway, Station Approach Sheringham NR26 8RA
Telephone: 01263 820800
Price: Tickets cost £16.00 per person and they can be purchased online or via General Office on 01263 820 800.
Come along and ride with Santa on a train ride along the Northampton & Lamport Railway from Pitsford and Brampton station.
As there are a large number of children (and adults) who want to meet Santa, he has asked us to make appointments for your visit. These start at 10:00 then at an hour and a half intervals until 16:00.
This year Santa will be traveling along on the train greeting everyone as you travel through the Northamptonshire countryside. Refreshments will be served onboard. For children, a soft drink, and biscuits and adults will receive a glass of sherry (or soft drink if preferred) and a mince pie (please help us prepare by selecting what you will like from the checkout page in your order). After the train ride, every child will receive a present from the platform before you leave to enjoy the rest of your Christmas
Santa Special tickets for each day are on sale until Midnight on the Thursday before each weekend of the event. This is so our volunteers can prepare for that day's event.
Opening Dates: 5/6th 12/13th 19/20th December
Address: Pitsford and Brampton Station, Pitsford Road, Chapel Brampton Northampton NN6 8BA
Telephone: 01604 820327
Price: Table for 4 people from £55
Come down to the North Bay Heritage Railway in Scarborough to join in the festive celebrations, and most importantly meet Santa himself.
You will travel from Peasholm Station to Scalby Mills Station, hot drinks will be included before your board the train. At Scalby Mills you will be greeted by our Elves and the big man himself, Santa, he will visit your family group whilst your seated in your carriage compartment. Children will receive a gift from Santa and there will a chance to take a photo's, the train will then return to Peasholm Station.
As the event is all outdoors please wear warm clothing, the event will be held whatever the weather, please feel free to bring along a blanket and your Hot Water Bottle! Also be aware some trains are very busy especially on peek dates (12th – 21st December), we endeavour to keep your wait to see Santa as short as possible.
Opening Dates: The first Santa Special train will be departing from Peasholm Station at 11am on Saturday 5th December, other times are 12 noon, 1pm, 2pm, 3pm & 4pm. Other dates are 6th,12th,13th,19th, 20th, 21st December. We also advise everyone to pre book via the web site or in person at the North Bay Heritage Railway.
Address: North Bay Railway Scarborough, North Yorkshire, YO12 6PF
Telephone: 01723 368791
Price: From £5 per person
Join us this December and help the Railway save Christmas.
It has been a challenging year for Lapland and Father Christmas and his team needs your help! Santa's sleigh is out of action, presents still need to be built, Reindeers are furloughed, and time is running out.
Meet Santa's helpers and travel on a heritage steam train in your own private compartment, whilst listening to Jingle Bells FM radio. Celebrate the most wonderful time of the year with your family as you travel to Levisham Station, return.
Your heritage steam train awaits at the beautifully decorated Pickering Station, ready to take you on a Christmas adventure. You'll hopefully catch a glimpse of Santa himself too, as he prepares for the biggest night of the year.
Your ticket includes:
See Santa organise his Elves and Helpers on this special Santa Train.
Interaction with Santa's Elves.
Photo opportunity to remember your visit.
Reserved private compartment on a decorated steam train.
Travel from Pickering to Levisham Station, return journey (Approx. 60 min).*
Present for each child*.
Snow Bound Express newspaper.
Opening Dates: 5 & 6, 12 & 13, 19 & 20, 21, 22, 23 & 24 December 2020
Pickering Departure Times: 09:15, 11:15, 13:15 & 15:15
Address: Pickering Station, Pickering, YO18 7AJ
Telephone: 01751 472508
Price: Private compartment: £100 for up to 4 people. £25 per additional adult or child (Max 6 people in total). Child 1-16 years old.
NOW FULLY BOOKED
Follow the arrows to report to our elves in the ticket office on arrival. They will ask you to confirm details of your party and they will direct you to the train compartment where you will be travelling. You may be asked to queue outside the station if the preceding train has not yet arrived.
Help yourselves to drinks, mince pies and biscuits available on the platform. Hot drinks will be available at the ticket office for a nominal charge. Please by all means take these on the train to be enjoyed during your journey.
Our toilet facilities at Central Station will be open if you need them. Please have regard to social distancing in our loos.
Sit in the train with members of your party in the same pre-booked compartment/s. All but two compartments in every train will be enclosed, and there will be facilities for a wheelchair on every train.
Santa will meet the train during its journey and will have a present for every child. Once the train has stopped at Santa HQ you may alight from the train if you wish to, at your own risk. Please remember social distancing and stay 2 metres from the other groups travelling. Don't forget to say hello to Santa and collect your present!
Santa has ordered dry weather on every day of our 2020 trains. Due to Covid 19 issues he will not be moving indoors even if it rains. If it is wet we recommend that you all remain seated in your train compartment and Santa will come to you. · Once the train has returned to Central Station and has stopped, you may open the train doors and alight.
Opening Dates: 12/13th, 19/20th, 21/22/23/24th December 11am, 12, 1pm, 3pm, 4pm
Address: Central Station, Marine Lake, Wellington Road, Rhyl LL18 1LN
Telephone: 01352 759109
Price: £4.00 – £12.00
Santa Specials include:
Train journey from New Romney (TN28 8PL) to Hythe and return.
A visit to Santa in his Grotto.
A quality, age related, gift for each child aged 1-15 yrs.
Seasonal refreshments.
Journeys: New Romney Station (TN28 8PL) to Hythe Station.
A festive day out for the whole family! Travel by train to Santa's grotto and enjoy some seasonal treats…
The Romney, Hythe & Dymchurch Railway has been running its popular Santa Specials since 1981. Although a lot has changed in the past 39 years the core of the experience remains the same- steam trains and Santa Claus.
Opening Dates: 5/6th, 12/13th, 19/20th 22/23/24th December running 10am – 15.30
Address: New Romney Station, New Romney, Kent TN28 8PL
Telephone: 01797 362353
Price: £22 Per Person
Celebrate the most wonderful time of the year with your family in a private compartment on a magical journey to Arley to see our ALL-NEW Christmas Show.
Your vintage steam train awaits at the beautifully decorated Kidderminster Station, ready to take you on a Christmas adventure…
Everyone will receive a drink and a seasonal sweet treat as you settle down in your own private compartment, before steaming through delightfully decorated stations to Arley.
Jump off the train to be entertained in our ALL-NEW Christmas show, starring Christmas characters. You'll hopefully catch a glimpse of Santa himself too, as he prepares for the biggest night of the year.
Back on the train, present-shaped surprises will be waiting for the children, before your train steams back to Kidderminster.
Opening Dates: December 5/6, 12/13, 19/20/21/22/23/24 Departures are available from Kidderminster at 9.30am, 11am, 12.30pm, 2pm, 3.30pm* and 5pm*.
*This departure does not operate on December 24th.
Address: Number One, Comberton Place, Kidderminster, DY10 1QR
Telephone: 01562 757900
Price: Private Compartment up to four people from £120 Private Compartment up to six people from £180
Opening Dates: Dec 3-5, 8-12, 15-19 22 & 23 Departures available at 4.30pm, 6.30pm, 8.30pm.
Address: Number One, Comberton Place, Kidderminster, DY10 1QR
Telephone: 01562 757900
Price: Table for two from £40, Compartment for four people from £80, Compartment for six people from £120
Steam Illuminations is an unique, world first, pixel mappable digital LED train! It's an incredible light show on and in a steam train, consisting of 13,174 fully controllable colour mixing LED lights and LED wristbands. This makes the train look magical both inside and out!
Marvel at the wonderful light show with different colours and flashing patterns, whilst sitting back and relaxing on one of our steam trains as it travels up and down our 10 mile line. You will have a chance to see the outside of the train at the start, middle and end of your journey to capture it by camera.
Everyone is given an LED wristband (included in the price of your ticket) to wear on the train and take home after the event.
Popular and traditional music will play along with the lights to enhance your experience.
Trains depart from either Alresford or Alton and complete a round trip, back to the starting station.
This is a wonderful experience for the whole family and is sure to be an event to remember!
Opening Dates: 4th-6th, 11th-23rd, 27th-31st December 2020 1st-3rd January 2021
Address: The Railway Station, , Alresford, Hampshire, SO24 9JG
Telephone: 01962 733810
Price: Table for up to 2 £45.00. Table for up to 4 adults £85.00. Compartment for up to 6 £140.00
Family of 4 (2 adults & 2 children,1 adult & 3 children, 2 adults & 1 child) £75.00 .Children under 2 years FREE
Come aboard The Elf Express, and prepare to be amazed on a magical journey!
Arriving at Oxenhope, your Gateway to an exciting family adventure, you'll meet some of Santa's Elves and who will give you a Golden Ticket – your passport to an exciting journey to to Kringle Town's Winter Wonderland. When the time is right, take a seat in your own private compartment and enjoy the ride to Kringle Town Station to meet Santa and his friends.
You'll steam through the Worth Valley passing stations along the way. Be mesmerised as you pass through an enchanting tunnel of lights. Join in with the festive fun at Kringle Town Station, and meet the man himself. There'll be singing, laughter, goodies galore and special family memories this Christmas.
Experience the magic of Christmas at the Keighley & Worth Valley Railway.
Opening Dates: Tickets still available for Mon 21st and Tues 22nd December
Address: Keighley & Worth Valley Railway, The Railway Station, Haworth, West Yorkshire BD22 8NJ
Telephone: 01535 645214
Price: Compartment for four – £90 Compartment for Six – £120
So, there we have it, all of the Santa Specials, Santa Express, Santa Experiences, Light Shows by Train for 2020, have you taken part in any of them before or do you have one booked for this year ?
Have you visited a Christmas Tree Farm yet to pick the perfect tree ?