Polar Express Train Ride is an unforgettable experience, nothing says Christmas like a cup of hot cocoa in your pyjamas, sitting with your family watching Christmas Movies, so imagine if you could do that whilst going on an actual Polar Express to meet the man himself.
With the uncertainty of Christmas events last year, and many unable to go ahead, it is apparent that everyone is trying to get organised and book special memory making activities for their children, and a ride on the Polar express is certainly one to consider, so if you are wondering what it's all about and what to expect then read on.
Very exciting news, there will be SEVEN Railways that are offering the Polar Express experience this year, a new destination has been added at Churnet Valley Railway in Staffordshire.
If you do not live close to any of the Polar Express Rides, do not worry as there are lots more amazing Santa Train journeys throughout the UK for you to enjoy.
If you have yet to see the 2004 Warner Bros film Polar Express™ that would be the best place to start, you can purchase the dvd HERE.
If your children love reading stories or listening to you read to them, you can also purchase the book HERE.
Where Is Polar Express Train Ride UK in 2021?
Polar Express Train Rides 2021, are hopefully (a couple are yet to confirm) taking place in seven destinations throughout the UK, so if you are looking for a Polar Express Train near you, check out these locations.
Birmingham Polar Express
Location :Birmingham Moor Street, Queensway Birmingham West Midlands B4 7UL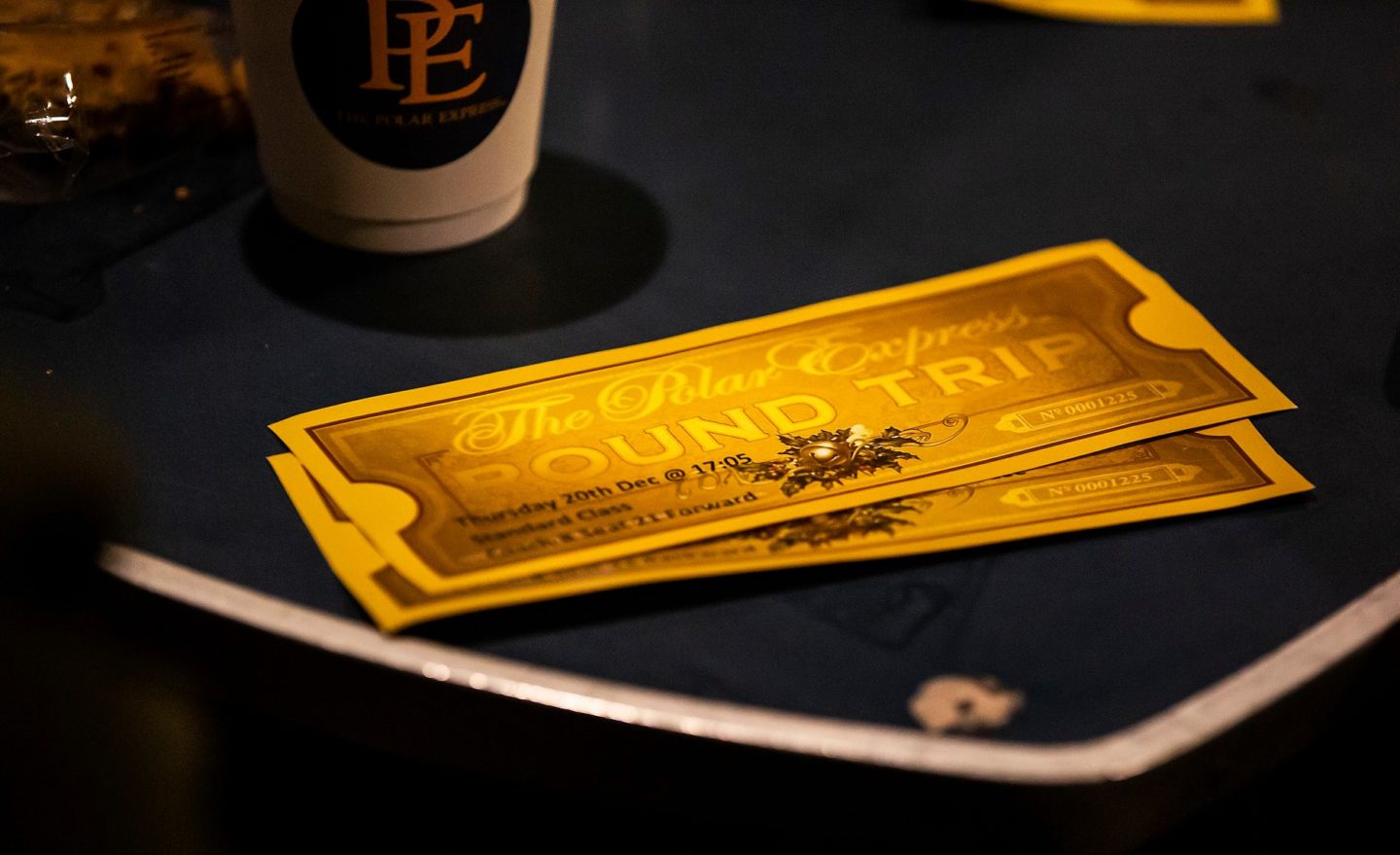 Polar Express Birmingham has the same format as all the polar express rides, with hot chocolate, silver sleigh bells, decorated carriages and a visit from Father Christmas, and of course the telling of the story.
( Currently waiting confirmation for 2021, rail events website states it will be returning, so check back for further updates)
Polar Express Social media Updates : Find out the latest news on Vintage Trains FB Page
Ticket Price: TBC
Dates: TBC
Timescale : TBC
NEW* Churnet Valley Railway
Location : Kingsley & Froghall Station, Froghall, ST10 2HA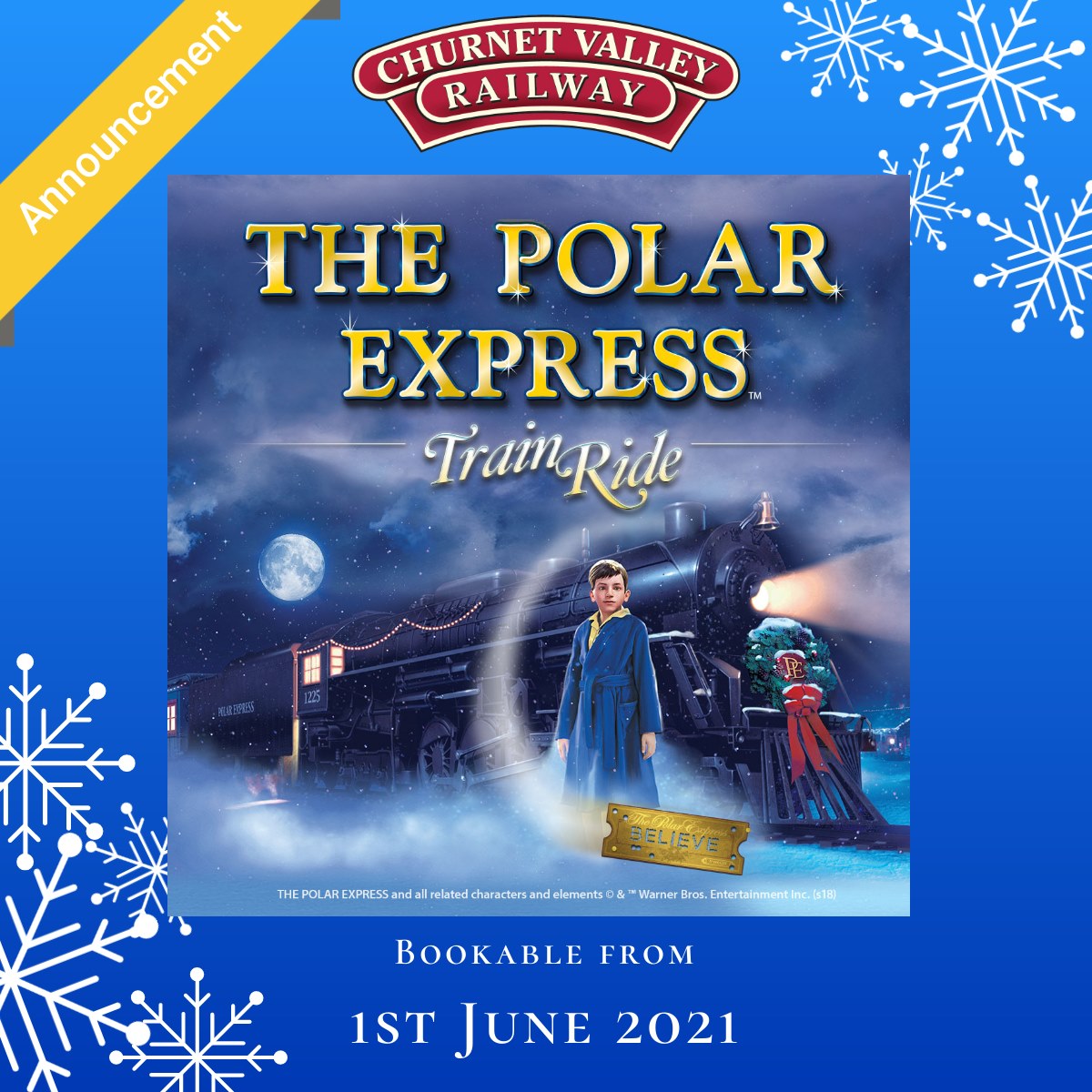 Polar Express Staffordshire is a new addition to the Polar Express Family, the adventure comes to life when the train departs for a round-trip journey to the North Pole, passengers will relive the magic of the classic story. Children big and small are whisked away on THE POLAR EXPRESS™ for a one-hour trip to meet Santa.
Once onboard, the conductor will work his way through the coach and punch golden tickets before hot chocolate and a delicious cookies are served by dancing chefs.
Each guest will take home a keepsake sleigh bell and souvenir golden ticket in addition to the wonderful memories made on this magical trip.
Polar Express Social media Updates : Find out the latest news on Churnet Valley Railway FB Page
Ticket Price: Tickets for Christmas 2021 will be on sale from the 1st June 2021 starting from £24.95. Early registrations are advised, giving access to the best ticket prices 48 hours prior to general release. To register you need to visit www.churnetvalleyrailway.co.uk/polar-express-train-ride
Dates: Various Dates TBC
Timescale: It is an approx one hour journey.
Mid Norfolk Railway
Location : The Railway Station, Station Road, Dereham, Norfolk, NR19 1DF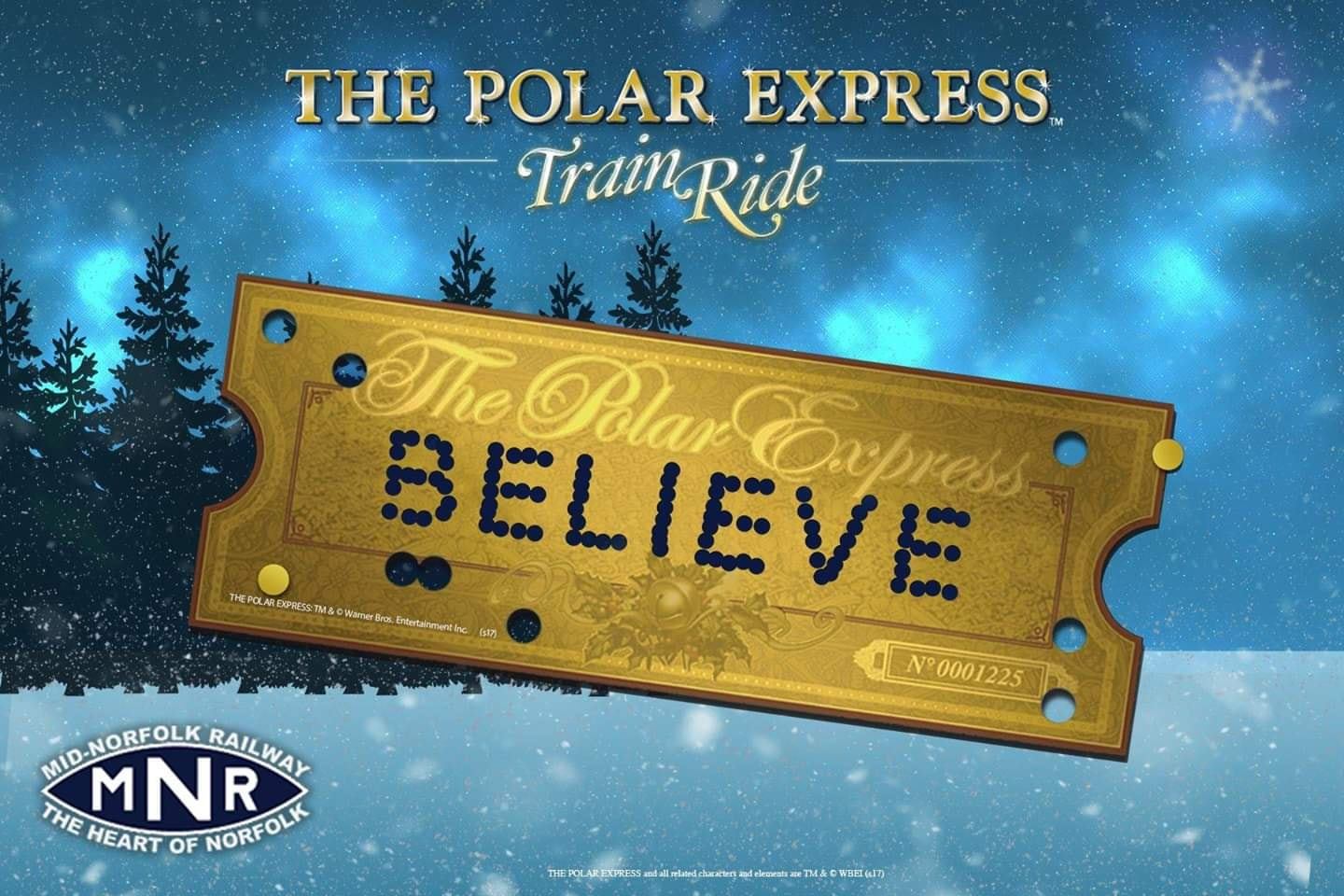 Polar Express Norfolk creates a magical atmosphere like no other, I know because of the looks on the faces of children at school when their magical ticket arrives, and the memories of the previous year are still fresh in their minds!
as with all of the Polar express Train Rides, there will be singing, dancing, stories, hot chocolate and of course the magical silver bell to take home as a reminder of their journey.
Polar Express Social media Updates : Find out the latest news on Mid Norfolk Railway FB Page
Ticket Price: From £26 further information can be found in the Polar Express Norfolks FAQs
Dates: Various Dates from 13th November – 23rd December
Timescale: The story will be told 20 minutes before train departure, you need to arrive at the time stated on your ticket, the whole experience lasts approx 2 hours.
Seaton Tramway
Location : Seaton Tramway, Harbour Road, Seaton, Devon EX12 2NQ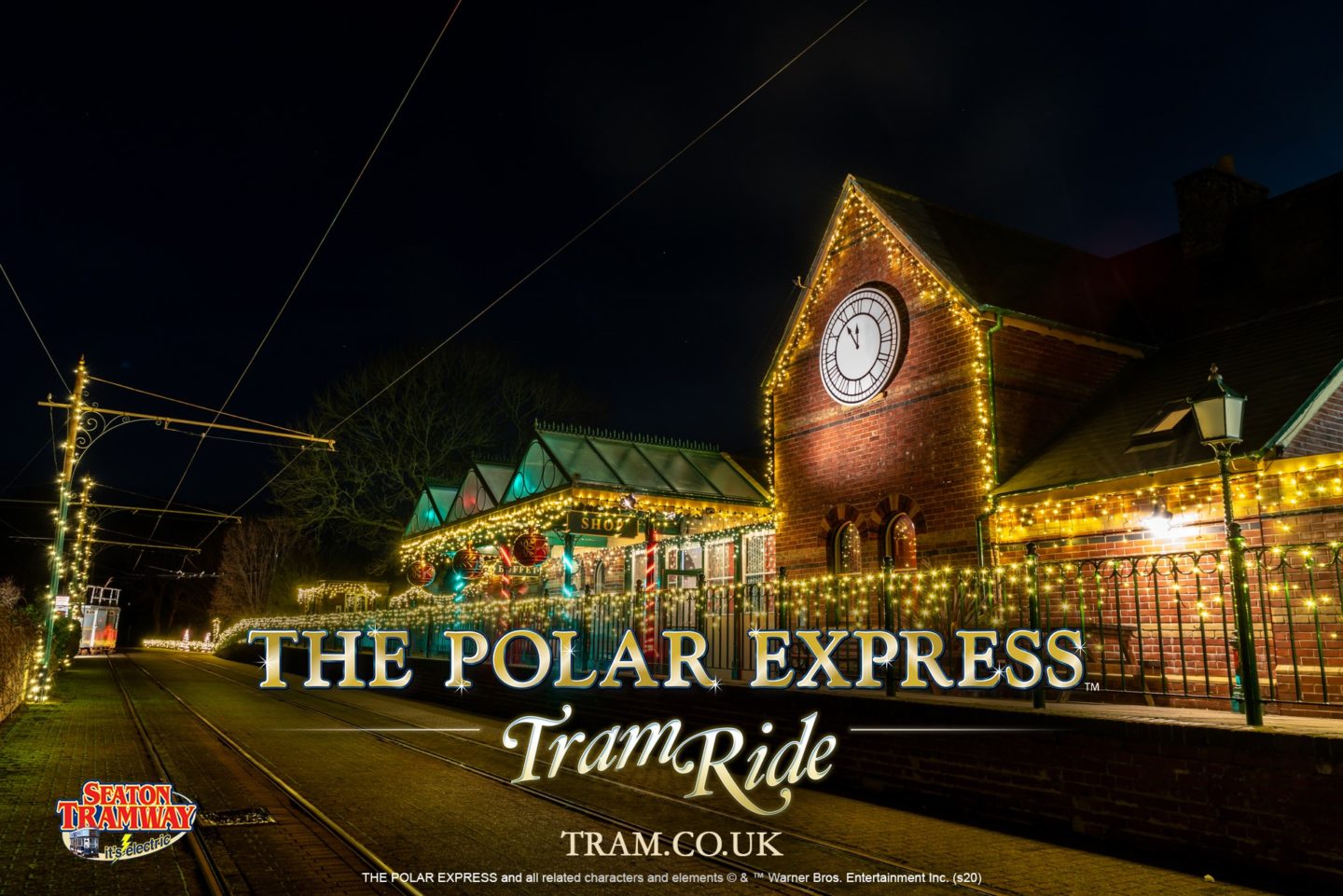 Seaton Polar Express takes place on a tram, instead of a steam train, but it still has the same magical atmosphere. Families will enjoy the magical tram ride to Santa's home at the North Pole in one of the specially decorated single deck tramcars, enjoy a cup of hot chocolate, a delicious treat, speak to Santa and admire the awesome lights whilst you walk around the North Pole.
All Passengers receive the first gift of Christmas from Santa himself – a Silver Sleigh Bell. Upon the return journey, you will be able to enjoy singing along to Christmas carols. For the grown-up kids too, this is a trip down memory lane to a traditional Christmas of old.
Polar Express Social media Updates : Find out the latest news on Seaton Tramway FB Page
Ticket Price: Booking will be available from 29th May
Dates: Various Dates in November and December TBC from 29th May
Timescale: A round trip takes approx 2 hours and 30 minutes.
South Devon Railway
Location : The Station, Dartbridge Road, Buckfastleigh, Devon, TQ11 0DZ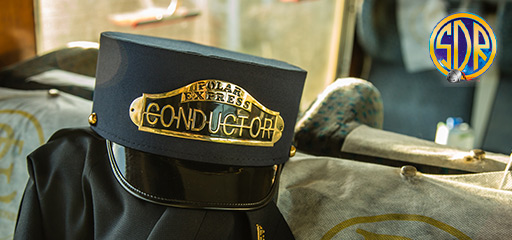 Polar Express Devon has the authentic sleek black steam engine. It's even inscribed with the '1225' signage to identify it as Santa's own train. Throughout your train ride you'll be entertained, meeting the Conductor and his crew. All the while the train steams towards the North Pole. ! Here you'll meet Santa and one of his friendly elves. He will climb on board the train to meet you all. The Conductor will even clip your Polar Express tickets just like in the film.
As well as the train ride itself, enjoy a wonderful Christmas market before the show where you can grab some hot food. There's also a pre-show beginning 20 minutes before your train departs to get the whole family excited for your magical adventure.
Polar Express Social media Updates : Find out the latest news on Polar Express Devon FB Page
Ticket Price: TBC you can find out further information in the Polar Express Devon FAQs
Dates: Various dates from 20th November – 23rd December TBC
Timescale : Your authentic steam train ride will last around an hour.
Telford Steam Railway
Location : The Old Loco Shed, Bridge Rd, Horsehay, Telford TF4 2NF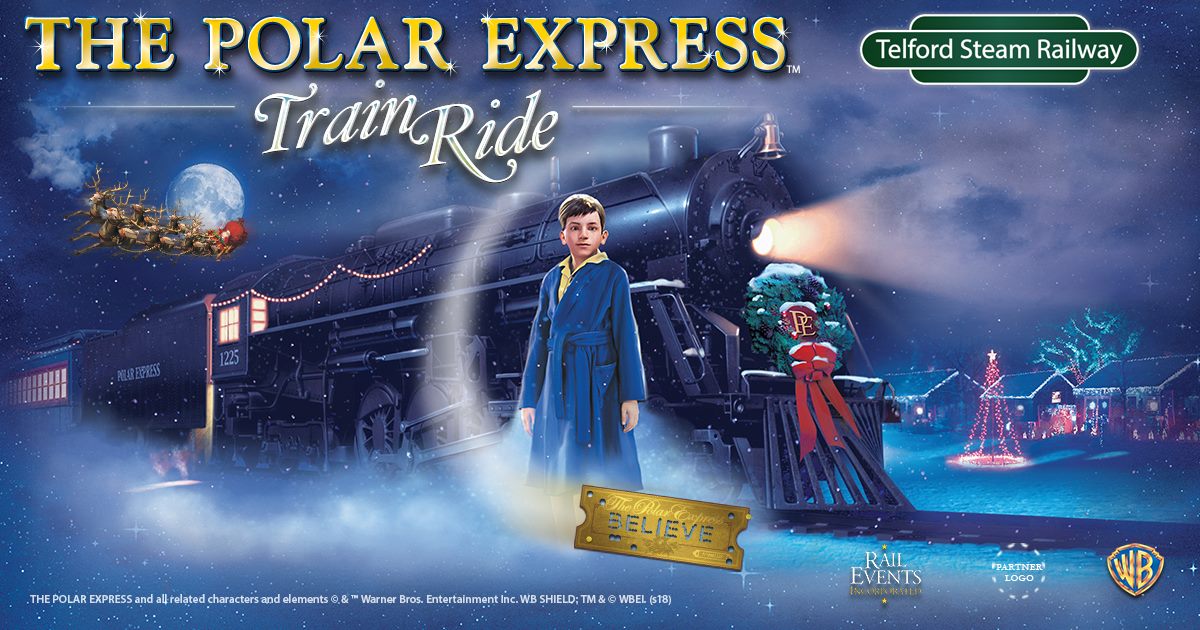 Telford Steam Railway facebook page have put out the following statement
The Directors of the Board of Telford Steam Railway, are currently putting plans together for the 2021 Polar Express Event​. However, due to the COVID-19 CORONAVIRUS pandemic,​ along with other factors we have no control over, we are currently unsure whether the event will be going ahead for 2021. The uncertainty about COVID-19 restrictions means we cannot risk putting plans in place which could lead to the railway shutting down permanently
Polar Express Social media Updates : Find out the latest news on Telford Steam Railway FB Page
Ticket Price: TBC
Dates: TBC
Timescale : TBC
Wensleydale Railway
Location : Leeming Bar Station, Leases Road, Leeming Bar, North Yorkshire, DL7 9AR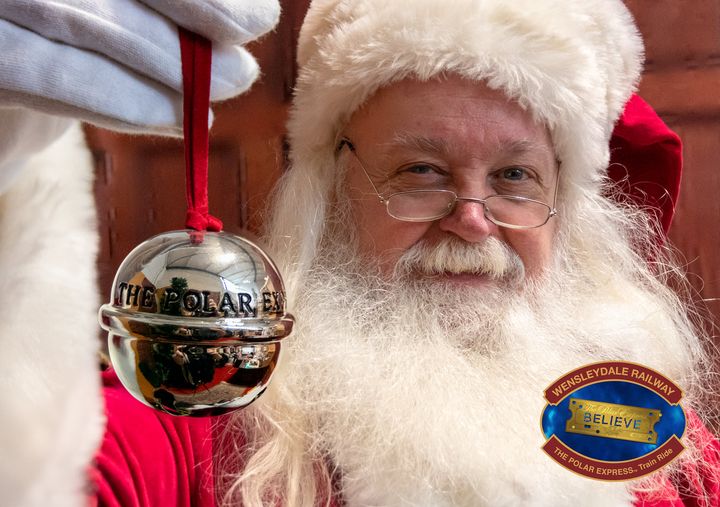 Polar Express Yorkshire is one of the best Yorkshire Christmas experiences, surrounded by the magic and wonder of the season.
You can almost hear the faint sound of sleigh bells in the distance as you take in the festive decorations at the station at Leeming Bar.
In the distance, out in the cold night, too much excitement, you hear the familiar sound of the steam train that is THE POLAR EXPRESS™!
Polar Express Social media Updates : Find out the latest news on Polar Express Train Ride at Wensleydale FB Page
Ticket Price: TBC tickets go on sale 24th May, to get the news first, subscribe to their newsletter HERE
Dates: TBC
Timescale : Approx 2 – 2.5 hours for the whole experience. You are on the train for around an hour and can visit the shop afterwards. You are asked not to arrive at the park and ride more than 45 minutes before your booked time.
So, that's the seven Polar express Train Rides for you to choose from this year, do you have one you'd like to book for ?
Before your journey begins, you will probably have lots of questions, most of which will be answered on the website FAQs, but here are just a few of the popular questions that we can answer.
How Do I Book Polar Express Tickets ?
Tickets must be booked in advance, you can only book them online, not in person or over the telephone, and you are not able to purchase tickets on the day. Adult tickets are for 18 and over, a child is aged 2 years to 17 years and babies under 2 years can travel for a small charge of £3 but must be held on an adult's lap at all times when on the train. You will need to book an "adult with baby" ticket. Each baby will receive a silver bell from Santa.
How Do I Receive my Polar Express Tickets ?
The Polar Express tickets are sent direct to your home address, two weeks before the event.
How Do I Prepare For A Polar Express Experience ?
All members of the party are encouraged to wear pyjamas, although not essential, it does add to the magic of the experience, but it will be quite cold, so make sure they're warm PJs and make sure you wear sensible, closed in footwear, slippers wouldn't be a good idea! If you don't fancy pyjamas, you could always wear a Christmas jumper.
Watching The Polar Express before the train ride is not required but it will make the day a little bit more real, and you may want to take the story with you to read along with the conductor.
Don't forget your A4 paper ticket with details of your carriage and seat numbers, and you will also need your golden tickets on board THE POLAR EXPRESS™ so don't forget those.
And don't forget your phone or camera to capture unforgettable memories.