Anything Disney is always going to be a hit with the family. Whether your family love the films, the theme parks, or just loves everything there is to love about Disney, combing in that love with food is always going to be a winning combination.
A cookie is one of life's simple pleasures. You can't go wrong with the crumbly texture, that sweet treat that just hots the spot. So what better way to celebrate a love for Disney than with these Mickey Mouse tie-dye cookies.
Mickey Mouse Tie Dye Cookies
They look incredible, they taste delicious, and they aren't too difficult to make. Interested? Then here is everything that you need to know to make them.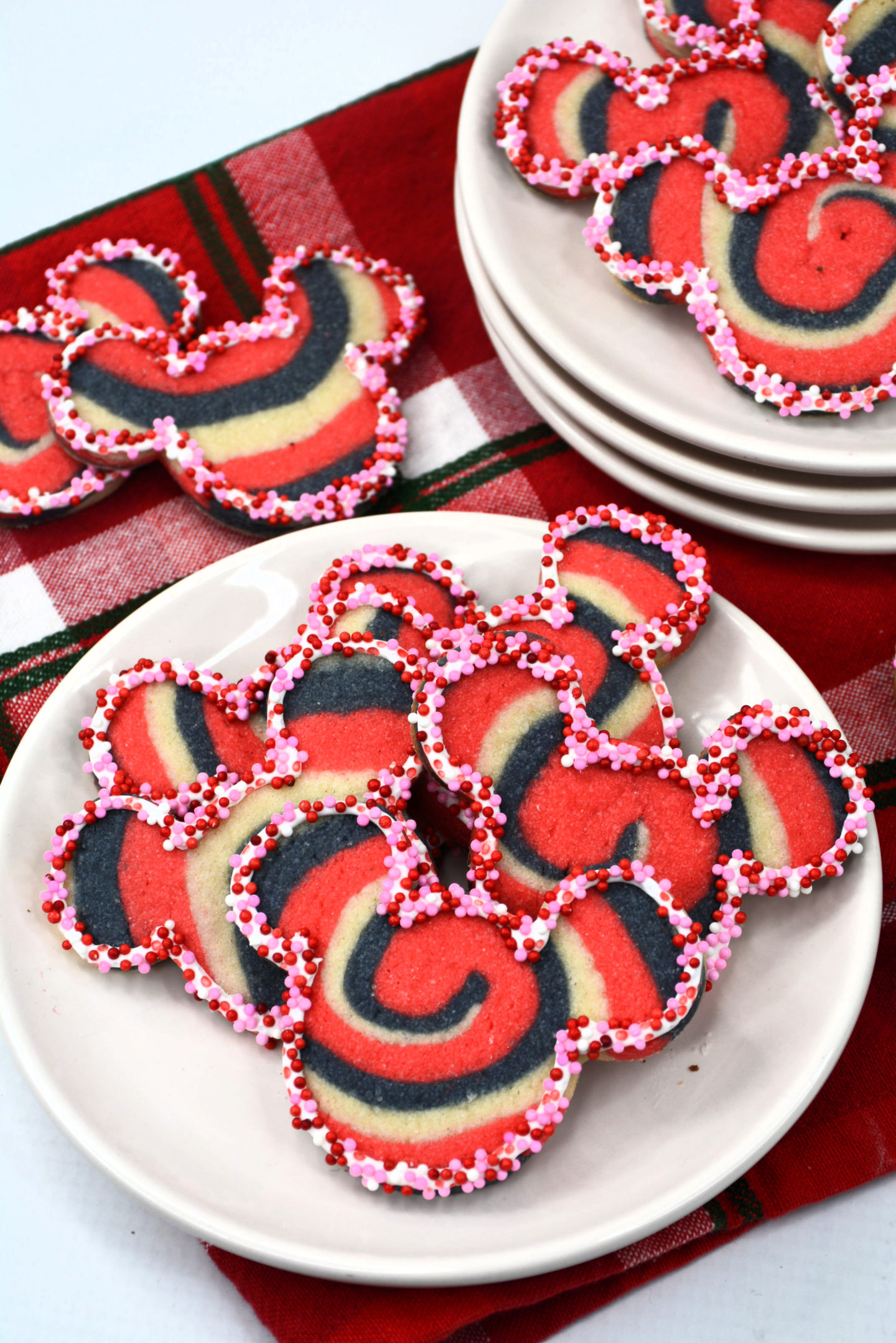 Ingredients needed to make Mickey Mouse tie dye cookies
There are a few different elements to help you create this recipe. But here is a list of everything that you need to create these tasty treats.
3 cups of flour
1 ½ tsp baking powder
½ tsp Kosher salt
1 cup of white sugar
2 sticks of unsalted sweet cream butter
2 large eggs
1 tsp pure vanilla extract
Red and black food coloring
1 cup of Ghirardelli white chocolate melting wafers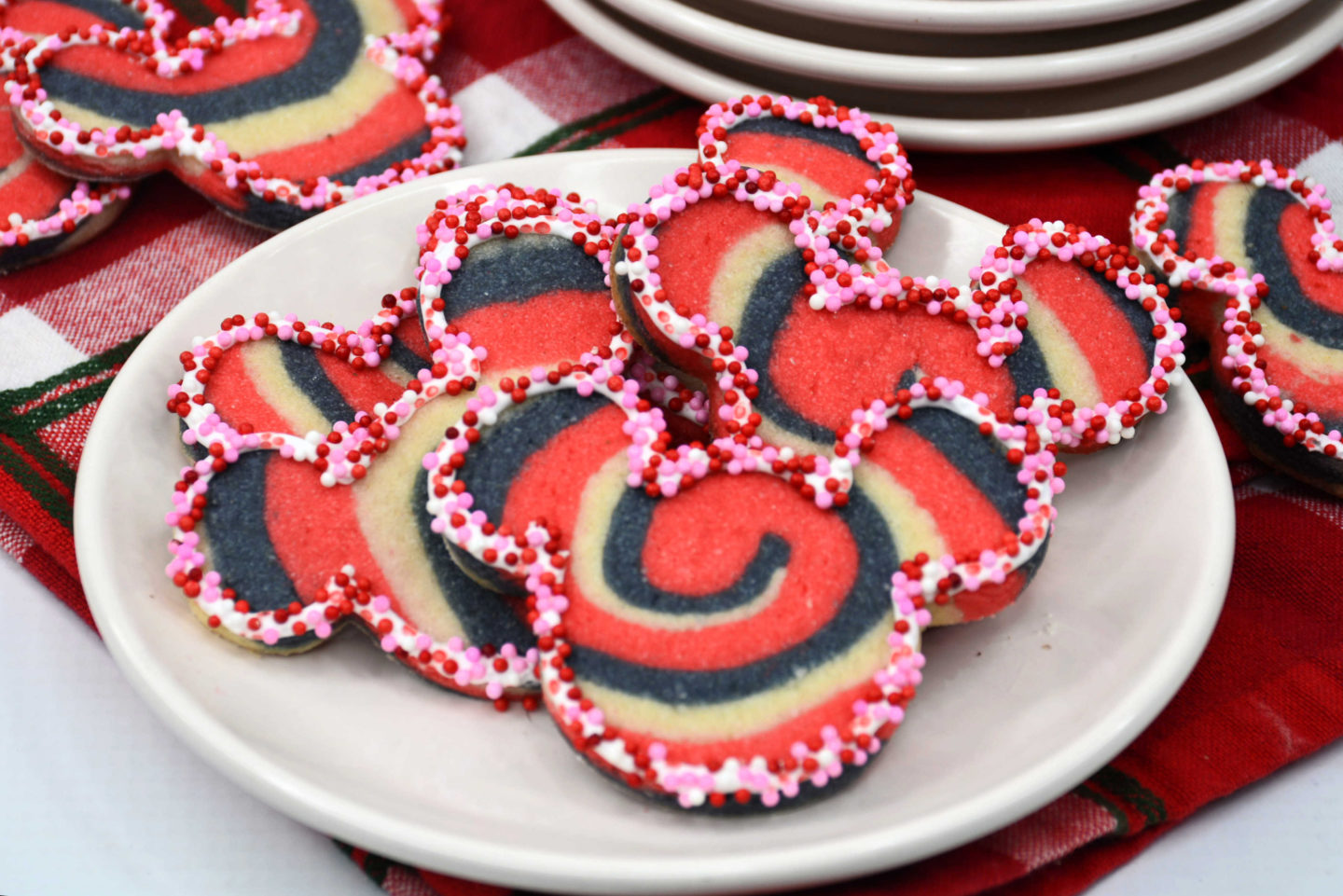 How to make Mickey Mouse tie dye cookies
First of all, grab a large bowl and add butter and sugar to it.
With an electric mixer cream the two together for five minutes.
Add the eggs and vanilla extract to the bowl and then beat to combine all of the ingredients together.
In a second bowl, mix the dry ingredients together.
Add the butter mixture in with the dry ingredients and make sure you mix well to combine all of the ingredients.
Divide the cookie dough into three bowls
Add several drops of red food coloring to one bowl and then use your hands to blend the color throughout the dough.
Next up add several drops of black food coloring to the second bowl and then with your hands work to blend the black food coloring throughout this bowl of cookie dough.
Cut three sheets of parchment paper about 13 in x 11 in.
Lay one side of parchment paper on the counter.
Put the red colored ball of cookie dough on the center of the parchment paper.
Cover with another piece of parchment paper.
Use a rolling pin to roll the dough out to 11 in x 9 in about ¼ inches thick.
Transfer the parchment paper-covered cookie dough onto a cookie sheet.
Repeat this process for the black cookie dough and then repeat this process again with the non-coloured cookie dough.
Transfer each cookie sheet of cookie dough to the refrigerator for at least 30 minutes to harden up.
Place one layer of cookie dough onto the counter and remove the top sheet of parchment paper
Sprinkle a few drops of water on top to create a 'glue'
Place the second layer of cookie dough on top, it doesn't matter which color dough goes on top, and then place the last layer of dough on top of that.
Take a knife and trim the dough into an even rectangle
Take one side, length wise, and roll the dough into a tight log and then place in the fridge for an hour.
Remove the dough and preheat the oven to 350 degrees
Cut ½ in round slices from the log and lay them onto the cookie sheet
If the cookie cutter is bigger than the round slice, gently flatten the dough to make it big enough to fit the cookie cutter.
Cut a mickey mouse shape out of the dough rounds and place them onto the cookie sheet
Repeat until all rounds have been cutout
Bake in the oven for 10-13 minutes or until a light brown
Remove and allow to cool completely.
Melt the white chocolate in a microwave bowl and spoon it into the piping bag
Cut the tip and pipe an outline around the shape of the mickey cookie
Cover with the Valentine's Day nonpareils sprinkles
Allow them to harden before enjoying them!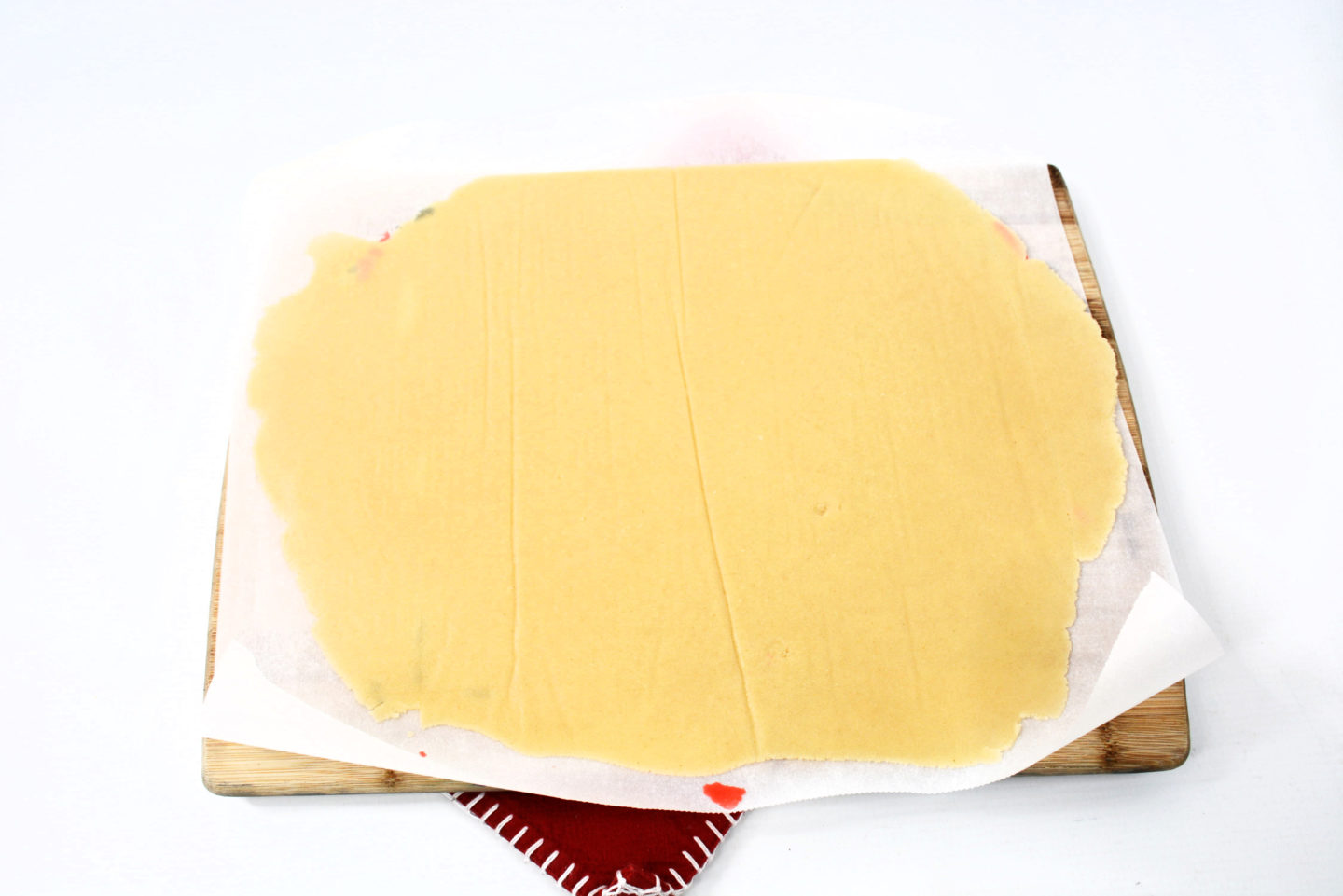 Recipe notes and tips
This may seem like a complicated recipe but the main difficulty is the dyeing of the dough and also combining them to get that tie dye effect. I wanted to share with you a few extra notes and tips to ensure that you can recreate these at home with ease.
Take your time when it comes to separating the dough into each bowl and also dyeing each one.
The main difficulty with this recipe is combining each of the doughs and creating the log. Make sure you give the dough enough time in the fridge to harden up so that you can cut out your shapes and have the desired tie dye effect.
Make sure that you give the cookies enough time to cool before you add the icing. Don't rush this stage. Adding icing to hot cookies will cause the icing to melt and not hold its form.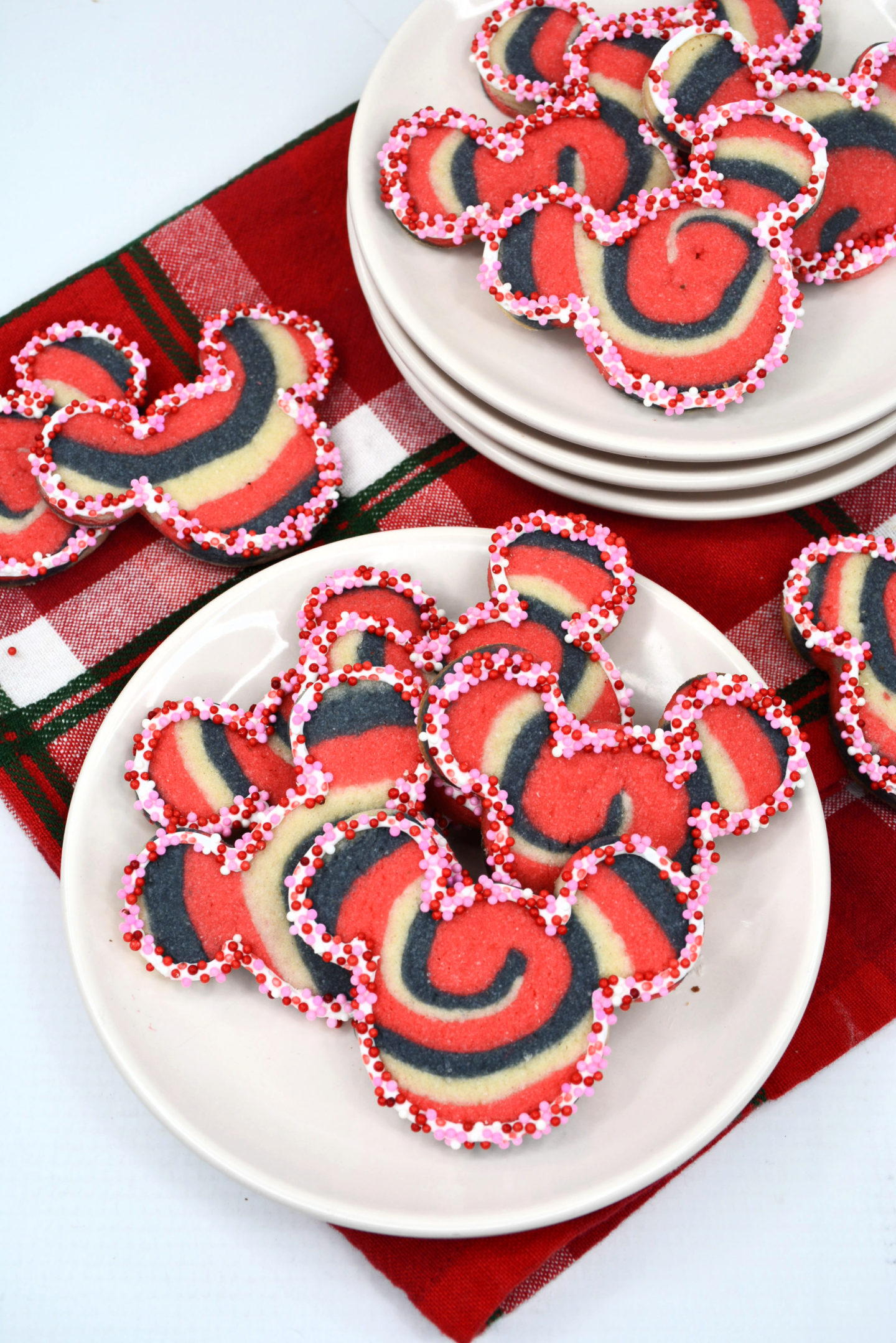 Variations to try
Like with many recipes there will always be variations to try. Here are a few suggestions.
You don't need to stick with Mickey or Minnie versions of these cookies. You can get as creative as you like. As it is Valentine's day why not use a heart shape cookie cutter instead? Or you could even use a cookie cutter in other Disney characters to create a few different options. You could even leave the dough as rounds if you wanted to have something more simple.
As the tie dye effect is the decoration, you may not want to do too much. The red and the black are suggestions of colours, you could use different colours if you wanted to create a different finish.
FAQs
Of course, there will always be questions that everyone might have when it comes to trying a few different recipes. With the Mickey Mouse Tie Dye Cookies recipe here are some of the common questions that you might have.
How should I store the Mickey Mouse tie dye cookies?
They are best stored in an air-tight container and in most cases, it would be ideal to store them in a cool dry place. You could store them like this for a few days.
Can you freeze the cookie dough?
The answer is yes! It is a great thing to have in the freezer and pull out when you want a quick sweet treat. Get to the stage where you have rolled the cookie dough into a log and store it that way, You can then easily cut off what you need.
Can I freeze the Mickey Mouse tie dye cookies after they are cooked?
Yes, you can, they do work well frozen. You might want to decide if you are freezing a whole batch or individually. It can be easier to freeze individually as it is more convenient to only defrost the ones that you need.
Enjoy your Mickey Mouse Tie Dye Cookies, then check out the other Disney Recipes to try