Halloween sweets & treats are on the menu every October and oh boy have we got a good one for you! If you're a Disney fan, you know that Halloween at Disney Parks are spooktacular in part because of all the yummy food. Craving a Disney cupcake yet? These Mickey Halloween cupcakes should do the trick!
Don't let the delicately cut Mickey pumpkin design scare you, I promise this adorable cupcake is easy to make and sure to impress your family and friends and would make a great Halloween Party Treat, or maybe a Disney Halloween reveal!.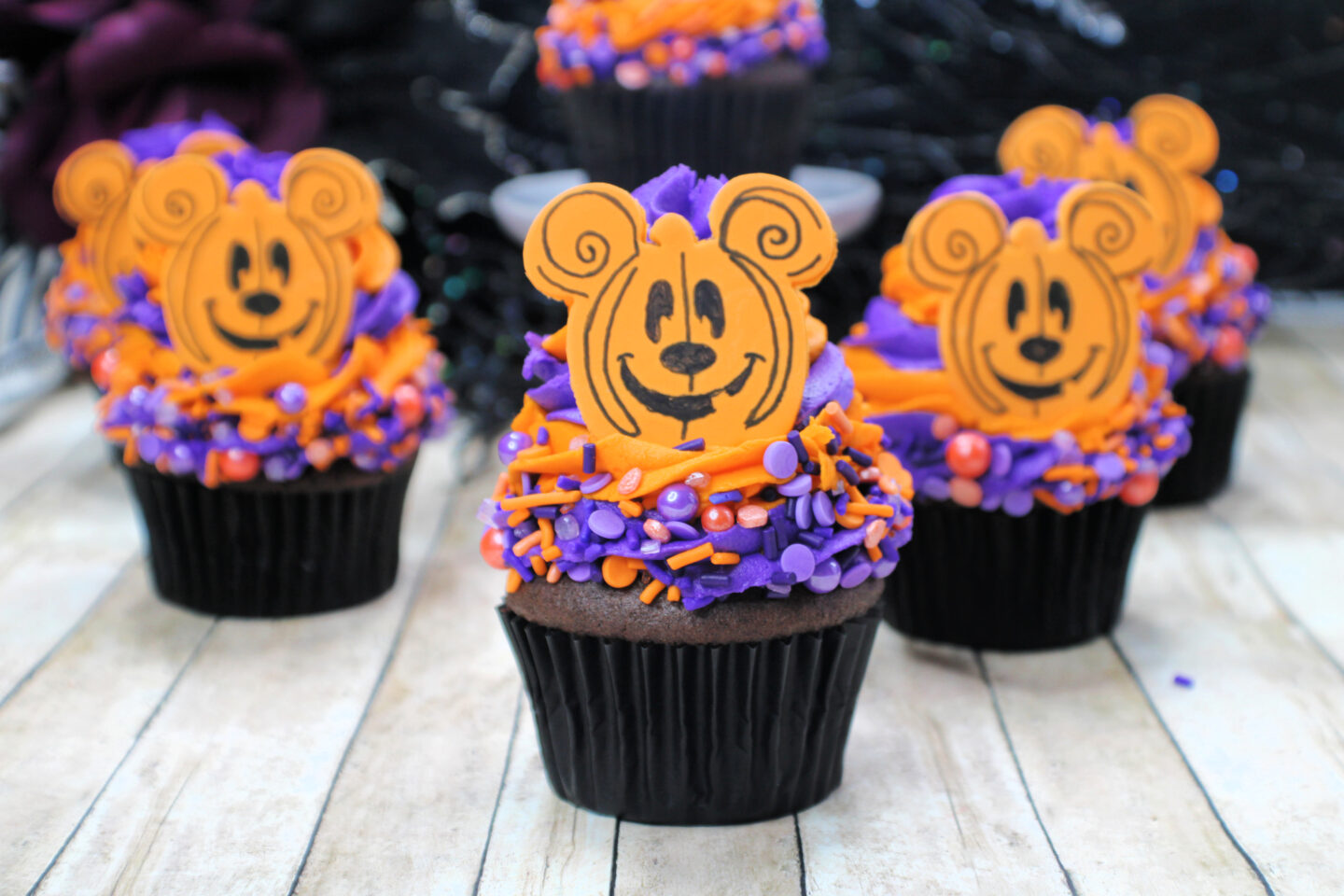 How to Make Mickey Mouse Halloween Cupcakes
Let's get started making these to die for Halloween Mickey Mouse desserts but gathering up all our supplies. They're pretty straight forward, but you will need to get a Mickey shaped cookie cutter, so make sure you plan ahead.
Fondant Pumpkin
4.4 oz Orange Fondant
Black edible marker
2.5 Mickey Pumpkin Cookie Cutter – Etsy
Fondant rolling pin
Powdered sugar
Chocolate Cupcakes
Triple Chocolate cake mix
Whole milk
Unsalted sweet cream butter, softened
Large eggs
Vanilla Frosting
Unsalted sweet cream butter, softened
Powdered sugar
Pure vanilla extract
Heavy whipping cream
Neon Purple, Neon Orange gel food coloring
Large piping bags with star tip
Halloween Pumpkin inspired sprinkles
Purple sprinkle mix
Orange sprinkle mix
First, we'll make the pumpkins. Start by working the fondant in your hands until it's soft. Sprinkle some powdered sugar onto a cutting board and place the orange fondant in the center. Using the rolling pin, roll out the fondant to 1⁄2 inch thick.
Use the mickey pumpkin cookie cutter and cut out 16 Mickey pumpkins, then place the cutout onto a cookie sheet lined with parchment paper so it can dry overnight.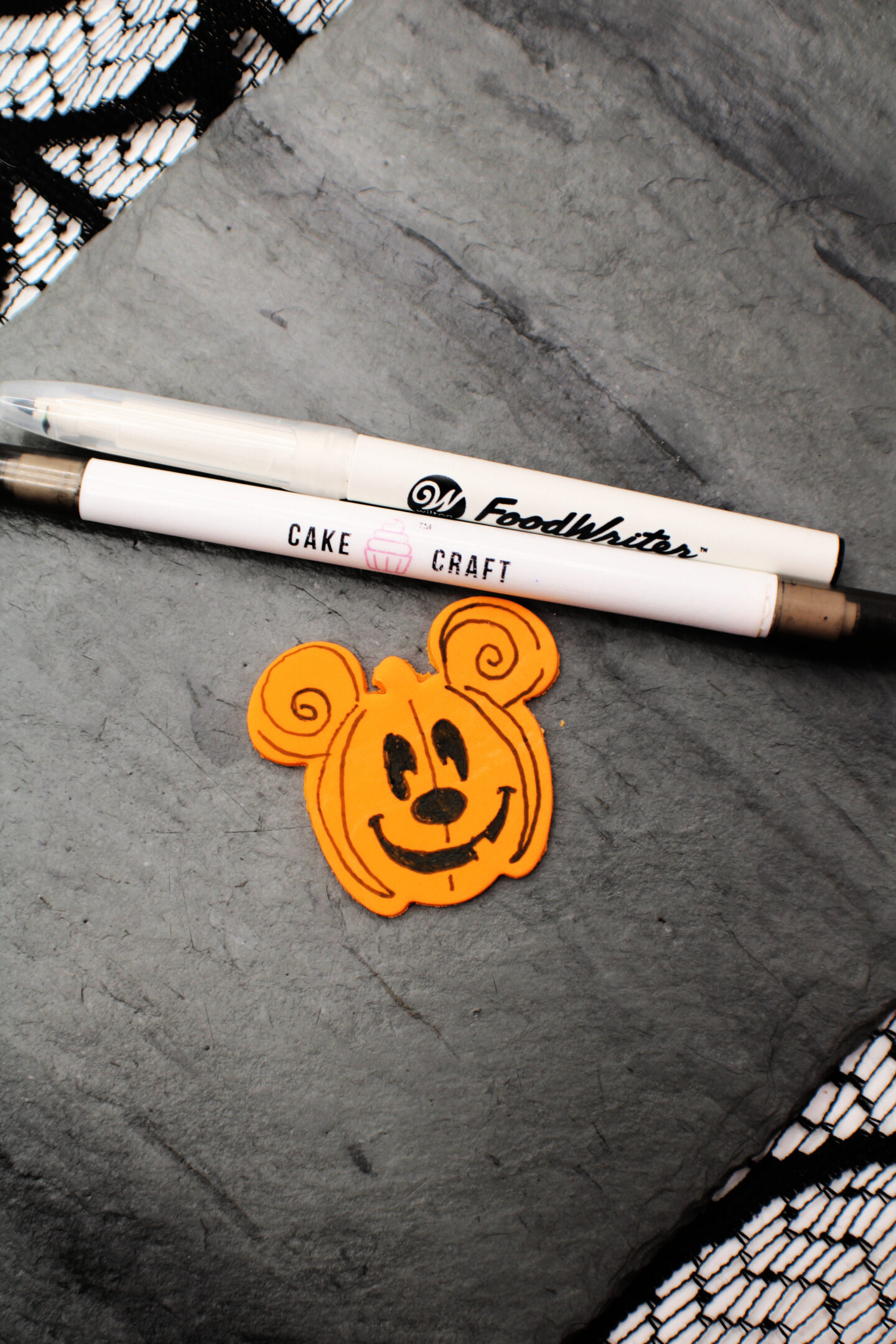 Next day, using the black edible marker, draw out Mickey's pumpkin face and allow the marker to dry for an hour while you make the cupcakes.
Preheat the oven to 350 degrees and line a cupcake pan with liners of your choice. Using a large bowl, beat together the cake mix, milk, butter and eggs until combined and smooth.
Fill the cupcake liners 3⁄4 way full then bake the cupcakes in the oven for 21 minutes. Allow the cupcakes to cool completely before icing so the icing doesn't melt and make a mess.
Using a standing mixer, beat together the butter, powdered sugar, vanilla, and heavy whipping cream until combined, smooth and holds a peak. Divide the frosting into two bowls and mix in approximately 6-8 drops of neon purple and neon orange into the two bowls. Scoop the frosting into their own piping bags and set aside.
Combine the two different types of sprinkles into a medium bowl that's large enough to easily dip the cupcakes into.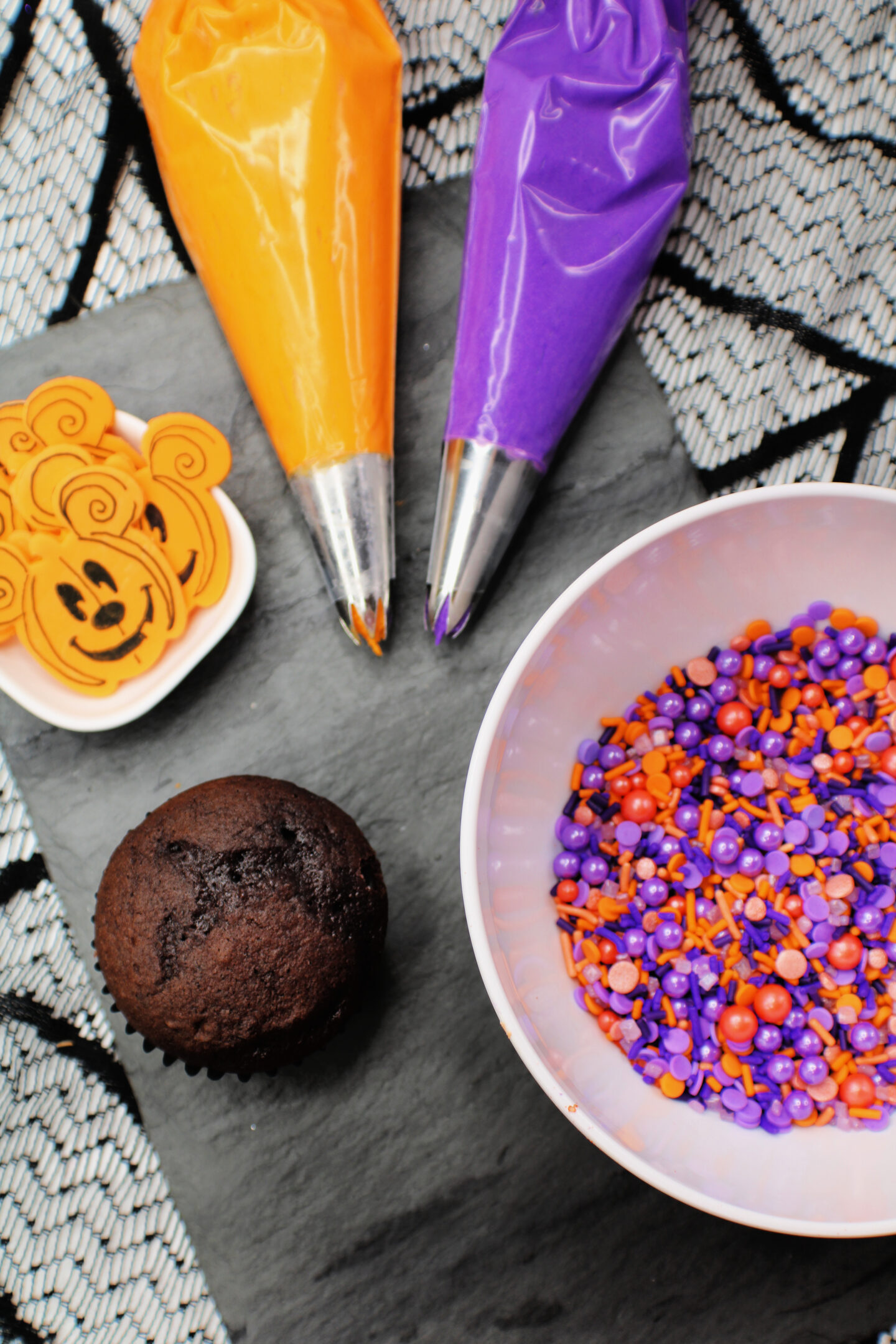 Using the purple piping bag, pipe a ring of frosting around the top of the cupcakes, then do the same with the orange piping bag, making a slightly smaller ring of frosting on top of the purple ring.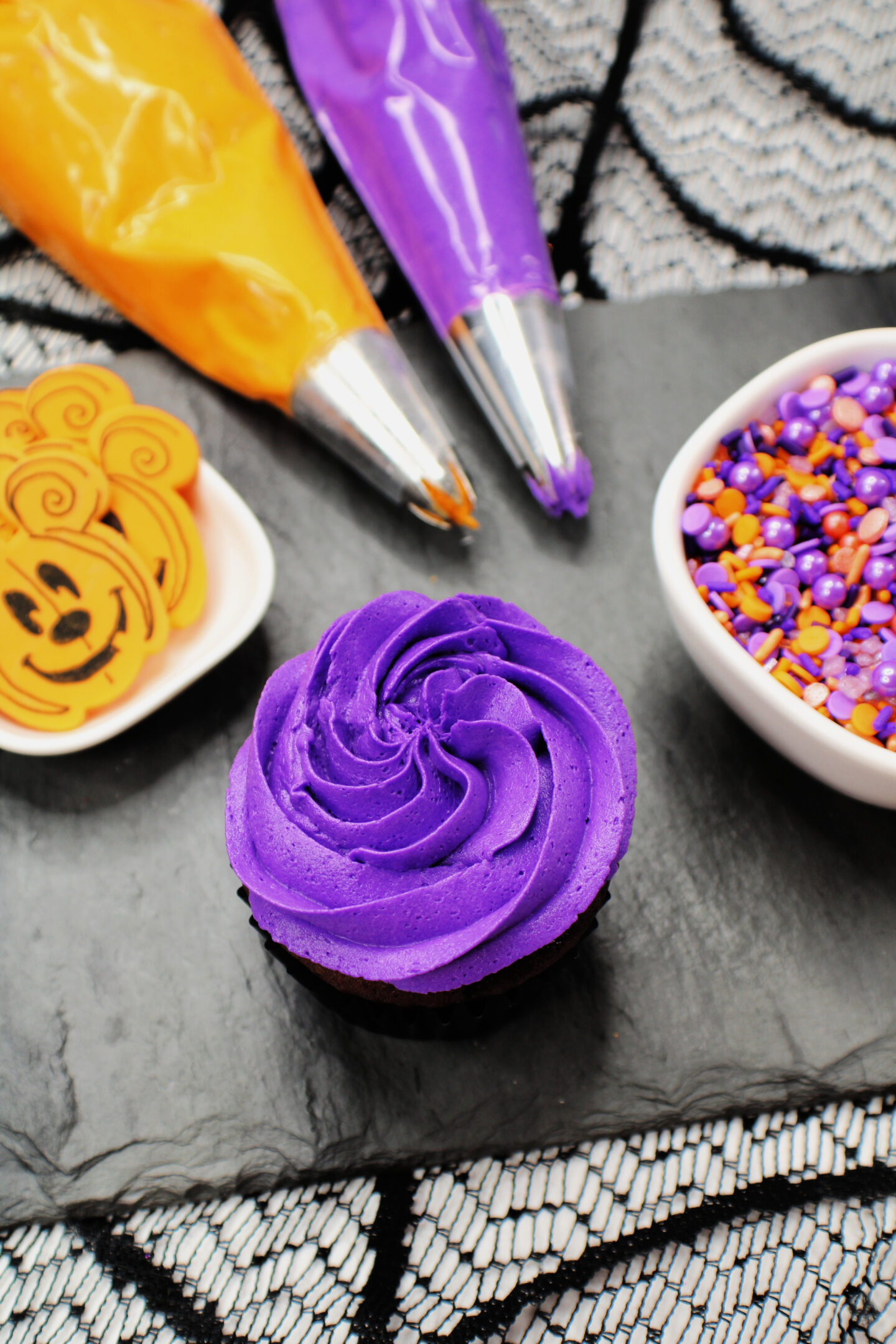 Carefully coat the sides of the frostings in the purple and orange sprinkles pushing slightly so they stick, but don't flatten the rings of frosting.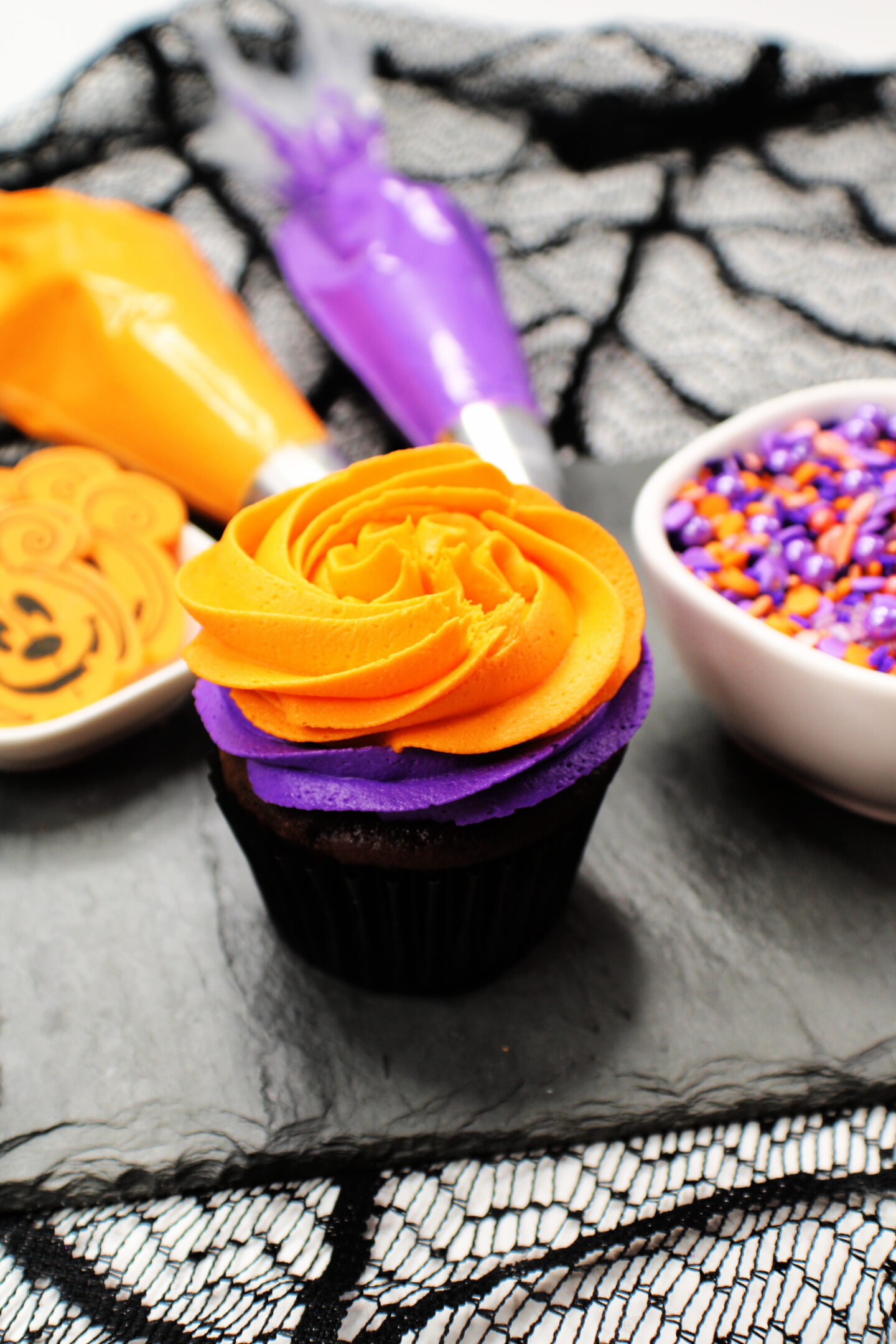 Repeat the process with a slightly smaller ring of purple frosting on top of the orange frosting, then alternate the colors until the last makes a peak or add a dollop of purple frosting as your last frosting ring.
Carefully place the fondant Mickey pumpkin in the center of the frosting, standing up.
These Disney Halloween treats are so adorable, they look like they came straight from the Main Street Bakery in the Magic Kingdom!
Whether you make these for a Halloween party or just for fun, your family and friends will love them!