Mickey devil cupcakes are always a great idea when it comes to making a sweet treat to serve this Halloween! These cupcakes are not only fun to look at, but they're also delicious.
The chocolate cake is moist and fluffy, and the buttercream frosting is rich and creamy. Plus, the little devil Mickey toppers make them extra special.
If you're looking for a festive treat to make this Halloween, these Mickey Mouse cupcakes are a great option!
Plus, with the boxed cake mix, these cupcakes are quick and easy to make. The fondant piece does take a bit more time, but with the easy to follow instructions you'll have an adorable snack or dessert that the whole family will enjoy!
Disney Halloween Movies
Before we dive into making these devilish treats, let's talk about a few of the best Disney Halloween movies to watch while you bake or serve these yummy Disney cupcakes.
1. Hocus Pocus– This classic Disney film is a must-watch every Halloween season. The story follows three sister witches who are resurrected on Halloween night and cause havoc in the town of Salem.
2. The Nightmare Before Christmas– This Tim Burton movie tells the story of Jack Skellington, the Pumpkin King of Halloween Town, who becomes bored with the same old Halloween traditions. He stumbles upon Christmas Town and decides to kidnap Santa Claus and take over Christmas.
3. Coco– This touching Pixar film follows the story of Miguel, a young boy who dreams of becoming a musician despite his family's generations-old ban on music. When he finds himself in the Land of the Dead, Miguel seeks out his great-great-grandfather to help him get back to the land of the living.
4. Monsters, Inc.- This hilarious movie from Pixar is set in the world of monsters where they collect children's screams to power their city. But when a little girl named Boo wanders into their world, Sulley and Mike must find a way to get her back home safely.
5. Frankenweenie– This Tim Burton movie is a heartwarming tale about a boy named Victor who brings his dead dog, Sparky, back to life with science. But when the other kids in town find out, they want to create their own monsters.
These are just a few of the great Disney Halloween movies you can watch while you enjoy your Mickey Mouse cupcakes! So, what are you waiting for? Let's get started on making these fun and festive treats!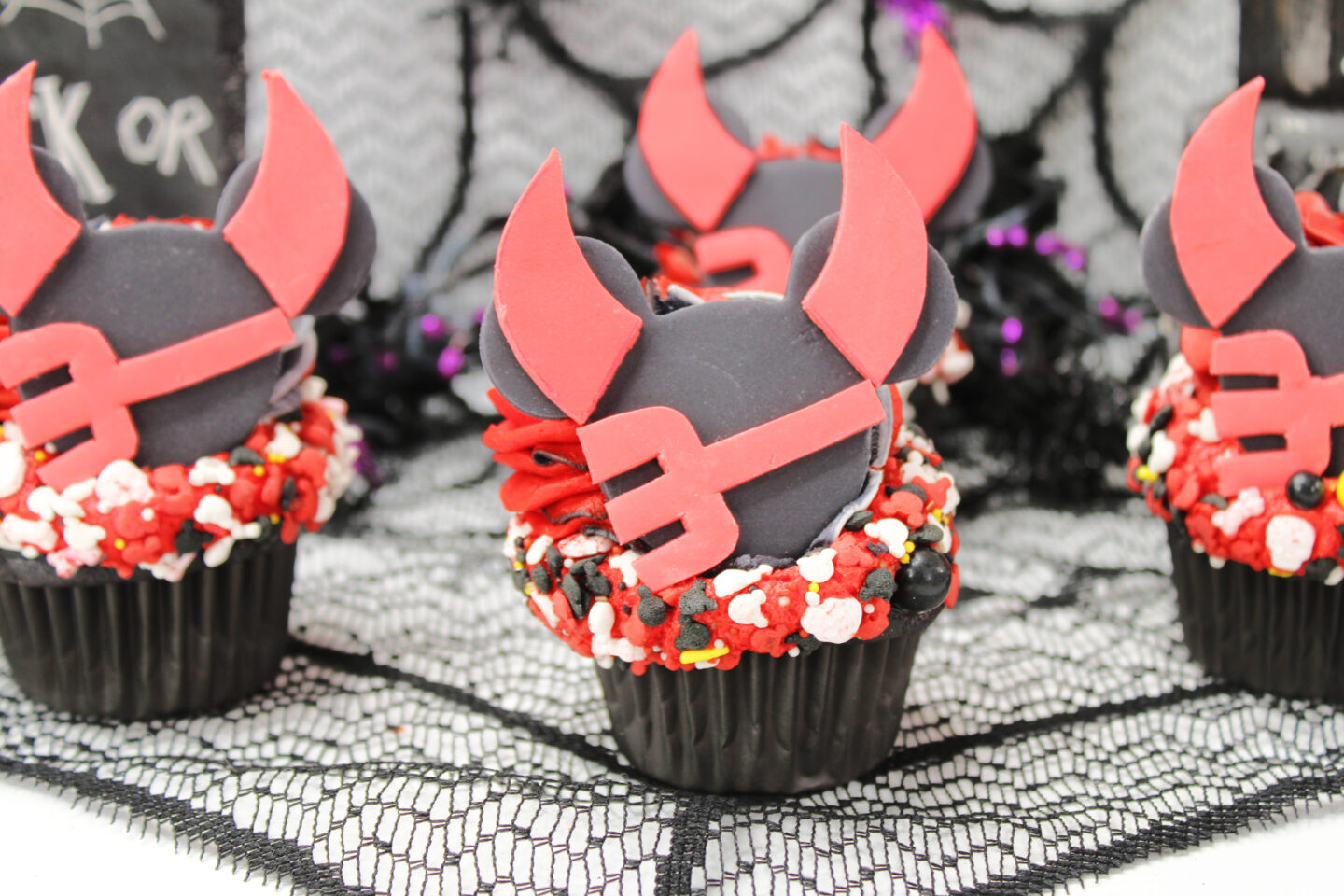 How to Make Mickey Halloween Devil Cupcakes
These French vanilla cupcakes with butter cream frosting and almost too cute to eat Mickey sprinkles will be a hit at any party or gathering this Halloween!
Ingredients:
French Vanilla cake mix
Whole milk
Unsalted sweet cream butter, softened
Large eggs
Black gel food coloring
Vanilla frosting
Powdered sugar
Pure vanilla extract
Heavy whipping cream
Red gel food coloring
Large piping bag with star tip
Medium cookie scoop
Small bowls
Mickey Mouse inspired sprinkles
Bloody bones sprinkles
You'll also need the following to make the Devil Mickey:
4.4 oz Black Fondant – can be found at Michaels Craft Store, Walmart, or Hobby Lobby
4.4 Red Fondant – can be found at Michaels Craft Store, Walmart, or Hobby Lobby
Rolling pin
Exacto Pen to cut out the Devil horns and Pitchfork out of the fondant – found at any craft store and on amazon
Cookie sheet with silicone mat
Mickey Devil horn and pitchfork measurements (download below)
Edible glue – found at Hobby Lobby in the cake decorating isle
Mickey Fondant Directions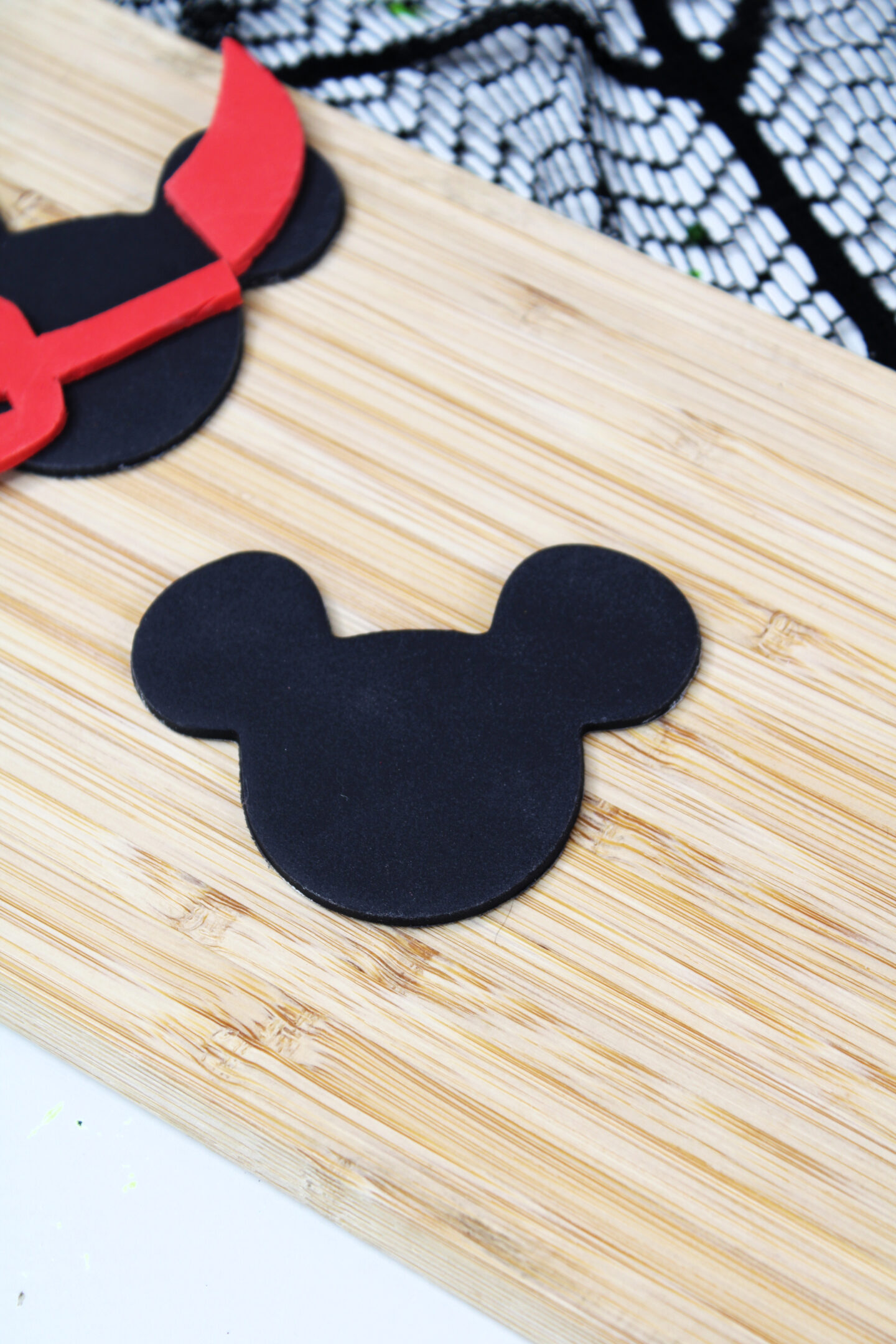 Print the devil horns and pitchfork template and cut out the horns and pitchfork
Sprinkle some powdered sugar onto the cutting board
Remove the red fondant from the package and knead onto the cutting board to make the fondant soft and workable
Sprinkle some more powdered sugar onto the cutting board and roll the fondant into 1⁄4 inch thick
Using the cutouts as templates, cut out 24 devil horns and 12 pitchforks
Place them onto the cookie sheet
Work the fondant back into a ball and roll the fondant into 1⁄4 inch thick
Using the mickey cutter, cut out 18-20 mickey heads
Place onto the cookie sheet
Once all fondant pieces have been cut, place onto the cookie sheet and place onto the counter to air dry overnight
Once dried and firm, carefully pick up a horn and using the edible glue, brush the back of the devil horn
Carefully place the horn in the center of Mickey's ear
Repeat the same steps with the other horn
Carefully pick up a pitchfork and brush the back of it with edible glue then gentle place the pitchfork in a downwards position on the black Mickey head
Allow the glue to dry fully before picking up the whole Mickey head
Cupcake Directions
Preheat the oven to 350 degrees and line a cupcake pan with liners
Using a large bowl, beat together the cake mix, milk, butter and eggs until combined and smooth
Beat in a good amount of black gel food coloring to create a black colored cupcake
Fill the cupcake liners 3⁄4 way full
Bake in the oven for 21 minutes
Allow to cool completely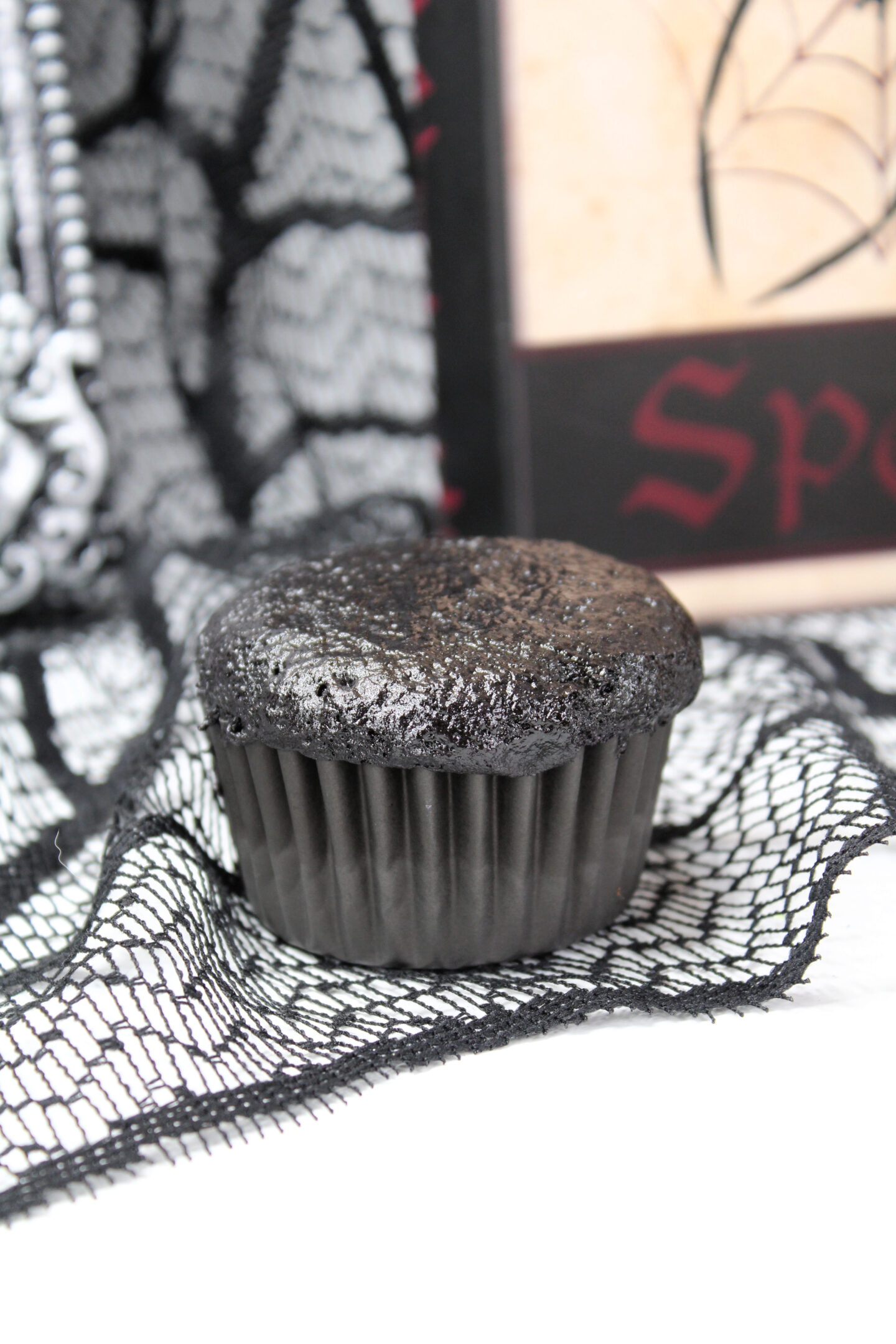 Frosting directions
Using a standing mixer, beat together the butter, powdered sugar,
vanilla, and heavy whipping cream until combined, smooth and holds a peak
Scoop about 1 C of the frosting into a small bowl and scoop another cup of frosting into a second bowl
Using the remaining frosting in the mixing bowl, beat in about 5-8 drops of super red gel food coloring. The shade of red you are trying to achieve is almost as dark as blood
In one of the mixing bowls, mix in a few drops of black gel food coloring
Scoop some red frosting onto 1⁄3 side of the large piping bag and scoop the black frosting onto another side and then scoop the non colored frosting into the last 1⁄3
Combine the sprinkles into a large bowl
Using the remaining red frosting in the main mixing bowl, scoop some frosting onto the top of a cupcake
Using a flat angled spatula, smooth the top of the frosting evenly
Carefully dip the frosting into the sprinkles and coat entire frosting layer
Using the piping bag, pipe a decent size dollop in the center of the frosting
Carefully pick up the entire piece of the Mickey Devil and very slowly place it into the frosting so that it is secured and doesn't move