Last Night Neva and I were invited along to Norwich Theatre Royal to review Looking Good Dead, another of Peter James' novels brought to life on the stage. I had not read the book (sometimes it's nice to not know the story or the outcome!) And all we knew was…
No good deed goes unpunished…. hours after picking up a USB memory stick, left behind on a train seat, Tom Bryce inadvertently becomes a witness to a vicious murder. Reporting the crime to the police has disastrous consequences, placing him and his family in grave danger. When Detective Superintendent Roy Grace becomes involved, he has his own demons to contend with while he tries to crack the case in time to save the Bryce family's lives.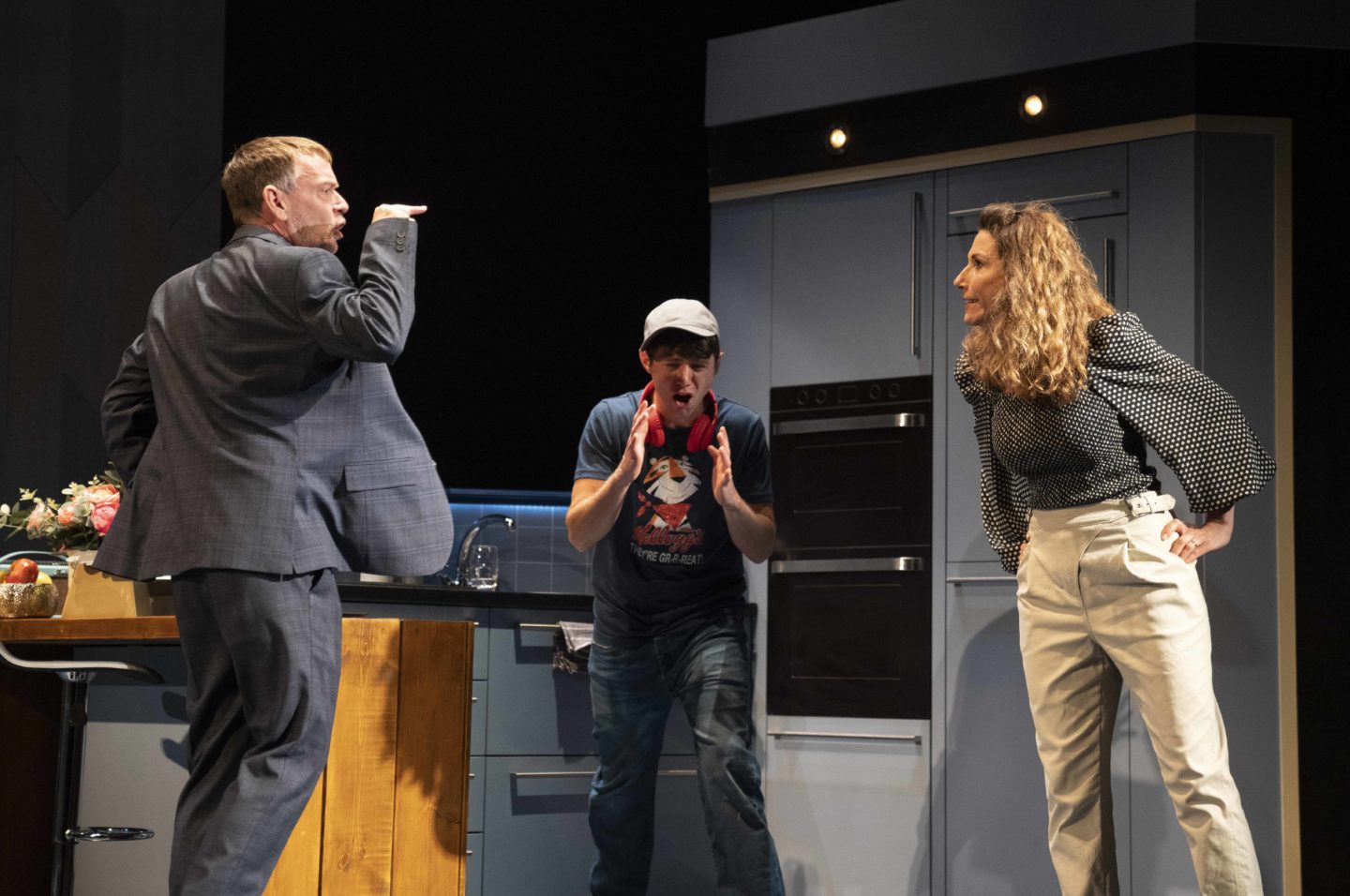 The action takes place in the present day at the Bryce Household and the surrounding areas of Brighton.
The start of the performance begins in the Bryce's living room, with Tom Bryce (Adam Woodyatt) returning from work, his wife Kellie (Gaynor Faye) ferociously cleaning the kitchen and their teenage son Max (Luke Ward-Wilkinson) lounging on the sofa with his headphones on and playing on an electronic device – certainly similar to the teens in my house! Tom recounts a story of a very loud man on the train that everyone could hear his conversation (we've all been there!) and that he had dropped a usb stick, so instead of handing it in to lost property, he decides to play detective himself and try to locate the owner.
As soon as he put the usb in the laptop and it was password encrypted, you know he should have stopped, but no he calls on his son Max to help him crack the passcode with some dodgy password cracking software!
What they then witness on screen was to change their pathway forever…..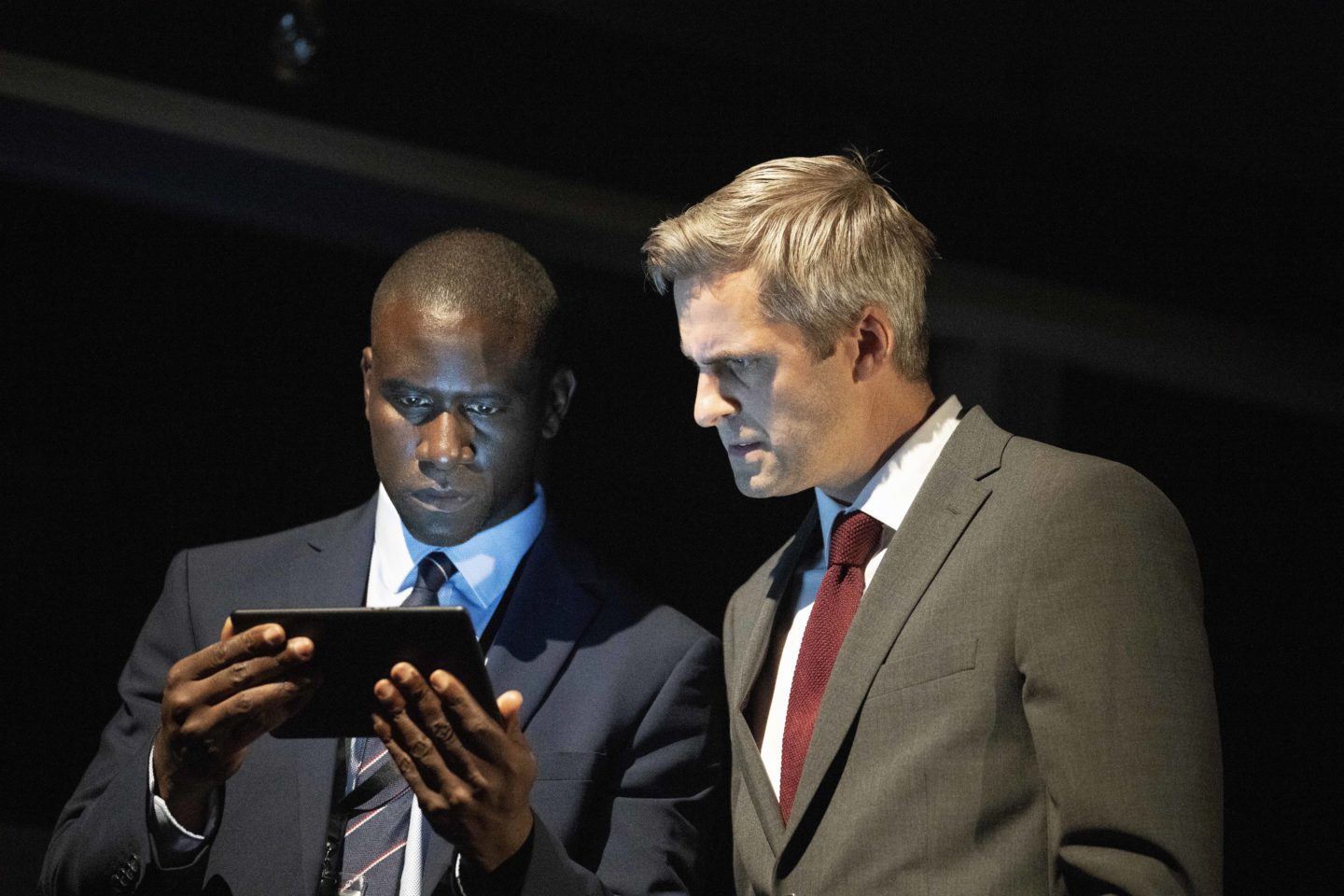 As the story unfolds you learn more about the family, including their older son who is on a gap year in South America and their financial problems. Adam Woodyatt starts the story as a smartly dressed businessman, and slowly his story becomes one of despair, you witness the constant arguments with his wife who seems far too accustomed to spend vast amounts of money on pointless 'things'.
Gaynor Faye plays the part of the glamorous wife, that seems to want to ignore their financial troubles and continues to spend money they don't have, whilst secretly blocking out the problems with a bottle of vodka and obsessive cleaning.
Their son Max is caught in the middle, and in true teenage style loves to wind his parents up, telling them about the programme he is watching which involves brothers "that plotted together to kill their parents!"
The way the onscreen shots are shown behind them so the audience could see the drama unfold was brilliant, and the smooth scene change between the house and the police station was so simple yet extremely effective. A large piece of the action is played out via laptop video footage, mobile and telephone calls, the clever use of sound effects, music and lighting is designed well.
Both Adam and Gaynor worked well as a married couple together and I was wondering how the dynamics would change with the rumours of a certain leading man entering the castle! But it seems that the next leg of the tour isn't taking place until January so no worries there.
Luke was certainly convincing as the 17 year old teen, made me feel like I was at home with my two eldest boys! The interaction between Luke and his travelling half brother is executed well, with them talking over facetime, and only his voice being heard.
The story has many twists and turns, and I certainly won't be giving those away! You'll just have to go and watch it for yourselves….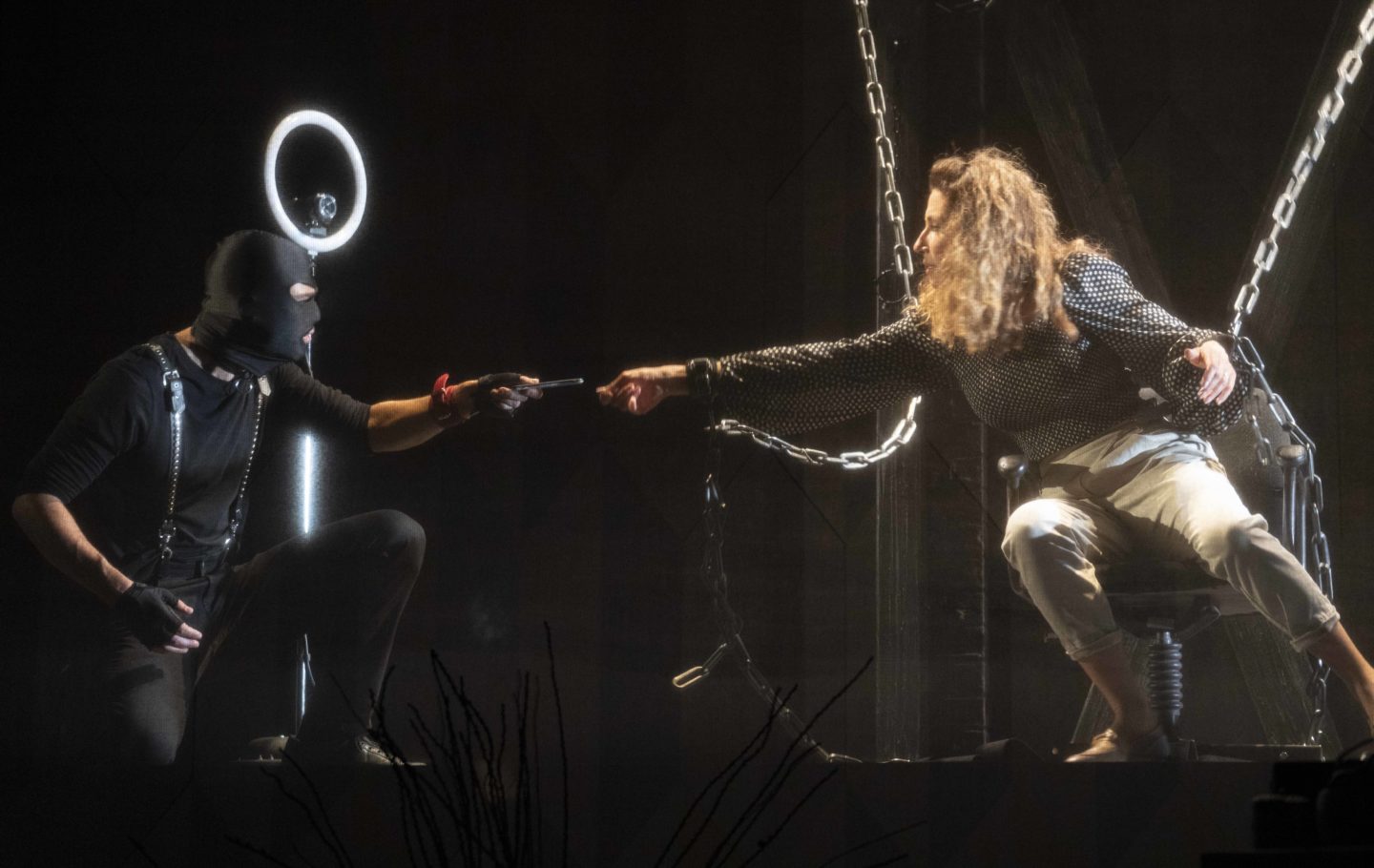 LOOKING GOOD DEAD is Peter James' fifth novel to be brought to the stage and follows the hugely successful productions of "The House on Cold Hill" starring Joe McFadden and Rita Simons, "Not Dead Enough" starring Shane Richie and Laura Whitmore, "The Perfect Murder" starring Shane Richie and Jessie Wallace and "Dead Simple" starring Tina Hobley. 
Peter James is a number one bestselling author of crime and thriller novels and the creator of the much-loved Detective Superintendent Roy Grace. He has topped the Sunday Times best seller list seventeen times and has achieved global book sales of over 20 million copies which have been translated into 37 languages. Synonymous with plot twisting page turners, he has garnered an army of loyal fans throughout his storytelling career which also included writing for TV and producing films. He has won over 40 awards for his work, including the WHSmith Best Crime Author of All Time Award, Crime Writers' Association Diamond Dagger and a BAFTA nomination for The Merchant of Venice starring Al Pacino and Jeremy Irons for which he was an Executive Producer. His first Roy Grace novels are currently in production with ITV.
"LOOKING GOOD DEAD" is produced by Joshua Andrews and Peter James and has been adapted for the stage by Shaun Mckenna. An award-winning British dramatist, Shaun's previous theatre credits include Ladies in Lavender, the Lord of The Rings musical and Peter James' The Perfect Murder, Dead Simple, Not Dead Enough and The House on Cold Hill. It will be directed by the Olivier Award winning Ian Talbot. Ian was Artistic and Managing Director of the Regent's Park Open Air Theatre until 2008. His West End credits include High Society at Shaftesbury Theatre, Lend Me A Tenor at the Gielgud Theatre and The Mousetrap at St Martin's Theatre. His UK touring credits include Annie Get Your Gun, Anything Goes, Priscilla Queen of the Desert, Million Dollar Quartet and Peter James' The Perfect Murder and The House on Cold Hill.
LOOKING GOOD DEAD is at Norwich Theatre Royal from Monday 25 – Saturday 30 Oct 2021
Running Time : 2 hrs 20 mins including interval.
'we were provided with complimentary tickets for the purpose of the review, all thoughts and opinions were my own'