Lapland Uk reviews From A family of Nine
At the beginning of November the six children received a very special letter inviting them to LaplandUK to help Father Christmas with getting ready for the big day.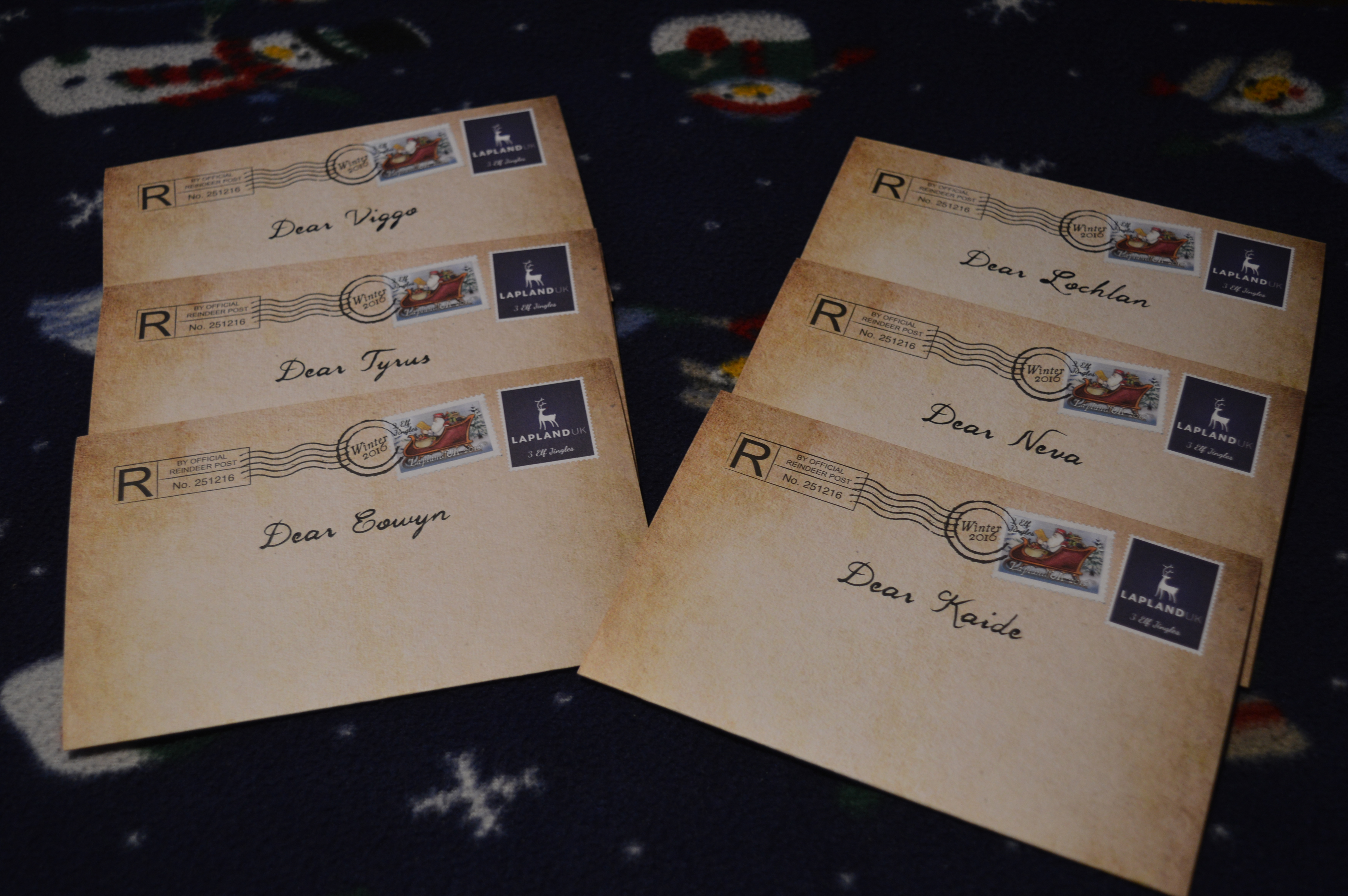 So, on Sunday we set off on a 3 hour journey to find the man himself at LaplandUK. We had a slot of 2.30pm and with some slight Car trouble on the way, we arrived exactly on the dot, the car park attendants guided us to a very nice car parking space with enough room for our 9 seater. There were sign posts to the enchanted forest, so we set off, down the woodland path.
We arrived at the entrance to LaplandUK and found the check in desk, it is recommended that you arrive slightly earlier than your time to get booked in, but we were not the only ones to be running slightly behind, the elves at the check in were very welcoming and took the 2.30pm slot people through first, we were put in the Husky team, we were all given a paw print sticker to wear and each of the children was given their elf passport, which they had to keep with them throughout the activities to be able to show Father Christmas that they had been good elves and could earn a gold bell.
We made our way through to the Woodland area where Sage the old Elf and Eeko were entertaining the families, they told us all about how elves come from Pine Cones and how to travel to Lapland.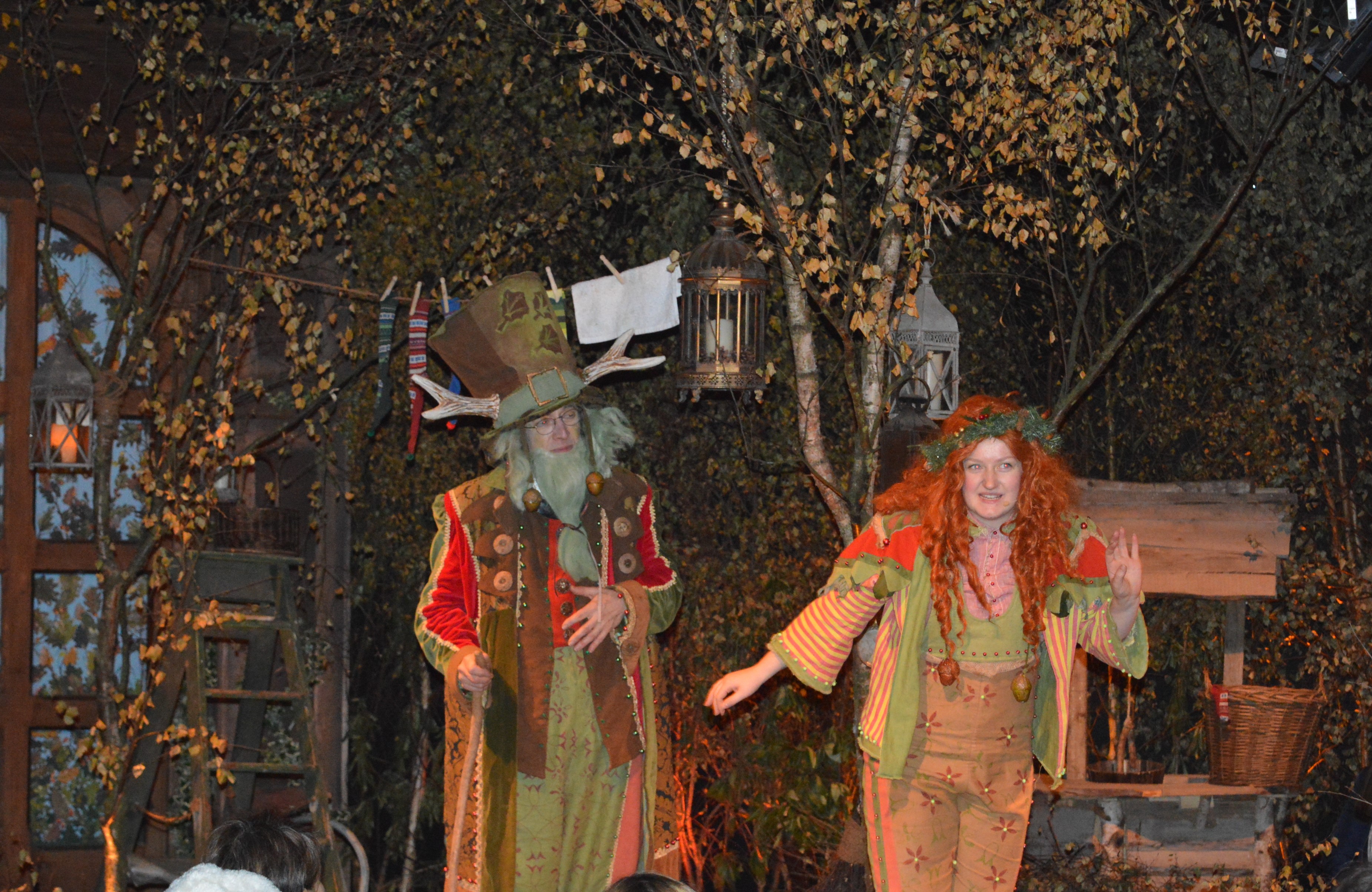 Once everyone was in, we were introduced to our two herders who would be guiding us, they were easy to spot as they had matching scarves to our badges, Sage opened the magic door and we were off! Our first destination was the Toy Factory.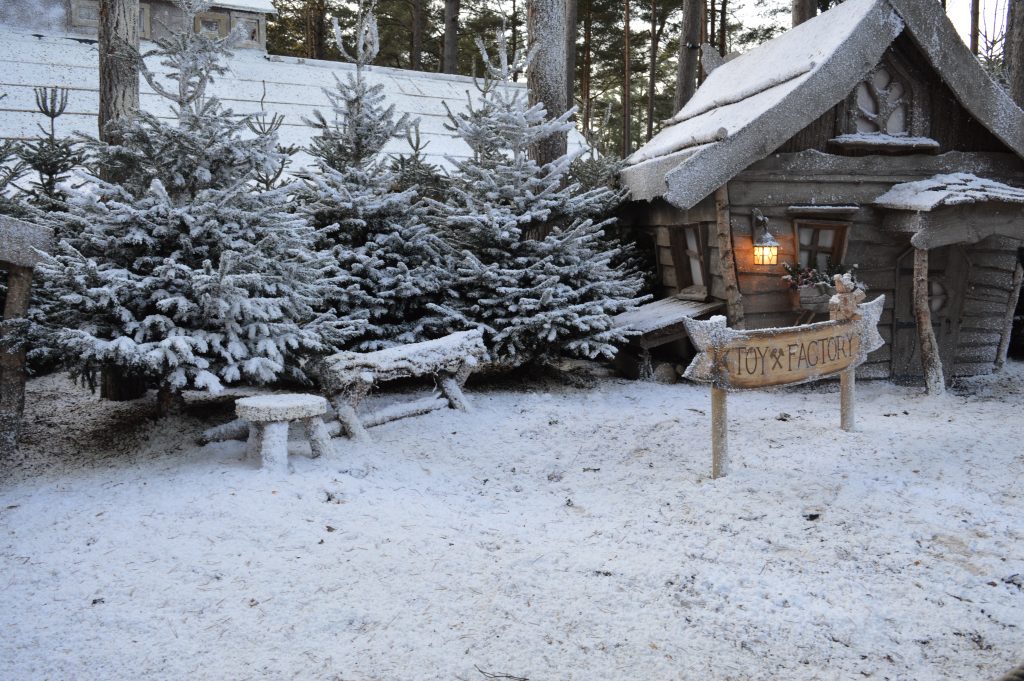 All the children sat at the wooden benches with the adults seated around the edge and the elves told the children how they had been invited by Father Christmas to help with the Toys, first they had to put the reindeer's together, including a bright red nose! (which can be purchased prior to arrival at a cost of £25 per reindeer)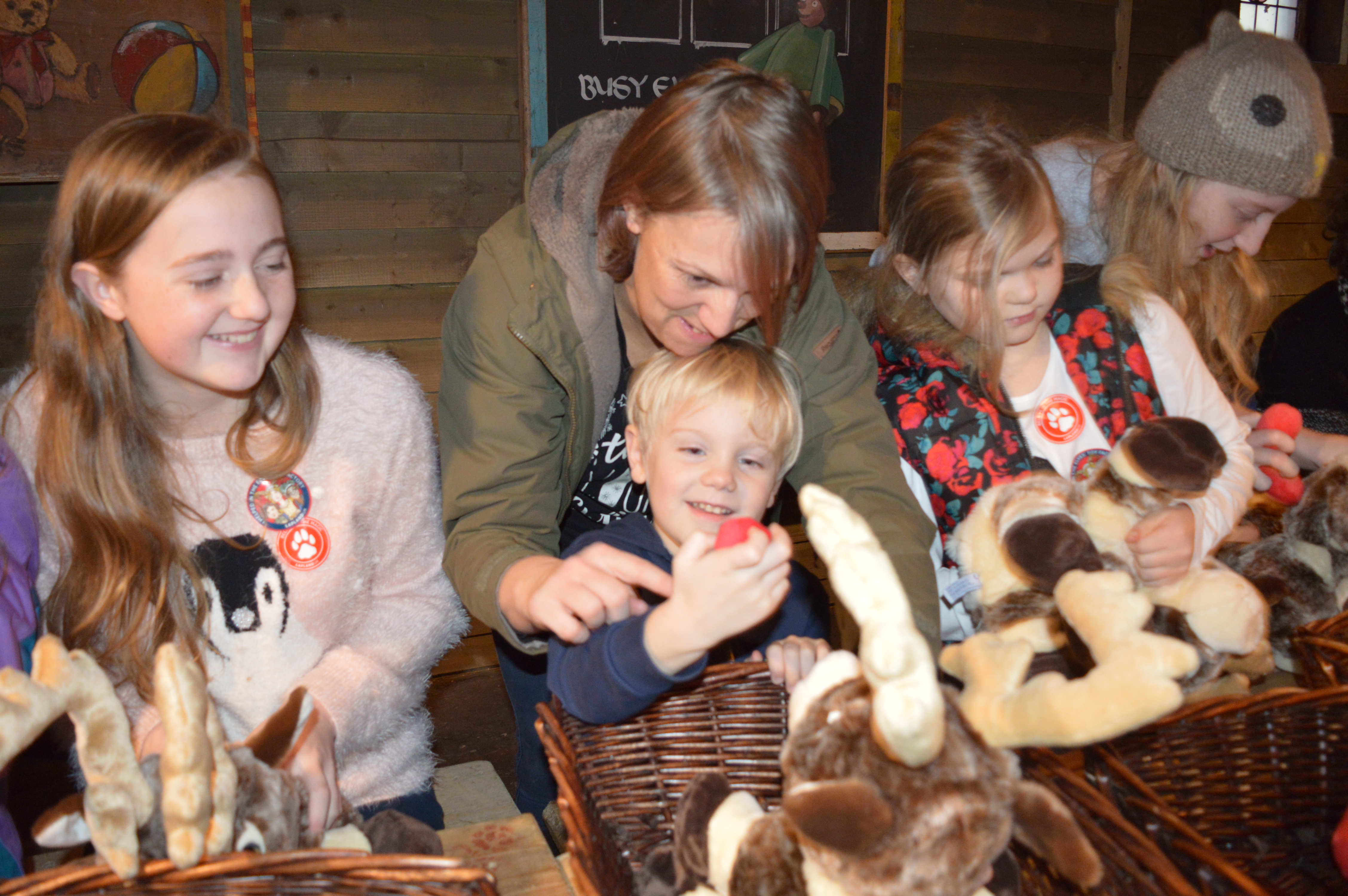 After all of the Reindeer had been assembled, it was time for the wooden teddy bears.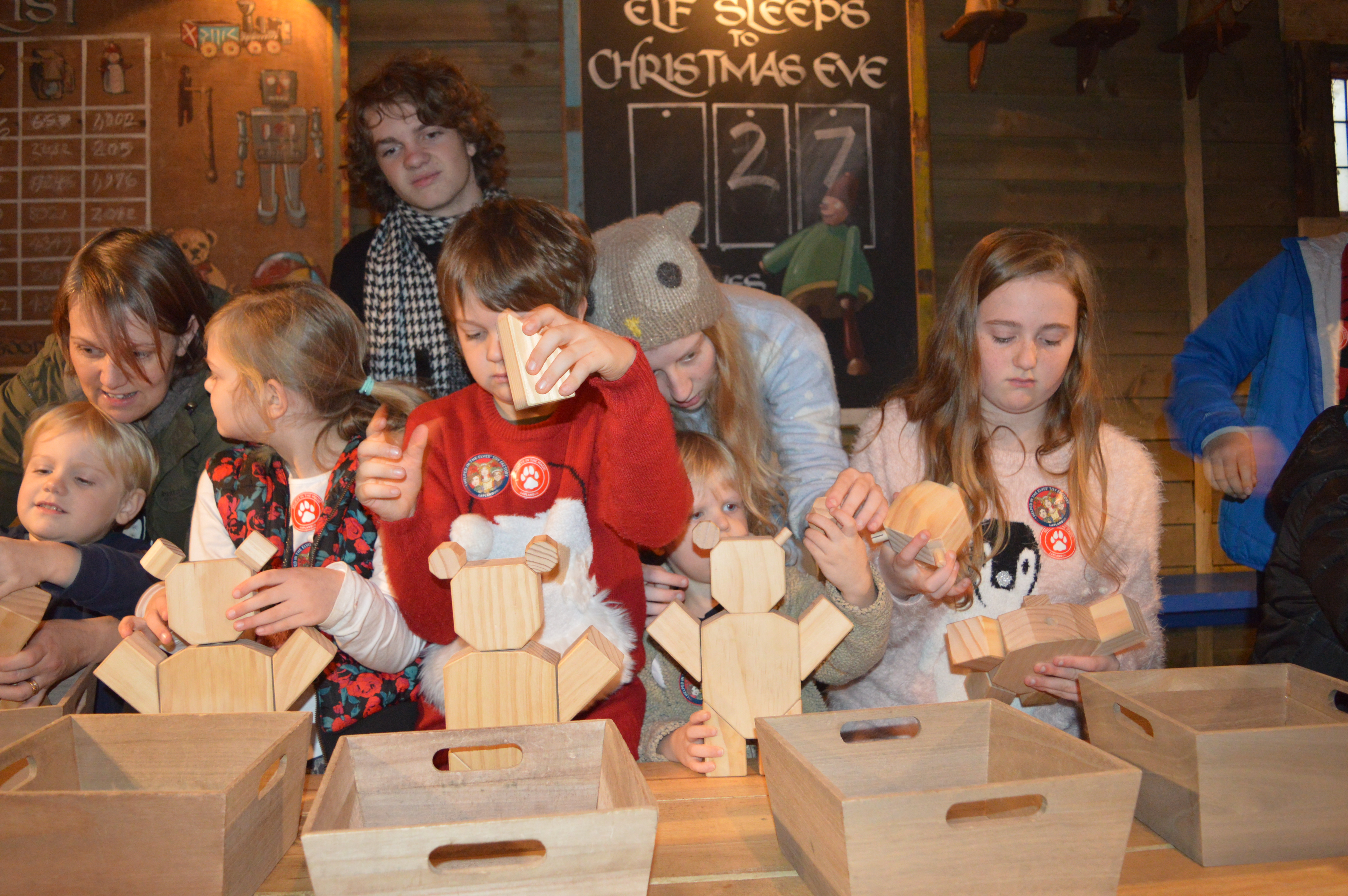 After we had completed the Teddies, each of the children received a Stamp in their passport, which was one step closer to seeing the Big Guy!
But there was no time to stop as we were needed in Mother Christmas's Kitchen to ice the Gingerbread…
Mother Christmas introduced her thre elves, Treacle, Cinnamon and Dough, she told the children how Dough had not yet achieved her golden bell as she keeps eating all of the Gingerbread dough before it is put in the oven, but after she was very helpful to all of the children, Dough finally received her golden bell.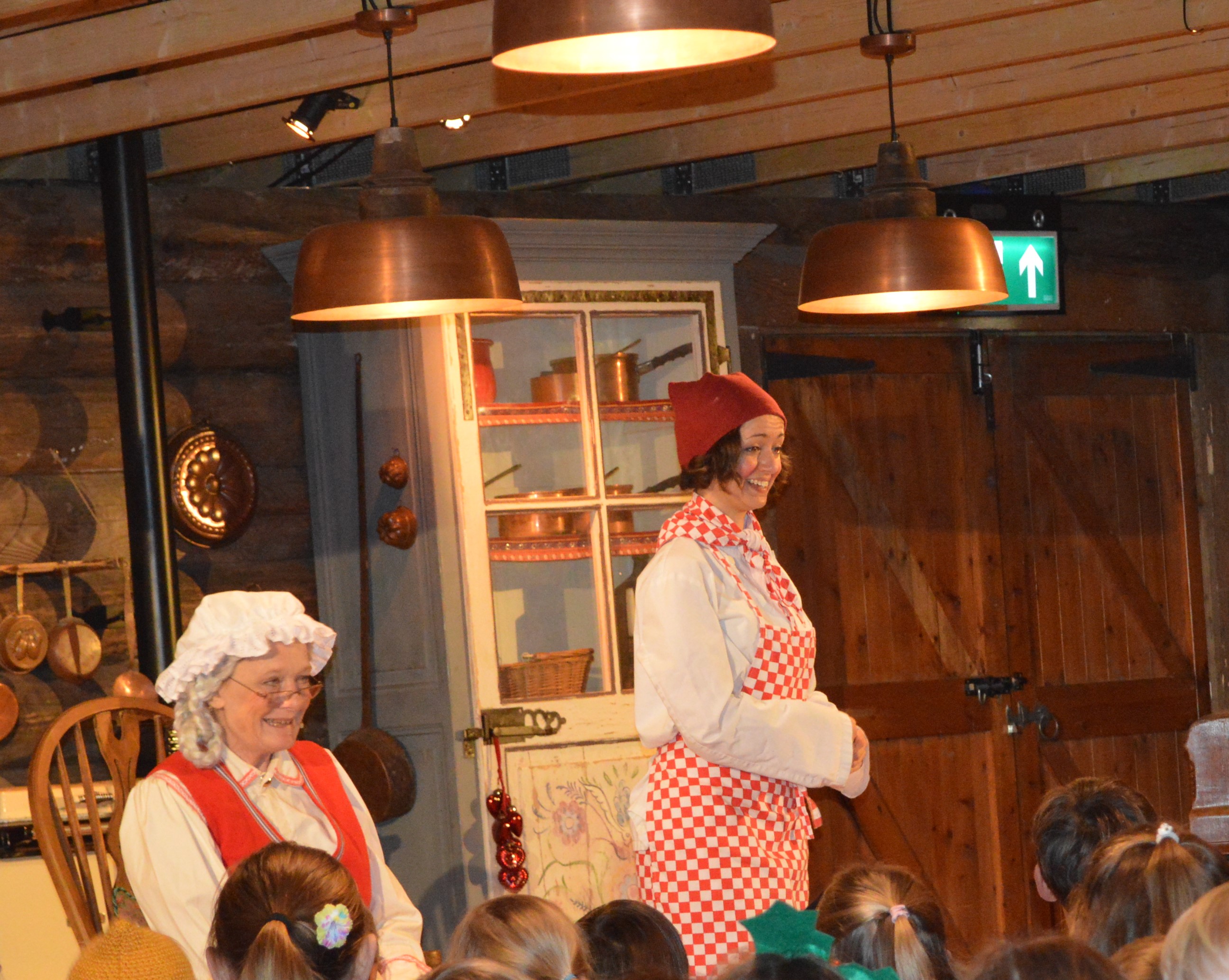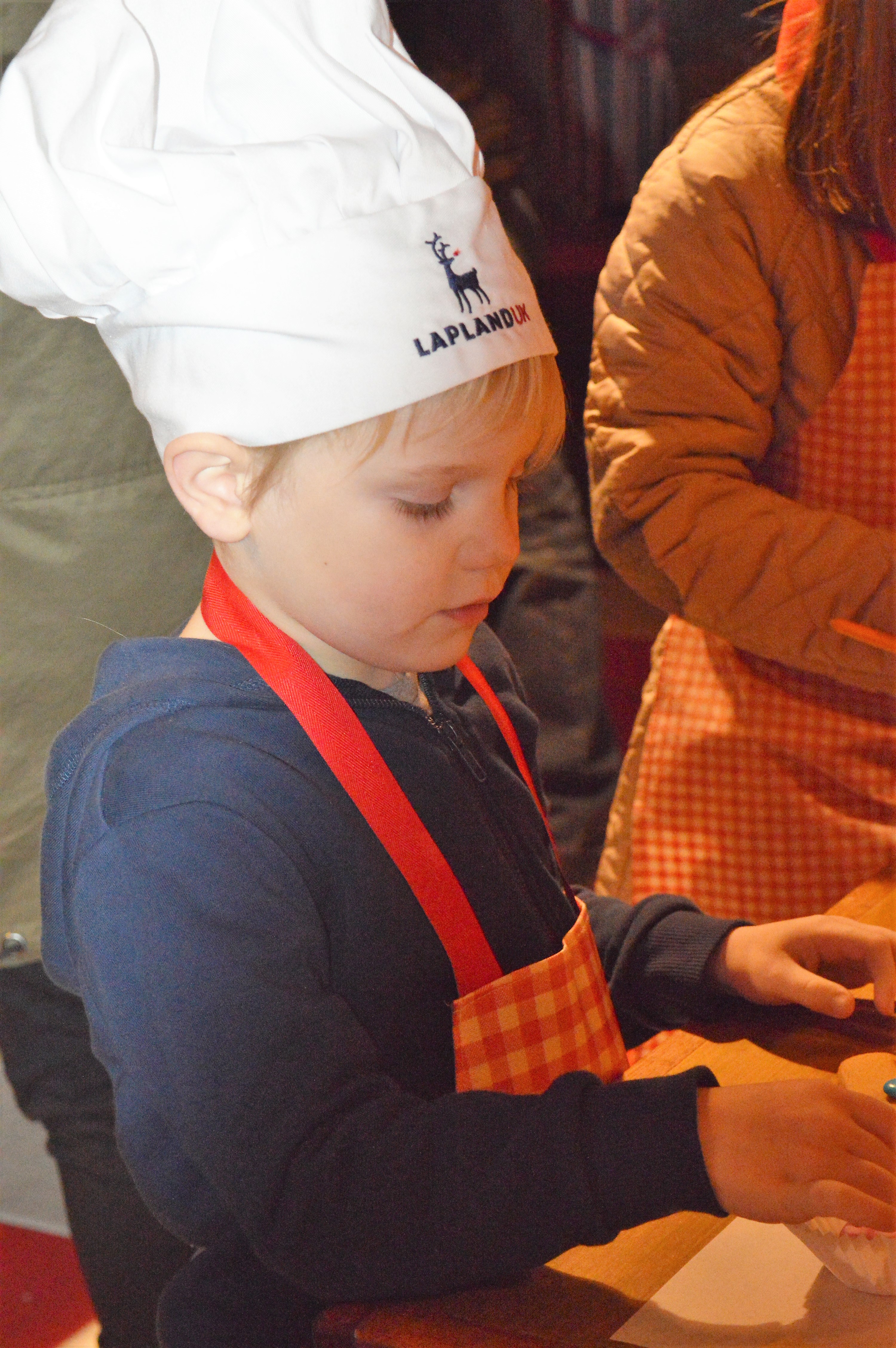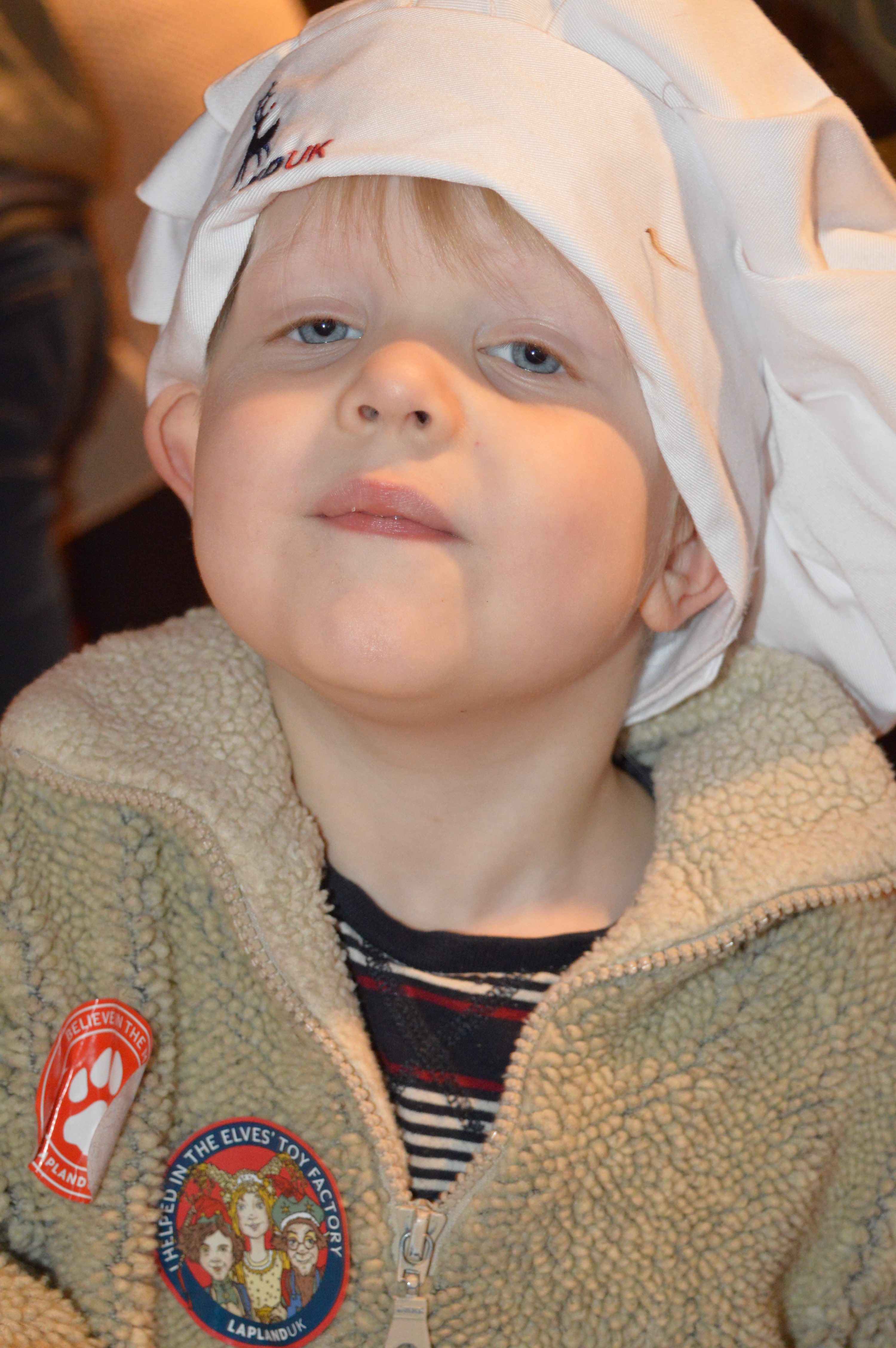 The Magic obviously took over Tyrus, as he usually refuses to wear any kind of apron or hats, but he put them both on and decorated his gingerbread man, Viggo loves wearing hats anyway!
After they had decorated their Gingerbread and put them in their paper bags, Mother Christmas told them all a lovely story and warned the children that Father Christmas needs to watch his waistline, so if he asks for Gingerbread to tell him she said No. The children all received a stamp in their book, it was now 4pm and our slot for visiting Father Christmas was 5.30pm, lots of people headed straight for the ice skating, but we went to stroke a Husky and visit the shops!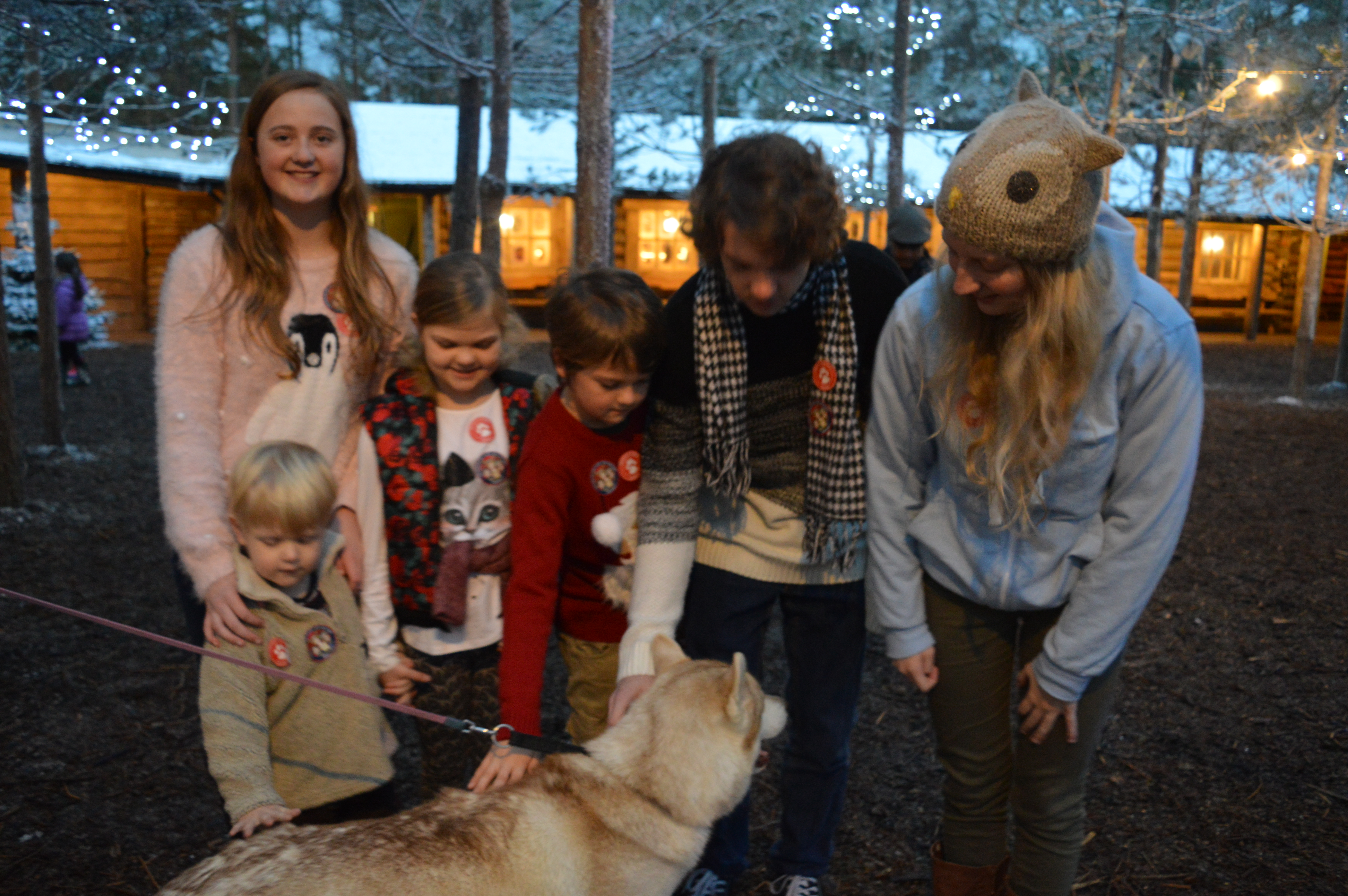 The children loved the Child Sized doors, and I think Tyrus and Viggo could spend all afternoon just going through them, and by the looks of it lots of other small folk felt the same!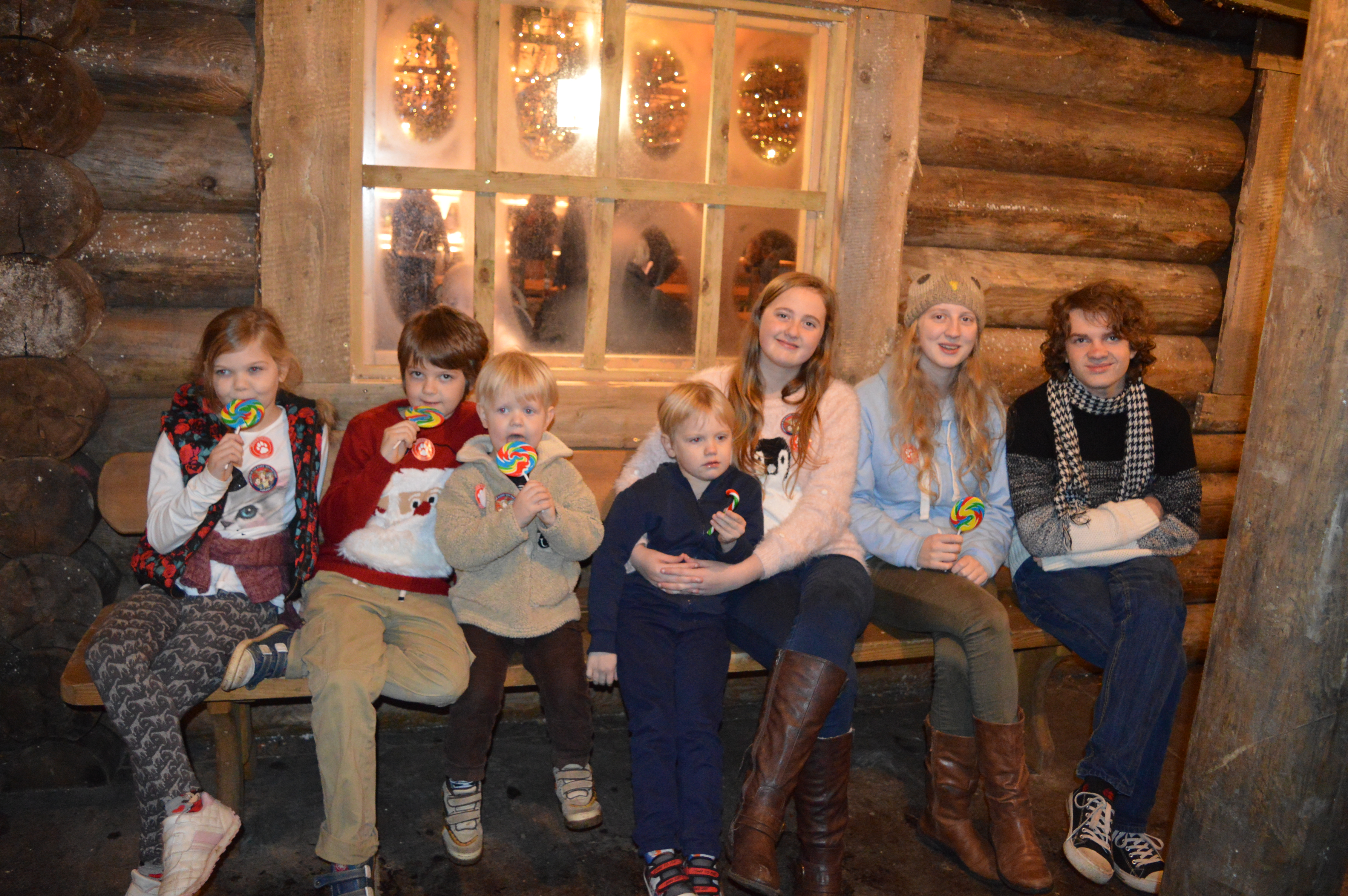 We took a trip to the Candy Store, where all of the goodies are purchased with Jingles, unfortunately I had missed that part, but luckily you can also pay by card, as I didn't fancy telling the children they had to wait until I exchanged pounds for jingles!
The ice rink had quietened down, Lochlan didn't want to skate, so he was in charge of bags and taking the photos, Tyrus and Viggo were just as keen as the older children, they had small adjustable skates available for little ones that fitted over their shoes and boots, I would recommend wearing boots as they seemed to stay on better. There are giant penguins to help the children balance, or you can turn him round and there is space for little ones to put their feet and you can skate them round the rink (it gives mum some stability too!)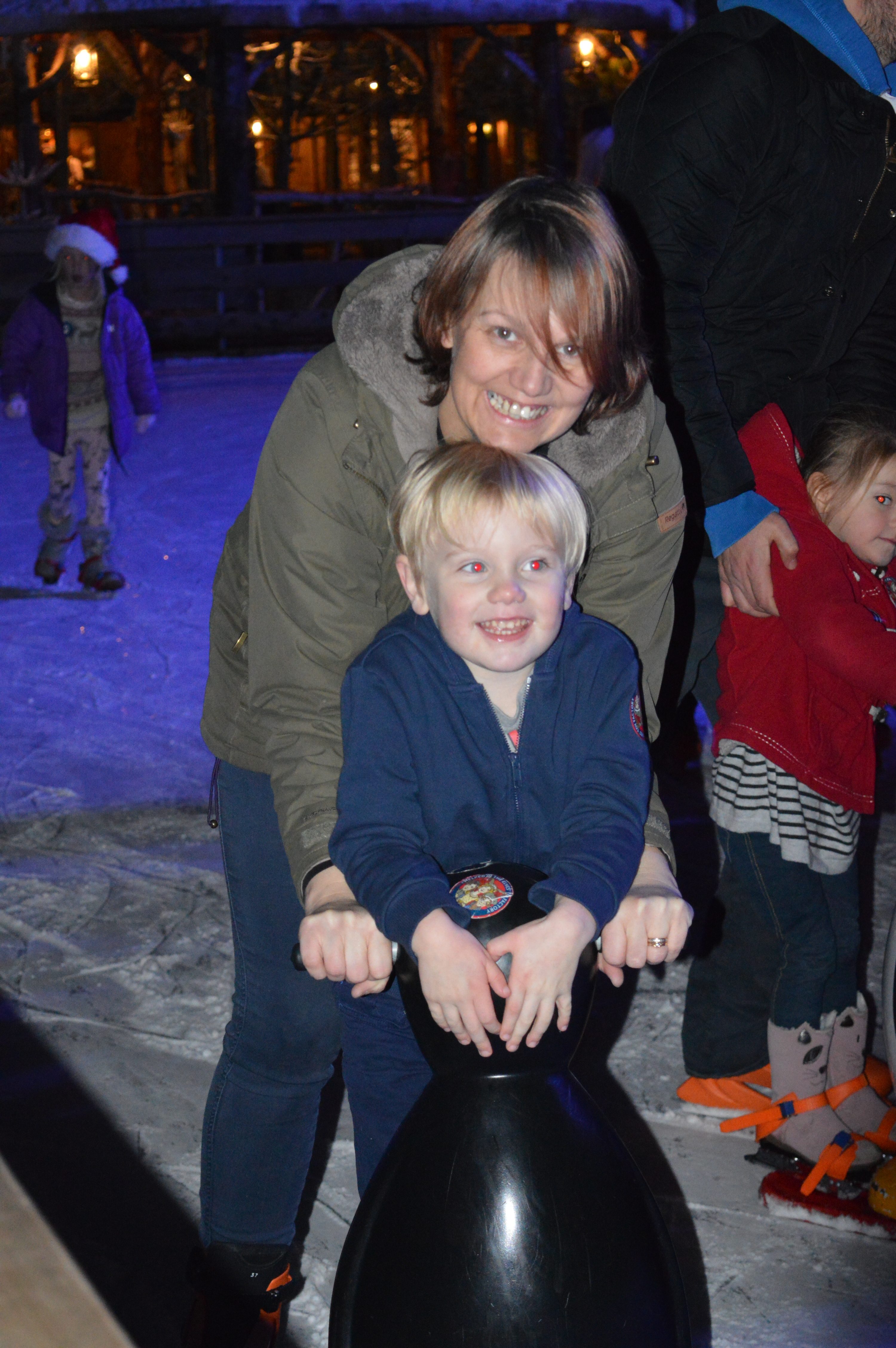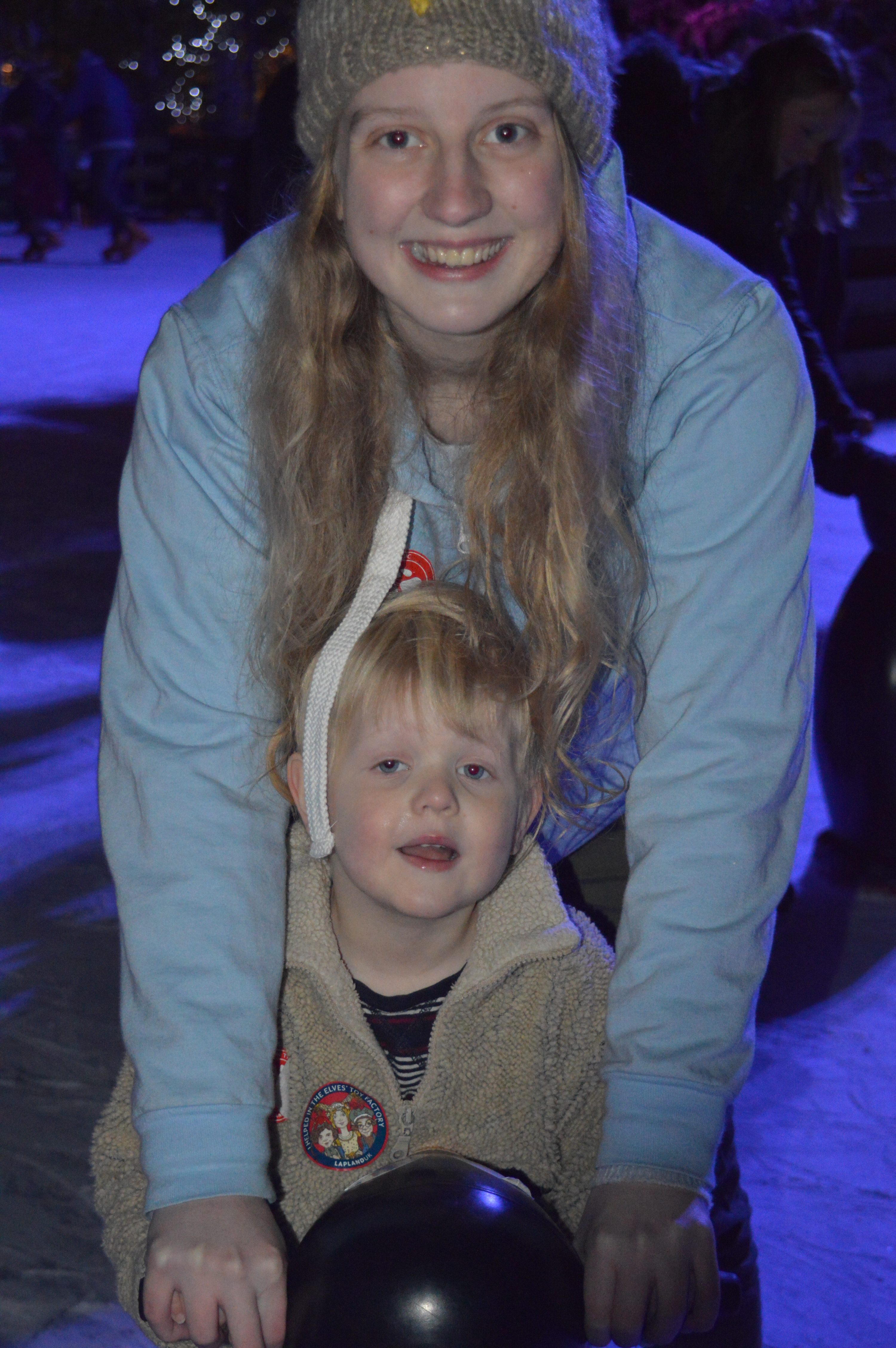 They had an amazing time, and we didn't have too many falls, although the boys were trying their hardest to knock us flying! Before we knew it, the hour had flown by and it was time to report to the Santa reception, we followed the magical twinkling lights, past the reindeer who were resting before the big night, bumping into a few folk as we passed.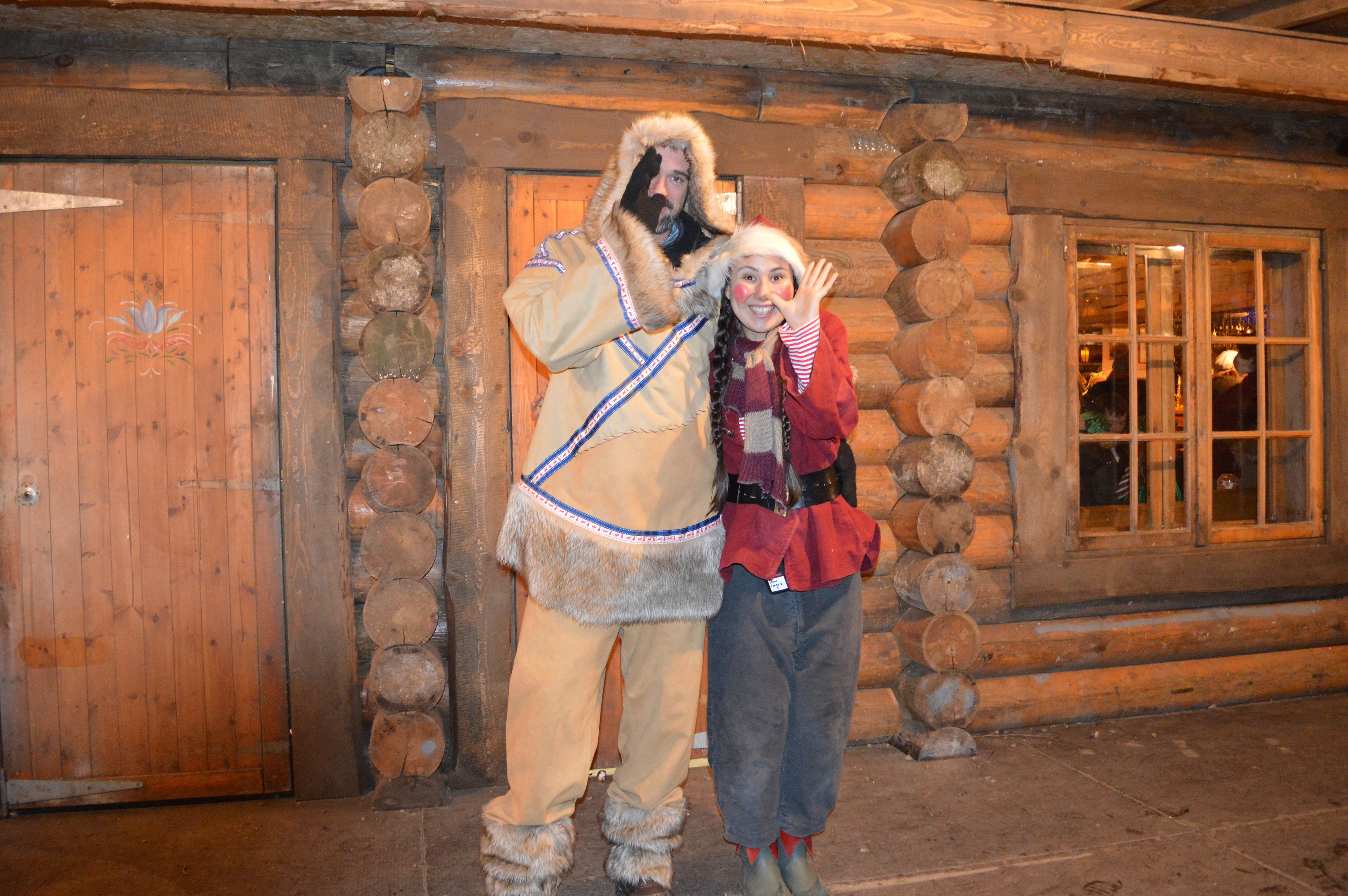 I went and booked them all in at the desk whilst Asa sat with the children, before we arrived I had filled in certain information about all of the children, such as their favourite hobbies and things they like to do, as well as something that has happened within the last two weeks, to give that authentic Santa experience (and it certainly works!).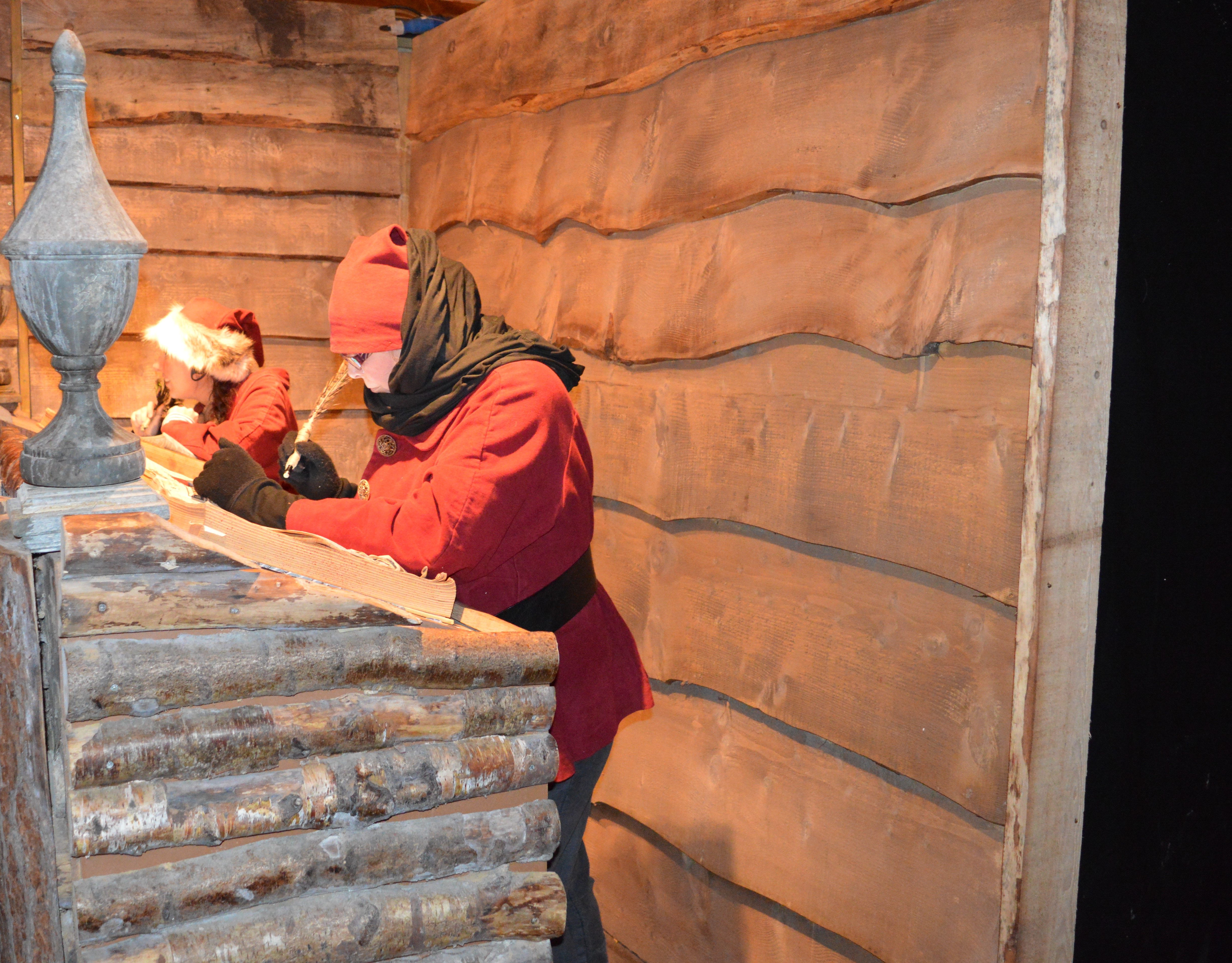 As we are quite a large group, we split off into a group of 5 and a 4, first to be called were Viggo, Kaide and Neva (all pronounced correctly because I had written on my form exactly how to pronounce them!), they went off with Asa and very shortly Buttons the elf called for Tyrus, Eowyn and Lochlan ( Xene is now classed as an adult).
The entire walk down to see the Big man the elf chatted away to Kaide, Neva and Viggo asking them what they wanted for Christmas and if they had enjoyed their day, when they entered the room and saw Father Christmas sat in his chair, Viggo's mouth just dropped! The more he spoke to them about their lives and their Christmas wishes, the lower Viggo's jaw dropped…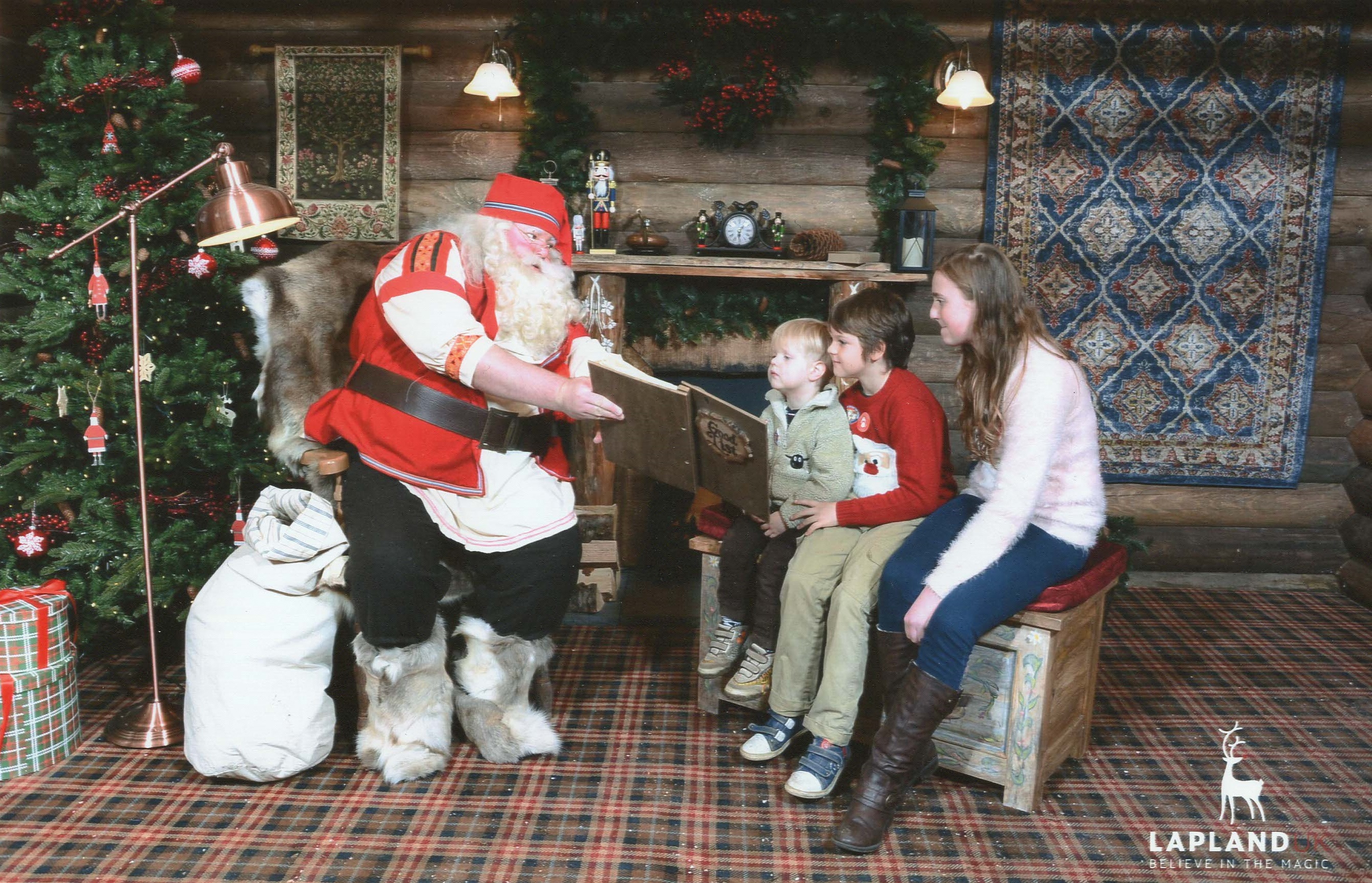 They were shown the good list, and completely by chance Tyrus and Viggo were right next to each other in the list (so it really was the good list, with such unusual names, they were convinced as he had them all in there). As they had all completed their tasks and got their stamps they were fully qualified elves and they received a golden bell sticker in their passport, which meant they could all have a gift, a fluffy Husky dog each, and a book to read on Christmas Eve.
One family photograph is included within the LaplandUK package.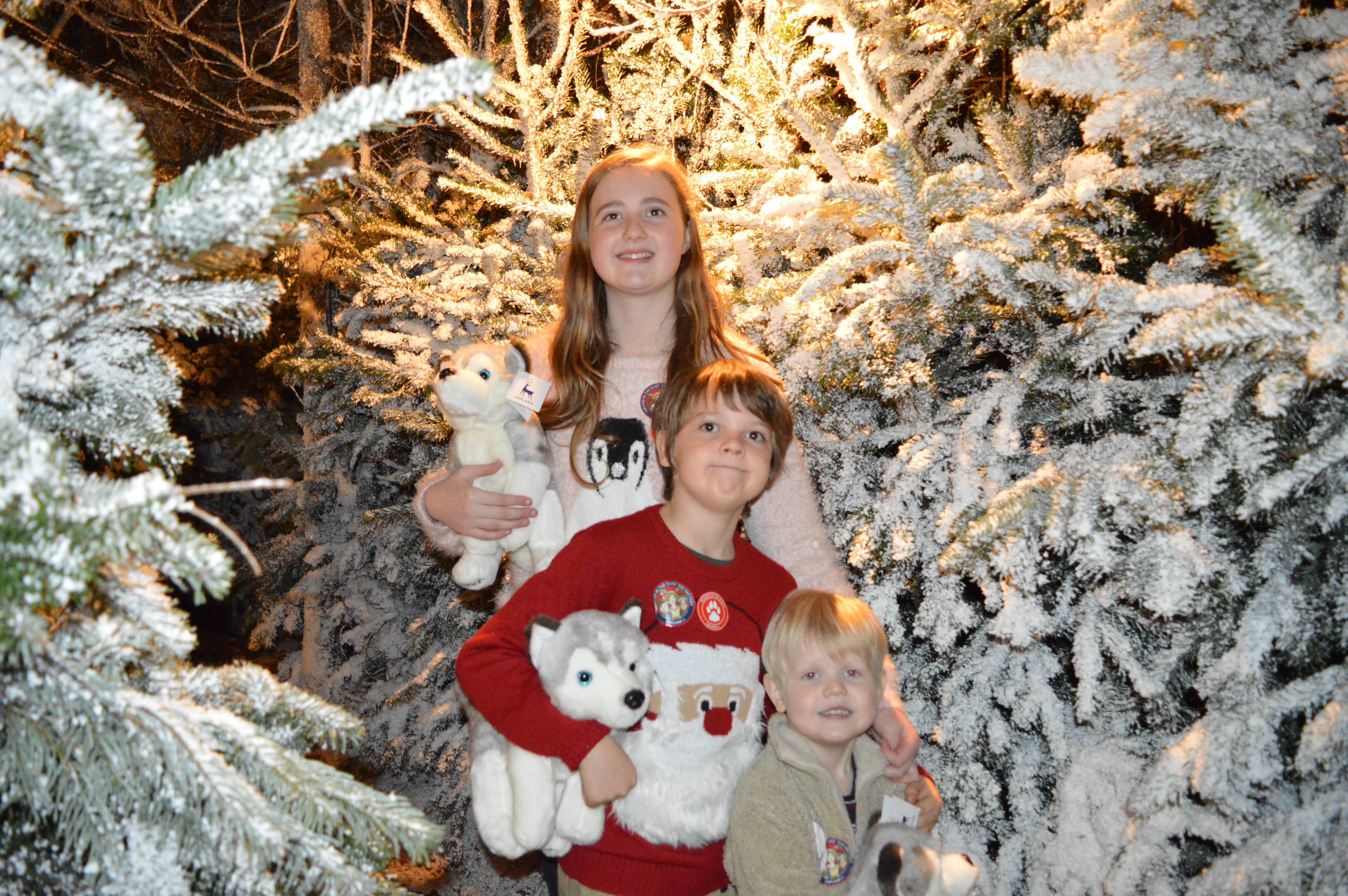 Our thoughts on LaplandUK
If I am totally honest, when I first heard about LaplandUK, I was quite taken aback by the prices, particularly as the adults are the same price as the children and with prices starting at £60
It would cost us almost as much as our holiday cottage in the summer, but as we are quite unusual with the amount of children that we have, and if you take a 'normal' family of 2 adults and 2 children, the price isn't too bad, particularly when you have a completely immersive three and a half hours and the children's faces (even the older ones) were beaming.
For us, when you consider the cost of a family visit to a theme park that involves hours of queuing, with no guarantee of getting on particular rides, and a show at the theatre is a maximum of a few hours, by which point some of the children get fidgety and are not enjoying themselves, this experience had them captured from the moment they walked through the door, until they walked out of the enchanted forest back to the car.
If you are considering taking your children, I would say do it! Completely and utterly, it is the perfect start to the Christmas festivities.
Don't just take our word for it, check out what Kippers and Curtains thought too.
If the Lapland UK has made you want to visit the real Lapland Check out Lapland On A Budget
We were provided with tickets for LaplandUK, all thoughts and opinions are our own.