Last night Neva and I attended an Arabian Nights performance by the Norwich Youth Company.
It took place in their amazing Stage Two theatre, which is part of their amazing new purpose-built Learning and Skills centre.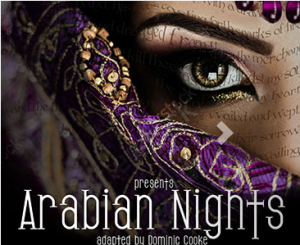 It's wedding night in the palace of King Shahrayar. By morning, the new queen, Shahrazad, is to be put to death like a thousand young brides before her. She has the one gift that can save her: the gift of storytelling.
With a mischievous imagination and silver tongue, Queen Shahrazad paints a dazzling array of stories and characters, summoned forth from strange and magical worlds populated by giant beasts, singing trees and crafty thieves. Can the power of storytelling save her life?
The entire cast were magnificent with, particular stand out performances from Bethany Grimshaw and Beth Jacklin, an entire show by 13 young people, using a mixture of styles from physical theatre through to puppetry.
The small intimate theatre is the perfect setting for these performers to show off their talent and I am looking forward to watching more of their shows throughout the year, if you are thinking of going to see the Norwich Youth Company, I would not delay in booking your tickets as they are going very quickly.
If you do not get a chance to catch the Arabian Nights, there are other shows including Candide taking place between 15-17th December, but there is only limited availability already!
Extremism 2nd-4th March 2017, Burying your brother in the pavement 30th March -1st April, Antigone 6th-8th April and Alice Back in Wonderland 26th-29th July 2017.
This group of performers are certainly worth going to watch, and I predict there will be a few stars of the future in our very midst.
For details of all shows taking place at Stage Two and Norwich Theatre Royal, click here