Booking a holiday, or making travel reservations has certainly come a long way, at the beginning of the millennium I can still remember trawling the ceefax pages or going down to the local travel agent to book our holiday, or popping into the train station to purchase our tickets for the following weeks travel, but now, so much of our choosing and booking is done solely online, therefore the customer care and the human interaction is lost, I can remember the travel agent being kind and helpful, but always on the lookout for an up sell or to ensure you were given numerous opportunities to add extra activities or excursions to to your booking.
With the increase of technology and the decrease of high street providers, it is more important than ever for companies to ensure their virtual contact with their customers is as easy and pleasant as possible to ensure they gain their sales, and with all customers able to shop around for the best deal, literally at their fingertips, travel email marketing campaigns have to be well thought out, giving the customer every opportunity to get the answers they need, the price they require and the service they expect.
The travel industry has always been a very changeable and unpredictable one, but its more so than ever at present with new technologies like artificial intelligence (AI), virtual reality (VR), and web-based software that makes it easy for customers to book, cancel, and review businesses.
Although new technologies that allow consumers to forego human interaction—for example, allowing consumers to book their own hotels as opposed to speaking with hotel staff—can seem cold and impersonal, this kind of technology means that businesses can get up close and personal with their prospects, particularly when using marketing strategies like email marketing.
Dynamic changes to the travel and hospitality industry are redesigning the face of travel, including how technologies are impacting consumers in positive ways.
With global tourism and dark tourism on the rise and contributing trillions of dollars to the economy, it's important for travel and hospitality-related industries to stay on the cutting edge of new developments.
Check out these top tips to ensure your travel email marketing campaigns work
Optimise emails for mobile
More and more people are using their mobile devices to book travel, make reservations and research their holidays, in fact in many cases sit is becoming the preferred method. In fact, around 70% of U.S. travellers say they always use their mobile device while travelling, up from 2015 when just 41% reported using a smartphone or mobile. For email marketers, heavy mobile usage means making sure all your messages are mobile-optimised for the best customer experience possible.
Hotel.com does this well, letting their customers know they can easily book any stay via a mobile device: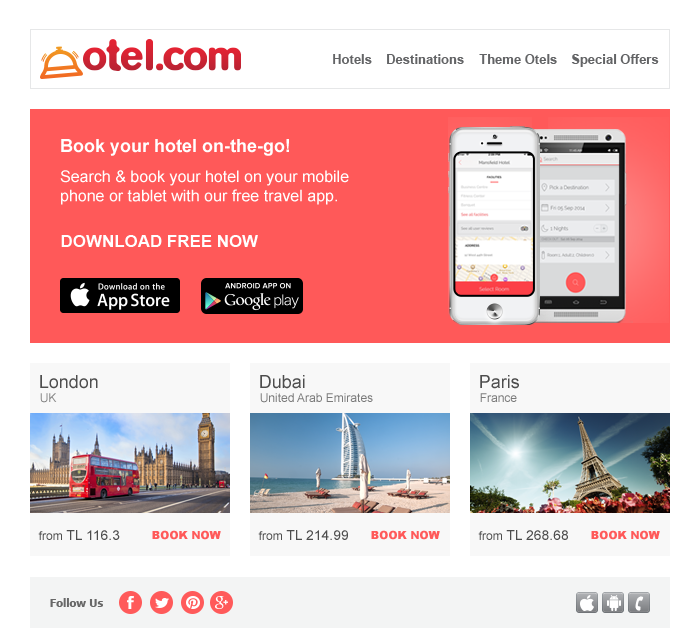 2. Get Social!
Not only do customers use their mobile devices to book hotels, restaurants, and tours, they also rely on social media to make travel plans and share their adventures while en route. Giving customers a way to connect with you on social media is a critical element of email marketing for travel-related businesses, so that they can do the promotion for you.

3. Personalise The Emails
Personalisation is a buzzword in email marketing circles, but it's also crucial to the travel and hospitality industry, with 55% of travel marketing pros eyeing personalisation as a critical tool.
Referring to your customer by name is a great way to develop a relationship, but so is giving them hand-picked suggestions based on prior search activities.
This Air Canada email recipient has been searching for flights to London, so the company offers a great deal on a London air package:

Making recommendations informed by local weather or your customer's interests is a sure-fire way to build trust in their eyes and set your company apart from your competitors. Showing customers you care about their experiences will earn you loyal, recurring customers for the long term.
4. Resolve Abandoned Carts
Abandoned carts are a big issue in the travel and hospitality industry since consumers often visit upwards of 38 websites before committing to a booking. A good way to increase your business' conversion rate is to trigger an email when a customer does a bit of research on your site but doesn't follow through.
Thomas Cook sends to customers who search but don't purchase this way: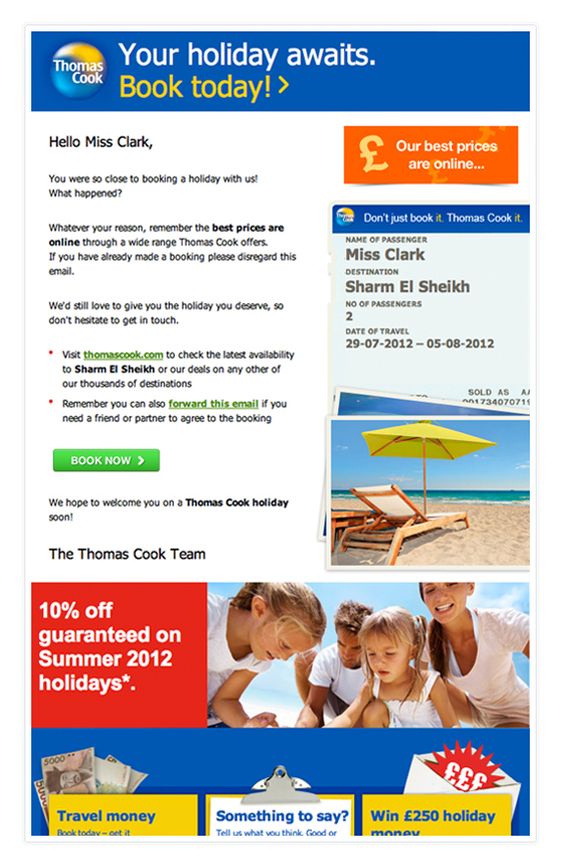 Reminding visitors of their search, collating and organising results for them, and making it easy to complete their transaction will nudge your prospects toward conversion. Consider adding a promotional offer to encourage them to purchase or warning them that they're running out of availability for a popular booking.
5. Boost sales with special offers
Email marketing campaigns provide you with the perfect opportunity to entice your customers with special offers, discounts, and limited-time-only deals to encourage them to purchase on your site. Offering customer loyalty programs is another great way to convince prospects to purchase on your site instead of your competitors.
Consider adding humor to your subject lines and emails to encourage your subscribers to notice your email in their crowded inbox. Emphasizing scarcity will also tap into your subscriber's FOMO and the fear of missing out will make them more likely to purchase.
Another tactic is to offer customers the chance to be a part of sweepstakes or other giveaways, encouraging them to take the plunge and convert while you're running the contest, like Travelodge: