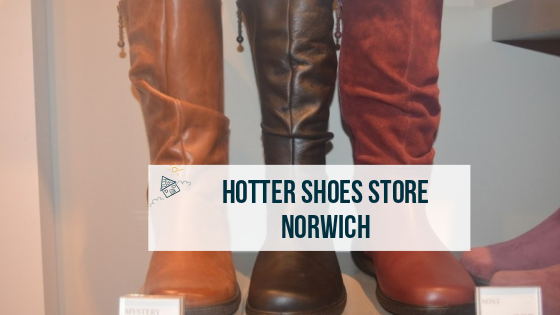 Hotter Shoes Store Norwich
I was invited along to Hotter Shoes store in Norwich last month to have a look at their newly refurbished shop and to have a look at their latest winter collection. I had a pair of Hotter Boots for last winter and although there is absolutely nothing wrong with them and they will be perfectly suitable for this year, a girl can never have enough boots!
Before we visited the shop, I had been looking online to see what new additions there were this year, but I kept coming back to the Hotter Original Mystery Boots, and there is also a special offer that you get a free handbag with any Originals. But I thought I would wait until the actual evening to decide, maybe there were some others that I would like more.
The Hotter  store is located in Gentleman's Walk, Norwich, it has been open since 2010. Hotter Shoes first store in Southport has performed year after year as the top selling store. However, since the opening of the Norwich store, they have been the highest selling store within the company. The people of East Anglia obviously like comfortable shoes!
We were given a brief history of Hotter, from the very beginning and we learnt why Hotter Shoes are so much more than just a good looking shoe, the actual concepts that are applied to each and every pair, really does ensure you have a #hottermoment when your foot slides into the shoe or boot.
After the presentation, we were then given the opportunity to try on any of the footwear we liked the look of, I tried on a couple of different pairs, but I was still drawn to the Mystery Boots.
As soon as I put my foot into the Tan Mystery Boot, I knew they were the ones, and the fact that they had an offer of a free handbag, was an added bonus, I picked a matching Tan bag, unfortunately there were none in stock, so it was placed on order and arrived just over a week later direct to my home.
As a teenager I am sure many will think of Hotter for the older market, but I can assure you they are super funky and oh so comfortable!
Have you had a Hotter Moment yet ?