A weeks Holiday in North Wales for A large Family
For many, the summer holiday is the main holiday of the year, and if it is, you want it to be as stress free and as much fun as possible, particularly if there are lots of you. We have found over the years that if you are going away with a big family for any length of time a self catering cottage works best for us. Last Summer we decided on North Wales, providing us with a perfect outdoor environment with Mountain walks and some beaches that looked great, after some searching, which is not easy when you are trying to accommodate 8 people, we found a cottage in the village of Chwilog on the Lynn Peninsula, to the west of Snowdonia.
We often book quite late, and on this occasion booked 3 weeks before we went, this is the point where you can really pick up some bargains and we managed to get a cottage in early August at 40% of the usual price.
Packing is done by a list, we have used and updated for many years, it became difficult to pack and remember everything with four children, with six the list became essential. Car packed (list ticked off) we headed off. A stop at Welshpool for a late lunch and then continued to our cottage.
Day 1 – Arrival in Chwilog
On arrival we discovered the cottage was situated almost in the middle of the village, a short walk from a post office (Sweet shop trips are rather good fun) and a pub.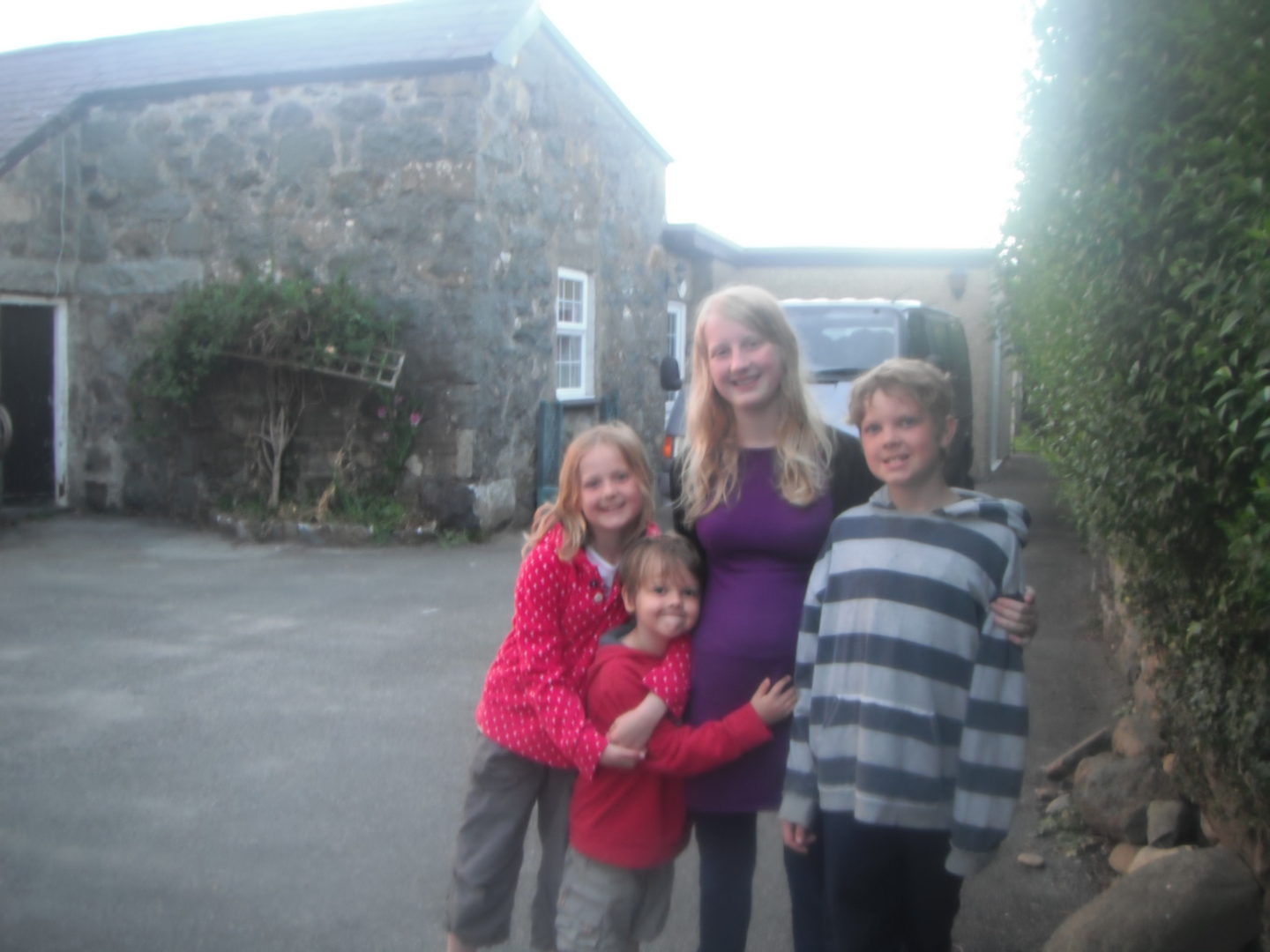 The first evening Lochlan and I went for a walk around the village, with a short stop at the pub and the weather was just warm enough to sit in the garden with a view across the sea. The children were all up late , having had good long sleeps on the journey over. One of the children knocked over an ornament ( a 3 foot replica of a saxophone)  which was put to one side for repair later in the week, the children do tend to knock things over and we  spend at least half an hour putting various breakables up and out of the way for the week.
Day  2  A Family Walk to Cybis Well and Rock Pooling at Criccieth Beach
The weather forecast was sun and showers, after a look at the map,  we found a short walk about two miles from the cottage up a hill, near Cybi's Well, which looked like it would have decent views. With lunch packed, we set off. It was a steep climb through woods, and then we broke the tree line across a field, and upwards.
Nearing the summit the clouds went dark and rain began, initially drizzle but then driving rain, being only 100 meters from the top we sheltered by a stone wall, the rain got even heavier, to the children's credit they all wanted to go to the top, despite the rain, at this point Tyrus was in a Backpack on Mandi's back under her coat.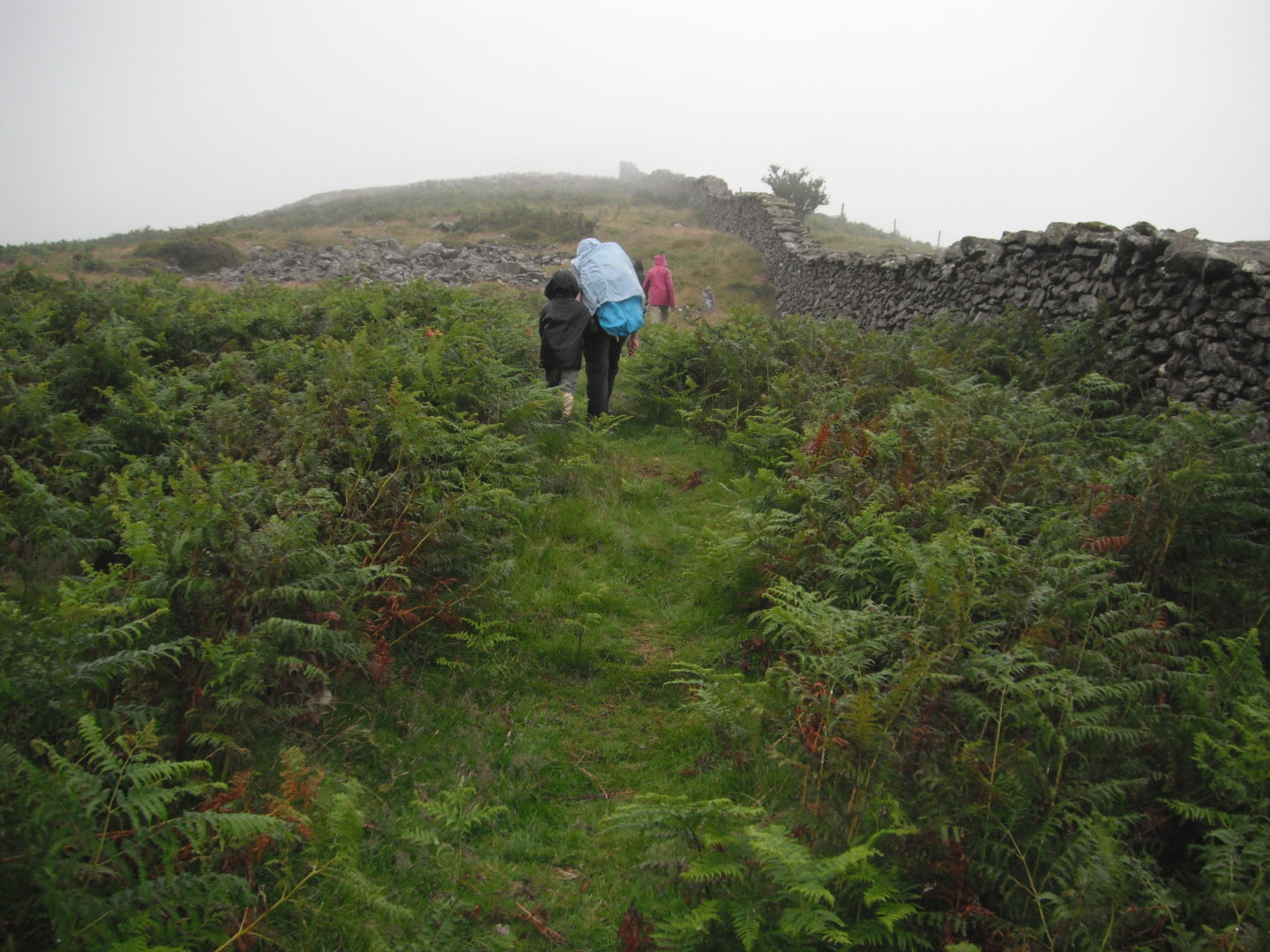 We reached the summit, through pretty harsh conditions for small children, although wet and windy it was not cold, and we could see blue sky out to sea heading towards us.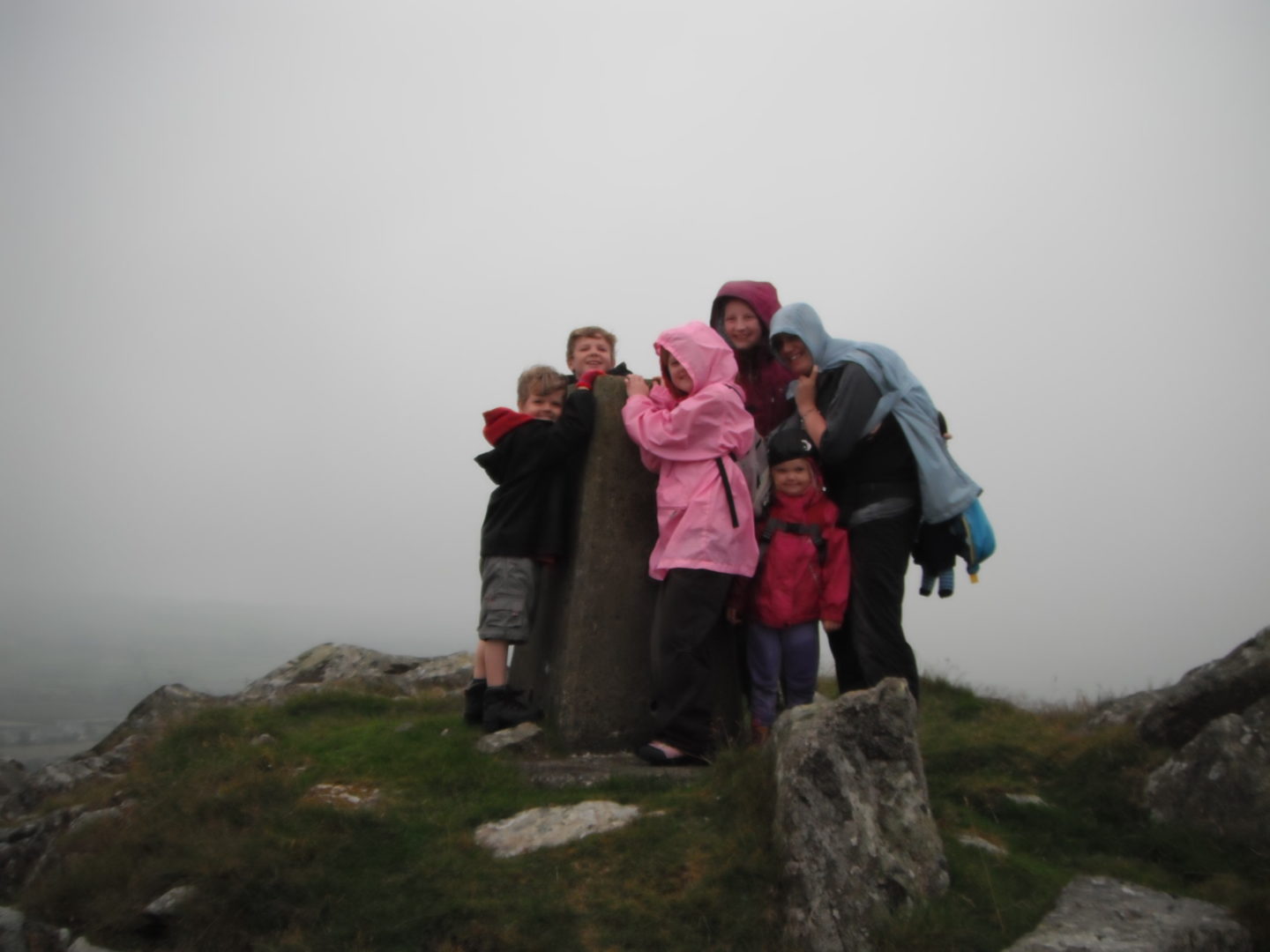 and finally the rain stopped, so we found a gully and settled down for a picnic lunch.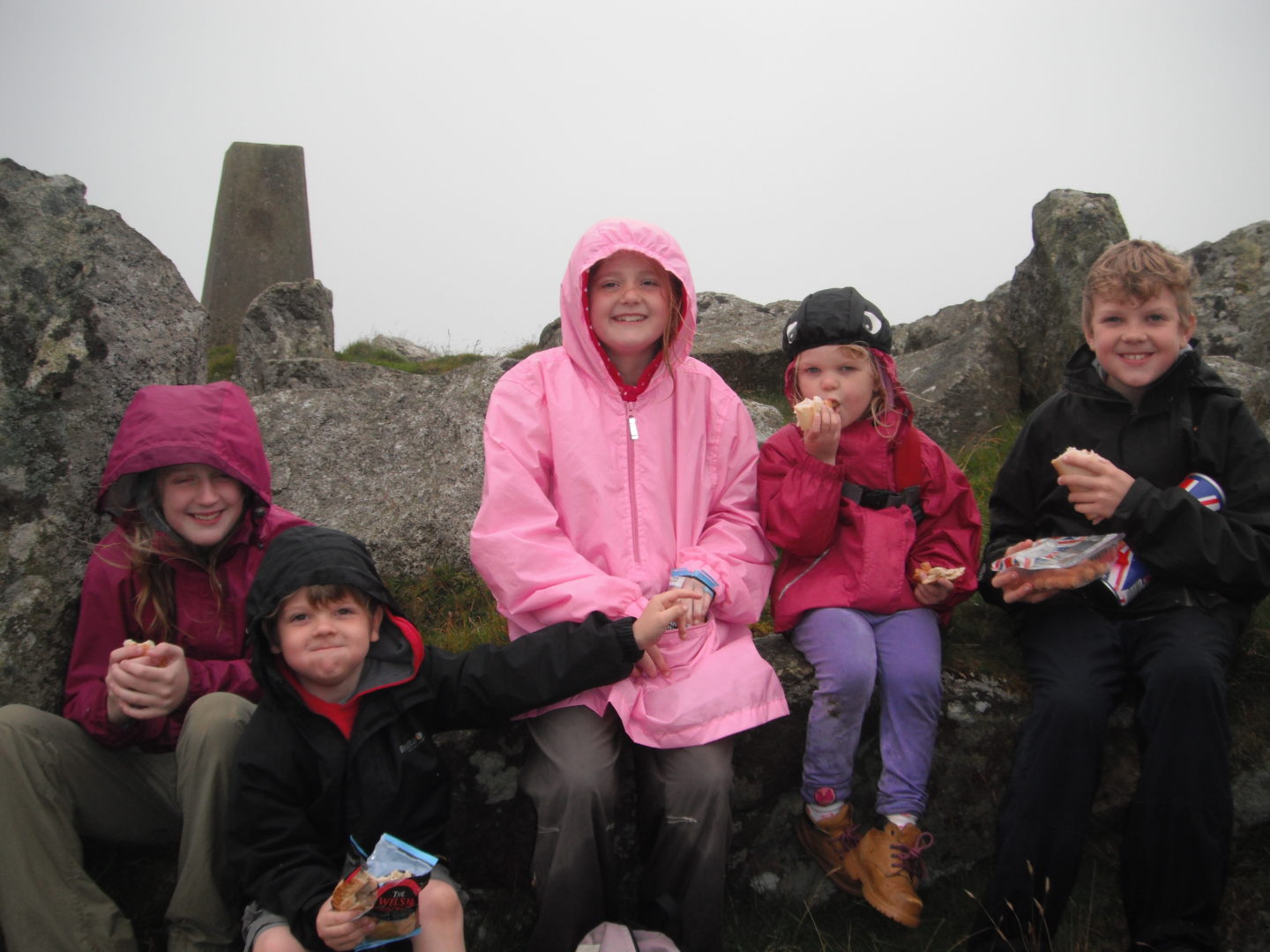 The sky slowly turned blue and the sun began to shine a little. Offering great views over the Welsh Coast, We retraced our steps back into the woods and returned to the Bus (The rather unflattering name the older children have given to our people carrier.)
In the evening we decided to go rock pooling in Criccieth, when the tide's low its a perfect place for children to explore under rocks.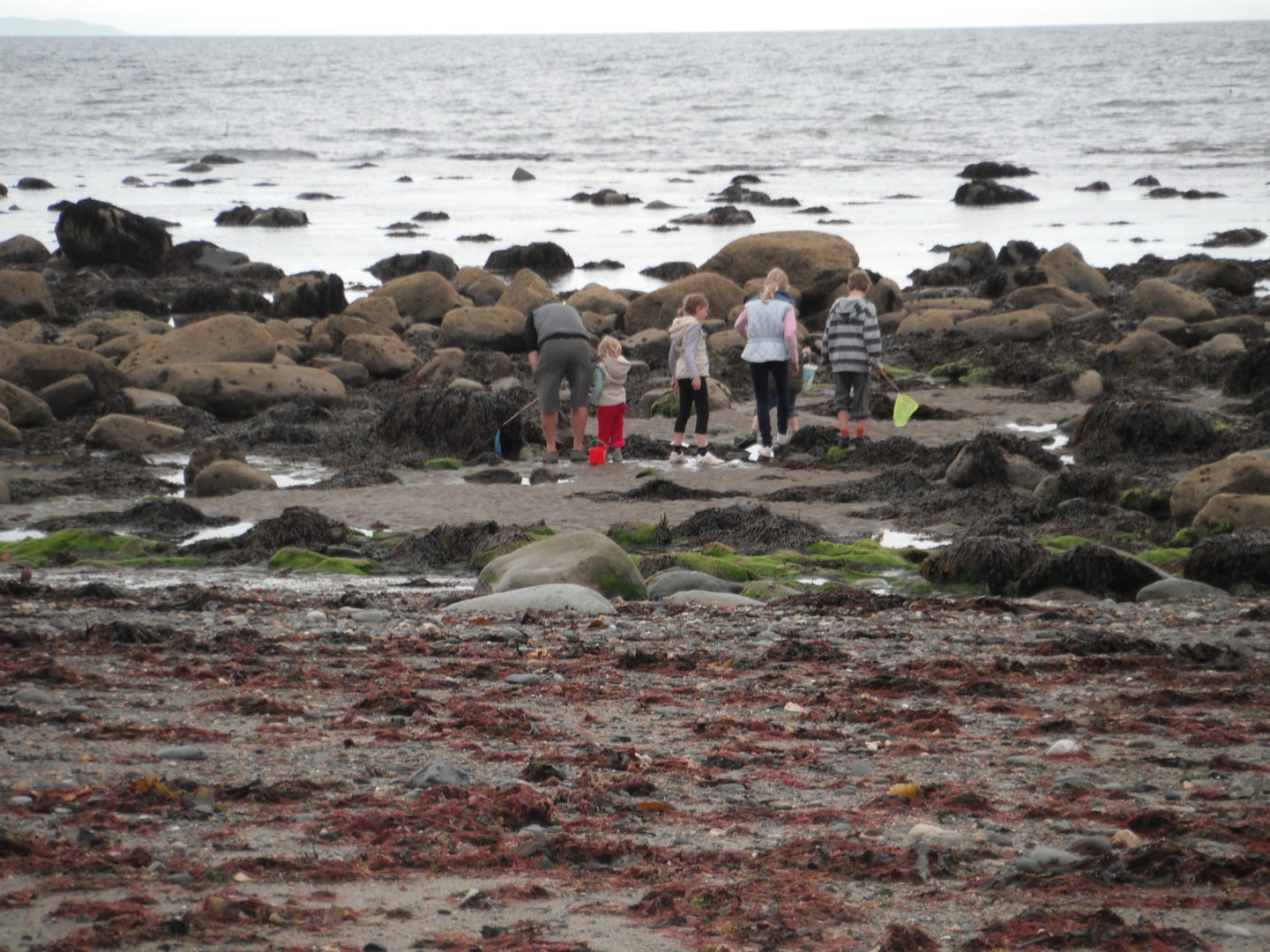 Day  3 Dwyfor Rabbit Farm and Hells Mouth Beach
It's always useful to do a bit a bit of research before you go away, but be flexible and respond to the weather. We had discovered we were very near to an attraction called The Rabbit Farm, on looking further it became apparent it was more of a farm park and a nice half day out for the children with a wide variety of farm animals set in a pretty hillside location. All the children had a chance to hold a variety of farm animals, it took a lot of  encouragement to get Kaide to actually put the Rabbit, which he grew rather fond of back in the pen.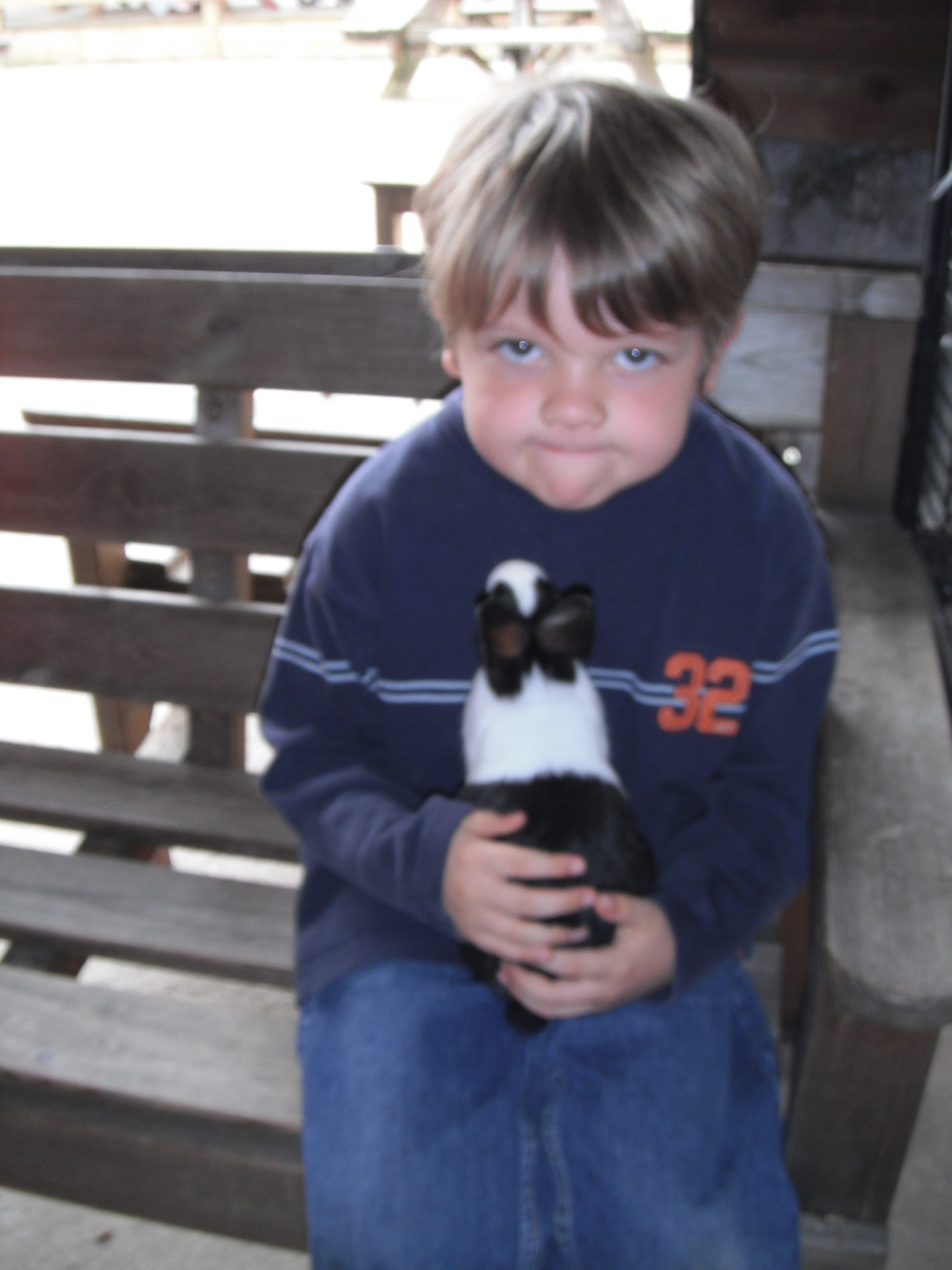 In the afternoon the weather improved dramatically  and we decided to optimistically go to the beach, after looking at a map we could not resist a visit to the rather strangely named  Hell's Mouth Beach at the west of the Lynn Peninsula, it was a stunning sand filled bay and the children were straight into the sea splashing and diving into the waves.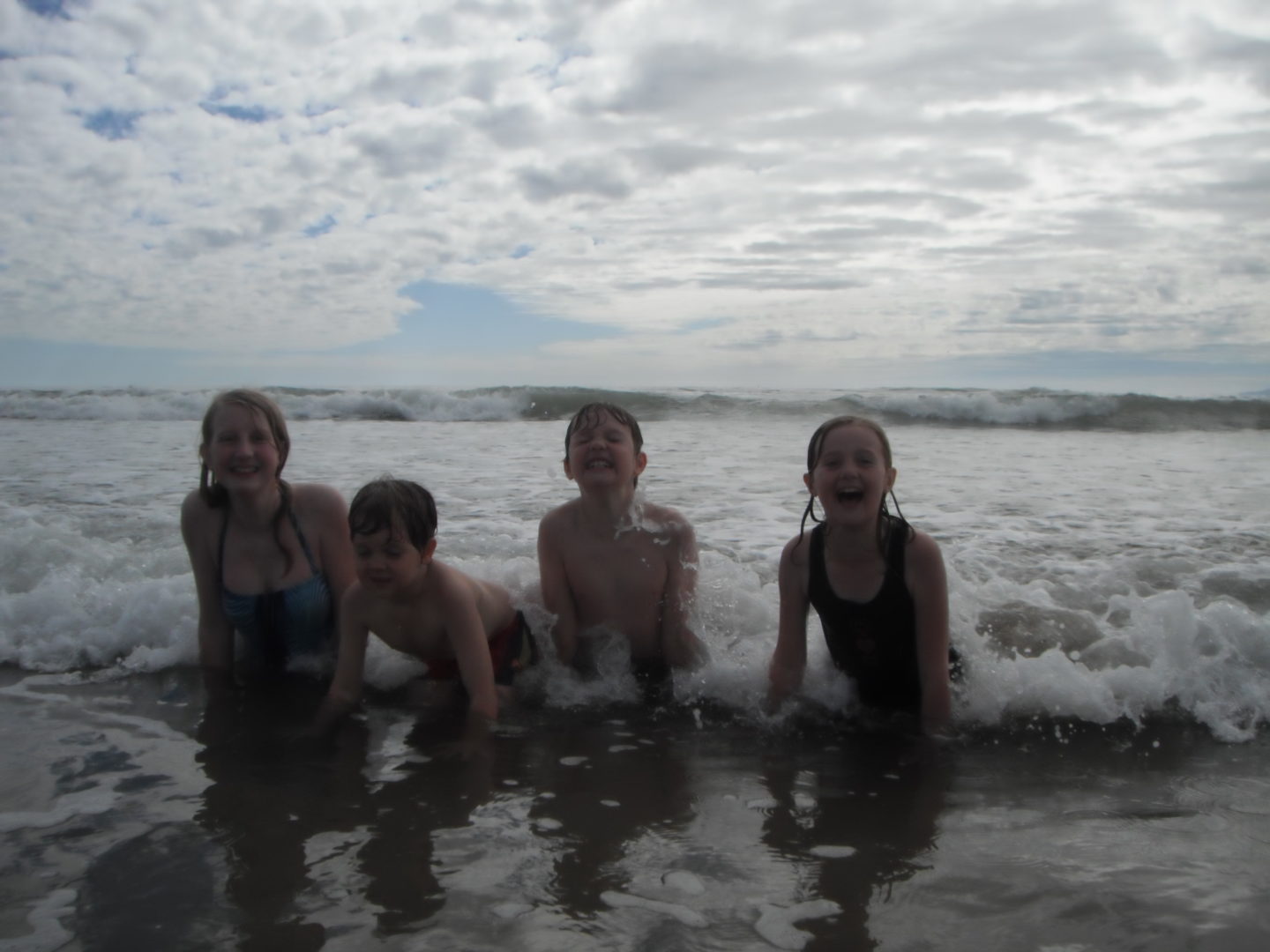 One of the best bits of summer holidays is long summer evenings, and our cottage had a good sized lawn which was great for a game of football (in pyjamas) even if Tyrus could not keep his hands off the ball.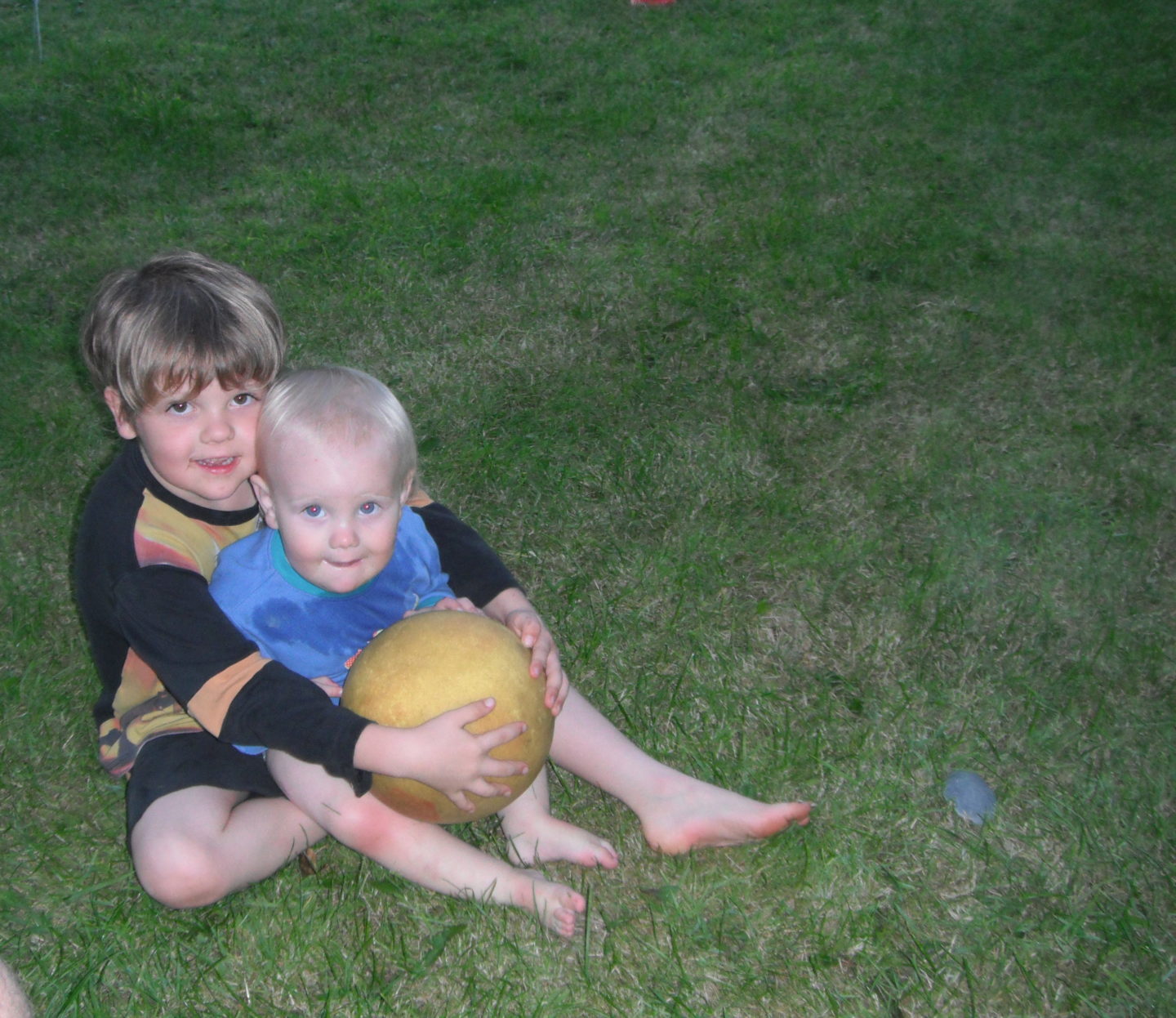 Day  4 Climbing Snowdon
This was a big day out for the older two Xene and Lochlan, as the three of us climbed Snowdon, while Mandi and the smaller children had a quiet day in the cottage. There was a huge sense of achievement  from both the children as they reached the summit.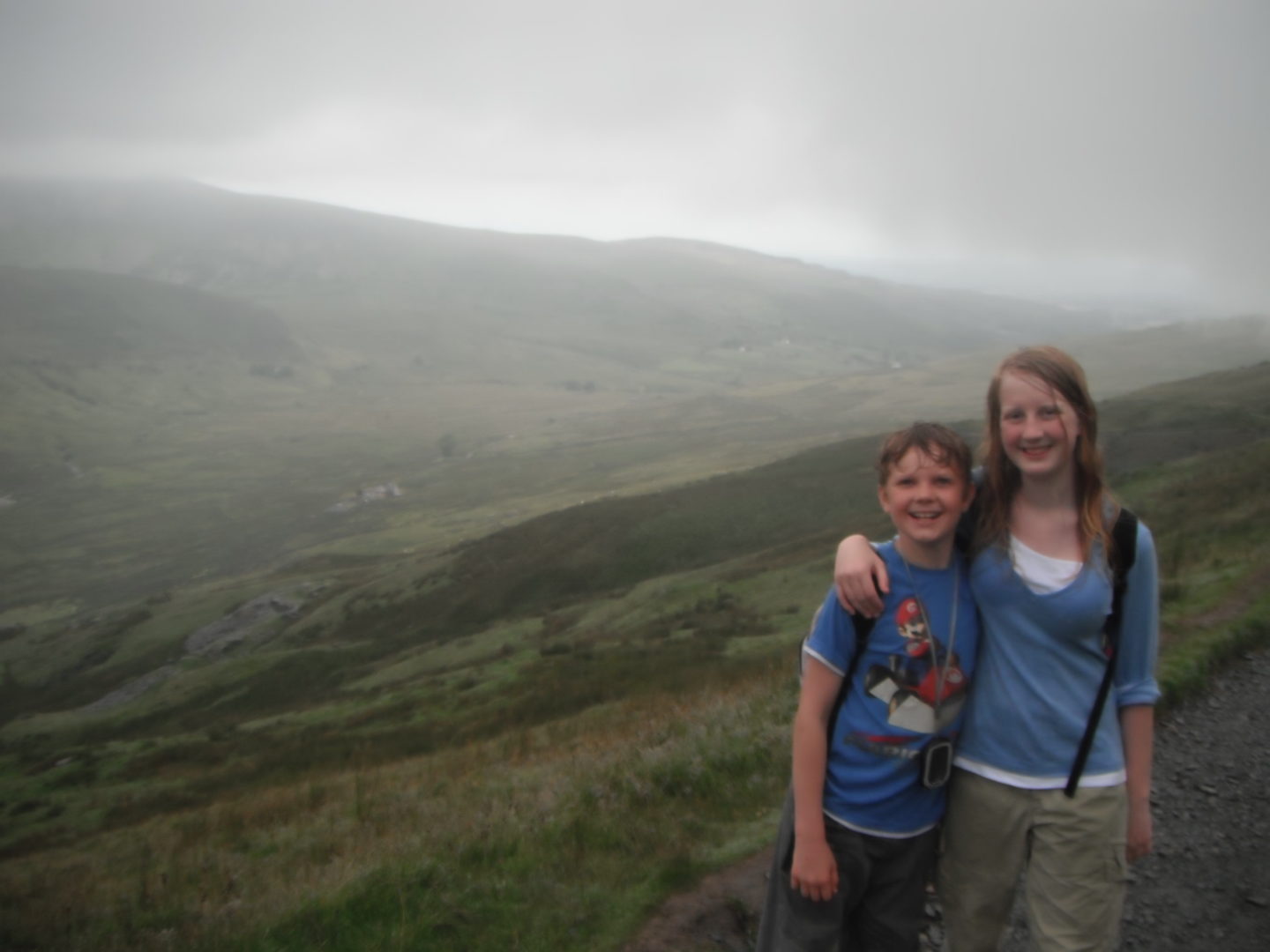 Day 5 Criccieth Castle and Black Rock Sands
By day five, its was a  lie in, we had rushed around for most of the holiday and a quiet morning with a lie in is great, after lunch we visited Criccieth Castle, which stands towering above the small town of Criccieth with fantastic views over the sea to Harlech and Southern Snowdonia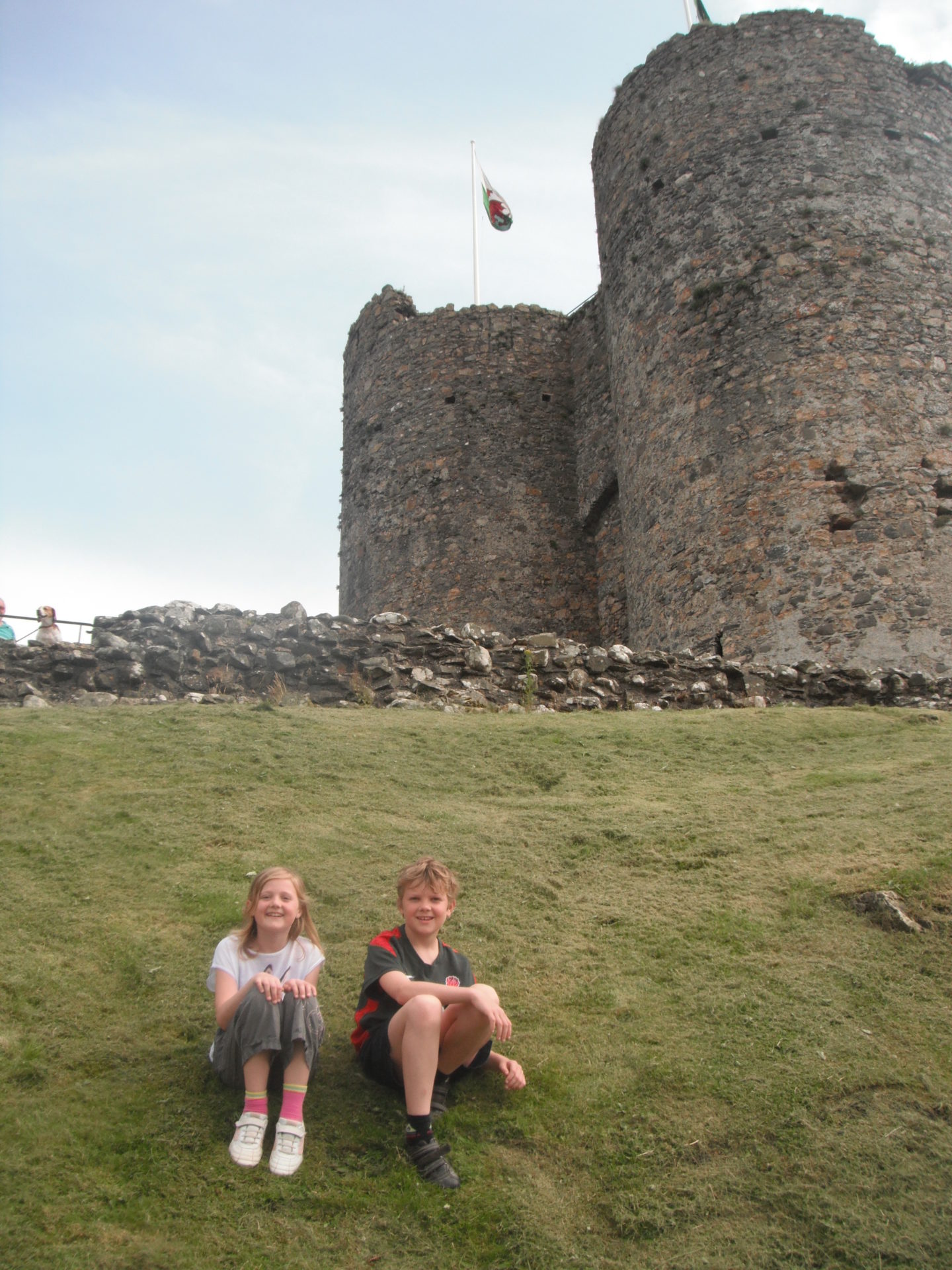 We then went to another beach we had read about, between Porthmadog and Criccieth called  Black Rock Sands. It's an unusual Beach as the hard sand allows you to drive your car on the beach, which means no carrying bags of Children's towels and Beach toys, just park and get out of the car. The Lifeguards even operate a towing service should you get stuck !. To be honest for a Big family a long walk from a car park to a beach is quite a challenge, Black rock is perfect, if you can get used to the almost black sand.
But Black Rock Sands is not the only beach you are able to drive onto, check out Our Favourite UK Drive On Beaches
Day 6 Back to Hells Mouth Beach
We woke to bright sunshine (much to the excitement of the Children) , and it was back to the beach, all the children were desperate to return to Hells Mouth Beach, now it was a bit warmer and to be honest Mandi shared this enthusiasm. It's a bit difficult to park,and its a fair walk to the beach but well worth it, we stayed late, with the children exhausting themselves running in and out of the sea and diving into waves.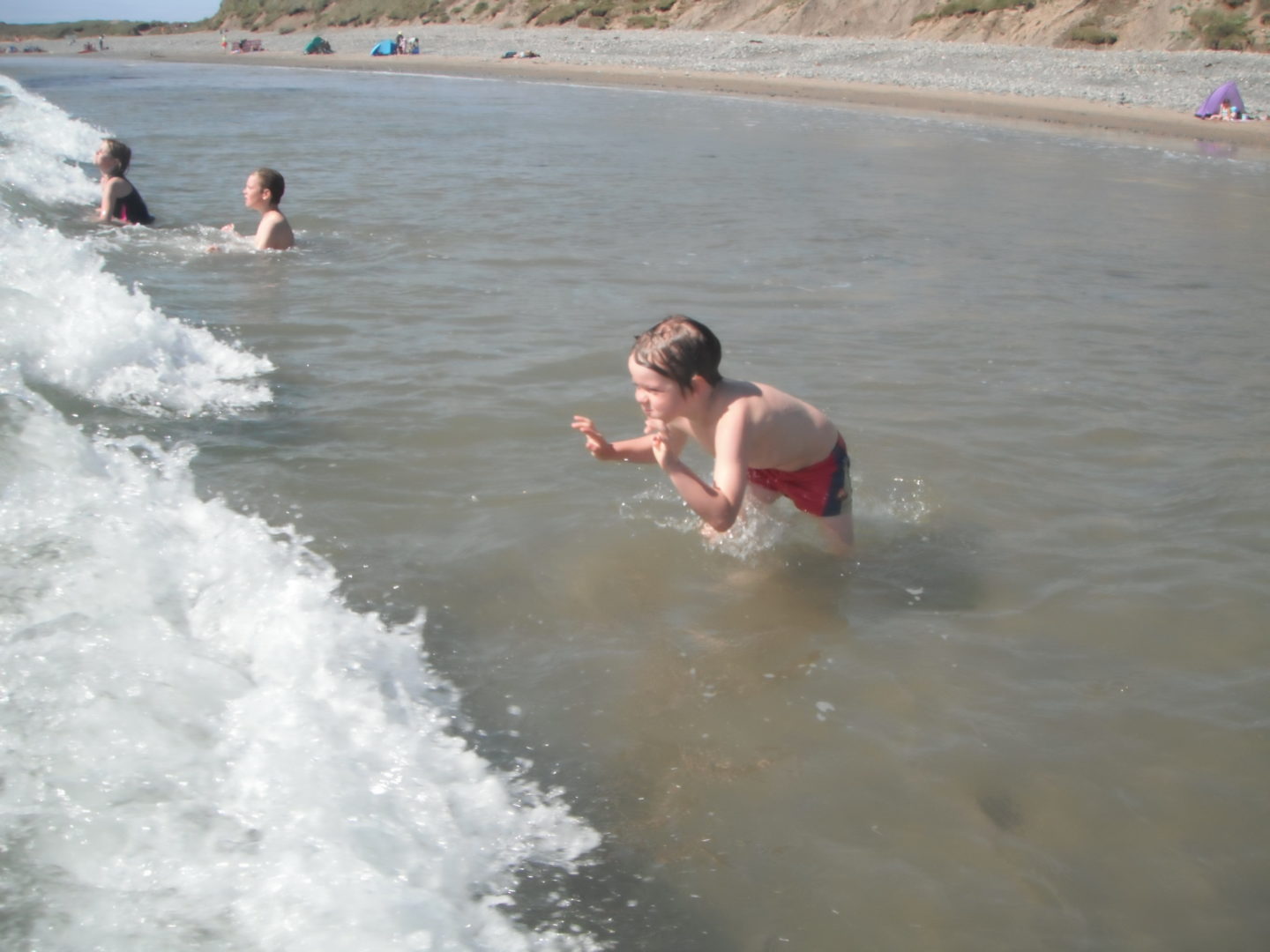 It was the earliest the children were in bed all week and we had by far our quietest evening,  giving me time to superglue the Saxophone back together that had been broken on the first day (not exactly my ideal way of spending time on holiday but necessary)  I noticed on closer inspection that there were at least three previous breaks that had been repaired with Superglue.
Day 7   Home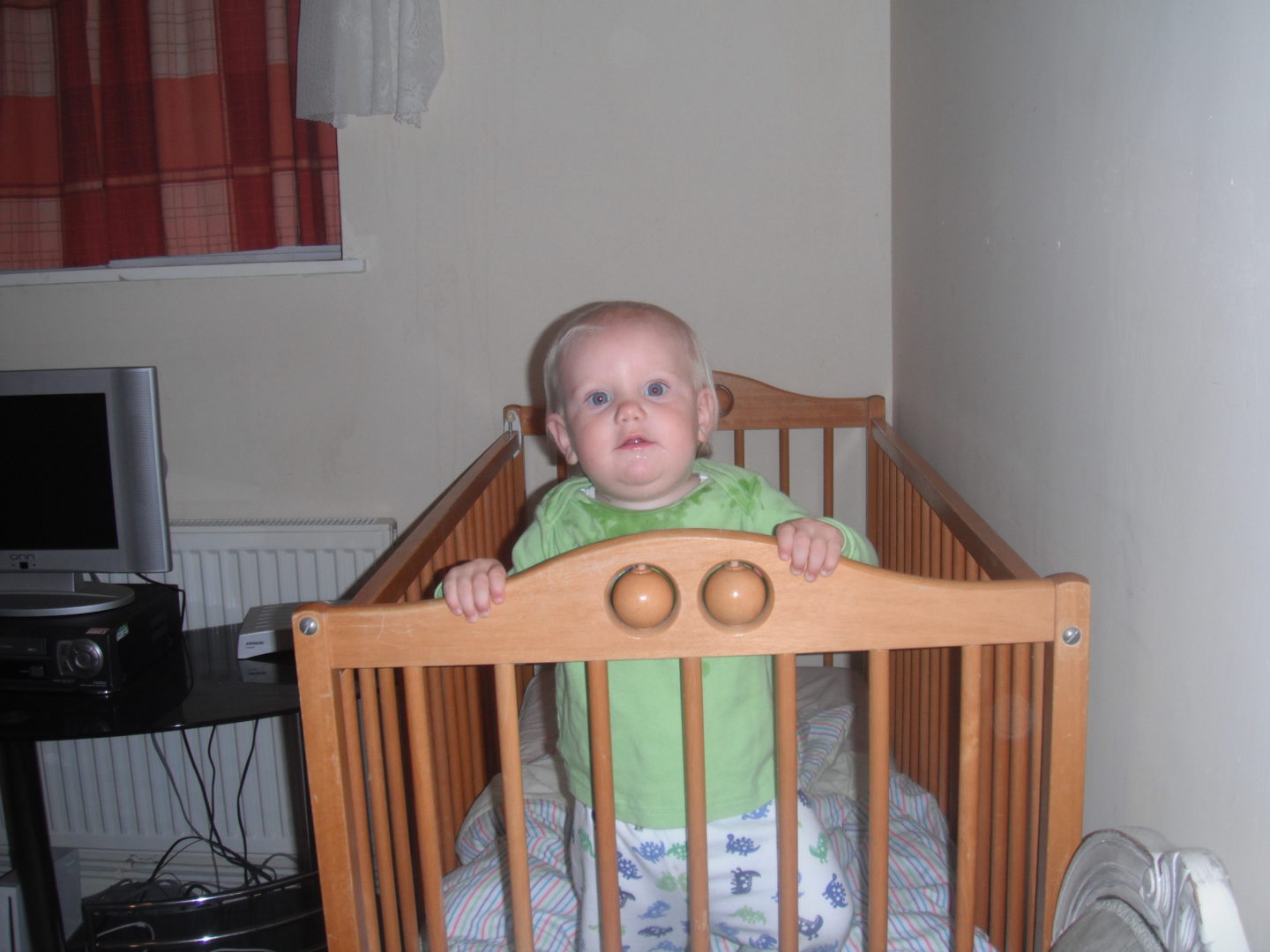 Home time can be a rather dull day, we always try and have a good breakfast and we tend to pack before waking the children. We also try to give them a bit of time to play before we leave as well as selecting DVDs, Games and books for the journey home.
A safe journey home and many happy memories of a great week.
 Tips for A Summer Holiday in North Wales Self Catering Cottages
Involve the children in choosing and planning a  holiday, they may even help pack
Make a list and tick it all off before you leave.
Always take warm clothes, if it does get cooler at least you are prepared.
Go to the shops just before you arrive, there is nothing worse than unpacking and then having to go shopping as  there is nothing in the cottage.
Move all breakables up and out of the way.
Holiday in North Wales Tips from the Children
Take a blanket to snuggle up in the car – Eowyn (Age 4)
Make sure you take a Football and Swimming Costume. Kaide (Age 7)
Take you own backpack for your own stuff  Neva (Age 10)
Useful Links