5 day Family Holiday To Peru
It's an exciting prospect, the thought of exploring with family in Peru. A place full of culture, history and fun things to do there are plenty of ways you can enjoy a family holiday in Peru. Five days in this vast country is not very long to explore all Peru has to offer. However, you can do some great things together in that time. Here are some of the holiday ideas you can choose from when visiting Peru as a family.
Exploring Machu Picchu
Possibly the most famous, most visited site in Peru is the awesome Machu Picchu. It is a UNESCO world heritage site and one of the new wonders of the world. A place that is high on many a bucket list. Your trip to Peru would not be complete without exploring the ancient terraces with wild roaming Llamas.
If you are an active family you can make a hike and a visit to Machu Picchu your whole trip. Trekking the Inca trail and camping on route is an epic adventure for everyone involved. Or you can catch the train from Cusco and get here without spending a few days walking. Whichever you choose, you won't be disappointed.
Explore the mountain ruins, climb to the highest point and take a look out over the fantastic scenery. Children will love learning about the history of the place and what each terrace and ruin was used for in ancient times.
Tour operators or holiday companies often arrange everything for you when you book so you just need to tell them what you want to do and when. Pick an operator that specialises in family holidays to make sure it is tailored for your needs. Family holidays to Peru from the UK are easy to plan and book as long as you choose a reputable company.
If you want to trek the Inca trail, you need to book quite far in advance in order to reserve your place. Only 500 people are allowed entry to the trail per day, so you need to have a reservation with an operator.
Cusco and the Sacred Valley
Cusco is the beating heart of the tourist centre in Peru. Perfectly placed for exploring the Incan history it will be a starting point no matter which tour or sites you wish to see in this area. You will usually take an internal flight from Lima to get here and this is where you will start your journey.
Cusco offers its visitors plenty to do. There are museums, markets and historic buildings to explore and discover. There are also some nearby Incan ruins to explore which are popular with tourists on acclimatisation days. The ruin of Sacsayhuaman can be found on the outskirts of the city which is famous for its giant stones some weighing over 100 tonnes.
Learn about the Spanish colonisation here and how the ruins have remained in the state they are today and what they would have looked like before the Spanish takeover.
There are also some fabulous places to visit in the Sacred Valley. The Andean village of
Chinchero, which dates back to the Inca times, also the Maras that is a valley that over many hundreds of years has been converted into a network of an impressive array of hundreds of salt-pans.
There's also the Inca ruin of Moray where you will see circular terraced ruins sunk into the ground. Then, your last stop should be the Inca town of Ollantaytambo. Explore the town and the dominating fortress at the centre.
Lake Titicaca and the Uros Islands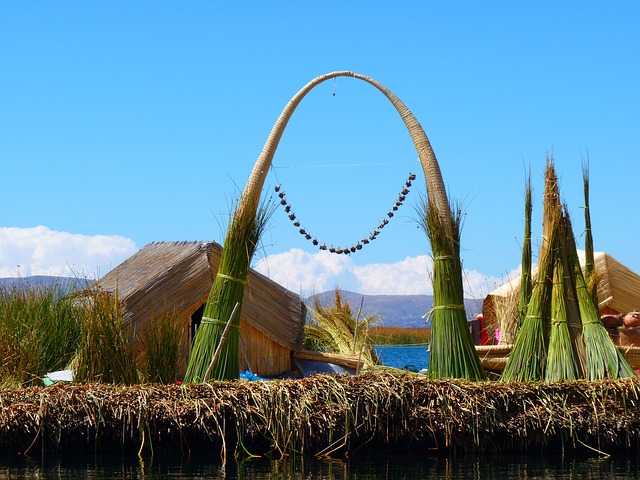 Make your way to the city of Puno, on the banks of Lake Titicaca down the sun road from Cusco. The massive lake is the highest navigable lake in the world. The altitude is at 3812 metres which makes the water look a beautiful turquoise colour.
Puno has lots to see and do and is a great place for souvenir shopping. Pick up something special to take home and remind you of your trip.
You can visit the cathedral and churches, walk up to the top of condor hill for the view and explore the bustling Plaza de Armas. There are also lots of restaurants where you can try local food and mingle with locals. A real cultural experience.
At the lake, you can take a boat ride out to enjoy the water and the fantastic scenery. The Uros islands are the home of the Uru People who have been living on these floating man-made islands since before the time of the Inca Empire.
The islands are made of totora reeds and families have been living like this for generations. Taking a small guided tour is the best option to learn about the history of the area.
Arequipa and the Colca Canyon
Arequipa is the little sister to Cusco and less visited by tourists. This doesn't mean however that there is less to see here. Top attractions include the Santa Catalina Monastery – beautifully painted inside with a religious art collection, Casa del Moral which is one of the best examples of baroque-mestizo architecture in Peru.
The Colca Canyon is the second deepest canyon in the world and is an excellent location for trekking. Start at Cabanaconde and there are a few different trails you can take depending on how long you want to walk for or how much time you have.
The Mirador Achachina Trail is around a fifteen-minute walk from the plaza in Cabanaconde. You will stroll past the bullring to the Mirador Achachina. The valley here is also a great place for a spotting condors and viewing the western part of the valley from above.
The longest trail is Ampato which can take between four and six days and most of the walking is at over 4200m. It is a difficult hike and you should be wary of snow and ice. It's not advisable for families with young children.
There are many different walks of difficulty in between these two extremes. It's best to get the advice of local guides before you set out to see which is the best trail suited for you and your family.
Family friendly Peru
The diverse contrasting landscapes of Peru make it a great family holiday destination. A place where children can explore and learn and have an adventure too.
Outdoor activities are in abundance, trekking cycling and water activities too. In all of the destinations mentioned above you can choose from so many family fun activities. Zip-lining, dancing, canoeing and trekking are the kinds of things you can try with the kids in the area.
Peru is a very welcoming country for children as family is an important part of life here. That being said you still need to make sure you are prepared before you go. Plan ahead book with good companies and get up to date with family vaccinations finding out what you need before you travel.
So, if you are looking for a fun filled family holiday you can't go wrong with a trip to Peru. Have you ever taken your family on holiday to Peru? What was your experience?