No one does live entertainment like Disney and this is certainly the case when it comes to Disneyland Paris Parades and Disneyland Paris Shows!
Come prepared to be wowed by Broadway quality shows, fun parades where you can see your favourite Disney characters and a nighttime spectacular featuring fireworks and drones!
With so much to see and experience at Disneyland Paris sometimes you need a little rest. Taking in a show is a fantastic way to have a break during the day and sit back and be entertained by the highest quality shows you will find!
Let's look at all the shows and parades you can enjoy at Disneyland Paris so you can plan what you can't miss out on during your trip!
Disneyland Paris Shows To See
Rhythm of the Pride Lands
This Lion King show, in Frontierland, is one of the most popular in Disneyland Paris! Featuring songs from the Broadway show, amazing costumes, brilliant vocal performances and even acrobatics it is not to be missed!
You can hear classic songs such as The Circle of Life, I Just Can't Wait To Be King, Can You Feel The Love Tonight and many more in this 30 minute live show. See characters such as Simba, Timon, Pumba and Scar as you take a musical journey through this iconic Disney story.
Watch out for the cheeky monkeys as they propel themselves into the air for some impressive acrobats, performers high in the sky using silks and some impressive costumes that will wow you!
The Frontierland Theatre is very large and can seat approximately 800 people. Because of the popularity of this show most performances do become completely full so arrive early to guarantee your entry. Some people start queuing an hour before the show starts. This show does have multiple showings each day so you will have plenty of opportunities to see this amazing production during your trip.
You can also purchase Premier Access passes for Rhythm of the Pride Lands, for €15 per person, which guarantees you a seat, cuts down your queue time plus enables you to get to enter first and pick from your choice of seats.
This is a must see for fans of The Lion King and is one of the best shows in Disneyland Paris!
Mickey and the Magician
Mickey and the Magician is a spectacular show in Walt Disney Studios Park that brings together the main mouse himself, magical special effects and some beloved Disney characters! This original show is not to be missed and is one of the best you will find at Disneyland Paris!
This show is only performed in this Disney Park, you cannot see it anywhere else in the world, so it is very special and something you will definitely want to see when you visit Disneyland Paris!
At almost 30 minutes long this impressive show combines magic and special effects in an original story and features characters from Disney classics such as Cinderella, Aladdin, The Lion King, Beauty and the Beast.
You will also hear songs from these iconic films, accompanied by West End level performances, with impressive props, great sets, amazing singing and fabulous dancing!
This show is performed in a mixture of French and English, in a way that makes it easy to follow along with the story, even if you don't speak French. This is something Disneyland Paris does really well in multiple shows.
This is a super popular show with people queuing an hour before the show starts to get in. If you don't want to wait you can purchase Premier access passes for Mickey and the Magician which cost €15 per person. This allows you to queue for a much shorter time, in a smaller queue and to be the first people into the auditorium so you can get your pick of any seat!
Frozen: A Musical Invitation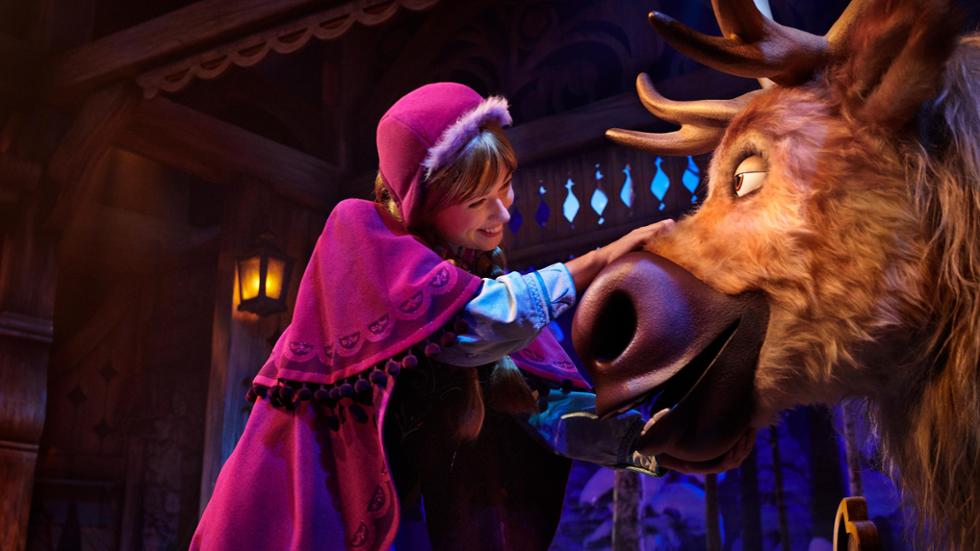 Frozen is one of Disney's most popular films and you can now experience the songs in Frozen: A Musical Invitation in Walt Disney Studios Park. This 20 minute show features all your favourite Frozen characters, including Anna, Elsa, Olaf, Kristoff and Sven
Taking place in both Kristoff's hut and Elsa's ice palace you will hear songs such as Reindeer's Are Better Than People, Love In An Open Door and Let It Go.
There is also some audience participation where you learn some simple dance moves to perform during Let It Go, which is a lovely way for everyone to be involved in the show!
This show is performed in a mixture of English and French and is done in a way that you can totally follow along with the storyline so matter which language you speak, which is something Disney has learnt to do really well.
This show can draw a big queue, and does not have Premier Access, so it is a good idea to arrive early to guarantee your spot to see this show.
Disney Junior Dream Factory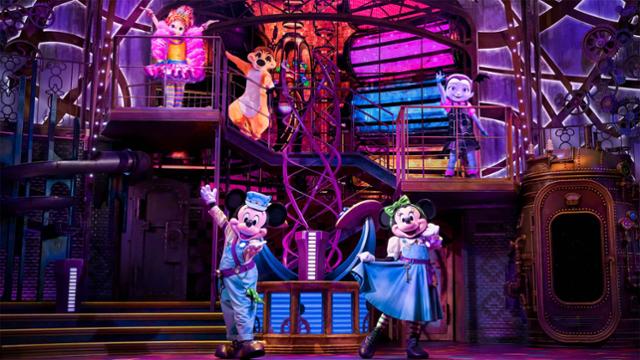 This show, in Walt Disney Studios Park, features some of the most popular Disney Junior characters in a unique story about following your dreams.
With songs and characters from Fancy Nancy, Vampirina and Timon representing The Lion Guard, kids and adults alike are uplifted by this inspiring story!
When you enter the Dream Factory you meet the workers who are having trouble following their own dreams. With help from Mickey, Minnie and the Disney Junior characters they are inspired to pursue them and do what their heart desires!
Disney Junior Dream Factory also contains some great, fun effects such as butterfly shaped confetti, rainbow soft balls that blast into the audience and bubbles that have smoke inside them!
The songs and storyline are super uplifting and will leave you feeling so inspired! If you are a Disney Junior fan, or looking for a fun show, then a trip to the Dream Factory is not to be missed!
Disneyland Paris Parades To See
Dream and Shine Brighter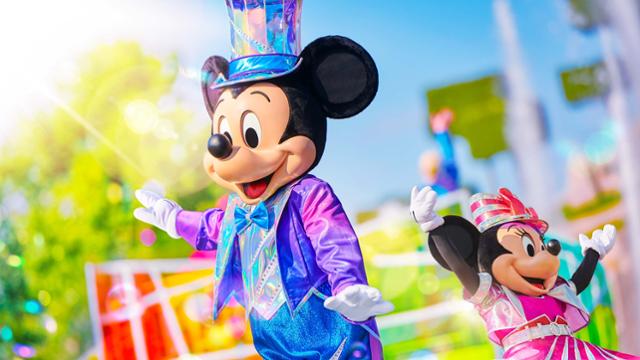 For the 30th Anniversary celebrations Disneyland Paris introduced a new parade called Dream and Shine Brighter. Featuring two brand new songs, especially for the 30th anniversary, and an amazing new megamix of iconic Disney songs, you will be sure to be singing along to these bops for the rest of your trip!
Featured in the parade are Mickey, Minnie, Donald, Daisy, Goofy and Chip and Dale in their 30th anniversary costumes, as well as Disney characters from Toy Story, Coco, Zootopia, Alice in Wonderland, plus more!
Many people only view this parade from Main Street thinking it is a usual parade, but be sure to head to the stages in front of Sleeping Beauty Castle as this is where the main show takes place!
This is a unique parade because not only do the floats, characters and dancers pass by whilst dancing and interacting with you, the show then comes down off the floats and onto four stages in the central hub in front of Sleeping Beauty Castle where a full 10 minute show takes place!
In the show hear a fantastic new megamix of Disney songs and Mickey and his pals dancing along to them with the Mad Hatter, Rapunzel, Woody, Jessie, Alice in Wonderland, Genie, Tiana, Peter Pan, Joy, Nick Wilde and Miguel!
All the characters move between all 4 stages so you will get to see them no matter where you stand!
This parade begins at the top of Main Street, by Flora's shop, then travels down Main Street to the hub in front of the castle. Once here the floats stop, the characters disembark and then get onto the stages set up in the central plaza.
Be sure to get a spot in the central plaza in front of the castle for the full experience! It is a really great idea to actually stand inside the hub, near one of the stages, so you can get an up-close view of the characters as they perform on the stages and you also get an incredible view of the castle behind them!
Once the show has finished many people follow behind the parade floats, singing and dancing and it is a lovely way to be part of this amazing show!
Disney Stars On Parade

This iconic parade is the classic type of parade you get in Disney parks! Disney Stars on Parade is packed full of Disney characters and is the perfect way to see lots of characters all at once!
In this parade you will find characters such as Anna, Elsa and Olaf, the Disney Princesses, Peter Pan and Hook, Buzz Lightyear and Woody, Nemo, Pinocchio, Mary Poppins, Aladdin and Genie, Timon, Pumba and Simba, Alice in Wonderland and the Mad Hatter plus many more! And of course you also get to see Mickey, Minnie, Donald, Daisy, Pluto Goofy and Chip and Dale!
This is no boring parade with basic floats. All the floats are multilevel and also have additional features, such as moving elements, that really bring them to life! See Peter Pan on a swinging pirate ship and spot Buzz Lightyear in a spaceship!
One of the most special parts of this parade is the Sleeping Beauty float which is a fantastical steampunk style dragon. Not only does this look cool it also features one of the stand out moments of the parade: this dragon actually breathes fire! Be sure to have your camera ready for this spectacular moment!
Stars on Parade starts in Fantasyland, next to 'it's a small world' and ends at the top end of Main Street, near Flora's shop. This gives you a choice of lots of spots to view this parade. Many people head straight to Main Street for this parade so it can be a good idea to pick a spot anywhere between 'it's a small world' and the stage to the right hand side of Sleeping Beauty Castle as fewer people head here.
Stars on Parade is very popular so be sure to arrive early if you would like to have a front row view. This parade happens once a day, usually at 5.30pm Be sure to check the Disneyland Paris app or website to find out the time during your trip.
This is a really fantastic way to wave and spot your favourite Disney characters and see some that you may not spot around the parks.
Disney D Light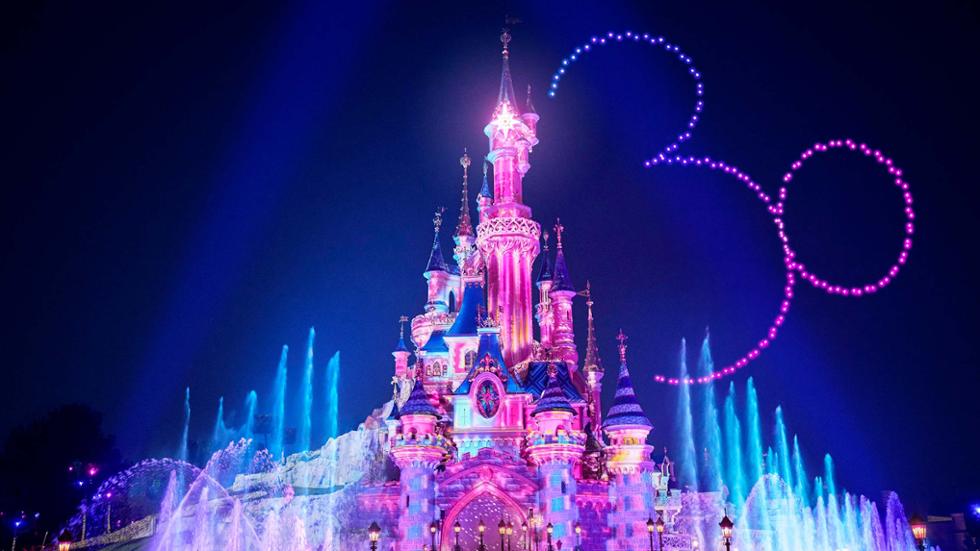 New for 2022 is Disney D Light, a nighttime show that uses over 200 drones that illuminate and dance in the skies above Sleeping Beauty Castle!
Disneyland Paris is the first Disney park in the world to use drones in a show and it is a spectacular and a very modern way to use technology and combine it with entertainment.
Disney D Light happens 10 minutes before the Disney Illuminations firework show so pick your spot and enjoy these two nighttime spectaculars back to back, its quite late for younger travellers but Disneyland Paris at Night is something not to miss.
The show starts with a beautiful message celebrating 30 years of magic at Disneyland Paris before the drones take to the sky dancing to Un Monde Qui S'Illumine, one of the brand new 30th anniversary songs.
Have your camera ready for some stand out moments! Disney keep these key moments on display for a few seconds so everyone has a chance to capture great photos!
Disney Illuminations

The nightly fireworks show at Disneyland Paris is called Disney Illuminations and feature projections on the castle, lasers and water effects as well as spectacular fireworks!
The show features scenes from lots of different Disney, Pixar and Star Wars films projected onto the castle, set to music, with tons of other special effects added to make this truly special to experience!
Illuminations takes place every night when the park closes and is 20 minutes of pure entertainment!
Disney D Light and Illuminations take place in the skies above Sleeping Beauty Castle and can be seen from any location in front of the castle and all the way down Main Street. These shows are incredibly popular, with some people choosing a spot 2 hours before showtime! But never fear, you do not need to arrive hours early as there are many locations that have a great view.
Some great spots to view these nighttime spectaculars are by the small gardens in front of Casey's Corner restaurant, as you have a wall you can sit on before the shows to save your feet, and by the stages in the hub as no one will be standing in front of you.
Be sure to stay after Illuminations finishes to get your nighttime photos of the castle with very few people around! Being able to close out of the park is a super special experience!
The majority of people rush for the exit once the fireworks have finished and within 15 minutes the park is almost empty! Find a seat once Illuminations has finished to let the rush die down and then get your super special empty park photos at night!
As well as fantastic rides, amazing character meet and greets and great food, Disneyland Paris also offers world class entertainment! The shows and parades are definitely not to be missed and will help you to create incredible memories and may even become the highlights of your trip!