We as a large brood love family camping as a holiday choice, it's cheaper than a cottage and we never have to worry about the size of accommodation, although some campsites do have maximum pitch sizes, so for our giant 12 man tent, it's worth checking before you visit to ensure there will be a space big enough!
Last year we started our camping adventures again, and we had a great time in West Runton and Crowden. We had plans for lots of camping this year, unfortunately it is looking quite unlikely at present, although I haven't quite given up hope, but until then I am going to read all about the Best UK Campsites For Family Camping as recommended by other bloggers, to help me build up my list for when we can sleep under canvas again.
Obviously many campsites and holiday Parks are starting to open from this weekend, but I do advise you to contact them to find out what's available and if they are intending on opening, with so many people not going abroad, I can imagine that family camping will be a popular holiday choice this year!
Best UK Campsites For Family Camping
Norfolk Camping
Norfolk Brickyard, Peterstone by Melanie at Two Plus Dogs
I love nothing more than getting back to nature and finding wide open spaces. For those who love a 'wild camping' style holiday experience, why not try Norfolk Brickyard? Norfolk Brickyard is set in woodland, only a couple of miles from the sea and a few miles away from Wells by the Sea and Holkham beach on the North Norfolk coast- both beautiful beaches.
The location is kept secure until you visit so this really is a hidden gem. Camping here is secluded and sheltered for real peace and escapism. Your pitch will be in isolation;(you can even stay in the woods) and has a ring of bricks for a fireplace, so forage in the woodland or buy wood on site to make a cosy campfire.
This campsite does have some welcome, optional extras for those wishing to soften the experience of wild camping, for example a communal adobe oven, flushing loos, a drying shed, and a shower with hot running water, so you can upgrade from the old-school bucket shower if you wish. You can also hire a gazebo if you are camping in a group to create a communal area at no extra cost. You can bring motor homes
When visiting, be sure to take in North Norfolk's amazing coastline, My favourite is Holkham beach which has miles of breathtaking golden sand, a bordering forest and sand dunes- it really is a beach lovers paradise.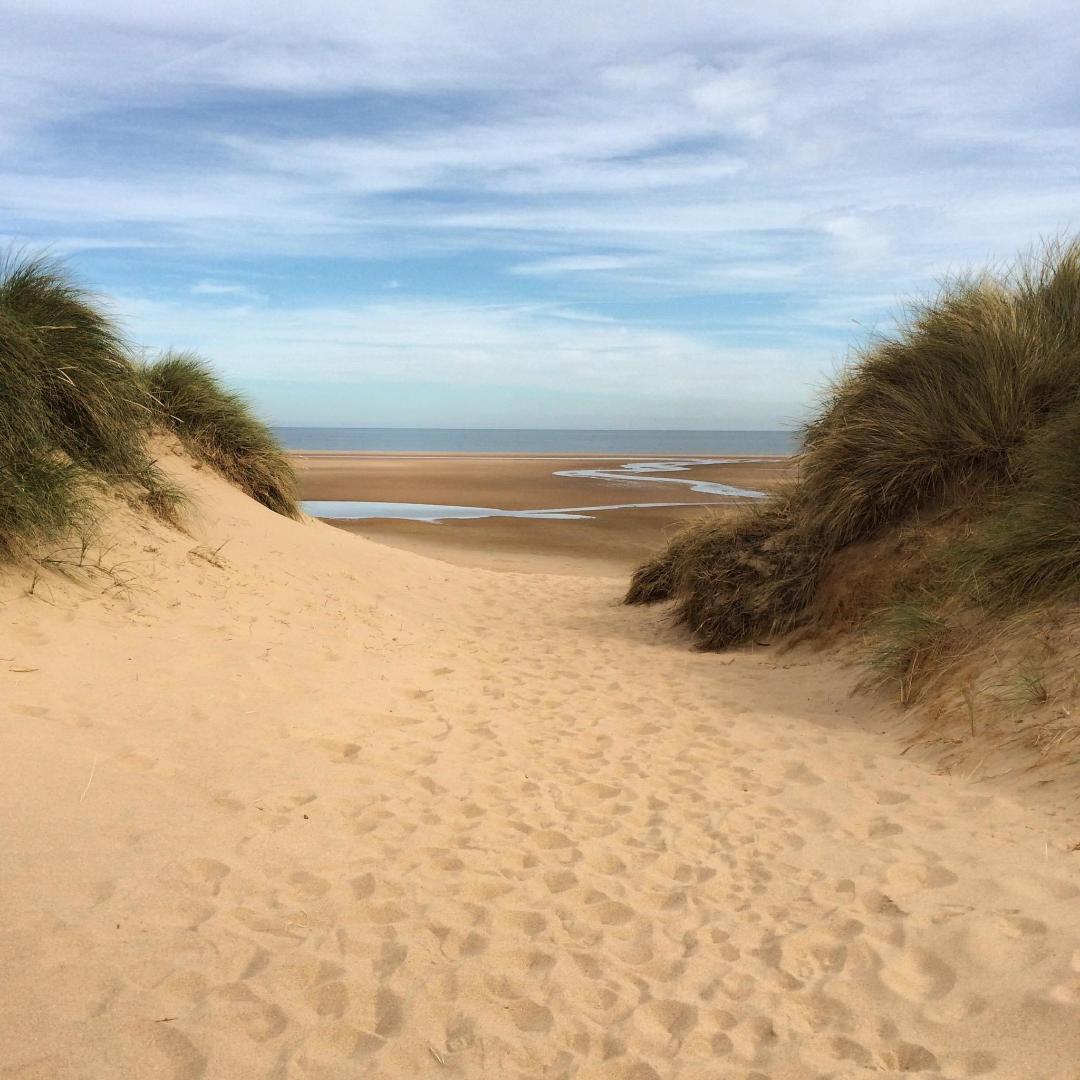 Within walking distance form the campsite, Holkham beach tend to attract those wanting a long, peaceful walk, in contrast with the busier neighbouring Wells-by-the-Sea which offers eating, shopping and toilet facilities close to the beach- perhaps a better choice for families. You may be also be lucky enough to see the pounding of hooves on the beach as the riders exercise their horses- this is breathtaking to watch.
In Holkham itself, you can visit the estate which includes the beautiful Holkham Hall, the nature reserve,or choose from one of the many local walks. The area boasts many quality local food producers, family friendly pubs and restaurants so take your pick. A really top choice for getting back to nature, unwinding and spending some quality family time together.
Lincolnshire Camping
Haven Golden Sands, Mablethorpe, Lincolnshire, by Children of Wanderlust
As you'd hope from a top holiday resort company such as Haven, this campsite has a good range of amenities and activities on offer. Catering to families, there are things such as an Adventure Village, heated indoor and outdoor pools, food and drink venues, 2 fishing lakes and an evening entertainment venue.
There are all the expected accommodation options too, from self catering chalets/static caravans, to touring pitch and tent options.
Undoubtedly one of the best things about this site is its position; within walking distance to the vast expanse of sand that is Mablethorpe beach.
There is also the nearby and excellent Seal Sanctuary, which is a must-do activity if visiting, providing a chance to get up close to these loveable sea mammals. They offer additional experiences, like the chance to be a keeper for the day, which would make for a lovely alternative birthday present for children.
Situated to the north of Mablethorpe town centre (with all its quintessentially English seaside offerings: amusements, fudge, rock and fish and chips), the town can be easily reached by making use of the classic land/sand train, which departs from the beach adjacent to the campsite. This is a great fun way to get around, especially for kids.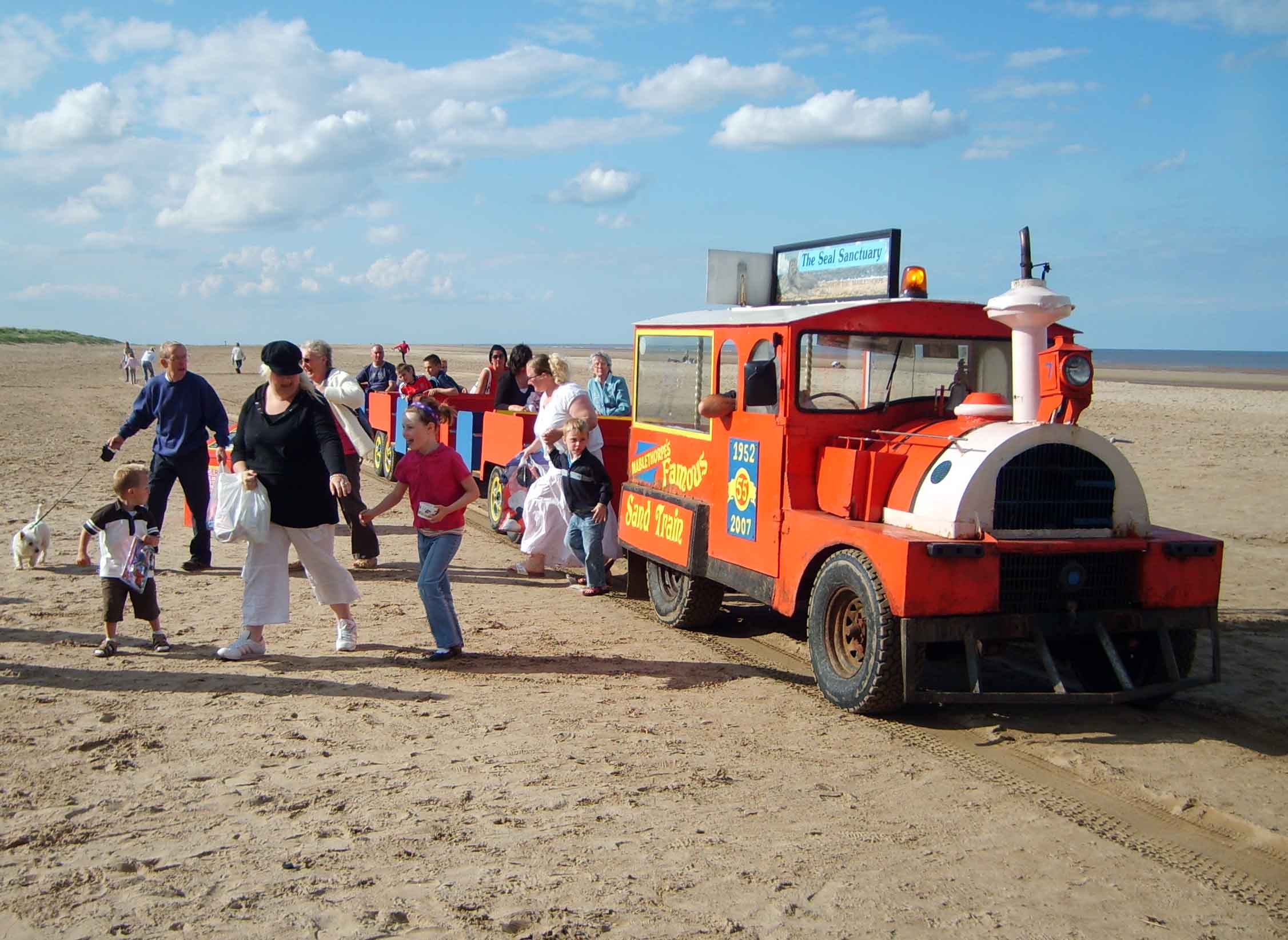 The train passes by beautiful beach huts on its way into town. Just south of the town centre there is also a park with a boating lake, perfect for a change of activity from the beach.
If you're looking for a more basic and budget campsite, but still want to enjoy all the offerings of Mablethorpe, a good alternative is the Shamrock RV Park, located to the south of the town.
Either way, it's a great place for a traditional family camping 'staycation'.
Woodhall Spa Camping by Sabina from Home Style Matters
Woodhall Spa club site is tucked away from the main town like most Club Sites which means it is quite at night, no traffic noise!!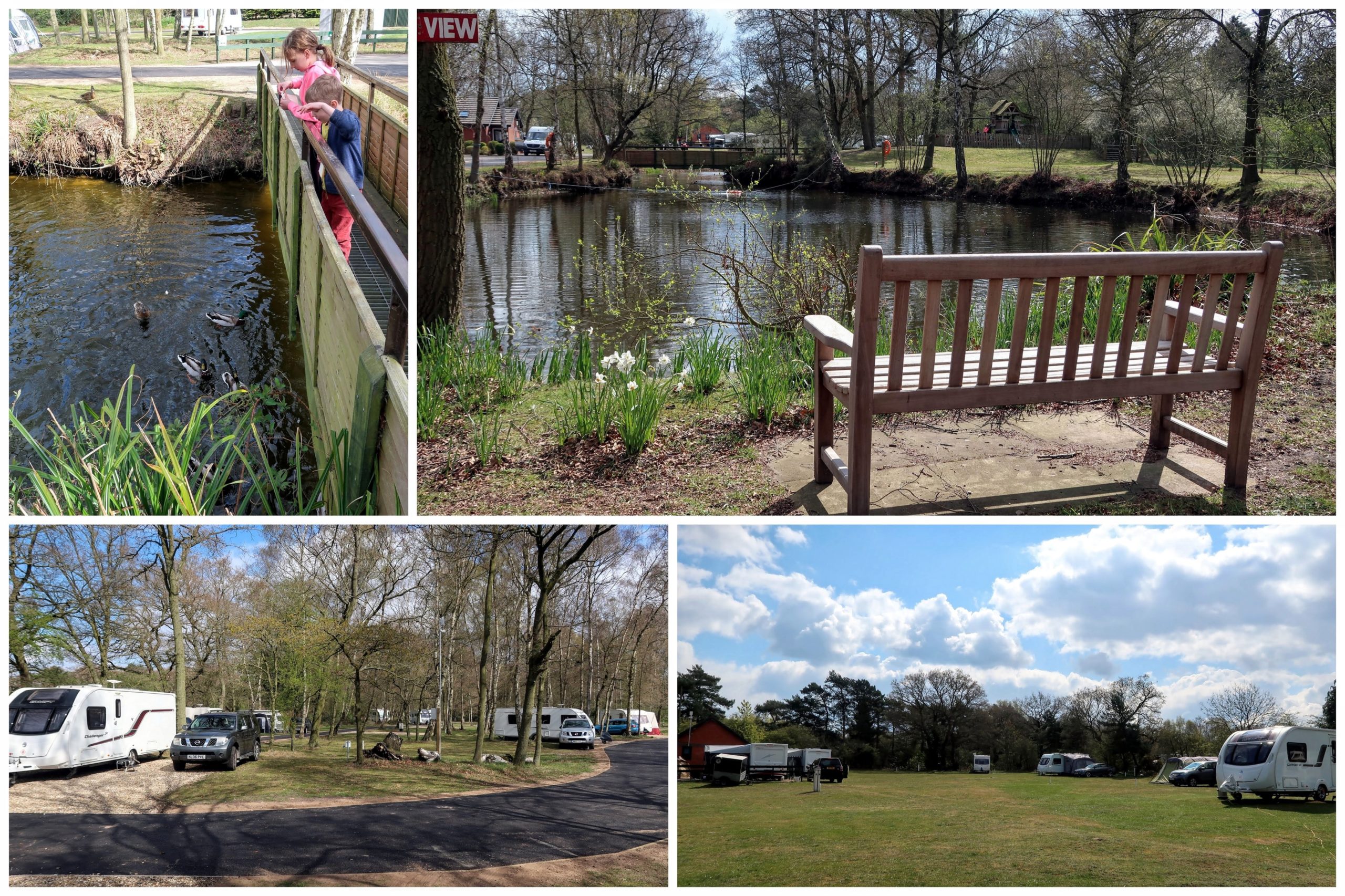 Split across three main areas we always choose to camp near the large pond and play area which is close to the facilities too. If you stay at Woodhall in the Summer be sure to visit Jubilee Park outdoor swimming pool, Kinema in the Woods, a cinema like no other and Tattershall Castle.
Dorset Camping
East Creech Farm, Dorset by Liberty at Liberty on the lighter side
We visited East Creech Farm Campsite in Dorset in the summer of 2019 as a family of six and we loved the site as well as the area it is located in.
The spacious campsite is spread across seven fields, we camped in a tent without electrical hook-up (these spots book up early in the season). The owners are friendly and accommodating, allowing us to add an extra night to our stay at short notice.
As this is a working farm, the campsite is surrounded by fields of cows and sheep, children can also enjoy exploring the animal pens near the café at reception. Other activities include a climbing frame, adventure course and football field in the woods.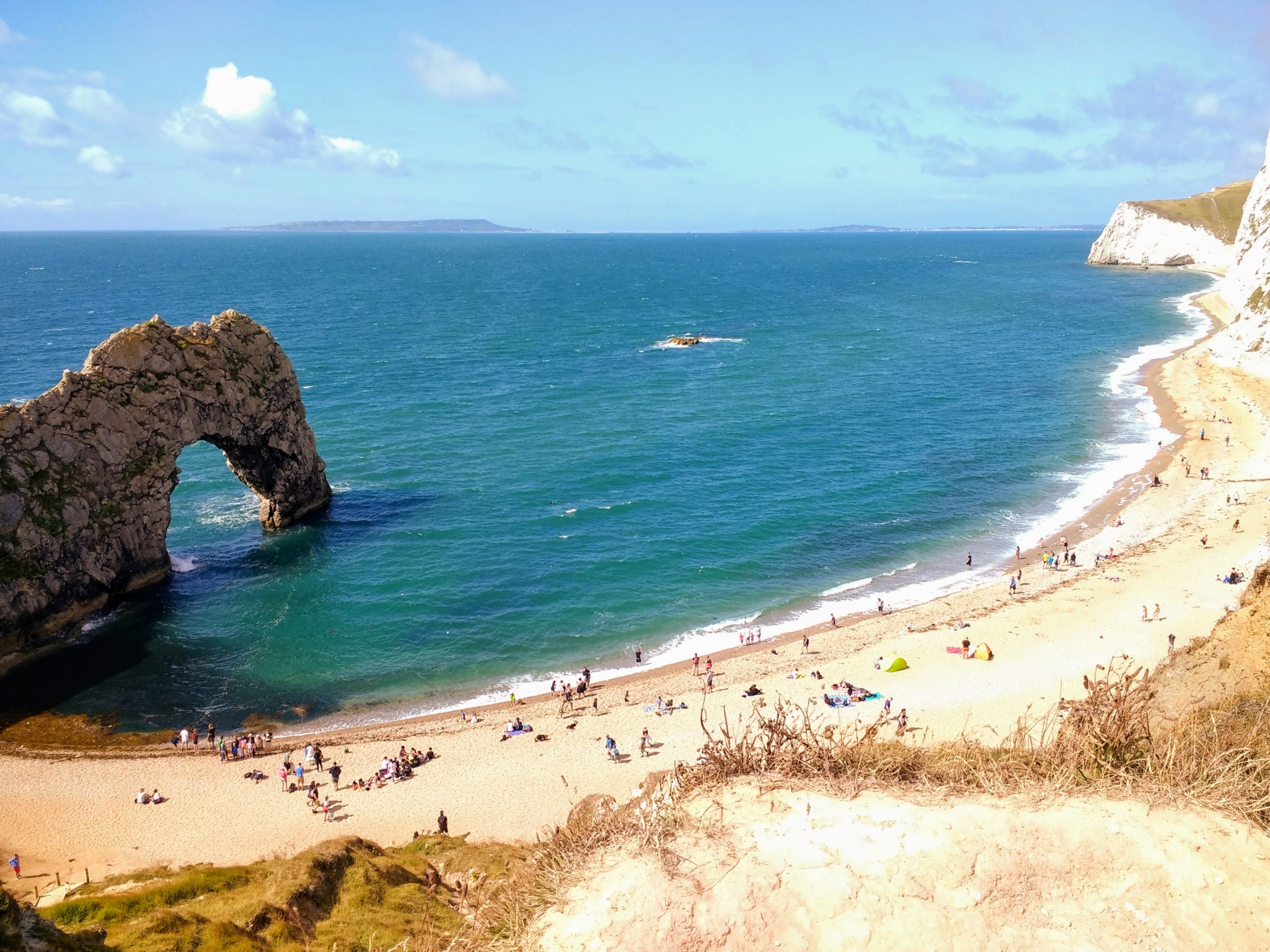 There is no shop but chicken and duck eggs are available to purchase from reception. There is one large well-kept ablution block on the site (tokens are required for the showers) with ample shower and toilet facilities as well as a smaller washing up hut in one of the pitches.
We loved the cosy feel of the campsite as it is laid out across several fields surrounded by hedges and nestled at the foot of a hill. Visitors can climb the hill to look out across Corfe Castle or ramble through the woods to visit the nearby Norden Farm Campsite's well stocked shop.
East Creech Farm is situated in a breath-taking part of the country. Each day we explored a different location which included the iconic Durdle Door and Lullworth Cove, Swanage Beach and the Saturday market in the extremely pretty Wareham town. We discovered fossils in various coves along this historic coastline and ate traditional Cream Teas in farmyard cafés.
Somerset Camping
Nettwood Farm EastHarptree by Annabel at Smudged Postcard
Nettwood Farm campsite is situated in an elevated position overlooking the Mendip Hills Area of Outstanding Natural Beauty in Somerset. The campsite is not huge with three small fields for tents plus several glamping units including a safari tent and some new bell tents. There's a small play area and a couple of shower blocks with fridges. Campfires and BBQs are permitted. The owners are friendly and helpful.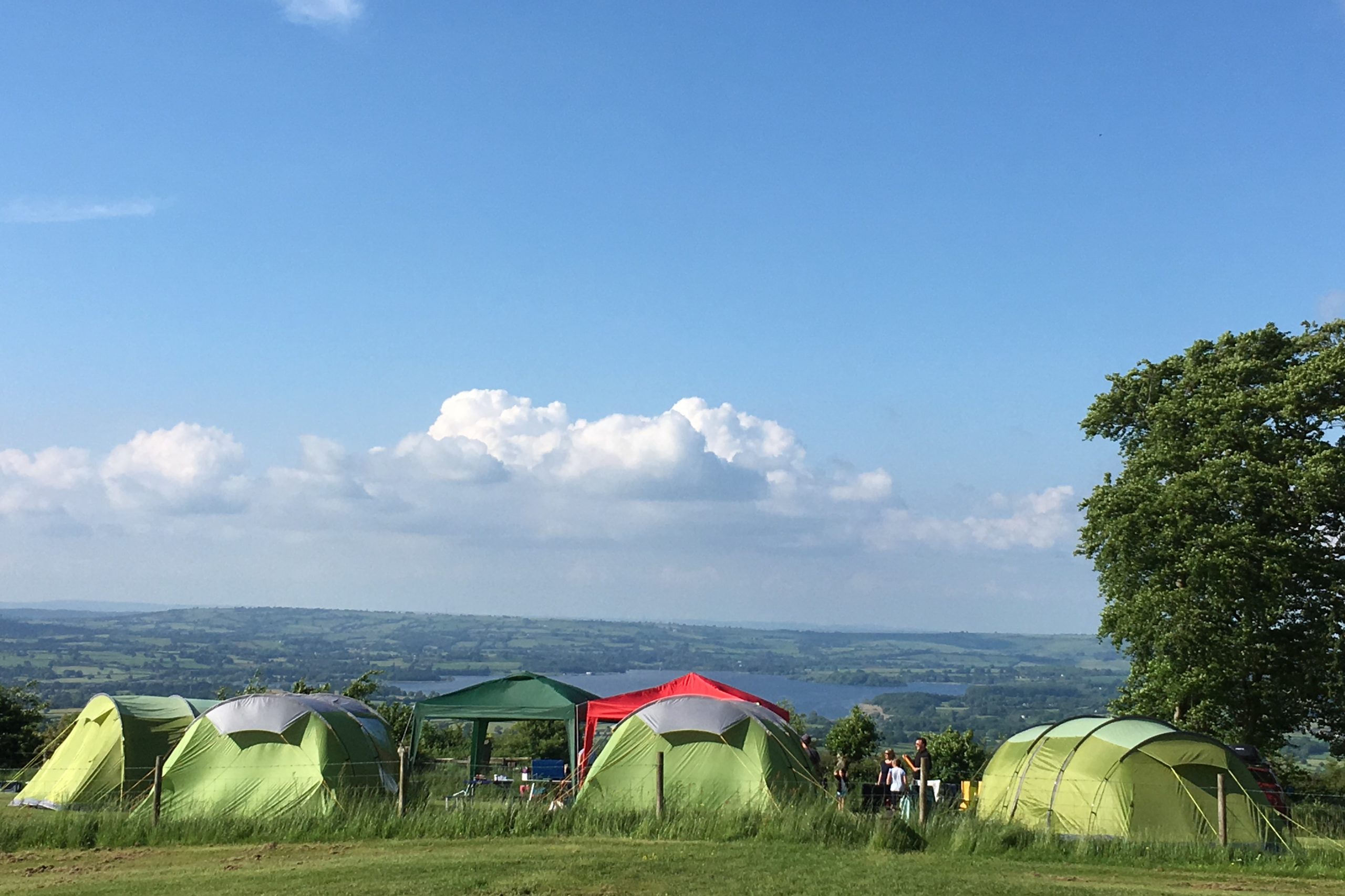 There are woodland walks from the farm across stunning countryside. The campsite is within walking distance of a couple of pubs. The Castle of Comfort, a short uphill walk away, has a particularly impressive garden with an excellent play space for children.
A short drive from Nettwood Farm are the cave complexes of Cheddar Gorge and Wookey Hole. There is a lot to see and do there including cliff top walks and rock climbing as well as exploring the impressive caves. Further afield but within easy day trip distance are Bath and Bristol.
This is a campsite for people who would like to get away from it all. It is peaceful with incredible views and wide night skies which are perfect for stargazing. Children will love the freedom of this site: den building and exploring. Parents will enjoy relaxing and taking in the scenery. It's a special place to stay.
New Forest Camping
Hollands Wood Campsite, Brockenhurst by Eniko at Travel Hacker Girl
Hollands Wood Campsite in Brockenhurst is ideally located to explore the New Forest National Park. The campsite is really big, and generally, they have space to just turn up without a reservation. There aren't allocated spaces, so everyone can pitch up where they would like.
They have a separate place for people with camper vans and a just tents section as well. The staff is always nice and helpful. There is a huge field next to the campsite where wild ponies roam free. Sometimes they even walk inside the campsite, which is quite fun.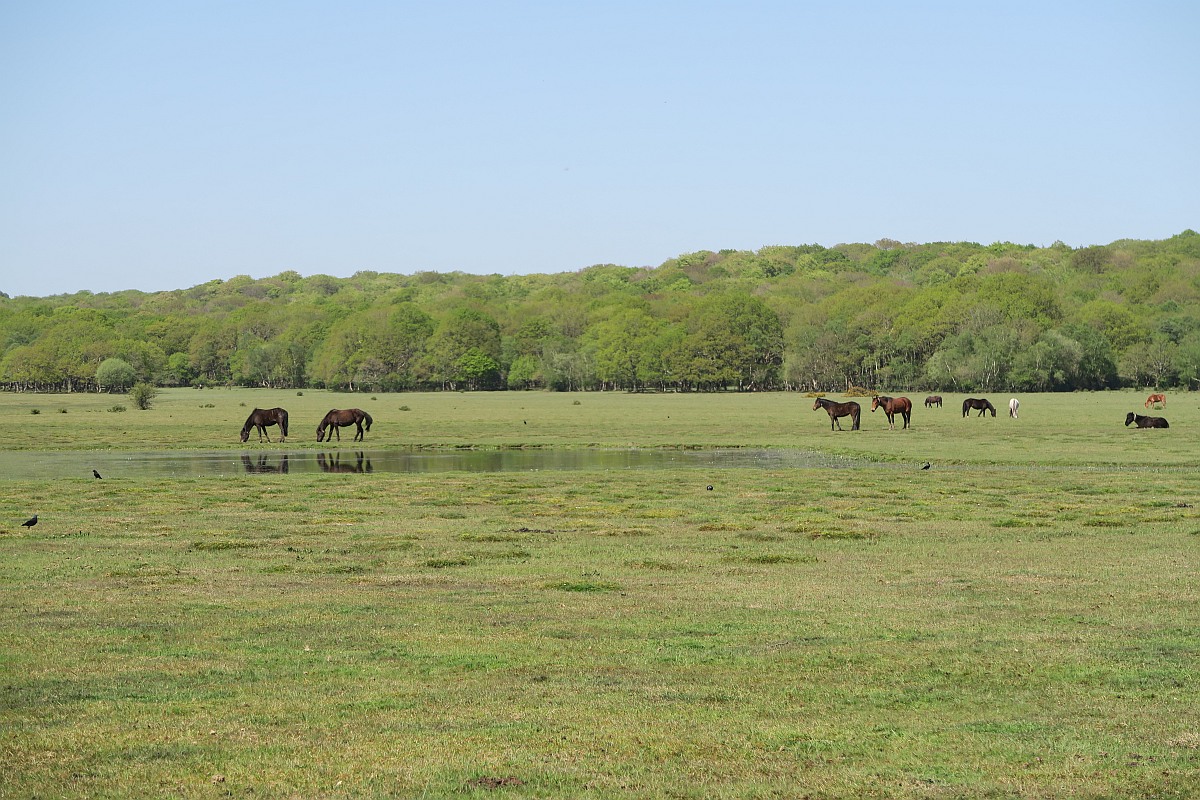 Guest without a car can enjoy a reduced rate. This is ideal for bike packers and long-distance hikers. The campsite is within walking distance to Brockenhurst train station, so you can conveniently have a trip without the use of a car. There is a lot to do in the area. You can go horse riding, as many of the local stables offer lessons and tours.
Next to Hollands Wood Campsite, there is a cute wild swimming spot, that is popular among families. The Lymington River is quite shallow here, making it a safe place for small children as well to splash around. You can often see families there having a picnic at the riverbank in the summer.
If you are looking for more Remote Camping, then these places may be the perfect place to camp.
Peak District Camping
Field Head Campsite, Edale by Nick and Ashley from Impact Winder
If you're looking for a peaceful, yet adventurous camping trip, I can't recommend Edale enough. Nestled in the middle of the Peak District, this quaint village is everything you need for a break from the hustle and bustle of the nearby cities.

The best campsite in Edale is Fieldhead campground, being just a couple of minutes to everything in the village such as the pub and the train station. With a wide-open field to camp in and the trickle of the stream in the background, you're guaranteed a pleasant night's sleep.

If you're camping for a long weekend, I'd suggest bringing all your food supplies, because there's only one small store which is open infrequently.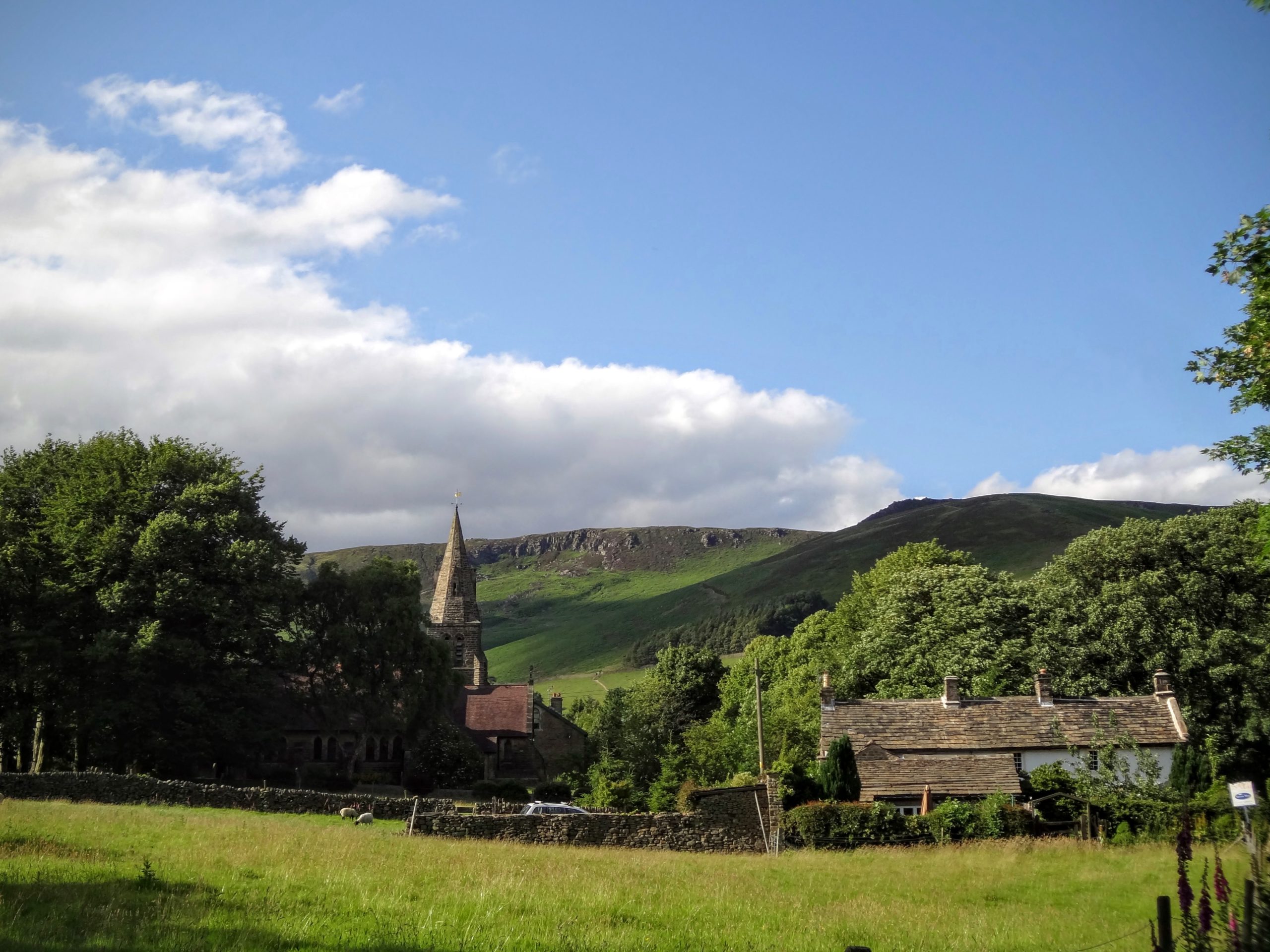 If you want to plan a car-free camping trip Edale is a great choice. The Sheffield to Manchester train line runs right through the village and trains stop every hour. The alternative is to drive the snaking roads of the Peak District which will take around the same time as the train.

The reason why you'd come to Edale isn't for the quiet village and the cozy pubs, but those are great perks. It's all about hiking in the area. There are trails heading in every direction from the village, guiding you up Kinder Scout, or across the valley to Mam Tor. The Hope Valley is a mecca of beautiful circular routes, as long as the weather holds off…

Lastly, if you need a rest day and you've got a car, take the drive over Mam Tor and down into Castleton, specifically to explore the caverns in the area. For a totally unique experience, explore the old lead mines of Speedwell Cavern where you can take boat tours on the underground river systems! Just mind your head!
Beech Croft Farm, Nr Buxton by Jenny from Peak District Kids
Just outside Buxton, Beech Croft campsite in Taddington is one of the best family campsites in the Peak District. There are two fantastic children's play areas. One play area is for under 6s, and then a separate one for the over 7s with a ball games area, zip wire and climbing frame. There's also a separate exercise field for four-legged family members.
There are 30 hardstanding caravan pitches, which all include 16 amp electric hook ups, water tap and TV socket providing a digital signal. For visitors with tents, there are three camping areas where you can choose where to pitch. There are 10 amp electric hookups available which can be used by purchasing a prepayment card.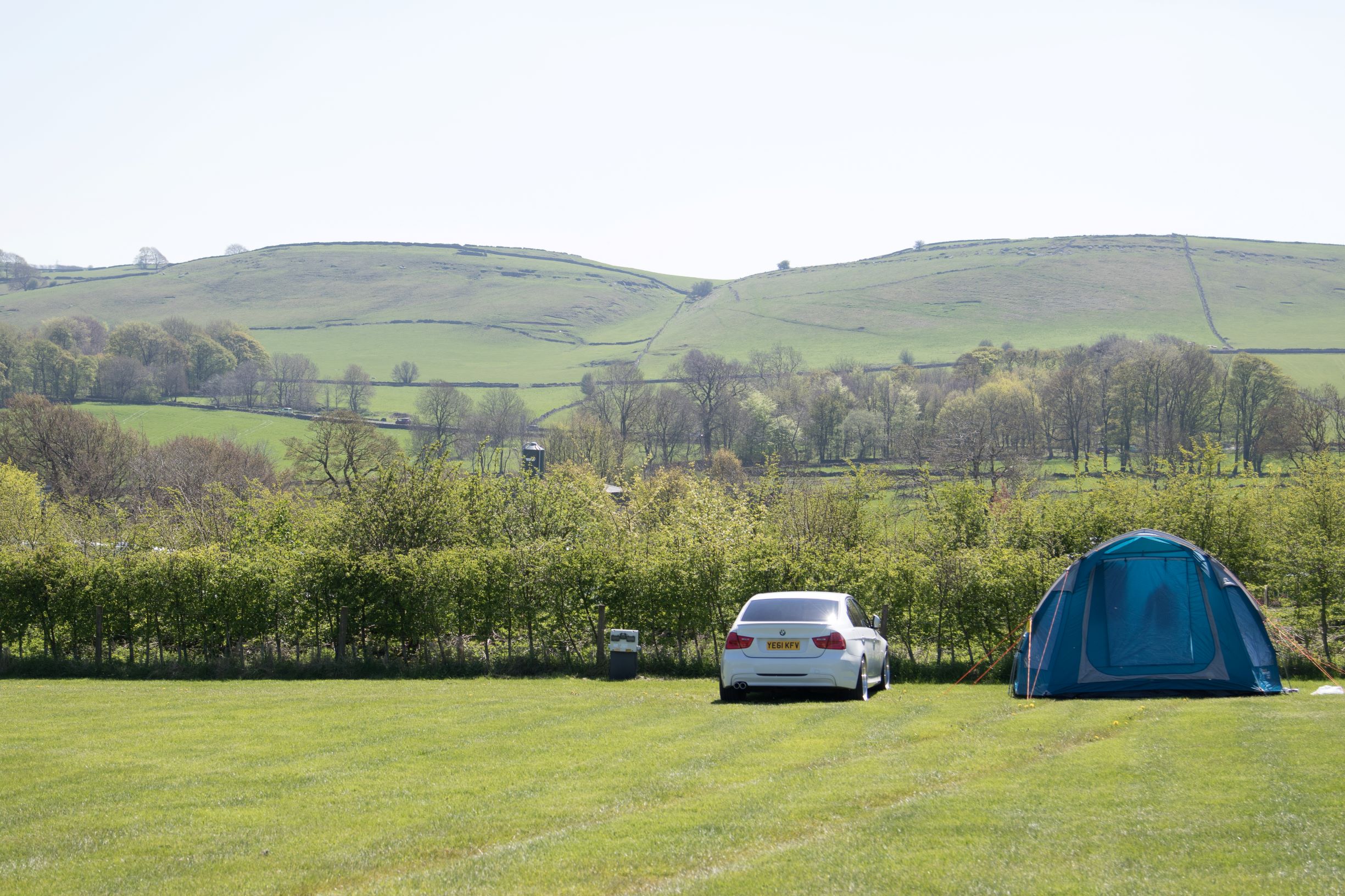 The campsite offers excellent facilities including toilet and shower block with underfloor heating, and there is a shop on site offering basic provisions that also sells Calor and Camping Gaz.
Beech Croft campsite is well situated for a bike ride on the Monsal Trail as well as some stunning walks in the area (Lathkill Dale is nearby and very beautiful). Or perhaps head in to Buxton to visit Poole's Cavern and the stunning Victorian gardens at Buxton Pavillion. But also, as it's such a central location, it's a short drive to Chatsworth House, the Heights of Abraham in Matlock, and even Alton Towers.
Sussex Camping
Wowo Campsite Uckfield by Kirsty at Navigating Baby
WOWO is in East Sussex so really accessible from London and there are direct trains to East Grinstead and then you can switch to the Bluebell Railway and arrive at Sheffield Park via steam train or just get a taxi from East
Grinstead.
WOWO is a fantastic spot for family camping especially if you want to go with friends as they welcome groups. Last year we camped there with a group of 17 families. There is a no music and no loud parties policy which everyone adheres to so it is drinks and chats around the campfire each night and you aren't kept awake by other groups as everyone else is also in family groups.
The site is huge and full of fantastic woodland and then open fields for the kids to run free. This site is all about getting into nature, cooking over a campfire and having fun as a family, but it does have some excellent creature comforts as well should you want them. There is a small shop on site selling essentials, a small games area and phone charging lockers for hire.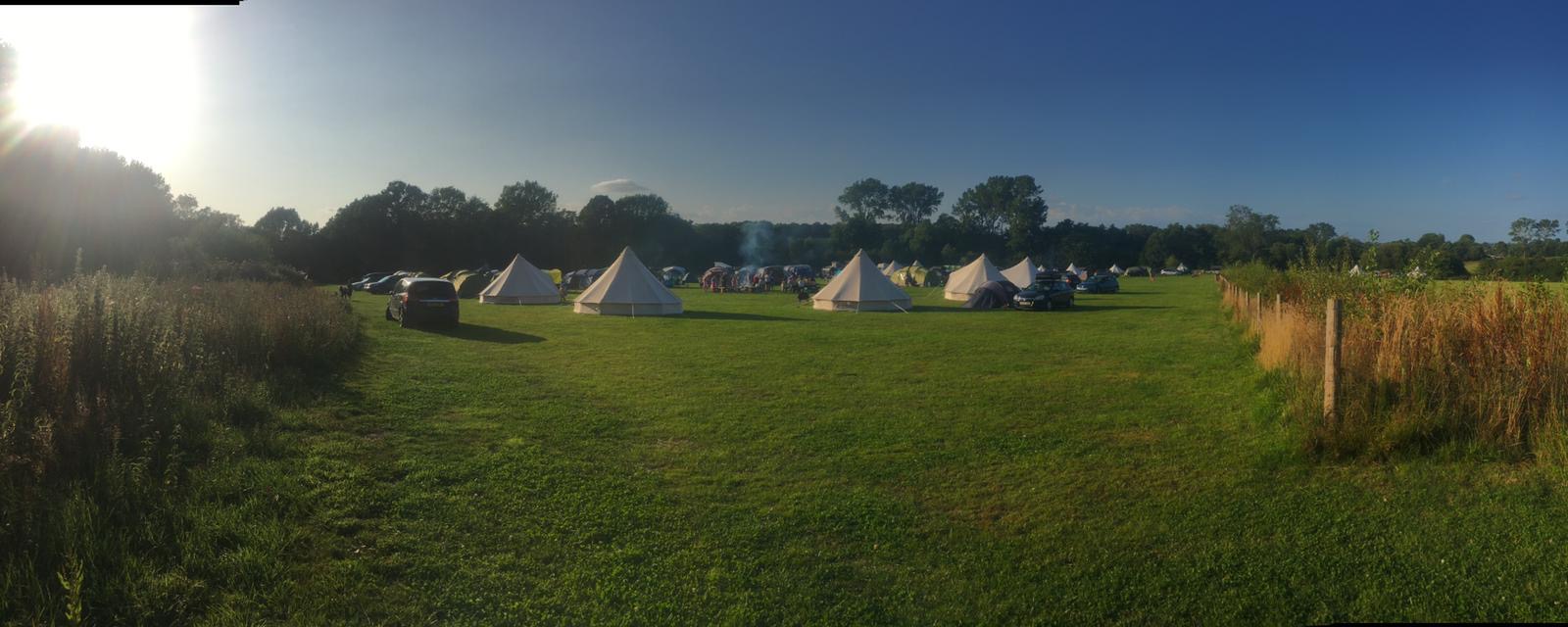 They have someone there on a Saturday and Sunday morning making coffees and waffles if you don't fancy doing your own breakfast and on Friday night local food trucks come onto site so you can buy a pizza or fish and chips for tea which is perfect if you are just arriving on Friday evening and need to get the tent up.
If you aren't a seasoned camper WOWO offers Shepherds Huts and kitted out Yurts to hire. You can even get a bit of pampering in as they have a beauty yurt where you can book massages and facials and there is a hot tub that you can also book a session in.
We haven't done these extra activities as our trips to WOWO have been about hanging out with friend and exploring the outdoors with the kids so much of our time has been spent in woods, down by the shallow creek or walking out to local villages for a pub lunch. There are some amazing lunches to be had!
Locally there is also Sheffield Park National Trust Estate to visit or you can take a trip on the steam railway. If you don't want to leave the WOWO site they also offer educational and super cute workshops such as Circus Skills, Woodland Survival, archery, fairy walks, storytelling and a communal sing song in their central meeting tent. All in all we love It at WOWO andthink it is a perfect blend of clean loos, hot showers and getting back to nature in the great outdoors.
Cornwall Camping
Wheal Rodney Holiday Park by Ana at Parenthood 4 Ever
Cornwall is full of amazing places to visit. It is one of the most gorgeous areas in the UK you can explore for weeks and weeks. We used to travel the entire county starting from Tintagel Castle in the west and going all the way down to St. Ives to the south, then making a circle and drive back exploring the eastern part of Cornwall. So, there were several places we stayed to camp at. But there was only one that absolutely blew us away.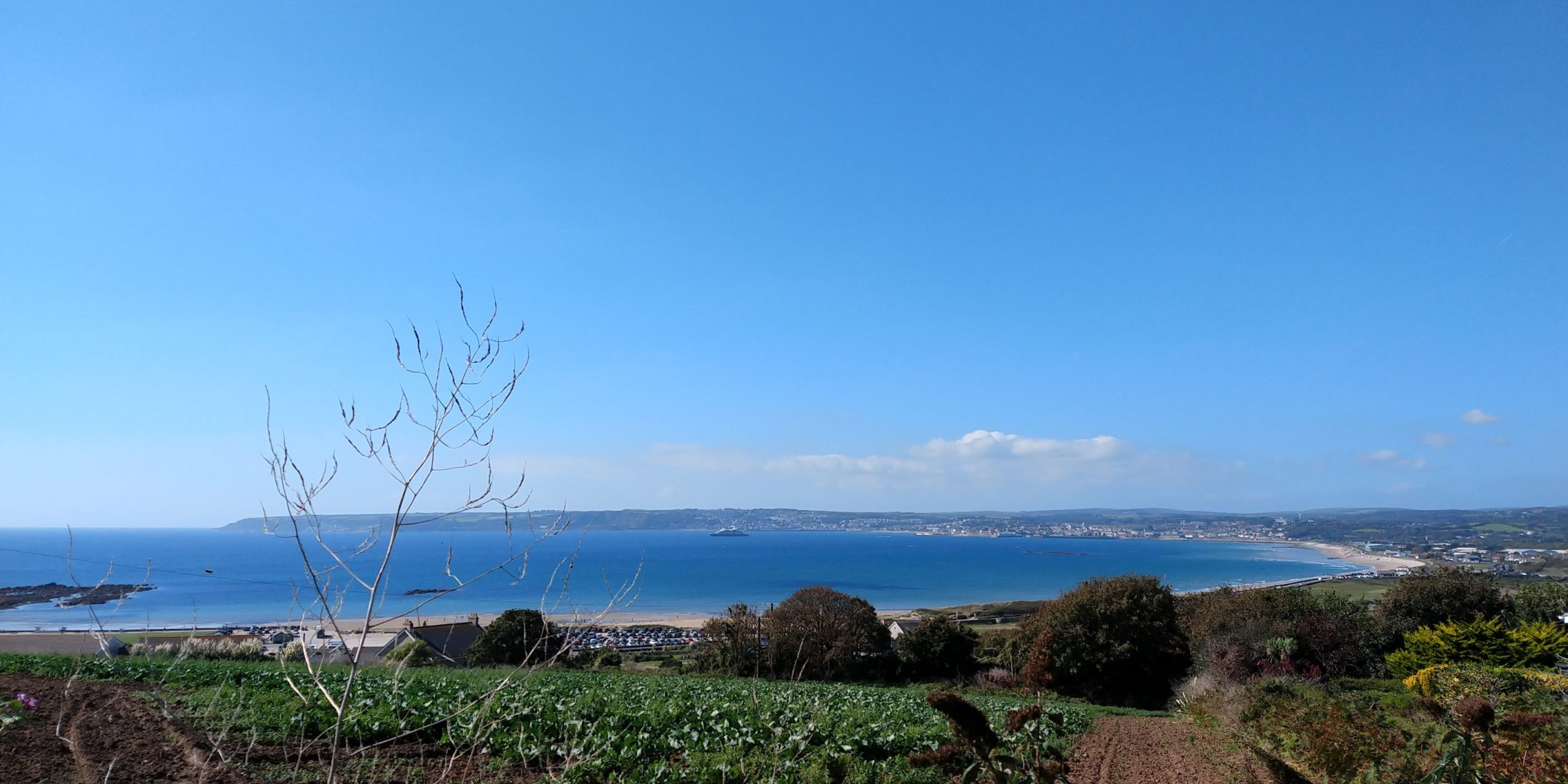 Wheal Rodney Holiday Park by far is the best campsite we have been to. It has one of the best locations to travel around the southern part of Cornwall. From here, you can get to St. Ives in just eleven minutes, visit Mên-an-Tol formation or enjoy a night at the open-area Minack Theatre within a half-an-hour drive. It was easy to get around with a one-year-old baby too.
The best part is that it is only fifteen minutes' walk to the famous St. Michael's Mount. You will pass through absolutely gorgeous views, vast fields, and the "blackberry land".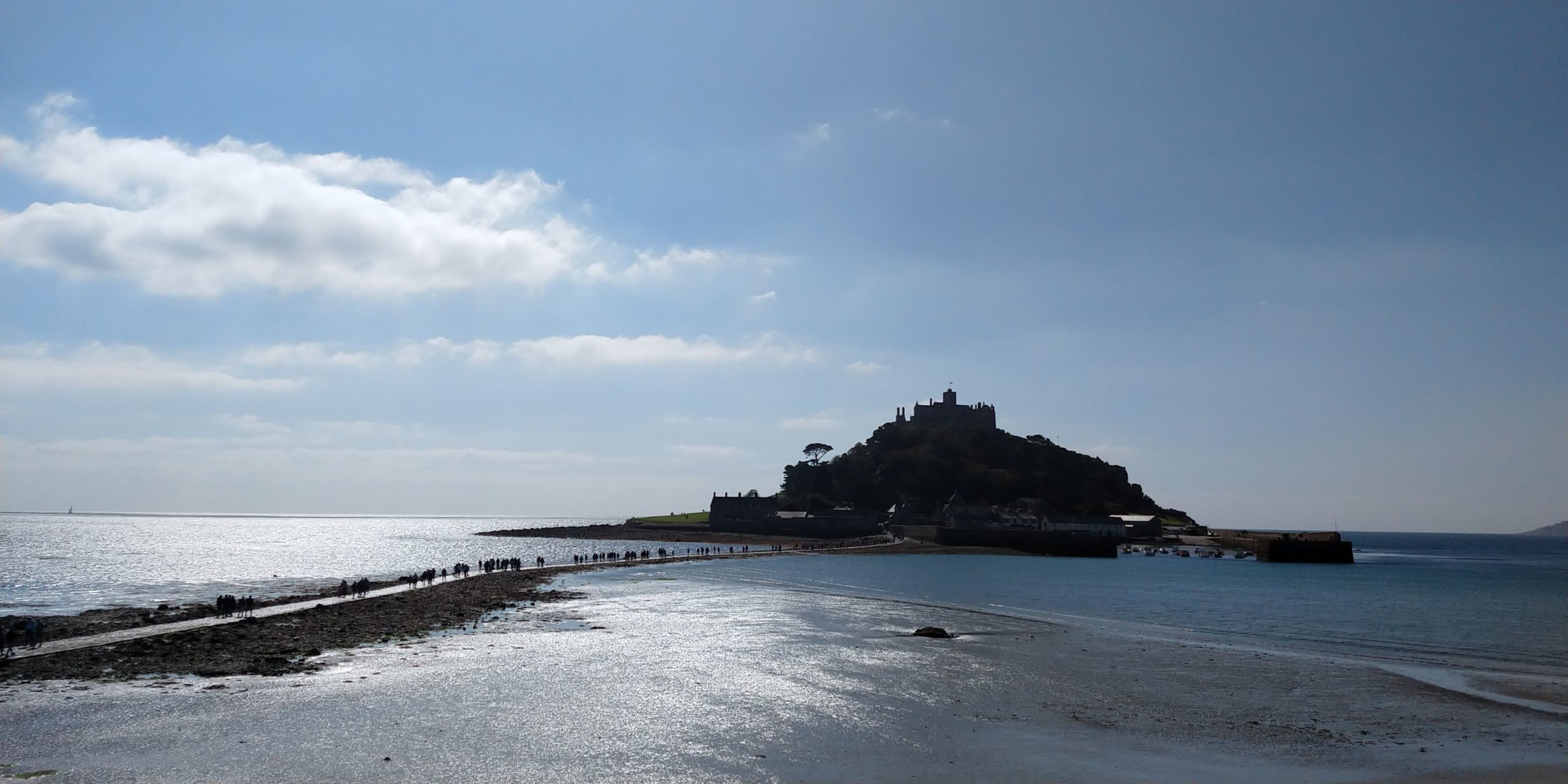 This is the only campsite we stayed in Cornwall that offered a washing machine, dryer, and microwave. It has a little shop inside, sparkling clean shower rooms with real hot water and good pressure, a massive shelf full of board games for adults and kids, guidelines, and amazing staff. Finally, it offers a fantastic indoor swimming pool with 30°C degrees that made us stay one extra day just enjoying the campsite itself. All this for a very affordable price.
Trevornik Campsite, Holywell Bay by Helen from Twins Tantrums & Cold Coffee
Trevornick is one of the largest and most popular campsites in Cornwall.
Based at Holywell Bay on the North Cornish coast, its location is perfect for exploring the local area and is set just metres back from the beach.
It is on a 200-acre site and has seven fields and six different pitch types. It has over 600 camping and touring pitches, 36 Eurotents that are already erected for you, 26 static caravans and two cottages. There's a launderette, farm shop and washrooms.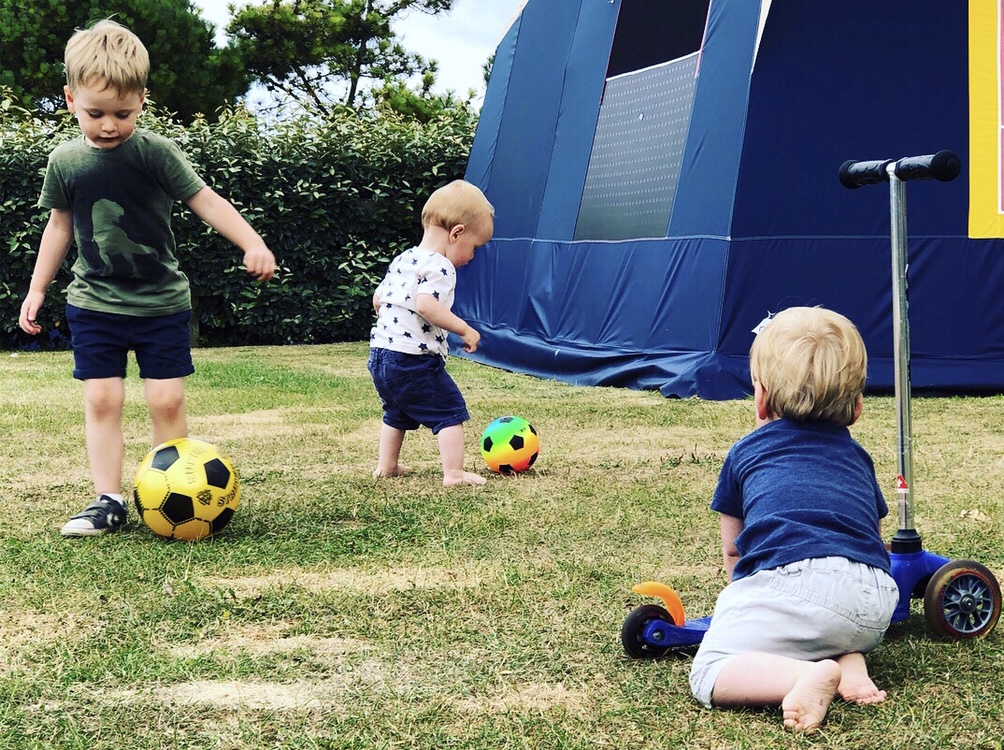 On site there is an outdoor heated swimming pool and a little-ones pool ideal for toddlers. There's also a three-tiered indoor soft play area, outdoor skills adventure club, a sports field, games room, playground, 18 hole golf course, pitch and putt, its own surf school, table tennis, a nature trail, fishing lake, and a spa with sauna, jacuzzi and tanning room.
One of the main draws to Trevornick for families is that it's right next door to Holywell Bay Fun Park. It has over 20 rides and attractions such as water walkers, a shooting range, sand and digger pits, trampolines, bouncy castles, football golf, soft play, an inflatable pillow, panning for gold, kiddy karts, bumper boats, a maze, crazy golf and go karts. Entry is free and you pay for each ride individually.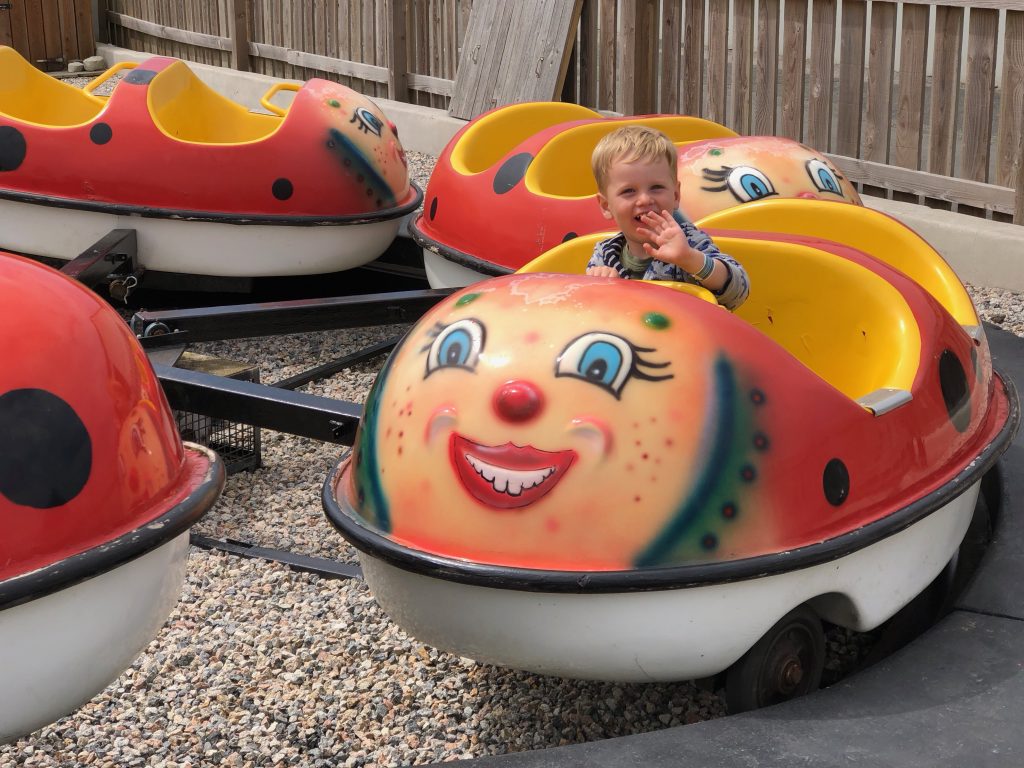 The site has two restaurants – Fodders and Woody's, and there is also the Beach diner at the fun park. There is also a jam packed schedule of entertainment with singers, magicians, comedians and childrens' discos.
Trevornick is located five miles from Newquay, so is also in easy reach of popular Watergate Bay and Perranporth. It's also around 30 minutes drive from Padstow and the Eden Project – so is a great spot to access some of Cornwall's best attractions.
Outer Hebrides Camping
Bosta Beach by Roving Jo
Bosta Beach is a beautiful secluded beach on Great Bernera. This is a small island in the Outer Hebrides that is connected to Lewis by a bridge. The beach features parking spots that can be used by camper vans and plenty of room for your tent and wild camping.
Facilities are limited to only 2 public toilets but it has access to one of the most unique and beautiful white sand beaches you will ever lay your eyes on. This is not a fancy campsite. But the isolation and rural location is part of the appeal as you will almost always have this gorgeous spot to yourself.
The beach is unique in many ways, but the two most prominent features are the Iron Age Village and the Time and Tide Bell. The Iron Age village has a replica Iron Age house that is open to the public during the summer months. And the Time and Tide Bell creates a musical pattern as the tide moves in and out. It also serves as a sea level time marker indicating where the shoreline was then and where it is now.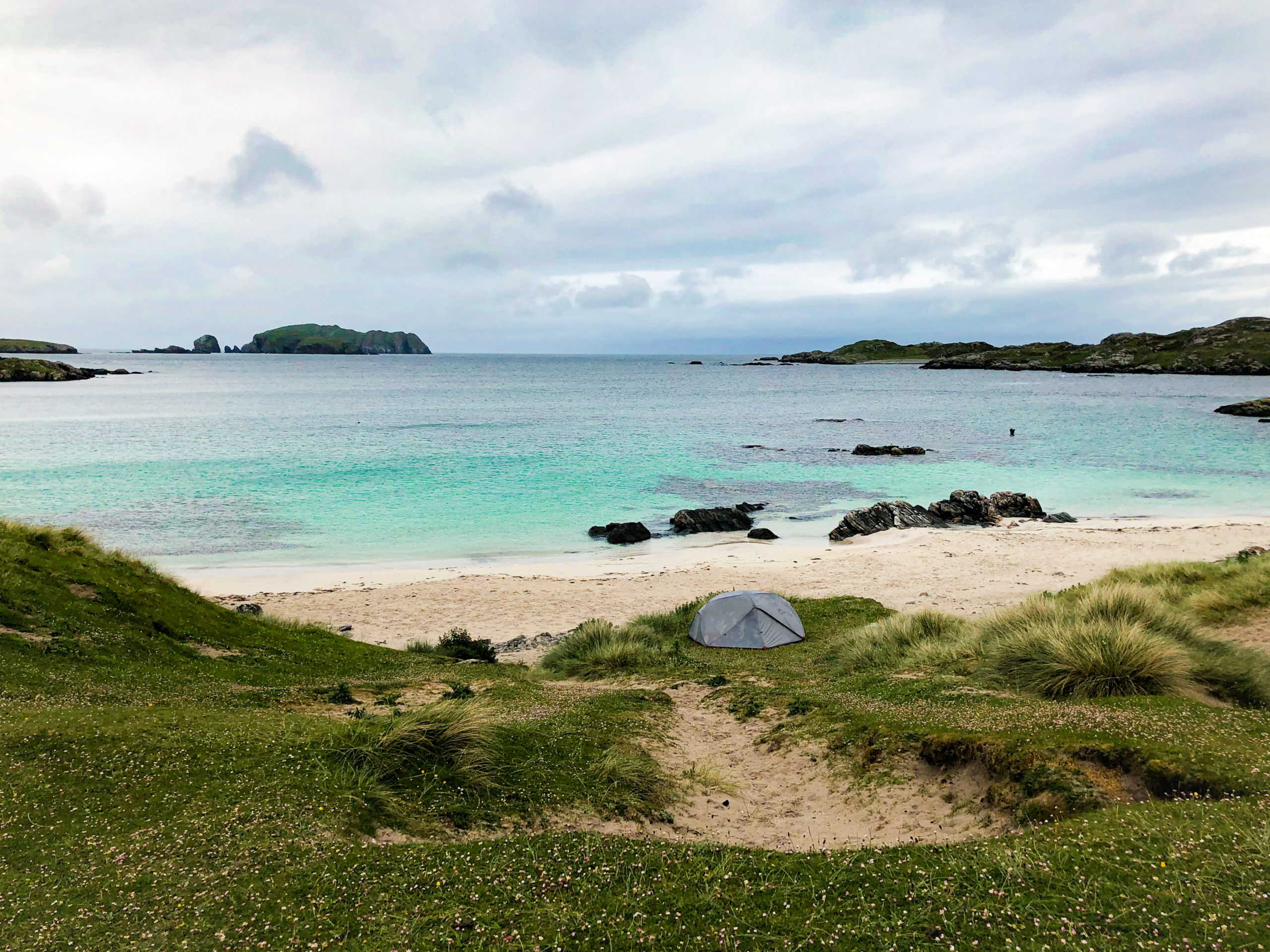 Additionally at the entrance to Great Bernera, right over the bridge, you will find The Callanish VIII semi-circle. It is not as large and grand as Callanish but worth a stop. And because Great Bernera is connected to Lewis you are not limited to just the small island.
You will have access to many more things to do in Lewis and Harris as well. From pristine beaches to ancient historical sites, there is something for everyone to love making Bosta Beach one of my favorite UK campsites.
Isle Of Arran Camping
Seal Shore Campsite, Isle of Arran By Sonja from Migrating Miss
The Seal Shore campsite is located on the Isle of Arran at Kildonan. It's just a short drive or bus ride from Brodick where the ferry from mainland Scotland docks. The Isle of Arran is one of the most accessible of Scotland's islands, being only a 50 minute ferry journey from Ardrossan, which is approximately 50 minutes by car or 40 minutes by train from Glasgow.
The island is known as "Scotland in Miniature", thanks to it's distinctive highlands and lowlands, iconic historic sites like Machrie Moor Standing Stones, it's very own castle (Brodick) and castle ruins (including Kildonan Castle near the campsite) and even a whisky distillery and brewery. There are plenty of walks to do and lots of wildlife to spot, like otters, seals, deer, and plenty of birds.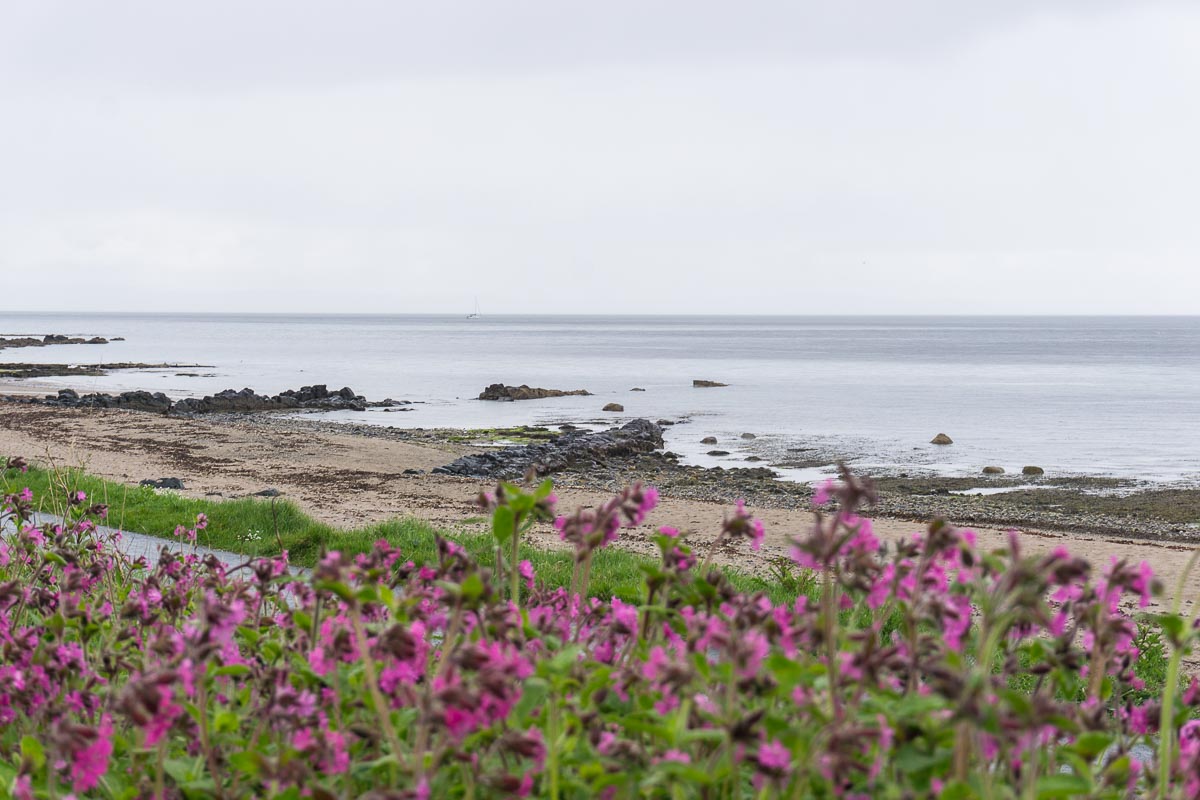 Seal Shore campsite is ideally located in the south of the island, in the "lowlands". It's a small site but has great facilities, including a common room, barbecue area, bathroom blocks, a shop, and a laundry room, and it's right next door to the Kildonan Hotel which has a restaurant and bar, and of course the beach!
You can spend your days happily exploring the nearby beach, going on walks, and seeing the castle ruins, or head further afield to explore more of Arran. The road around the outside of the whole islands can be driven in around 4-6 hours, or longer, depending on how many sites you want to stop and see!
Have You Visited any Arran Campsites ?
Northern Ireland Camping
Castle Ward Northern Ireland By Allan at It's Sometimes Sunny in Bangor
Many campsites in Northern Ireland are found in the scenic county of Down where they are set between mountain backdrops and the various forest parks. The gem, however, would be the Castle Ward Caravan Park and Glamping Pods located in a wooded area on the banks of the Strangford Lough.
It would also be the most expensive in the area but it is more private and secure and is high-spec given it is owned and run by the National Trust. The campsite is smaller than most with options for tents, caravans and the Castle Ward Glamping Pods each with their own electricity and running water.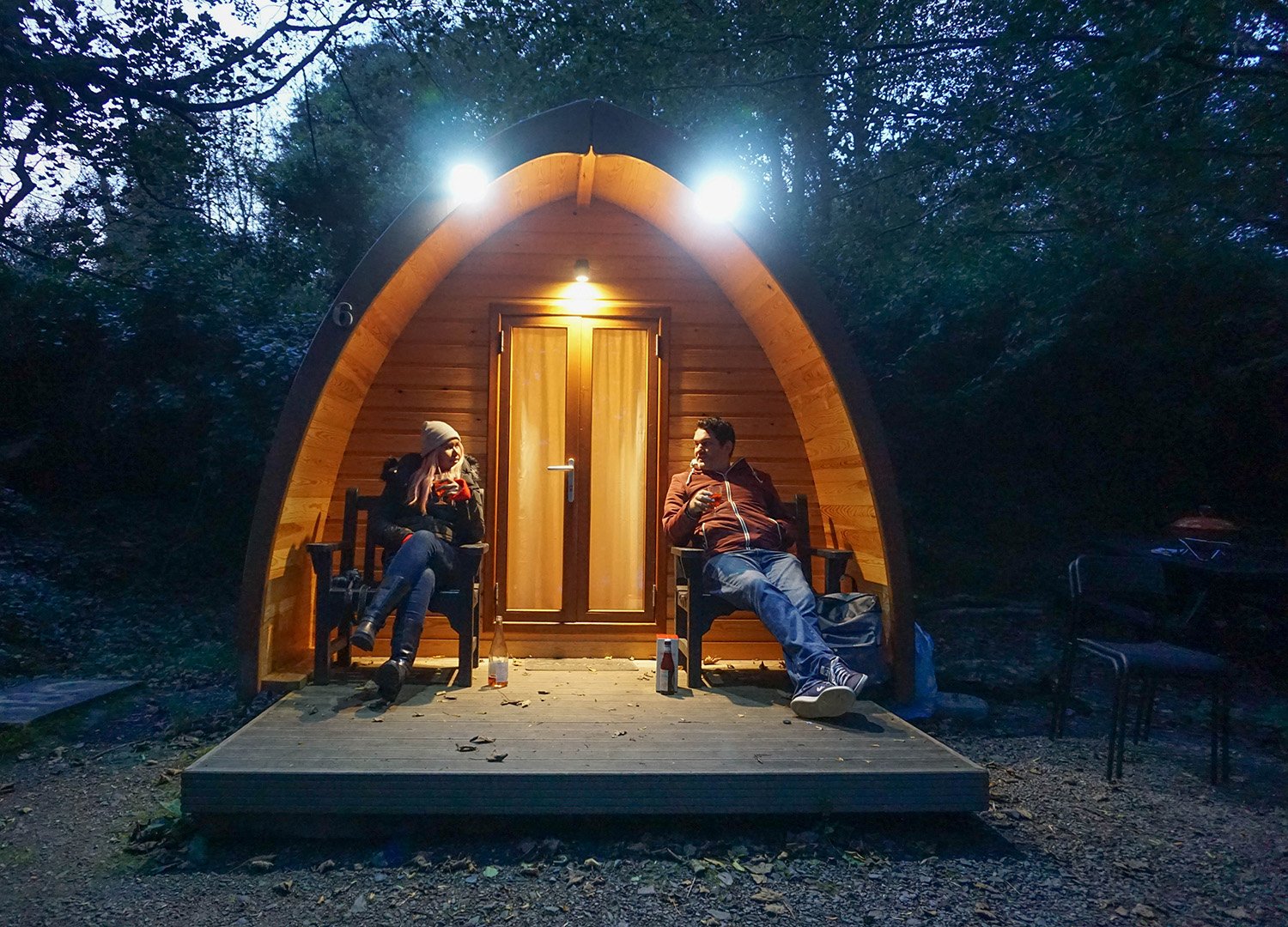 Then there are the usual well-kept facilities including a reception with small shop, bathrooms and washing facilities, as well as a kitchen and laundry room. And while the activities on the site are somewhat limited other than scenery, seclusion, picnics and barbecues, the campsite connects to Castle Ward which is one of the most popular attractions in the region run by the National Trust.
So Castle Ward would be split between the manor home and the old medieval castle. The manor home offers daily tours of the historic buildings, outhouses and sunken gardens, but the old medieval buildings are where all the excitement is these days as the setting of Winterfell in the Game of Thrones series.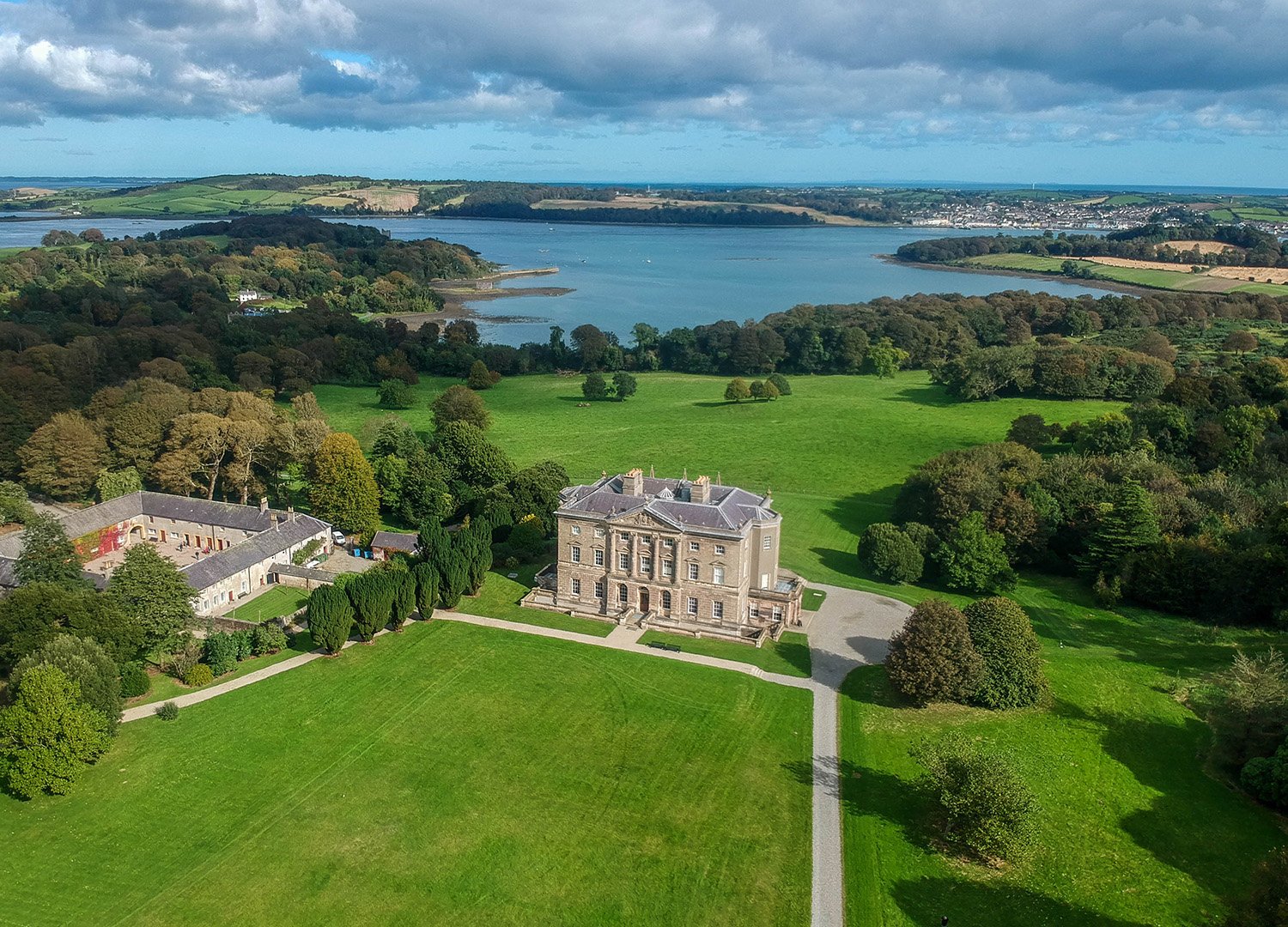 A connection that has inspired various activities such as period dress, an archery range, as well as the Game of Thrones bike trail that stops at all the various filming locations on the ground.
Otherwise there is just a lot to do and see on the grounds including nature trails, the old castle and courtyards are free to explore, and there is a cafe/restaurant in the central courtyard at the main manor.
What an amazing place to go Glamping. Northern Ireland is definitely on our bucket list.
Scottish Highlands Camping
Glen Nevis Campsite, Lochaber Region by Josh and Sarah at Veggie Vagabonds
The Glen Nevis campsite is nestled in the Lochaber region of the Scottish Highlands, at the foot of the tallest peak in Scotland, Ben Nevis. The campsite is just over 2 miles from Fort William which is the closest town and is surrounded by rolling mountains in every direction.
The campsite not only offers a place to pitch your tent, but there are also caravan and motorhome hook-ups, holiday caravans for rent, plus glamping pods. The campsite is one of the most well-equipped we have visited with free hot showers, a laundry room, wifi throughout the site, a shop, plus a restaurant and bar.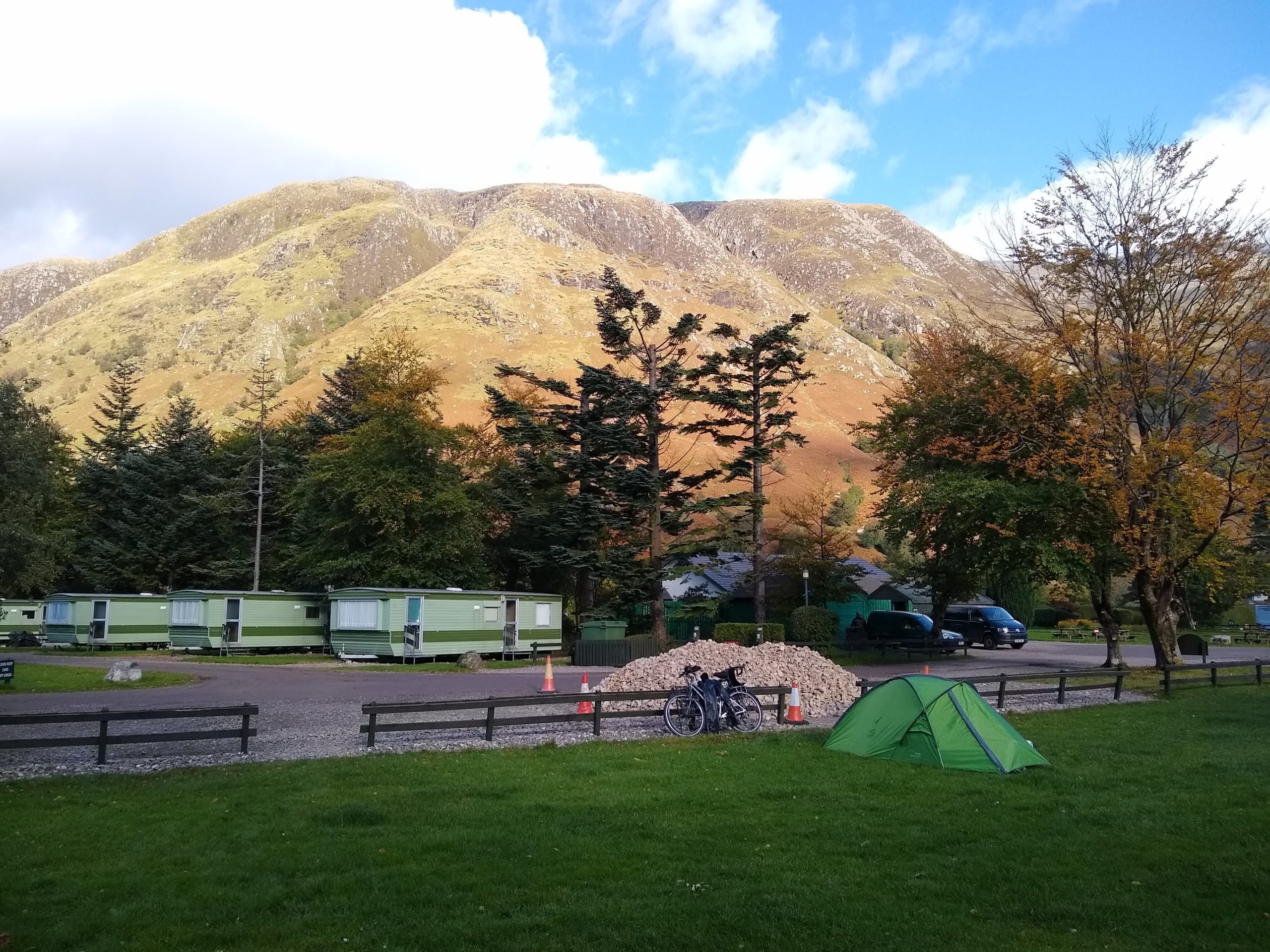 The main attraction in the area is the Ben Nevis walk up the tallest peak in Scotland and the UK. With the hiking trail starting just a few hundred meters from the campsite entrance, it's a popular choice for hikers wishing to make the ascent up the prehistoric point. The hike offers sweeping panoramic views of the surrounding peaks and it's not uncommon to see snow at the summit.
The campsite is a great base for hikers as the information desk can offer advice on trails in the area plus you're bound to meet other keen hiker sand share stories. Not only that but the campsite is well-equipped with all you could need but at the end of a long day getting sweaty on the trail, nothing beats a free hot shower
Sango Sands Oasis by Gemma and Campbell at Highlands 2 Hammocks
Perched right on the edge of the world, on the northern coast of the UK, lies the beautiful, golden beach known as Sango Sands Oasis. Overlooking this beautiful, peaceful shores is the famous, award-winning site of Sango Sands Oasis caravan park. This is one of the most popular campsites for those embarking on the North Coast 500 road trip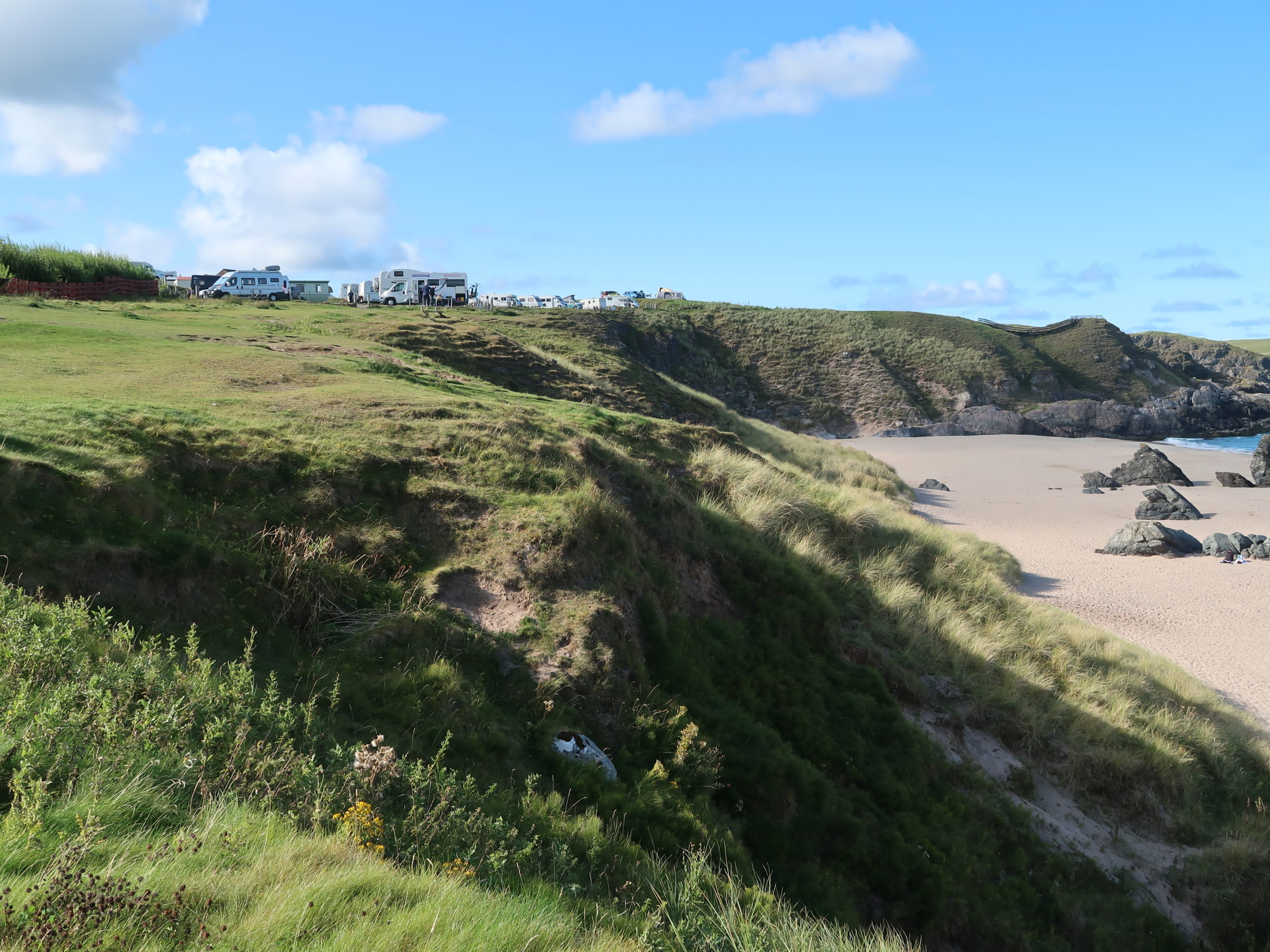 The campsite itself has an onsite bar and restaurant, including a huge range of incredible Scotch whisky, as well as over 50 pitches with electric hookups available. There is a shower and a toilet block that are both well kept and very clean, and there is also a campers kitchen for those staying in tents.
The main attraction at the Sango Sands Oasis, however, is the surrounding countryside, with spectacular sea views, fascinating local attractions and plenty of outdoor activities to keep the family happy.
From the campsite itself, it is not uncommon to spot wild dolphins, seals and even whales passing by along the shore, while the local activities include sights such as Smoo Cave, Faraid Head, Cape Wrath and Loch Eriboll.
Further afield, for those who seek a little more adventure, there is the option to go zip-lining over the golden sands of Ceannabeine Beach with Golden Eagle Zip Lines.
Located just a 10-minute drive from the campsite, this zip-line activity involves jumping from a 37m high ledge and reaching speeds of up to 40mph. Definitely one for the adrenaline junkies out there!
Isle of Rum Camping
Village Campsite, Isle of Rum by Kathi from Watch Me See
The Isle of Rum is a perfect island escape for outdoor enthusiasts who want to get away from the typical tourist spots. Located just south of the famous Isle of Skye, Rum is a hidden gem on the Scottish west coast. There are few attractions, but endless natural beauty.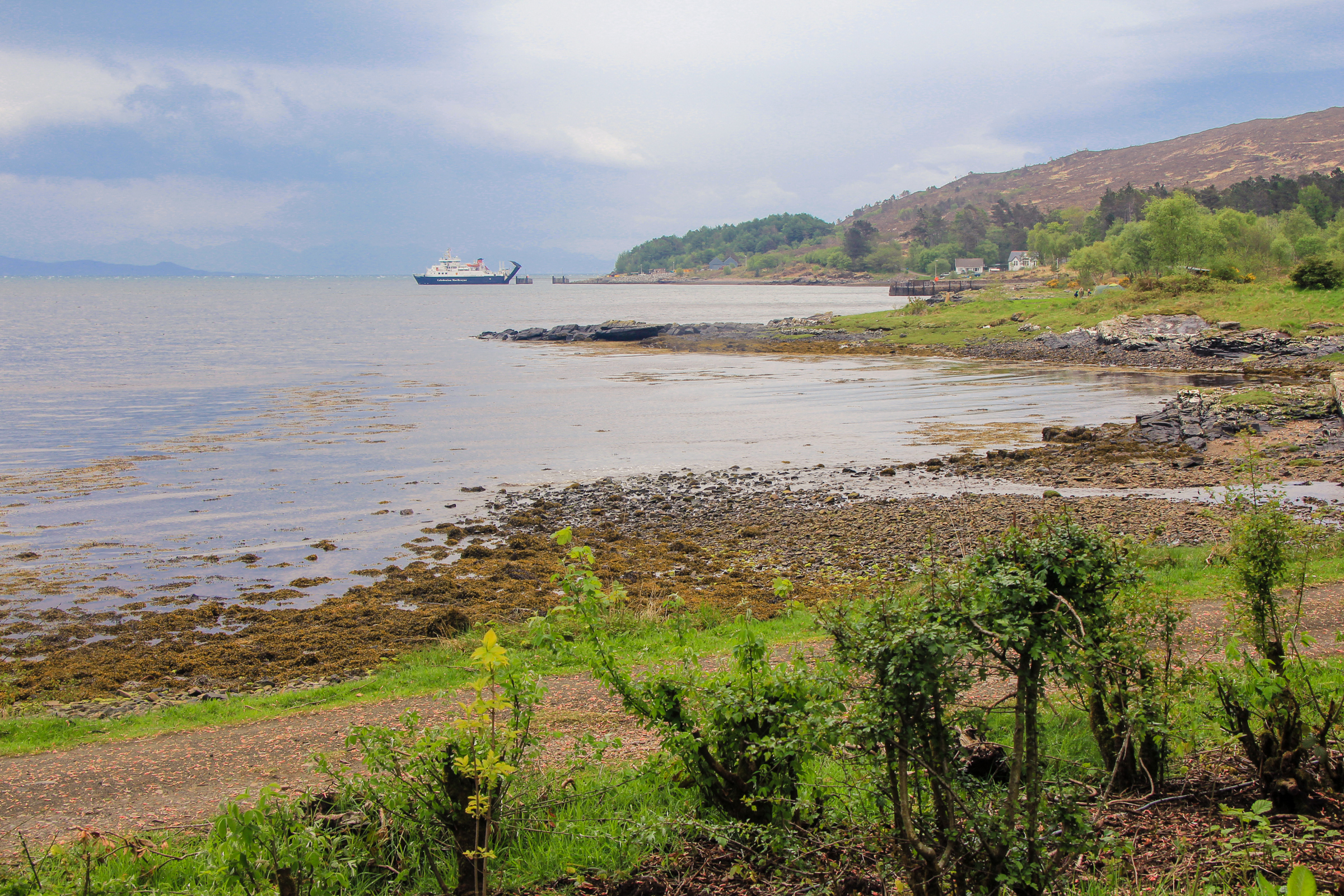 Most people visit Rum to enjoy the great outdoors. Hiking trails lead up the tallest peaks of the Rum Cuillin mountains or across the island from Kinloch village to Harris and Kilmory Bay.
Mountain bikes are available for hire from Rum Crafts (one of two craft shops on the island) and experienced kayakers will love exploring the coastline from the water (no hires available).
Not looking for adventure? Visit Kinloch Castle for a guided tour to see the impressive Edwardian interior or make your way to the Otter hide and keep your eyes peeled for local wildlife.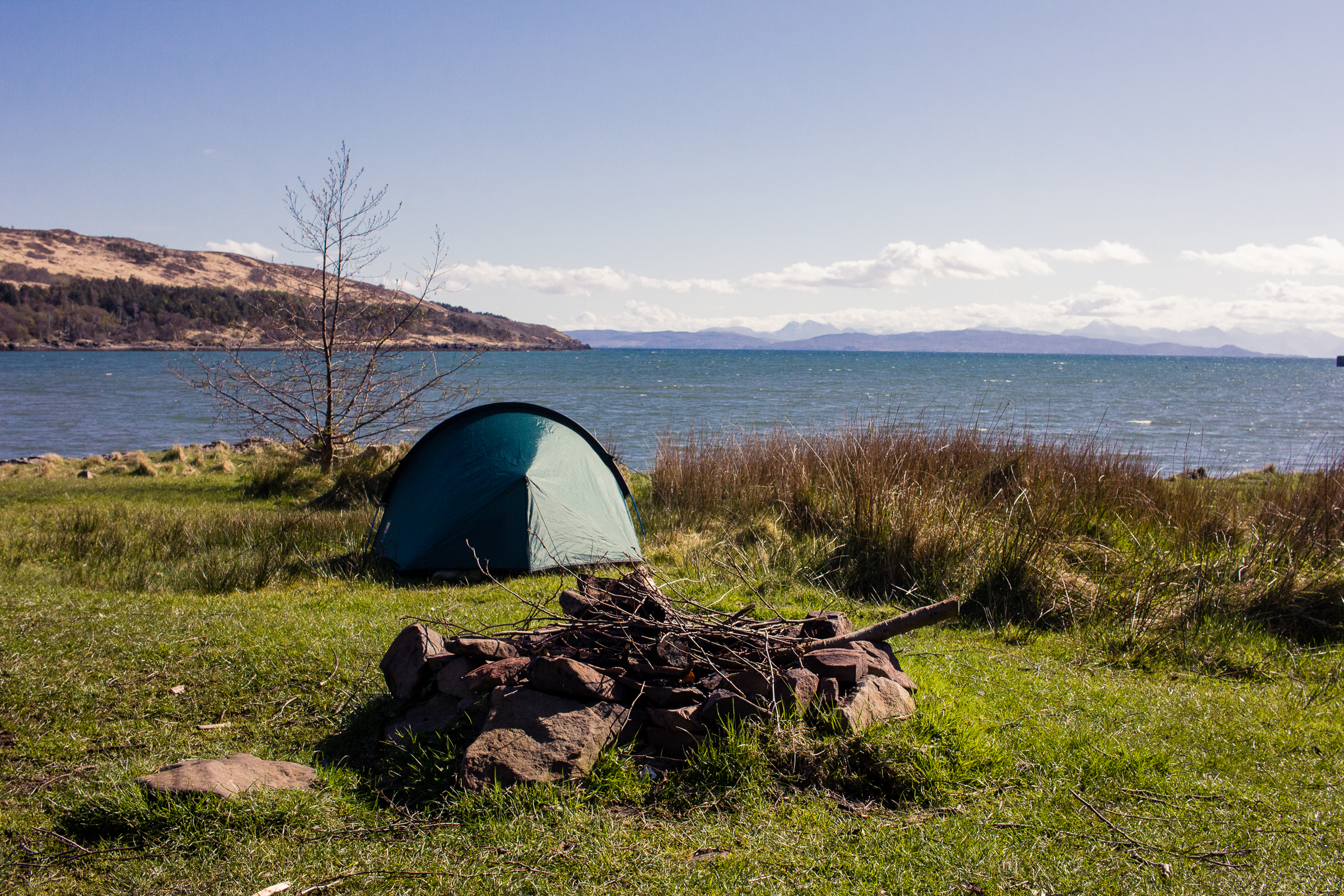 The village campsite which is run by the Isle of Rum Community Trust lies right by the shore of Loch Scresort (with uninterrupted sea views) and is just a 15-minute walk to either the ferry port or the village facilities in either direction.
Good to know: Visitors cannot bring their cars to the island, so prepare to walk the short distance from the ferry port to the campsite or bring bikes. No need to book ahead, but please pay online for the use of the campsite. The price includes use of the showers and toilets. There is a tiny, but well-stocked village shop on Rum, but opening times may vary.