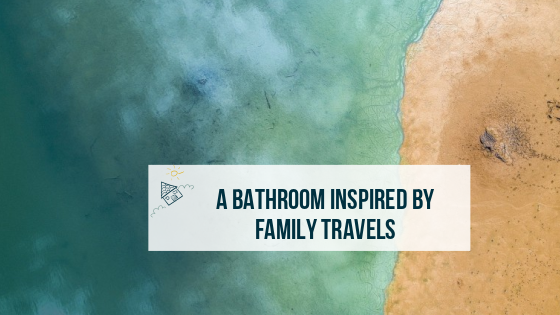 A Bathroom Inspired by Family Travels
With the weather being a little too cold for beach days and this unpredictable windy spell, we are currently updating parts of the house, next on the agenda is the bathroom.
Last year we had two new sink units installed and a very large corner bath (amazing but it takes SO long to fill !) but so far I haven't got around to decorating and adding those all important accessories.
The theme we are thinking of going for is the beach, the fact that we live so close and all our favourite family memories seem to happen at beaches around the world. So it seems fitting that this would be our choice!
I love the colour blue, so I am thinking lots of different tones and textures in different shades of blue, with beach and seashore accessories to complement the décor.
I am quite lucky that our shower is situated at the other end of the bathroom from the area that we have already had fitted, so I am able to continue with the new decoration, without having to wait for the new shower, which is also very high on the list of jobs to complete, although this will definitely be being fitted by a professional, I don't like the idea of a flooded bathroom or collapsed ceiling, both of which I have witnessed when DIY enthusiasts decide to attempt the installations themselves! (mentioning no names, dad!)
I am always torn on flooring for a bathroom, I love the thought of a nice thick carpet to sink your toes into in the middle of the night when using the bathroom, but I also detest wet, soggy footprints traipsing across the bathroom when the boys forget to dry their legs before they walk around the room! Lino is practical, but oh so cold! At present we haver a mix of carpet and some wood flooring outside of the shower, so that may work for the new décor too.
One must have for me is a large heated towel rail, our last winter holiday cottage had a giant one and it was so lovely to wrap yourself in a huge fluffy warm towel in the colder weather, not to mention it will be handy for encouraging the teens to hang up their towels after they have used them!
I am not big on ornaments around the house, but I am very fond of shells, so maybe a few large, pretty shells dotted around the bathroom may be permitted.
Our bathroom has windows positioned at either end of the room, which currently have vertical blinds, I would choose to keep that style but change them to a more nautical theme, and maybe a couple of beach scene pictures.
And to finish off some brand new fluffy towels, probably in blue, which will give me an excuse to go thorough the airing cupboard and dispose of all the ones that we really should have said goodbye to a long time ago!
If, like me you are looking for glam yet budget-friendly bathroom design ideas? Visit Harrogate Bathrooms and get your fix, you won't be disappointed.
Have you updated your bathroom lately, did you choose a theme ?
this is a collaborative post