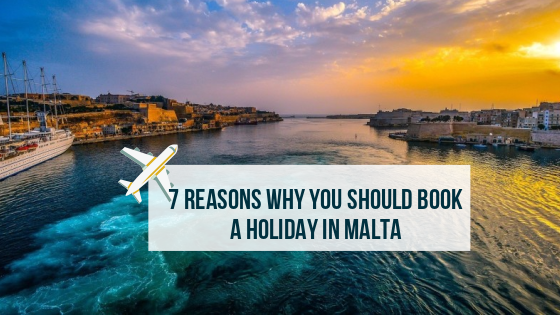 7 reasons why you should book a holiday in Malta
This island, located in the Mediterranean Sea is a highly popular tourist destination and it packs a lot of amazing adventures waiting to surprise you. There are incredible landscapes, ancient buildings that pack a lot of history and culture of the island and lovely beaches. You will also get to meet really lovely people and sample some of the best cuisines on earth. This article looks into some of the most popular activities that you might want to look into when you visit Malta. They might just give you a reason to book a holiday and hop on a flight to Malta.
7 Reasons Why a Holiday To Malta is essential
1. Great weather all year round
The climatic conditions around the island make this country a great place to visit. The weather is accommodating all year long with an average temperature at about 20°C. The hottest recordings usually hit about 27°C in July through August. The beautiful hot and dry weather conditions can be attributed to the proximity this island is to the hot North African coast. This is one of the most attractive things about this country.
2. Visit Amazing temples and enjoy unique architecture
There are numerous temples and other unique architectural building in the country. You will get to learn a lot about the country's rich history, dating back to the colonial times when the country was colonised by the British. The Mnajdra temple is one of the famous temples in the country and it is a protected UNESCO heritage site. There will be a lot to see and learn here.
3. Enjoy amazing food here
The island has a lot of amazing food to offer and you will notice that there is a lot of influence from the Sicilian cuisines here. Enjoy fish and marine life in plenty. If you are looking for a bit more indulgence, you can always go for some rabbit meat and risotto. There are many affordable restaurants all over the island and the locals are pretty inviting.
4. Enjoy a great night and party life
Maybe it's because of the weather that draws tourists to the spot in droves, or maybe it is because of the welcoming nature of the locals that makes this place a party hotspot. There are numerous jazz festivals throughout the year. The Maltese people know how to party and they do it all year round. The summer season is obviously one of the popular times of the year to enjoy a wild party on this island.
5. Enjoy great culture and welcoming folks
The Maltese people are very accommodating to strangers and most go out of their way to make you feel welcome and comfortable while you are there. The official languages of the island are Maltese and English, which makes it very easy to communicate. Almost everyone can understand and speak the English language. The 160-year-old colonisation by the British may have had something to do with this. The restaurants also accept euros as a means of payment, making it easier to move and shop around.
6. Visit great museums and other attractions
There are very many museums on the island and each one of them contains a rich history of the island and the greater Europe. The grandmaster's palace is one of the most popular ones. It is mainly used for government functions so if you are looking to visit, make sure you book in advance to enjoy a guided tour. Other important attractions you can visit include St. John's Cathedral, Church of Our lady of Victories, The Inquisitor's palace and many others.
7. Great location for sporting activities
The sporting enthusiasts will have a great time here. The terrain of the island is perfect for a lot of outdoor activities. These include hiking, mountain biking, rock climbing and para gliding. There are many amazing cliffs around and great trails you can enjoy in the island.
If Malta is not to your liking, how about Budapest or Argentina