Why build an above ground pool? The reason is that it is easy to do so, and this will give you and your family respite from the sweltering summer without costing you a fortune. Whilst you want to beat the heat, you don't want the costly means of acquiring an in-ground pool or going to public resorts.
With an above ground pool, you don't have to compete with other people to access public swimming pools. Public pools are crowded during summer and you're going to want all the space and privacy you can get when it is hot outside.
An above-ground pool is then a wise alternative. Here are some important pointers on how to get your above ground pool ready for the summer.
1. Make sure it is made of durable materials
A good above ground pool has galvanised steel walls. Although made of steel, the walls are covered with multiple-layered resin, which is a heavy-duty plastic. This protective coating makes the pool highly resistant to corrosion. So, you don't have to worry about your pool getting rusted. An excellent model of an above ground swimming pool comes with durable strength side walls (triple). It has three separate layers of heavy-duty PVC and polyester. It's a highly-recommended product given its impressive features.
2. Find one that is easy to assemble and manage
At the end of summer, you can easily disassemble and put it away unless it is especially designed for permanent installation. You can even offer it for rent because of its portability. For those who do not have permanent dwellings, you can also move to another location with your pool.
3. Don't worry about digging in your yard
If your home has been erected long before you want to install an in-ground pool, you may have to dig up the earth in your yard which can compromise underground lines including cesspools, septic tanks, tree roots, wells, piping, and underground exhumes.
You don't need to go through all these hassles and think about how much money it's going to cost you. Having an above ground pool would spare you from all these troubles. You just have to think about three factors: space availability, accessibility, and obstacles. Thus, you will be exerting less effort. Make sure you place it three feet away from other installations.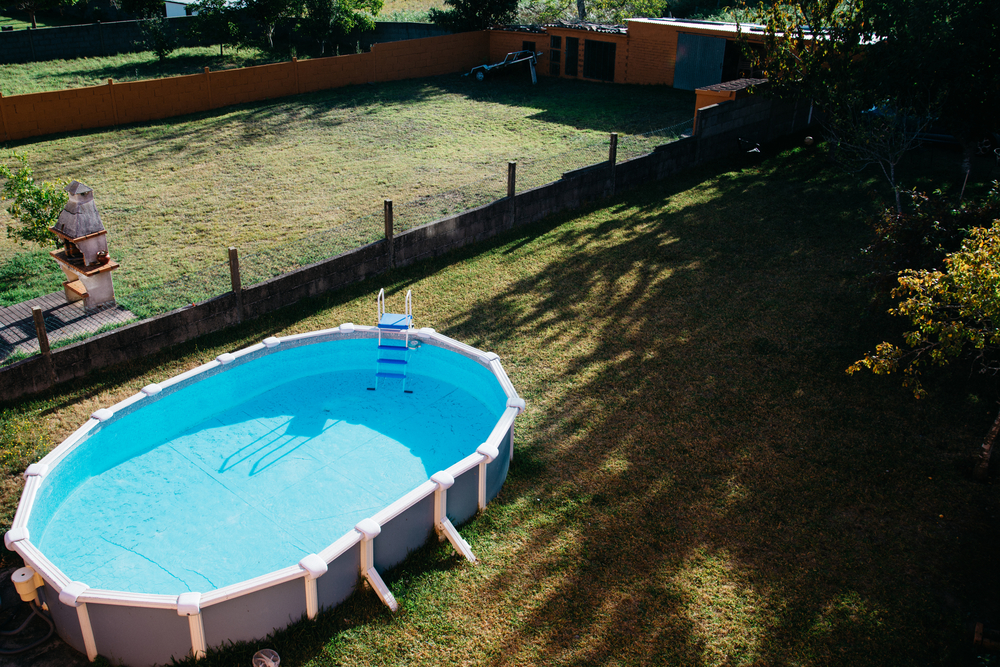 4. Check out your size preference
The best way to determine your size preference for an above ground pool is by checking out the space availability, accessibility, and obstacles in your backyard. Make sure there are no obstacles three feet into the ground.
This piece of advice is concerning an above ground pool's buttress―a support beam that makes the above ground pool stable. It is a fixture attached to the above ground pool and is designed to peg into the surface of the ground.
5. Consider installation and safety
Above ground swimming pools are well-considered for elevation and ground levelling. Exacting scientific measures are vital because above ground pool makers always consider the immense weight of water being placed in such a way as to tamp back down (that is, being above ground); hence, it is designed for safety vis-a-vis enjoyment.
6. Keep your pool sanitised
In crowded public pools during summer, you may get a bit squeamish. With your own above ground pool, you can feel confident that it is clean from germs and debris. However, you have to make sure it is water-balanced, sanitised, water-clarified, shock-treated, pumped and filtered, vacuumed, brushed, and skimmed.
Pool water balancing uses water-testing kits for alkalinity, pH level, calcium, and chlorine. Sanitising uses the most common sanitiser, chlorine, whilst shock treatment uses concentrated chlorine treatments. The Internet offers do-it-yourself guides on these procedures.
7. Go with a built-in filter pump
In general, you need to be protected from the elements in your swimming pool, as they may cause infection and allergy. An in-ground pool requires a lot of these troubles: filtering, skimming, chemical feeding (sanitising with chlorine, bromine, etc.) and other measures against water contaminants such as insects, sweat, cosmetics, leaves, microorganisms, bacteria, and algae, as well as natural elements such as calcium, some metals, and nitrogen.
Filtering water in an above ground pool is not as exhausting. This is because an above ground pool is not prone to mineral build-up and corrosion. Hence, it does not require as much cleaning, bleaching, and filtering. An ideal above ground pool comes with a filter pump with replacement cartridges. Cleaning the pool is therefore not a big burden.
From these pointers, you can bet that above ground pools are scientific, innovative, and enjoyable. based on their structural aspects—from walls, frames, rails, tracks, caps, plates, boots, liners, and skimmers to the pump and filter system.
OutbaxCamping offers above ground pool models that are attuned to the best standards. Visit http://outbaxcamping.com.au and splash your way into the summer fun of having your own above ground pool.