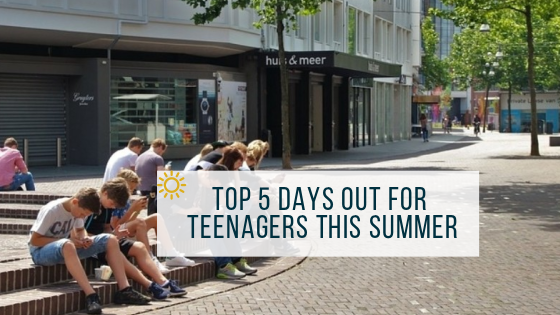 Top Five Days Out For Teenagers this Summer
This week Lochlan has finished college and Xene is back home from university, next year Neva will also have finished her gcses, so that means a very long summer lies ahead for all of them, already I have had the line "I'm bored!" so here are a few suggestions to keep the teenagers entertained during the summer, as all the schools haven't broken up yet, hopefully the places won't be too busy!
A Theme Park
All of my children love going to Theme Parks and the great thing is they are dotted all over the country and they cater for anyone and everyone, from fast, thrilling rides that take you upside down through to gentle boat trips that tell a story and are suitable for little people. As its just the teenagers, chances are its all about the speed!
Day At The Beach
Depending on the personality of your teens, some enjoy lazing on a beach topping up their tan, others would prefer to be in the sea, riding out on a wave or taking a jet ski for a spin, whatever their interests are, the beach can provide hours of entertainment for very little money (something teenagers always seem to be in short supply of!) and there is no limit to the amount of people that can join them.
An Adventure Day
If they are looking for something different, maybe they might consider a driving experience or a Motorcycle Track Day, which is particularly good if your teen is not yet driving and they are unsure if they are wanting to learn, this may give them the push they need (i'm looking at you Xene and Lochlan!)
A Day Hunting Pokemon
It would appear Pokemon Go is making a resurgence with teenagers! Today three of Lochlan's friends came to collect him and they went off for an afternoon of Pokemon collecting as the system has updated and they NEED to catch them all!
Pretend to Be Tarzan
Throughout the UK there are various high ropes courses or zip wire adventures, so if your teen is feeling particularly brave and wants an adrenaline rush, check out your local area for something to challenge them, unless of course they are scared of heights, in which case these should be avoided at all costs!
This is a collaborative post