Take That Musical The Band Review
Last night Neva and I went along to the opening night of Take That Musical The Band at Norwich Theatre Royal. I had watched some of the episodes of Let It Shine and was very curious to see how this new musical would be portrayed, if you have not bought tickets yet and you are considering it, do not hesitate, BUY THEM NOW!
Written by award winning writer Tim Firth, THE BAND is a beautiful story for anyone who grew up with a boyband and how those songs became the soundtrack to their lives.
For five 16 year old girls in 1993, the band is everything. 25 years on, we are reunited with this group of friends as they try once more to fulfil their dream of meeting their heroes.
From the moment we walked into the theatre foyer we were met with a very loud and excitable audience, it sorted of reminded me of the Take That Reunion tour in 2006!
Throughout the show the audience were clapping and singing along to all their favourite Take That Songs, but if you were thinking that you were going to see an entire show about Gary, Mark, Jason, Howard and Robbie, you are so completely wrong!
This story was one of the most beautifully emotional journeys that I have been on for a very long time! If you have tickets booked to see The Band please ensure you have a packet of tissues with you, as they will definitely be needed.
The early 90s was filled with watching Tops of The Pops and trying to record the Top 40 from the radio onto cassettes, the nearest we got to online games was the Ceefax Quiz, which was all captured in this heart warming story of friendship, tragedy and memories.
Every person involved in the show worked in harmony to provide an outstanding performance that will stay with both Neva and I for a long time, in fact she is already talking about watching it again!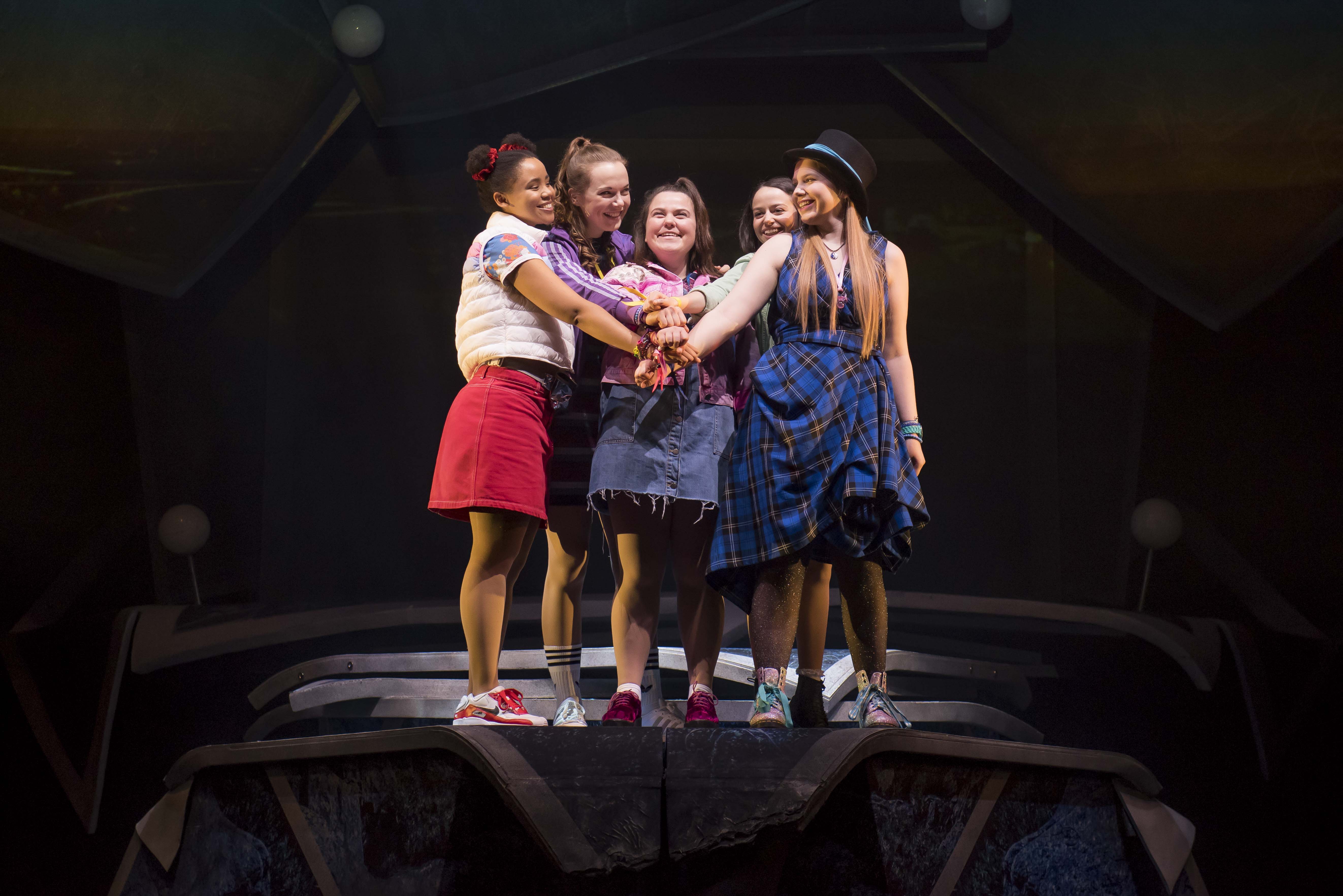 The five to five boys AJ, Curtis, Sario and Nick were wonderful, with beautiful voices and kick ass dance moves, last night Yazdan was unwell so his part was played by Harry Fabulous Brown who slotted right in with the other lads.
I know they will be stars in their own rights, but this show wasn't just about them, they were a major part of it, but the five amazing girls who played the young versions of Rachel (Faye Christall) Heather (Katy Clayton) Debbie (Rachelle Diedericks) Claire (Sarah Kate Howarth) and Zoe (Lauren Jacobs) transported me right back to my school days and the close knit friendship groups we had, promising we will be there for each other, no matter what happens. I could see my different school friends in each of the five.
When disaster strikes, it really did leave me an emotional wreck, as I remembered my own brush with death as a teen. The choices and decisions that were made after that fateful evening shaped the futures of those girls, and then we fast forward 25 years to see what has happened to them all.
The second half focuses on the grown up Rachel (Rachel Lumberg), Claire (Alison Fitzjohn), Heather (Emily Joyce) and Zoe (Jayne McKenna), when Rachel wins a trip to Prague to see The Band at their 25 year reunion concert, they were all hilarious and vulnerable at the same time. I can honestly say I have not laughed and cried so much in the same evening, EVER!
The sets are spectacular and the way The Boys appear casually as the flight attendants, from School Lockers or in Dressing Tables is pure brilliance. The added bonus is obviously the awesome music from Take That, with 18 of THE most prolific songs from my teens to my adult life, it makes for a not to be missed show that every female over the age of 10 (due to some strong language) should definitely go and see.
Not forgetting Every Dave (Andy Williams) and Rachel's partner Jeff (Martin Miller) who both gave the show an extra something.
The Band is at Norwich theatre Royal until Saturday 17th February, but it is still very near the beginning of the Tour, so there are lots more places to catch The Band.