Savelletri di Fasano is the ideal getaway spot everyone dreams of. Once you arrive in this quaint little village, you never want to leave. The village of Savelletri di Fasano is officially part of the town of Fasano, so you actually get the tranquillity of a tiny village with the larger town of Fasano nearby.
The village is around 7km from the main town and sits on the coast of the Puglia (which is the region located on the 'heel' of Italy). As Savelletri di Fasano sits on the coast, there are plenty of beach and sea activities to indulge in for those who are interested in staying active on their vacation, but the otherwise slow pace of life makes this the ideal place for anyone looking to decompress, relax, and eat good Italian food. Below is a list of stops and activities to enjoy in the charming village of Savelletri di Fasano.
Where to Stay:
Borgo Egnazia Hotel – As with any vacation, the first (and arguably most important) step is deciding where to stay. In Savelletri, it is hard to beat the Borgo Egnazia Hotel. This luxurious, five-star hotel welcomes and caters to couples and families alike and provides a multitude of activities for both. The Borgo Egnazia offers a relaxing day at the spa, competitive fun on the 18-hole golf course and tennis courts, the entertainment of horseback riding, as well as a peaceful day at the hotel's private beach.
As avid traveler Ryan Gibbs noted in, "Borga Egnazia was the perfect way to end our tour of Italy in 2019. Unparalleled service, two beach clubs and a wonderful four-bed villa with pool and fresh pastry and fruit for breakfast every morning!"
Moreover, the Borgo Eganzia is not a five-star hotel that feels like an eyesore and is separate from the native landscape, culture, and people. The Borgo Egnazia truly celebrates Puglia's beautiful landscapes and the local architecture.
Built in the style of an Apulian Palace, it offers traditional whitewashed architecture and a beautiful coastline view of Italy's Puglia region. The hotel's spa is even built in the style of a Roman bathhouse and the Michelin starred restaurant, pizzeria, and other on-site restaurants offer an array of local Italian dishes to choose from.
Where to Relax:
Located to the north of Savelletri, the Lido Ottagono beach facility is the perfect spot to relax, take in the view and the magic of Savelletri. Lido Ottagono is a rocky beach sprawling with umbrellas and chairs but a sandy beach is also an option. There is a bridge that connects the rocky and sandy areas, making it easy to navigate the two sections.
Additionally, there is a snack bar, showers, water games and gear. As Savelletri places a heavy cultural emphasis on community, Lido Ottagona offers more organized activity and a higher quality of beach concessions for tourists and locals to enjoy than many are used to.
As far as specifics, the layout of the umbrellas and chairs are arranged spaciously so you will not feel like you are competing for space like on many crowded beaches. There are also large beds available. Parking is free and the friendly staff ensure the area is kept clean. The concession stand offers fresh grilled pulpo, seasonal fruits, and more.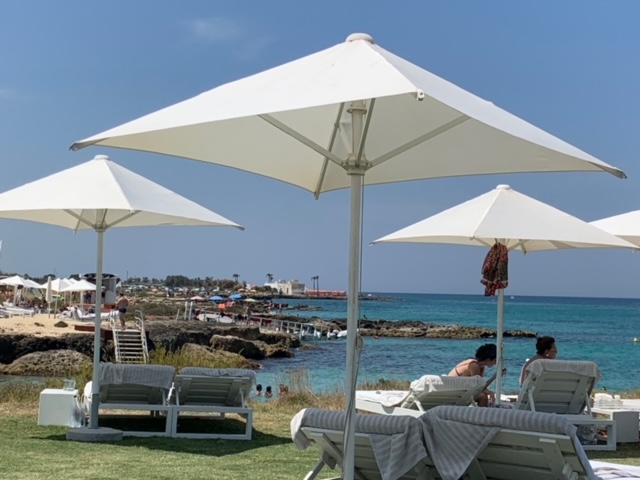 Where to Explore:
For those who still want some adventure on their getaway, it is recommended to head just outside of Savelletri and explore underground Italy with a visit to Grotte di Castellana: a cave system of inestimable importance for the world's natural heritage. These limestone caves, discovered in 1938, are the country's longest natural subterranean network of passages.
The caves are home to a huge variety of native wildlife, and contain an extraordinary range of underground landscapes, with some of the world's most astonishing geological formations. Inside these caverns, natural light streams in through the ceiling, filtering down into the darkness and creating curious visual effects, which change according to the time of day and the season, giving visitors the most serene yet exciting view you can experience.
If you make the effort to go see these caves, make sure you don't miss the "White Cave," which has been deemed the "most shining cave," as the whiteness of its alabaster walls reflect and gleam light like no other place on Earth.
Guided tours are available daily, but be sure to check the official website for exact times before you make the trip as this is a popular activity for tourists.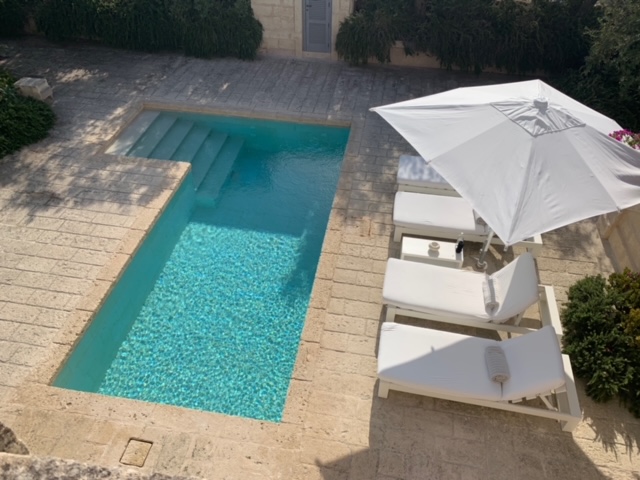 Where to Eat:
Food is an essential part of any vacation but especially when you are going to Italy, the mecca of delicious comfort food. As Savelltri was once a small fishing village, the seafood of the area is unmatched. The locals have perfected the art of combining traditional ingredients with innovative flavors.
The FronteMare le Terrazze is a beautiful restaurant that deserves to be enjoyed by everyone who visits Savelletri. First off, the view from the restaurant is breathtaking. Perched on a hill, the simple, white architecture of the building enhances the incredible view of the sea. As the name implies, the FronteMare le Terrazze has an incredible terrace so customers can enjoy their surroundings and take in the beauty of Savelletri.
The restaurant is not only popular for its scenery, it also is the perfect restaurant for seafood lovers. The FronteMare le Terrazze offers raw or cooked fish dishes along with traditional Italian dishes as an alternative option.
Although Savelletri is a small beach town, it has no shortage of great places to eat with a view. Another highly recommended spot is La Fresca. Their patio-style restaurant overlooking beautiful hotel grounds and a pool along with classic Mediterranean food will make any trip to Italy feel complete.
Some of their favorite dishes include the Senatore Cappelli wheat spaghetti with tomatoes from Torre Guaceto and Orecchiette in traditional mixed ragu with podolico caciocavallo cheese. Their mouthwatering dishes are served in generous portions and La Fresca offers a variety of wines to pair well with any meal. La Fresca's beautiful ambiance and extraordinary flavors have been deemed the highlight of many tourists' trips.
Savelletri di Fasano embodies the relaxation of a beach getaway while also offering exciting and new things to try. However you choose to enjoy your stay, whether it's with an evening stroll along the idyllic harbor, trying all the village's restaurants have to offer, or exploring the area's water activities, you will always cherish your time in charming Savelletri.
Author Bio: Jason Ortiz is a travel and entertainment blogger at Chowder Bucket. He has traveled to over 20 countries and hopes to someday visit every country on Earth. In his travels, he often gets involved with local humanitarian efforts and is a believer in open borders making for a better world.