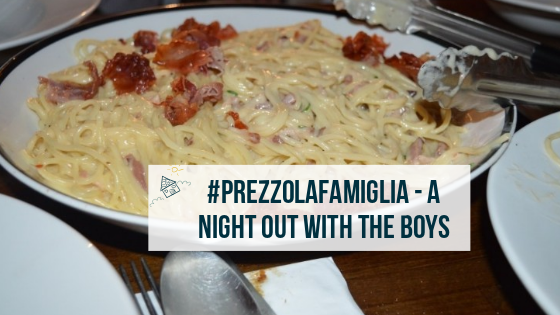 #PrezzoLaFamiglia – A Night Out with The Boys
Both Kaide and Lochlan are huge pasta fans, so when we were invited along to our local Prezzo to check out the La Famiglia Sharing Bowl I knew exactly which two children would accompany Asa and I!
The La Famiglia is a choice of four different types of pasta, which are Penne Arrabiata, Spaghetti Bolognese, Spaghetti Carbonara or Penne Alla Rusticana. We took a family vote and the Carbonara was the winning dish, it is served in a HUGE bowl placed in the middle of the table, and all four of us tucked in!
Mealtimes in our house with nine people is pretty hectic (and loud!) so going out for a meal with these two, meant Asa and I could spend some quality time with them both and actually hold a conversation about their day at school and college without being interrupted every 30 seconds (yes I have timed it!)
They also both love their food, and I wouldn't like to bet who would eat the most as Kaide quite often has seconds for school dinner, he is still quite small for his age, although the amount he eats, he should be 6 feet tall, but looking back through photos and the school height and weight, he is exactly the same size as Lochlan was at his age, so we will just wait for the giant growth spurt between now and 17, which will be another one overtaking mum!
Both boys have a similar sense of humour and when they are not quoting some video game, they are dabbing, so it was a very enjoyable meal.
I had the task of dishing up the Carbonara at the beginning, but all three of the males agreed that my portions were too dainty, so they took over, quite quickly!
I am not that much of a big eater, so it's no surprise I had the smallest portion, and even with a starter of two large garlic breads, they managed to finish the entire bowl between the three of them, with enough room for ice-cream too.
It is a really lovely idea, to have one giant bowl to share and it certainly made a great family evening (even if it was only half the family this time).
I would certainly recommend Prezzo La Famiglia Sharing Bowl, and I think it represents great value for money, both boys actually commented the following evening that they weren't very hungry when it came to dinner time, because of the meal the night before!
This post is an entry for the BritMums #PrezzoLaFamiglia Challenge, sponsored by Prezzo."