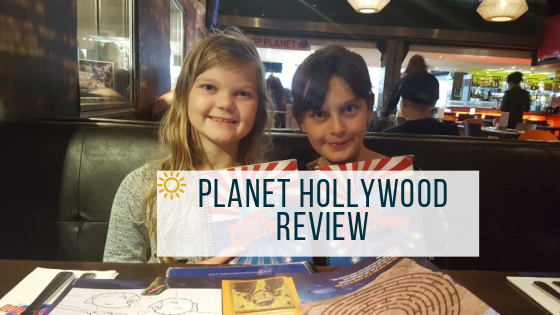 Planet Hollywood – SO Much Food!
Planet Hollywood Review
I'm sure you have already seen that Eowyn and I had a trip to London, with Boo Roo and Tigger Too, which included a visit to Ripley's Believe It or Not! and a quick stop off at Buckingham Palace for the Changing of the Guards as Eowyn has never seen it before, and that's something I really need to consider for my children, when I lived in Essex as a child, lots of our school trips were to London, but my children rarely visit.
Whilst in London we were asked if we would like to review Planet Hollywood, of course we would! Although, after the amount of food we were presented with, I may not be able to eat for a week!
Planet Hollywood was easy to locate and within a short distance from many of the theatres, so a great place to grab a bite before you watch a show.
We had been told that a 'must have' whilst visiting Planet Hollywood was one of the milkshakes, so as soon as we were seated and the lovely waitress asked the girls what they would like to drink, they immediately went with the milkshake option, both were suitably impressed.
We deliberated over the menu for quite a long time as there was so much choice, for starters I had the Popcorn Shrimps with Sweet Chilli dip, Eowyn chose a Garlic Pizza Bread, Boo had Cheese and Bacon Potato Skins and Roo chose Nachos with Cheese. They were a meal by themselves! Unfortunately for me Eowyn LOVED my popcorn shrimps, so I ended up with half the amount…
It appears my daughter was not the only ones who stole my shrimp, check out Yorkshire Wonders post about their meal!
For the main course, I went with a Traditional Burger with all the trimmings (except cheese) and fries, Eowyn loves Ribs so she had them, along with fries and a pot of coleslaw, when they arrived they were nearly as big as Eowyn! Roo went for a Ham Pizza, and sensible Boo chose a Caesar salad, although, in fairness, the portion was just as big!!
The girls did amazingly well, and ate nearly everything, they even had room to share a Choc Brownie dessert, however, Boo and I were beat and couldn't manage anything else!
The entire restaurant is decorated in Hollywood movie memorabilia, our table was next to the communicator Captain Kirk used in Star Trek, the table next to us had a full size Stripe from the Gremlins, on the first floor there were several handprints from movie stars, and clothing worn in iconic films, the decor itself is worth a look even if you can't manage the time to have a full meal, maybe grab a snack and enjoy the entire movie feel of the place.
The restaurant is very family friendly and great for large groups, whilst we were there, an entire school group arrived, and the television screens located throughout the place showed up every few minutes with welcome messages for everyone, including ours…
Being such a well known brand, I expected the prices to be very high, however I was pleasantly surprised by the pricing, as it was no different to a local restaurant, however the portions were noticeably bigger!
If this sounds like the kind of place you would like to visit with the family, then here are the details:
Location : 57-60 Haymarket, London, SW1Y 4QX
Opening Hours: 11am – 10.45pm, you are recommended to book online
I would definitely recommend Planet Hollywood for a family meal, there are lots of discount deals available, especially when you combine a visit with some London Attractions, so its worth checking before you book.