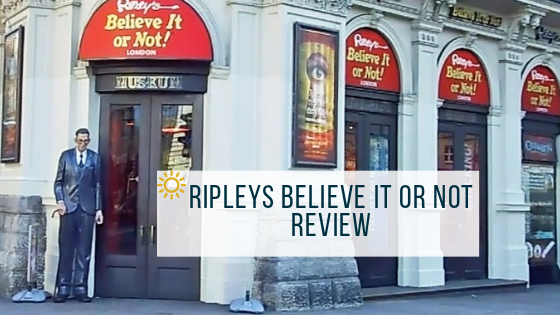 Ripley's Believe It or Not!
Ripley's Believe It or Not! Review
Eowyn and I travelled into London with Boo and Roo from Boo Roo and Tigger Too for a lovely girly day.
I had seen lots of information about Ripley's Believe It or Not! but we have never visited, so we were very excited to see what was hiding behind those doors.
I'm not quite sure what I was expecting, but Ripley's had all sorts of weird and wonderful things to look at, and the girls also told me it was very educational!
As you can see Eowyn had a great time, pulling funny faces when she found something AMAZING! Ripleys is set over 5 floors, so when you arrive, you pay at the front desk, walk past a couple of bizarre statues and take the lift to the fifth floor, where your journey begins. Without giving away too much, you will encounter lots of strange objects, from portraits made out of sweets, to the world's tallest man and the heaviest.
We all LOVED the Mirror Maze, although I can see why we had to wear gloves, as all those mucky fingerprints on the mirrors would take forever to clean!
The Willard Wigan sculptures are amazing, imagine being able to make a sculpture that will fit onto the top of a pinhead, Eowyn isn't quite that small!
They thought the Black Hole was SO cool, and happily went through it, although they were not in the majority, as we witnessed many boys in front of us not daring to go through…
The attraction from start to finish is approx 2 hours long, it wasn't too crowded and you are able to see each exhibit clearly, there are plenty of photo opportunities, although i'm not quite sure exactly what facial expression Eowyn is trying to do here!
As you can see there are some great artefacts, that are fascinating, (if somewhat strange) the sharks jaw in the background was ginormous and when you read how big the teeth were, it did send shivers down my spine!
Although Ripleys is not particularly big, there are so many different things to look at and to read about, it felt like we had got lots from the visit.
Ripleys is open every day from 10am to midnight (last entry is 10.30pm), it is open 365 days per year, so if you are taking a trip to London this year, definitely consider a stop off at Ripley's Believe it or Not! Ripley's is situated very close to Piccadilly Circus Underground Station which has services from both the Piccadilly Line and the Bakerloo Line. Upon arrival at the tube station, use Exit 4 to Coventry Street. It is super easy to find!
Prices vary, and you can tailor the ticket package to your individual requirements, check out Ripley's website for the latest deals and offers.
But don't just take our word for it, check out what Pink Oddy and giving up normal thought of it too.
Disclosure: We were given free entry to Ripley's, all thoughts and opinions are our own.