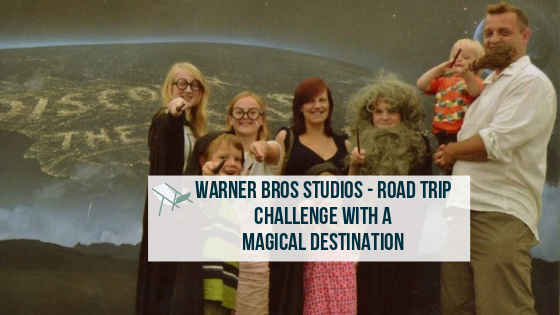 Warner Bros Studios – Road Trip Challenge with a Magical Destination
We took the children on a magical trip to Warner Bros Studios.
We were very excited when we were asked to join in the Money Supermarket Road Trip Challenge they gave us £50 of petrol to put in the tank and we had the choice where to take the family.
With six children to entertain and the middle of the Summer Holidays we thought long and hard, we would like to take them on quite a long journey, but they needed a worthy reward when we got there, and being nearly 8 months pregnant, I needed a reward too!
Saturday morning we set off bright and early, taking the scenic route, past rivers, fields, cows, getting out of East Anglia is a trek in itself!!
We headed off onto the busy roads and eventually got to junction 20 of the M25, which is when they saw the first brown sign to our destination!!
Can you guess where we went yet ?
That's right we travelled to Leavesden in Hertfordshire to visit the amazing Harry Potter Warner Bros Studios Tour. All six children are massive fans of the books and films, and they have been asking us to go forever.
It was an amazing day and all the children enjoyed themselves immensely,  Even at two years old Tyrus had a great time running around the Film memorabilia  and absolutely loved the creature workshop. For a big family it is great to go to an attraction which all the children loved, and there are things to see and do that cater for all of their ages.
I would recommend any Harry Potter fan to go for a visit to Warner Bros Studios, it really was fantastic. Each season they had a new dimension or add in a never seen before display, Christmas time the entire place is covered in snow, they also offer special events such as a romantic meal on Valentines Day.
With the ever changing displays and sets it means that it never gets old, and you can visit multiple times and discover something new.
Tips for a Great Warner Bros Studios day out
Talk to the attendants, they all know absolutely everything about Harry Potter 

Butter Beer is a must (even at £2.95) , but 4 out the 6 children loved it, the other two hated it
When you go in stay at the back of the group in the great hall, everyone moves to the far end, giving you loads of space at the entrance for Photos.
The gift shop is amazing, the quality of goods is exceptional, but as a result prices are very high, so be prepared. If we had brought an absolutely lovely  Scottish wool Hogwarts school jumper for each child it would have cost us £480!
Only the first 20 minutes(Cinema and Great Hall)  is guided after this you are free to move around at your own pace.
Totally pram friendly, which is useful with a little one.
Top Tips from the Children
I liked the butter beer drink, but the topping was too creamy (Eowyn age 4)
The life size moving model of Buckbeak the hippogriff was amazing (Neva age 10)
When you go there there is awesome broomstick rides (Kaide age 7)
Potter (Tyrus aged 2) not so much a tip, but he has learnt to say potter!
For more information on the Harry Potter Studios
http://www.wbstudiotour.co.uk/