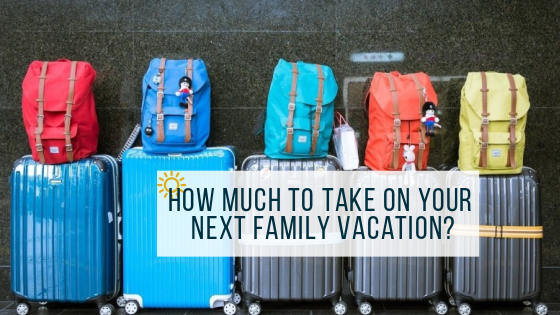 How Much To Take on Your Next Family Vacation?
Around 80% of British people take holidays because they wish to spend more time with family and if one thing is true, it is that travelling with children sometimes necessitates a bit more packing than usual. Families opting to stay at family cottages and self-catering apartments, for instance, often have to bring food and equipment to keep their items in optimal condition. If you are giving an all-inclusive resort break a miss this year and are hiring a home or apartment, stock up on these essentials and feel the comfort of home while taking in the beauty of all-new surrounds.
Power Strips for Easy Charging
Rented accommodation can sometimes offer surprisingly scanty power outlets, meaning that members of the family may find themselves competing for those available for charging mobile devices, tablets, and the like. Bring a strip with at least six outlets if you have a large family. If you are travelling abroad, check on whether or not an electrical adaptor may be necessary, since you may not be able to live without your own hair dryer, straightener, and other 'necessary luxuries'.
Bedding and Pillows
Pillows that support the natural curve of the neck are key for quality sleep yet you may not be lucky enough to find one in your rented accommodation. If you are flying to your destination or travelling by car for various hours, consider bringing your favourite blanket and pillows. Many people find it difficult to adapt to their first nights sleeping in a new place. You may not be able to bring your favourite mattress but your favourite pillow will certainly help you avoid neck pain and stiffness.
Mini Fridges for Countryside Stays
Country homes are a popular choice for rentals, owing to their proximity to relaxing natural settings, lakes, rivers, and seas. Kitchens in these homes can be smaller than those back home, and if you are travelling in warmer months, you will most likely need to keep food and drinks cool throughout the day. If you have the space in your family van, a mini fridge is a practical ally to bring along. It will enable you to stock items that don't fit in the main fridge, especially water, juices and soft drinks – star players at family barbecues and outdoor picnics.
Non-Perishables
Whether you are travelling by train, plane, or car to your destination, delays may ensue and that may force you and your family to spend more than you bargained for on food at airports and stations. Remember to pack power bars, fruit and nuts, and other filling, fibre-rich foods that will save you from crying kids. If you have the time, pack some sandwiches and more filling fare in case your journey runs into mealtimes.
Useful Gadgets
Think well about what you like to do at home and realise you will probably want to do the same on your holiday. If you tend to sleep later than your companions, for instance, bringing a battery operated reading light will ensure you can still read or complete puzzles as you do back home. If you like catching TV series or shows, bring your tablet and a good set of headphones, so you can enjoy these in peace while everyone else enjoys a little shut-eye.
From a trusted sweater to socks, smartphones to electronic adaptors, bringing a piece of home can make your holiday a lot more comfortable and practical than going barehanded. To ensure you don't miss out on a crucial item, check out online checklists and take the time to reflect on the gadgets and little luxuries you cannot live without. Finally, ask your family members about their preferences and observe their habits to ensure everyone has everything they need for a relaxed, fun, and satisfying break.
Now working as a researcher and writer, Jackie started her career in the tourism industry, and was lucky to travel the world but after becoming a mom refocused and decided to spend more time with her family. When she's not writing, she volunteers for a number of local mental health charities and also has a menagerie of pets to look after