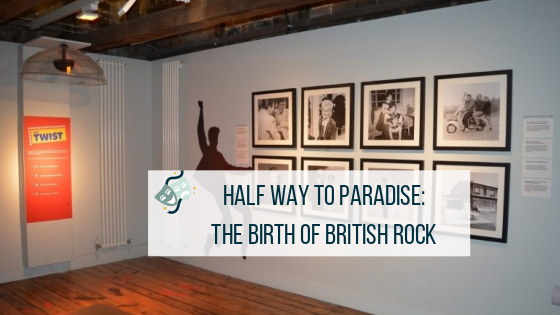 Half Way to Paradise: The Birth of British Rock
Introducing Half Way to Paradise: The Birth of British Rock Exhibition
We have an amazing local attraction called the Time and Tide Museum, the children have visited on many occasions with school, as they have different exhibitions taking place, so there's always something different to see. I have to admit, I have never been before, so when we were invited to take a look at their latest exhibition Halfway to Paradise: The Birth of British Rock, I was very keen to take a look, particularly as I had grown up with a music mad dad, that used to be in his own band!
Half Way to Paradise transports you back to the dawn of British rock 'n' roll – when four Liverpool lads were stopping hearts and the vinyl record reigned supreme. Showbiz photographer Harry Hammond captured definitive images of leading British musicians and many visiting American artists. This exhibition from the V&A showcases his photographs.
Alongside these iconic images you can see memorabilia from the collections of people who were part of the Yarmouth rock scene in its heyday.

Whether you discovered rock 'n' roll as Elvis emerged on the airwaves or you're a latter-day listener, Half Way to Paradise will provide a unique insight into an era that changed music forever. And there's nowhere better
to see the exhibition than the seaside town which played host to the biggest musical acts of the day.
Halfway to Paradise is a touring exhibition organised by the Victoria & Albert Museum, London.
The Half Way To Paradise exhibition is located within the top gallery, with various buttons to press for some Rock N Roll music, or maybe dress the children up as a rockstar, it's a lovely exhibition that will grab your attention, regardless of your age. If you live in Norfolk or are planing on taking a trip, then stop in and learn about your music history!
Time & Tide Museum | Half Way to Paradise: The Birth of British Rock
Location: Time and Tide Museum of Great Yarmouth Life, Blackfriars Road, Great Yarmouth, NR30 3BX
Date: 19th March – 2nd October 2016
Times: 10.00am – 4.00pm
Price:  Included in museum admission – Adult £5.50, Conc. £5.20, Young person (4-18) £4.40 Family tickets (1 adult + children) £14.00, (2 adults + children) £18.70, Twilight ticket (1 hour before closing) £2.00