Greek Island Hopping – If you're looking for a fun-filled getaway with the family, look no further than Greece. Home to some of the world's most picturesque islands, sumptuous food, beautiful beaches, charming whitewashed villages, and friendly locals, Greece has everything you need for a holiday with your loved ones. 
To help you plan a Greek holiday of a lifetime, here are the best islands in Greece for family island-hopping.
Rhodes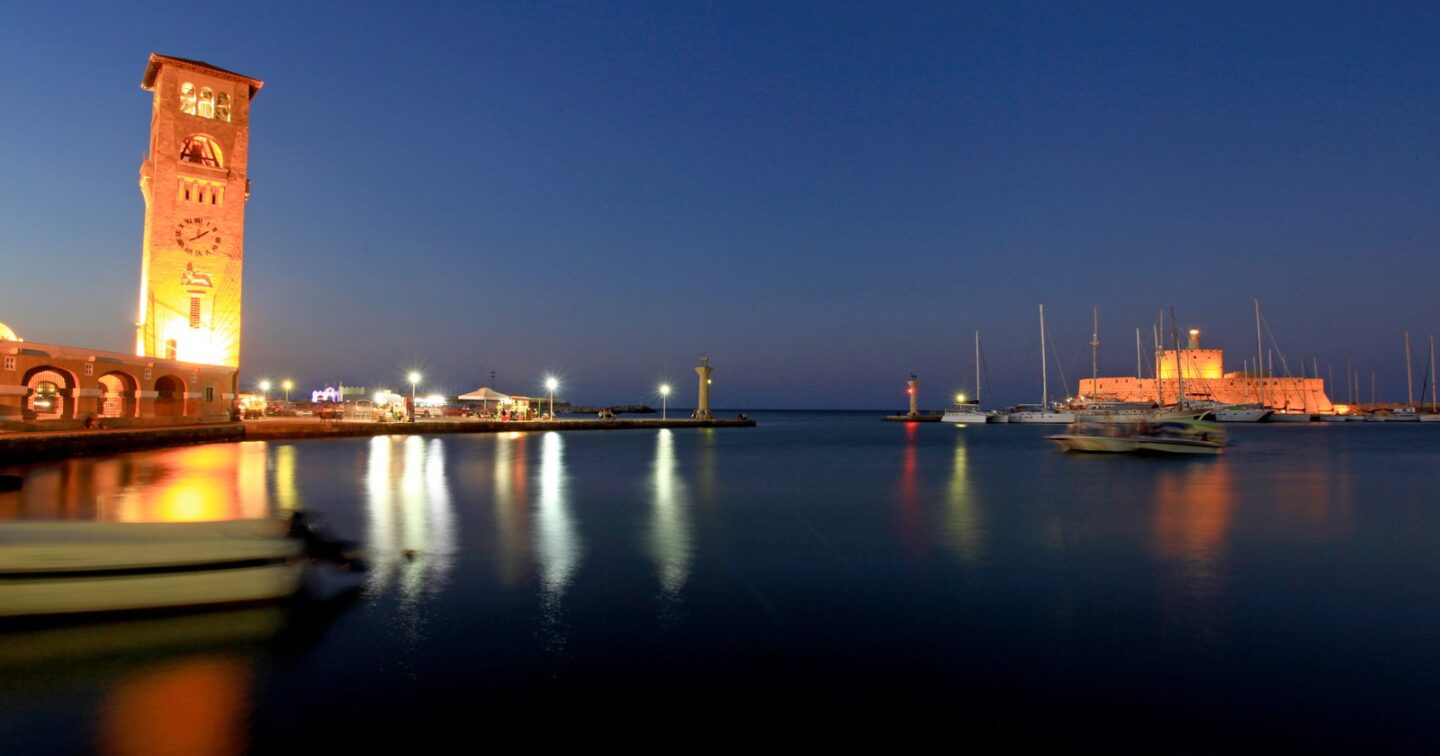 As the largest island in the Dodecanese, Rhodes offers numerous things for families looking for an unforgettable holiday in Greece.
Sandwiched by the Aegean and the Mediterranean, Rhodes boasts a warm and sunny climate, with exceptional archaeological sites, breathtaking nature, beautiful beaches, and traditional Greek villages. 
The Old Town of Rhodes is an ideal base for your holiday. Surrounded by high walls built during the time of the Knights of Rhodes, the charming medieval town is a UNESCO World Heritage Site and a fun place to stroll around with your kids.
As you wander through the lovely cobblestone streets, you'll delight in buildings featuring Ottoman influences, extraordinary churches, and fascinating historical sites like the Palace of the Grand Masters.
When strolling around Rhodes, the beach of Tsambika is an ideal stopover on the road connecting Rhodes to the lovely village of Lindos. The stunning beach features fine white sands and warm translucent waters – a perfect spot to relax and bond with your little ones.
If you have active kids, climb the 350 steps of stairs carved into the hillside, starting at the beach. When you reach the top, you'll find the Tsambika Monastery, a lovely Byzantine church with breathtaking ocean views.
Crete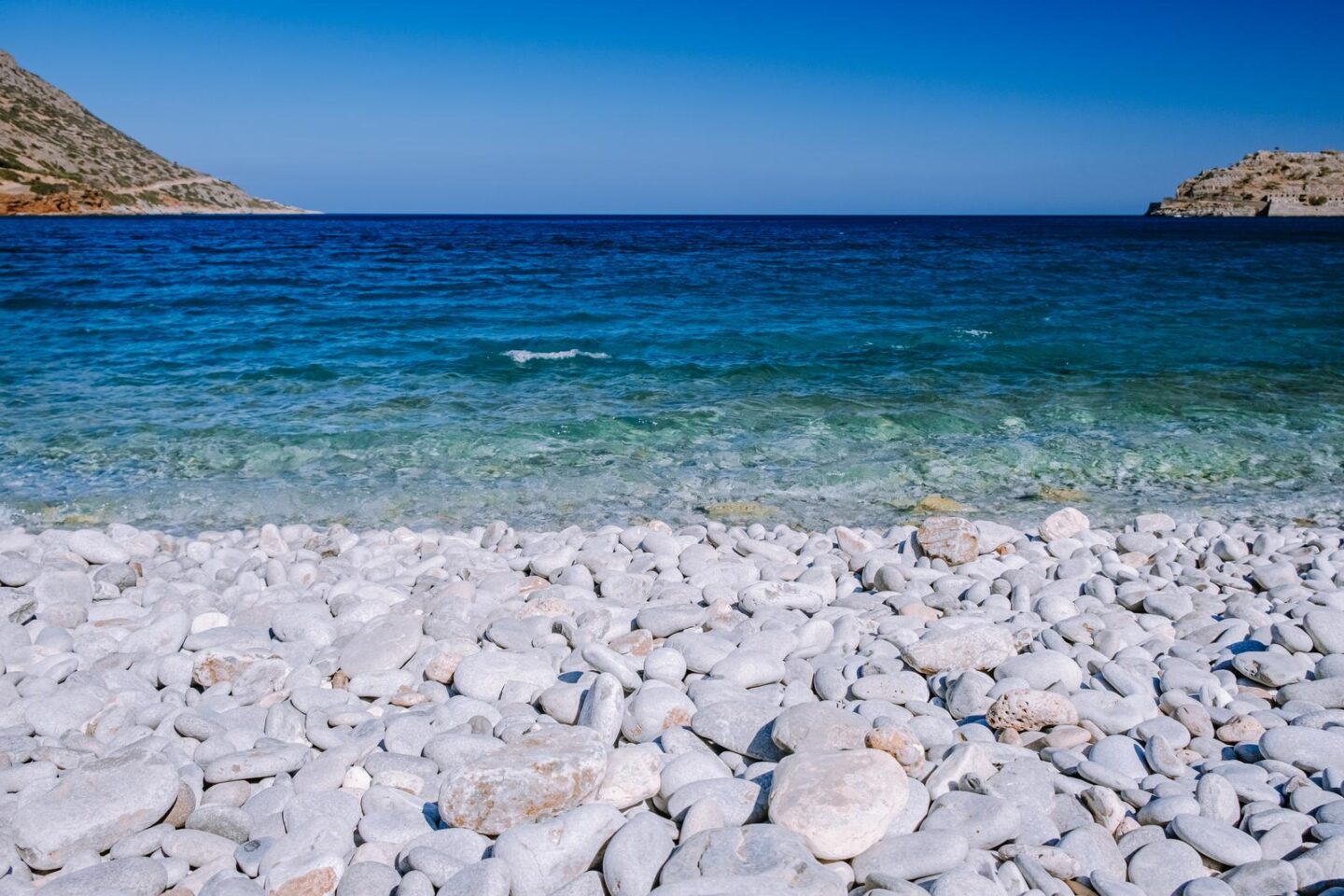 Boasting magnificent beaches, Crete is undoubtedly one of the best destinations to visit with your family in Greece. Most beaches in Crete have soft white sands and shallow shores – a safe place for your little ones to swim and play around.
In addition, Crete has numerous restaurants serving delicious and healthy food and endless attractions that are a delight to explore with your loved ones. If you're looking to get the most out of your trip to Greece, this island is sure to impress. 
The Venetian Port in the picturesque town of Chania is an ideal starting point for exploring Crete. It has plenty of cafes and cute little shops to explore. Spend the day wandering its narrow streets or take the kids on a boat ride in a glass-bottomed boat.
The Little Fun Train of Crete is another fun attraction to experience with the kids. It's an ideal way to explore Crete's beautiful rugged landscapes, charming villages, and magnificent coasts without your little ones complaining of sore legs.
The cute choo-choo train will travel towards the island's coastal areas, where you'll find beautiful fishing towns and lush olive groves.
Due to its rugged topography, Crete has several caves with historical and cultural significance. Families who love to explore should visit these beautiful caves, such as the Melidoni Cave or Sfendoni Cave. Consider taking a guided tour to learn about its history and the different stalagmite and stalactite formations.
Corfu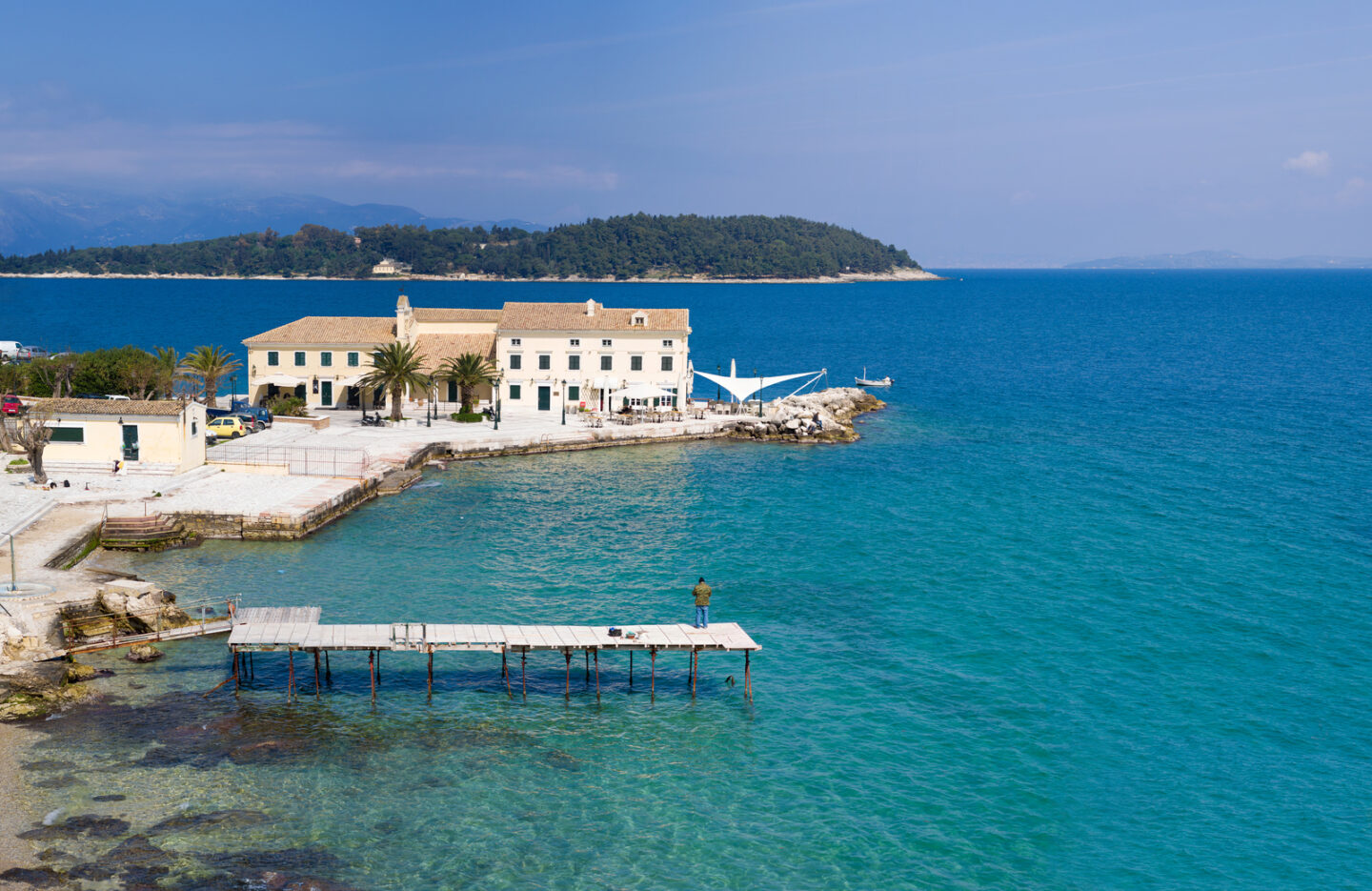 With its vast size and immense coastline, Corfu offers the perfect place to enjoy numerous activities and indulge in total relaxation with your loved ones.
Your active kids will have plenty of water sports to keep themselves busy while you lounge around at the beach, soaking up the stunning views. 
Aside from relaxing and enjoying water sports, take the time to explore the Old Town of Corfu and visit sites like the Achilleion Palace, a magnificent palace with well-appointed gardens and incredible views that will leave you and your kids in awe.
Exploring the Old Town is like stepping into a fairy-tale book with its beautiful winding streets and colourful buildings. You will also come across many picturesque squares, such as the Spianada Square, the largest in the Balkans.
Take the kids on a boat trip to Paleokastritsa, a lovely little village with a gorgeous beach, perfect for sunbathing, swimming, and soaking up the stunning atmosphere of a traditional Greek fishing village.
Check out the Benitses Village and its port, where you can spend quality time amidst its peaceful atmosphere and beautiful scenery.
Kefalonia
Kefalonia is the largest of the Ionian Islands, famous for its crystal-clear waters, stunning beaches, and charming villages.
It's an ideal destination for families looking to spend fun days at the beach with their kids while discovering natural attractions. Whether you're hoping to get out and explore or sit back and relax, booking a break in Kefalonia won't disappoint. 
The Melissani Cave is one of those attractions your curious little kids will love to explore. It's a partially collapsed underground cave, home to a stunning lake.
You can take a boat ride to explore this unique natural attraction and admire its bright blue water and the surrounding rock formations. The cave looks even more magical when the sun shines through its partially collapsed roof and into the lake.
Myrtos Beach is the most popular beach in Kefalonia and a must-visit for everyone visiting the island. The stunning, crescent-shaped beach is so beautiful that it's regardless one of the world's most picturesque beaches.
You and your kids will have a blast playing and swimming in its turquoise waters, surrounded by dramatic limestone cliffs and pristine white pebbled sands.
Santorini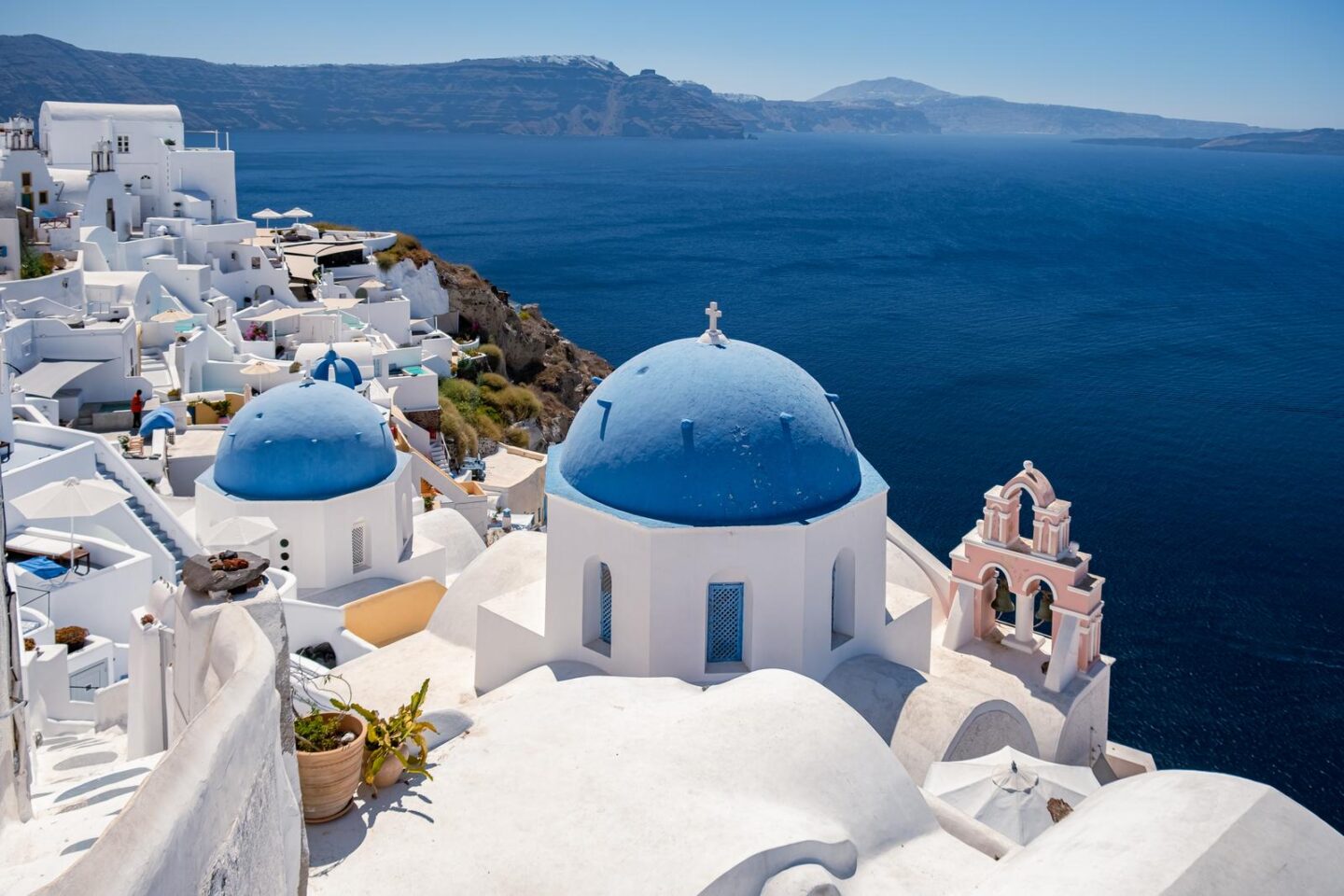 Renowned for its picturesque whitewashed villages, azure blue waters, and romantic sunsets, Santorini is one of Greece's most-visited tourist destinations.
The island lies along the Aegean Sea and has long captivated couples looking for a romantic getaway. But that doesn't mean Santorini has nothing to offer for families. In fact, it has many amazing things for adults and kids to enjoy. 
Like most Greek islands, Santorini has its share of family-friendly beaches, offering the perfect spot to bond with the kids. The best beaches are on the south and eastern coast.
Monolithos, with its spacious sandy shore and shallow water, is perfect for families with little kids. The beach has sun umbrellas, beach chairs, and even a playground. 
Santorini is famous for its beautiful whitewashed villages, such as the main town of Fira.
Take the time to stroll around the town's narrow winding streets lined with small churches with bright blue domes and whitewashed houses.