Christmas Light trails have become a very popular festive activity, throughout the UK.
But, like may other attractions, how do you attend these events when you have a dog at home that doesn't like to be left alone?
The answer is to find a Dog Friendly Christmas Light Trail that you can all go to together, so read on to find out where you can all go.
Dog Friendly Christmas Light Trails 2023 Near Me
Bedgebury Illuminated Trail
Location : Bedgebury National Pinetum and Forest, Lady Oak Lane, Goudhurst, TN17 2SJ

A magical trail with new lights for 2023 – an after-dark stroll through an iconic, illuminated tree collection
Firmly positioned as unmissable within the UK's seasonal calendar, Christmas at Bedgebury has everything you need for an unforgettable time with friends and family, including a magical glimpse of Father Christmas along the way.
Discover softly-lit doves delicately balanced on branches, reed-like neon structures, sparkling tunnels of light and the Pinetum filled with all the colours of the rainbow as you walk under Liquid Sky, just one of the new displays to see this year.
Dogs are permitted but must be kept on a short lead and under control. Please be a responsible dog owner.
Friday 17th November – Sunday 31st December 2023
Opening Dates/Times/Prices : For further information CLICK HERE
Bolesworth Enchanted Christmas Lights Trail
Location : Old Coach Road, Tattenhall, Chester, CH3 9JJ
As dusk falls the dog-friendly Christmas Lights Trail comes to life and becomes the most dazzling winter illuminations event in Cheshire and beyond.
Bolesworth is bathed in seasonal colour, the beautiful grounds lit with thousands of stunning lights and effects, projections and interactive installations creating an unforgettable seasonal experience for children and grown-ups alike.
Opening Dates/Times/Prices : For further information CLICK HERE
Chatsworth House Christmas In The Garden
Location : Bakewell DE45 1PP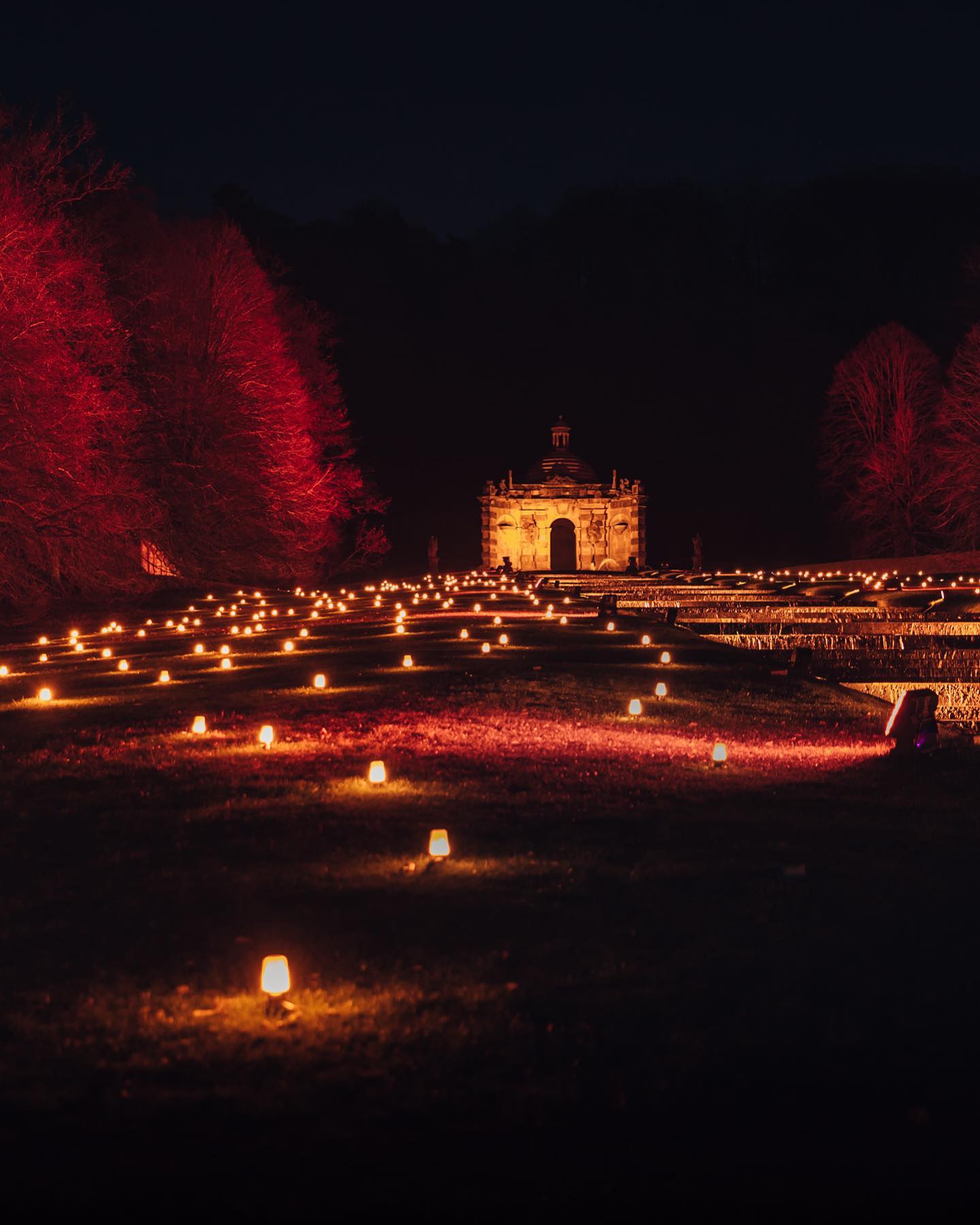 Enjoy an interactive light and sound trail around the Chatsworth Garden featuring some of its best-loved landmarks, including the historic Cascade, Rock Garden and Maze.
The light trail will culminate in a spectacular animated light show that transforms the house into a giant advent calendar with 24 Christmas scenes emerging from 24 windows on the south façade of the house, each scene has been inspired by the decorations in the house and our extensive collections of art and artefacts.
Well-behaved dogs on leads are welcome in the garden and at the Christmas market.
Opening Dates/Times/Prices : For further information CLICK HERE
Fairhaven Christmas Lights Walk
Location : School Rd, South Walsham, Norwich NR13 6DZ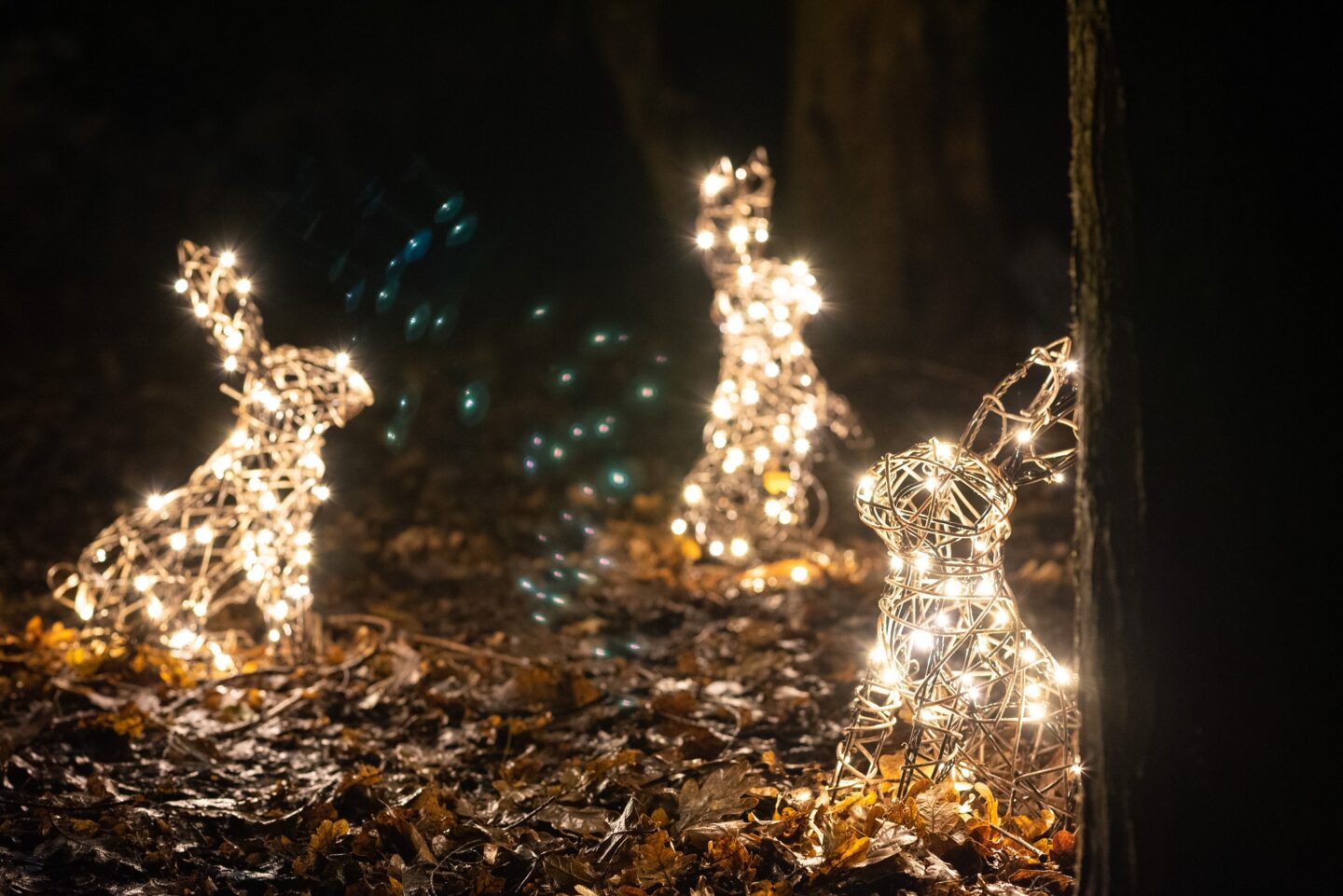 Enjoy the magic of the gardens after dark, lit up by glowing Christmas lights. Follow our lights trail around the gardens and spot the hidden twinkles through the trees.
From the Sensory garden to the crocodile walk, you´ll get the sense of Christmas come early and get that seasonal tingle of excitement.
Finish up with a warm cup of Hot Chocolate or a lovely mulled wine to sip under the Lights in the picnic area. Maybe even grab a marshmallow to toast on our fire pit. (Parental assistance required).
The lights will be on but feel free to bring a torch if you have one.
The inside of the tearoom will only be available for the toilets. Service will be from the outside window only.
Dogs welcome for free but must be kept on a short lead at all times.
Opening Dates/Times/Prices : For further information CLICK HERE
Helmingham Hall Illuminated Garden Trail
Location : Helmingham Estate, Stowmarket IP14 6EF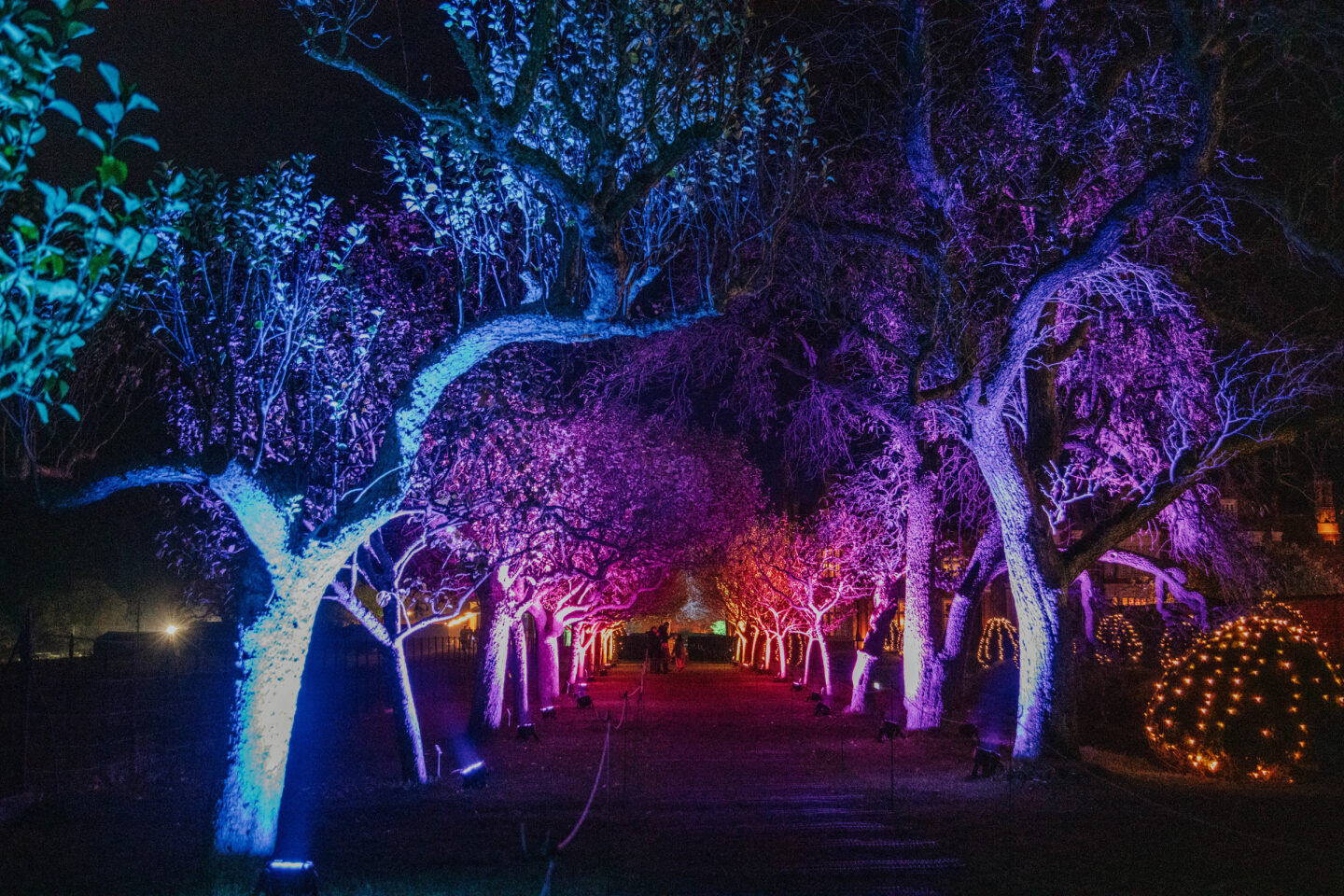 Photo Credit : Beckie Egan
Make the most of the dark winter nights by stepping into a magical world of light, colour and sound, as you explore the grounds of Helmingham Hall adorned with thousands of lights transforming the gardens into an enchanted winter wonderland.
An unmissable event to start off the festive season! Begin the trail by crossing Helmingham Hall's famous drawbridge (pulled up every night since 1510) and warming up with a complimentary mulled wine within the courtyard steeped in over 500 years of historical charm.
Continue through the gardens absorbing the magical sights and sounds, gather around the fire pits to toast marshmallows for s'mores, and end the evening browsing the Stables Shops and mini Christmas market where you will be able to find lots of wonderful gifts and festive treats!
All well-behaved dogs on leads are welcome.
The trail runs from Thursday 16th November 2023 to Sunday 17th December 2023.
Opening Dates/Times/Prices : For further information CLICK HERE
Hever Castle Christmas Light Trail
Location : Hever Rd, Hever, Edenbridge TN8 7NG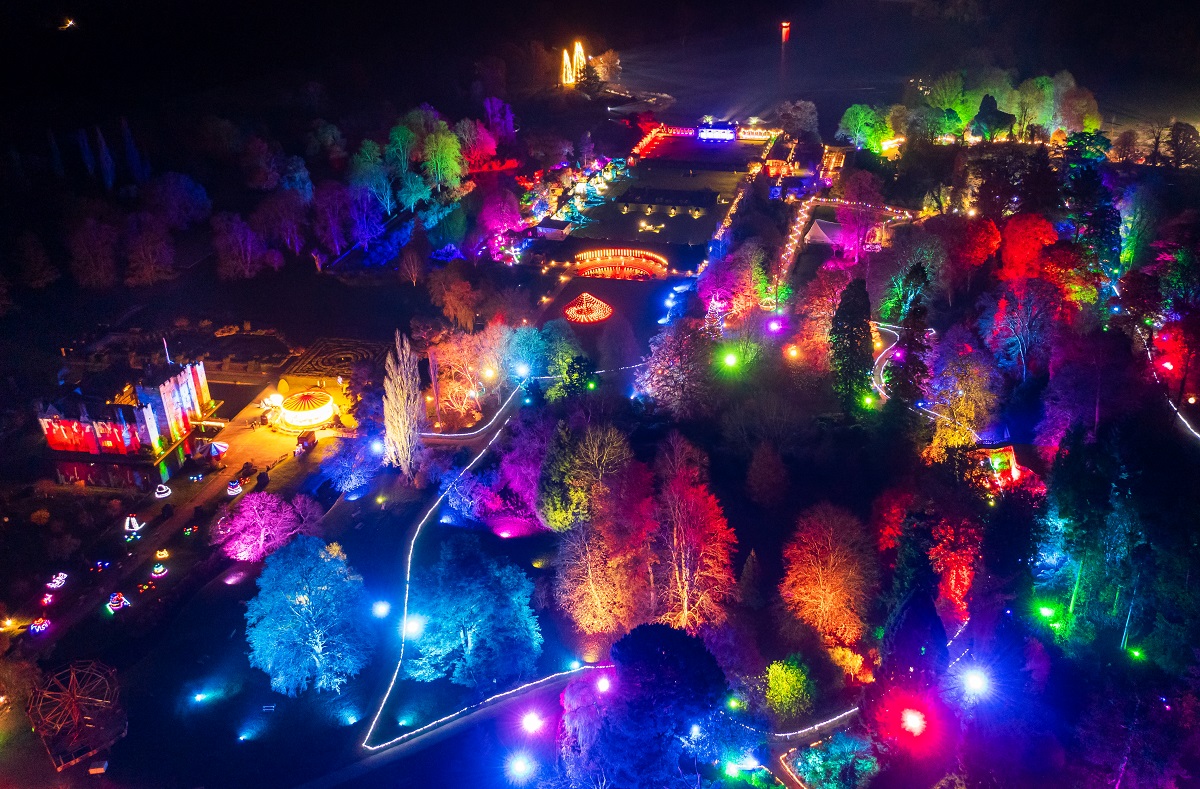 The magical Christmas Lights experience starts from 16:00 when you can wrap up warm and enjoy a walk under the stars to explore the grounds.
Witness the enchantment of the Castle, gardens and lake festooned with fabulous colours and twinkling lights, capturing the spirit of Christmas.
They welcome dogs in the grounds, both during the day and for the twilight experience, as long as they're kept on a lead at all times.
Opening Dates/Times/Prices : For further information CLICK HERE
Hylands Estate Enlightened Outdoor Light Trail
Location: Hylands Estate (Writtle Entrance off of Greenbury Way – A414), CM2 8FS – Follow signs for Hylands Park NOT Hylands House (No access to the event from the London Road Entrance)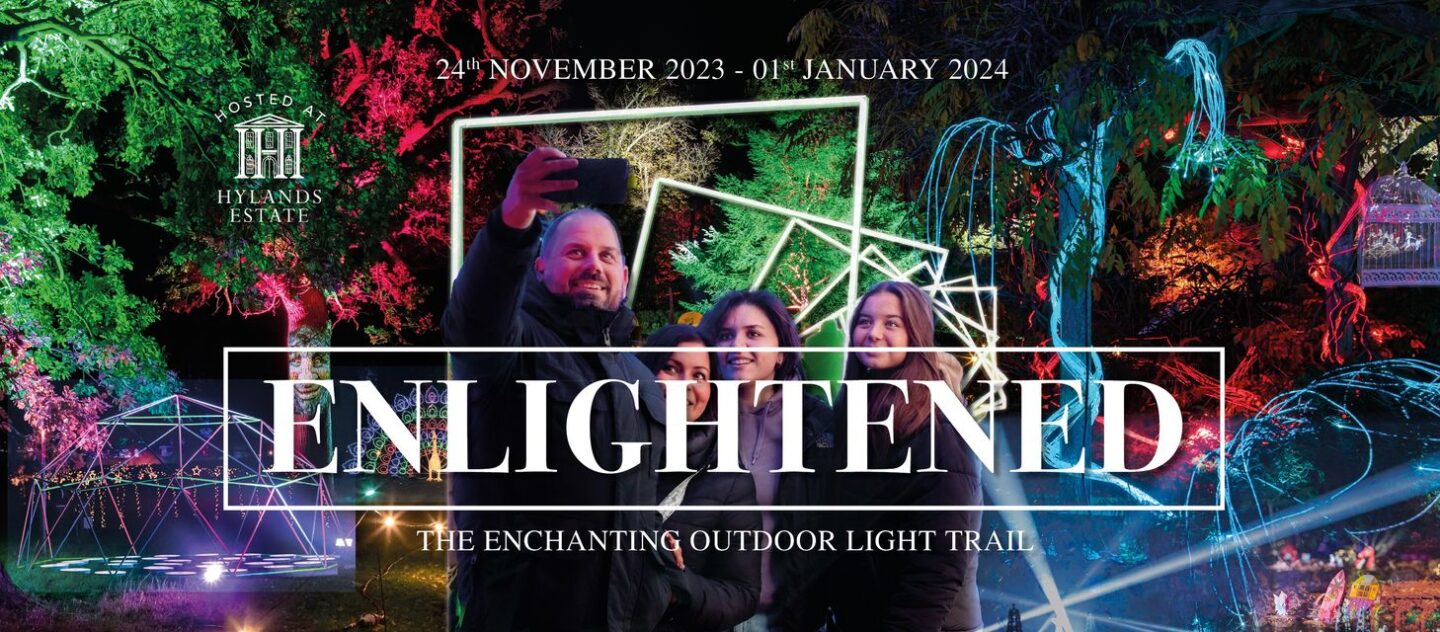 Enlightened returns to Hylands Estate with a new longer route and even more magical lighting installations for 2023.
The grounds will be transformed into a magical illuminated light trail for visitors to enjoy with all the family. Book now to see mesmerising light installations and enchanting moments along a specially crafted route for our visitors this winter.
Dogs on a lead are allowed on the Hylands Estate Trail.
The trail will be running from 24th November 2023 to 1st January 2024
Opening Dates/Times/Prices : For further information CLICK HERE
Land of Lights Dog Friendly Nights
Location : Gulliver's World Resort, Old Hall, Warrington, Cheshire, WA5 9YZ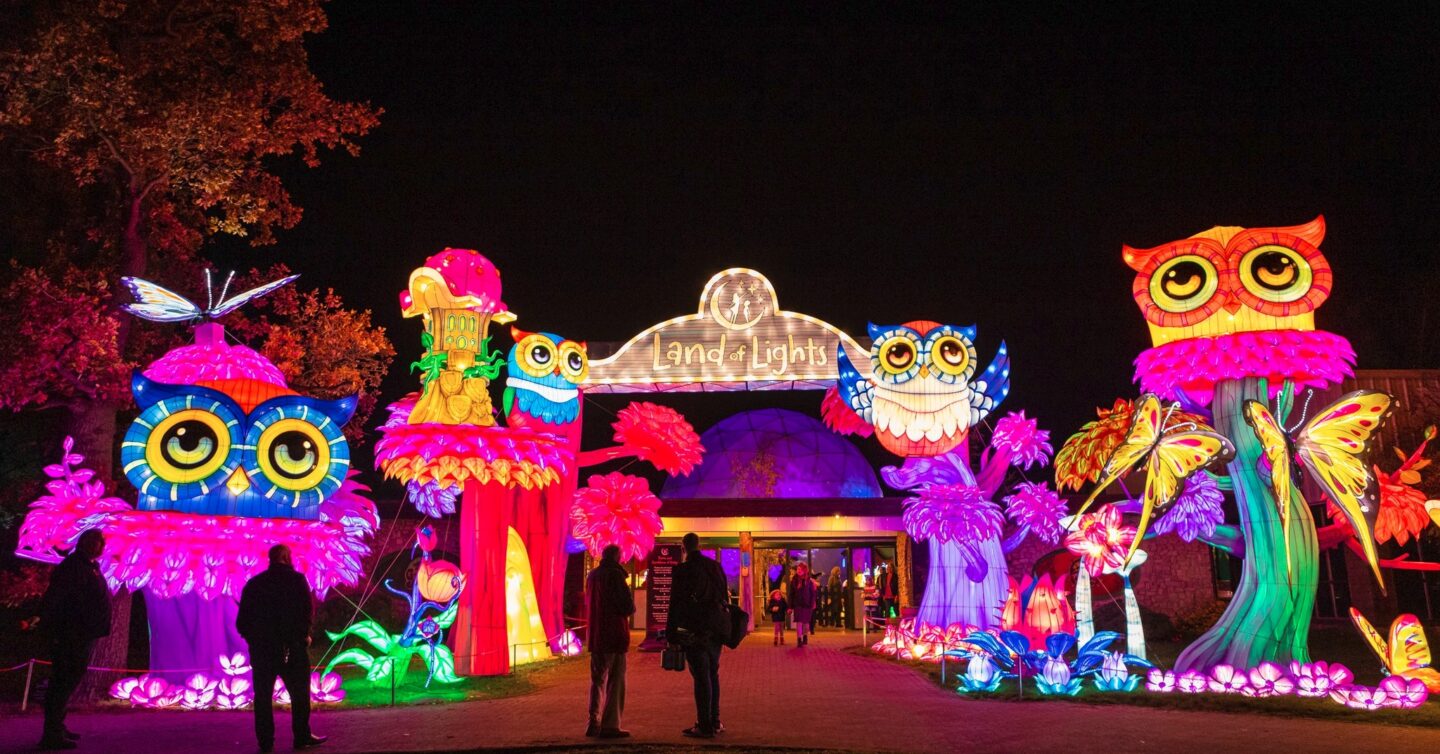 Experience the magic of the Land of Lights Lantern Festival with your furry friends! Land of Lights is thrilled to announce the special 'Dog-Friendly Nights' to make your lantern adventure even more pawsome.
There will be waste bins and water bowls throughout the trail, and we ask that dogs be kept on a short lead at all times.
On the following selected dates only, bring your beloved four-legged companions along for an enchanting evening:
Thursday 16th and 30th November, Thursday 14th and 28th December , Sunday 7th and 21st January 2024, Sunday 4th February and Sunday 18th February 2024.
Don't miss out on this unique opportunity to create lasting memories with your canine companions at Land of Lights Lantern Festival.
Opening Dates/Times/Prices : For further information CLICK HERE
Rufford Abbey Spectacle of Light
Location : Rufford Abbey Country Park, Ollerton Nottinghamshire NG22 9DF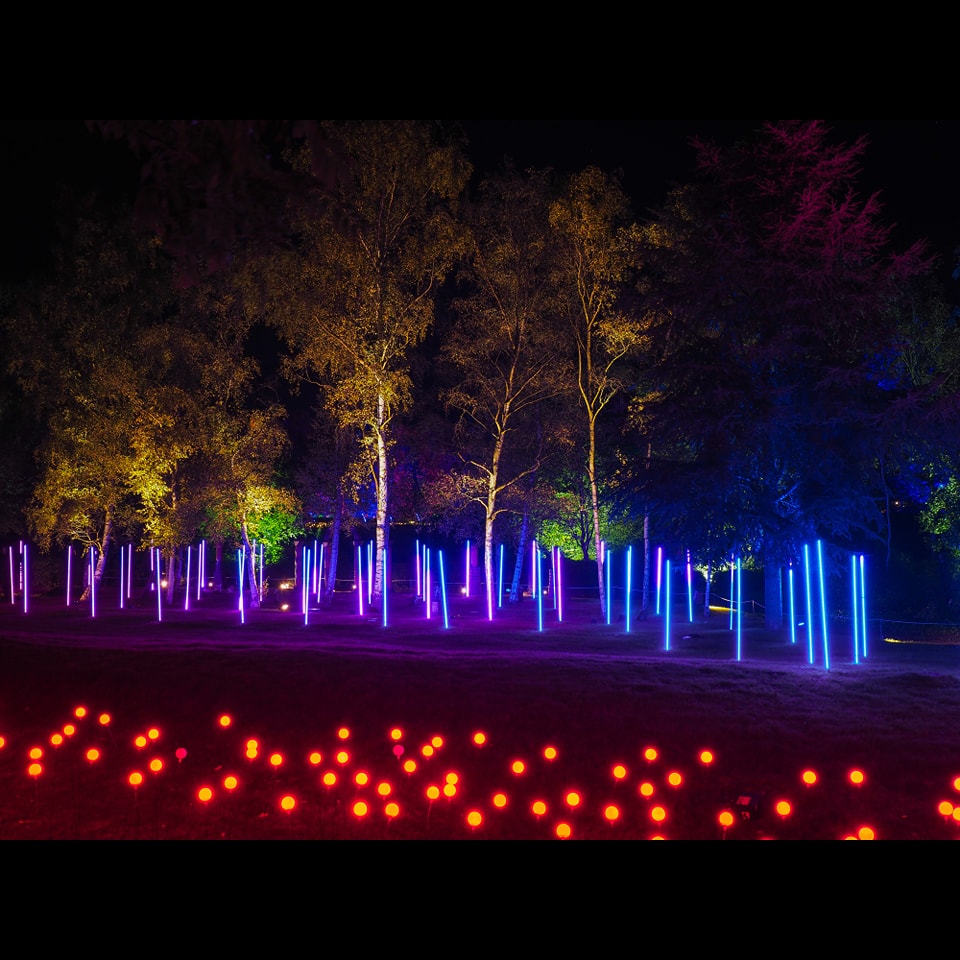 Wonderful Wizard of Oz!
Discover some of the amazing characters from the Wonderful Wizard of Oz. Follow Dorothy, the Scarecrow, the Tin Woodman and Cowardly Lion as they travel to the Emerald City!
Let the little ones scale the Abbey walls and enjoy the night-time wonder of the Adventure Play Area.
Follow the yellow brick road through the spooky woodland, the field of poppies and the curve tunnel of light as you enjoy the amazing illuminated gardens.
The trail is running from 20th October – 5th November 2023
Dogs are allowed on short leads.
Opening Dates/Times/Prices : For further information CLICK HERE
The Twilight Trail
Location : Mayfield Park, Baring Street, Manchester M1 2PY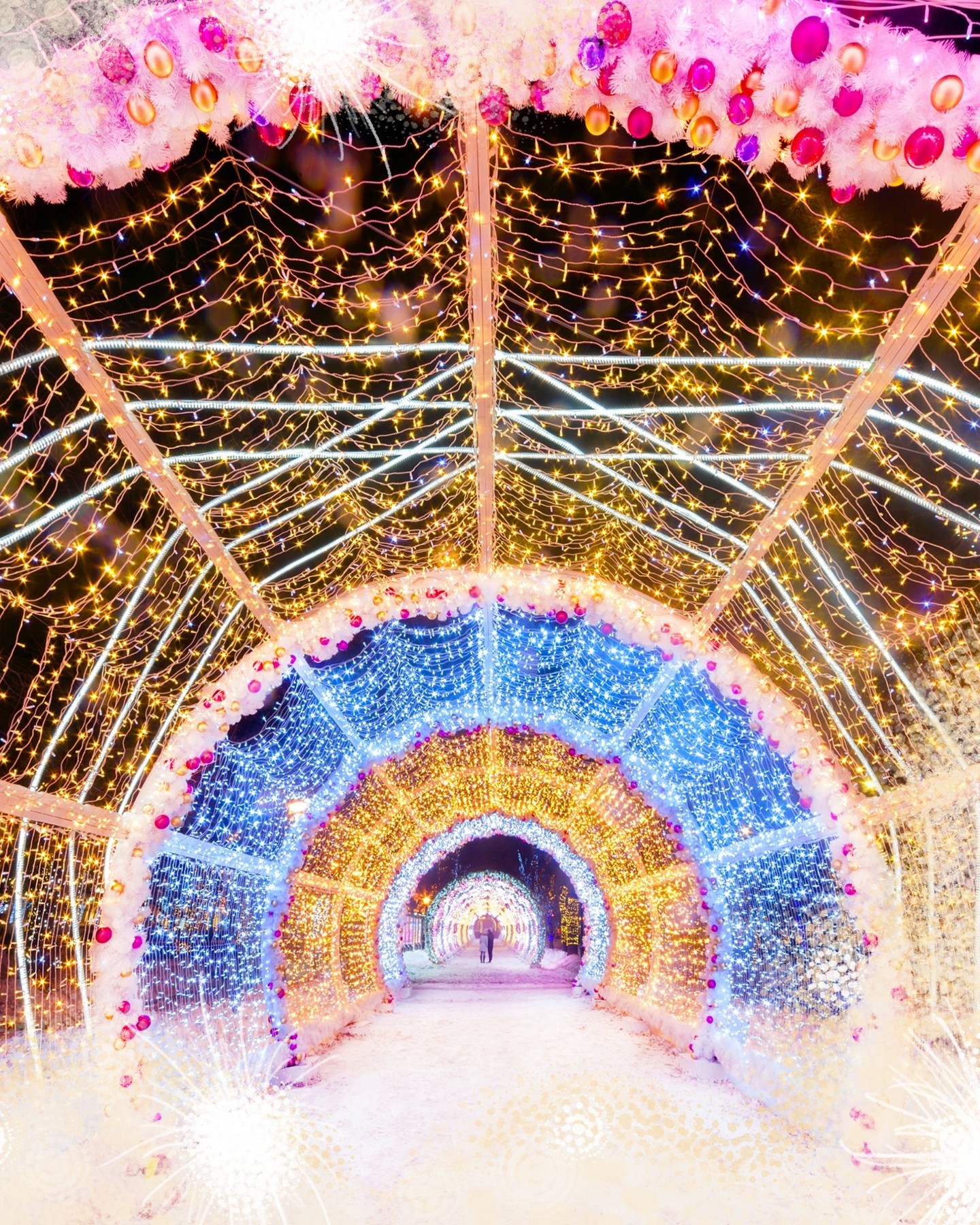 The immersive light and show sound show, running for 31 mesmerising days throughout winter 2023, will transform Mayfield Park into a twinkling, city-centre escape.
Step into a world of enchantment right in the heart of the city, unlocking the gates after dusk to welcome up to 75,000 guests to enjoy the festive wonderland.
Dogs are welcome to explore the show as long as they are kept on a lead.
Opening Dates/Times/Prices : For further information CLICK HERE
Waddesdon Manor Christmas Lights
Location : Waddesdon, near Aylesbury, Buckinghamshire, HP18 0JH
From dusk, follow a new light trail through the Aviary gardens with mesmerising new installations, more interactive elements than ever and seasonal favourites.
As music fills the air, walk beneath a glowing canopy of orbs, see twinkling starbursts and spot larger-than-life 3D birds lit with fairy lights.
Tap boxes will let you change the colour of the Manor's South Front and on the Parterre, giant shooting stars make a perfect picture spot. In partnership with light art pioneers Luminism.
Well-behaved dogs on short leads are welcome in most outdoor areas.
If leaving your dog behind is not an option, then please read about Bringing your dog to Waddesdon
Opening Dates/Times/Prices : For further information CLICK HERE
Winter Glow Dog Friendly Days
Location : Three Counties Showground, Malvern, Worcestershire, WR13 6NW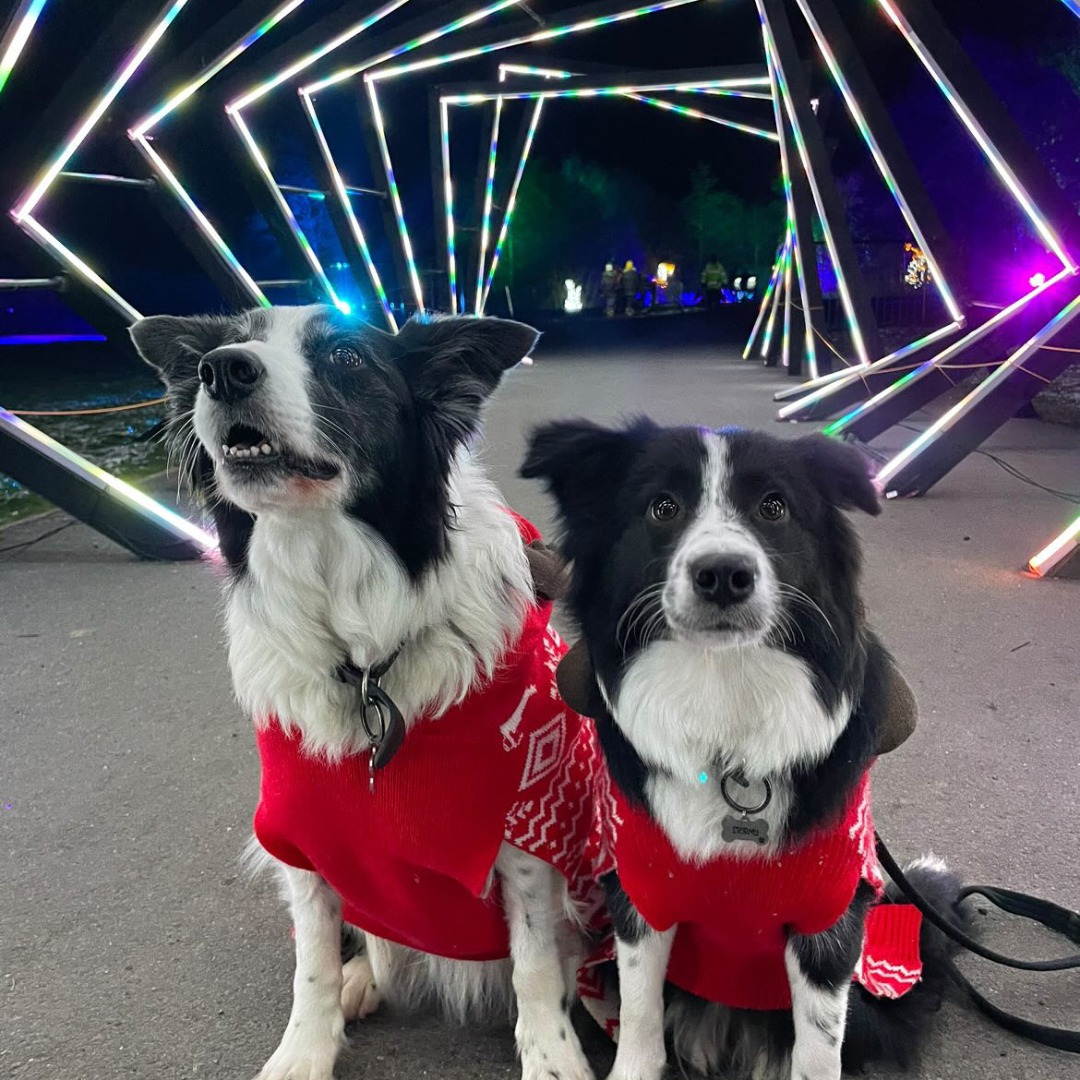 The Illuminated Light Trail is a magical, night-time Christmas light show that showcases structures, installations, and illuminations created especially for Winter Glow by the teams of local creative artists, lighting designers and craft-persons.
Explore the trail with the brand new theme – The Golden Snowflake. Join Jingle on his quest across the North Pole to bring the Golden Snowflake home.
The much loved Dog Friendly Light Trail sessions are back and taking place on the 11th, 12th and 28th December 2023.
Bring your pooch along, explore the great outdoors and celebrate the most wonderful time of the year with the most wonderful member of your family! What's more, you and your four-legged friend will be able to relax in the Food Quarter, Bar and Ice Cafe after your adventure for a post-walk treat.
Waste bins and water bowls will be dotted around the trail during the dog-friendly sessions, and they ask that dogs be kept on leads at all times.
Opening Dates/Times/Prices : For further information CLICK HERE