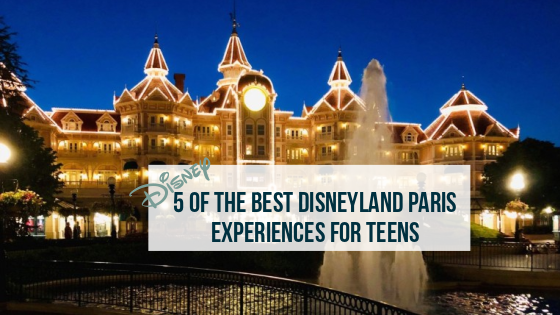 5 Of The Best Experiences at Disneyland Paris For Teens
Going to a Disney Park with teens has a different set of challenges than taking small children; but Disneyland Paris is not as problematic for teens as you might think. While you plan your vacation, you may struggle to come up with an itinerary that pleases everybody and ensures that your day in the parks will go smoothly. Hopefully, these Disneyland Paris teen experiences will help. They illustrate ways Teens can enjoy the park and you can take advantage of having kids that aren't so little anymore.

Park Tour
One thing that is a lot of fun to do with your teen is a Disneyland Park tour. While this experience might be lost on a youngster, the detailed knowledge and backstage access can be very appealing to teens, during the Disneyland Paris guided tour, you will follow your guide and learn about the history and unbelievable tales that make the Disney experience unique. On your journey, you'll learn about what inspired Walt, why he chose certain themes and how his vision continues to be brought to life today, for someone like my eldest daughter who I studying stage production this is definitely one to consider in the park for an engaging Disneyland Paris teen experience.
Shopping
Another way to make sure your teen is having a great time is to give them some spending money to use in the shops. They will have so much fun deciding how to spend the money throughout the day and the activity creates great memories of the trip. The resulting souvenirs will commemorate a magical Disneyland Paris teen experience.
Rides with Single Rider
Space Mountain Mission 2 at Disneyland Paris has a Single Rider option. It's a way to get on a ride faster by splitting u to fill empty seats. It's tough to do with little ones, but most teens won't have a problem riding alone. Walt Disney Studios also has single rider lines for attractions such as Crush's Coaster and Ratatouille.
Fantasyland at Night
A most fantastic Disneyland Paris Teen experience is Fantasyland at night. The lighting is magical and totally different than the land appears during the daytime. By nightfall, most of the small children are long gone, so this is the perfect time to run around and play in this specific area in the park. Many of the attractions take on a different look and feel as well.

Disney Illuminations
Another advantage to visiting Disneyland Paris with teens is that you can stay all day and wait for the fireworks. Disney Illuminations is not a show to miss, but the night-time schedule is not ideal for all visitors, especially if you got into the park really early in the morning. Teens however, can handle the long days and appreciate the spectacular night-time event. It's a beautiful way to end a Disneyland Paris teen holiday.