The Disneyland Paris 30th Celebration has now finished, but now its time for Disneyland Paris Christmas Season.
Considering booking a Disneyland Paris Hotel but unsure which is the best one for you, check out their price estimate calendar and find the best deal for your family.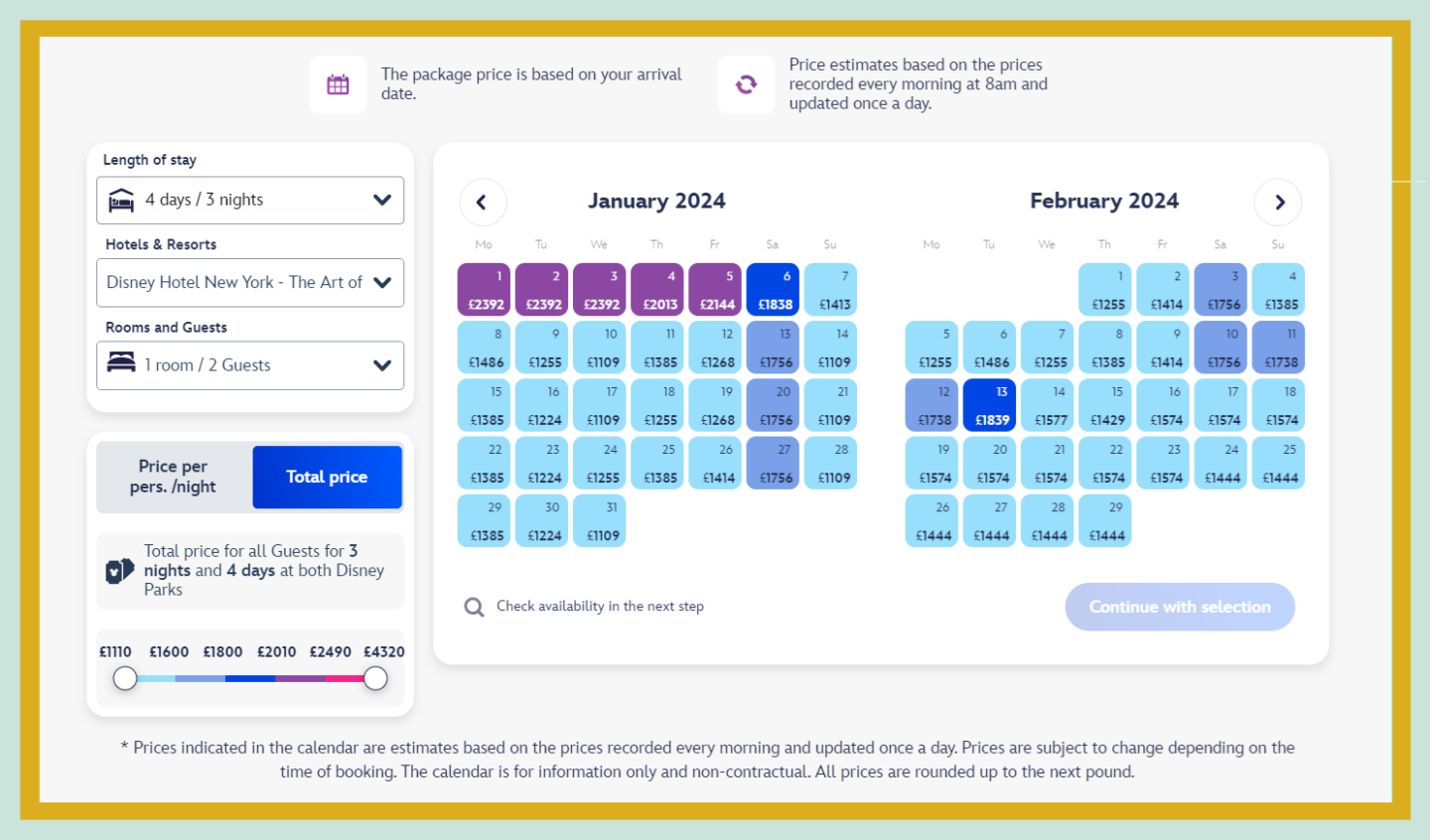 Disneyland Paris 30th Anniversary – Calling All Disney Fans Disneyland Paris are currently booking for the end of the 30th anniversary celebrations, and there are some amazing deals to take part in the Grand Finale, which is taking place between March 6th and September 30th 2023.
So there's plenty of time for you to still catch the grand finale of the resort for the anniversary year, 30 years is definitely a major milestone.
Disneyland Paris 30th anniversary celebration includes jaw-dropping fireworks, pyrotechnic effects, spectacular drone light choreography, with stunning lighting effects and disney illuminations and video projections.
Disney D-Light – As night falls, prepare to be amazed by a magical show with spectacular drone light choreography that illuminates the sky over Sleeping Beauty Castle! A first in a Disney Park!
Dream… And Shine Brighter! – An Exclusive New Show, Dance and sing along with Mickey, Minnie & Friends! Head to Central Plaza in front of Sleeping Beauty Castle and celebrate with this joyful daytime show!
With so many rides and attractions across the Disney Parks and Walt Disney Studios Park, there's something for all members of the family, from toddlers to teens
Whether you are searching for your favourite disney characters across the park, or eager to ride on the newly opened Small World, for the first time or a regular visitor, a spooky trip on the Phantom Manor or Big thunder Mountain, all your disney dreams can come true, and don't forget that all important selfie in front of Sleeping Beauty Castle.
And don't forget the Avengers Assemble area, get yourself down to the Marvel Universe and see if you can spot your favourite marvel superheroes including Scarlet Witch, Captain America and Captain Marvel.
With the recent openings of marvel avengers campus, you can take part in a spider-man web adventure or Team up for Avengers Assemble : Flight Force.
If you would like to see the Disneyland Paris 30th Anniversary Grand Finale, check out their latest offers.
Benefits Of A Hotel +Ticket Package For Disneyland Paris 30th Anniversary
Book your package with Disneyland Paris and enjoy unique advantages!
Use the calendar to find the perfect moment for your trip or choose from a range of pre-selected packages.
There are some great hotels to choose from including Disney Hotel New York – The Art of Marvel, Disney Newport Bay Club, Disney Sequoia Lodge, Disney Hotel Cheyenne, Disney Hotel Santa Fe and Disney Davy Crockett Ranch.
Tickets For Your Entire Stay
Tickets for both Disney Parks every day of your visit, meaning you don't have to pay extra for ticket prices
Hotel Close To the Parks
A high-quality resort hotel close to the Disney Parks
Free Parking
Free parking at the Disney Parks entrance and your hotel
Extra Magic Time
Extra Magic Time(also available for Guests at Les Villages Nature Paris)
Character Encounters
Character Encounters at your Disney Hotel!
Flexible Bookings
Need to change or cancel your Hotel+Ticket package? Disneyland Paris are currently offering the possibility to change or cancel your booking with full refund anytime up to 7 days before your arrival date.
Pay in Instalments
Pay a 15% deposit of the total amount at the moment of booking. Then pay the rest anytime in up to 5 instalments until 60 days before your arrival date here on the website, or by calling up. How often and how much you want to pay each time is completely up to you!
Price Match Promise
Book with confidence – If you find a lower price for the same Hotel+Tickets package within 7 days of booking, they'll refund the difference and offer you a £26.34 gift card to use in the boutiques and restaurants during your visit.
Zero Booking Fee
At present, you can book your Disneyland Paris package without booking or processing fees which means that you will save up to £26.34. There has never been a more perfect time to book your magical stay!
So if you want to be part of the grand finale then book your tickets NOW and create some more beloved Disney Stories