By now, you will know how much my children adore dinsoaurs, one of their favourite Norfolk Days out is to Roarr for a day of Jurassic Fun, but its not just when we are at home that they love to hunt for dinosaurs, anytime we go on holiday they always ask if we are near any dinosaurs, so I was extremely excited to hear about Liverpool One's latest family fun called Dinosaurs Unleashed
Its super easy to take part, you just download 'Discover at Liverpool ONE' from the App Store or Google Play to unleash a dinosaur-filled adventure like no other. But that's not all, you can bring the experience to life when you visit Liverpool ONE and collect points as you hatch dinosaurs from giant eggs within Liverpool ONE. Visit the feeding stations, Battle Arena and educational fact stops!
In addition to the interactive game, 'Chavassic' Park (Chavasse Park, the five-acre park in the heart of the city centre, has been transformed into every dinosaur-fans' dream.) has been transformed to provide the ultimate selfie spot for the dino loving youngsters in your family. Don't miss the real-life Park Rangers on hand armed with lots of fun facts to help your family get the most out of your day out together.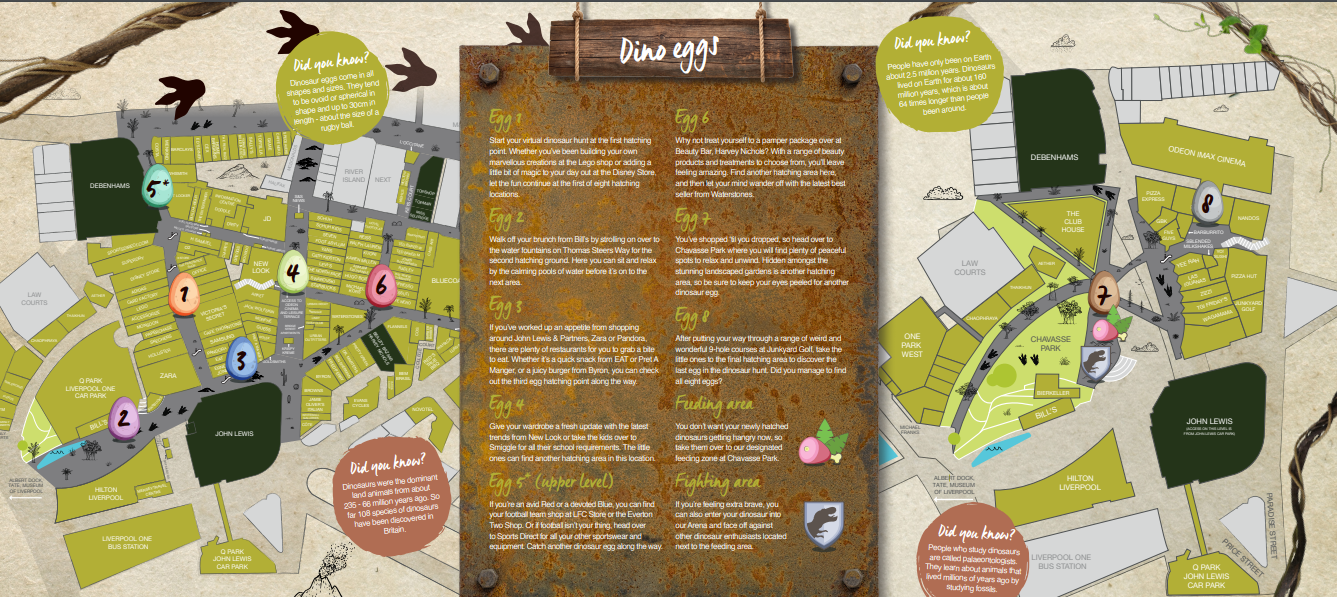 Once you have downloaded the app and hatched your pre-historic buddies, from the eggs located around Liverpool ONE, they will be feeling pretty hungry, so you need to visit Chavassic Park which will have all the food you need to keep your little friend from feeling hangry, because nobody wants a hangry dinosaur!! But make sure you know all about your friends diet as you wouldn't want to feed your herbivore friend some tasty meat!!
It's pretty simple to feed your dinosaurs, take a stroll over to the feeding stations, launch the app and hit 'scan'. Point your smart phone or other device at the food dish and watch it come to life. Visit your dino-friends in the 'Dino Dock', see that the food you picked up has been stored and feed them to watch their happiness levels soar.
Once fed and exercised, your dinosaurs are ready for battle. Whilst you're up on Chavassic Park, head over to the Battle Arena. Launch the app from your smart phone once again to trigger the special augmented reality features. Take on the battle and climb the leaderboard.

I LOVE the sound of this and it will definitely be on our lists to visit over the next couple of months, have you visited yet, or is is on your list?