I know that Disney is well known for its immersive worlds, rides, parades and characters, but one of my favourite parts is the food! Disney always has my go to classics: turkey legs, Dole Whip, Mickey pretzels, but it's so much fun to try the new items too! Well, I am happy to say that Disney has announced a list of limited- time desserts to fill your sweet tooth with! Some of these treats are part of Mickey and Minnie's Surprise Celebration and others pay homage to other Disney movies, but all are being offered this May and June only, so get yours while you can!
Check Out The New Limited-Time Desserts at Disney World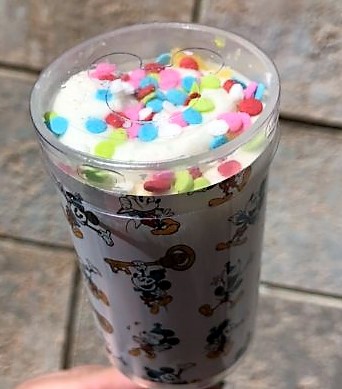 Mickey's Push Pop
This cute dessert is wrapped in Mickey Mouse paper and is part of the Mickey and Minnie's Surprise Celebration line. Birthday cake-flavoured crumbles are layered with buttercream and large, circle coloured sprinkles. This is a great treat for kids because the push pop keeps little hands mess- free! You can find them at The Friar's Nook, Columbia Harbour House, Golden Oak Outpost and Cosmic Ray's Starlight Cafe, all located in the Magic Kingdom, available through June 30.

Wish Granted Donut
This delicious, freshly made glazed donut is topped with gold sugar sprinkles, to represent sand, and a chocolate square with a gold genie lamp. A piece of blue cotton candy is set just behind the chocolatier square to give the illusion of the Genie emerging. This is definitely a mix of sweet treats, but somehow, they all work! The Sunshine Terrace, in Adventureland, offers this donut until June 30.

Mickey Celebration Donut
If you're a fan of food shaped like your favourite mouse, this donut is for you! The Lunching Pad in Tomorrowland is where you can get your hands on one of three frosting flavors: chocolate, strawberry and vanilla. This yeast donut is BIG, about the size of a Mickey pretzel, and each comes topped with coloured sprinkles.

Celebration Brownie
At Casey's Corner, on Main St U.S.A., you can get yourself a decadent chocolate brownie with sweet buttercream frosting. There is a white chocolate medallion that features Mickey wearing a blue hat and bowtie place on top. Grab yours before June 30!

Mickey Milkshake
You can find many kinds of milkshakes in Disney World but this one is available at Auntie Gravity's Galactic Goodies in Tomorrowland until June 30. This shake is a colourful treat featuring bright pink strawberry ice cream topped with a piece of yellow cotton candy. It also includes a blue and white straw with a white Mickey Marshmallow.

Minnie's Cookie Dough Sundae
Minnie gets her turn with this soft-serve ice cream treat. You get vanilla ice cream drizzled with hot fudge and topped off with a pile of whipped cream. An edible chocolate red and white polka dot bow is placed in the center and two good sized balls of cookie dough give Minnie her "ears". Who doesn't love cookie dough? I sometimes prefer the dough to the baked cookie! This sundae is served up at Storybook Treats in Fantasyland.

Tangled Eclair
Early this year, Disney began carrying the Lost Princess Cone, which is inspired by Rapunzel. This has become one of our favourite ice creams in the parks and now, we have a new Rapunzel treat on our list! This eclair is filled with dulce de leche, which is a delicious caramel sauce made of milk and sugar. It is piled with white-chocolate whipped cream, that resembles Rapunzel's long braid, and has colored, candy flowers and a cute little chocolate frying pan, just in case someone needs a whack! The Pinocchio Village Haus is the only place to find this pastry.

The Sorcerer's Hat
If you're in Hollywood Studios, you're going to want to make a stop at the ABC Commissary to get this special cupcake that celebrates the park's 30th anniversary. It features the iconic blue Mickey hat with the moon and stars on top of a lemon sponge cake. It has vanilla swiss buttercream, lemon curd and a white chocolate glaze. It's hard to cut into this hat because it's just so pretty!

Mickey and Minnie's Celebration Cake
Mickey's cupcake features chocolate sponge cake and chocolate cream, a vanilla marshmallow and colored sprinkles. Minnie's is a yellow cake with strawberry cream frosting, strawberry marshmallow and strawberry pearls. You can find them at the Backlot Express. These are a good size treat, perfect for sharing!

Incredibles Macaron
These macarons are instantly recognisable as Incredibles inspired, one side is black, one side is red and they come together with a mango passion genache. The almond flavoured macaron is at both the BaseLine Tap and the Market at Pixar Place in Hollywood Studios.

The Playful Luxo Ball
Yes, the "Pixar Ball" has a name and we never knew it! This yellow, blue and red ball is a made of a banana sponge cake with mango mousse, rice croquant and caramel chocolate. I have not tried this treat yet, but I've heard good things about it! You can get one at The Trolley Car Cafe or the BaseLine Tap House.

Lightsaber Churros
You'll have to go on a little search for this Star Wars treat, as it is available in churro carts throughout Hollywood Studios. These traditional Mexican desserts are dusted in red and blue sugar and come in a lightsaber base. They're so much fun to eat and play with!

Kylo Ren Cupcake
This peanut butter and chocolate cupcake is so rich and creamy and it reminds me of a peanut butter cup. It has a chocolate Kylo Ren candy head on top. These are available at Rosie's All-American Cafe and Dockside Diner.
There are also four verrine dessert cups available:
Lemon Blueberry Cheesecake- Catalina Eddie's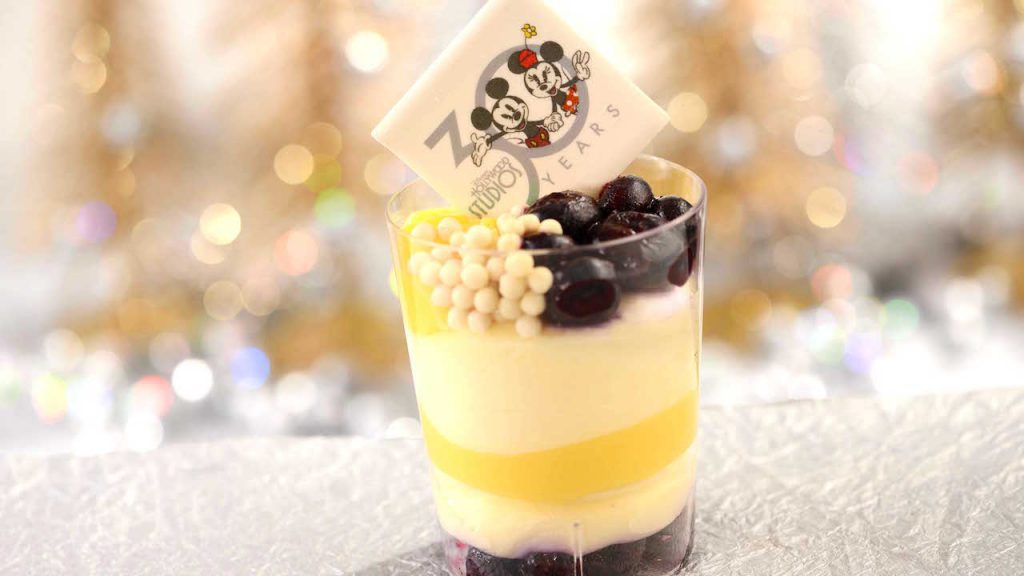 Key Lime Pie- Backlot Express and Rosie's All-American Cafe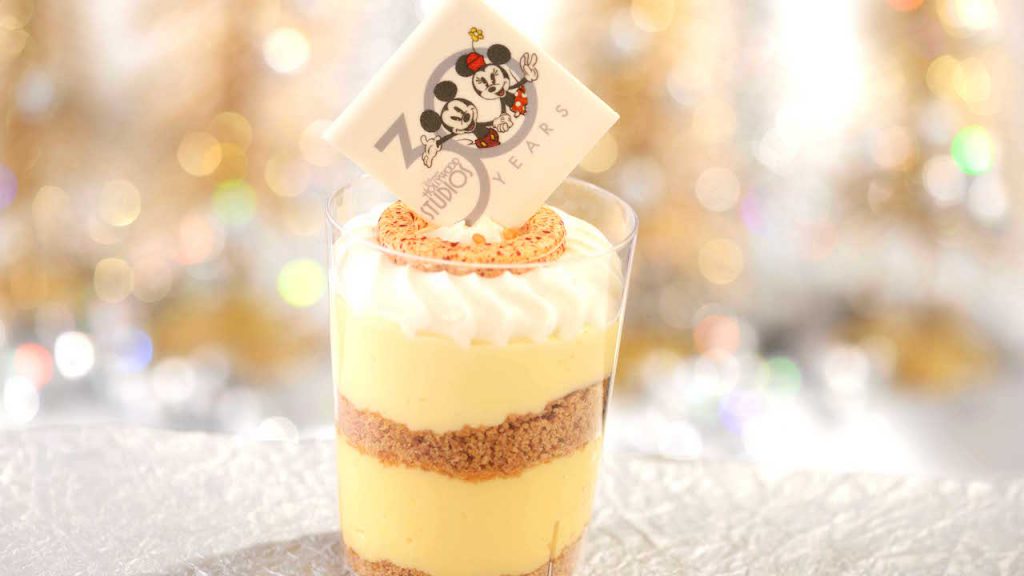 Raspberry Mousse- ABC Commissary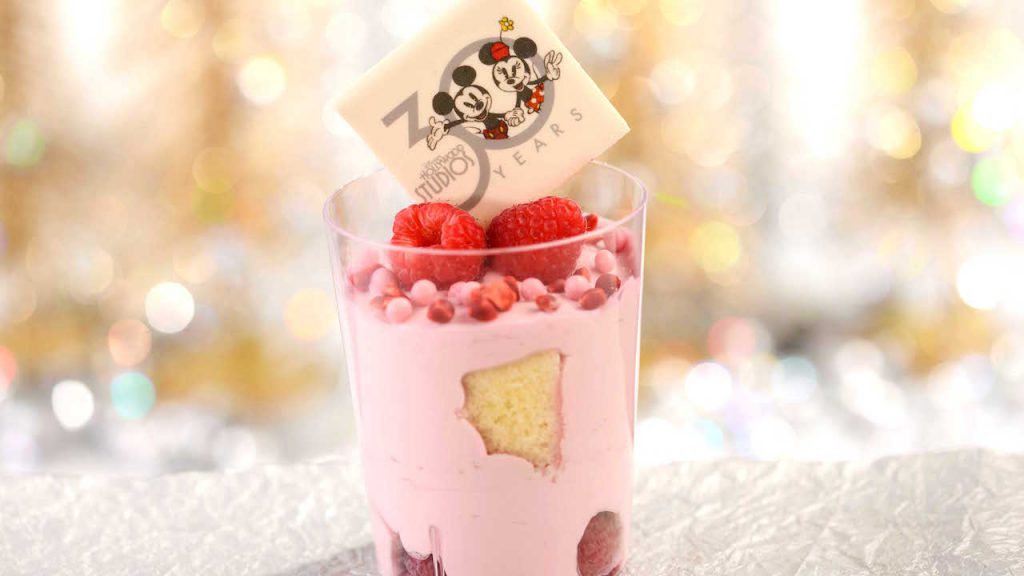 Tres Leches- Fairfax Faire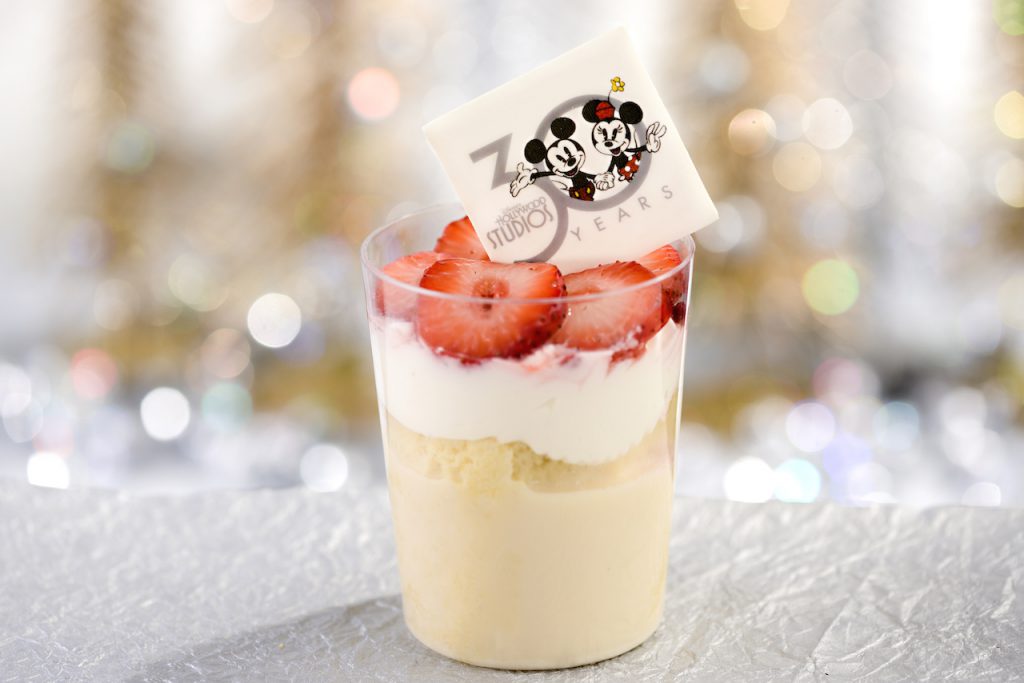 Each are topped with a white chocolate square with Mickey and Minnie celebrating 30 years of Hollywood Studios!
These desserts are here for just a short time. Even though they don't all have end dates announced, we think they'll stop being offered before the end of summer. That means if you have your eye on one, make your way to the Magic Kingdom and Hollywood Studios ASAP! Be sure to stop back here and let us know your thoughts on them!